Reverse Engineering
When it is nearly impossible to find the missing piece of your infringement or prior art puzzle in the published literature, reverse engineering can be a way out.
Have you ever found yourself stuck in these situations:
Such situations are well handled by reverse engineering a product to locate the hidden information. Many times the internal working of a product, structural details, composition, or materials used are not disclosed online but can be identified through a close investigation of the product.
How we can help you
GreyB has proven expertise in performing reverse engineering. Our experience covers a wide array of devices ranging from electronic gadgets like phones, hard disc drives, LCD/LED/OLED displays, RFID tags, optical connectors, batteries, coating materials, to other consumer electronic products like wearable devices, tablets, smart home devices, cameras, etc.
Here are a few examples of our work
GET IN TOUCH
Chakshu Kalra


Chakshu@greyb.com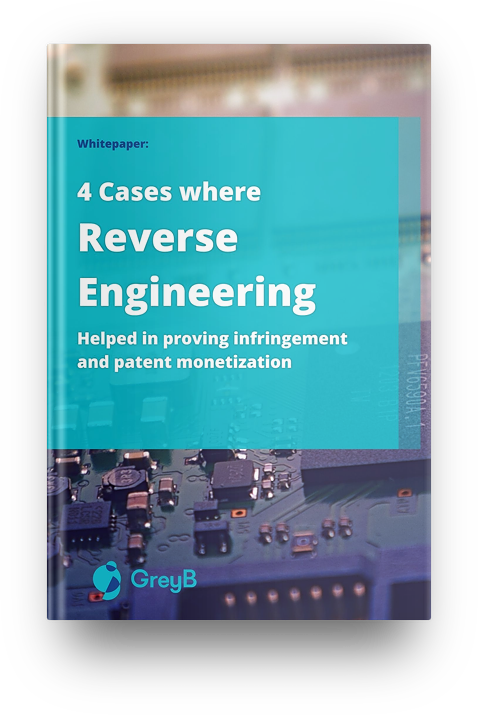 4 Cases where we helped our clients monetize patents using Reverse Engineering
Some of our Capabilities and Tools
Identifying elemental compositions, or structure, or layers, or surface of semiconductors layers, devices, material, or chemicals on microscopic levels.

Analyzing internal working, circuits, or operating conditions of different devices through signal or circuit level analysis.
We identify the above details through our experience and access to various tools like – 
Get the best by involving us in –
Infringement Analysis
Finding the missing piece of the infringement puzzle is a challenge, especially, when required information relates to internal components, structure, and working of the product and is not available in published product literature. Reverse engineering studies can reveal such hidden details.
Reverse engineering studies are useful when you need to monetize or acquire a cluster of patents related to technologies for which usually sufficient information is not available in public literature. For example, a reverse engineering study for the structure and material of the organic light-emitting diode (OLED), can help confirm the value of different patents related to it. This will help you realize the value of patents before buying or selling the patents.
System Prior-art
If you are looking to establish prior-art with help of a product that was exiting before the patent whose validity is in question (known as System prior-art) there are some roadblocks such as – procuring the old product, setting up the test environment, tests, etc. that need to be tread carefully. With our reverse engineering capabilities along with extensive prior-art search experience, we can help in building strong cases using system prior-art.
How to use reverse engineering to confirm
patent infringement when other sources fail?
What do our clients say about us?
We were happy with our experience and appreciate the effort that went into the process. It seemed well thought out and thorough. We are likely to use GreyB's services again in the future. Thank you to your team for all their efforts.

Of Counsel

I had no idea how complicated and complex a patentability search and features list development was going to be. Jeevan and the GreyB team were very helpful and forthcoming in creating a good template and study for my product needs. Their search was thorough and well documented and provides me with great value as an SME. I think that their study has given me a competitive edge and that I will successfully accomplish my patent registration at a lower cost now.

Founder, Mantra Bali - Environmentally Sustainable Design and Management
I've worked with Vik and his team on a number of prior art search projects and have found his service outstanding. His teams have been staffed with technical folks in the relevant subject areas and I especially appreciate his willingness to hold interim discussions to direct and focus the search.

Partner, Baker Thomas Oakley Greene

I have worked with Anupam and his Greyb team for years. They have done great patent search work for me, and their reports are excellent. Anupam is always super responsive and helpful in providing estimates and getting the work done and on time.

Partner/Patent Attorney, Holland & Hart LLP

I've worked with Anupam and GreyB on a number of occasions when I've needed top-notch prior art search, and will surely do so again in the future. Anupam is dedicated to client satisfaction and is constantly working to ensure that he and his team have exceeded expectations.

Attorney At Law, Perkins Coie LLP
Boardrooms that take actions on our insights:
Why not get in touch and get your questions answered?