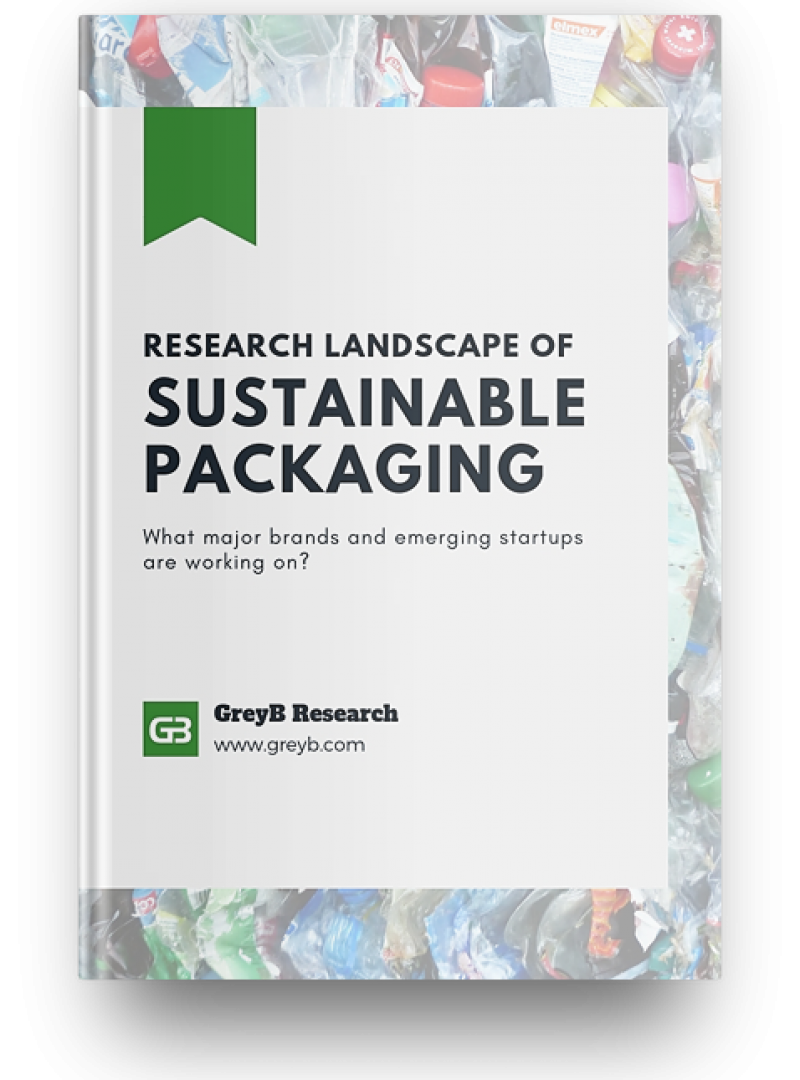 Future belongs to Sustainable Packaging
Get to know the activities of major players and startups researching sustainable packaging and what kind of products are they working on.
(Bonus analysis: Since cellulose is going to become the backbone of sustainable packaging, what kind of research is going on in Cellulose industry?)
Are you moving towards a sustainable future for your products?
However, organizations are facing difficulties to overcome specific technical issues with bio-packaging materials. This has become a hindrance to them from achieving their sustainability goals.
Here's how we are uncovering the ongoing research of the green packaging industry.
Recent Insights on Sustainable Packaging
SWOT analysis of Polylactic acid [Includes Existing Solutions to drawbacks of PLA]
If we talk about the strengths and weaknesses of PLA such as biodegradability, renewability, moisture barrier property, fragileness, poor oxygen barrier property, etc. These properties, as you can see, are mostly related to the food and beverage industry. But, there are other industries where PLA could prove a better solution than the existing one.
PLA Research increases Pace as Companies are adopting Sustainability
Industries and researchers have already started to find customized sustainable solutions. They're adopting ideas from various industries and adding specific solutions for their respective problems. This article provides a list of patents pertaining to advancements in biodegradable solutions that showcase the industry's take on sustainability.
Plastic Free Tea Bags: What are the best Alternatives Available?
Most teabags contain up to 25% plastic. A plastic tea bag at brewing temperature (95°C) releases around 11.6 billion microplastics in a cup.
Now, That's a lot of plastic! There are a few alternatives to plastic tea bags listed in this article along with the companies that use them and the properties their products retain.
What Is Sustainable Packaging?
A Market research study focused on the different aspects of sustainable packaging. Here's what we have covered in this entire research: What Is Sustainable Packaging?
Why Sustainable Packaging Is Important?
Benefits Of Sustainable Packaging
The Research Landscape Of Sustainable Packaging
Most Common Raw Materials Being Used
Some Creative Eco-Friendly Packaging Products
How Major Brands Are Adopting Sustainable Packaging For Their Products?
How Cellulose Is Helping Companies Adapt Sustainable Packaging
How Cellulose Is Helping Companies Adapt Sustainable Packaging
What Is Cellulose?
Why Cellulose-Based Plastic Is The Next Big Thing Of Sustainable Packaging?
Which Industries Are Using Cellulose In Their Packaging Products?
What Kind Of Strategies Are Companies Using To Shift To Maintain Their Edge In This Domain?
What These Insights Tell You?
Know what our experts talking about Sustainable Packaging
Are your Innovation Detection Radars scanning less popular regions for innovation?
How is your tech scout team identifying startups to acquire? Are you focusing on only some of the geographies and ignoring others altogether?
Shikhar in this video takes the example of the Sustainable Packaging domain and asks a question – are Startup Detection Radars scanning not so popular regions for innovation?
Innovative packaging designs for better sustainability goals?
Are you considering innovative packaging designs to achieve better sustainability goals?
Because going for biodegradable material is not the only option for a better carbon footprint.
Are you looking for environmental-friendly coatings for your products?
Companies are researching around the clock to make their packaging 100% sustainable. But, one of the things that they haven't explored yet is the coating material for their products.
Shikhar came up with an example of a coating that is having similar properties to the glass, is multiple times thinner than a hair, and is sustainable.
How patent analytics can help organisations solve technical problems and hit their sustainability goals faster?
Get the latest Sustainable packaging insights
Subscribe to our exclusive Sustainable Packaging newsletter