Dynamic SIMS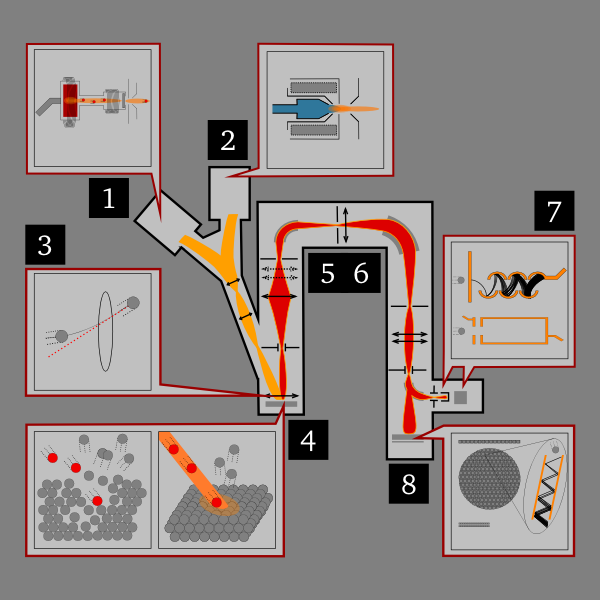 Dynamic Secondary Ion Mass Spectrometry instruments capable of parts-per-billion sensitivity for depth profiling analysis.
Has high mass resolution capability, and often used for P doped samples in SI wafers (MR > 4000).
Depth profiling can be optimized for low energy ultra-shallow implants or for several micron deep layers.
Specifications
Dual source (O & Cs)
Sensitivity: ppm-ppb
Depth resolution < 1nm
Detect all elements with isotope information
Sputter energy: O 2+: 1-10kv, Cs+: 1-15kv
Best mass resolution > 25400
Applications
Depth profiling
Thin film composition: Ntrided gate oxide and SiGe
Contamination analysis and control in oxide/active/well
TOF SIMS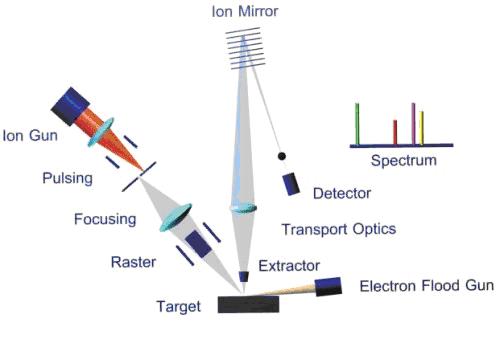 Time-of-flight Secondary Ion Mass Spectrometry is a versatile instrument capable of parts-per-million sensitivity or better with parallel detection for nearly all elements and molecules up to several thousand atomic mass units.
Mass resolved imaging provides mapping with lateral resolution better than 150nm.
Surface analysis sensitivity is comparable to TXRF, though it also provides lower mass range sensitivity and targeting of smaller areas.
Depth profiling with sputter ion guns can be optimized for low energy ultra-shallow implants or for several micron deep layers.
Specifications
Mass range: 0-10,000 amu
High mass resolution: M/ΔM over 10000
Sensitivity: ppm-ppb
Detected element: H – U (Isotope)
Depth resolution: <1 nm
Lateral resolution: 0.1-1 µm
Sputter gun: O2+: 0.25-2kv, Cs+: 0.25-2kv
Analysis gun: Bi+, 25kv
Applications
Surface analysis of organic and inorganic materials
Elemental and molecular information about surface, thin layer, interfaces of material and surface contamination
Positive & negative ion mass spectra and 2-D ion mass spectral image information
3-D ion image analysis
Depth profile analysis
XPS (X-ray Photoelectron Spectroscopy)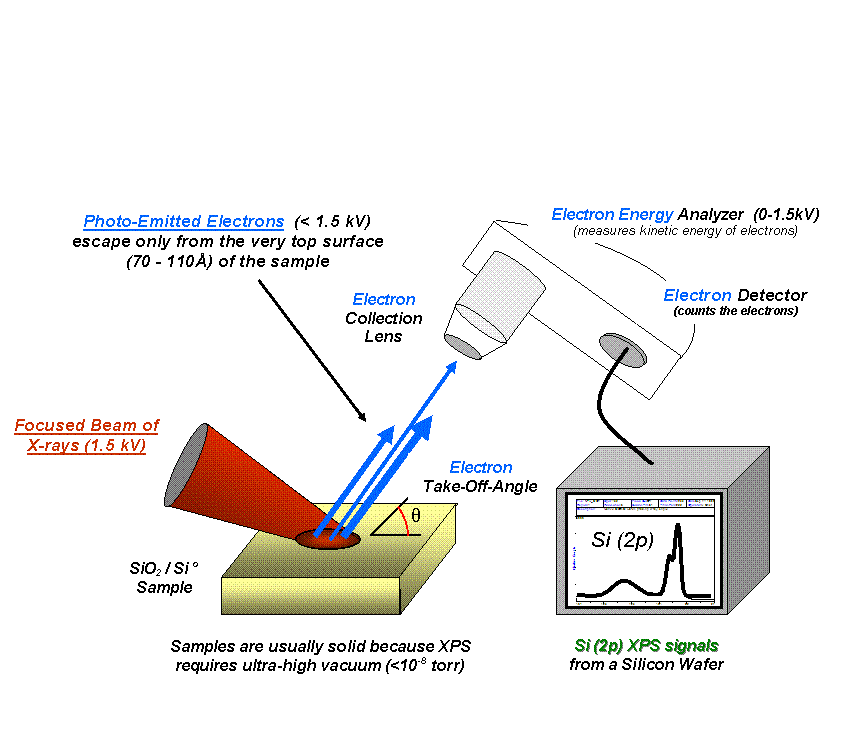 X-ray Photoelectron Spectroscopy is qualitative surface analysis technique that can characterize the surface chemistry of materials (chemical state and concentration).
X-rays are focused onto material, and then measure the emitted electrons intensity and energy from the top 1-10nm of the surface.
Quantified elemental depth profiling through layers can provide both layer and contamination intensities.
Specifications
Beam size: 7.5-200 um
Lateral resolution: 10 µm
Depth resolution: 1.0 nm
Energy resolution: 0.48 eV
Detected element: Li – U
Sensitivity: 0.1-1.0 at%
Applications
Surface analysis of inorganic and organic materials, contamination, stains or residues
Quantification of surface elemental composition
Determination of chemical state/bonding information
Depth profiling for thin film/material composition
Film/material and oxide thickness measurement
FTIR (Fourier Transform Infrared Spectroscopy)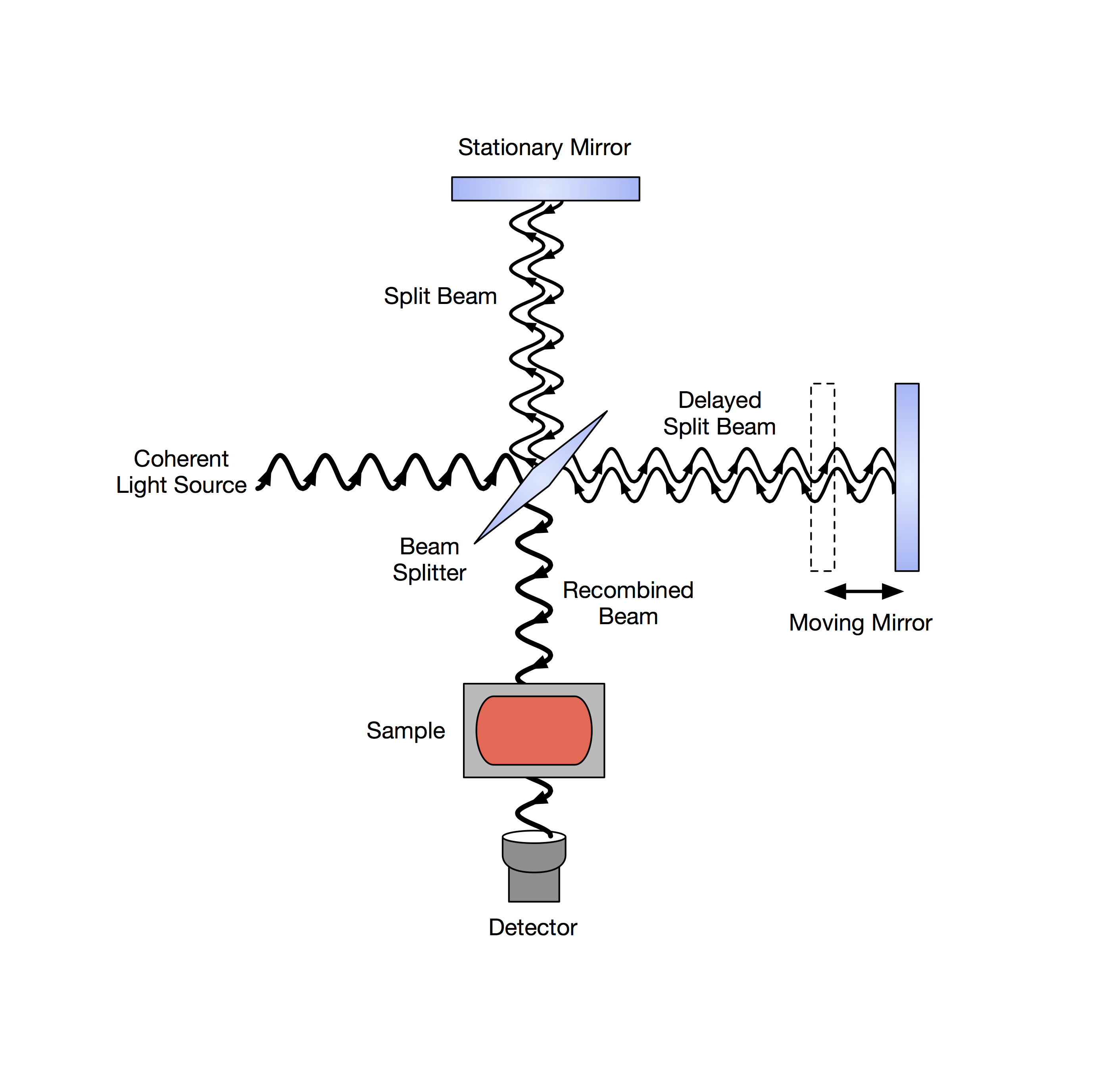 Fourier Transform Infrared Spectroscopy (FTIR) is commonly used to extract specific information about chemical bonding and molecular structures. It is particularly powerful tool for analyzing organic materials.
An infrared spectrum represents a fingerprint of a sample with absorption peaks that correspond to the frequencies of vibrations between the bonds of the atoms making up the material. Because each different material is a unique combination of atoms, no two compound produce the exact same Infrared spectrum.
Specifications
Mid- to Far-IR: 5000-80 cm-1
Penetration depth: ~1-2 µm
Sample size: >25 µm
Full Commercial Spectra Library
Applications
Identification of all types of organic compounds(solid and liquid) and organic functional groups (chemical bonds)
AFM (Atomic Force Microscope)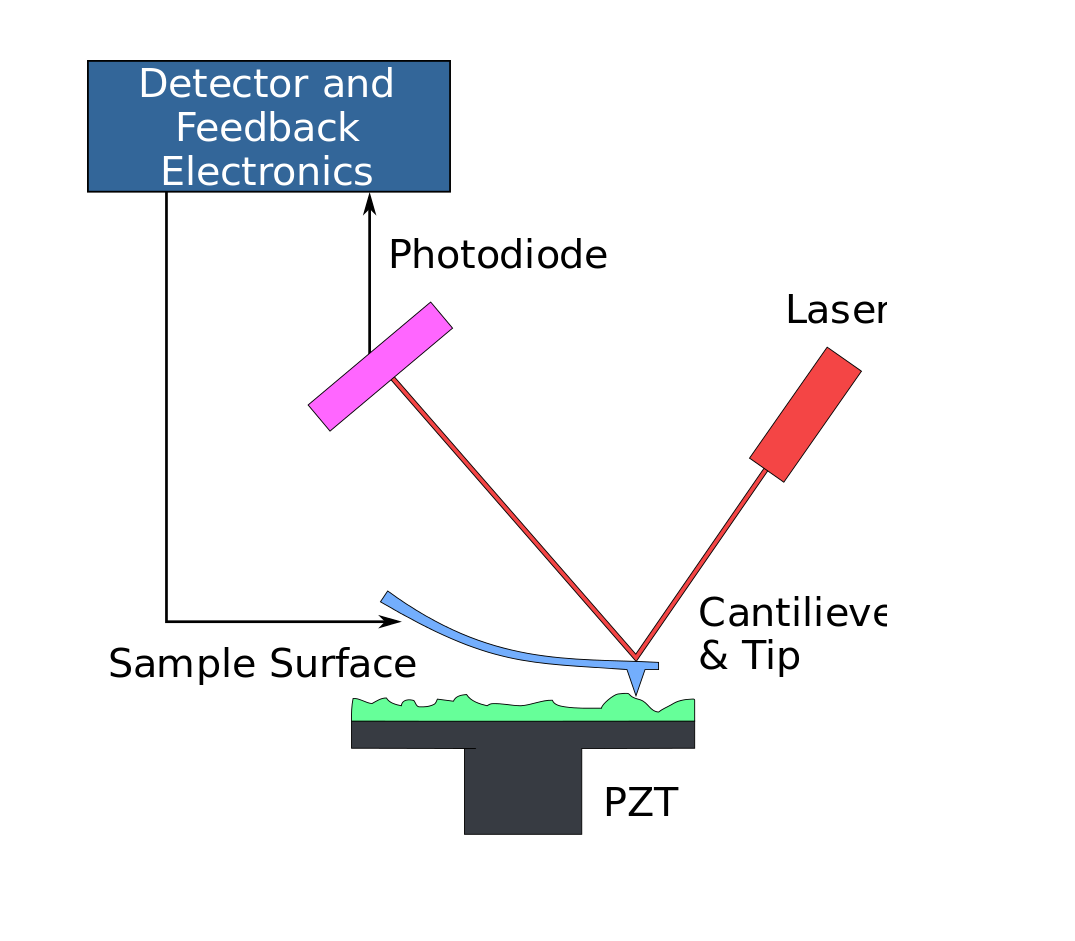 Atomic Force Microscope (AFM) measures atomic surface topography, which is ideal for characterizing surface roughness at an angstrom scale.
Besides surface roughness, AFM can provide quantitative measurements of grain size, step height by 3D surface topographic imaging, and capacitance, phase, magnetic field by pitch imaging.
Specifications
Vertical resolution ~0.1nm
Best lateral resolution ~7nm
Maximum scan area 80um x 80 um
Current range in C-AFM 10pA – 10uA
Force range in Nanoindentation 1-100uN
Applications
Surface topology mapping
Surface roughness measurement
Electrical current mapping by Conductive Module
Hardness and Modulus by Nanoindentation Module
EBSD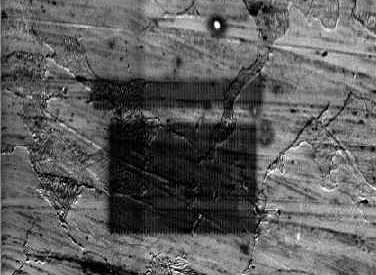 Electron backscatter diffraction (EBSD) is a microstructural-crystallographic characterisation technique to study any crystalline or polycrystalline material. The technique involves understanding the structure, crystal orientation and phase of materials in the Scanning Electron Microscope (SEM).
Specifications
Attached to Helios 600i
Lateral resolution ~80nm
Angle resolution ~0.3°
Applications
Preferred orientation
Special grain boundary (twin boundary, large angle and small angle boundaries)
Grain size distribution
AES (Auger Electron Spectroscopy)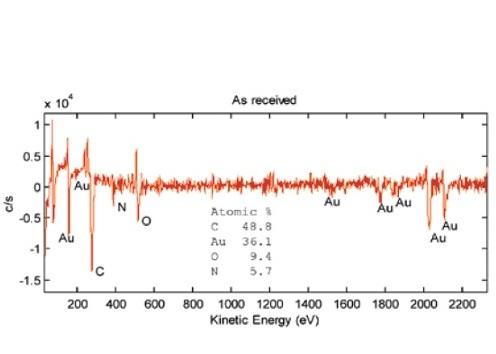 Auger Electron Spectroscopy is a near surface (<5nm) instrument capable of quantifying many elements from a fraction of 1 atomic percent up to 100 percent. It also has better lateral resolution (<10nm) than TOF SIMS, and better surface sensitivity than EDX.
Elemental Auger mapping is very flexible, and it excels in identifying the composition of small defects and residues.
Quantified depth profiling through layers can provide both layer composition and interfacial contamination levels.
Specifications
FEG tip (3-25kV), small sample stage
CMA detector (all elements except H & He)
Detection limit: 0.1 to 1.0 atomic %
SEM: 7nm@20kV; SAM: 10nm@20kV
Applications
Small size defects down to 20-30nm
Depth profiling to characterize the contamination
Element mapping of nano defects
Dual Beam FIB (Focused Ion Beam)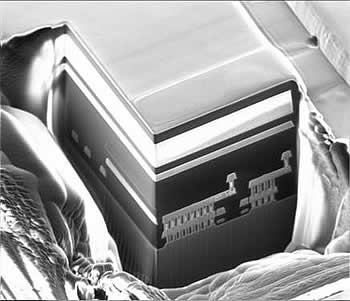 Focused Ion Beam (FIB) is a versatile analysis technique that can be used to expose hidden defects in a variety of substrates.
A common application is to prepare samples for TEM analysis using the lift-out technique.
Another application of FIB is in circuit editing. Electrical connections can be cut and re-routed within the FIB system.
Specifications
Ga liguid metal ion source, Ga LMIS
Resolution 5nm at 30kV
Accelerating voltage 0.5 – 30kV
Beam current 1.5 pA – 20 nA
EDX system Oxford Instruments
EBSD system Oxford Instruments
Applications
Electro and Ion Beam Imaging
Micro and Nano Patterning
Site Specific Cross-sectioning
Site Specific Deposition
IC Circuit Editing
3D Progressive Milling
3D L-Shape Milling
TEM Sample Preparation
Ion Beam Milling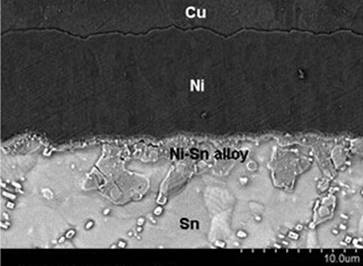 Specifications
Argon Ion Beam: 100eV to 6.0 keV
Cut Width: 0.5 – 5 mm
Sample Size: 10 X 10 X 4 mm3
Minimum Sample Temperature: -150°C
Applications
Large Area Milling & Observation
Preparation for SEM/EBSD/CAFM
Delamination and porous cross section
Delayer
TEM (Transmission Electron Microscope)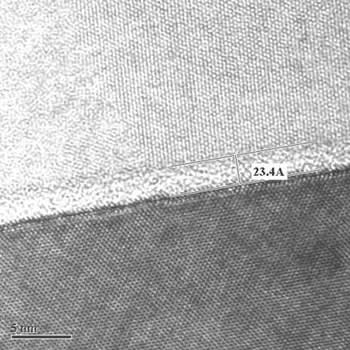 Transmission Electron Microscope (TEM) is a high resolution analysis technique that allows one to see detail on an atomic scale.
Samples are generally prepared until they are thin enough for electrons to penetrate through it to the detector.
Coupled with EDX or EELS, quantitative information can be obtained.
Another application of TEM is to make metrology measurements of crystalline, amorphous, layers, etc.
Specifications
Electron source
Flexible high tension (20, 40, 80, 120, 160, 200 kV and values in between)
Schottky field emitter with high maximum beam current (> 100 nA)
High probe current (0.5 nA or more in 1 nm probe)
Imaging
TEM point resolution (0.24nm)
Information limit (0.14nm)
TEM magnification range 25X-1030kx
Maximum diffraction angle STEM HAADF resolution (0.19nm)
STEM magnification range Maximum tilt angle with double-tilt holder + 40°
EDS solid angle 0.13 srad
Sample size 10um*4um*100nm(thickness)
Applications
TEM Imaging and Measurement
HRTEM Imaging
EDS Elemental Mapping
Diffraction analysis and Phase Reconstruction
Planar View (PV) + Cross Section (XS) TEM
One Stop Solution
2D/3D X-ray (Industrial CT)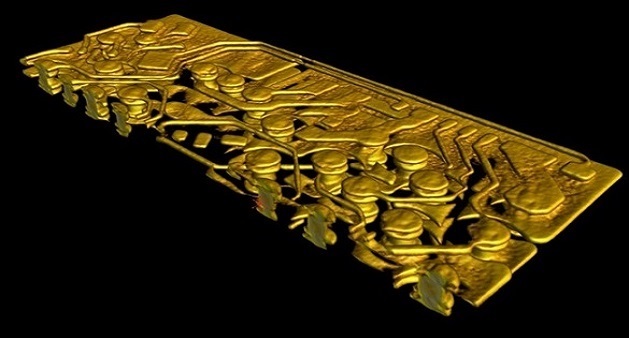 Specifications
0.5um recognition resolution
High power penetration
Applications
Non-destructive analysis through package
Wire Bonding integrity
Die attach delamination
C-SAM
Specifications
Reflection and Through scan mode
230MHz high frequency transducer
Applications
Non-destructive analysis through package
Package delamination
Stack die delamination
Curve Trace
Specifications
1pA to 100mA range
100uV to 100V range
Applications
Electrical failure validation
I-V, C-V
Micro Probing
Specifications
5um prober
Integrate with test board
Applications
Electrical failure validation
Circuit Edit
Deprocessing
Specifications
RIE delayer
Mechanical delayer
Chemical delayer
Applications
Remove Passivation/Metal/Oxide
Metal short/open
TEM sample preparation
Chemical Etch
Specifications
Acid etch
Bas etch
Solvent
Applications
Junction stain
Si dislocation defect
Epi contamination
EMMI
Specifications
InGaAs detector
Lens 0.8x, 2.5x, 5x, 20x, 50x, 100x
12" wafer probe station
Probe card integration
Applications
ESD damage localization
p-n junction leakage
MOSFET short
Latch-up localization
Pressure resistance defect
Wafer backside analysis
OBIRCH
Specifications
Dual laser 1300nm and 1064nm
Lens 2.5x, 5x, 20x, 50x, 100x
12" wafer probe station
Digital Lock In function
Probe card integration
Applications
Metal open short localization
ESD damage localization
p-n junction damage
Latch-up localization
Pressure resistance defect
Wafer backside analysis
Thermal
Specifications
InSb detector
Lens 0.8x, 4x, 8x, 15x
12" wafer probe station
Probe card integration
Applications
Replacing Liquid Crystal
Special grain boundary (twin boundary, large
angle and small angle boundaries)
Grain size distribution