Qualcomm to Revolutionize C-V2X with the wave of 5G Technology
With the growth of V2X technology, the much-awaited future of our transportation system is approaching sooner than anticipated. The V2X tech – valued at USD 689 Million in 2020 – is predicted to be worth USD12.9 Billion by 2028. If you were out keeping track of technologies that will grow big, I'd ask you to bet your money on V2X tech. 
There are a plethora of opportunities here, as various autonomous vehicle companies are trying to get their hands on V2X tech.  This tech could provide better communication systems and a connected environment for their vehicles, amongst other things. We have covered all the details related to V2X technology in our detailed market research report which you can download by filling the small form below.


However, in our brief time today, we'll discuss how the Vehicle-to-Everything (V2X) technology is evolving to fit into our lives? And how Qualcomm is driving this evolution?
Excited? Let's dig deeper.
A quick note on the history of V2X
Initially, V2X communication used WLAN and worked directly between vehicles to vehicles or vehicles to infrastructure. But the year 2016 took a turn for the V2X technology. 3GPP made cellular V2X standard – in Release 14 – to use cellular technologies such as LTE and 5G to provide V2X communication. 
5G is quite the buzzword. Given C-V2X's dependence on 5G, resultantly, companies leading in 5G have spotted an opportunity area, and are trying to grab a share of the C-V2X technology pie. In fact, there are a lot of players working in it, and Qualcomm it seems, could be leading in the race.  
Is Qualcomm leading the C-V2X research?
To get answers to this question, let's first have a look at all the activity of Qualcomm in C-V2X tech.
Qualcomm released its first-ever research paper on C-V2X in 2016.

Qualcomm

also tried to promote the cellular-V2X in a big market like China. There it joined with 30 automotive companies to showcase commercial readiness for C-V2X communication. 
The image below shows the countries/markets where Qualcomm is working with local automakers or OEMs for the development of C-V2X.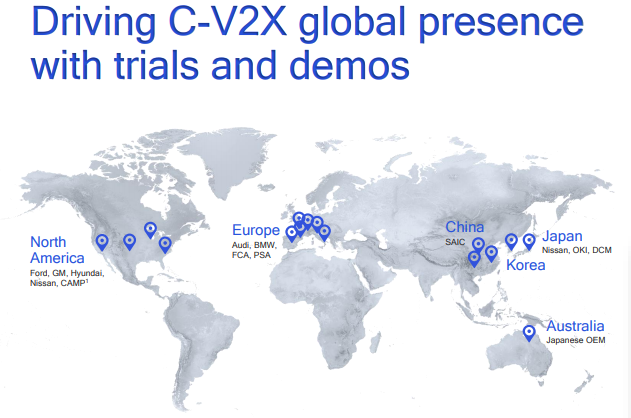 Source: Qualcomm
In March 2020, Qualcomm

released a presentation

that showcases 5G C-V2X's advanced use cases.

The presentation also talks about how C-V2X is gaining traction globally as top companies of various industries are implementing it.
Qualcomm, which is one of the leading companies in 5G and a top 5G chip maker, has definitely been leading the research in C-V2X. Let's now deep dive into Qualcomm's C-V2X's patent portfolio and see what it reveals. 
What do Qualcomm's C-V2X Patents reveal about its position in the domain?
Our V2X market report shows that Qualcomm is a leader in C-V2X with the most patent families. 
According to the report, Qualcomm has 3897 unique patent families related to technologies for Cellular-V2X. These 3897 patent families are further distributed to multiple jurisdictions making a staggering patent count of 13285. 
Now, out of those 13,285 patents, only 20% of patents are granted and the rest are either pending or dead.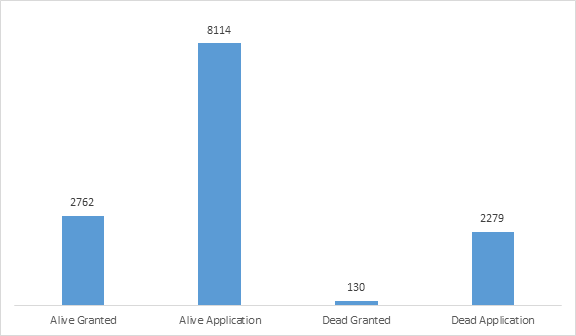 Qualcomm is a major player in 5G and 4G technologies. Thus, it makes sense that Qualcomm owns inventions or patents related to C-V2X communication even before 2010.
The chart below reflects the patent filing trend of Qualcomm CV2X patents.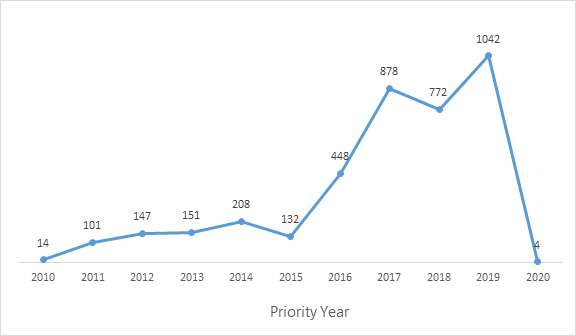 The boost in patent filings from 2016 could be attributed to the growing popularity of self-driving and 5G technology back then. However, in 2020, the patent filing is almost zero, most probably due to the pandemic. But considering the technology is still in infancy, we can witness huge patent filings from Qualcomm in the coming years. 
As for jurisdiction, Qualcomm has filed for C-V2X patents in 6 jurisdictions including WIPO.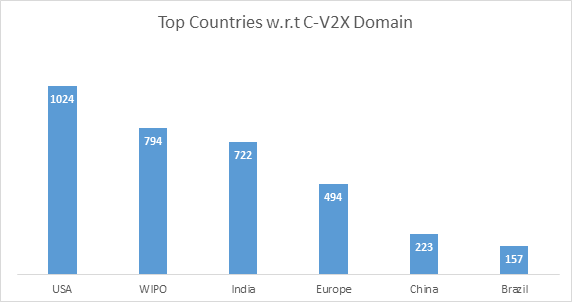 It's natural to have more patents for Qualcomm in the US as apart from the company being native, the US has a good patent grant ratio. However, India having the second-highest number of CV2X patents filed by Qualcomm doesn't make sense, as the country is at least a decade behind in adopting self-driving vehicles. 
On the other hand, Europe and China have witnessed huge adoption and popularity of self-driving vehicles. Thus, it makes sense that Qualcomm is also trying to protect its inventions in these markets.
But why are patents important for Qualcomm especially for this technology area, or to better put it for this next revolution?
Let's find out.
Why is Qualcomm trying to secure C-V2X Patents?
Qualcomm is currently leading with the most patents for C-V2X technology, not just in the US but globally. This gives the company an edge to secure standard inventions for C-V2X and then licensing them to interested parties. 

Qualcomm is pretty strict when it comes to patents. The company is known for playing offensive as it's taken many big corporations to court. 

Qualcomm subsidiary QTL

(Qualcomm Technology Licensing) grants license or rights to use Qualcomm's strong patent portfolio. Qualcomm has given licenses to more than 300 companies to use its 3G/4G/5G inventions. 

Qualcomm's ~20% revenue comes from patent licensing. In the fiscal year 2020, Qualcomm

generated $5 billion from licensing

, which is 21% of its total revenue. 

Qualcomm is one of the top 5G companies and one of the top six companies with the most 5G standard patents, as per our

5G SEP Report

. Thus, it makes sense that Qualcomm is trying to protect important C-V2X inventions to later use them for licensing revenue, as it uses 5G as well.
Moving forward, let's see how Qualcomm is using the V2X technology?
How Qualcomm is using CV2X technology in its Products?
Qualcomm is currently one of the leading 5G chip makers. So, it's not surprising that Qualcomm has a dedicated chipset only for C-V2X. These chips are said to be able to provide "improved reliability" and "enhanced performance" for autonomous vehicles, as well as other commercial applications such as smart cities. 
What does this mean for drivers across America? It means that soon enough you may find yourself driving in your car while talking on the phone or sending text messages with much less risk than ever before. 
Qualcomm 9150 C-V2X ASIC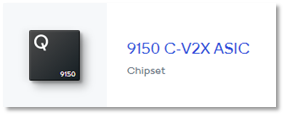 The Qualcomm® 9150 C-V2X ASIC chipset is compatible with 5G and other Advanced Driver Assistance Systems (ADAS) sensors. The chipset also supports PC5 direct communication, Qualcomm Dead Reckoning 3.0, and 5.9 GHz ITS spectrum.
With this level of support, it can provide a better range, reliability, and performance when compared to other radio similar technologies.
Snapdragon Automotive 4G Platform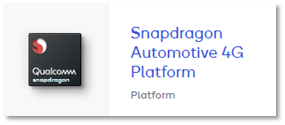 The Qualcomm® Snapdragon™ Automotive 4G Platform is a 6th generation multimode LTE modem with integrated C-V2X technology for automotive. The benefits of this platform include precise positioning, multi-gigabit cloud connectivity, vehicle-to-vehicle (V2V), and vehicle-to-roadside infrastructure (V2I) communications for safety, high bandwidth, and low latency teleoperations support.
Snapdragon Automotive 5G Platform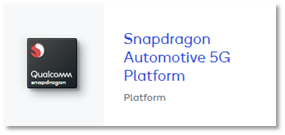 The Qualcomm® Snapdragon™ Automotive 4G Platform is 3GPP Release 15-compliant 5G multimode modem supporting 5G, LTE, 3G, 2G connectivity, concurrent with C-V2X, DSDA, and location services. The benefits of this platform include precise positioning, multi-gigabit cloud connectivity, vehicle-to-vehicle (V2V), and vehicle-to-roadside infrastructure (V2I) communications for safety, high bandwidth, and low latency teleoperations support. 
The company is still big on research and development of the V2X technology as suggested by their research papers and reports.
A quick look into Qualcomm's C-V2X Research Papers and Reports 
Qualcomm has published 7 whitepapers, so far, related to C-V2X. From the C-V2X Introduction to C-V2X Congestion Control Study, Qualcomm is highlighting the basics and the abilities of C-V2X technology to provide an Intelligent Transportation System.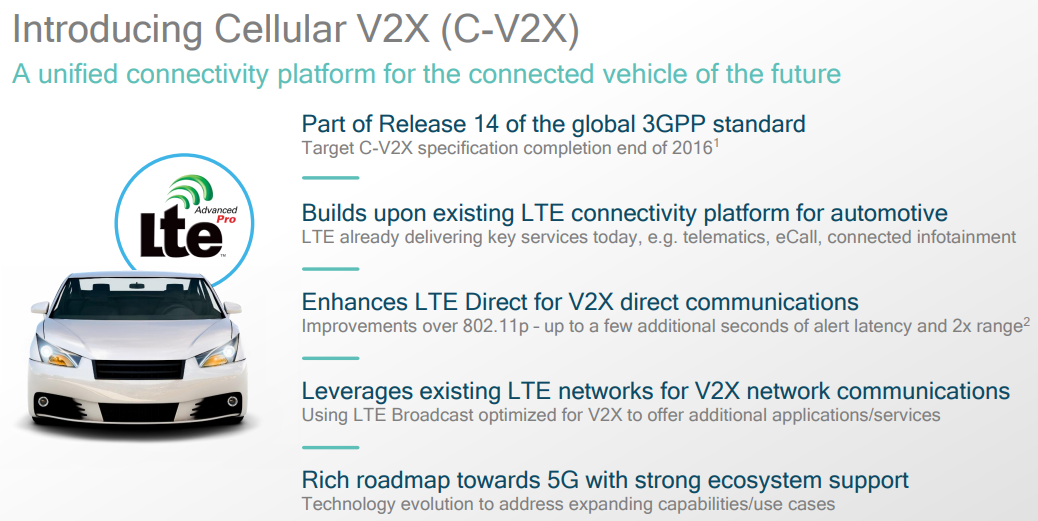 Source: Qualcomm
In June 2016, Qualcomm first introduced C-V2X technologies in a report. Ever since then, Qualcomm is boosting those technologies to make them popular among autonomous vehicle companies. Most of Qualcomm's research reports were published in the years 2019 and 2020.
Major Partnerships
Apart from consistent patent filing in V2X space to cover their products, Qualcomm seems to be aggressively tackling their competition through partnerships. This strategy appears to be aligned with their long-term goal in the business of C-V2X technology.
In the last few years, Qualcomm has collaborated with a lot of companies to demonstrate the capabilities of its 9150 C-V2X ASIC product.
In 2016, Qualcomm

collaborated

with Audi, Ericsson, SWARCO Traffic Systems, and the University of Kaiserslautern for conducting the world's first-announced C-V2X trial in Europe. The ConVeX C-V2X Project was successfully

completed

in July 2020. 

In 2018,

Qualcomm collaborated with Datan

g

 

to demonstrate the world's first multi-chipset vendor C-V2X direct communication interoperability. This interoperability test conducted with Qualcomm Technologies seems to have brought its solution in limelight, as it is the first chip level PC5 Mode 4 interoperability test, which demonstrated the maturity and readiness of commercial deployment for C-V2X technology. 
As we continue down the path of technological advancements, it is important to stay informed about the trends so you can make educated decisions about how these changes will affect your life.
Future Outlook
All the above information is enough to conclude that Qualcomm is doing some serious work in making the C-V2X technology mainstream. The technology has surely added prominent players in the wireless communication and automotive industries. 
Besides Qualcomm, we found that Samsung and Nokia are also working on C-V2X or more like 5G-V2X, as some notable patents were filed for the technology. 
The research is only going to increase from this point forward. Because there hasn't been any major success in autonomous vehicles. So, there is a big area that needs improvement for autonomous vehicles and C-V2X as well. 
Qualcomm has taken the lead for C-V2X technology even outside the US. But the landscape could change pretty soon as China is only trailing behind the US. Besides Chinese companies, Universities and research institutes are also securing patents for Cellular V2X.
Considering the lead that China is getting for 5G, Chinese companies like Huawei can turn the tables. The Chinese giant recently announced a $1 billion investment in self-driving cars. It might only be a matter of time before China takes the lead in self-driving technologies too. 
Huawei and Qualcomm are both top 5G chip makers, so the competition is only going to get tougher. If you are working in the 5G chipset domain, and want to get your hands on C-V2X but are not sure where to start, acquiring patents is a good place to start.  How to go ahead with it? This is where we can help. Send us an email at [email protected] and we will get in touch to discuss the deets. 
Authored By: Vipin Singh, Market Research.
Next Read: Top 9 Startups Leading the Research in V2X Technology