Acquiring Patents? We can help.
We helped multiple clients in acquiring patents. In a patent acquisition study, we identify the patents that have chances of being sold and have overlap on a particular product or company. 
The end output from our side is Evidence of Use (EoU) charts for the identified patents so that you can take the final call on the purchase of identified patents.
Have you ever found yourself stuck in these situations?
GreyB can help you acquire patents that fit your needs.
Our flexible approach helps in meeting the specific needs
For example – you might be interested in a patent that meets the following criterion:
Overlaps on the products/companies of your choice.

Is assigned to an entity that is willing to sell the patent to you.

Has at least 5 years remaining in life.

Has a family member in the jurisdictions (US/EP/CN) of your choice.

Is not involved in litigation already.
A glance at our approach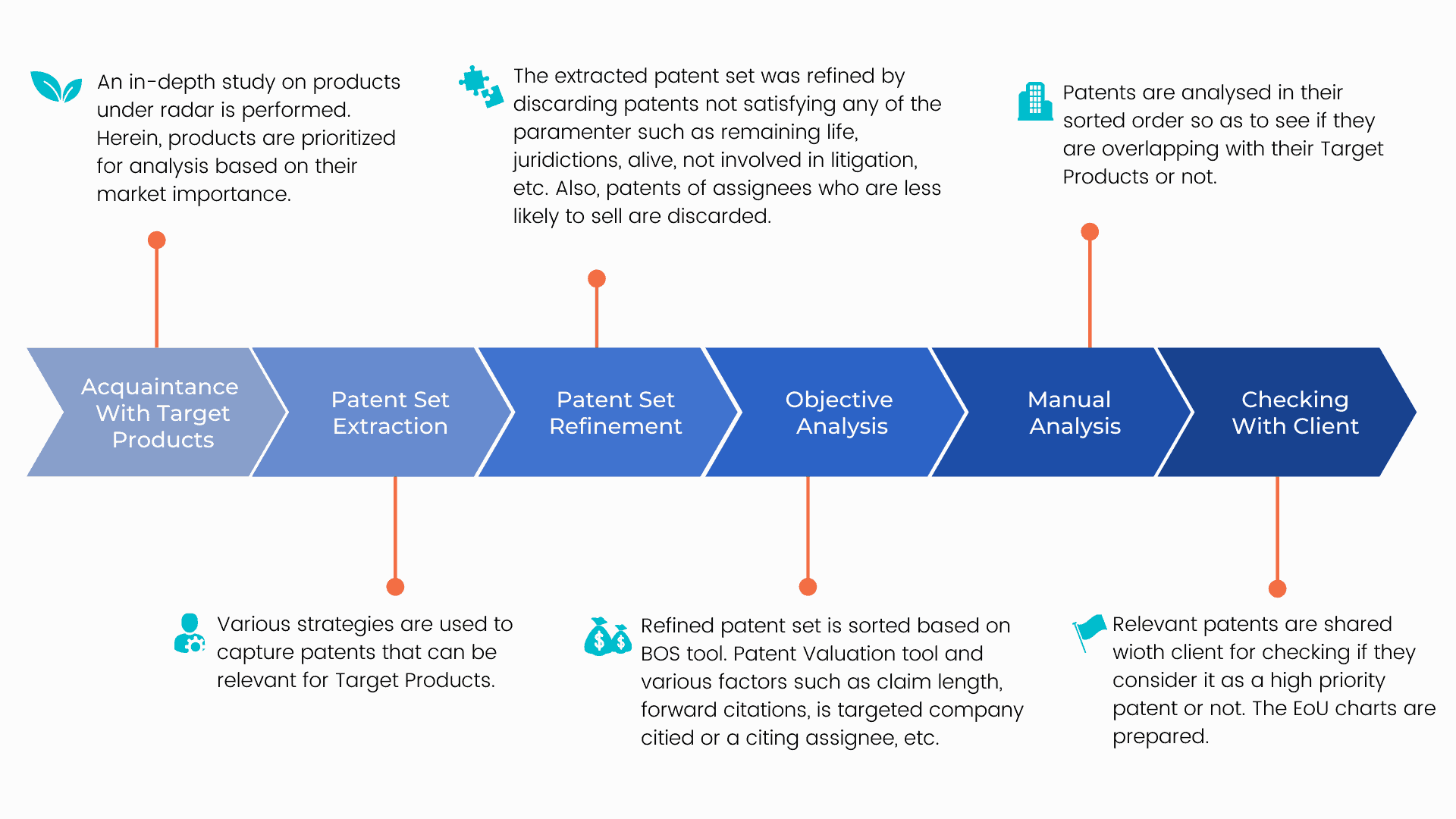 Here are some of our patent acquisition strategies:
Some Tools we use in Patent Acquisition Studies
Business Opportunity for Sales (BOS)
A non-aggressive way to license & monetize your patents
BOS stands for Business Opportunity for Sales. And it finds those opportunities by finding patents that received a rejection (102/103 type) due to one of your patents. A tool that can incorporate your organizational structure and blend perfectly with your existing processes.
Patent Valuation
Get customize research and advices
to achieve your mission-critical R&D goals
NorthStar provides curated technical information and analytics to make business-centric and R&D decisions.
What do our clients say about us?
We were happy with our experience and appreciate the effort that went into the process. It seemed well thought out and thorough. We are likely to use GreyB's services again in the future. Thank you to your team for all their efforts.

Of Counsel

I had no idea how complicated and complex a patentability search and features list development was going to be. Jeevan and the GreyB team were very helpful and forthcoming in creating a good template and study for my product needs. Their search was thorough and well documented and provides me with great value as an SME. I think that their study has given me a competitive edge and that I will successfully accomplish my patent registration at a lower cost now.

Founder, Mantra Bali - Environmentally Sustainable Design and Management
I've worked with Vik and his team on a number of prior art search projects and have found his service outstanding. His teams have been staffed with technical folks in the relevant subject areas and I especially appreciate his willingness to hold interim discussions to direct and focus the search.

Partner, Baker Thomas Oakley Greene

I have worked with Anupam and his Greyb team for years. They have done great patent search work for me, and their reports are excellent. Anupam is always super responsive and helpful in providing estimates and getting the work done and on time.

Partner/Patent Attorney, Holland & Hart LLP

I've worked with Anupam and GreyB on a number of occasions when I've needed top-notch prior art search, and will surely do so again in the future. Anupam is dedicated to client satisfaction and is constantly working to ensure that he and his team have exceeded expectations.

Attorney At Law, Perkins Coie LLP
Boardrooms that take actions on our insights: