Acquiring Patents? We can help.
We helped multiple clients in acquiring patents. In a patent acquisition study, we identify the patents that have chances of being sold and have overlap on a particular product or company. 
The end output from our side is Evidence of Use (EoU) charts for the identified patents so that you can take the final call on the purchase of identified patents.
Have you ever found yourself stuck in these situations?
GreyB can help you acquire patents that fit your needs.
Our flexible approach helps in meeting the specific needs
For example – you might be interested in a patent that meets the following criterion:
Overlaps on the products/companies of your choice.

Is assigned to an entity that is willing to sell the patent to you.

Has at least 5 years remaining in life.

Has a family member in the jurisdictions (US/EP/CN) of your choice.

Is not involved in litigation already.
A glance at our approach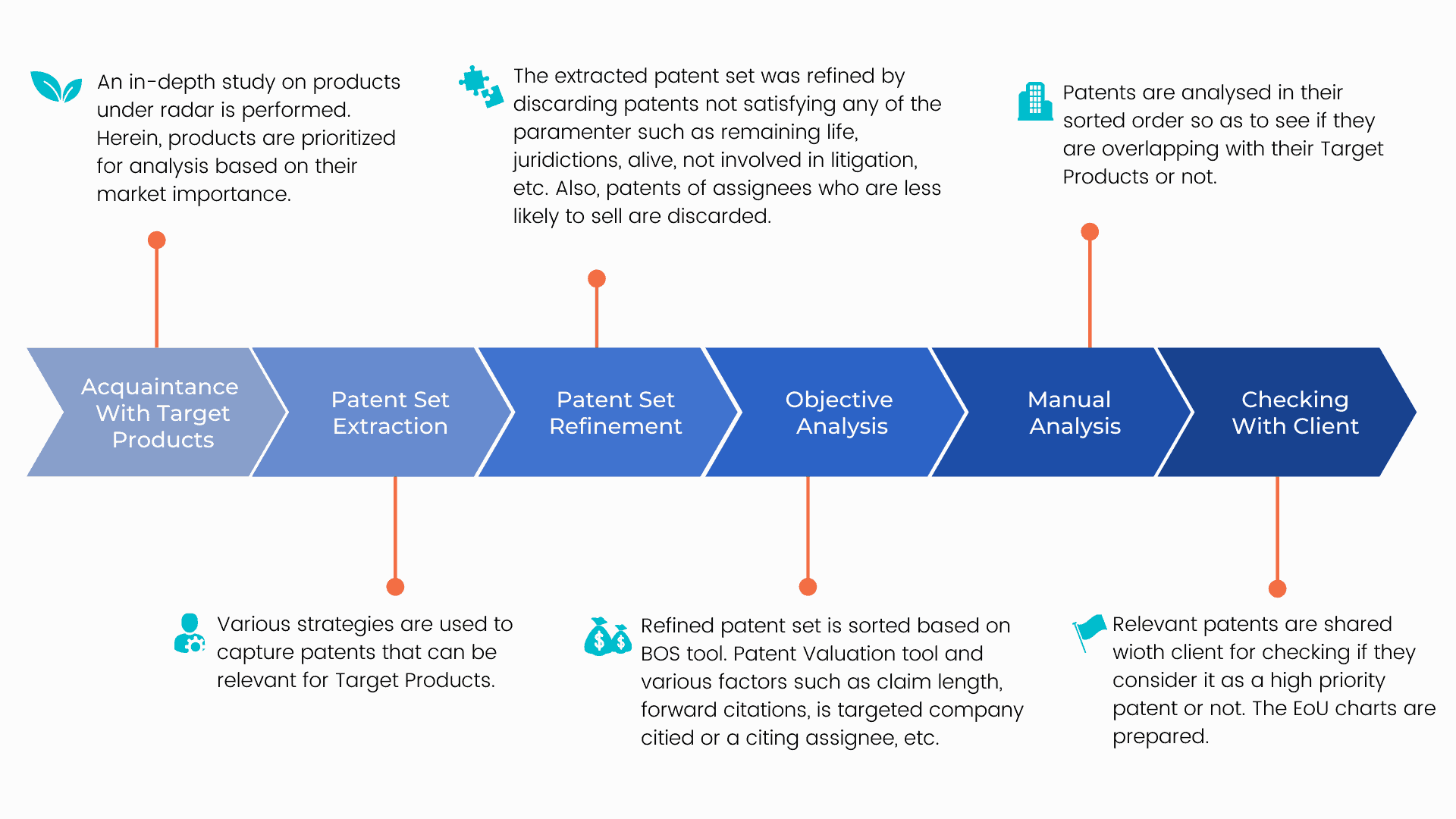 Here are some of our patent acquisition strategies:
Some Tools we use in Patent Acquisition Studies
Business Opportunity for Sales (BOS)
A non-aggressive way to license & monetize your patents
BOS stands for Business Opportunity for Sales. And it finds those opportunities by finding patents that received a rejection (102/103 type) due to one of your patents. A tool that can incorporate your organizational structure and blend perfectly with your existing processes.
Patent Valuation
Get customize research and advices
to achieve your mission-critical R&D goals
NorthStar provides curated technical information and analytics to make business-centric and R&D decisions.
Read what our clients think about our work (in their own words):
If I were to give you a testimonial, I will praise for your reporting format especially the level of detail you can capture in the analysis. Another aspect that struck a chord with me is how the file history was taken into account for understanding claim scope - this saves me time and shows your ability to do good work.

I don't have much to add, most of my requirements are about good quality invalidation search as that's what our firm is specialized in doing. The star point for me in your capability and services is how well you extend the search after my feedback in the invalidation projects. I am not sure if all companies follow this practice but I am quite happy to get your results and the routine feedback call you set up after the project is delivered.

Our corporate team has 4 divisions and we need a lot of work on the business use of patent data (Patent-Informatics). I got impressed with your dashboard capabilities, especially when you can ensure the accuracy of data behind the dashboard storyboards. This is quite a powerful tool with our internal customers as we need to present the patent picture very often.

As you know I work with you on FTO matters in consumer products industry. My project technologies are simpler but I need first turnaround times and clean reporting to make a go and no-go decisions. I am happy with the work I have been doing with you – it is good value for money and crisp reports, exactly what I want. Further, the particular point which has impressed me is – faster responses. I have told this earlier too but I reiterate the same point, you have made sure I get the reply same day, within few hours which is impressive
Ready to get in touch?