A glimpse of how we train and turn freshers into smart consultants inside GreyB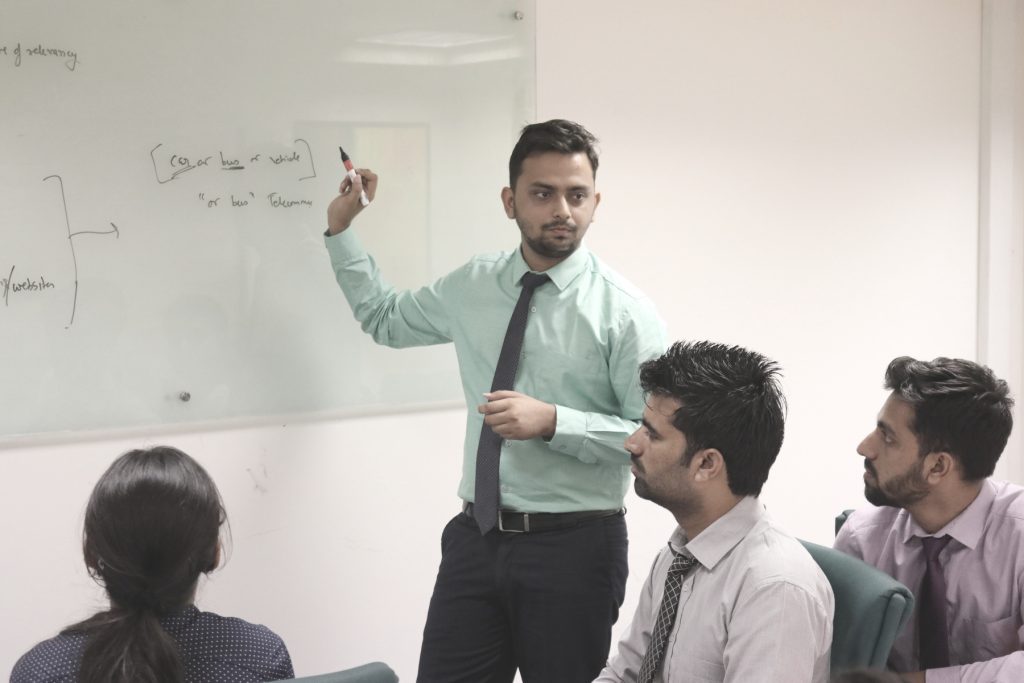 "Don't find customers for your products, find products for your customers".

– Seth Godin.
Tell me one thing – Would you buy the product you are selling to your customer if the positions get swapped?
Let's consider a scenario where you have to buy a house in Chandigarh and you go to a real estate consultant.  He suggests that Sir, before taking a decision, I'd suggest you have a good overview of the pricing across all sectors of Chandigarh and the buying patterns of consumers.
He gives you a nice presentation having a pie chart of the number of transactions happening every month, table highlighting in which sectors the prices have witnessed an increase in the value in last 5 years, which are new areas coming up, et cetera.
So ideally you have everything that you need to make a decision. Would you hire this real estate consultant?
I met a similar consultant 8 years back and I could not make a decision even after he gave everything that I would need to make a decision.
End result – I ended up buying nothing that resulted in a huge virtual loss if I look back.
He was a good consultant but I would never go back to him and never recommend him to anyone. Ever!
Surprising thing is that we many a time act like this 'Real estate consultant'. We feel we have done an amazing work by collecting all the data and client would love us but we miss the most important thing – not helping him make a decision or decide what he should do next.
Do you know why ( the real problem) I bought nothing in the end?
My budget – 2 BHK Flat
My desire – 4 BHK Flat
I had a look at all the data by him and figured out this is not the right time to buy property in Chandigarh as I cannot buy what I want to.
If I look back now, I feel if he would have shown me a path on how he can help me bridge the gap between my budget and desire in a series of steps, he could have helped me achieve my objective and I would have purchased something. A win-win for both of us.
If for example, he would have suggested me to go-ahead buying a 2 BHK house– which was good enough for me at that time – and then selling it after 4-5 years, we both would have been better off. In the next 4-5 years, I would have more purchasing power and meanwhile, the property prices would have risen and I would have bought a 4BHK.
I see this real-estate consultant everywhere – the credit card salesmen, insurance sellers, mutual fund brokers etc. They want to sell their product but don't know how to help you in making a decision. This is the reason most of the time we become uninterested whenever these people call us
Now I have few questions for you all. Put yourself in a client shoe and try to answer these:
Would you hire a landscape team if they give you a fancy presentation with all the graphs and chart but don't tell you what you should do next?
Would you hire the infringement team to help you buy patents if they provide you a list of the best patents but don't help you in the next step i.e. buying patents?
Would you hire a software team that helps you build the software that you want, but don't help you achieve your objective of increasing the efficiency?
Would you like to work with a team lead very good in managing the team but does not help you build a thought leadership?
Would you like to have an HR very good in answering all the queries but does not help build a relationship between team members?
Would you like to have a solutions team that build amazing proposals but don't help you build new solutions?
Would you like to have a colleague that does not help you achieve your objective? Or will you find colleagues that help you achieve your objective?
Think about it.
Regards,
Deepak
This article is a part of Internal Email series in which we publish emails circulated inside GreyB. The above email is sent by Deepak Syal, Director– Operations. You can read other such emails here.
Also Read: How Standardizing Assignees Help Us Deliver Better Results