Who is Innovating in SmartWatches domain?
Gone are the days when a watch only used to tell time. Well, even today it does tell time, but with ever-increasing multi-tasking requirements in ubiquitous technologies, it is quite obvious that a watch with multiple functionalities (Aka Smart Watch) is the future of watches.
Smart Watches – A Timeline:
The initial smartwatches or the first generation of smartwatches were capable of performing a lot of normal tasks: including calculations, translations, and playing games. But with the rapid explosion in technology and growth in IoT, one should not undermine what smartwatches being currently developed are capable of performing.
Be it calling functionality, health monitoring, voice commands, or any other feature- someone somewhere is working on integrating numerous features into it to make the smartwatch even smarter. It is clearly predictable, that in the coming few years, smartwatches might become an integral part of our being.
A Side Note: Like Smart Watches, Smart Switches are going to play a key role in upcoming time where IoT will be in full action. Find out Industry Level insights about them here: Recent Innovations and White Spaces in Smart Switches
The Evolution Of Smart Watches – Insights From Patents:
Though smartwatches have become common in the last few years, the concept behind them is more than a couple of decades old. One of the earliest smartwatch patents dates back to the 1990s. Since then this domain has grown to a great extent.
Yet the major developments have been reported very much in the recent years, when innovators started integrating the traditional watches with other devices such as computers, mobile phones, and health monitoring devices, and so on, to transform it to a computer watch or how we popularly know it, a smartwatch.
Between the period 2012-2015, when the world was experiencing a huge development in the smartphone domain, there was also an exponential increase in the number of patent applications filed for protecting technologies related to the Smartwatch.

Obviously, when a simple machine can simplify so many daily tasks, innovation in it is likely to be high. But that leaves us with the question, who has the highest patents in the domain?
Dominion Over The Smart Watches:
To answer the above question, we need to go back a few decades in history. To 1980s.
In the 1980s when personal computers were introduced, Seiko began developing a new series of watches with computing abilities.  In 1982, Seiko released "Seiko Watch TV" which was capable of displaying TV images below the digital time display. The watch due to its state of the art technology was also recognized as the "Smallest TV set in the world" by the Guinness Book of Records in its 1984 edition.
Over a period of time, Seiko experimented with numerous integrations in their watches such as calendars, calculators, messenger, etc. Such innovations kept Seiko at the top of the ladder when it comes to owning patents related to Smart Watches.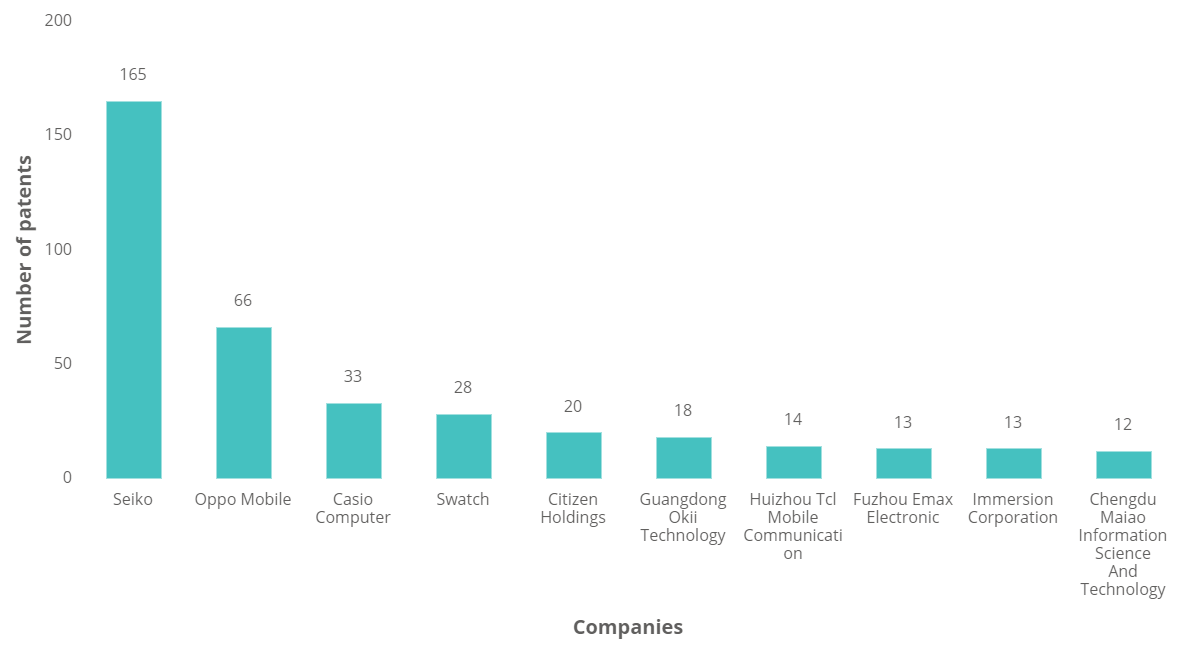 Seiko clearly outstands its competitors when it comes to filing patents in this domain. Though tech giants such as Apple, Microsoft, Samsung, Sony Motorola, have launched incredible products in the market, their patent share in this domain is significantly less. From the patent data, it has been observed that a significant proportion of the companies which are the pioneer in this domain are of Chinese origin.
Top Countries Researching In Smart Watches?
The global manufacturing hub, China, is a major research center for the Smartwatch industry.  Many companies from China are researching in this domain followed by Japan and the United States. The probable reason for it can be high ambitions of the Chinese companies and government support for making China an innovation leader as compared to a low-cost manufacturing hub.
The probable reason for it can be high ambitions of the Chinese companies and government support for making China an innovation leader as compared to a low-cost manufacturing hub.
In recent years, we have seen a huge change in the way Chinese companies conduct business. With an aim to become a global leader, the Chinese give high importance to patents along with manufacturing. In Nano Photovoltaic cells, for example, it's the top country conducting research. You can read in detail about it here: Top countries researching in Nano Photovoltaic Cell technologies
Further, the patent laws in China have become much stronger and getting injunction has become comparatively easier. This serves as an implication that in the near future, the state of patents in China would be the same as what was there in the USA 7 years back.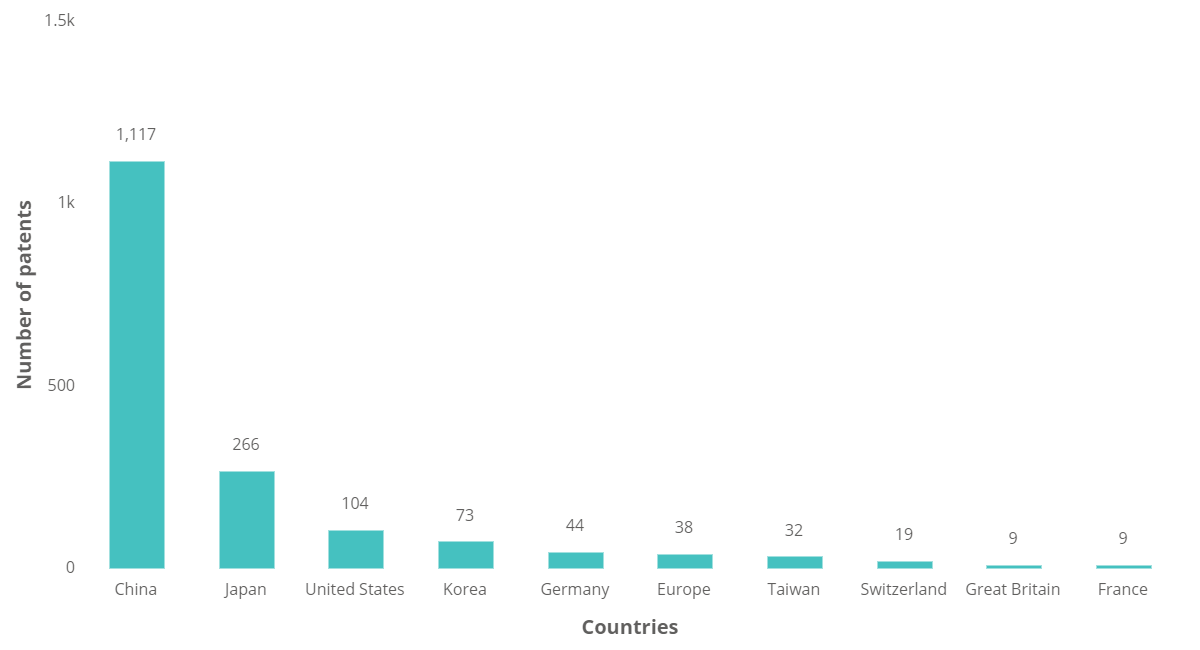 Getting back to the numbers, if we have a look at patent filing activity in China only, for the smartwatch domain, a huge growth has been observed in recent years and more could be expected in near future.

Innovating in a region is one thing, seeking a return on investment is another. Patents, other than protecting innovation, also play an important role in serving as a fence prohibiting infringing products from entering the market. In those cases, patent portfolios, also serve as a great monetization tool, which other than protecting the products of an organization, also fetch great licensing revenue.
Be it commercialization of a patent, licensing or sales numbers, the ROI perspective can't be undermined.  In those cases, the question that occurs is:
Which Are The Top Countries That Could Generate A High Return On Investment (ROI) For Smart Watch Industry?
According to our analysis, most of the companies are protecting their innovations in China, seeing a major potential market there due to its huge population and strong support from the government towards patent laws. Japan, the United States of America and Europe are the next preferences from an ROI perspective.
How Traditional Watch Companies Played A Role In The Emergence Of Smart Watch Industry?
Seiko, the top player in the watch industry has remained active in the smartwatch industry from the time period dating back to the '80s. Seiko launched its first watch with a feature of displaying TV images in 1982.
Next year it came up with a watch with functions including storing memos, calendar and performing calculations. In 1995, it came up with a watch which could display message including different kind of data such as weather forecast. All these years, Seiko had been active in patent filing and came up as the top innovator in this domain.
---

Featured Download: Download your free copy of Patent Portfolio Analysis of Xioami and find what strategies it adopted to Solve its Patent Portfolio Deficit: Click here to download

---
Similar to Seiko, Casio also developed calculator watches in the mid-80s. It was so popular that it became a must-have gadget at that time. You can still find such calculator watches in the market.
One more traditional watch company, Citizen Holding, is also a leading innovator in the domain.  It stepped into the smartwatch industry with patent filing dating back to the early '90s. In 2000, it worked with IBM to launch IBM WatchPad. This wristwatch was capable of operating on Linux, along with other additional features like speakers and microphones.
It cannot be denied, it was the traditional watch manufacturers that took up the opportunity to bring the watches to the next stage. But are these companies really bringing up innovation currently? Let's see.

In the past few years, the trend has shifted and the non-watch companies have emerged as leading innovators of the domain. Patent filing activity of top traditional watch companies (such as Seiko, Casio, Citizen, etc.) in the domain is decreasing in recent years. On the other hand, the top non-watch companies are bringing up the momentum.

Who Are The Other Companies (Non-Watch Companies) Responsible For The Emergence Of Smart Watches?
The groundwork for developing Smart Watch was laid by the pioneers – Seiko, Casio, and Citizen. From there, many new companies followed the trail. Companies like Oppo Mobile and LG, have contributed to the smartwatch industry over time and made a position in the top 10 patent filers. Also, the big players of the mobile phone world such as Apple, Samsung, Motorola, have a presence in the Smartwatch market, but their patenting activity is comparatively less.
Most of the non-watch companies that are innovating in the domain are again from China. Among these, Oppo mobile is a dominant one. It has a good market presence and seeing its IP, it has the potential to become one of the leaders in the domain.

Who Could Be The Next Set Of Competitors In This Domain?
Huge potential and exponential growth of the Smartwatch domain has attracted a lot of new companies to mark their presence in this area. Let's have a look at some of them.

We analyzed the patent data of new entrants and found that the number of new companies filing patents in this domain was stagnant till 2014, but year 2015 saw an exponential rise. Overall patent filing has increased by more than 30% on average in last five years.

Among top 100 new entrants in the market, very few watch companies can be seen.

What Kind Of Technological Developments Is Happening In Smart Watch Domain?

Most of the inventions in the smartwatch domain are focused on pairing and integrating smartwatches with other devices. Some of the most important ones include thermometer, compass, cars, mobile phones, physiological measurements, et cetera.
Seeing this high level of integration, it is highly likely that, smartwatches can emerge as a crucial element in the Internet of Things. There is a lot of activity happening in this arena, and all we could do is wait and watch to witness the latest innovations in the domain.