With Patents in two Countries, How Safe it is to Research on Etanercept Biosimilars?
Knowing the expiration date of a patent is important for multiple reasons; A key reason being that an expired patent goes into the public domain, which means everyone can now freely practice it. This, in turn, leads to a mine of possibilities for companies operating in the same market segment.
One such segment where a mine of opportunities has opened up is Etanercept – a large molecule drug whose most patents have expired except in two countries. As a pharmaceutical company, should you invest in it?
By the end of this article, you might have an answer to this question. In our short time together today, we will walk you through a brief description of Etanercept, along with its patented history. In addition, we will explore the aforementioned two countries, along with the opportunities and threats for companies in the same market segment in these countries so you can make the best decision. 
Intrigued? Let's get started.
What is Etanercept?
Etanercept is a biopharmaceutical that treats autoimmune diseases by interfering with tumor necrosis factor (TNF) by acting as a TNF inhibitor. The drug has US FDA approval to treat rheumatoid arthritis, juvenile idiopathic arthritis and psoriatic arthritis, plaque psoriasis and ankylosing spondylitis.
Etanercept Sequence 
LPAQVAFTPYAPEPGSTCRLREYYDQTAQMCCSKCSPGQHAKVFCTKTSDTVCDSCEDST YTQLWNWVPECLSCGSRCSSDQVETQACTREQNRICTCRPGWYCALSKQEGCRLCAPLRK CRPGFGVARPGTETSDVVCKPCAPGTFSNTTSSTDICRPHQICNVVAIPGNASMDAVCTS TSPTRSMAPGAVHLPQPVSTRSQHTQPTPEPSTAPSTSFLLPMGPSPPAEGSTGDEPKSC DKTHTCPPCPAPELLGGPSVFLFPPKPKDTLMISRTPEVTCVVVDVSHEDPEVKFNWYVD GVEVHNAKTKPREEQYNSTYRVVSVLTVLHQDWLNGKEYKCKVSNKALPAPIEKTISKAK GQPREPQVYTLPPSREEMTKNQVSLTCLVKGFYPSDIAVEWESNGQPENNYKTTPPVLDS DGSFFLYSKLTVDKSRWQQGNVFSCSVMHEALHNHYTQKSLSLSPGK
Etanercept, in other terms, is a large molecule fusion protein produced by recombinant DNA with a molecular weight of 150 kDa that binds to TNFα and decreases its role in disorders involving excess inflammation in humans and other animals. The first prototype protein was shown to be highly active and unstable in the early 90s by Bruce A. Beutler – a Nobel prize winner – and his colleagues. They later patented the protein and then sold all its rights to Immunex, a biotech company that was later acquired by Amgen in 2002.
In the US and Canada, the drug is marketed by Amgen under the trade name Enbrel. Outside North America, it's been marketed by Wyeth, a part of Pfizer, except for Japan where Takeda Pharmaceuticals markets the drug.
When it comes to sales, Amgen's Enbrel continued its run as the second-best-selling immunology drug in the US. in 2018 alone, Enbrel secured $4.8 billion in US sales and $7.5 billion in global sales.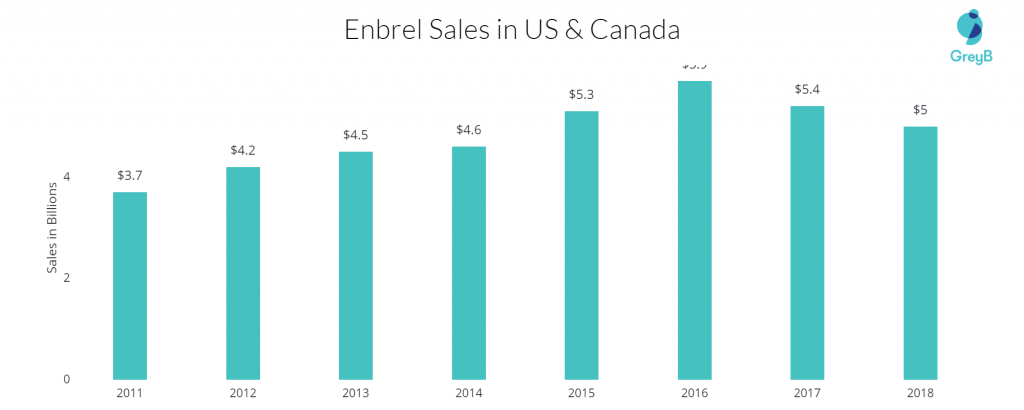 The drug patent covering Enbrel was originally set to expire on October 23, 2012. But in the US, another patent has been granted which extends the exclusivity time for another 16 years. 
In most of the countries, as exclusivity ended, the generic companies announced the production of biosimilars of Etanercept. For instance –
In April 2013, Cipla, an Indian pharmaceutical company, announced the launch of the Etanercept generic version under the brand name 'Etacept' for the treatment of rheumatic disorders. They mentioned that it will cost 30% less when compared to the original drug.
Besides, in the European market, the drug patent expired in 2015 in some jurisdictions, so there is a chance that companies might be working on biosimilars to launch in the European markets.
One might wonder – Is it too late to work on this or is there still an opportunity for formulating generics of Enbrel? Well, let's get some answers. 
Etanercept Approval History
Over a period of time, Etanercept got the approval to cure multiple diseases. As the flow chart shows, in a period of 18 years, the drug is now associated with six autoimmune diseases. 
As the number of approvals for curing a disease increases, multiple pharma companies would be interested in Etanercept biosimilars more than ever.
Now let's have a look at the few key patents of Etanercept and the associated countries. 
Key Patents and the Countries Associated with them
US8063182B1 – Hoffmann La Roche Inc.
This patent protects the sequence structure of Etanercept. Hence, it has considerable infringement potential – so there are high stakes to generate any Biosimilar of Etanercept.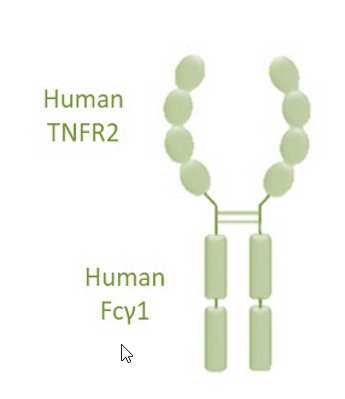 Countries where Etanercept is being Protected
Roche's patent protects the drug through 13 patents in 8 countries. Currently, out of these 13 patents, only 3 patents are alive. We have listed all these patents below along with their respective expiry dates. 
Patents that are Alive
| | |
| --- | --- |
| Publication Number | Expiry Date |
| US8163522B1 | April 24, 2029 |
| US8063182B1 | November 22, 2028 |
| NL300129I2 | July 02, 2023 |
The US is the only country where the rights of Etanercept will be protected for a longer time. The Netherlands will be enjoying the secured rights for the next 3 years.
Patents that got expired
| | |
| --- | --- |
| Publication Number | Expiry Date |
| AT236249T | August 31, 2010 |
| AT194384T | August 31, 2010 |
| BG64881B2 | February 28, 2014 |
| BG63284B2 | February 28, 2014 |
| DE10399023I2 | August 31, 2010 |
| DE59010933D1 | August 31, 2010 |
| DE59010908D1 | August 31, 2010 |
| EP939121B2 | August 01, 2015 |
| EP417563B1 | August 30, 2010 |
| JP02728968B2 | September 12, 2010 |
Roche's patents have already expired in some geographies such as Austria, Bulgaria, Germany, and Japan. Thus, it creates an opportunity for making biosimilars of the drug in these markets. 
Other Patents Insights
While doing the analysis on the drug, we came across some insights, which we have listed below:
Most of the 'Method of use' patents relate to other companies disclosing the development of TNF receptor blockers in treating other diseases. 

There are few attempts by Amgen to protect the extension of indication of Etanercept in the treatment of Polyarticular Juvenile Idiopathic Arthritis and Plaque Psoriasis.

Amongst the 'formulation' patents, there have been some attempts by Biosimilar companies to circumvent and develop different formulations of Etanercept. 

Many companies are filing patents in this domain so, there are chances that Biosimilar companies might plan to launch products by filing patents on new formulations.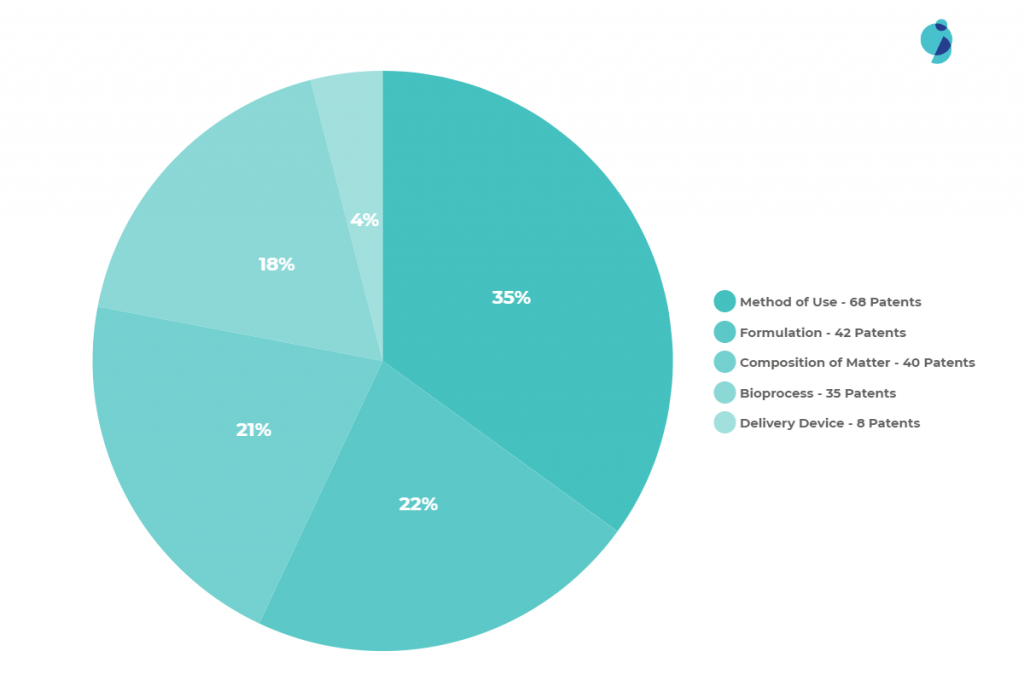 Future Threats for Biosimilars
Amgen is clearly the most dominant player, responsible for a moderate proportion of the filings with a 31% share of the patents, while the rest of the patents belong to a variety of applicants.
Lupin, a generic/biosimilar company, filed patents that are relevant to Etanercept. This indicates that Lupin may be interested in launching Biosimilar of Etanercept, which may give tough competition in the future.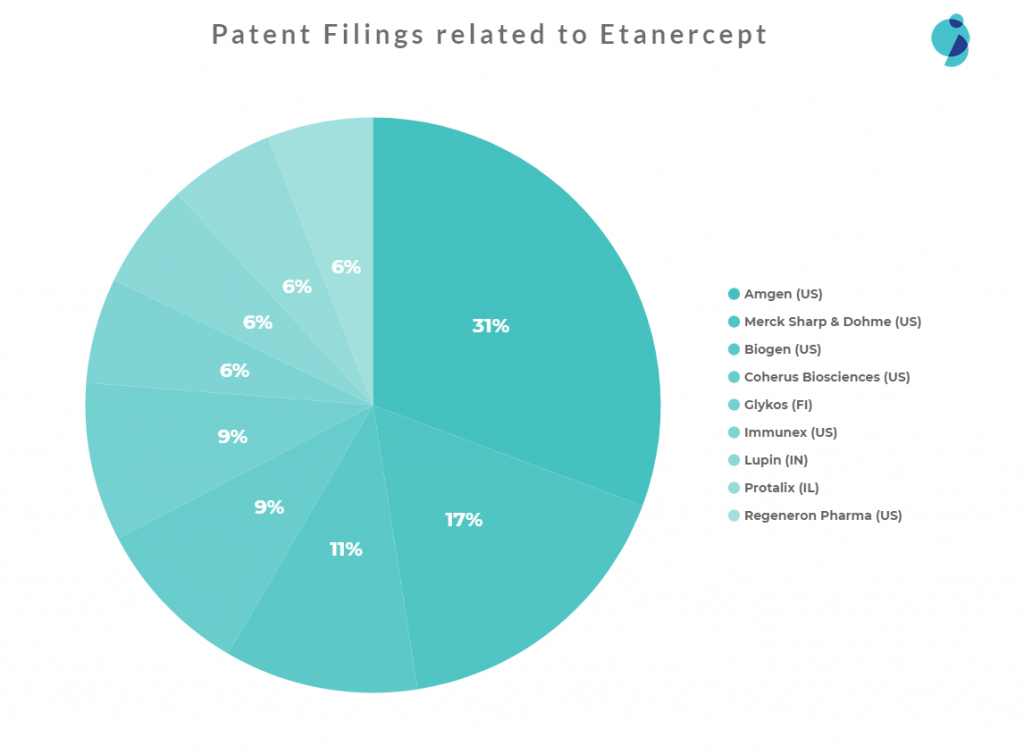 Conclusion
As it is the second top immunology drug in the US, there is no doubt that generic companies will make an attempt to make the generic version or even try to file patents for protecting Etanercept-similar formulation.
While the study will help you choose a market and condition to go for producing generic versions of the drug, there are still some questions that are unanswered, questions like –
Which are the protected features in patents to be avoided by R&D to launch Biosimilar?

What could be the options for launching a Biosimilar before the expiry of the key patent?

Who are the entities publishing non-patent research literature on a Biologic?

Which are the alternatives to the Biologic(in-focus), which have a growing market share?

Which companies should you keep an eye on?
These will be answered in the upcoming exclusive study. Interested to find the answers to the questions above and more?