Towards 6G network: Top Companies and Universities mapping the 6G technology
The adoption of 5G will propel the whole range of disruptive technologies, including AI, IoT, and robotics. With 5G bringing so much possibility in almost every domain, one must think – what's next? 6G? 
Working on the 5G SEP analysis with my team got me thinking, the world has witnessed the evolution from 3G -> 4G -> 5G. Hence, 6G is the next obvious idea, and just like 5G, 6G too might soon become the buzzword for telecom giants. 
Talking about 5G SEP, we performed a detailed analysis on 12000+ 5G declared patents to find the exact number of the core essential 5G patents. From the analysis, we found the number of core 5G SEPs and the top companies holding those core 5G SEPs. You can get our exclusive 5G SEP Report by filling the form below.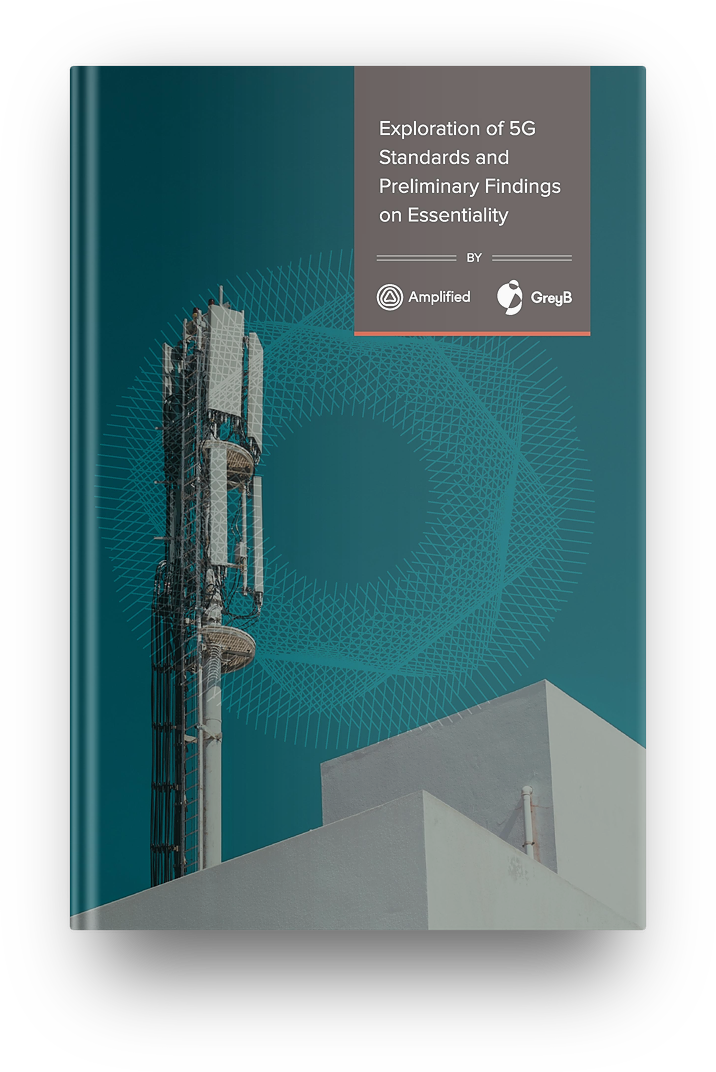 So, where is 6G now?
There are few who work in the present and there are few who invent the future. Many companies have already started working on 6G and trying to lay down how the next generation of communication is going to work. However, let's start with first understanding where we are right now. 
How Much has 6G Network Evolved?
The wheel of evolution for any generation of telecom technology looks something like this: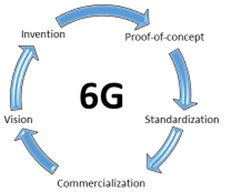 The wheel starts with a vision of certain scenarios or applications catering to problems/needs and their requirements. Then companies start doing research to find and patent different inventions for fulfilling those requirements and make models to test it. 
Afterward (or perhaps parallelly), the standardization efforts start where the industry leaders collaborate to define standards that the devices must comply with in order to meet the requirements set in the vision stage and interoperate with the devices of each other.
In the wheel of evolution, 6G is in a pretty early stage and no technology has been invented yet to cater to the requirements set for the 6G standards. So, this corresponds to the 'Vision Stage' where a problem or need is identified and all the requirements are established. The next stage would be the 'Invention Stage'.
To paraphrase, 6G right now is at the vision stage and moving towards the invention stage. 
However, while many operators are yet to introduce 5G networks, developers have already started active research in 6G. 
In fact, the University of Oulu of Finland organized the 6g Flagship event, which is the first 6G Wireless Summit with almost 300 participants from 29 countries, including major infrastructure manufacturers, operators, regulators as well as academia. 
The summit resulted in the first-ever white paper on 6G published in September 2019 by the University of Oulu. 
If you are interested in understanding 6G implementation, here are some of the highlights discussed in the whitepaper – 
Artificial intelligence and machine learning

will play a major role both in the link and system-level solutions of 6G wireless networks.

Extended-spectrum towards THz

will enable merging communications and new applications, such as 3D imaging and sensing.

New access methods will be needed for truly massive machine-type communications. Modulation and duplexing schemes beyond Quadrature Amplitude Modulation (QAM) and Orthogonal Frequency Division Multiplexing (OFDM) must be developed and possibly it is time to start looking at

analog types of modulation

at THz frequencies.

It predicts

a shift in user devices from smartphones toward wearable devices

(particularly lightweight glasses) having virtual, augmented, or mixed reality capability. The necessary supporting technologies include:

imaging devices such as light field, panoramic, depth-sensing, and high-speed cameras;

biosensors for monitoring health conditions such as the heart rate, blood pressure, and neural activity;

specialized processors for computer graphics, computer vision, sensor fusion, machine learning, and AI, either in the device or in the surrounding network infrastructure;

The concept of

semantic communications

(using the meaning of the messages for making the connectivity and networking more efficient), is an important emerging area of research which is closely connected to semantic AI.

Autonomous vehicles

are made possible by advances in wireless networks and in distributed AI and sensing. Each vehicle in a future network will be equipped with many sensors, including cameras, laser scanners, possibly THz arrays for 3D imaging, odometry, and inertial measurement units.

It is believed that to make 6G acceptable to society,

the protection of private information will be a key enabler

to realize its full potential. The secrecy is ensured through quantum mechanics instead of complex computation. Furthermore, authentication by a physical layer signature, such as RF fingerprinting, and some other technologies, such as randomization of MIMO transmission coefficients, coding, etc., could potentially be used in 6G.

In addition to the terrestrial networks,

infrastructures based on satellite and unmanned aerial vehicles

(or similar aerial platforms) will be needed to support the coverage and capacity requirements. 
5G vs 6G
Knowing about the advances 5G brought in you must be wondering what 6G and B5G (beyond 5G) networks will bring to the table? Well, here you go: 
Comparison of some of the Key Performance Indicators

Technology-wise comparison
Technology
5G (consistent with 3gpp standards)
6G (consistent with published white papers)

Terahertz spectrum and RF Devices Improvements

No

Yes

Satellite (non-terrestrial) communication techniques

Yes 

(Discussion seem limited to change requests only as of now and are not included in standards yet)

(Example – R3-185310)

Yes

(It also seems to be a major technical advancement discussed for 6G)

Artificial Intelligence/Machine learning

Probable

(Discussion seem to be at a nascent level)

(Example – RP-182105)

Yes

(It seems to be a major technical advancement discussed for 6G)

Semantic communication

(using the meaning of the messages for making the connectivity and networking more efficient)

No

Yes

Analog modulation techniques

(as QAM and OFDM might not work the best at THz frequencies)

No

Yes

Single-frequency full-duplex Systems

(the transmitter and receiver will operate on the same frequency at the same time)

No

Yes
What will 6G look like?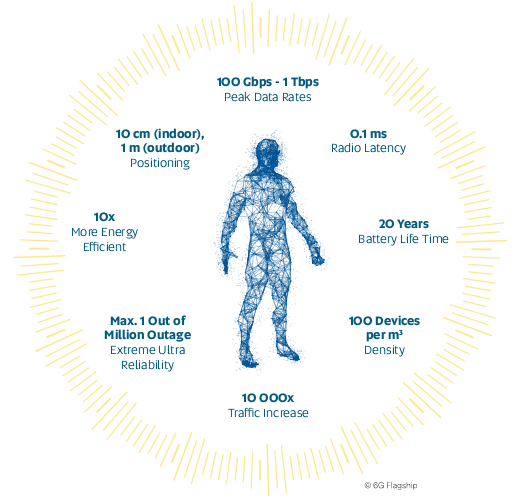 These are the key performance indicators for 6G and B5G networks. Simply put, 6G is widely believed to be smarter, faster, and more efficient than 5G. 
6G research includes the challenge of transmitting up to 1 Tbps per user. It is set to be as much as 100 times faster than 5G. Where 5G speeds are expected to allow users to download the content of an entire DVD in split seconds think what 6G can bring?
Another fundamental difference of 6G technology will be the use of millimeter waves, which is expected to lead to possibly noteworthy breakthroughs in wireless sensing technology.
Latency too is expected to improve on a huge scale, with air latency targeted to be around 100 μs, end-to-end (E2E) latency of around 1 ms which would result in user experience latency of less than 10 ms.
6G promises to be a better and faster version of 5G and its predecessors. It makes one wonder, what are companies doing towards developing the 6G standard?
Which companies are working on 6G?
Competition has started between telecom companies to get their share in 6G and companies have already started publishing whitepapers on the 6G technology ( listed below ). 
1. NTT Docomo White paper on 6G
After the above discussed first white paper got published in September 2019, NTT Docomo published a white paper in January 2020. An interesting view presented in this paper for new wireless transmission technologies that may be used in 6G is that instead of using OFDM techniques, faster-than-Nyquist (FTN) signaling — which compresses and transmits signals non-orthogonally using a sampling rate faster than the frequency bandwidth in the time domain — will be used. It also proposes virtual massive (VM)-MIMO technology to cater to the antenna gain requirements.
2. Rohde & Schwarz white paper
Rohde & Schwarz published a paper in March 2020. The mentioned concepts and insights in the paper are quite similar to NTT Docomo's paper. 
3. The Finnish 6G Flagship
They published 11 new 6G White papers in June 2020, so that makes the total count of papers from Flagship to be 12.
Then as the latest development came Samsung's white paper in July 2020. 
4. Samsung in 6G 
On the technical front, Samsung's research paper published in July 2020 seems a bit ahead of the University of Oulu whitepaper. Here are some new technologies that I found worth highlighting:
More clarity is provided on the

Novel Antenna Technologies

needed for THz communication.
In this, technical advancements on two vanguards have been discussed:
Metamaterial

based Antenna and RF Front-End –
A metamaterial is usually constructed by arranging multiple tunable elements (PIN diodes, Varactor diodes, etc.) in repeating patterns, at scales that are smaller than the wavelengths.
Although this concept isn't new and we found research dating back to 2002 on this technique [Source 1 (2002), Source 2 (2012), Source 3 – related to THz communication (2015)], but Samsung's paper specifically discusses three outstanding approaches for utilizing metamaterials. 
A metasurface lens has the potential to help sharpen a beam shape.

Metamaterial antenna acts as a resonant antenna to radiate directive beams by itself.

Reconfigurable intelligent surface (RIS) can be used to provide a propagation path where no LoS link exists
Orbital Angular Momentum

–
Through OAM, high-order spatial multiplexing can be achieved in an environment where it is impossible with conventional MIMO technologies, i.e., LoS channels. However, it seems that its practical implementation isn't realizable at present.
Spectrum Sharing

: A challenge faced in implementing dynamic spectrum sharing is the collision of spectrum usage. The paper proposes to use AI to predict usage from other entities and thus help reduce collisions with minimum overhead.

Using

Split Computing

, that is devices can offload heavy computations tasks to other computations resources available in the network. 
Okay, so we got to know about the whitepapers. But are you also wondering about the other research activities in the domain? 
Who is developing the 6G technology?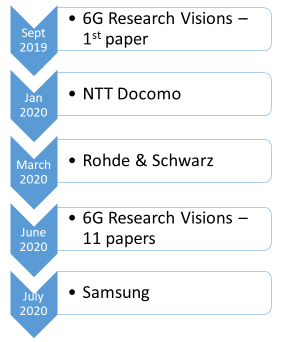 Research activities have been kickstarted by some of the telecom companies such as Samsung, Ericsson, and Nokia since FCC has opened a 6G spectrum for research in March 2019. There are many others who are working on it but have not come out openly in public. 
Here are a few companies that are actively researching in 6G and openly sharing with everyone about their activities.
1. Samsung, Ericson, Nokia 
Samsung kicked off 6G research in June 2019. South Korea's SK Telecom has signed agreements with Samsung, Ericson, and Nokia for joint research and development in 6G mobile network technologies. 
2. NTT Docomo 
As mentioned above, NTT has also published a white paper on 6G which clearly indicates the company's intentions to be ahead in the race.
3. Huawei
This CNET article suggests that the Chinese company is researching 6G at its R&D center in Ottawa, Canada. 
4. LG
In January 2019, Samsung's native rival LG also opened a 6G research center, in collaboration with the Korea Advanced Institute of Science and Technology (KAIST). 
5. ZTE 
On May 17, 2020, Chinese telecom equipment manufacturer ZTE agreed with major carrier China Unicom to jointly review 6G prospects and technology trends, and carry out research on key technology and standard cooperation. (Source). 
Which Universities are working on 6G?
With all the industry giants wanting to gain a lion's share in the 6G market, universities also seem to be at the forefront of innovation in this direction. Along with the University of Oulu, a lot of papers and even patents have been filed by some universities. 
Below listed are some of the universities and their respective activities in the domain:
1. Beijing University of Posts and Telecommunications 
We found two patents by the university, which are specifically related to Beyond5thGeneration (or, B5G, as they have called it) and 6G technologies. These patents are CN110392350A and CN110430550A, claiming priority from August 2019.
Other than these patents, there is also a research paper from the same university filed in March 2020 – Channel measurements and models for 6G: current status and future outlook.
 2.
University of Padova, Italy
The University of Padova published a whitepaper which is an effort in understanding the main challenges, potential, and use cases of 6G technologies that the university's researchers believe will characterize 6G networks – Towards 6G Networks: Use Cases and Technologies.
The table below enlists the relevant use cases discussed in the paper.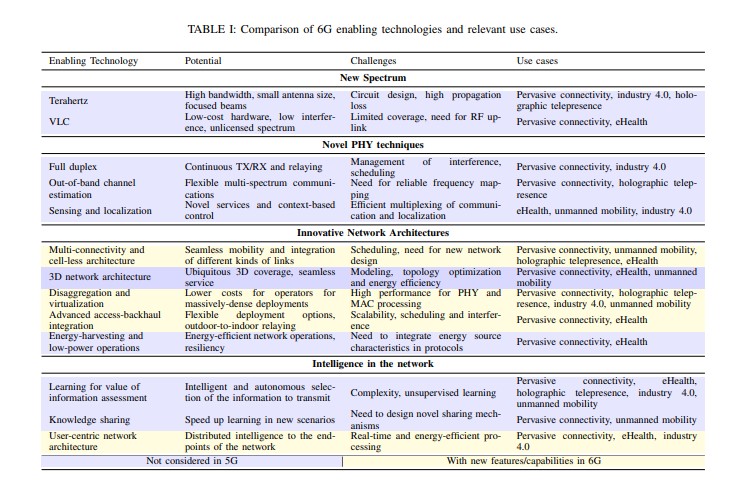 Source
They have concluded that these technologies, however, are not market-ready. This appears to be a unique opportunity for the wireless research community to foster innovations that will enable unanticipated digital use cases for the world of 2030 and beyond. 
3. University of Aveiro
This research paper from March 2019 also paves a way for the need to look into 6G – Why 6G?.
The paper presents the potential driving forces behind the development of 6G. It also mentions that AI and ML applications would find a prolific presence in the 6G technology. And it introduces new dimensions that are expected to find places in the 6G ambit, such as – 'quantum communication' and 'satellite integration'.
Universities are probably being ignored or not given too much of the limelight at the time, but they seem to be playing a pilot role in laying a roadmap for 6G, deciding how 6G infrastructure/technologies are going to be. 
Wanna stay updated on what happens next in 6G? Subscribe to us and stay ahead of the curve.
Authored by: Ankush Sharma, Team Lead, and Krishna Aswani, Manager, Prior Art Search Team.
About Author: Ankush is a Team Lead with GreyB and has worked in technologies ranging from 3G to 5G. He takes a keen interest in monitoring the current state of research and upcoming tech in the telecom domain.