5G Market Research: What are the top players upto?
5G – The most awaited technology for years altogether is finally here. A vast improvement over its predecessors – the technology has been in the headlines for quite a while. In our previous – the first – article in the 5G series, we covered the features that set 5G apart from its predecessors and its application areas in various domains ranging from healthcare to automotive industry, and from retail to public safety and surveillance.  Given its extensive application areas, it makes one wonder – Which companies are working on 5G domain?
Well, we had the same question and the more we read, the more we got curious to discover the other agreements and partnerships signed in the 5G domain, the M&As and research partnerships with universities. It was a bountiful of data and given the understanding that you'd have the same questions – and in the meanwhile, to save you the hassle of spending days altogether reading about these partnerships – we summarized all the research activity,  partnerships, agreements, and M&As of these major players below.
This is the second part of our massive 8500+ words research report on 5G technology. In case if you're in a hurry, you can download the entire report as a PDF and save it for offline reading or sharing with your colleagues. Use this tiny form to download the form: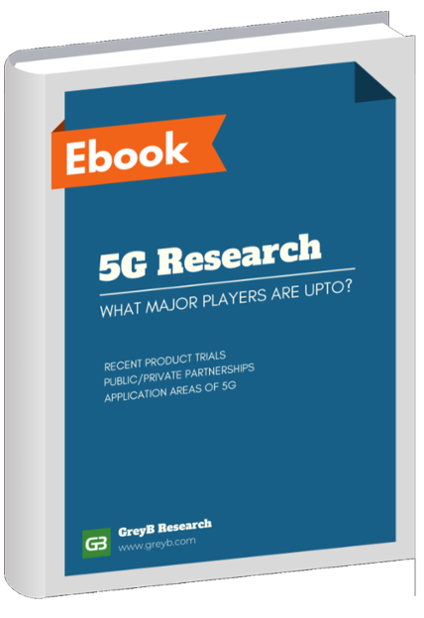 Who are the major players, you ask?
Well, the Table of contents below would answer the question. You could also click on the particular company to find a summary of their activity in the 5G technology domain.
Research Activity and M&A of Major Players Working on 5G technology
Huawei Technologies Co. Ltd. (China)
Huawei has been pouring money into research on 5G wireless networks and patenting key technologies. The company has hired many experts from abroad as well to decide the technical standards for the next generation of wireless communication technology.
As of early 2017, 10% of 1450 patents essential for 5G networks were in Chinese hands in which majority belongs to Huawei and ZTE.
Huawei spent around $12 Billion on R&D in 2017, which was threefold of Ericsson's spending of $4.1 Billion. This year, according to estimates, it will spend $800 million in 5G research and development alone.
The company wants to involve AI in 5G which according to them is a much more integral element of Huawei's 5G strategy. The company also plans to launch a full range of Huawei commercial equipment including wireless access networks, core networks, and devices.
Huawei has also revealed its hopes to launch smartphones ready for supporting 5G networks by 2019 and starting selling in the mid-2019. The company is also said to be working on developing a brand-new chipset for 5G services.
Huawei and Vodafone made the 5G call using non-standalone 3GPP 5G-NR standard and sub 6 GHz spectrum. The two companies built a 5G NR end-to-end test network for the trial and used 3.7GHz spectrum. They also used Huawei Radio Access Network and core network equipment to support the test with microservice-centric architecture, control plane/user plane separation, and unified access and network slicing technology.
Huawei also started manufacturing products that provide 5G services. In Mobile World Congress, Huawei launched its 5G customer-premises equipment (CPE), the world's first commercial terminal device supporting 3GPP standard for 5G. Huawei used its self-developed chipset Balong 5G01 – world's first commercial chipset supporting the 3GPP standard for 5G, with downlink speed up to 2.3 Gbps.
In this journey of 5G, Huawei teamed up with many companies and universities to make 5G a reality. Below listed are a few of these collaborations:
After all these collaboration and investments, the company is all set to launch 5G as soon as possible.
Nokia Networks (Finland)
Nokia has also joined the race of 5G as the company is developing, researching, and partnering with other entities to render 5G communication as fast as possible.
The company uses an 8000-hectare site to carry out key 5G tests collaborating with Deutsche Telekom and Hamburg Port Authority for their project 5G MoNArch. The project's main goal is to gain knowledge and experience from 5G networks in a real-world environment. Its industrial uses could be traffic light management, data processing from mobile sensors, and VR applications.
Nokia, on the other hand, also implemented Future X network architecture for 5G to deliver robust network coverage and reduce costs.
Future X includes high-capacity 5G New Radio, core, and SDN controlled 'Anyhaul' transport to provide a complete set of network capabilities for commercial 5G networks.
Nokia unveiled its ReefShark chipsets for outlining the scope of its Future X architecture for 5G, the basis for its new reference silicon design, the foundation of its 5G technology, and services portfolio.
Their portfolio comprises a full, end-to-end network that delivers up to three times more data capacity per cell site and 30% lower total cost of operation through artificial intelligence-based automation.
For vertical industries, Nokia and China Mobile joined to explore applications of 5G to drive new business opportunities. The alliance focuses on the delivery of services for key growth areas like smart cities, smart transportation, and intelligent video analytics.
Nokia and China Mobile have signed an agreement under which the companies will jointly investigate how China Mobile can extend its service offerings for vertical markets using the massive connectivity, ultra reliability, and ultra-low latency capabilities of 5G.
Below listed are some collaborations and research of Nokia across the globe.
Nokia is supplying technology to enable China Unicom to improve the quality of its voice services and prepare its network for evolution to 5G technology.
Nokia also seems to strengthen its position in Saudi Arabia as the nation's telecom providers requested Nokia to help them upgrade their networks. As a result, Nokia has won several network improvement contracts with Saudi telecom companies in recent months.
The company also conducted joint research with Universities of Bristol for 5G mobile networks in Bristol. The test network ran over Bristol City Council's dedicated fiber infrastructure around Bristol Millennium square.
Nokia is also showing their interest in India to expand 5G mobile networks as the company inaugurated a new R&D facility in Bangalore and by 2018 they will be adding manpower into the facility. For the record, the R & D laboratory in India is Nokia's fourth, with the other three being in Europe (2) and China (1).
Nokia also partnered with Telia to initiate a network called 5G Finland which is said to be revolutionized 5G in Finland. Telia keeps the 5G Finland open for all Finnish companies and organizations.
SK Telecom also signed a Memorandum of Understanding with Nokia to work together in developing 5G mobile network technology. Their joint goal is to demonstrate 5G in 2018 and to commercialize the service in 2020. A particular focus would be on developing cmWave/mmWave 5G technology which uses wideband spectrum resources from 6 GHz or higher.
Nokia has other collaboration with telecom companies like T-Mobile & Intel on 5G network to introduce a 28 GHz outdoor 5G commercial radio system on the air in Bellevue, WA.
Nokia and SFR have successfully completed a 5G call using the 5G new radio system on 3.5 GHz frequency band.
Last month, with Canadian carrier Shaw Communications, Nokia completed first technical trial in Calgary. The 5G trial used 28 GHz millimeter wave spectrum and 3.5 GHz spectrum.
Nokia and T-Mobile on Thursday celebrated the successful completion of the USA's first bi-directional 5G transmission based on a 3GPP-compliant 5G New Radio system.
Nokia unveiled a bunch of services designed to help operators with the major undertaking of moving to 5G at 5G World 2018. The main offering is Nokia 5G Digital Design, which uses AI to simulate 5G use cases to help with real-world design and stress test the business cases for them.
Nokia also completed the 5G New Radio data call based on 4G/5G connectivity during a demonstration in China.
Nokia seems to be advanced in 5G research both internally and externally as the company is only depending on 5G for their future growth.
NEC Corporation (Japan)
Japan's NEC also rolled its sleeves for 5G and introduced a new business concept, "5G A Future Beyond Imagination" to make drastic changes in the industry. By these changes, companies are aiming to improve the customer experience and solidify their market position by making new business models and services.
Last year along with many telecom companies, NEC Corporation also made a statement that the completion of the first 5G NR standard has set the stage for the global mobile industry to start full-scale development of 5G NR.
Atsuo Kawamura, executive vice president and head of the Telecom Carrier Business Unit at NEC Corporation, said: "Completion of Non-Standalone 5G NR standardization is a significant milestone for the realization of full-scale 5G services. NEC is strongly committed to driving the progress of standardization for a global mobile system and believes future 5G services will benefit society in an unprecedented manner by utilizing advanced information and communications technologies. NEC is creating secure and intelligent technologies to realize such services."
By the start of this year, NEC made many developments in 5G.
In Mobile World Congress, NEC announced the collaboration with NTT DOCOMO to promote 5G by testing coordination technology between cells. In these experiments, coordinated control between Distribution Units (DUs) is being achieved by using a massive-element Active Antenna System (AAS) base station system belonging to a Centralized-Radio Access Network (C-RAN) configuration, enabling a Central Unit (CU) to control multiple DUs.
In Feb 2018, the company also announced the successful remote control of construction machinery for the first time in Japan using a 5G next-generation communications system and 4K 3D monitoring collaboration with KDDI Corporation and Obayashi Corporation.
The company also claimed of successful transmission of digital beamforming with a massive-element active antenna base station system that supports a 28 GHz band for 5G communications. This is the first time simultaneous beamforming transmission (four multi-users MIMO) from a single massive-element active antenna system (AAS) to four terminals has succeeded (1). In this test, NEC achieved a 3.1 Gbps cell throughput by applying a frequency bandwidth of 300 MHz.
NEC believes that they have achieved with NTT DoCoMo the world's first 5G transmission of a 4.5GHz signal using beamforming and inter-base station.
NEC also released a white paper titled "Making 5G a Reality".
Ericsson (Sweden)
Ericsson claims to be the only vendor that is currently working in all continents to make 5G a global standard for the next generation of wireless technology.
Their 5G radio prototypes are the first products designed to enable operators to conduct live field trials in their own networks which helps operators to get a greater understanding for the potential of 5G in their own networks and environments.
Given their expertise in the 5G domain, many companies across the globe will collaborate with Ericsson.
They have already performed several trials by collaborating with the domestic vendors.
In February, Ericsson and Korea Telecom with Intel conducted a 5G trial connecting a car to a live 5G network right in the center of Seoul. In the dense urban environment, 4K video was streamed to and from the car, giving an idea of how 5G will change the experience for car passengers.
Last year, the company joined with Celcom Axiata Berhad for first ever 5G testing in Malaysia. It's also the first 5G trial conducted on the 28 GHz band in South East Asia. The trial showcased Celcom's commitment to providing the best services to Malaysia.
Batelco and Ericsson have conducted Bahrain's first 5G trial which aims to drive innovation for IoT applications using the next-generation mobile network technology. The trial was conducted at Batelco's Headquarters during their 5G Forum event and demonstrated 5G capabilities in a real-world environment and over a live network, including tests on speed, latency, and beam steering, reaching a record speed of 25 Gbps.
Multiple companies teamed up to make 5G available in some cities. Tallink, Telia, Ericsson, and Intel have created a 5G test and exploration area at the Port of Tallinn. The trial network is delivering internet to the commercial, passenger cruise ships while in the port. With million passengers annually on its Baltic sea routes, Tallink is one of the largest ocean transport companies of Europe.
In India, Ericsson partnered with Indian telecom Bharti Airtel for 5G.
Ericsson showcased the first-ever live 5G demonstration in India. The demonstration using Ericsson's 5G test bed and 5G New Radio (NR) delivered a throughput of 5.7 Gbps and ultra-low latency of 3 milliseconds. According to a latest Ericsson study, 5G technology will enable a $27.3 Billion revenue potential for the Indian telecom operators by 2026.
Ericsson connection also reached the Pacific region where they made an alliance with Australian telecom NBN for kicking off 5G trials in Melbourne. "As with any new technology, there have been claims made about how 5G will impact the fixed broadband market," Owen said during the CommsDay Summit in Sydney.
While Ericsson is making several alliances, it is also working on making 5G's speed better. In a partnership with SK Telecom and BMW Korea, Ericsson used advanced 5G technology to track a connected car traveling up to 170 km/hour to demonstrate data transmission speeds on a 5G network. Using advanced beamforming and beam tracking, the high-performance network connection supported point-to-point data transmission from a connected car traveling up to 170 kilometers per hour with downlink speeds of 3.6 Gbps.
Ericsson is partnering with the Fraunhofer Institute for Production Technology to develop so-called blade integrated disks, or blisks, for Germany-based jet engine manufacturer MTU Aero Engines.
Ericsson recently signed a 3-year deal with Movistar Argentina to transform its Radio Access Network to expand network coverage and improve the mobile broadband experience to its customers.
Ericsson also plans to invest in the Indian market as for them it is a crucial market for their business. They will start deploying the 5G networks in India in 2019 and major deployment will begin in 2020.
Moreover, the company also secures all the research and inventions they are making. For example, for securing their inventions in 5G, Ericsson filed a landmark patent application for 5G with WIPO and USPTO.
The patent application, which combines the work of 130 Ericsson inventors, is the largest in cellular communications in terms of the number of inventors, anywhere in the world. It shows the industry how Ericsson has approached 5G standardization with a comprehensive view that connects individual inventions in a complete 5G telecommunications network, rather than focusing on any smaller individual inventions.
In a recent event at 5G MENA 2018, Ericsson presented its latest 5G strategy which would bring together telecom operators and IoT specialists across the region.
Qualcomm (US)
While other companies are talking about 5G, Qualcomm is actually building the technologies. Unlike telecom companies, Qualcomm focuses more on building products.
Recently, Qualcomm Technologies and a group of the world's leading mobile network operators and device OEMs made a declaration of exactly how far along we are in realizing this vision for 5G. And at the center of this progress lies the Qualcomm Snapdragon X50 5G modem — the world's first announced 5G modem.
After 3GPP set 5G standards, Qualcomm has already started work on the next wave of 5G NR technologies that will pave the way to the subsequent 5G NR standard releases. At MWC 2018, Qualcomm demonstrated three of these 5G NR expansion areas.
Announced at Mobile World Congress (MWC) 2018, Sony and ASUS are the first major OEMs to integrate comprehensive modem-to-antenna RFFE solution into their leading premium smartphones. This follows last month's major RFFE announcements involving wins with nine premium-tier smartphone OEMs.
Qualcomm Research started design work on the new 5G wireless air interface well before 3GPP standard efforts kicked off. In a live demonstration to industry analysts, Qualcomm Research demonstrated a key 5G technology enabler to these extreme mobile broadband experiences—millimetre wave (mm Wave).
Qualcomm is also working to design and standardize the new 5G NR unified air interface.
Samsung and Qualcomm announced their intention to expand their decade-long foundry relationship into EUV (extreme ultraviolet) lithography process technology, including the manufacture of future Qualcomm® Snapdragon™ 5G mobile chipsets using Samsung's 7-nanometer (nm) LPP (Low Power Plus) EUV process technology.
Using 7 LPP EUV process technology, Snapdragon 5G mobile chipsets will offer a smaller chip footprint, giving OEMs more usable space inside upcoming products to support larger batteries or slimmer designs. Process improvements combined with a more advanced chip design, are expected to bring significant improvements in battery life.
Further, Qualcomm and Microsoft announced that leading retailers from across the world will offer a range of new Microsoft Always Connected Windows 10 PCs powered by the Qualcomm® Snapdragon™ Mobile PC Platform.
Besides, last year, Qualcomm revealed a 5G handset at Qualcomm 4G/5G Summit in Hong Kong which is said to be miles ahead of its competitors.
Qualcomm, along with Verizon and Nokia, completed a series of data sessions over the 3GPP New Radio 5G standards outdoor and a successful multi-carrier aggregation to boost those signals into Gbps range.
Qualcomm also got the permission from FCC to conduct R&D tests in New Jersey and California.
Qualcomm also claims to offer the 5G NR platform for small cell which also has been used by 3G and 4G networks in urban areas. Qualcomm's 'FSM100xx' platform works with both sub-6 GHz frequencies and higher millimeter Wave (mm Wave) spectrum.
Qualcomm is collaborating with 18 telecoms and 20 manufacturers, including Taiwan's Asustek Computer Inc. (華碩), to launch 5G-enabled products beyond mobile devices next year.
Qualcomm also disclosed their royalties price for every 5G phones which could be up to $16.25 threefold than Ericsson's price. This is not the final price as the licensing agreement often include cross-licensing deals which could affect the price drastically.
Verizon (US)
The US telecom company deployed smart policies to render 5G for the US consumers. Verizon positioned themselves at the forefront of 5G technology as they are building modern infrastructure all over the country. According to them, the world needs smart policies for 5G deployment which they are ready to provide.
Using a small cell is one of them which would make the US 5G ready and make the country's economy better by providing millions of jobs.
Verizon was also successfully able to complete a call on 5G NR networks in a collaboration with Nokia and Qualcomm. The trio used Verizon's wave spectrum – using Nokia 5G network on a 5G NR prototype device by Qualcomm. The test was conducted at Nokia's facility in Murray Hill, NJ.
Verizon went for video-calling which they achieved with KT using Samsung 5G tablets. It was an international call from Minneapolis to Seoul, Korea. The companies also decided to work together in the future for further developments.
Verizon also achieved another industry first with the completion of a successful field trial delivering live 400 Gbps Ethernet traffic on a single wavelength between MPLS Core routers over its Packet-Optical network. This trial proved the interoperability of equipment from two different suppliers and the capability to quadruple the typical capacity carried on a wavelength. This trial, held in December 2017, using the Verizon network in the Dallas area, validates the viability of carrying 400 Gbps traffic.
Verizon has many plans for the 5G technology. Most importantly, they claim to be the first ever company to provide 5G service in the US. Further, AT&T has also shown the desire to be the first in the race.
Verizon selected Sacramento, CA, as the first city that would receive their 5G fixed wireless broadband service as the company gears up to challenge cable broadband providers.
Verizon also forecast that its initial market opportunity in the residential broadband market could be 30 million households in the US.
The company would partner with Samsung to use their custom fixed 5G home routers and 5G Radio Access Units (RAN) for the carrier's initial 5G commercial rollout that will begin in the second half of 2018.
Verizon planned to give 5G broadband service in other 4 cities as well including TPx Communications to move off a 28 GHz link in the San Francisco-Oakland-San Jose basic trading area (BTA) so that it can deploy a 5G network there.
Verizon also holds a 31 GHz license in the BTA from its acquisition of LMDS licenses from Nextlink Wireless.
Verizon recently announced the deployment of 5G networks in Los Angeles using Ericsson equipment.
Columbia University is currently experimenting with VR (Virtual Reality) using pre-commercial 5G technology from Verizon to develop telemedicine solutions.
Orange (France)
The French mobile network operator is also participating in the build-out of a more connected planet as the company is exploring three complementary areas:
Improved mobile broadband up to 10 times faster than 4G.
High-performance fixed Internet access to complete the fiber network where it's not available.
New applications to support digital transformation across business sectors.
Orange also claims that it will be a genuine multi-service network designed to adapt the whole host of devices: smartphones mainly but also enhanced 360° content, augmented reality, connected objects, refrigerators, and driverless cars.
Therefore, the company is engaged in a 5G co-construction process across the whole ecosystem of researchers, universities, tech partners, and different business sectors: from transportation to manufacturing, and health to entertainment. This open collaboration allows Orange to better understand the issues, new business models and needs, and to test use cases.
Some of the other collaborations of Orange are listed below:
Orange has been chosen by UTAC CERAM, a world leader in testing and certifying vehicles, including autonomous cars, as its 4G/5G connectivity partner.
It also collaborated with Ericsson to deploy an experimental mobile infrastructure to test the necessary 5G functionalities for autonomous vehicles.
They will also use Ericsson 5G equipment to launch France's first ever 5G test in Lille and Douai between late 2018 or early 2019.
In Romania, Orange partnered with Samsung and Cisco to conduct tests in real conditions during the second half of 2018. The company also partnered with Nokia and Kathrein for designing an antenna for managing 4G/5G connectivity.
Orange and Huawei finalized the construction of national network in Spain, a long distance transmission with the largest capacity in the world. The new Orange Spain network will reach a total capacity of 19.2 Tbps in a single pair of fibers.
Orange Poland launched a commercial pilot of LTE-M technology in Warsaw, Gliwice, Mysłowice, and Tarnow. The pilot allows interested companies, including startups, to develop their services and devices based on IoT which also meets all requirements for 5G network.
Broadcom (US)
Broadcom has pledged to make US the global leader of 5G. Below is a brief statement by the company:
"Broadcom is in every important respect an American company, with a lineage of great American technology icons like Hewlett-Packard, AT&T, Broadcom Corp., and Brocade Communications Systems, Inc.  We are now in the final stages of redomiciling to the United States, and that process will be complete no later than May 6, 2018.  When we complete our acquisition of Qualcomm, we expect to have more than 25,000 employees in the U.S., working to make Broadcom the leading communication semiconductor company in the world."
Consistent with their commitment, Broadcom is pledging to create a new $1.5 billion fund with a focus on innovation to train and educate the next generation of engineers in the U.S. This will help America lead in future wireless technology.
Their statement clearly shows that they are doing some incredible work in 5G research. Yet if we search about Broadcom with 5G, the results are full of Broadcom and Qualcomm deal which somehow makes us believe that their future plans totally depends on acquiring Qualcomm.
Still, the company has done a lot of research in 5G. They first announced 5G Wi-Fi chips for low-cost devices in 2012 for devices like PCs, smartphones, tablets etc. And now the company is ready to release the 5G Wi-Fi technology. Broadcom introduced the industry's first 5G Ethernet switch which is specially built for cellular fronthaul networks.
This high capacity device meets the stringent performance demands of new Ethernet-based 5G radios and supports existing CPRI-based radios, thus consolidating all radio traffic onto a standard, Ethernet-based infrastructure. The introduction of the Monterey Ethernet switch strengthens Broadcom's position as a market leader in carrier-class radio networking components.
Mobile TeleSystems (Russia)
With other top companies of telecom industries, Mobile TeleSystems is also making progress in the path of providing 5G communication to their millions of subscribers.
The collaboration would also help MST get better at NB-IoT and LTE-Machine technologies as Samsung is an advanced developer of IoT. As a part of this newly signed MoU, these companies will conduct multiple tests on these technologies to improve the speed of data communication.
AT&T (US)
AT&T claimed that it will be the first company to provide 5G services in the US. For achieving this feat, they deployed gigabit 5G connection in three cities: Waco, TX, Kalamazoo, MI, and South Bend, IN.
They did not just conducted a test but also showed the world how fast 5G could be.
In Waco, 5G speeds were 1.2Gbps at a height of 500 feet (150 meters) over a 400 MHz channel with 9-12 millisecond latency. That was with "hundreds of simultaneously connected users," according to AT&T.
Kalamazoo had 1Gbps speeds at 900 feet (275 meters) in "line of sight" conditions, and no negative impact from rain or snow. AT&T notes that the signals can penetrate" significant foliage, glass, and even walls" better than expected, but it's unclear what that specifically means.
South Bend didn't report specific speeds but claimed "gigabit wireless speeds" in the line of sight and "some non-line of sight" conditions.
The company also said the speed has little to no impact from weather, thus has very low latency.
They also announced to render 5G in other nine cities, the details of which would be announced later. AT&T is on the most aggressive network virtualization path in their industry. They plan to virtualize 75% of the network by 2020 as they completed 55% in 2017.
One of the AT&T in-house projects built at the lab is the Advanced 5G NR Testbed System (ANTS). ANTS is a first-of-its-kind 5G testbed system and is proprietary to AT&T.
The company also wants to demonstrate 5G entertainment experiences. They have asked FCC to demonstrate 5G in the 28 GHz mm-wave band at the SHAPE event, set for June 2 and 3 at Warner Bros. Studio in Burbank, CA.
AT&T also announced that it will deploy 60,000 white box routers to virtualize its 5G network across the US over the next several years.
AT&T has received the FCC's permission to conduct a 28 GHz demo that will give gamers at the Electronic Entertainment Expo (E3) an up-close look at how a 5G connection can give them a live gaming experience virtually anywhere where there's network coverage.
The AT&T Shape conference included presentations on edge technologies, artificial intelligence, and immersive entertainment as well as a film award ceremony and a 5G demonstration.
AT&T announced an agreement with Nokia to give its business customers around the world access to develop next-generation IoT services and pave the way to global 5G networks, officials said in a statement.
In this journey of 5G, AT&T made many collaboration and acquisition.
In February, AT&T completed its acquisition of FiberTower, which netted the operator an average of 375 MHz of 39 GHz spectrum in the top 100 US markets. The company said it plans to put the mm-Wave spectrum to work later this year as part of its mobile 5G rollout.
AT&T and Crown Castle signed a new agreement simplifying and expanding their long-term leasing deal for wireless network infrastructure. Under the new agreement, leasing management and operations are streamlined to improve the efficiency and flexibility under which AT&T can deploy new technologies and increase network capacity.
Tech Mahindra intends to combine AT&T FlexWare with its System Integration and Services Portfolio and offer the solutions to its global clientele who are undergoing the digital transformation.
Cisco Systems (US)
The US networking hardware company launched 5G now portfolio MWC 2018 to support 5G automation and infrastructure which the company will support in three primary ways:
Services – enable 5G services so service providers (SPs) can make more money;
Infrastructure – help build the 5G infrastructure;
Automation – Make mass scale simpler to operate.
The company knows the potential of 5G as it will connect more than 30 billion devices in the next three years. Network hardening is a key part of 5G and Cisco can't afford to miss any chance.
Cisco also took steps with joining a network of partners to provide 5G for rural communities in the UK. Autonomous tractors, farmland drones, digital tools, and radio are a tremendous opportunity for industry and rural communities in the UK, yet they are hindered by one thing – Connectivity. More specifically, a lack of secure, reliable mobile connectivity.
Cisco also focuses on data protection by which they enabled operators to see inside the 5G network to protect consumer data.
Cisco introduced a 5G Security Architecture to Enable Secure Network Transformation to combine AI with deep learning to create a network that will orchestrate both physical and virtual resources with equal proficiency resulting in optimal network efficiencies. With this unique approach, Cisco has successfully lowered the time to detection from the industry average of 100 to 200 days to as low as four hours.
Cisco also made several alliances to provide enhanced 5G capabilities, some of which are listed below.
Patent Filling Activity by Major Players of 5G Technology
Patent Filling is one aspect of important aspects which give an idea of a company's progress towards a technology, such as 5G.
As per the pie chart, Qualcomm is the most active company in the 5G patent filling, a reason of their strong position in 5G technology. Following it companies like ZTE, Samsung, Ericsson which also doing intense research on 5G.
Some of the companies, not all, which are listed in this chart also have secured a place in this study.
Conclusion
There is a lot of activity going on in 5G technology and there's a lot more activity expected in the near future, as 5G fast approaches mass-adoption.  We'd be regularly updating this article and covering a lot of content related to 5G landscape. If you'd like to be notified about these articles before anyone else, subscribe to the blog today.
Authored By: Vipin Singh, Research Analyst, Market Research, and Neha Tanwer, Research Analyst, Market Research.