AI: a Key driving technology for the 6G network and the top companies working on 6G AI
As the rollout of 5G is pacing up across the world, the buzz of 6G has also started. Given that the world has just witnessed the launch of 5G, it's obvious that 6G will take ~10 years to become commercially available. Nevertheless, as we move towards 6G networks, the speed-driven telecom industry has already started focusing on the development of beyond-5G solutions that will rule the 2030 era. After Samsung, Huawei, NTT Docomo, now we see Google, Apple, and LG joining the bandwagon.
The Roadmap for 6G Network
Various companies have laid out their roadmap for the 6G network and surprisingly many universities have started researching in 6G to get an edge in this yet to begin the race. 
The table below briefs the key performance indicators of 6G discussed in our previous article- Top Companies and Universities mapping the 6G technology.

These indicators are required to be satisfied to realize future services such as Holographic Telepresence, Truly Immersive XR, Digital Replica, etc
Among the technologies driving the 6G network, AI is the most disruptive one, and in our brief time together today, we will look at the companies working on AI wireless communication.
But first, let's have a look at the key technologies that will drive the 6G network. 
Key driving technologies for the 6G Network
It is not crystal clear yet what 6G will entail. But to meet the above service requirements, a few candidate technologies have been proposed by various companies that will be the key drivers for the 6G network. Below listed are a few of them:
3D connectivity
Conventional networks such as 4G and 5G mainly provide 2D coverage i.e. connectivity to ground mobile stations. But in the near future – though now rare – drones, flying cars, ships, and space stations are all going to be a part of our lives.
These devices would require connectivity and would be expected to be served by a 6G network having 3D coverage i.e. covering the space as well. The terrestrial infrastructures can be complemented with non-terrestrial platforms such as drones, balloons, geostationary satellites (GEO), low earth orbit satellites (LEO), and high altitude pseudo satellites (HAPS) which would make it possible to cover new service areas such as mountains, sea, and space.
Full-Duplex Systems
In Single-frequency full-duplex systems, the transmitter and receiver will operate on the same frequency at the same time and thereby conceptually doubling the spectral efficiency of a system. However, to make Full-duplex deployments practically possible, innovations in antenna and circuit design are being envisioned. This would reduce the crosstalk between transmitter and receiver circuits and thus increase the overall system throughput without using additional bandwidth.
Terahertz spectrum and RF Devices Improvements
The 6G network will utilize the high-frequency spectrum between 100 GHz and 10 THz to achieve data rates in the order of hundreds of Gbps to meet the toughest 6G requirements. However, utilization of the Terahertz spectrum will bring its own challenges such as high penetration loss, propagation loss, molecular absorption, etc. Therefore further advancements in various areas such as directional antenna arrays would be required to overcome these challenges for using the Terahertz spectrum.
Also, to efficiently transmit and receive data signals over the THz band, the complexity of antennas and Radio Frequency(RF) circuitry such as device dimensions, high power loss, etc. needs to be resolved. Further development of solid-state electronics can make the operation of RF devices in the high THz band possible.
Artificial Intelligence
Artificial Intelligence (AI) is currently seen as the disrupting technology that will impact the design of the 6G network the most and will likely capitalize on the flexibility of the networks brought by 5G. The static and dynamic characteristics of the radio environment would be monitored using AI and machine learning and can optimize various network functions/decisions.
E.g. AI-based beamforming decisions can be made which will enhance spectrum utilization, handover algorithms decisions can be optimized using neural networks and fuzzy logic. Moreover, channel coding, channel estimation, and MIMO precoding can be also enhanced by applying AI.
Various companies have started researching the development of technologies that can be adopted in 6G. So, we picked one of those areas – AI in wireless communications and plotted the recent patent research activity in this space to understand the current status of the research going around the globe
That is, answers to questions like:
Which companies have started working in the domain?
What's the extent of their research work, et cetera.
This is what we found.
AI in Wireless Communications – Who Are Working On It?
The below graph shows the patent filing trend in the domain. It is apparent that patent filings are increasing continuously over the last 5 years.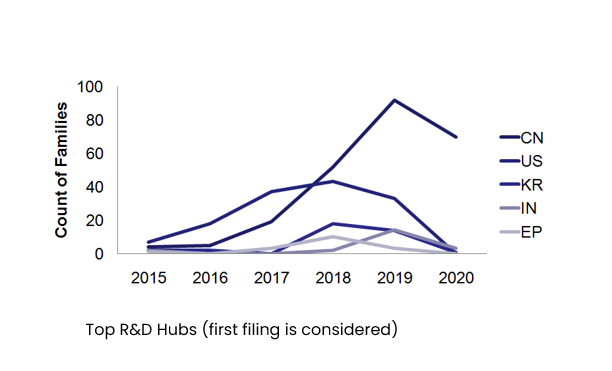 The trend reflects that companies are gearing their research on intelligent wireless networks. 
If we talk about the companies working on it, it is no surprise to see the names of top telecom companies including the likes of Ericsson, AT&T, Samsung, LG, and Huawei. However, there's a new entrant we noticed in the data – State Grid Corp of China (SGCC).
The company was working along with Huawei on Smart Grid 5G Network Slicing Solutions (source) and was able to gain a decent place in the list of companies working on AI in wireless communication.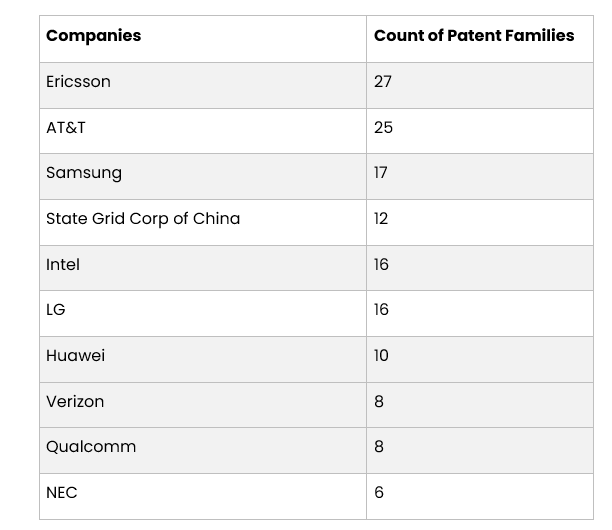 Image – Companies working on AI in Wireless
The universities too are not much behind in this race. They appear to have a decent amount of filings in AI technology. In fact, Universities such as Beijing University of Posts & Telecommunications and Univ Chongqing Posts & Telecom appear to be doing better in this space when compared to telecom giants like Intel, LG, Huawei, Qualcomm.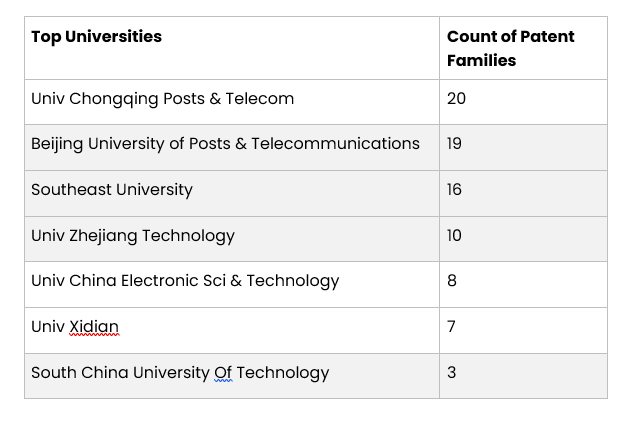 Image – Universities working on AI in Wireless
Since the Chinese Government already kicked off their plan to promote the 6G research in 2019 (source), it is obvious to see China at Top.
With achieving supremacy in the 5G network, China wants to stay ahead of others in 6G as well and the numbers below reflect the same.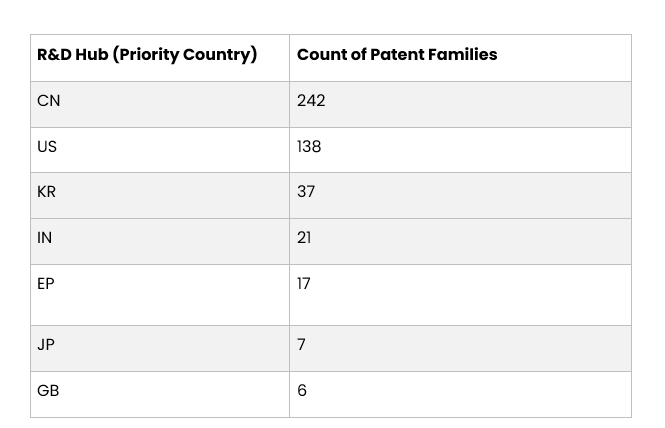 With the launch of the world's first 6th generation communications satellite into space recently, China once again made a milestone and officially kickstarted the race to 6G. What's really interesting however is that the aforementioned satellite is named after the University of Electronic Science and Technology of China.
The numbers suggest that a lot of research is going in China on imparting intelligence to the wireless networks and a majority of that is being done in the universities.
Looking at the involvement of universities, it would be a good approach and strategy for companies like Samsung, Huawei, and Qualcomm to join hands with these universities to stay ahead of the race. 
There is a depth of research required in several aspects of 6G technology and numerous insights are waiting to be discovered. The key technologies like AI and various other techs that contribute to 6G can be further studied to decode the level of research by different countries, companies, and universities and help explore the opportunities for collaborations to strengthen their position in the future tech. 
How to go about it? Well, that's what we are here for. If you'd like to stay updated on the developments of 6G research or have a project in mind  get in touch with us at by clicking below. Looking forward to talking to you. 
Authored by: Aman Kumar, Manager in 5G Expert Group