New Slippery Surface Coatings For Food Packaging
We all are familiar with the frustration of beating the sauce out of the bottle as the last of it sticks to the bottle. Well, the new packaging trends might finally be our rescue force.
"People hate wasting consumer goods so much that nearly 40% of respondents say they won't quit until they get every last drop from the packaging. More than 60% of respondents spend more than a few minutes squeezing or scraping the last drops of product, including 15% who spend "as long as it takes." More than two-thirds (69%) say they hesitate to open a new package when there's still a tiny bit left in the previous one."
– According to a survey by Liquiglide Inc.
Most consumers don't realize how severe this problem is. As an individual, you discard very minimal portions of the food without completely using it. But on a collective scale, it contributes to millions of pounds of food wasted every year!
And this is not just limited to ketchup, other food products such as milk, yogurt, beverage, and meat also go in the bin sticking to the package. Even non-food products like toothpaste, gels, paints become waste just because the package has a hard time letting go.
The packaging industry has seen new trends in recent years as many startups are researching new packaging solutions.
As a result, innovators are working to curb this and reduce the massive food waste. The ultimate solution is to design and develop a packaging that has inner surfaces so slippery that the food simply slides out. So, research institutes have been working on researching new packaging trends for a decade now but only recently it has shown potential for commercial usage.
Let's take a look at the developments made in this direction.
New Slippery Surface Coating Inventions
Slippery Liquid-Infused Porous Surfaces (SLIPS)
Developed in 2011 and Commercialized only for high-end applications. 
SLIPS is the first visible research success. The innovation emerged from the labs of Joanna Aizenberg, a chemistry professor at Harvard University's Wyss Institute. In the Nature publication, they first disclosed a Teflon membrane with a fluorinated liquid to create SLIPS (DOI: 10.1038/nature10447).
The publication has demonstrated the technique with all sorts of surfaces and liquids, generally by chemically functionalizing the surface to fix the liquid in place. According to Aizenberg, an aluminum surface can be roughened and then functionalized with a long-chain alkyl phosphate so that mineral oil sits smoothly on top and blocks ice formation. Or medical tubing can be treated with perfluorodecalin, a blood substitute, to prevent blood clotting.
Two patents US9121306B2 and US9121307B2 was granted for their tech. The patents further describe unique methods to create super-slippery, self-healing, and omniphobic liquid-based interfaces on any material.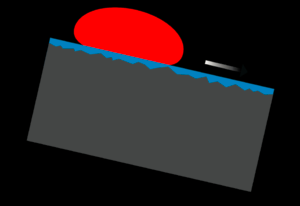 SLIPS® coatings create a fully liquid surface that is ultra-smooth and super-slippery; unwanted fluids and biological foulants slide right off. 
But their cost is the biggest problem with these slippery liquid-infused porous surfaces. Generally made using silicon- or fluorine-based polymers, the high cost of these polymers make it difficult to use in general-purpose packaging. Therefore their application remained restricted to high-end products such as industrial, marine, and medical repellency.
Though in 2020 — Adaptive Surface Technologies, Inc. ( AST, formerly SLIPS Technologies, Inc.) announced that it has entered into an IP licensing partnership with global chemical manufacturer SABIC for the development of consumer packaging products. The agreement might result in only general-purpose packaging for viscous liquid products.
Moving on to the next innovation in this domain.
Hydrocarbon-based Slippery Coating
Developed in 2018, Hydrocarbon-based slippery coating is cheaper than SLIPS but is yet to be commercialized.
Another development is from the researchers of Virginia Tech University in the US in 2018. Instead of using silicon or fluorine-based polymers, they used hydrocarbon-based polymers to create a new slippery industrial packaging solution in an effort to reduce food waste.
"According to the study, researchers will include a method to wick chemically compatible vegetable oils into the surfaces of common extruded plastics, which would release sticky foods from their packaging."
Such technology can be applied to inexpensive plastics such as polyethylene and polypropylene which are commonly used for general purpose packaging. Additionally, the researcher has filed for a provisional patent for the technology.
But as of now, they are also far from the commercial application of the technology, specifically for general purpose packaging.
Unlike this innovation, the next innovation has been commercially adopted.
Liquiglide's Slippery Coating inside Plastic Packaging
The invention was developed in 2013, Commercially adopted.
The last, but most important development in this area is from Liquiglide. Liquiglide's technology is finally seeing its large-scale commercial use in general purpose packaging like toothpaste.
LiquiGlide had developed a slippery coating technology around 2013. The coating technology developed by them differs from traditional coatings that create a dry, solid surface on packaging using chemicals. Their coatings are composed of solid and liquid materials that are formulated to generate a long-lasting wet and slippery surface. Also, the solid materials form a textured surface on the packaging. On this textured surface, the liquid layer is further designed to spontaneously wick into the textured solid. This arrangement can last for the duration of the product's lifetime. Therefore, while paint (in the traditional coating) must coalesce and dry into a thin film, Liquiglide's coatings become functional as soon as the liquid is delivered.
These slippery coatings for plastic surfaces enable viscous liquids to easily slide. The technology targets plastic containers for sticky consumer packaged goods such as ketchup, mayo, lotion, even glue.
Implementing this means you can get every drop of your ketchup out of the container. The best thing is that this container coating is not a set of chemicals, but rather an adjustable concept. When used in a ketchup container, the Liquiglide coating would be of food-grade materials like vegetable oils or other common food-based materials present in the food. And when used for lotions, its constituents would be skin-safe.
Being of such great potential, few companies started adopting this technology as early as 2015. For example, Orkla, a food manufacturer, announced a deal with Liquiglide to use its non-stick coating in mayonnaise packaging. Also, Pact Group announced a licensing agreement with LiquiGlide Inc, for new paint packaging solutions that allow consumers to use more of the paint they purchase and reduce the environmental impact associated with residual paints. Additionally, Elmer's glue also incorporated this technology into their packaging of glues too.
But after 2015, the technology adoption slowed down somehow and is once again picking up now.
Recently, LiquiGlide has announced partnerships with Colgate. As a result, a new toothpaste tube with a friction-free LiquiGlide coating lined inside was developed by Colgate-Palmolive. With players like Colgate adopting this, we can finally see this technology reaching its potential. Now, the next destination of this technology might be food packaging, like dairy, beverages, etc.
These are only a few names of universities and startups that are inventing slippery coating technologies. Let's have a look at the patent trends in the last decade for this niche area.
Patent Analysis of Slippery Coating Packaging Technologies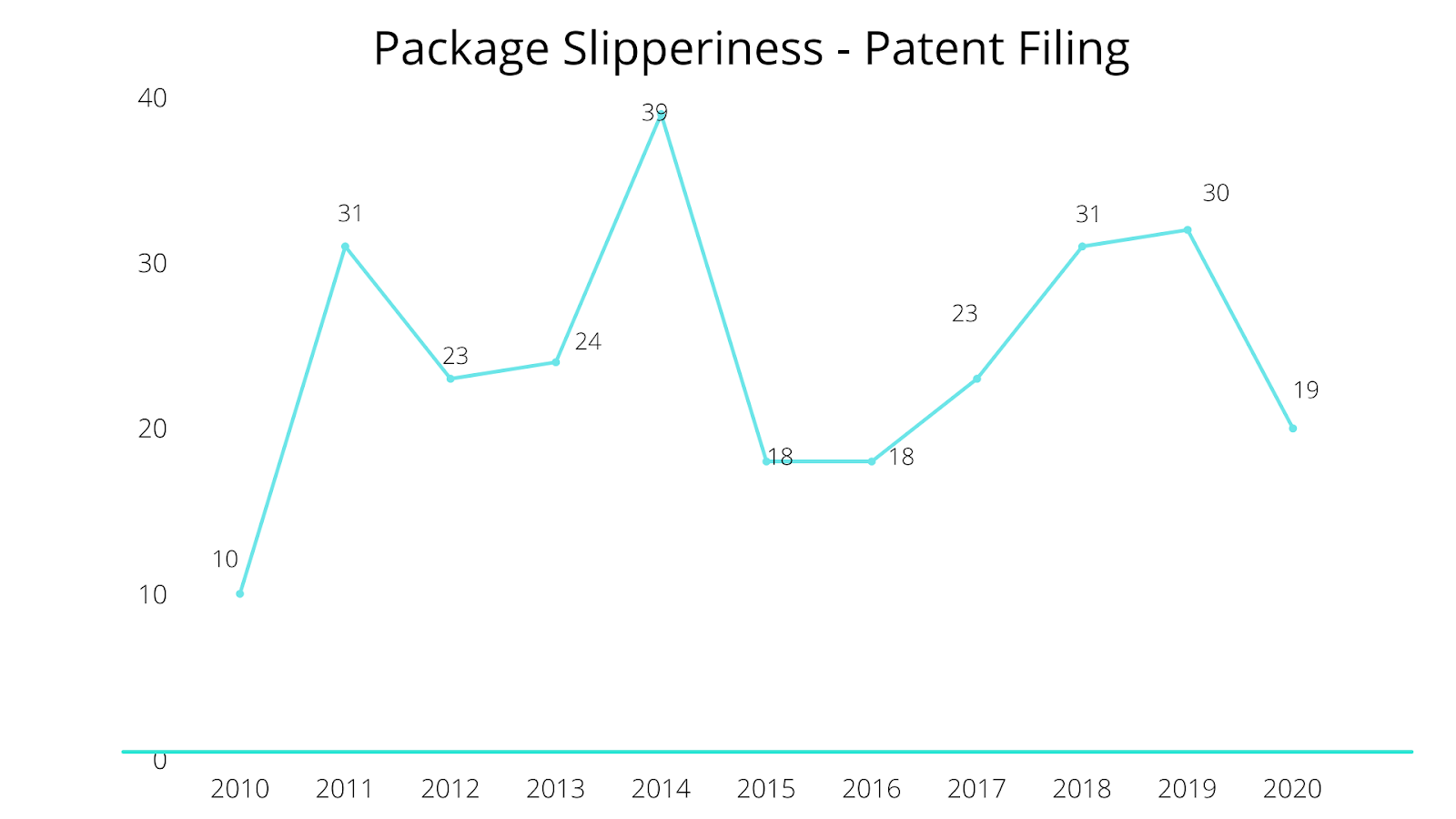 Note: These numbers may vary on further analysis.
The patent filing is not strictly moving upward, but it is consistent. Furthermore, it is not just the above discussed three-four institutes or startups that are interested in this area. A lot of other companies are also bringing their innovations to the table.
Companies and Startups Working on Slippery Surface Coating
The table below holds some of the notable names.
| | | | |
| --- | --- | --- | --- |
| Entity Name | Entity Type | Description | Exemplary Patent |
| Toyo Seikan Kaisha Ltd | Company | Their inventions are about lubricating flow passage such as bottlenecks by liquid-permeable surface. So that it is easy to pour the product. | US9862525B2 |
| Toppan Printing Co Ltd | Company | Toppan's inventors have found a perfect ratio of scale-like filler (having an average particle size of 0.1-6 μ m), a thermoplastic resin, and a fluorine compound to create slippery packaging. According to them, if the mass ratio of scale-like filler in the liquid-repellent layer with respect to the total content of the thermoplastic resin and fluorine compound in the liquid-repellent layer is 0.1-10,  the liquid-repellent layer will impart an excellent liquid repellency to water and yogurt, oil-containing liquids, etc. (e.g., curry, fresh cream). | EP3812147A1 |
| Dai Nippon Printing Co Ltd | Company | Nippon is creating water-oil repellent layers having nanoparticles and a fluorine-containing resin. | JP2019166806A |
| Showa Denko Packaging | Company | Showa Denko's invention is about applying a dispersion liquid to an outer surface of a heat seal layer of packaging. The outer surface of the heat seal is provided with many microprotrusions. The hydrophobic fine-particle density of the dispersion liquid is 3 mass% – 10 mass%. | JP2017171381A |
| 3M | Company | 3M is creating a liquid-repellent surface that has a surface layer containing silane or siloxane material and is not a lubricant impregnated surface. | JP2019514733Aada |
| Liquiglide | Startup | Above described: Liquiglide | US20190351601A1 |
| Adaptive surface | Startup | Above described: Slippery Liquid-Infused Porous Surfaces (SLIPS) | – |
| Aculon Inc | Startup | Aculon is known for its surface coatings. It is inventing fluorocarbon-containing polymer film for slipperiness. | US9421574B2 |
| Newtech LLC | Startup | Newtech is working on curable coating compositions. These compositions include a polysilazane, a fluoro acrylate copolymer, and a thermosetting fluorinated polymer that produces highly durable and effective coating layers in a single-step curing process. | US10584264B1 |
| NanoClear Technologies | Startup | Nanoclear is working on nanoparticle coating for solar cells. These coatings can keep the surface of the solar panel from being clogged by dust, fog, etc. | US10319868B2 |
| Massachusetts Institute of Technology | University | Above described: Liquiglide | US20190351601A1 |
| Harvard University | University | Above described: Slippery Liquid-Infused Porous Surfaces (SLIPS) | US9932482B2 |
| University of Massachusetts | University | They are researching superhydrophobic, self-cleaning, and icephobic coatings. This coating is made of microstructuring microparticles and liquid silane. | US20190233695A1 |
Conclusion
Overall, we can say that this particular technology has seen a decade of steady development. Patent trends and big names like Colgate adopting the technology is a good sign. We are expecting that this trend is likely to continue and We will see more and more brands implementing ways to cut food waste. Once these technologies are mainstream, maybe we won't have to struggle with our ketchup bottles. 😉
Want to know more about this particular area? Let's have a chat, send us a message using the button below: