Patent Licensing Insights: Insights on Recent Patents Acquired by Samsung
Patent Licensing Insights is a section featuring insights/trends from our in-house tool BOS, which can help anybody in designing and picking appropriate patent monetization and acquisition strategies. 
Short for Business Opportunity for Sales (not a great name but we love the abbreviation), the BOS tool:
Can help find prospects that would be willing to in-license or purchase your patents;
Make your monetization campaign plain sailing; and
Find patents that have received a rejection (102/103 type) due to one of your patents and more. 
Onto the insights.
Recently, Samsung acquired 52 US assets from Nokia. A transaction involving the two telecom players intrigued us and we wanted to know why Samsung acquired these patents related to various aspects of digital broadcast systems and wireless communication.
So we analyzed these 52 assets in our in-house tool, BOS.  We found that assets of a large set of companies (~80) seem to be blocked by the patents which are just acquired by Samsung.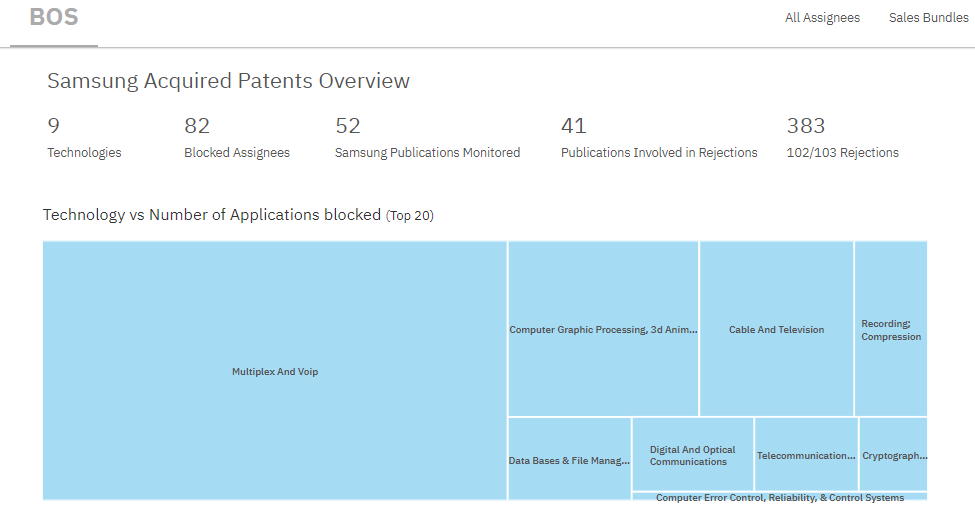 What does this mean?
This means that all these companies were trying to patent something similar to what Nokia already had patented. And by acquiring these assets, Samsung has got an edge over all these companies.
Which companies can get affected by these patents (either Licensing or potential litigation)?
Some of the top names in the list are:
LG
Samsung
Qualcomm
Ericsson
Google
ZTE
Sony
Apple
and many more. If you'd like to get your hands on the complete list, send us a message here:
Here' the detailed view from the BOS tool, showcasing additional details.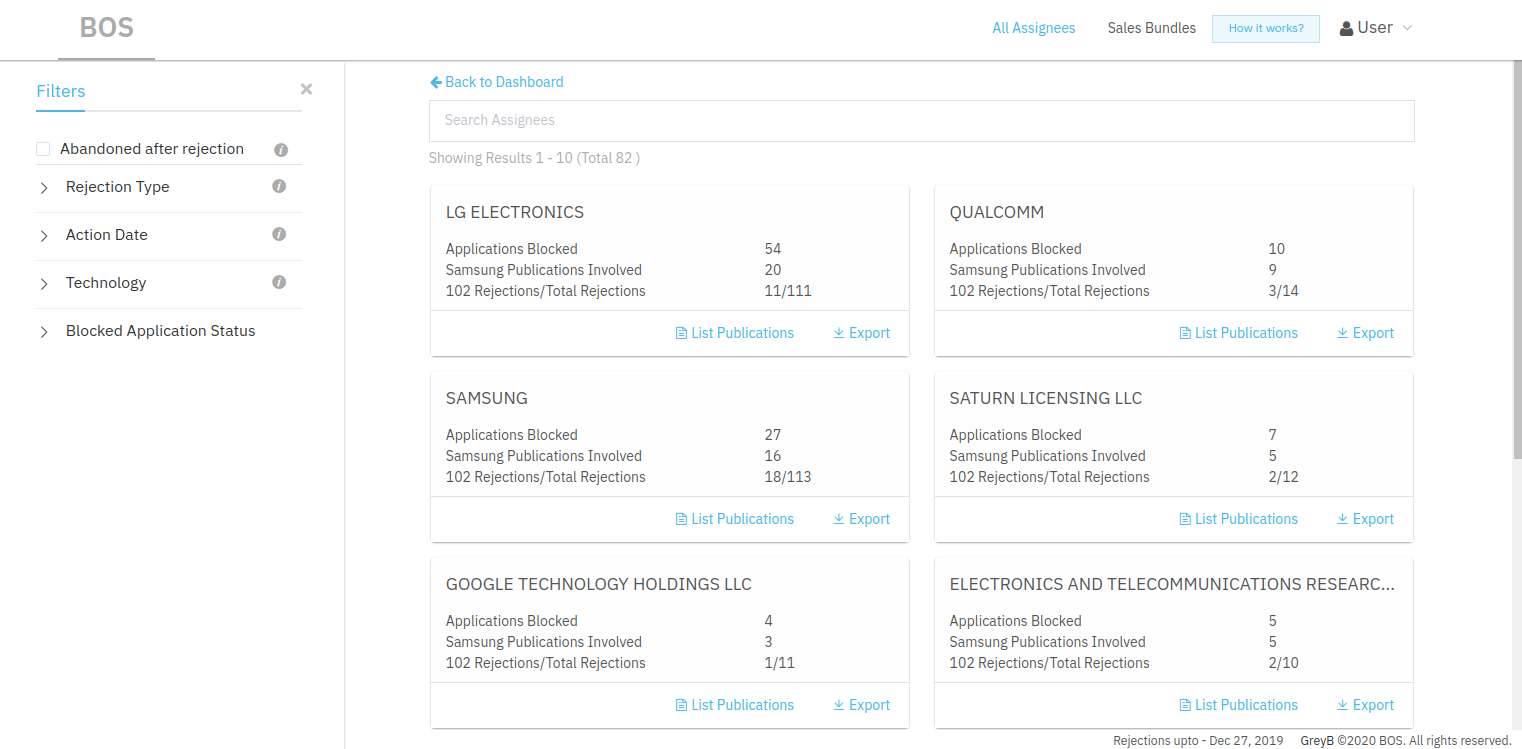 Interestingly, LG – Samsung's competitor and the company topping the chart – has 54 assets being blocked by the patents bought by Samsung.
Another interesting observation was a total of 113 rejections were handed over for Samsung's own patents from these 52 patents. Out of these, 18 were based on 102-based rejections. It shows the closeness between what Samsung already has and what they have bought from Nokia. And the patents from Nokia are creating synergy and which makes complete sense of the buy-out.

Meanwhile, it would be interesting to see how and when the other companies will get affected by this recent patent acquisition by Samsung.
Have they missed the chance?
Will these patents be future threats for them?
Should they look for an early license?
What are the assets of these companies that were being blocked by the acquired patents by Samsung?
Are you a patent counsel or executive from one of the companies mentioned on the list and have the same set of questions? Fret not, the BOS tool, with our little help, can get you all the answers.
Give me the answers – You say. Fill the form below and our team will get in touch.


As an aside, the BOS tool can also help you identify valuable patent assets that should be acquired. How? Check out this article for details.
Authored by: Swapnajeet Nayak, Patent Monetization.