5 Leading IoT Companies and their position on the IoT Value chain
"The Internet of Things is transforming the everyday physical objects that surround us into an ecosystem of information that will enrich our lives. From refrigerators to parking spaces to houses, the Internet of Things is bringing more and more things into the digital fold every day, which will likely make the Internet of Things a multi-trillion dollar industry in the near future."

-PricewaterhouseCoopers report
What might have sounded pure science fiction a couple of years ago, is almost a reality and doesn't even sound that impressive today. Where your appliances are connected and talk to each other, make decisions, and make your life easy, bit by bit.
IoT will reshape businesses and industries across the world, becoming the most important tech sector of this decade. With countless companies and startups taking part in the IoT, the spending on IoT will reach $1 Trillion by 2023, despite the decline in 2020 due to Covid-19.
These companies understand the potential of IoT technology and the benefits it will bring to businesses. From Smart Home to Smart Factory, the capabilities of IoT are impressive enough to spend billions, for companies to position themselves in the market.
Now, IoT is a vast technology and different companies are working on different levels of this technology sphere. From cloud computing to base equipment, from core hardware to Industrial platforms and connectivity, each sector is dominated by different companies. Seeing how fast this industry is growing, it's almost impossible to keep a track of each player in this domain.
So, we thought of exploring what current trends tell us about the top companies that are trying to turn 90s fiction into today's reality. We explored the entire industry and prepared a detailed report on its market dynamics, technology trends, challenges that major players are trying to solve, and a brief landscape of spending and investment in this industry.
This article will explore the top companies and startups working in the IoT value chain. If you're interested in getting the whole report, use this form to download the PDF:
To make things smoother, we picked some big companies that are making maximum buzz when it comes to research and commercial activity. These companies are working on different aspects of IoT to get the best out of it. Now before we move forward and discuss them in detail, let's have a look at the IoT value chain and where these companies stand in the chain.
Use the Table of Content to land on the section that you are interested in:
IoT Value Chain
The IoT value chain below positions the key players working in each segment.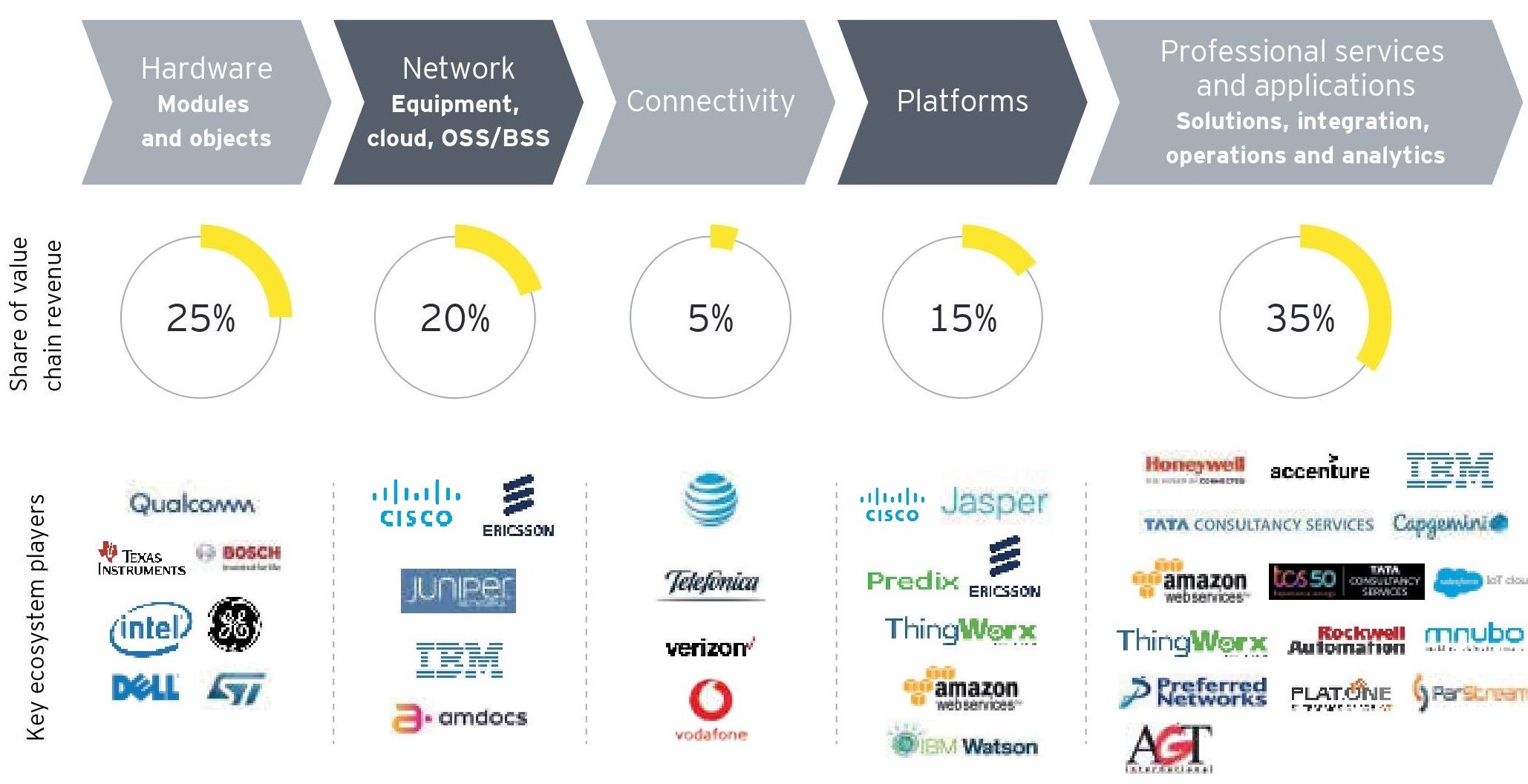 Now, let's understand these segments briefly.
Services And Applications
With 35% value chain revenue, IoT services and solutions hold the first position in the IoT ecosystem. IoT services will be the largest technology group in 2020 (based on spendings) and through the end of 2024. Services account for roughly a third of all IoT spending. Network Management is the largest segment of IoT managed services. The manufacturing and Transportation & Logistics sectors hold a significant market share of IoT services.
The North American region currently has the largest share in the IoT service market and is expected to hold the position in the future also. As for the Asia-Pacific region, it is expected to have the highest growth rate as the Asian companies attempt to increase the value chain by seeking growth opportunities in system integration, application enablement platforms, and applications. They are increasingly turning to advanced capabilities like AI at the edge and Blockchain-based data trading as competitive differentiators.
Further, Governments in the region are ramping up the deployment of large-scale smart city projects by investing in IoT infrastructure, platforms, and applications.
With different companies and Governments' initiatives, the region can expect high growth and position and thus attract a large number of companies.
Hardware
Hardware has a 25% of value chain revenue as per the EY analysis. With nearly as large as IoT services, Hardware spending is dominated by module and sensor purchases. IoT hardware ranks second as it includes IoT modules, IoT sensors, and IoT gateways.
In 2018, IDC predicted strong growth in Edge computing as it expects 40% of initial IoT data analysis to occur on the edge by 2022, thus making edge computing more important.
Network
The software will be the fastest-growing technology category, with a five-year CAGR of 13.5% and a focus on application and analytics software purchases.
Retail is expected to witness significant growth for the IoT platform market. IoT technology has been enabling retailers across the globe to connect with both businesses and people.
Platforms
Platforms are counted as the largest IoT software segment. IDC expects that by 2020, 70% of organizations will leverage commercial IoT platforms to develop IoT applications, and more than 50% will have multi-vendor IoT platform environments. There are 600+ IoT platforms in the market with Manufacturing holding the largest share.
Asia-Pacific was the largest IoT platform market in 2019 but soon it would get overthrown by North America as it expects significant growth. The US currently holds the largest market for IoT platforms.
Connectivity
WPAN (wireless personal area network) and WLAN (Wireless Local Area Network) hold the largest share of the connected IoT devices by connection type. Both cellular IoT (2G, 3G, 4G, and now also 5G) as well as LPWA (NB -IoT, LTE -M, Lora, Sigfox, and others) have been key drivers of the global IoT connectivity market in the past 5 years.
The number of active cellular IoT and LPWA connections grew at an annual rate of 43% between 2010 and 2019 and is expected to grow at a rate of 27% going forward, according to IoT Analytics' new Cellular IoT & LPWA connectivity market tracker.
Now that we are clear with the IoT value chain, let's explore the companies that are the talk of the IoT town!
Leading IoT Companies
As of now, there are 5 IoT companies such as Bosch, Cisco, IBM, Microsoft, and Intel that are leading the Internet of Things market. Let's discuss them in detail one by one.
Bosch
Bosch is one of the early adopters of IoT and the engineering company has been working on IoT and IIoT (Industrial IoT) for quite enough time as they have been working on 250+ projects with 10+ million connected devices. Bosch IoT Suite is one of the well-known IoT platforms the industry has to offer.
Bosch IoT ecosystem is filled with platforms that provide every aspect of IoT solutions.

Bosch IoT Ecosystem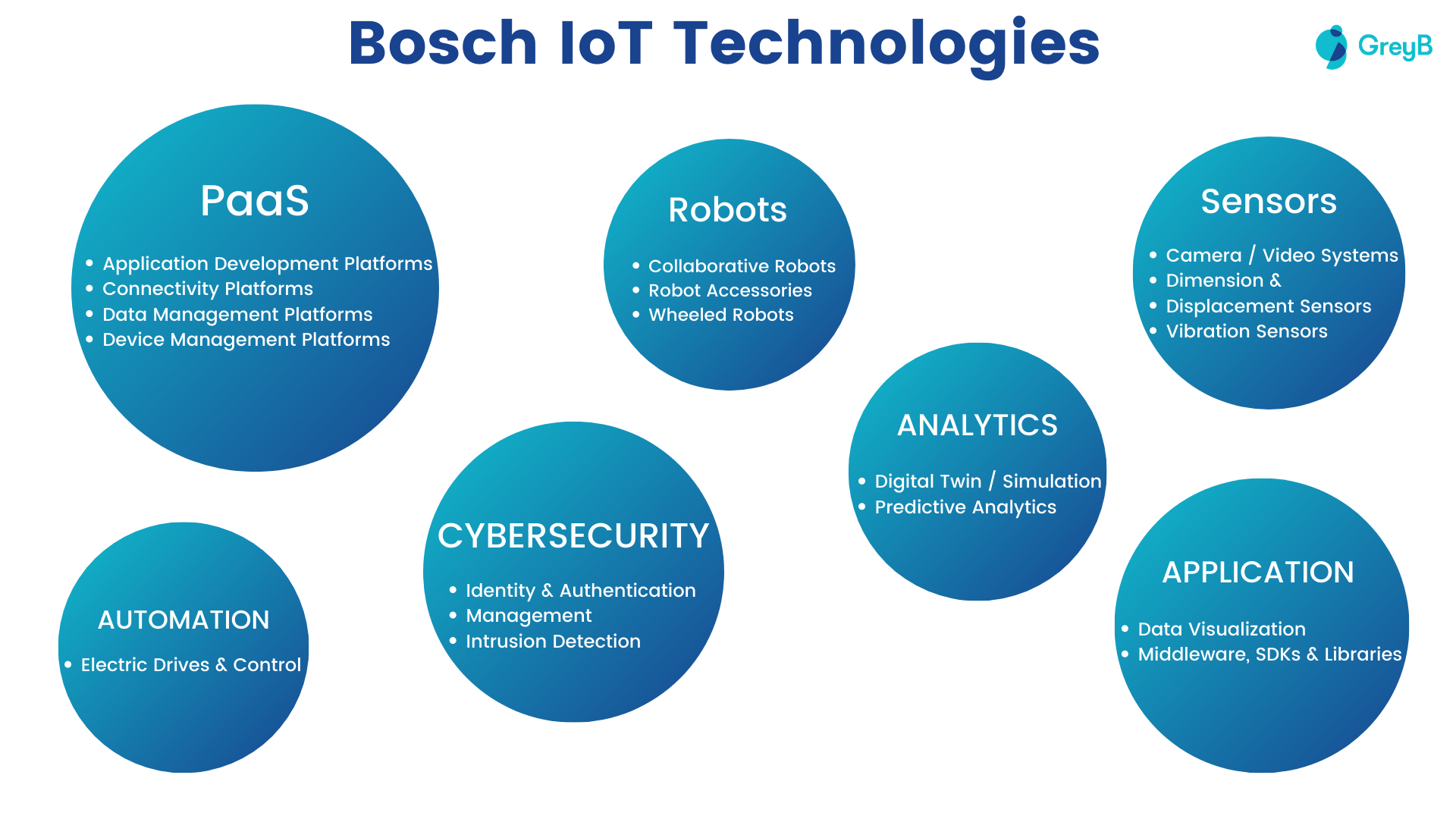 Research Subsidiaries
The Bosch Internet of Things Lab
It is a cooperation between the University of St. Gallen, ETH Zurich, and the Bosch Group that investigates IoT business models and explores disruptive IoT products and services. It focuses on managing the digital transformation of large manufacturing corporations. Further, it also investigates the business potential of blockchain and AI.
Startup Harbour
Bosch has launched the Startup Harbour incubation program to drive innovation in the Internet of Things (IoT) ecosystem. The program, which focuses on early-stage startups in Berlin, aims to support talented founders and their teams with an initial business concept on their journey to becoming a successful venture. The program offers comprehensive coaching, mentoring, and training curriculum to help startups create a solid business model with a first minimum viable product (MVP) and beyond.
Service Platforms
Rexroth
Bosch Rexroth is a result of a merger between Mannesmann Rexroth AG and the Automation Business Unit of Bosch on May 1, 2001. With its cutting-edge technology and industry knowledge, it can help companies support mechanical and plant engineering efforts. Bosch Rexroth has the capabilities to turn Smart Factory into reality as it can help machine builders and manufacturers provide customizable solutions as per their needs.
ESCRYPT
ESCRYPT is a part of ETAS GmbH, a subsidiary of Bosch, that offers protection for all kinds of embedded applications, corresponding infrastructure, and organizational aspects in the automotive industry. It provides its customers with solutions for all issues in IT-Security from one source. Further, it can provide security products, consulting, and solutions tailored to specific industries. Its services include Security Assessment, Security Strategy & Architecture, Customized Software, Customized Hardware, Certification Support, PKI & Key Management, Application & Code Testing, and Training & Awareness.
Bosch Connected Devices and Solutions
Bosch Connected Devices and Solutions creates award-winning connected devices and tailor-made solutions for business to skyrocket their IoT solutions. Their competency lies in IoT device expertise, customer-oriented IoT project development, and a global presence.
The technological progress in micro-electro-mechanical systems (MEMS) sensors, data processing, radio technology, and miniaturization enables unlimited customer benefits.
Bosch Automotive Service Solutions
Bosch Automotive Service Solutions provides specialized tools and solutions to original equipment manufacturers (OEMs). Its product portfolio includes products made as Bosch original equipment, as well as aftermarket products and services developed and manufactured in-house.
Bosch Security Systems
Bosch Security Systems protects lives, buildings, and assets through a broad portfolio of solutions that include video security, intrusion and fire detection, access control, and communications systems.
ONCITE
Made by German Edge Cloud (GEC), Bosch Connected Industry, and IoTOS, ONCITE is an all-in-one solution for the quick processing and analyzing data at the manufacturing site. The industrial Edge Cloud data center enables the digital transformation of the factory and at the same time the data sovereign adaptation to various digital production platforms as planned by VW and BMW. It brings together all the data of a company and via special connectors, it can be made available to other partners or customers in such a way that the company retains control over data.
Products
Bosch IoT Suite
The Bosch IoT Suite provides Bosch, its customers, and its partners a wide range of IoT solutions and services. It incorporates the Bosch Group's industry know-how and is available across all industries such as agriculture, mobility, energy, smart home, etc. For the last 10 years, it has handled more than 250+ projects for companies like Daimler, Hager, Holmer, etc. which connect more than 10 million sensors, devices, and machines.
Safety and Security Things
It's a subsidiary of Robert Bosch Gmbh that provides an open IoT platform for security cameras. With its manufacturing, app development, and integrator partners, it aims to ensure the future of security. Its cutting-edge apps give you the power to turn any camera into an IoT device and use it for any purposes such as improving store flow. Detecting specific people, analyzing road traffic, etc. It was recently awarded as a CES® 2021 Innovation Awards Honoree for its open IoT platform.
Cisco
Being a networking hardware company, Cisco has an edge over many companies and it's one of the reasons they secured a place in the top players' list. Cisco has been providing its IoT services and advisory to more than 67,000 customers of different industries such as Utilities, Manufacturing, Retail, Transportation, Education, etc.
Cisco also did many acquisitions to broaden its IoT Ecosystem.

Cisco IoT Ecosystem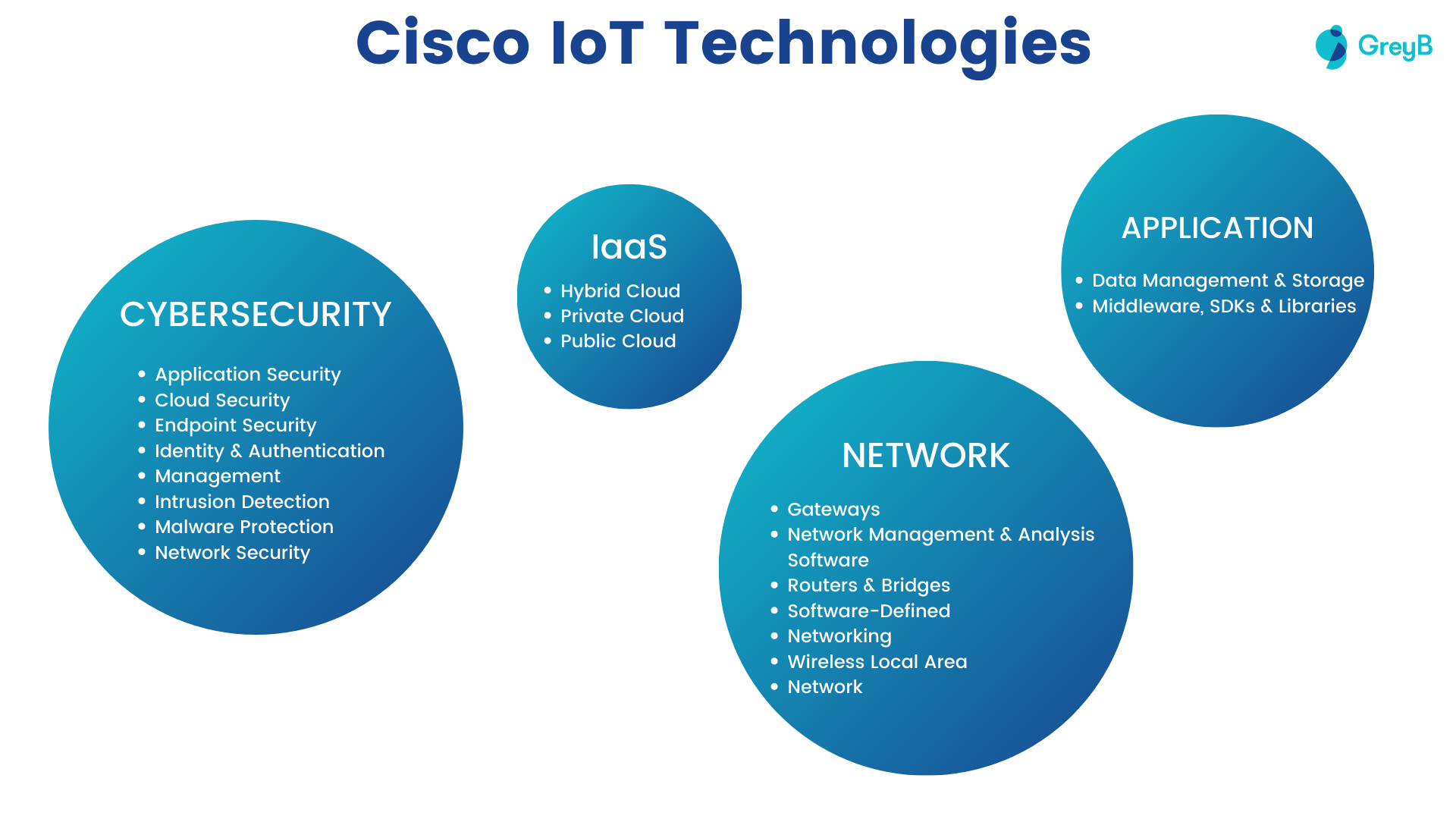 Products
Fluidmesh
Cisco acquired Fluidmesh, a worldwide leader in wireless systems for security, industrial, and mission-critical applications, in July 2020. Fluidmesh provides solutions such as point-to-point, point-to-multipoint, and mesh networks with an unparalleled level of reliability, flexibility, and ease of use. It develops wireless products for security, video surveillance, condition monitoring, and data communication in places like municipalities, industrial plants, schools, theme parks, etc.
OpenDNS
Cisco acquired OpenDNS in Aug 2015 and changed its name to Cisco Umbrella. Using its global network, which sees 2% of the world's Internet requests, Cisco has created a security solution that anticipates and prevents malicious activity before it threatens your network. With the rise of the roaming workforce, security solutions become a necessity more than ever. As it's delivered via the cloud, it works anywhere, across any port, protocol, or app with lightning-fast speed.
CloudLock
Acquired by Cisco in Aug 2016, CloudLock was officially launched in 2011. The cloud security company's purpose was to transform cloud security into a business enabler. To achieve the goal, it has built a unified security solution that helps organizations protect their personal data in cloud applications such as Google Apps, Salesforce, Dropbox, Box, Office 365, etc.
Sentryo
In Aug 2019, Cisco acquired Sentryo to provide organizations the benefit of IoT with visibility and security solutions for industrial control system (ICS) networks. Sentryo's solutions ensure resilient industrial networks and protection against cybersecurity attacks for organizations belong to different industries such as energy, manufacturing, oil and gas, and transportation. With Sentryo's abilities and Cisco's network architecture, customers can capture IoT benefits, manage networks and devices, collaborate across IT and OT departments, and protect their data.
Jasper
Cisco bought Jasper, to simplify IoT for corporations and service providers, in Mar 2016. Many of the world's largest enterprises and service providers are using the Jasper platform to scale their IoT services business globally. With Jasper, companies can connect any device – from cars to jet engines to implanted pacemakers – over the cellular networks of the top global service providers, and then manage connectivity of IoT services through Jasper's platform.
Service Platforms
Ensoft
In Jan 2019, Cisco completed the acquisition of Ensoft, an expert in service provider networking, including Routing and switching, Carrier Ethernet, Residential subscriber management, Embedded services, and all the "hidden" functionality and craft that goes into high-end carrier-class devices.
Research Subsidiaries
Cisco Research
Cisco Research connects researchers and developers from Cisco, research institutes, governments, customers, and industry partners with the goal of facilitating collaboration and exploration of new and promising technologies.
Cisco Research considers Networking its core research areas as they are trying to and have found a number of interesting problems such as deployment, performance, security, scaling issues, challenges with data collection, and performance in scaled-out implementations of networked devices (e.g. in IoT deployments).
Besides Networking, the research team is also interested in Hardware and Security issues.
Intel
Intel made its IoT Ecosystem by acquiring more than 20 companies and startups which now hold powerful tools to provide optimized IoT solutions. Intel offers its IoT solutions for different industries ranging from Retail to Industrial IoT.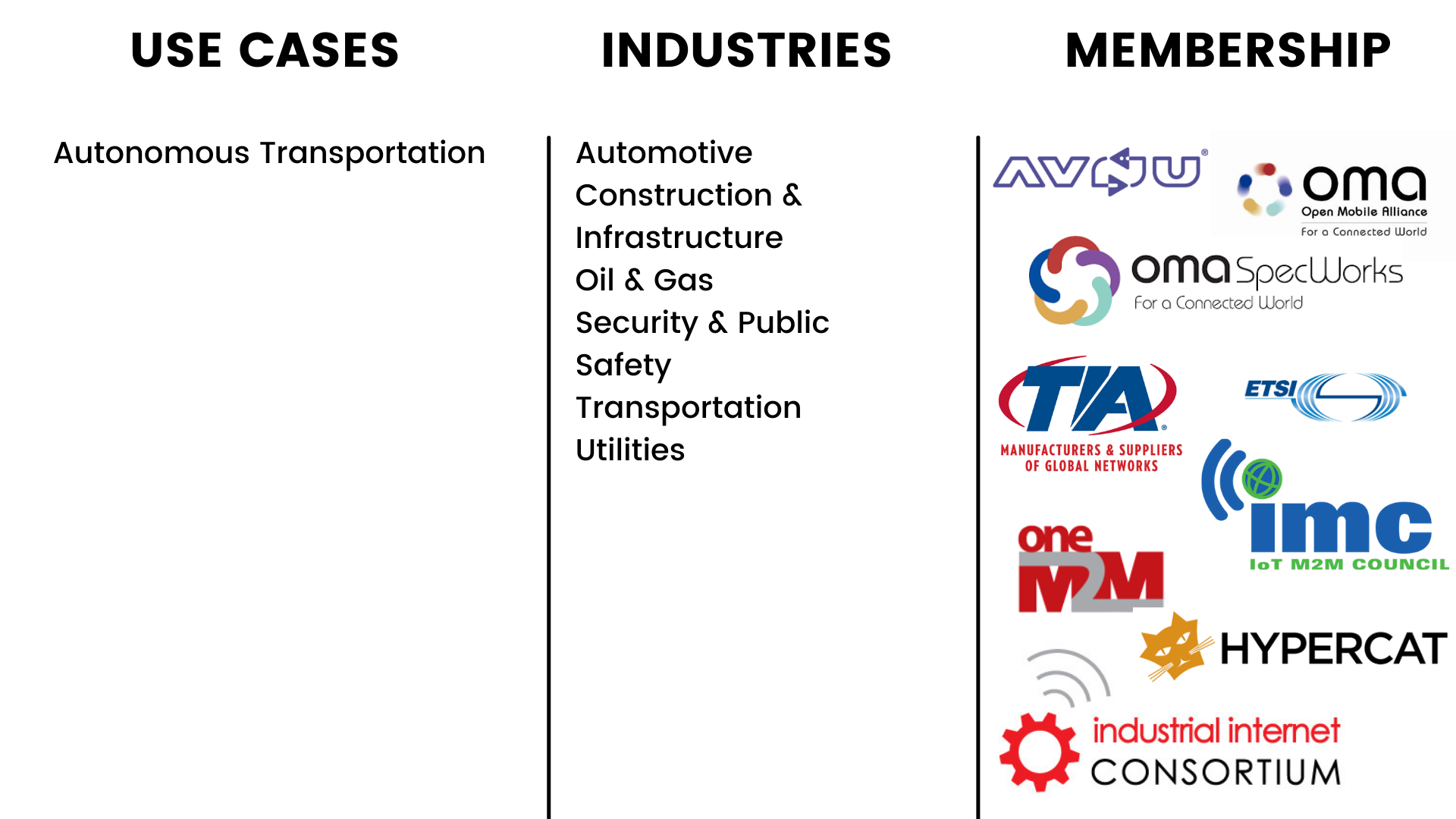 Intel IoT Ecosystem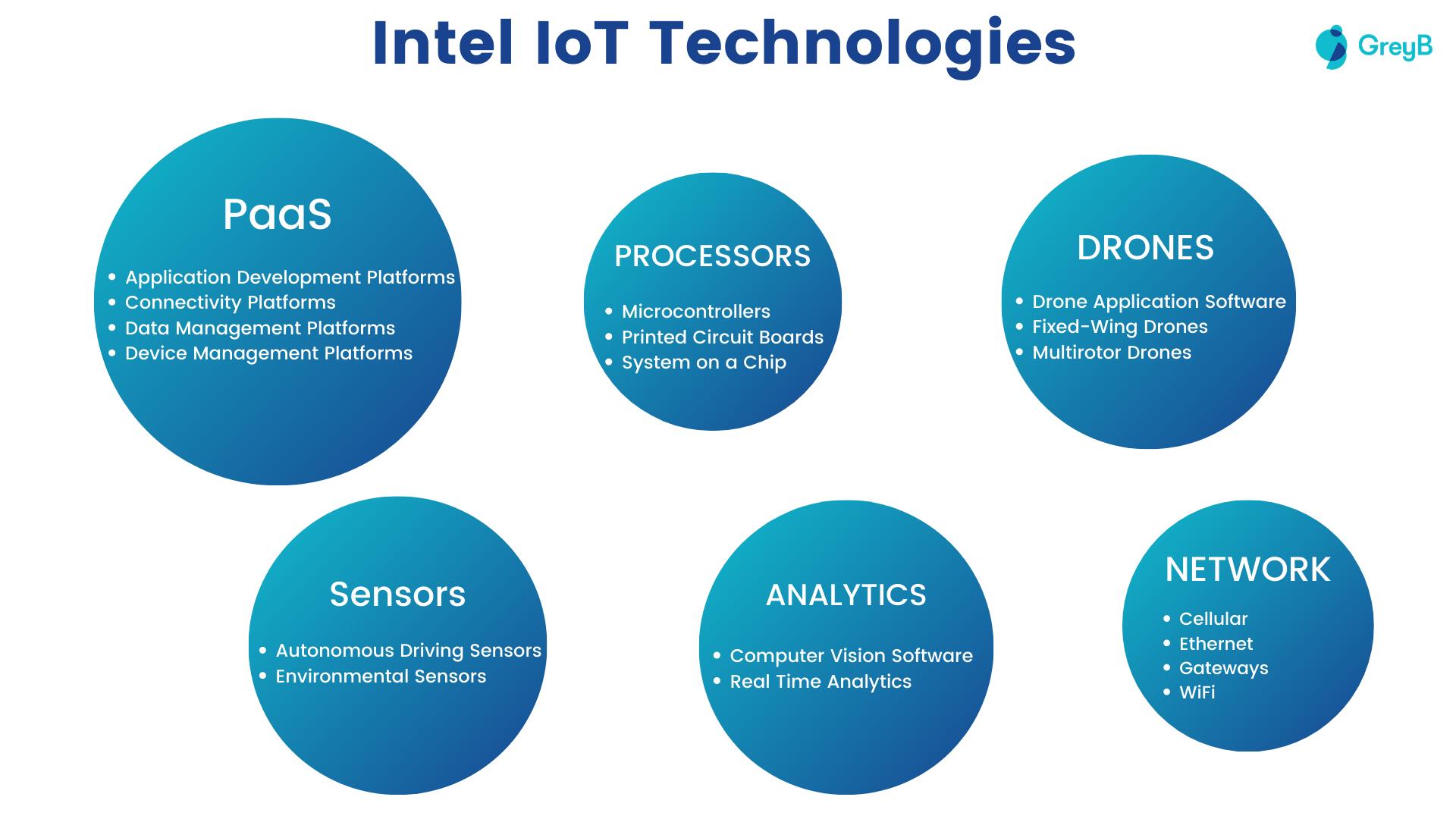 Products
Intel® Data Center Manager
Intel®'s Data Center Manager is a powerful portfolio of tools to help you lower operational costs, optimize your infrastructure, and take control of remote management.
Vertex.AI
In Aug 2018, Intel bought Vertex.AI, a startup developing deep learning tools and associated technology. Vertex.AI team joined the Movidius team in Intel's Artificial Intelligence Products Group. By acquiring its experienced team and intellectual property, Intel can further enable flexible deep learning at the edge.
Nervana
In Aug 2016, Intel acquired Nervana, an AI software and hardware startup, for more than $350 million. Nervana's Engine and silicon expertise will advance Intel's AI portfolio and enhance the deep learning performance and TCO of our Intel Xeon and Intel Xeon Phi processors.
NetSpeed Systems
Acquired by Intel in Sep 2018, NetSpeed Systems, a startup that makes system-on-chip (SoC) design tools and interconnects fabric intellectual property (IP). NetSpeed's proven network-on-chip technology addresses the challenge of synthesizing a broader set of IP blocks for optimal performance while reining in design time and cost. Intel has its in-house expertise along with its intellectual property.
Service Platforms
Rivet Networks
In May 2020, Intel acquired Rivet Networks for boosting its Wi-Fi connectivity. Its technologies and products focused on creating the best possible networking experience for users. Intel Vice President Chris Walker describes the acquisition as "a terrific complement to our existing Wi-Fi products,". He further declared his intent to integrate its Killer Wireless-AC line into the broader PC Wi-Fi portfolio.
SigOpt
To scale AI productivity, Intel acquired SigOpt, provider of a leading platform for the optimization of AI models at Scale, in Oct 2020. SigOpt's AI-driven solutions deliver productivity and performance gains across hardware and software parameters, use cases, and workloads in deep learning, machine learning, and data analytics. Intel aims to deploy SigOpt's Software technologies across its AI hardware products to accelerate, amplify, and scale AI-driven software solutions to developers. The combination of Intel's hardware and SigOpt's software will bring out competitive advantages and differentiated value for data scientists and developers. It will also complement Intel's AI software portfolio.
Research Subsidiaries
The Intel® Internet of Things Solutions Alliance
The Alliance, which includes Intel and 250+ global member companies, provides scalable, interoperable solutions for modular components to market-ready systems. These solutions accelerate the deployment of intelligent devices and end-to-end analytics. Close collaboration with Intel® and each other enables Alliance members to innovate with the latest technologies, helping developers deliver first-in-market solutions.
Microsoft
Microsoft Azure IoT is a collection of managed and platform services across edge and cloud that connect, monitor, and control billions of IoT devices. Its IoT platform also provides security and operation systems for IoT devices along with data analytics to help companies make business decisions.
There are three components, i.e. things, insights, and actions of Azure IoT.
Microsoft has a broader IoT Ecosystem to provide companies construct customized solutions for complex IoT scenarios.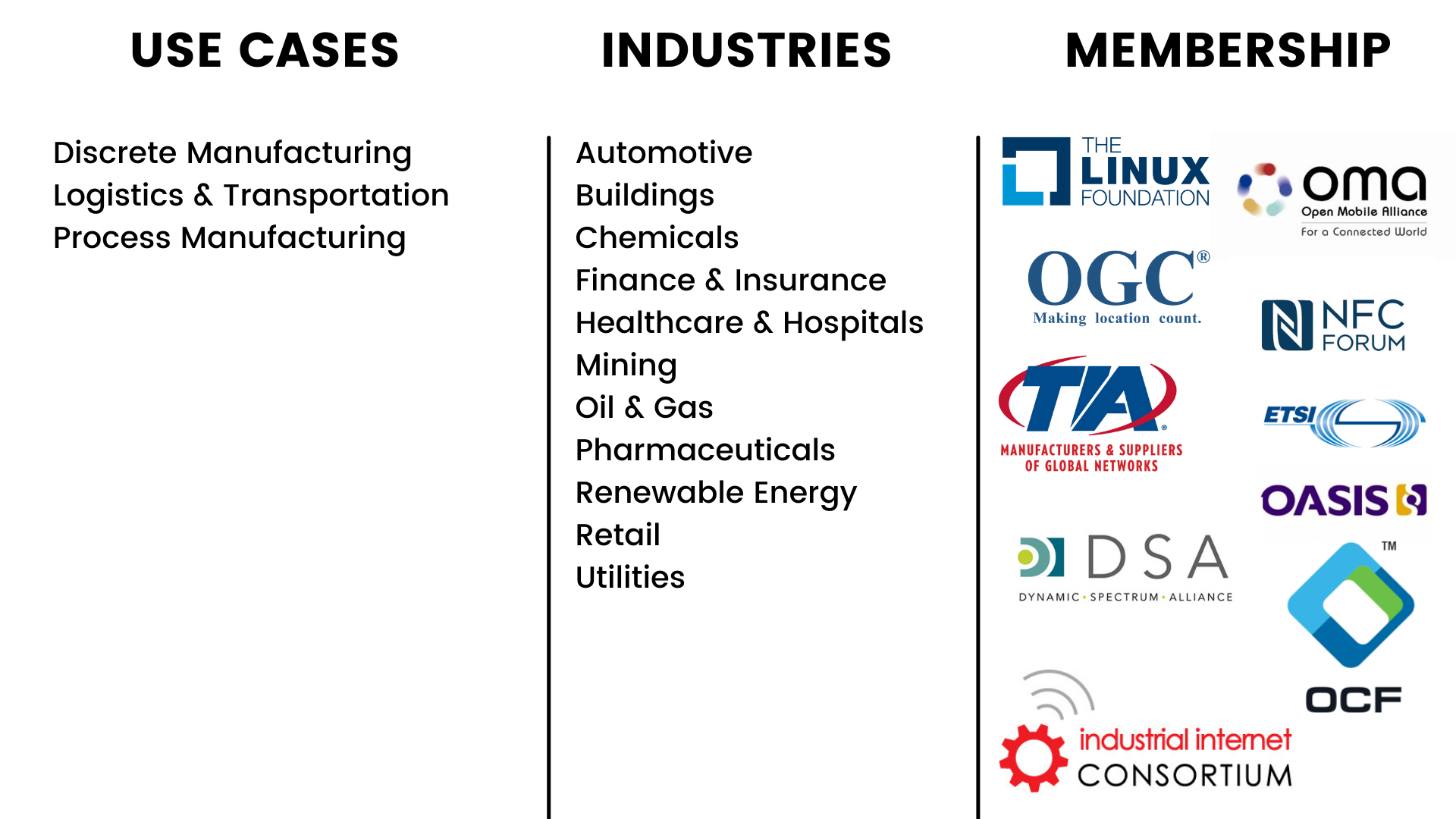 Microsoft IoT Ecosystem
Products
Microsoft Azure
Released on Feb 1, 2010, Microsoft Azure is a Cloud Computing platform for building, deploying, and managing applications and services through a network of Microsoft's data centers. It provides both Platform-as-a-Service (PaaS) and Infrastructure-as-a-Service (IaaS) services and supports different programming languages, tools, and frameworks, including Microsoft-specific and third-party software and systems.
Azure IoT Hub
Microsoft's Azure IoT Hub manages service for bidirectional communication between IoT devices and Azure. IT enables secure and reliable communication between IoT devices and applications. It can further extend solutions from cloud to edge with per-device authentication, built-in device management, and scaled provisioning. Companies of different sizes such as Maersk, Ecolab, Texa, and Avacon are using Azure IoT Hub for flexibility, and better performance.
Azure Digital Twins
Azure Digital Twins is an IoT platform that enables you to create a digital representation of real-world things, places, business processes, and people. It can provide insights that help companies drive better products, optimize operations and costs, and create better customer experiences. Companies like GE Aviation, Doosan Heavy Industries, and Iconics are using the platform for building cost-effective and scalable new solutions for their customers.
Service Platforms
CyberX
Acquired by Microsoft in 2020, CyberX helps secure the Industrial Internet by providing complete visibility into the OT Network as well as real-time detection and alerts of operational incidents, cyber threats, and system tampering, in order to minimize disruption to operations and downtime. Their flagship product, XSense, acts as an invisible layer that covers the OT Network, modeling it as a state machine. A plug-and-play solution, XSense is fully agnostic and easily integrates into any operational network, with no requirements for any changes or additional investments to be deployed. It operates in a completely unobtrusive manner, analyzing traffic only.
Solair
In May 2016, Microsoft acquired Solair, an Italian company providing IoT services to companies of different industries. Solair IoT customizes solutions, built on the Azure Cloud platform, helps businesses to utilize IoT to run more efficiently. The integration of Solair's technology into the Microsoft Azure IoT Suite enhances Microsoft's IoT solutions for the enterprise.
IBM
IBM is one of the top cloud service providers, has enough infrastructure and expertise to provide IoT solutions. IBM IoT Ecosystem is self-developed, unlike Intel and Cisco. Big corporations like L'Oreal and Sugar Creek Brewery are already using IBM IoT solutions to maximize flexibility and make the process agile.
IBM IoT Ecosystem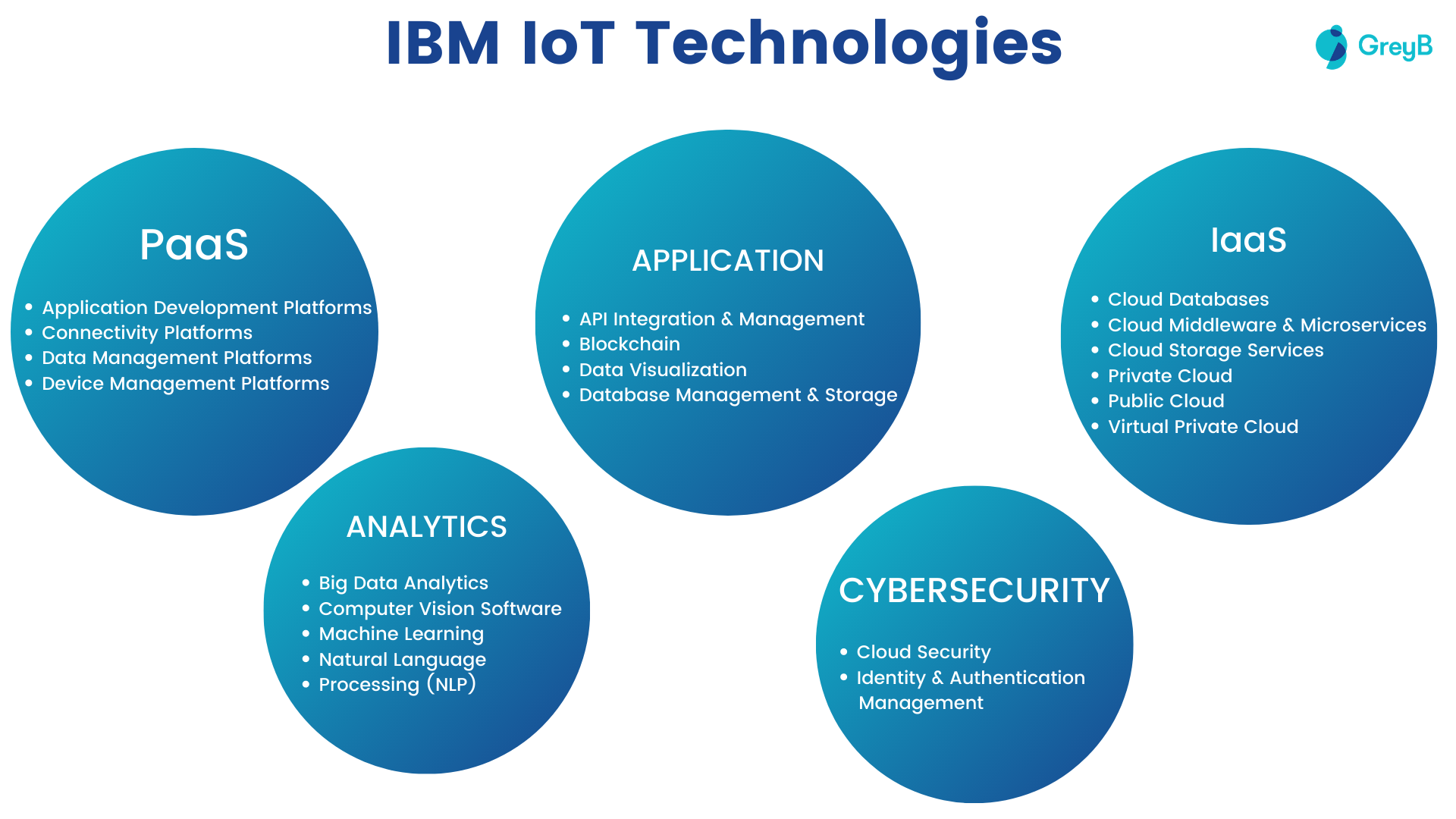 Products
IBM® Watson™ IoT Platform
IBM®'s Watson™ IoT Platform can connect and control IoT sensors, appliances, homes, and industries. Built on IBM Cloud, Watson IoT Platform provides an extensive set of built-in and add-on tools. These tools help in processing IoT data with real-time and historical analytics, extract key performance indicators (KPIs) from data, add "smarts" in the cloud for non-smart products, and securely connect apps and existing tools to the Watson IoT Platform infrastructure.
IBM® Maximo®
IBM® Maximo® Application is an integrated productivity tool and database that manages all assets on a single software platform. It has capabilities to Integrate a suite of applications, Simplify licensing including single contract and pricing metrics, Multi-cloud deployment, and a comprehensive view of your assets. Maximo Application Suite also includes asset management, remote monitoring, predictive maintenance, and visual inspection for cost optimization, digital growth, and maintenance planning. Companies like Universal Parks, Atkins Global, and CHS Inc. are using Maximo Suite to improve service and customer experiences.
IBM® TRIRIGA®
The IBM® TRIRIGA® solution delivers an integrated workplace management system (IWMS) using key insights from IoT and AI. It integrates functional models across real estate, capital projects, facilities, workplace operations, portfolio data, and environmental and energy management. Further, it can help an organization focus on three key areas: monitor and manage occupancy, organize space and provide workplace service, and ensure readiness.
IBM Engineering Lifecycle Management
The ELM products support analysts, developers, engineers, and testers by providing highly integrated tools that encourage collaboration for software and systems development.
With that ends the list of top technology giants who are in constant talks in the IoT network. Now, let's move on to explore the startups that are showing promising growth in IoT.
Promising IoT Startups
Armis Security
Armis Security provides an IoT security solution that lets businesses control any device and network. Armis's unique quickness to turn concepts into products and a successful track record innovating its platform are well-recognized in the industry. Its platform discovers devices on and off the network, analyzes endpoint behavior to identify risks and attacks, and secures critical information by identifying infected devices.
Headquarter – Palo Alto, California, US
Total Funding Amount  – $112 million
Lead Investors – Sequoia Capital, Bain Capital Ventures, Red Dot Capital Partners
Patents – 3
Arundo Analytics
Arundo Analytics, an IoT Startup, provides analytics software for industrial and energy enterprises. The startup has formed strategic alliances with Dell Technologies and WorleyParsons. It also formed a joint venture with DNV GL to offer stream data analytics for maritime companies. Recently, Arundo launched several applications including machine monitoring and fuel efficiency.
Headquarter – Palo Alto, CA, US
Total Funding Amount  – $32.7 million
Bastille Networks
Bastille Networks provides enterprise threat detection and security for IoT through software-defined radio. It offers full visibility into the known and unknown mobile, wireless, and IoT devices inside an enterprise's corporate airspace – together known as the Internet of Radios.
The startups used its patented software-defined radio and machine learning technology to identify and localize threats, providing security teams the ability to accurately quantify risk, and mitigate airborne threats that could pose a danger to network infrastructure.
Headquarter – San Francisco, CA, US
Total Funding Amount  – $39 million
Lead Investors – Bessemer Venture Partners
Bright Machines
Bright Machines is currently the fastest growing IoT Startup. It has grown from virtually zero at the beginning of 2018 to more than 400 employees a year later (April 2019). The firm focuses on "micro-factories" made up of its software and robot cells as well as new software tools that make manufacturing more efficient.
The leadership team is filled with former executives from Autodesk, Flextronics, and Amazon including Amar Hanspal (CEO), Brian Mathews (CTO), Tzahi Rodrig (COO), and Nick Ciubotariu (SVP, Software Engineering). The company recently entered into a strategic partnership with BMW i Ventures.
Headquarter – San Francisco, CA, US
Total Funding Amount  – $179 million
Lead Investors – Eclipse Venture
Blues Wireless
Founded in 2018, Blues Wireless is a young startup that aims to connect people and businesses better with their world using the potential of cellular IoT. Its product, The Notecard, is a simple, cost-effective embeddable, mobile IoT solution for cloud-based monitoring and connected operations. In 2018, Blues Wireless announced a collaboration with AT&T for services based on low-power cellular connections.
Headquarter – Seattle, Washington, US
Total Funding Amount – $11 million
Lead Investors – Eclipse Venture
Dragos
Dragos is an industrial cybersecurity startup that offers a software-defined security platform for manufacturers. Its platform is able to detect threats and respond to them in an industrial system. After collaborating with GE, Deloitte, OSIsoft, ThreatConnect, Crowdstrike, and several other companies, the startup has seen a 300% growth in headcount in the last couple of years. It further acquired NexDefense and collaborated with Waterfall Solution for a joint solution.
Headquarter – Hanover, Maryland, United States
Total Funding Amount – $158.2 million
Lead Investors – National Grid Partners, Koch Disruptive Technologies, Canaan Partners
Element Analytics
Element Analytics offers a data hub for industrial enterprises that focuses on industrial analytics software such as Digital Twins to transform and manage their industrial data. The company counts an impressive list of investors, including Kleiner Perkins, GE, Honeywell, and ABB. Further, It has partnerships with Microsoft, Uptake, OSIsoft, and Radix (consulting).
Headquarter – San Francisco, California, United States
Total Funding Amount – $40 million
Lead Investors – Activate Capital Partners, Forté Ventures
CENTRI
Founded in 2010, CENTRI provides security for IoT devices. CENTRI continuously improved its software platform to offer its customers to quickly get to market with IoT security that can protect their data from chip-to-cloud. It eliminates data theft risk by integrating standards-based technologies to accelerate customers. They're equally adept at layered security for endpoints and edge data for gateways.
Headquarter – Seattle, Washington, United States
Total Funding Amount – $12.8 million
Lead Investors – Matthew Pritzker Company, Alliance of Angels
Patents – 13
Preferred Networks
Preferred Networks, a Japanese startup,  develops real-world applications of IoT and robotics using deep learning technologies. The startup has seen 100% employee growth in the last 2 years. It made several collaborations with companies like Toyota Motors, Fanuc, and the National Cancer Center. It's also actively working with IBM, Intel, Microsoft, Nvidia for developing the deep-learning framework Chainer™.
Headquarter – Otemachi, Tokyo, Japan
Total Funding Amount – $147.2 million
Lead Investors – Toyota Motor Corporation
Patents – 70
Finite State
Finite State, a pioneer in IoT device intelligence, is capable of capturing, analyzing, and providing recommendations to customers. The company's technology helps businesses identify their vulnerabilities, quantify their risks, and take preventative actions before hackers compromise their devices. It is built on 20 years of collective cyber-security experience serving the Fortune 50 and the U.S. Intelligence community. It ensures customers about security by leveraging the world's largest database of IoT vulnerabilities and threat intelligence.
Headquarter – Columbus, Ohio, United States
Total Funding Amount – $12.5 million
Lead Investors – Energy Impact Partners
Helium
Founded in 2013, Helium is an IoT developer platform for building the network and transferring IoT device data. The platform is built on a peer-to-peer wireless network that simplifies internet connectivity for IoT sensors and devices. What differentiates Helium is its ability to provide wireless coverage for low power Internet of Things (IoT) devices. The company is taking a unique approach to motivating customers to adopt their Helium HotSpot, which sells for $495. They're offering their cryptocurrency, Helium, in exchange for buying and using the device, which helps to create "LongFi" wireless networks that have 200X the range of wifi at 1/1,000th of the cost of a cellular modem. Key investors include Marc Benioff, SV Angel, FirstMark, Khosla Ventures, and GV (formerly Google Ventures).
Headquarter – San Francisco, California, United States
Total Funding Amount – $53.8 million
Lead Investors – Khosla Ventures, Multicoin Capital, Union Square Ventures
Patents – 3
Hologram
Hologram is a connectivity enablement toolkit that empowers makers, engineers, and creators of all types to connect their devices with wireless data as well as manage billings as they grow. Hologram provides a flexible platform with no minimums, simplified connectivity, and proven scalability to help its users grow their businesses and projects from 1 to 1000 devices. Its goal is to simplify the process of building connected hardware that works everywhere.
Headquarter – Chicago, Illinois, United States
Total Funding Amount – $13.9 million
Lead Investors – Bullpen Capital, Drive Capital, NextView Ventures
Patents – 1
InfluxData
InfluxData created InfluxDB, their Open Source Platform specifically designed to analyze metrics and events (time-series data) for DevOps and IoT applications. Whether the data comes from humans, sensors, or machines, InfluxData enables developers to build monitoring, analytics, and IoT applications at scale, delivering measurable results fast. InfluxData helps customers like Cisco, IBM, PayPal, and Tesla to build transformative monitoring, analytics, and IoT applications quickly and to scale, delivering new insights from their data.
Headquarter – San Francisco, California, United States
Total Funding Amount – $119.9 million
Lead Investors – Norwest Venture Partners, Sapphire Ventures, Battery Ventures
Patents – 1
Particle
Particle is the only end-to-end IoT platform that combines software, hardware, and connectivity as an integrated solution. This ensures their customers' IoT products are reliable, scalable, and secure. Companies ranging from traditional manufacturers to fast-growing startups are launching IoT products powered by Particle. Particle works with leading companies across a variety of industries, including customers like Jacuzzi, Continental Tires, Watsco, Shifted Energy, Anderson EV, and Opti. Particle is venture-backed and has offices in San Francisco, Shenzhen, Las Vegas, Minneapolis, and Boston. Particle boasts the largest developer community in the IoT industry, with nearly 200,000 developers and engineers in more than 170 countries building with Particle.
Headquarter – San Francisco, California, United States
Total Funding Amount – $75.8 million
Lead Investors – Energy Impact Partners, Qualcomm Ventures, Spark Capital
IoTium
IoTium is the first secure network infrastructure company for the Industrial Internet of Things (IIoT). Headquartered in Silicon Valley, the IoT startup secures a connection between cloud-based applications, Network as a Service (NaaS), and legacy online systems for IIoT. IoTium's patented technology enables building and industrial automation, oil & gas, manufacturing, transportation, and smart city industries to comprehend the promise of Industry 4.0. The company has raised $22 million of funds and stimulated its digital transformation through its remote access management infrastructure. IoTium is the first secure network infrastructure company for the Industrial Internet of Things (IIoT). Headquartered in Silicon Valley, the IoT startup secures a connection between cloud-based applications, Network as a Service (NaaS), and legacy online systems for IIoT.
Headquarter – Santa Clara, California, United States
Total Funding Amount – $22 million
Lead Investors – GE Ventures, March Capital
FogHorn
FogHorn is an edge intelligence software developer for industrial and commercial IoT application solutions. It offers a unique edge-native AI solution that delivers transformational business results. Its software platform brings the power of advanced analytics and machine learning to the on-premises edge environment enabling a new class of applications for advanced monitoring and diagnostics, machine performance optimization, proactive maintenance, and operational intelligence use cases. FogHorn's Lightning™ platform embeds Edge AI locally, at or near the source of streaming sensor data, delivering unprecedented low latency for onsite data processing, real-time analytics, ML and AI capabilities in the smallest compute footprint.
Headquarter – Sunnyvale, California, United States
Total Funding Amount – $72.5 million
Lead Investors – LS Group, Intel Capital, Saudi Aramco Energy Ventures, GE Ventures, March Capital
Patents – 11
Conclusion
2020 was bad news for most technology companies and especially startups. A lot of companies had to halt their operations because the public wasn't allowed to go to work. Thanks to technologies like IoT, manufacturing processes were continued in plants where IoT technologies were already installed. Many companies now want to adopt this technology for automated operations in a post-covid-19 world.
As per the Vodafone IoT Spotlight report, 67% of businesses with IoT adoption picked up pace during the pandemic. And 78% believed IoT was key to their business continuity during the lockdown.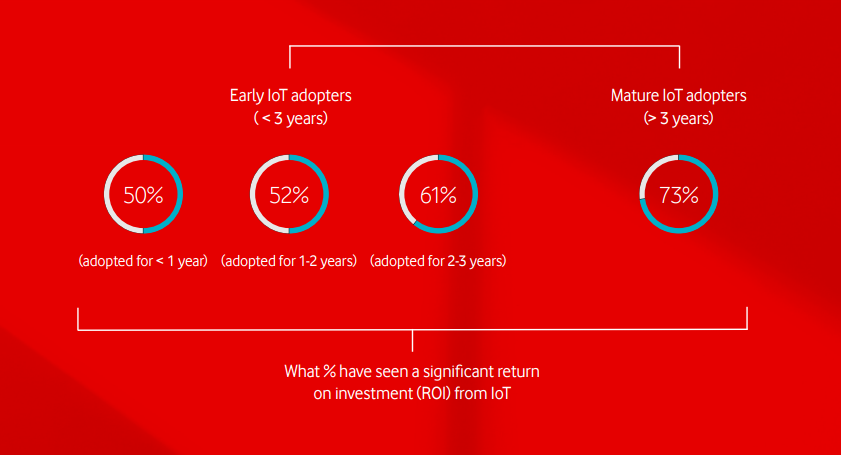 73% of companies with IoT adoption for three years report significant ROI. IoT has helped over half (55%) of businesses adopting it to decrease their operating costs, by an average of 21%, says the study.
With these benefits, it's simple to understand that more companies want to adopt IoT and with the increase in demand, the market will grow and competition will grow tough as top companies want to take a big lead and following companies want to surpass them.
Authored By: Vipin Singh, Market Research.