Top 12 Startups Leading the Research in IoT Technology
This is the final part of our 4-part IoT Series. Previously, we talked about 5 Leading IoT Companies and their position on the IoT Value chain, looked at some of the major happenings in IoT in 2020, and discussed everything you should know about the IoT Market.
In this part, we will discuss the promising startups working in the IoT industry. 
Like various tech domains, the innovation in the IoT industry is majorly being done by startups. Investors are quite optimistic about these startups as they've poured billions into them.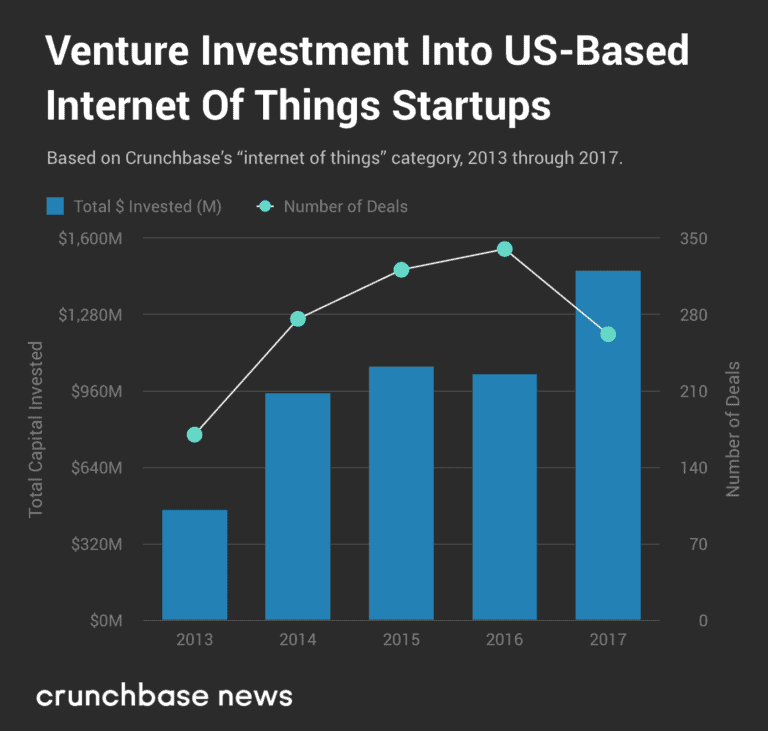 These heavy investments are boosting research and development which makes some startups worth noticing. 
This is one of the reasons IoT startups saw a huge number of acquisitions in the past, especially by non-tech companies. These companies got aware of the necessity of IoT for their manufacturing, supply chain, and other processes. 
And the number of acquisitions isn't slowing down. Companies are still searching for startups to boost their operations or improve their capabilities. 
Even in 2020, in the midst of a pandemic, Microsoft acquired CyberX for $180 million, and Cisco acquired Fluidmesh Networks. 
With that in mind, we have gathered a list of startups that made a name for themselves in the industry and are thus worth acquiring. 
So, let's discuss the 12 top IoT Startups:
1. Arundo Analytics
Arundo Analytics, an IoT Startup, provides analytics software for industrial and energy enterprises. The startup has formed strategic alliances with Dell Technologies and WorleyParsons. It also formed a joint venture with DNV GL to offer stream data analytics for maritime companies. Recently, Arundo launched several applications including machine monitoring and fuel efficiency.
Website – http://www.arundo.com/
Headquarter – Palo Alto, CA, US
Total Funding Amount  – $32.7 million
Patents – 4 (4 Patent Applications)
2. Bastille Networks
Bastille Networks provides enterprise threat detection and security for IoT through software-defined radio. It offers full visibility into the known and unknown mobile, wireless, and IoT devices inside an enterprise's corporate airspace – together known as the Internet of Radios.
The startup used its patented software-defined radio and machine learning technology to identify and localize threats, providing security teams the ability to accurately quantify risk, and mitigate airborne threats that could pose a danger to network infrastructure. 
Website – https://www.bastille.net/
Headquarter – San Francisco, CA, US
Total Funding Amount  – $39 million
Lead Investors – Bessemer Venture Partners
Patents – 59 (32 Patent Applications, 27 Granted Patents)
3. Bright Machines
Bright Machines is currently the fastest-growing IoT Startup. It has grown from virtually zero at the beginning of 2018 to more than 400 employees a year later (April 2019). The firm focuses on "micro-factories" made up of its software and robot cells as well as new software tools that make manufacturing more efficient.
The leadership team is filled with former executives from Autodesk, Flextronics, and Amazon including Amar Hanspal (CEO), Brian Mathews (CTO), Tzahi Rodrig (COO), and Nick Ciubotariu (SVP, Software Engineering). The company recently entered into a strategic partnership with BMW i Ventures.
Website – https://www.brightmachines.com/
Headquarter – San Francisco, CA, US
Total Funding Amount  – $250.5 million
Lead Investors – Eclipse Venture, BMW i Ventures
Patents – 8 (8 Patent Applications)
4. Blues Wireless
Founded in 2018, Blues Wireless is a young startup that aims to connect people and businesses better with their world using the potential of cellular IoT. Its product, The Notecard, is a simple, cost-effective embeddable, mobile IoT solution for cloud-based monitoring and connected operations. In 2018, Blues Wireless announced a collaboration with AT&T for services based on low-power cellular connections.
Website – https://blues.io/
Headquarter – Seattle, Washington, US
Total Funding Amount – $33 million
Lead Investors – Eclipse Venture 
5. Dragos
Dragos is an industrial cybersecurity startup that offers a software-defined security platform for manufacturers. Its platform is able to detect threats and respond to them in an industrial system. After collaborating with GE, Deloitte, OSIsoft, ThreatConnect, Crowdstrike, and several other companies, the startup has seen a 300% growth in headcount in the last couple of years. It further acquired NexDefense and collaborated with Waterfall Solution for a joint solution.
Website – https://www.dragos.com/
Headquarter – Hanover, Maryland, United States
Total Funding Amount – $364.2 million
Lead Investors – National Grid Partners, Koch Disruptive Technologies, Canaan Partners
Element Analytics offers a data hub for industrial enterprises that focuses on industrial analytics software such as Digital Twins to transform and manage their industrial data. The company counts an impressive list of investors, including Kleiner Perkins, GE, Honeywell, and ABB. Further, It has partnerships with Microsoft, Uptake, OSIsoft, and Radix (consulting).
Website – http://www.elementanalytics.com/
Headquarter – San Francisco, California, United States
Total Funding Amount – $40 million
Lead Investors – Activate Capital Partners, Forté Ventures
7. Preferred Networks
Preferred Networks, a Japanese startup,  develops real-world applications of IoT and robotics using deep learning technologies. The startup has seen 100% employee growth in the last 2 years. It made several collaborations with companies like Toyota Motors, Fanuc, and the National Cancer Center. It's also actively working with IBM, Intel, Microsoft, and Nvidia for developing the deep-learning framework Chainer™.
Website – https://www.preferred.jp/
Headquarter – Otemachi, Tokyo, Japan
Total Funding Amount – ¥16.5 Billion
Lead Investors – Toyota Motor Corporation 
Patents – 316 Patents (303 Patent Applications, 13 Granted Patents)
8. Finite State
Finite State, a pioneer in IoT device intelligence, is capable of capturing, analyzing, and providing recommendations to customers. The company's technology helps businesses identify their vulnerabilities, quantify their risks, and take preventative actions before hackers compromise their devices. It is built on 20 years of collective cyber-security experience serving the Fortune 50 and the U.S. Intelligence community. It ensures customer security by leveraging the world's largest database of IoT vulnerabilities and threat intelligence.
Website – https://www.finitestate.io/
Headquarter – Columbus, Ohio, United States
Total Funding Amount – $49.5 million
Lead Investors – Energy Impact Partners
9. Helium
Founded in 2013, Helium is an IoT developer platform for building networks and transferring IoT device data. The platform is built on a peer-to-peer wireless network that simplifies internet connectivity for IoT sensors and devices. What differentiates Helium is its ability to provide wireless coverage for low-power Internet of Things (IoT) devices. The company is taking a unique approach to motivating customers to adopt their Helium HotSpot, which sells for $495. They're offering their cryptocurrency, Helium, in exchange for buying and using the device, which helps to create "LongFi" wireless networks that have 200X the range of wifi at 1/1,000th of the cost of a cellular modem. Key investors include Marc Benioff, SV Angel, FirstMark, Khosla Ventures, and GV (formerly Google Ventures).
Website – https://www.helium.com/
Headquarter – San Francisco, California, United States
Total Funding Amount – $364.8 million
Lead Investors – Khosla Ventures, Multicoin Capital, Union Square Ventures
Patents – 8 (4 Patent Applications, 4 Granted Patents)
10. Hologram
Hologram is a connectivity enablement toolkit that empowers makers, engineers, and creators of all types to connect their devices with wireless data as well as manage billings as they grow. The company provides a flexible platform with no minimums, simplified connectivity, and proven scalability to help its users grow their businesses and projects from 1 to 1000 devices. Its goal is to simplify the process of building connected hardware that works everywhere. 
Website – https://hologram.io/
Headquarter – Chicago, Illinois, United States
Total Funding Amount – $82.4 Million
Lead Investors – Bullpen Capital, Drive Capital, NextView Ventures
Patents – 1
11. InfluxData
InfluxData created InfluxDB, their Open Source Platform specifically designed to analyze metrics and events (time-series data) for DevOps and IoT applications. Whether the data comes from humans, sensors, or machines, InfluxData enables developers to build monitoring, analytics, and IoT applications at scale, delivering measurable results fast. InfluxData helps customers like Cisco, IBM, PayPal, and Tesla to build transformative monitoring, analytics, and IoT applications quickly and to scale, delivering new insights from their data. 
Website – http://influxdata.com/
Headquarter – San Francisco, California, United States
Total Funding Amount – $119.9 million
Lead Investors – Norwest Venture Partners, Sapphire Ventures, Battery Ventures
Patents – 1
12. Particle
Particle is the only end-to-end IoT platform that combines software, hardware, and connectivity as an integrated solution. This ensures their customers' IoT products are reliable, scalable, and secure. Companies ranging from traditional manufacturers to fast-growing startups are launching IoT products powered by Particle. The startup works with leading companies across a variety of industries, including customers like Jacuzzi, Continental Tires, Watsco, Shifted Energy, Anderson EV, and Opti. Particle is venture-backed and has offices in San Francisco, Shenzhen, Las Vegas, Minneapolis, and Boston. It boasts the largest developer community in the IoT industry, with nearly 200,000 developers and engineers in more than 170 countries building with Particle.
Website – https://www.particle.io/
Headquarter – San Francisco, California, United States
Total Funding Amount – $105.8 million
Lead Investors – Energy Impact Partners, Qualcomm Ventures, Spark Capital
Conclusion
IoT is a broad industry that affects many industries and each industry has its own use of IoT. And that's why there are many companies that want to implement IoT capabilities in their operations. And acquiring a startup is simply the best option available to them. 
Startups aside, the IoT industry is evolving at neck-breaking speed, and keeping a track of trends, companies, and new innovations is becoming extremely important. Interested in an in-depth analysis of what is going on? Download our market research report using the form below: