Top Industrial IoT Platforms: What are the top players upto?
The Industrial IoT technology is still in its infancy, but according to research reports, its market is expected to reach $105 billion by 2025 with a 7% CAGR. Industrial IoT, otherwise known as Industry 4.0, uses shrewd sensors, machines, and continuous investigation to provide proficient assembling and industrial solutions.
Although the execution of IIoT is not an easy task as nearly 70% of IoT and implicitly IIoT initiatives fail at the Proof-of-Concept (PoC) stage because of various components, but currently, there are enough proofs-of-concept which hint that industries are adopting IIoT platforms for making their manufacturing processes more efficient and smooth. 
It's even clearly visible as multiple companies have their own industrial IoT platforms which they provide as a platform as a service (PaaS). Since a lot of research is going on in almost all of the areas, numerous whitespaces can be discovered. Therefore, it would be difficult to predict who the industry leader is going to be. Even in Gartner's 2019 Industrial IOT Magical quadrant, there isn't any clear pioneer and challenger. 
We were curious to know the top players and discovered the agreements and partnerships signed in the industrial IoT domain. So, we dug into the crowded industrial IoT platform market and did some intense research to figure all the research activity,  partnerships, agreements, and M&As of all the major players.
Insights provided in this report can help you in:
Gathering competitive intelligence by analyzing where other players are innovating
Their collaborations and strategic initiatives
Benchmark different IIoT platforms and see how they have evolved over time
Gauge the direction in which the IIoT industry is moving
Overall, this report can provide you an expanded view of the top players in the IIoT industry and in case if you're also working in this domain, it can help you see where you stand and which direction you need to go. Since there's a lot covered in this report (it's a massive 10,000+ words report packed with insights), chances are, you might not be able to read it completely. So to save your time and ensure you read it(albeit at a later point) we have converted this report in PDF format that you can save for offline reading or sharing with your colleagues.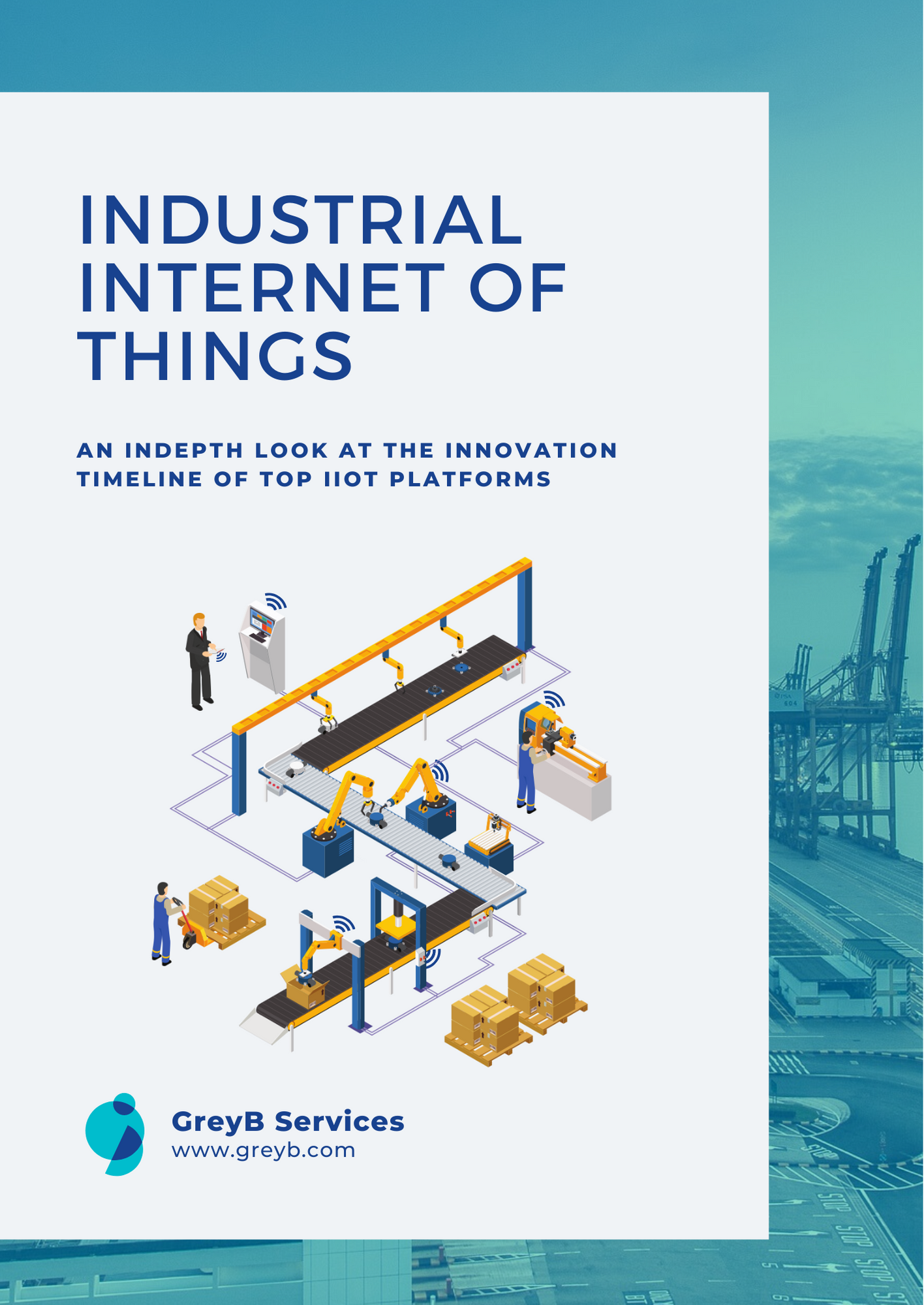 Top IIoT Platforms
Below is the list of the IIoT platforms which we discussed in this study. You can click on the link to directly read about a particular platform.
Predix – GE IoT platform
Predix is General Electric's platform which provides IIoT-based solutions by using and analyzing machine data. It's a cloud-based Platform-as-a-Service software that helps connect people with industrial machines. Predix is a well-known platform and is currently being used by multiple companies. 
Collaborations and Strategic Initiatives
MindSphere – Siemens IoT platform
MindSphere is an open cloud platform developed by Siemens for applications in the context of the IoT. Mindsphere stores operations data and makes it accessible through digital applications to allow industrial companies to make faster decisions based on factual insights. Mindsphere connects products, plants, systems, and machines with advanced analytics capabilities.
Collaborations and Strategic Initiatives
On May 10, 2018, Siemens

announced that it launched its digitalization platform

'MindSphere' in India, along with four application centers in Pune, Noida, and Gurgaon (two). 

On June 26, 2018,

Siemens PLM software announced

PROLIM, a rapidly growing product lifecycle management (PLM) solutions company, its new partner for the MindSphere platform. As a MindSphere Partner, PROLIM will be able to build applications to solve customer pain points, improve efficiency and provide value to its large customer base.

On July 6, 2018, Siemens' PLM Software

formed a new partnership with Infosys

, an Indian digital services and consulting company, to develop applications and services for the MindSphere platform. 

On August 2, 2018, Siemens bought software developer

Mendix for $730 million

in cash to help build applications for MindSphere. Mendix's software is designed around facilitating the design and delivery of low-code applications.

In August 2018, Swinburne's Hawthorn campus announced that it will

house Australia's first demonstration and application center

– called MindSphere – a cloud-based Industrial Internet of Things operating system, developed by Siemens. Located in Swinburne's Factory of the Future, the center will enable students, academics and industry partners to collaborate and co-create local and global projects on the cloud-based platform. The first industry and university for MindSphere partnership in Australia is an extension of the $135 million software grant by Siemens to Swinburne in 2017.

On August 7, 2018, Siemens

announced its collaboration with SparkCognition

, a global artificial intelligence (AI) company, to deploy SparkCognition's AI solutions on MindSphere. SparkCognition also joined the global MindSphere Partner Program, which will further enable them to enhance operations for companies in the Industrial IoT (IIoT) market.

On September 14, 2018, Siemens Postal, Parcel & Airport Logistics (SPPAL) and Bangalore International Airport Ltd (BIAL)

signed a Memorandum of Understanding (MoU)

to jointly drive the digital transformation of BLR Airport. This partnership focuses on co-operation in several areas, including the digitalization of existing infrastructure using IoT applications. The solutions rest on MindSphere which will work with BIAL in the simplification of its processes, increase efficiency and continue to improve customer experience. BLR Airport is the third busiest airport in India, having handled over 25 million passengers in 2017.

On September 21, 2018, Alibaba Cloud and Siemens

reached an agreement to launch

the MindSphere cloud platform in China's mainland by the end of Q1 2019. It builds on an agreement between the two companies signed in July for the Industrial Internet of Things (IIoT) in the country.

In October 2018, Siemens allied

with a UK industrial systems integration company, Boulting Technology. Using MindSphere, Boulting customers can develop powerful industrial applications to optimize the entire value chain, from design to production planning, and engineering to services. 

On October 17, 2018, Siemens and Atos, a global leader in digital transformation,

announced that they now deliver

private cloud options for the MindSphere Cloud-based IoT Operating System, with the ambition to further accelerate their joint business cooperation in Digital Services and Digital technologies. Selected customers are now able to experience the solution on Microsoft Azure Stack.

On November 5, 2018, BISTeL, a leading provider of adaptive intelligent (AI) applications for smart

manufacturing

announced

that it joined the MindSphere Partner Program

, Siemens' partner program for Industrial IoT solutions and technology providers. BISTel applications were expected to be available on the MindSphere platform in the first quarter of 2019.

On November 13, 2018, Siemens

opened a new MindSphere Application Center

in Abu Dhabi to focus on developing digital solutions, applications, and services for process industries, including oil and gas, water and wastewater. The center is the second of the third to be built in the UAE. 

On November 14, 2018, QuEST Global, the pioneering engineering services provider, announced that it

joined Siemens' MindSphere Partner Program

to develop innovative connected solutions using the MindSphere platform. This partnership will enable QuEST to deliver on the connected engineering objectives of its customers across industries using data insights from advanced engineering analytics.

On November 16, 2018, engineering firm

AXISCADES joined the MindSphere Partner Program

run by German technology giant Siemens. As a part of the MindSphere Partner Program, the company would be able to focus on digital transformation and help meet the smart manufacturing needs of its customers. 

On December 6, 2018, Siemens Postal, Parcel & Airport Logistics (SPPAL) and Cathay Pacific Services Limited

signed a memorandum of understanding (MoU)

for digitalization of the cargo infrastructure at Hong Kong International Airport. This project is to be implemented using the Internet of Things (IoT) applications and advanced data analytics.

On January 11, 2019, Konecranes, a Finnish company specializing in the manufacture and service of cranes and lifting equipment,

implemented Siemens' digital innovation platform to accelerate its product development process

and connect product and performance data. The company is using MindSphere, the open cloud-based Internet of Things (IoT) operating system, and the Teamcenter portfolio, the world's most widely used digital lifecycle management software, to leverage the digital twin and reduce the number of physical prototypes, which helps to increase efficiency and decrease product validation time.

Innovation and technology consultancy Boldly Go Industries developed digital applications and smart services for the industrial Internet of Things

using the cloud-based and open IoT

operating system Siemens' MindSphere. As a partner and supporter of Siemens MindSphere, Frankfurter Beratung is a member of the MindSphere user group which sees itself as an open ecosystem.

On March 6, 2019, Litmus Automation, an Industrial Internet of Things (IIoT) platform provider, announced that it

joined the MindSphere Partner Program

, the Siemens partner program for Industrial IoT solutions and technology providers. Litmus' LoopEdge platform, available immediately, is designed to collect data from industrial devices and make it available on MindSphere.
Watson – IBM's IoT platform
IBM Watson IoT is one of the top-performing IIoT-based platforms available on the market. It made its name in prominent lists such as Forrester Q3 2018 report where it was named as the leader in IIoT platforms. The platform is said to have brought simplicity and scalability without compromising security. 
Collaborations and Strategic Initiatives
ThingWorx® – PTC IoT platform
PTC is a leading software platform provider that leverages IIoT solutions to drive innovation, improve business outcomes and build a smart connected environment. PTC is quite active in providing IIoT solutions which can be found listed below along with the collaborations it made with other companies.
Collaborations and Strategic Initiatives
Azure – Microsoft IoT platform
Microsoft Azure IoT platform is also a top contender among the top IIoT platforms. Microsoft has bigger plans related to its Azure platform, thanks to its CEO. For IIoT solutions, the platform is used by prominent companies to provide efficient solutions. The company also made multiple collaborations with other companies to improve its platform.
Collaborations and Strategic Initiatives
Below are the companies which are the important customers of Microsoft Azure IoT and are using or have used the platform.
IoT Suite – Bosch IoT platform
In March 2016, Bosch Software Innovations began offering the Bosch IoT Suite as Platform as a Service (PaaS) that gives an extensive tool stash in the cloud. The product stage gives a base on which Bosch and its clients can manufacture a wide scope of solutions and ventures.
Collaborations and Strategic Initiatives
On March 17, 2017, Bosch software innovations and Amazon Web Services (AWS)

collaborated

to make the product administrations of the Bosch IoT Suite accessible to programming engineers using the AWS cloud. The Bosch IoT Suite contains different cloud benefits that empower engineers to quickly manufacture, convey, and work on cloud-based IoT applications.

On October 12, 2017, Bosch software innovations

began giving the

administration capacities on the SAP cloud stage, with the goal that organizations who use SAP's cloud foundation for their associated arrangements would now be able to profit from the leading device management capabilities of the Bosch IoT Suite.

On January 10, 2018, Bosch software innovations made

Bosch IoT rollouts accessible

in the IBM Marketplace and recorded in the IBM Cloud list. This enables clients to oversee and control rollouts of programming reports on obliged edge gadgets just as on progressively amazing controllers and gateways.

On March 28, 2018, Bosch

released version 9.0

of the Bosch IoT gateway software. This release accompanies support for the OSGi R6 determination, device access, and mechanization APIs, as well as support for new conventions.

On July 9, 2018, Bosch propelled three administrations of Bosch IoT Suite on AWS marketplace as follows:

On August 17, 2018, Bosch

released variant 7.0

, the Bosch IoT Remote Manager (earlier known as ProSyst mPRM) has broadened its off-the-shelf device availability abilities with help for HTTP/REST-and MQTT-based conventions. As of this most recent release, ProSyst mPRM has been incorporated into the Bosch IoT Suite, Bosch's product stage for the Internet of Things. Further, the item has been rebranded as Bosch IoT Remote Manager.

On October 10, 2018, the Bosch IoT suite and Huawei

united to quicken

the improvement of the Internet of Things (IoT) in China and to make the Bosch IoT Suite accessible to Chinese IoT clients on Huawei Cloud. The Bosch IoT Remote Manager, which assists in overseeing and controlling entryways, sensors, and gadgets, is presently recorded on the Huawei Cloud site. 

On November 6, 2018, The Bosch IoT Suite was

improved

with another cloud administration: Bosch IoT Insights. It takes into account all the needs of developers of IoT data management. Bosch IoT Insights empowers clients to process their IoT information from almost any device. The administration gets information through an FTP or HTTP interface and stores it at first in a crude configuration. On the other hand, information can be ingested through the Bosch IoT Remote Manager. After the information has been stored, the administration at that point interprets, standardizes, advances, and rinses it. What's more, from that point onward, it breaks down the information with NoSQL/MongoDB and imagines it utilizing standard and client characterized dashboards.

On November 26, 2018, Bosch

expanded its services

on the AWS marketplace by publishing three further services of the Bosch IoT Suite. This is another step forward in their multi-cloud strategy. As of 2018, more than 8.5 million devices are already connected to AWS deployment via Bosch IoT Suite.

On December 26, 2018, Bosch

released 9.1 version

of the Bosch IoT Gateway Software – the edge registering middleware of the Bosch IoT Suite. Some highlights of this release are listed below:

Added Java 11 as a supported platform

Integrated latest Apache Web Console 4.3.4

Added support for the history of functional item state changes

Extended Zigbee Device Access API support

Added ONVIF 2.0 driver

Added KNX ETS5 project format support

Updated SPINE Driver and Adapter according to SPINE specification v1.1.0

Added Bluetooth LE driver via DBUS

Added Bluetooth LE Device Access API support

Improved Web Console plugin for working with functional items

Added JUnit 5 support

Removed node locking

Refined user documentation

On January 3, 2019, The Bosch IoT suite for

asset communication was propelled

. This design of two Bosch IoT Suite administrations not just supports the adaptable and secure ingestion of huge volumes of sensor and resource information but also the remote control to your advantage. The administration bundle includes the Bosch IoT Hub, which deals with huge scale gadget network, and Bosch IoT Things, which deals with the advanced portrayal (digital twins) of your physical devices.

On April 15, 2019, Bosch released variant 9.2 of the Bosch IoT Gateway Software, which now incorporates out-of-the-container support for the two new Bosch devices, a refreshed automation engine and more. 
Some features of this version are summarized below:
New Automation API is independent of the Eclipse SmartHome API

Bluetooth LE Connected Industrial Sensor Solution (CISS) support

ONVIF 2.0 Device Access API support

Servlet 3.0 support via Jetty

OSGi R6 HTTP Whiteboard support

Database (SQLite) native backup and restore

KNX ETS 5.7 project format support

Home Connect Cleaning Robot support

Zigbee EZSP 6.4.1 support

On August 14, 2019, the Bosch programming advancement

released variant 9.3

of the Bosch IoT Gateway Software, which is presently incorporated with the Bosch IoT Suite for Asset Communication bundle. It likewise accompanies upgraded highlights and enhancements like:

HTTP 2.0 over Jetty

A mechanism for filtering Bluetooth LE devices found during discovery

Removed JNI from the Bluetooth LE driver and optimized performance

Added support for Qubino Z-Wave devices

Added support for EZSP 6.5.3 and EZSP 6.6.0 in Zigbee EZSP driver

Updated ready-to-use image descriptors – IoT Gateway Images now features Bluetooth LE and ONVIF capabilities

ONVIF improvements – backup and restore capabilities

Automation improvements – data validation, builders

History improvements – variable functions, time functions

Home Connect improvements – added support for pause and resume commands

Applied OSGi versioning annotations to Bosch IoT Gateway Software APIs

More consistency for life-cycle operations with unsigned OSGi bundles in Certificate Manager.

On August 30, 2019, Bosch

released 7.1 version of Bosch IoT remote

manager available now with new highlights and improvements, which are listed below:

AMQP Event Forwarding package for forwarding telemetry data via AMQP enabled broker infrastructure.

LwM2M Device Adapter functional package for connecting and managing remote devices over LwM2M protocol.

Several improvements and bug-fixes.
Jasper – Cisco's IoT platform
Jasper Wireless is a global Internet of Things (IoT) platform. Jasper is currently working with over 120 mobile operating systems to serve IoT and machine-to-machine (M2M) companies over a wide range of businesses like Automotive, home security, automation, and agribusiness. Jasper Technologies was acquired by Cisco for 1.4 billion in  2016 which makes Jasper technologies an IoT cloud business unit of Cisco.
Collaborations and Strategic Initiatives
End-to-End IoT Deployment – Enterprises in any industry can quickly bring IoT services to market via a single solution that enables them to manage IoT application development, connectivity, and the entire service lifecycle. 

Analytics & Automation – The combination of IBM Bluemix analytics and Jasper Control Center automation capabilities will provide enterprises with deeper insights for more powerful decision-making.

Central Visibility, Global Scale – Businesses will gain a global view of their IoT deployments – including device, application, and Control Center IoT service data – all through the IBM IoT Foundation. 

On February 23, 2016, Cisco, Jasper, and Telular

partnered to expand IoT Solutions

for Commercial Telematics and Security Mobile World Congress. They will deliver IoT services to the business telematics and security markets. This association will likewise coordinate the Jasper control center IoT service platform with Telular's SkyBitz and Telguard items to empower telematics suppliers and security sellers to increase productivity, reduce cost and deliver new income-producing services to their clients around the world. 

On February 23, 2016, Cisco, Jasper and POST

Luxembourg l

aunched

IoT services

throughout Europe. They declared the accessibility of their joined system and IoT platform, empowering enterprises to effortlessly launch, manage and monetize IoT service organizations. 

On February 23, 2016, Gemalto, a world leader in digital security, and Cisco Jasper

announced a partnership

to simplify the global deployment of IoT devices and services through on-request membership to the board. Integrating Jasper's IoT service platform with Gemalto's LinqUs On-Demand connectivity expels the unpredictability of deploying connected devices around the world – for mobile operators, device manufacturers, and application suppliers.

On March 22, 2016, Cisco

acquired

Jasper Technologies. Jasper's industry-driving cloud-based Internet of Things (IoT) administration stage empowers organizations of all sizes to quickly and cost-viably launch, manage and monetize IoT services on a worldwide scale.

On November 15, 2016, Reliance Group,

announced a strategic partnership

with Cisco Jasper to provide Internet of Things (IoT) services to enterprise customers throughout India with UNLIMIT. UNLIMIT is furnished with the different assets of the Reliance Group, the agility of a start-up, high-profile partnerships, and will take advantage of into the developing capability of the IoT showcase in the nation.

On January 11, 2017, SmarTone, Hong Kong's leading telecommunications service provider, and Cisco Jasper

announced the

launch of the Internet of Things (IoT) services in Hong Kong. This partnership empowers organizations in any industry to use the SmarTone versatile system and the Cisco Jasper managed connectivity platform, Control Center, to deliver new administrations and boost the

revenue

.

Honda is

utilizing IoT solutions

from Cisco Jasper® and Bright Box to deliver  MyHonda connected car platform, which gives a suite of amazing services that upgrade the driving experience. MyHonda uses telematics solutions from Bright Box, controlled by the Cisco® Jasper Control Center automated IoT connectivity management platform, to deliver a variety of connected services that increase driver safety, simplify vehicle ownership, and enable new experiences for drivers. These cars will be launched across all European countries.

Cisco Jasper completed NB-IoT

Trials to Enable Value-Oriented

IoT Services. In response to demand from an increasing number of companies looking for low cost, low power Internet of Things (IoT) devices to help optimize their businesses and deliver new services, Cisco in February 2017 announced that they completed live trials of NB-IoT on its Control Center connectivity management platform, making it one of the first IoT platforms to support NB-IoT.

After February 28, 2017, KT enabled companies throughout

Korea could take advantage

of the Internet of Things (IoT) to deliver new connected services to their customers. The combination of KT's high-performance network and the Cisco® Jasper control center IoT connectivity management platform empowers both neighborhood and universal clients to give consistent worldwide IoT services without limits.

On February 28, 2017, Cisco Jasper and Jupl

introduced

wearables to empower seniors with independence and safety. The Personal Emergency Response System (mPERS) utilizes IoT to provide connected health solutions for the elderly.

On March 27, 2017, Cisco Jasper

announced

a partnership with Three Groups which extended three group's capacities in the worldwide Internet of Things (IoT) marketplace. In mid-2017, Three Group's enterprise clients who needed to launch IoT services will have the option to do so utilizing Cisco Jasper's powerful connectivity management platform, Control Center. 

April 05, 2017 – Telenor Norway, the largest provider of mobile and network services in Norway

collaborated

with Cisco Jasper to help enable enterprises all through Norway to launch, manage and monetize IoT services. The collaborated effort matches Telenor Norway's mobile network with the Cisco Jasper IoT connectivity management platform, empowering enterprises to effectively and cost-adequately deliver new connected services through connected devices that create valuable experiences for clients and open new revenue channels.

On April 25, 2017, Cisco Jasper

introduced an automated mobility management

platform, which automates the management of enterprise mobile services and devices. The solution, which is an expansion of the Cisco Jasper® Control Center IoT service platform, gives undertakings quicker conveyance of services, lowering operational expenses, and unsurprisingly telecom bills. 

On August 17, 2017, KaR-Tel collaborated with Cisco Jasper to deliver IoT Services throughout Kazakhstan. This partnership would help empower ventures in Kazakhstan to launch, manage and monetize IoT administrations. KaR-Tel, which is a piece of Veon, is the principal mobile operator in Kazakhstan to receive Cisco Jasper Control Center, the main computerized connectivity platform for managing IoT devices.

On February 27, 2018, Cisco Jasper

announced that

its control center for NB-IoT is now available worldwide, making it the first industrially accessible worldwide NB-IoT platform. By these ventures, the company has the option to manage both NB-IoT and cell gadgets. NB-IoT (Narrow Band-IoT) is relied upon to drive the development of IoT at a massive scale, expanding the number of connected devices to more than 3 billion by 2023.

On April 16, 2018,

DNA Selected Cisco Jasper

to Enable IoT Connectivity. They teamed up to launch its new IoT service, which is relevant to organizations in each industry. By pairing DNA's extensive mobile network with Cisco Jasper Control Center, the main worldwide IoT network set a board stage, and organizations all through Finland would now be able to launch, manage and adapt IoT services around the world.

On May 23, 2018, MTN and Cisco

launched IoT services

throughout South Africa. The accessibility of the Cisco Jasper Control center automated IoT connectivity platform for all organizations will help give IoT services to their customers on MTN's mobile network all through South Africa. MTN is the principal mobile operator in South Africa to send Control Center, a main worldwide IoT platform, empowering their business clients to launch, manage, and adapt IoT services around the world.
Conclusion
The Industrial IoT market is growing and the major factors driving its growth are technological advancements in semiconductors, electronics devices, availability of automation solutions, improved data rates, and coverage of communication technologies. 
Besides, the increasing use of cloud computing platforms, growing adoption of IPv6, and support from governments worldwide pertaining to the adoption of Industrial IoT solutions are the major factors for the growth of IIoT platforms. 
Apart from these aforementioned platforms, there are others as well which provide faster and efficient automation manufacturing services. But for the sake of brevity, we picked the top 7 industrial IoT platforms.  We will keep on updating this list and if you don't want to miss out on any information, click here and get yourself subscribed. 
Want to explore any other platform? Write to us with your requirements and our team will reach you in no time.

Authored By:  Rajneesh Rana, Research Analyst, Market Research, and Vipin Singh, Senior Research Analyst, Market Research.