What is holding you back from taming the SEP dragon?
SEPs are a honeypot for the companies that are aiming to gain supremacy over their competitors. The current status of the SEP world is painted in our other articles. Looking at the average share of SEPs in a company's portfolio, however, is not very promising, as some companies are yet to participate in the SEP exercise or are lagging.
There might be a few reasons for the same. Below we have listed the few problems or concerns that might have led the company's SEP exercise into a muddle –
The initial step might be the biggest reason for the issue – Companies might not be aware of all the standards. With standards, we do not mean 3GPP standards solely, but all the IEEE (Ethernet, WiMAX, WLAN, WPAN, Higher Layer LAN, Radio Regulatory TAG, Regional Area Networks, etc.), IETF, 3GPP (including GSM, UMTS, LTE, and 5G), HIPERLAN, and other standards. The limited knowledge of these standards and their scope might be the reason a company is missing out on its potential SEP candidate.
Many companies might be delaying their declarations. Such as in the case of 5G, where the number of 5G-related SEPs are increasing sharply, there are only a few companies that have declared that they own such patents. The graph below depicts the count of approved Change Requests (CRs) of a company for Releases 15, 16 and 17, which broadly narrates the story as to who have been the frontrunners in 5G specification standardization.  Among them are Orange, Anritsu, Keysight Technologies, and Rohde & Schwarz. However, they are yet to declare their patents.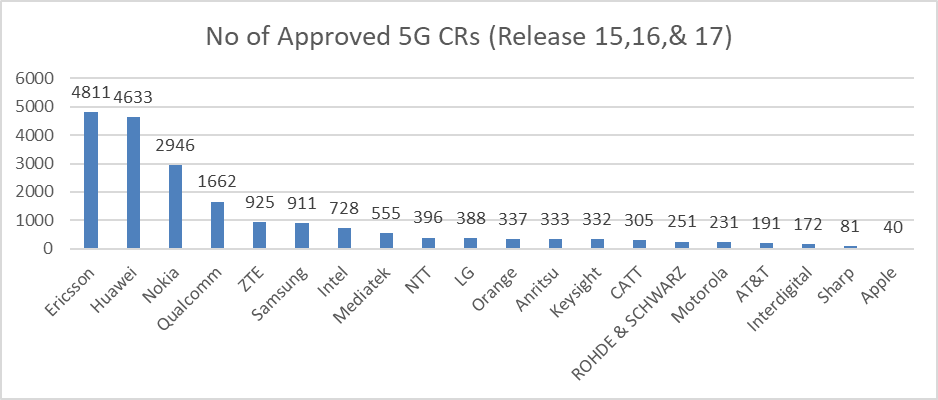 Note: CR data was extracted from 3GPP website on February 15, 2020.
New specifications are worked on and are released regularly. Therefore, it is important for a company to constantly check their portfolio w.r.t the new releases.
Finding a patent that overlaps on the specifications isn't a walk in the park. Often, a combination of standards is required to paint the overlap for a single patent. And, it is quite easy for a person to miss a standard that may be useful for a certain claim limitation. One left or wrong interpretation and we are forced to say bye to our SEP.
 A company's portfolio consists usually of thousands of patents, and to conduct a manual analysis on them is a pile of a task that most companies prefer to ignore rather than to work on. Therefore, a patent that might have failed to hit in the preliminary analysis will remain unnoticed for the entire time.
In certain cases, however rare it may be, where the patents family members are left unchecked may again lead to our target miss. For example, the claims of a standard limiting to the WiMAX standard may be left or skipped, however, a case may arise where the family members of the patent do not propose such limitation and broaden the scope of the invention to any communication network. What happened here is you might have ignored the patent for just covering the WiMax domain, whereas the family members of the same patent have a different patent scope.
Researcher's lack of knowledge in other domains – The patent applicable to be working in a standard/domain may be equally effective in other standards/domain, but might not be highlighted due to the lack of knowledge of the patent researcher.
These are some of the problems commonly faced by the companies in their pursuit to tame the SEP dragon. Are you also facing similar problems? If yes, we can help. Fill the form below to invoke code F1 and we will revert to you in no time.


This article might at glance seem useful to a company that is below average in terms of SEP% share in a company portfolio, but even if you are above average, in fact, even if you are the leader, to have more SEPs is always a cherry on the cake.
It might be the case that your company or your competitors might be well aware of their portfolios but are still unable to exploit the full potential of your/ their portfolio. The reasons for the same are discussed in the next article in the series – How to make your patents accept in a patent pool?
Authored by: Aman Kumar and Shivam Kansra, Search Team.