What's next for Humira Biosimilars as the drug's exclusivity ends?
Are you familiar with Humira? The first fully lab-made immune protein approved by the US Food and Drug Administration (FDA) for various treatments.
In case you aren't, Humira is a blockbuster anti-inflammatory drug made by AbbVie, which is losing its market exclusivity in 2023. The drug treats conditions like rheumatoid arthritis, psoriasis, Crohn's disease, and ulcerative colitis in adult and pediatric patients.
There were key FDA approval milestones for Humira, focusing on major indications from its initial approval in 2002 for rheumatoid arthritis to its most recent approval in 2021 for pediatric ulcerative colitis. Here's a timeline of Humira's approval for different diseases by the US FDA.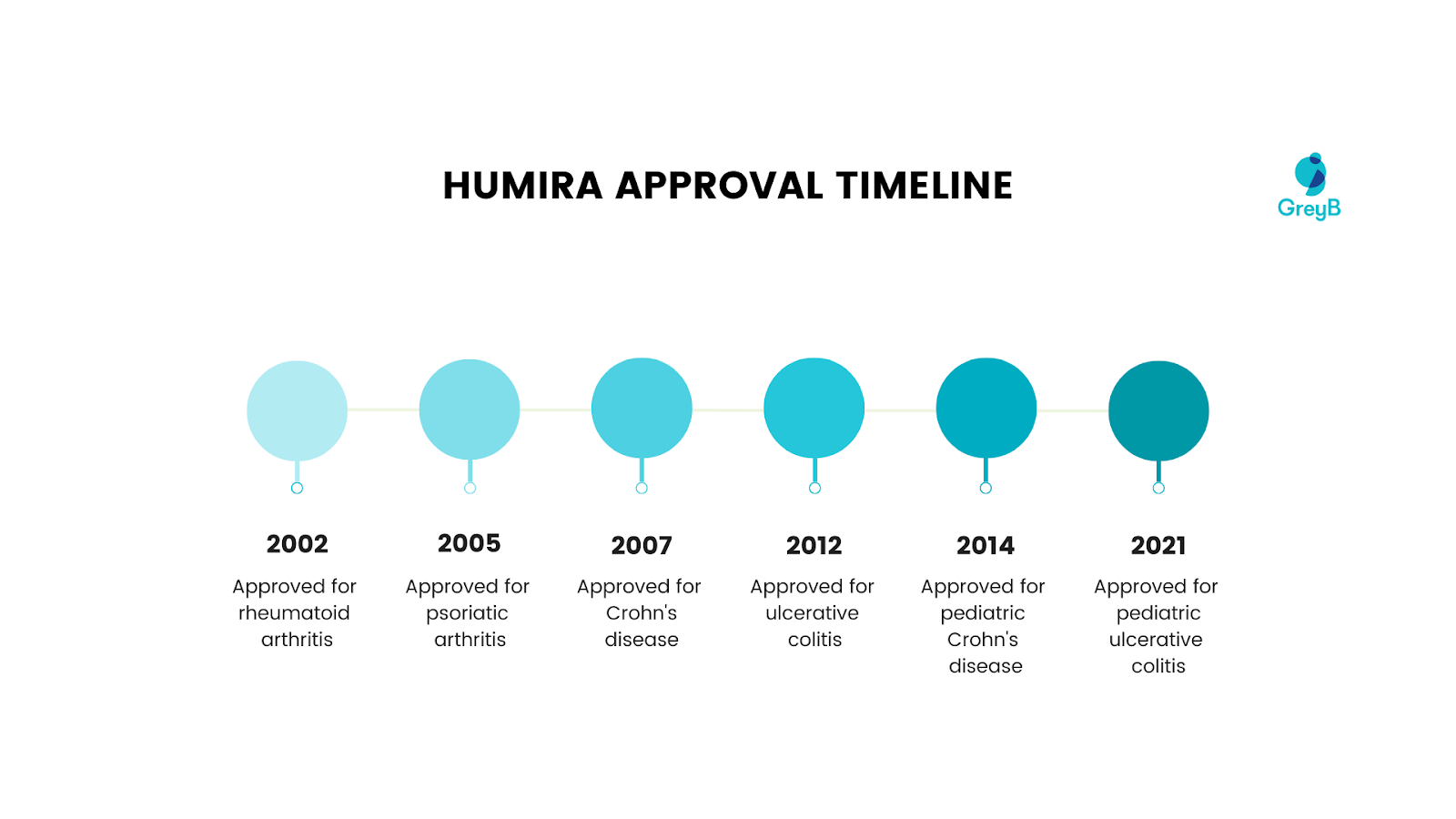 Stating the Obvious- Why is Humira important for AbbVie?
AbbVie has dominated the market with Humira for years and established itself as a global pharma powerhouse. The drug has a sales record of $21.2 billion in just 2022. In fact, this antibody has generated more than $200 billion in global sales since its launch.
2023 has finally brought the first competition to Humira and, eventually AbbVie. Humira's 20-year exclusivity period ends this year, and its biosimilars are already hitting the U.S. market— beginning with Amgen's Amjevita.
But all hope isn't lost for AbbVie yet. Like any other pharmaceutical company, AbbVie has numerous patents surrounding the drug. Here's an overview of Abbvie's patent set for Humira:
Given some other patents surrounding the drug are still alive, should the generic drug makers manufacture Humira biosimilars yet? Or will AbbVie continue to dominate the market for a few more years?
Conclusion
Indeed, AbbVie lost exclusivity over Humira. Despite this, the drug will continue to hold significant value. Companies are competing to secure a portion of the Humira biosimilars market.
As the generic drug industry experiences rapid growth, more and more Humira biosimilars will be available in the market.
But strategizing for a generic launch can take up to a year, so it's crucial to scout the market for potential entry points while avoiding litigation risks well in advance. That's where Pharsight comes in. Track patented drugs on the verge of losing market exclusivity, their patents, ongoing litigations, and much more with our centralized discovery platform.
Stay ahead of the curve with Pharsight and avoid being left behind in the generic race simply because you missed a critical event.
Authored By: Nikhil Kaushal, Software Development
Next Read: The Stelara Patent Thicket: Patents Expiring in 2023