The Race of Singapore to Become The Next IP Hub of Asia
As the global economy is becoming innovation-centric, growth today has become almost impossible without taking IP into consideration. Singapore, where the growth of IP sector is quite apparent, is moving in a direction to cement itself as the IP hub of the Asian region. The Singapore Government, for that matter, has announced an Intellectual Property Hub Master Plan to create a hive of IP activities in Singapore.
The intellectual property financial scheme and setting up Center of Excellence for IP valuation are some of the major steps taken by the Singapore Government to steer the master plan proposed by Teo Ming Kian, Chairman of IP Steering Committee.
We conducted a study to visualize the efforts of Singaporean Government through the patent lens. The study will give you an insight on how Singapore is trying to establish itself as the next IP hub of Asia and who (law firms, local and foreign companies etc.) all are contributing to that growth.
Which Companies are considering  IP Protection in Singapore?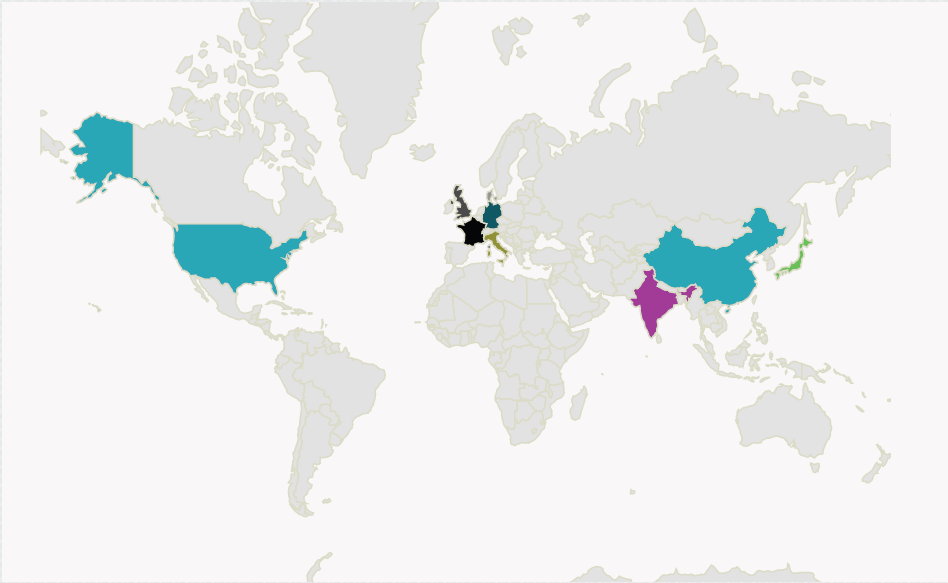 How we derived the Insights:
We took the priority country statistics for the patents published at the Singapore patent office during 2009-14. These statistics point out the geographical area of origin of the various technologies patented in Singapore.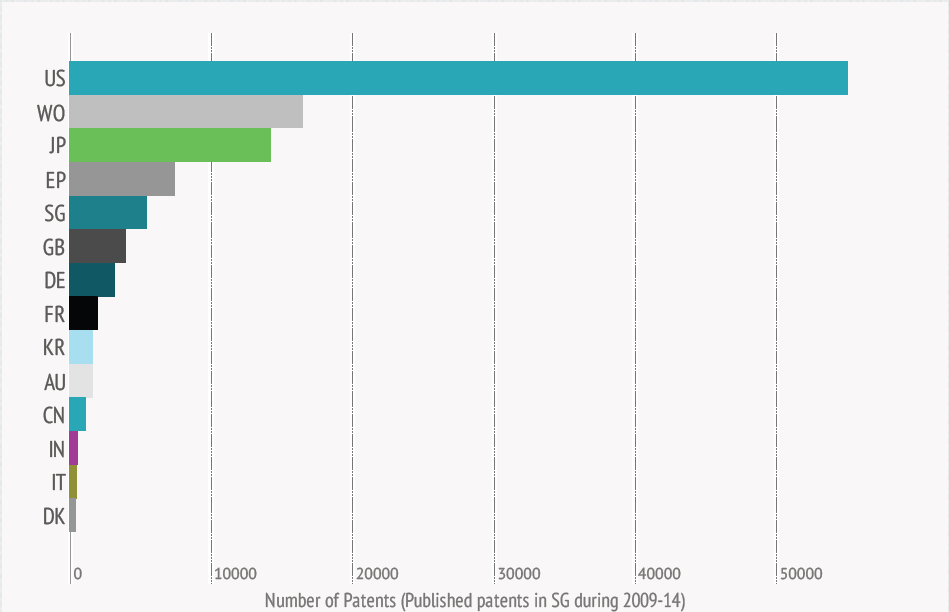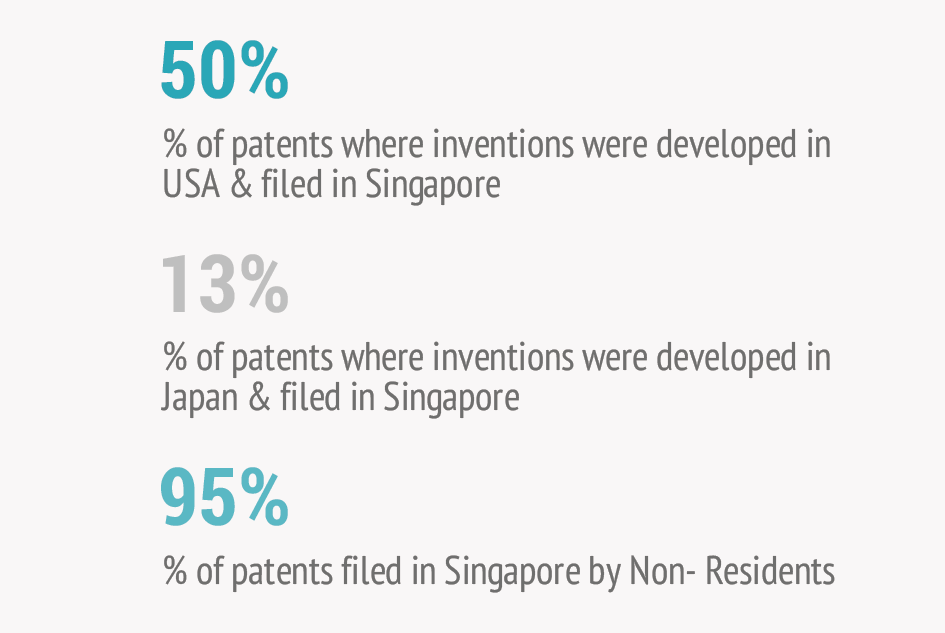 Key Takeaway of the Findings
95% of the patents filed in Singapore aren't of Singaporean origin. This indicates these companies considering Singapore with a huge market potential for their products. Thus, to make the most out of their inventions, they filed for the patent protection.
Singapore government provides funding for R&D and for patent filing. Not only this, there is a provision of tax benefits for companies of Singaporean origin actively filing patents. As of now, Singapore based companies constitute only 5% of the total patents filed in Singapore, however, this number is predicted to increase over the period of time with the introduction of these new schemes.
Almost 50% of the patents filed in Singapore originates from the USA. The next largest contributor with 13% share is Japan. Thus, 60% of patents in Singapore are filed by USA and Japan based companies.
The Top Law Firm's Prosecuting Patents In Singapore
How we Derived the Insights: We accumulated year wise statistics of patents* prosecuted by individual Law Firms during 2009-14 and used that to gain insights on the most active IP Firms in the Singapore patent office.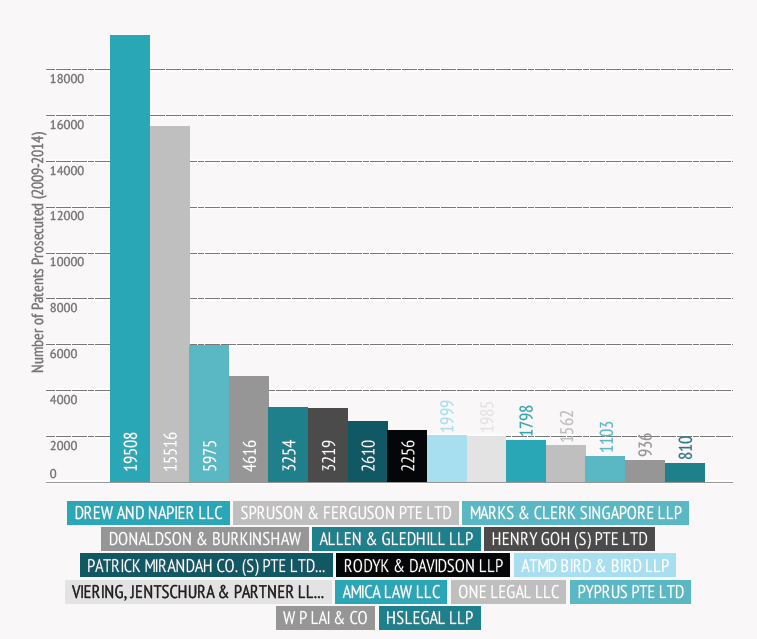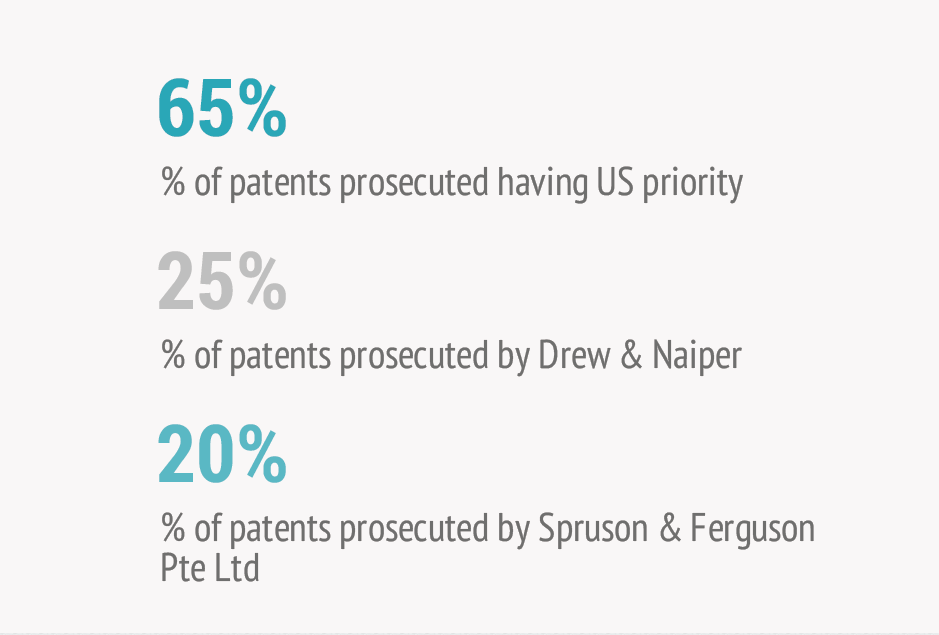 Key Takeaway of the Findings
About 65% of total patents prosecuted by top law firms are of US priority. This indicates that most of the innovation comes from foreign countries and local innovation is yet to leave a mark in the patent world.
More than 25% of total published patents are prosecuted by Drew & Napier. Noticeably, Drew and Napier focuses its operations majorly in Singapore and maintains an edge in domestic patent prosecution activities.
Qualcomm has done some serious patent fillings in Singapore. Further, patents assigned to Qualcomm Inc., Novartis, ExxonMobil, Micron Technology, Hitachi Ltd, etc., have been prosecuted by Drew & Naiper.
The Year Wise Prosecution Activities of Top Law Firm's in Singapore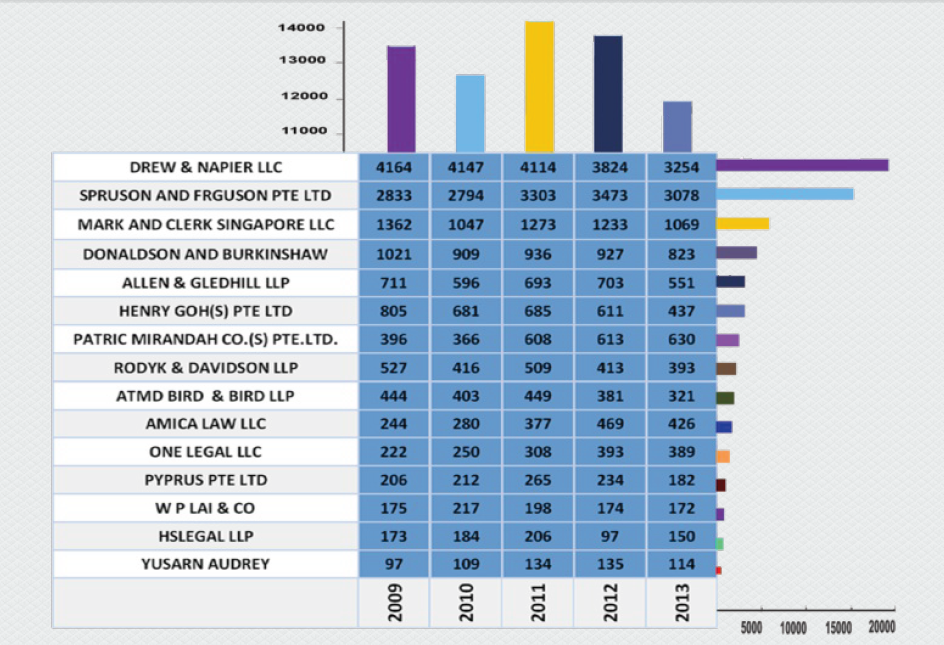 Key Takeaaway of the Findings
Spruson & Ferguson Pte Ltd. with 20% share is the second largest firm handling patent prosecution activities in Singapore. In addition, Spruson & Ferguson is trying to dominate the entire Asia-Pacific region. It has also established itself in a number of jurisdictions, including Australia, Singapore, Malaysia, China, New Zealand etc.
Spruson & Ferguson has prosecuted patents assigned to major players, including Abott Lab, F. Hoffmann La Roche AG, Sony Corporation, etc.
Allen and Gledhill are expanding its networks in the South East Asian Region including Laos, Myanmar, and Malaysia.
Who Are The Top Innovators In Singapore?
How we Derived the Insights: We studied patents* published in Singapore during 2009-14 to identify the top players of Research & Development activities in Singapore.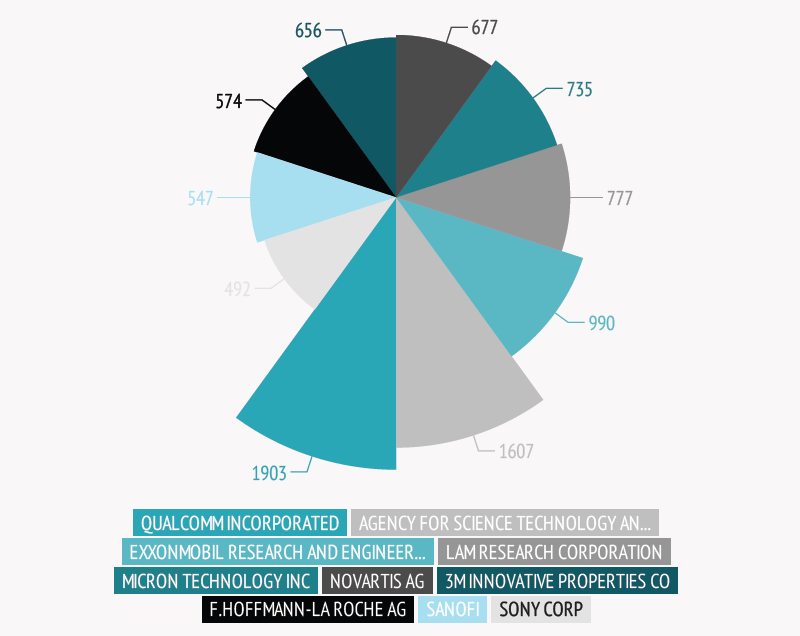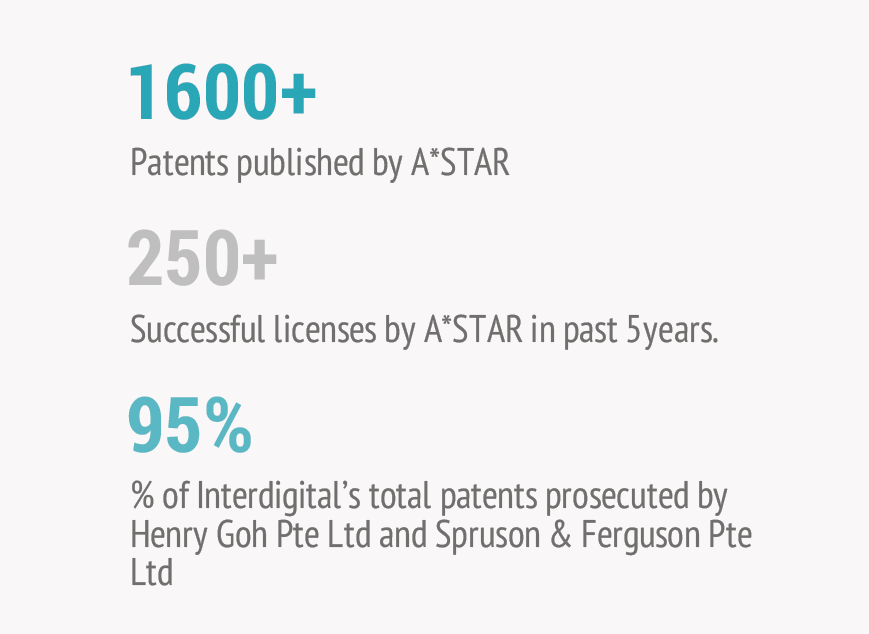 All patents assigned to Qualcomm that were published during 2009-14 claim US priority. As Qualcomm has set up its IC design and Engineering center in Singapore, in the future, it is expected that patents from Qualcomm may originate from Singapore itself.
Which US Firms/Universities Dominate Patenting Activities in Singapore?
How we Derived the Insights: We dug deep into the statistics of top US Firms/Universities with maximum published patents* during 2009-14. Further, we conducted market research for additional information.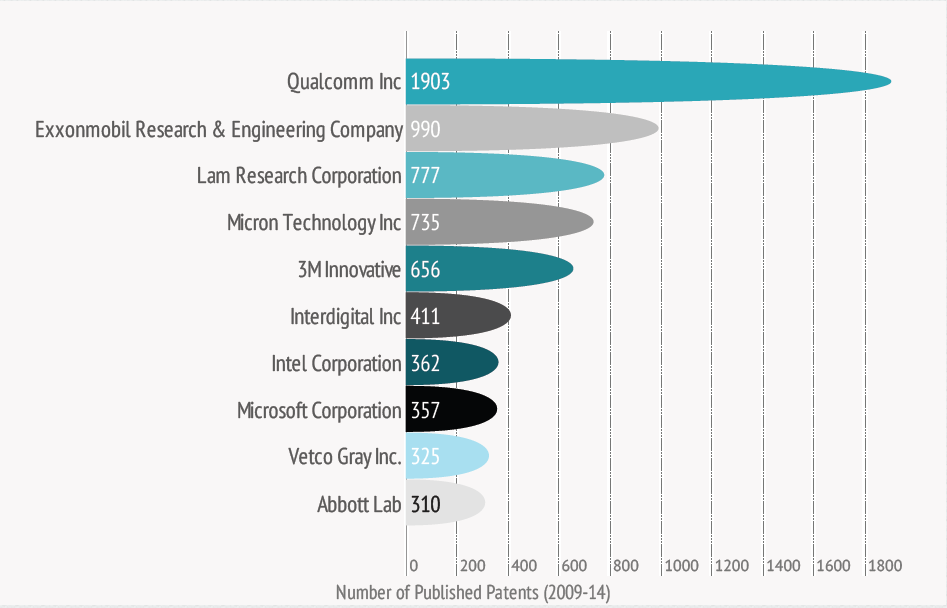 Key Takeaway of the Findings:
Interdigital, with 411 patents published during 2009-14, is amongst the top 10 companies having the highest number of patents. Also, 95% of its total patents have been prosecuted by HENRY GOH(S) PTE LTD and SPRUSON & FERGUSON (ASIA) PTE LTD.
Which Domestic Firms/Universities are Actively Filing Patents in Singapore?
How we Derived the Insights: The statistics of top Firms/Universities of Singapore with maximum patents* published during 2009-14 were used. Further, we conducted market research for additional information.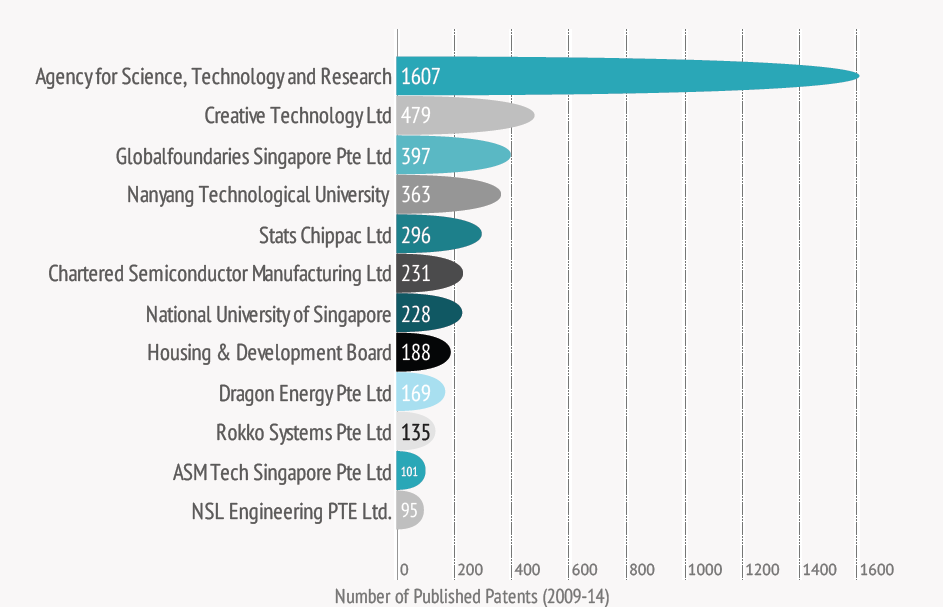 Key Takeaway of the Findings
Agency for Science, Technology, and Research (A-STAR) is the top-ranked Government and Research Institute of Singapore with 1607 patents published during the period of  2009-14.
A-STAR, in the past five years, signed 250+ patent licensing agreements and formed major public-private partnerships with Fujitsu, P&G, ARTC, GE Healthcare, L'Oreal and Lloyd's.
Collaborations (University-University, University- Corporate)
Collaboration between A*STAR, NTU and National Skin Centre led to the formation of SRIS (Skin Research Institute of Singapore). It is established to foster high impact skin research to improve health outcome and quality of life.
Joint research labs between companies and universities were set up. For example, BMW Future Mobility Lab in collaboration with NTU, and Rolls Royce Advanced Technology Centers in collaboration with A-STAR, NTU, and NUS.
Nanyang Technical University has developed strong and broad international reach covering academic and research partnerships with MIT, Stanford University, Carnegie Mellon University, Cornell University, Caltech, University of Washington, Swiss Federal Institute of Technology, Shanghai Jaiotong University, IIT's, etc., to accelerate its R&D activities.
The Singapore Centre on Environmental Life Sciences Engineering (SCELSE) is a unique interdisciplinary Research Centre of Excellence (RCE) established in 2011. SCELSE is funded by National Research Foundation, Singapore Ministry of Education, Nanyang Technological University and National University of Singapore to perform research on the biology of microbial biofilm communities in environmental and engineered systems.
The Most Popular Technologies in Singapore
How we derived the Insights: We performed an analysis on IPC classes of patents published in Singapore. This helped us spot the most researched technologies in Singapore.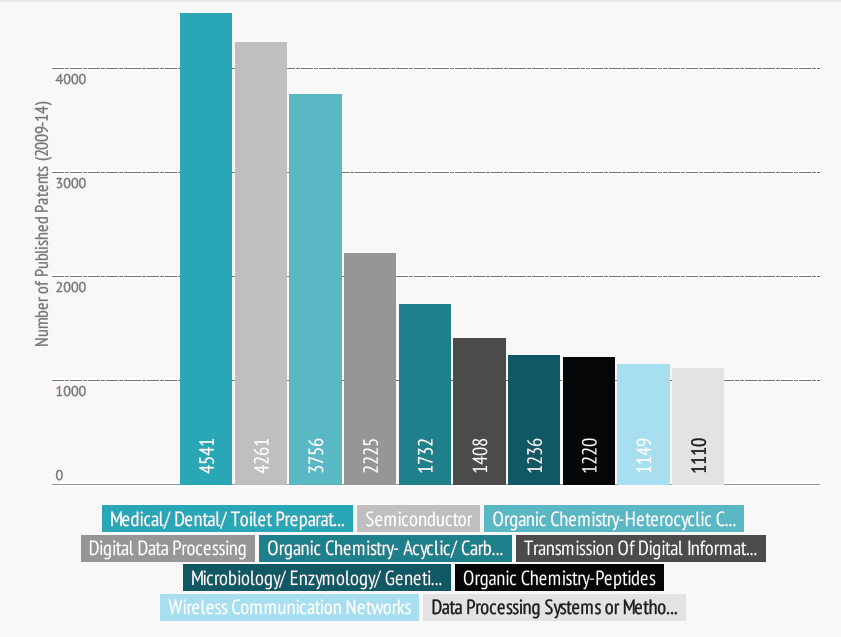 Key Takeaway of the Findings
The top technology domains as per the number of patents published during 2009 – 2014 are (i) Preparations for Medical, Dental, Or Toilet Purposes and (ii) Semiconductor Devices.
Singapore is establishing itself as a preferred location for Medical technology over other regions in Asia. The strong base of electronics and precision engineering is creating a favorable atmosphere for the medical technology industry by providing powerful technical assistance in precision engineering, mold designing, tooling services, designing, prototyping and building industrial automation equipment.
The technology trends at the Singapore patent office are same as that of the USPTO. This supports the fact that most of the innovation is Singapore is originating out of the US.
Patent Publishing in Singapore
How we derived the Insights: We analyzed the publishing trend at the Singapore Patent Office to figure out the number of patent applications reaching the grant stage. The patent kind codes were used to ascertain various stages of patent applications.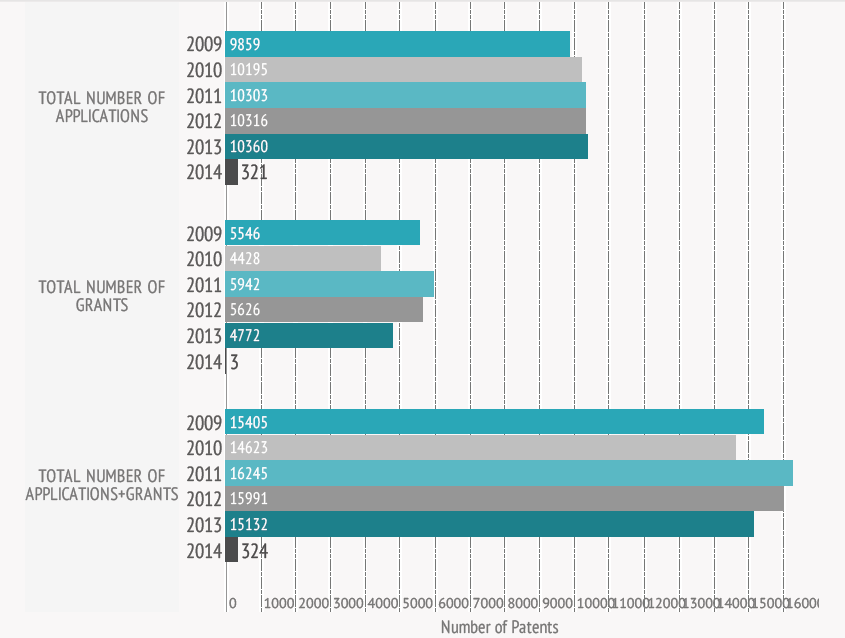 Key Takeaway of the Findings
The total number of granted patents during the period of 2009-14 was 26,317. The growth rate was consistent over this period.
The current amendments in the Singapore Patent Act, implemented with effect from 14 Feb 2014, allow the abolition of Dual track (Fast track/Slow track) patent prosecution options and formulate a single track option. These amendments remove slow track procedures and block extensions of time that will lower the grant time for the future patents.
What was The Grant Rate?
How we derived the Insights: The grant rate data were generated by analyzing the publication dates and application dates of the patents published in Singapore.
Key Takeaway of the Findings
The average grant rate of the patents* published during 2009-14 was 3.6 years.
Well, that gets us to the end of the list. For more information, feel free to reach out to us-
 The above research was performed by Vikas Jha and Gaurav Rana of the solutions team under the mentorship of Chakshu Kalra.
Disclaimer:
* Published Patent set for 2009-2014 has been extracted from Thomson Innovation. The data for 2014 is incomplete and published patents till May 2014 have been taken into consideration.
In selecting information sources and carrying out the analysis we use all possible caution. However, we cannot guarantee you the correctness or completeness of the data we received.