Patent Licensing Insights: These 2 Cloud Computing Patents should be on your acquisition list
BOS Insights is a section featuring insights/trends from our in-house tool BOS, which can help you in designing and picking appropriate patent monetization and acquisition strategies. 
Short for Business Opportunity for Sales, the BOS tool:
Can help find prospects that would be willing to in-license or purchase your patents;
Make your monetization campaign plain sailing; and
Find patents that have received a rejection (102/103 type) due to one of your patents and more. 
Onto the insight part now, shall we?
Recently, we noticed two US patents for sale on IAM Marketplace (US9363190B2, and US8230070B2) which belongs to Manjrasoft Pty Ltd.
One of the assets i.e. US9363190B2 was transferred from the University of Melbourne to Manjrasoft in 2013. Another interesting thing is that these assets are related to cloud computing technology.
Cloud computing is a major research area for many companies. Out of curiosity to check the potential of these patents, we used our BOS tool.
When we input these 2 assets in our BOS tool, we found that ~14 companies could get affected if these patents were acquired by some company.
Which companies could get affected by these cloud computing patents?
Here is the list.
Amazon
Microsoft
IBM
HP
Vmware, Inc
Intel
Quanta Computer
Nutanix
NEC
Red Hat
eBay
Paypal
Excalibur IP
III Holdings 12, LLC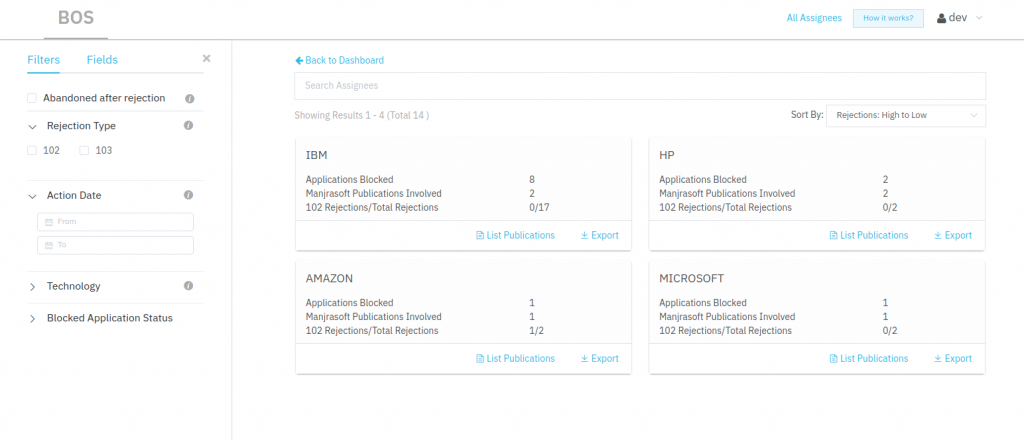 Did you notice that top cloud service providers like Amazon, Microsoft, and IBM are also a part of the list?
What does this mean?
This means that all these companies were trying to patent something similar to what already belongs to Manjrasoft. And by acquiring these two assets, any company can get an edge over all these companies.
Companies like Amazon, Microsoft, and IBM have already been acquiring startups to foster their position in cloud computing space.
For example, in January 2019, Amazon acquired an Israeli disaster recovery startup CloudEndure for $200 Million. And on March 2019, 21 assets were transferred from CloudEndure to Amazon. These assets included at least 7 assets focusing purely on cloud computing – US9582386B2, US20170093971A1, US20170161163A1 (Now granted – US10387279B2), US20180181310A1, US20190012184A1, US20190188102A1.
Further, in August 2019, Amazon acquired another Israeli flash-based cloud startup E8 Storage. A few days before, on July 30, 2019, 13 assets were transferred to Amazon by E8 Storage.
Conclusion
Cloud Computing is an emerging technology and is still a subject of research. Problems such as limited customization, deployment issues, privacy, and confidentiality are sweating out the companies to figure out the solutions.
It would be in the best interest of Amazon or its competitors to get a hold of these above-listed patents. It could give them an edge over their competition in the cloud computing domain.
For more insights related to the topic, you can send a request by filling the form below. And while doing so, you can try out BOS for your patent to discover revenue-generating insights.


Authored by: Rohit Sood, Infringement.