Walmart Strategy: A Combination of Innovation, Technologies, and Acquisitions
Walmart, the world's largest brick-and-mortar retailer, has been pushing the envelope for becoming a tech-centric company from being a traditional retailer. It has shifted its focus and strategies to become a high-tech innovator.
It makes one wonder – What made Walmart take that approach? What strategies did it use to overcome the challenges it had been facing?  We did some digging and found a lot of insights that other businesses can take a lesson or two from. These insights include Walmart's patent strategy, its similarity to Amazon's strategy, the innovations Walmart is working on, and how it is integrating next-gen technologies to improve every area of its operations. 
The table of contents below gives a sneak-peek into every facet we'd be discussing in our brief time together today. If you'd like to a particular section of your interest, you can click on the relevant hyperlink to get to that section.
One more thing, I've converted this entire analysis in PDF form that you can download and save for later reading (or sharing with your friends). You can download it using the form below: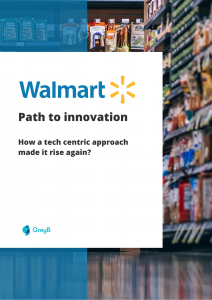 Walmart's Tough Time
Before 2014, the condition of Walmart in the market was chaotic. Here are some of the factors substantiating its situation:
Walmart did not have a

strong patent portfolio

before 2014 —

as is evident from the patent filing trend shown in the graph

.

Moreover,

the number of IP litigations

against it were

increasing year by year.
Not only that, Walmart had faced a financial breakdown during the years 2013–14. The

annual report of Walmart in 2014

stated:

"Fiscal 2014 was a tough year for Walmart. Sales and earnings were not where we wanted them to be, as we faced a number of economic headwinds around the world."
Consequently, in 2014, it

was noticed

that the

ROI of Walmart had dropped rapidly

when compared to 2010.
Walmart's Strategies to Overcome Challenges
After 2014, the headlines seemed to change. Walmart began emerging as a rising player — one to watch out. If we try and look for the reasons behind this positive turnaround, we'd find the following:
Walmart shifted its focus towards becoming a technology-centric company:

In June 2014, Walmart

started its new aim

, which was to transform itself into a tech-innovating company instead of just having some retail stores. Doug McMillon, Walmart's CEO, said:

"We will also develop new capabilities to serve customers in new ways. It is important that we all understand the shift that has happened in technology and retail, what it means for us and what we're doing to win. There's a lot of innovation and opportunity available to us."

Walmart realized that it must protect the tech it's using:

Walmart had been facing continuous litigations and had realized that in order to avoid these costly litigation, it had to secure a patent arsenal.
Patents are mostly used for defensive purposes rather than offensive — and having a strong patent portfolio often helps in avoiding litigation as chances of counterclaim or retaliation increase and hence the possibility of settlement becomes more viable.
Considering this, it can be considered that the continuous litigation pushed Walmart to develop a patent portfolio of its own, and subsequently, an exponential rise was observed in Walmart's patent filing trend post-2014 — in fact, the count of patents filed in 2017 was 5 times when compared to 2014–15.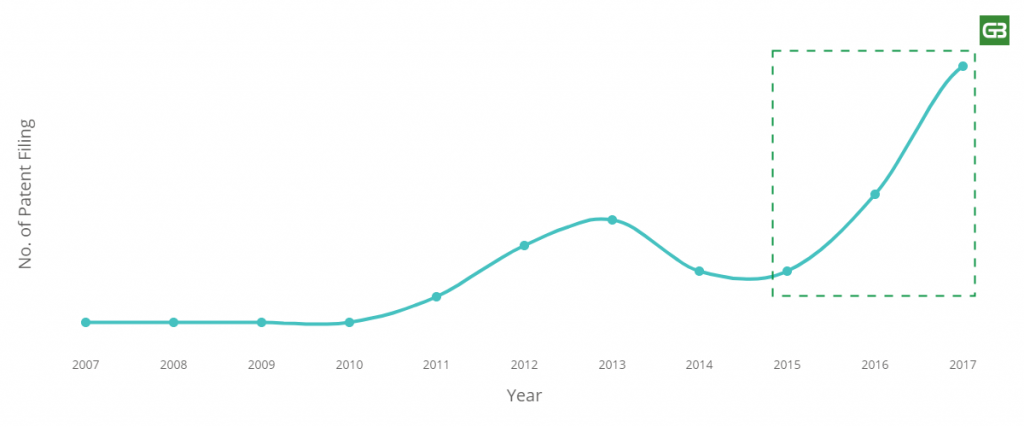 Result? The number of lawsuits dropped down like a stone.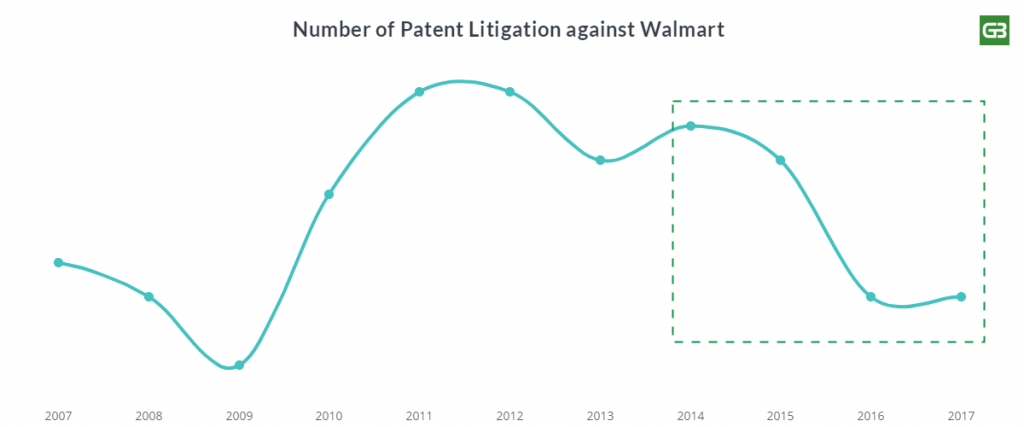 Being sued multiple times made Walmart smart about protecting their technology. This means that their plans to expand or invest in a domain are reflected directly and clearly in their patent filing. 

This can be lucky for their competitors as they can assess Walmart's plans through their patent portfolio and strategize their business accordingly. 

If you'd like to see Walmart's patent filing trends, which countries they are protecting their IP in and more, in the form of an interactive dashboard, then you can find that treasure of information here.   



In 2015, Walmart topped the list of the biggest IT spenders worldwide; the amount being spent was more than USD 10.5 billion. This IT spending entailed the money spent on hardware, software, IT services, telecommunication services, etc. One of Walmart's recent announcements substantiates the impact of this decision clearly: "A 43% increase in its e-commerce sales", which was fueled by increased investment in digital assets.
As it is said, "Innovation without protection is philanthropy", Walmart realized the importance of innovation, and moreover, of protecting its innovation.
Like Amazon, Like Walmart
Walmart and Amazon have been competing in almost every aspect of their businesses. While Walmart's revenue surpasses Amazon's drastically, Amazon beats Walmart in online sales with a huge gap. Amazon covered 38.7% of US online sales while Walmart only had a share of 5.3%. But the game is not limited to the US, globally both companies are struggling to make bucks.
But, as per Scott Galloway, a marketing professor at NYU's Stern School of Business, "Walmart is the only firm that has the management, capital, and the scale to compete with Amazon. They've probably done as good a job of getting off their heels and on their toes as any retailer in the world."
There is no doubt in stating that IP lawsuits played a key role in pushing the development of Walmart's patent portfolio. But Walmart is not the only case. It seems that Amazon's patent portfolio was also kick-started by the rising number of lawsuits against it.
Well, as is apparent, the plots of litigations against Amazon and that of the patent filing of Amazon look similar to those of Walmart. This seems if Walmart has actually been following the business strategy that had previously been adopted by Amazon.
Walmart's strategy aims for technologies, innovation, and acquisitions to be the best retailer. The company has been utilizing the latest technologies and startups to make the customer experience better. Further, doing in-house innovation to stand out in the market and then using patents to protect its innovation.
Walmart Patent Strategy
A Step Towards Monopoly
Here is how Walmart's invention of 'self-driving shopping cart' incorporated more and more features over time.
Furthermore, Walmart recently filed a patent application for a shopping cart with a biometric handle, which would track customer's stress levels, read pulse rate, and temperature. Additionally, these carts would warn associates when customers may need help.
It looks like Walmart has been actively researching which exceptional features can still be added to a shopping cart. Thus, it can very well be a possibility that Walmart is monopolizing the shopping-cart space.
Areas in which Walmart might think of monopolizing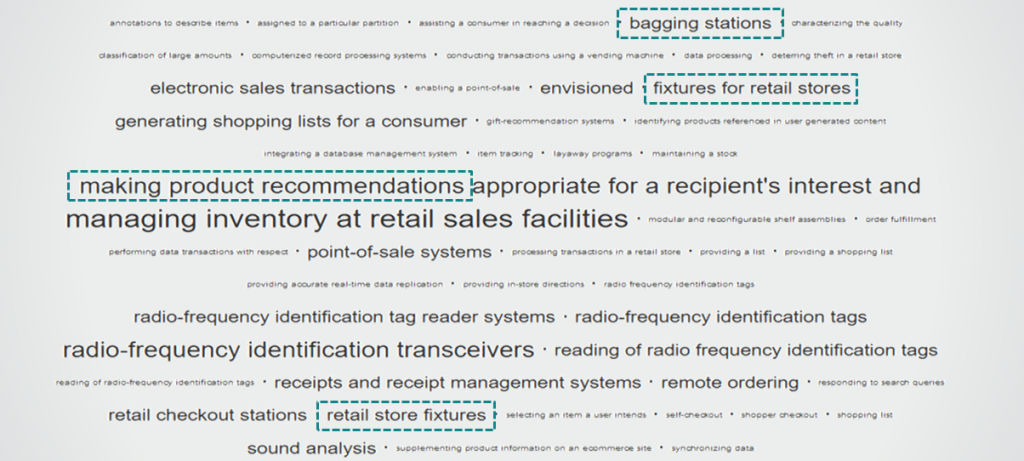 These are some areas in which Walmart has cited itself repeatedly. As we have seen for the case of Shopping Carts and Conversational Interfaces, Walmart might develop patent thickets in these technological areas, and try to monopolize here too.
Two Trends of Walmart Patent Strategy
Now, one thing to ponder over is the way Walmart is monopolizing 'Self-Driving Shopping Cart Systems'. Well, as it turns out, there are two trends that we can see by looking at the way Walmart files its patent applications. Let's have a look.
File First. File Often
Walmart leans towards filing multiple provisional applications for a single invention. The concept here is that with any invention, there would be a stream of additions and reductions to practice. Thus, when Walmart decides to work on an invention for long, it files numerous provisional applications as and when the additional versions of the invention are developed.
Self Citation
Apart from filing often, Walmart has been practicing self-citations for incremental innovations. In a considerable number of cases, Walmart has cited its own patents — indicating that most of its research is intertwined. Further, for such cases, Walmart generally files a continuation application — again indicating that it aims to cover each and every aspect of a single invention.
All this can be boiled down to the term 'patent thicket', which means a cluster of patents revolving around one big invention, thereby creating a monopoly in that space.
Walmart has applied both these strategies in the case of Self-Driving Shopping carts — and seems to be on the verge of successfully capturing the market.
There's another patent that talks about conversational interfaces between a user and a computer system without human intervention for enhancing the consumer experience. This patent has 9 provisional applications and around 20 INPADOC family members. Though there's no recent activity by Walmart on this patent, it is a possibility that Walmart applies the same strategy on this invention and gain a monopoly here as well.
Walmart, with their tech-centric approach and a focus on patent filings, is slowly getting a hold of the IP space in eCommerce industry. Check out where Walmart's patents are becoming a roadblock for other companies – companies who are working in similar areas but are unable their patents are being rejected because of Walmart's patents. Fill out this form and with the help of our tool – BOS – we'll help you find out which patents are being blocked by Walmart's patents.
Walmart Technology Strategy
Walmart is using the technologies (like Blockchain, IoT, AI, etc.) and other companies' support to improve every area of their operations. That's why they are investing so much money and effort to become a technology company and this strategy certainly helps the company to a great extent.
Blockchain and IOT for tracking food safety
Industry Challenge
The contamination of food leads to significant losses to the suppliers. In 2018, many customers and grocers were forced to throw away large amounts of romaine lettuce when an E. coli contamination in the lettuce spread through the food industry.
Since most supply chains are bogged down in manual processes, tracking such an issue is difficult and time-consuming.
Solution via tech-integration
Walmart partnered with IBM to implement the Food Trust blockchain for its live food business. It quickened tracing the food from farm to store in real-time, thus making the process more transparent.
Moreover, Walmart asked its suppliers of leafy greens to use Blockchain to trace their products all the way back to the farm. This will let them see and validate with certainty where that product was grown, handled, stored and inspected.
Furthermore, Walmart has implemented the Internet of Things to manage food safety. IoT aggregates data from sensors at each point in the supply chain: farm, transportation, warehousing, and marketplace, and provides information about the product's attributes.
The retail giant has joined hands with JD.com to back blockchain food tracking efforts in China.
Walmart collaborated with IBM and Tsinghua University to create the Blockchain Food Safety Alliance. Walmart had, in fact, piloted the use of Blockchain in food safety back in 2016 — to explore its usability for food tracking, traceability, and safety — with IBM and Tsinghua.
AI for stock management and store cleanliness
Industry Challenge
Items get misplaced on the wrong shelf.
Refilling is needed when the stock is running low.
Retail stores are prone to dangers from wet surfaces.
Repetitive tasks such as cleaning/scrubbing the floor require a lot of time and effort.
Solution via tech-integration
Walmart is working on an Artificial Intelligence Lab in its stores, which will use cameras to track misplaced items and identify low-running stocks. Walmart has also partnered with the California-based Bossa Nova to implement AI-based robots, who'd roam around the store and identify shelves that'd need to be taken care of.
Walmart sponsored Texas A&M University for its computer vision projects. One of the projects involves creating camera systems that would detect water on the floor and let the employees know — so that they can remove the water.
To implement this, Walmart had also partnered with Brain Corporation to create floor-scrubbing robots. Such a robot uses multiple sensors to scan its surroundings for people and obstacles, identify the areas on the floors that need scrubbing, and clean the floor when needed.
Augmented Reality for customer's enhanced experience
Industry Challenge
It is not feasible to facilitate a one-go comparison of different products

based on prices, ratings, etc.

It is needed that retailers create engaging and fun experiences for shoppers for enhancing the customer experience.
Solution via tech-integration
Walmart recently introduced an AR scanner in its mobile app; the camera, when pointed at items on a shelf, brings out the products' names, prices, customer ratings, and other details while moving the phone from one product to another. The technology was first developed by a team at an internal Walmart hackathon using Apple's ARKit technology.
Walmart also partnered with the augmented-reality developer Zappar, to bring this tech to their retail stores. Shoppers can scan the Zapcodes at the stores to activate AR experience, which is being sponsored by many brands like Pepsi, Nickelodeon, etc. The AR-related activities include encounters with brand mascots like Tony the Tiger or Chester the Cheetah, mini-games, 3D animations, and face filters. All of this greatly enhances the customer experience.
Walmart's purpose in making its stores AR-enabled is to get more attention from customers and enhance their in-store experience. Walmart is doing its best to transform a regular shopping trip into an adventure, thereby boosting customer engagement.
Virtual Reality for enhancing the employee-customer experience
Industry Challenge
It is difficult to train employees

without creating a life-like store environment.

It is needed that retailers create engaging and fun experiences for shoppers

for enhancing the customer experience.
Solution via tech-integration
Walmart has been using virtual reality to train its associates. The associates can learn by watching modules through the headsets. This lets them recreate a real-life store environment to experiment, learn, and handle difficult situations. In fact, "Walmart was one of the first companies to benefit from VR's ability to enrich employee education".
Walmart even acquired virtual reality startup Spatialand to create VR software to be used in Walmart's retail stores. Spatialand had already worked with Walmart's technology incubator, Store No. 8, on a project in 2017 — this resulted in a proof-of-concept VR experience for shoppers. As stated by officials, what Spatialand is creating for Walmart might not be visible for 12-18 months. It seems that the VR products in Walmart's store would be seen at a future time interval when the tech becomes widespread and the cost of VR products is reduced.
Wireless Charging for Store Maintenance
Industry Challenge
In-store devices, like battery-powered barcode scanners and electronic shelf labels in retail stores, need to be plugged into conventional power sources. This is one extra task that leads to a decrease in employees' productivity due to the time and energy that could have been utilized elsewhere. More importantly, such devices also increase battery costs for the retailer.
Solution via tech-integration
In Sep 2018, Walmart partnered with Ossia to pilot wireless charging technology across its retail stores.
Walmart selected Ossia innovation at the Walmart Innovation Summit in April 2018, out of hundreds of applications, when they showcased how Cota Real Wireless Power would transform the retail experience.
Walmart's director of public relations, Ravi Jariwala stated: "When we find ways to lower costs, it means we can lower our prices even further for customers, and that's something we're always looking to do. One interesting technology we're excited to test is wireless power transfer from a company named Ossia, Inc., which could one day reduce and even eliminate our daily dependence on batteries and wired connections for power."
Autonomous Driving for product delivery
Industry Challenge
For the customers that prefer home delivery, there needs to be a proper channel of delivery service. Moreover, it is not very convenient for the customers to go to a retail store every time they want to buy something new.
Solution via tech-integration
In November 2018, Walmart teamed up with Ford to test the ways in which the latter's self-driving vehicles could be used to deliver products, such as groceries, toiletries, pet food, and other consumer items. The collaboration would focus on "gathering crucial data about consumer preferences" and learn the best way to connect people with goods that they'd need.
Walmart has also partnered with Waymo to work on an online grocery pilot project. The purpose, they say, is to learn more about the customers and give them a unique convenient experience.
Cloud Computing for enhancing the customer's experience
Industry Challenge
It is a task to manage data on thousands of proprietary servers when a retailer is renting all the computing capacity that they need in order to serve their customers effectively.
Solution via tech-integration
In mid-2018, Walmart entered into a five-year agreement with Microsoft to use the latter's cloud platform, Azure. With this, Walmart would convert all of its websites and applications to run natively on Azure.
In late 2018, they also announced the opening of a joint engineering office in Austin, Texas, as part of the cloud partnership.
This has enabled Walmart to more effectively store and analyze data that could be used to drive online sales and boost retail efforts.
Walmart Acquisition Strategy
Walmart Acquisitions
Walmart has been snapping up start-ups aggressively in recent years. Even they are pouring big money for making acquisitions.
After Flipkart, Walmart made a few more acquisitions that were related to the online shopping platforms.
The startups can help Walmart to fulfill their technological needs, whereas big acquisitions like jet.com or Flipkart could help to gain more market. The only purpose of acquiring Flipkart is so they can obtain a sufficient online sales portion in one of the biggest markets in the world, India.
Walmart also had many retail stores in India but acquiring Flipkart would help them in getting online sales as well.
Amazon is pouring a good budget for the Indian market as both companies know the value of the market. Last year, Amazon acquired food and grocery retail chain, More, for making their offline presence strong in India.
Walmart would be providing these businesses with capital and support. The incubator would, thus, have a strong focus on futuristic technologies such as in-store drones, VR enabled shopping, beacon technology, etc.
Transformation of Retail's Future
Walmart's wholly-owned subsidiary, Sam's West, operates the Sam's Club chain of membership warehouse stores, which has set up a cash-less digital store called Sam's Club Now for the retail giant.
The retailer's recent plans to launch such a store in Dallas called it 'a real-world test lab for technology-driven shopping experiences'. The store would comprise of technology-enabled retail features such as electronic shelf labels, wayfinding technology for in-store navigation, augmented reality, and artificial intelligence-infused shopping.
Here are certain notable features of the store:
The store would be staffed with "Member Hosts" instead of cashiers who would act more like concierges.
Instead of scanning items at a POS cashier stand, customers would use a specialized

Sam's Club Now

mobile app

. The app leverages Sam's Club existing "Scan & Go" technology across its retail locations to help speed up the checkout. It would also be infused with other features the company wants to try out, including an integrated wayfinding and navigation system, augmented reality features, an A.I. powered shopping list and more.

At the launch of the app, it was planned to offer 'a built-in map'; but over time, the map would be upgraded to use beacon technology and provide routes to customers according to their shopping list. Also, the shopping list would be powered by A.I., which would use a combination of machine learning and customer purchase history to pre-populate the list as per the customers' history of purchases.
It would also include new inventory management and tracking technology. On the shelves, it's also testing electronic shelf labels that would update prices of displayed products instantly.
Key Takeaways for the Decision Makers
We can take several key takeaways from Walmart's strategies and implement them in any industry.
Walmart's approach to collaborating with a university to look for the possibility of solving a particular problem, then entering into a partnership with a startup to get a more advanced solution for a similar problem, portrays its determination to build intelligent stores, thus enhancing customer experience at its retail locations.
By acquiring companies, in order to integrate advanced tech and futuristic approach, it depicts its determination to build intelligent stores — all to become more customer-centric by being tech-centric.
Using the latest technologies, Walmart is not only saving its manual labor on incompetent tasks but also saving its money on power costs by eliminating the daily dependence.
Walmart seems to be literally going out of its way to provide customers with the most convenient experience. With this initiative, Walmart would explore how grocery delivery can help them expand their reach to people all over the globe — effectively.
Walmart is also making efforts to stay competitive with Amazon to control its data-intensive functions smoothly. Not to mention how cloud initiative imitates Amazon's use of cloud-powered big data to drive digital sales.
Walmart is, well, doing an excellent job of leveraging the power of innovative start-ups in order to elevate its own hold in the e-commerce business. Their strategy, so far, has been to buy companies and pull them into Store No.8 where they can provide all the required backing and get innovative advancements.
The vast majority of technologies that Walmart is and would be using have been developed in-house, though there might be pieces of modules that it is using from third parties. The store also plans to rapidly iterate on new and different experiences across computer vision, AI, AR, machine learning, and robotics.
The use of the latest technologies and acquiring startups are some of the key takeaways which a company can implement. Further, being technology innovative and then securing those inventions using patents is another strategy which is one of the reasons for Walmart's rise.
Knowing the potential market and paying the huge amount for it so that it might give benefit in the future is another strategy of Walmart which the company implemented in the Indian market by acquiring Flipkart. They paid the big amount to date for acquisition but it's a good decision.
Walmart seems all set for more future growth and so is its main competitor, Amazon. How the future will be going for both, that's a little complicated, but it is evident that a tough competition has already been started.
And one can learn from both companies as their strategies are what made them pioneer in their industry.
Authored by: Vipin Singh (Sr. Research Analyst, Market Research), Mitthatmeer Kaur (Sr. Research Analyst, Patent Analytics), and Priya Vashishth (Sr. Research Analyst, Patent Analytics), Sushant Kumar (Team Lead, Patent Analytics).
Next Strategy: Amazon Business Strategy: Insights of their core operations and investment to be the top Fortune 500 company