The Digital Oilfield Technology and Its Innovation Timeline
A patent landscape study on digital oil field technologies is conducted based on the patents filed in last 20 years. The study uncovers how innovation took place globally in last 20 years, its marketing potential, futuristic prospectus, and challenges. You can use this menu to navigate through different part of this analysis: 
Digital Oilfield and its innovation timeline
What are The Digital Oil Fields?
In simple words, Digital Oil Field (DOF) is about the use of advanced software, hardware and data analysis techniques to enhance the productivity in oil and gas production. It is a confluence of business process management with Information technology and engineering expertise that helps execute tasks of cross functional teams with least or no resistance.
The technology created an environment where all the real-time data from the oilfield is constantly fed into computers located at remote monitoring stations. This data then help optimizing the profitability in production of oil.
Profitability apart, the technology has also facilitated efficient utilization of human resources. For example, earlier, before proliferation of DOF, an expert on geology was required at each offshore platform. However, now an expert, stationed on land in a different time zone, can use real time 3D visualization to monitor multiple platforms.
The History of  The Oil Field Technology– A General Overview
The history of oil fields technology dates back to 1977 when for the first time integrated modelling was introduced for automated workflow. In 1980s, advances in the field of computer allowed a shift from 2D seismic testing to 3D seismic testing. It was, at then, considered as a breakthrough technology that made previously inaccessible wells opened up for drilling.
Later in 2002, BP's Valhall field earned title of the first adopter of 4D seismic data. The project was christened Life of Field Seismic by BP that provided it with high quality data, in abundance, for reservoir monitoring.
Wireless technology that today is backbone of digital oil field technology, in 2005, revolutionized the way human resources were managed in the domain. It facilitated controlling multiple automated platforms from one location resulting in better human resource management.
In the follow-on year, in 2006, Shell unveiled its Smart Field Technology that used sensors to gather information of oil field condition like temperature, pressure, etc. and relayed that information using fiber optics to the control centers.
Use of sensors generated myriad of data that lead to another challenge. Drilling iBox was launched by GEin 2011 to convert this large amount of data captured from sensors into useful insights. That brought an era of visualization software and a range of visualization software, such as Cyviz and VSG were released.
Kongsberg, in 2013, collaborated with BP to develop a real time well-monitoring and early warning system that monitors a range of well equipment and activities. The software suit amazingly converted raw data into real time actionable insights.
Today, hundreds of technologies in the digital oil field are working to improve remote operations, information sharing, deep water drilling, on improved safety and what not. Though, this all has become possible after years of persistent efforts. However, a great amount of progress in the design, deployment and use of digital oil fields has been made in the last decade.
Since a lot happened in the last few years we thought to perform a patent research to identify who was the biggest contributor from an innovation perspective. Not only this, this study also helps predict to a certain level that what may happen in this field in upcoming years.
Digital Oil Field Technologies – looking Through the Lens of Patent
We, here in GreyB evaluated DOF technology through the lens of patent. We conducted a patent landscape study on Digital Oil Field technology and studied thousands of patents filed in last 20 years.
Since some of the relevant patents could be very broad and may not be describing anything related to the Oilfield; hence, our first step was to identify all the relevant patents that exist in the domain of interest. Our main objective was to capture all these relevant patents even if they weren't explicitly talking about the said technology.
After capturing a large data set, to understand the technology domain in a better manner, we classified these patents into the type of technologies they were covering.
Our next objective was to understand where the research was going on.  And for that matter, we, to understand this large data, grouped the relevant patents that were talking about a similar technology.  Then we built a Taxonomy that could cover all of the technology aspects where there were possibilities of innovation.
Taxonomy can be termed as a hierarchical representation of various technological clusters in the domain of interest.
To structure the analysis in a  better manner, we divided the whole patent landscape study on digital oil field technology into these four parts.
Evolution of the Technology
Research and Marketing Potential
Assignee Analysis – An Analysis of The Top Players
The Futuristic Challenges and Research Areas
Of these four, we would be talking about the evolution of the technology in this post. We will be publishing rest of the story in the coming week. You, once the posts get alive, can access them from the links provided at the end of the post.
Update: All four parts of this massive technology analysis are live and can be accessed using the links at the bottom of this article. For your ease, we combined all the four articles into a single PDF that you can save for later reading using the form below: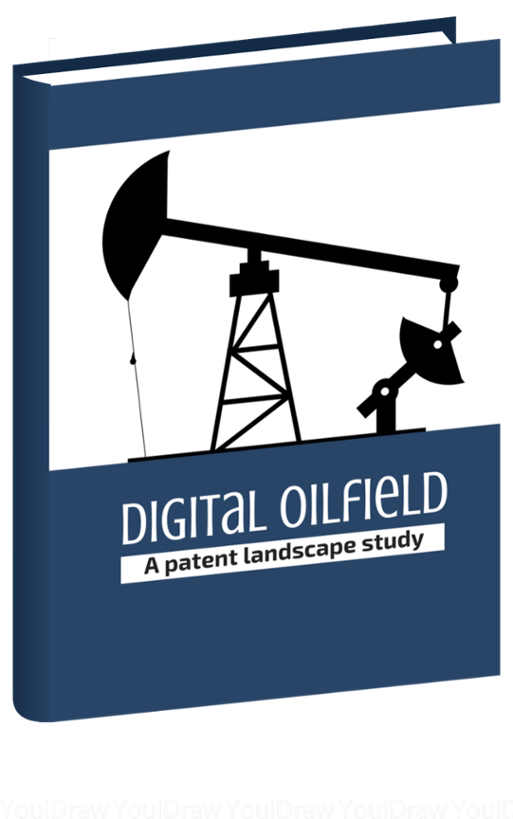 Evolution of Technology in the Digital Oil Field Domain
To understand the technology evolution, we built an Innovation Timeline – indicative of the year-on-year innovation  based on the priority date of the patents filed in the domain. 
This timeline plotted below provides information on the evolution or sudden rise of the technology in the Digital Oilfield domain. Please note that the numbers above the bars represent the number of unique patent families.
The timeline represents the increasing trend in research and development in the domain of digital oil field technology.
One point worth mentioning is to not get confused with fall in number of patent filings in the year 2013 and 2014. The dip is there because a lot of the patents filed in these years might have not been published yet. But, looking at last few years, it is clear that there is a lot of research activity going on in the domain of digital oilfield.
Read the Next Part of the Study: Research and Marketing Potential that will let you know where innovation has been taking place for last 20 years and the marketing potential of the technology.
Analysis Performed By: Deepika Kaushal, Manager, Patent Landscape
---
Access Any of the Four Parts: