Digital Oil Field Future – Increasing Demands and Challenges
In the last decade, we have seen a rapid advancement in the digital oil field. This facilitated improved remote operations, accurate geophysical estimation, use of new drilling techniques, improved safety and whatnot.
These advancements, for exploration of this modern concept, made many oil and gas companies to shift their research focus on digital oil field technologies. This is rather apparent from the increased patent filing activities also.
Like every other technology, however, digital oilfield technologies also arrive with its own set of challenges. We have listed a few of them below which every other company of the Oil and Gas sector is still trying to figure out.
Will the investment in technology bring good returns?
How to convince the management for it?
Are our competitors already digitizing their oilfields?
How to integrate the technology in a seamless way?
Will the integration bring another set of unforeseen challenges? If yes, what are the solutions?
And the list continues.
In our previous posts of the series "Digital Oil field study", we have plotted the patent emergence timeline depicting the trajectory of the innovation in the domain. Apart from that, we also talked about the top players in the field.
If yours is a company working in the oil and gas sector who also is contemplating the answers to the above-mentioned questions then, these two posts help you answer question #2 and #3.
Another article of our study gives you an insight into the research and marketing potential of the oil field technologies. This helps you to answer question #1.
In today's post, we will unfold the futuristic prospects of the field and the factor supporting these. In the latter section, we will be letting you know the unique challenges digitization of the oil field will bring along with it and their possible solutions. This, in turn, will help you to find the answer to question #5.
Futuristic Prospects of Digital Oil Field Technologies
The global digital oil field market is predicted to increase from $24.60 billion in 2014 to $38.49 billion by 2024. It will be maintaining a CAGR of 4.6% during that period.
We believe that patent filing trend will also continue to increase based on how it is growing right now and how the interest in the domain of digital oilfield is growing. We expect various new companies to be entering into this domain and this industry of Digital Oilfield is going to be a prominent research area for scientists and developers around the globe.
Let's have a look at how the patent filing has been increasing in the last few years and how it may increase in the next few years: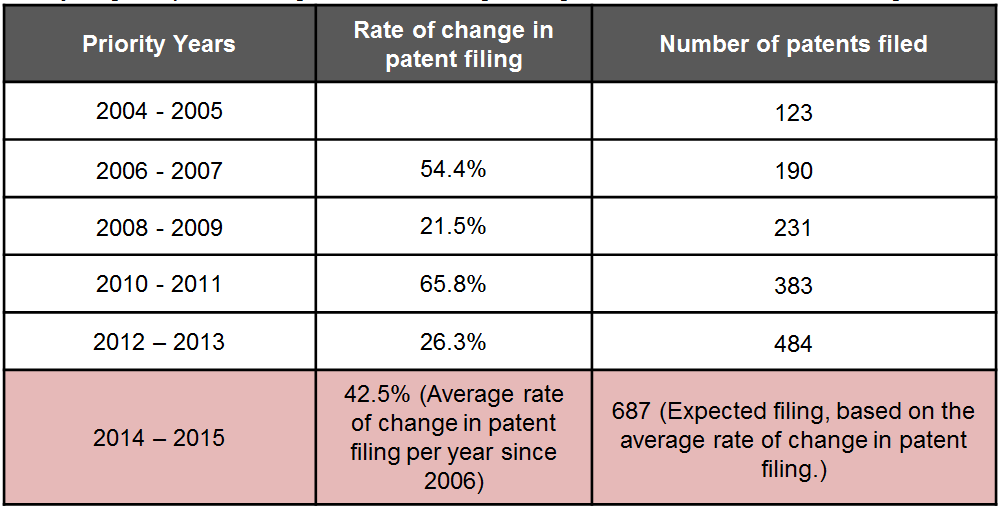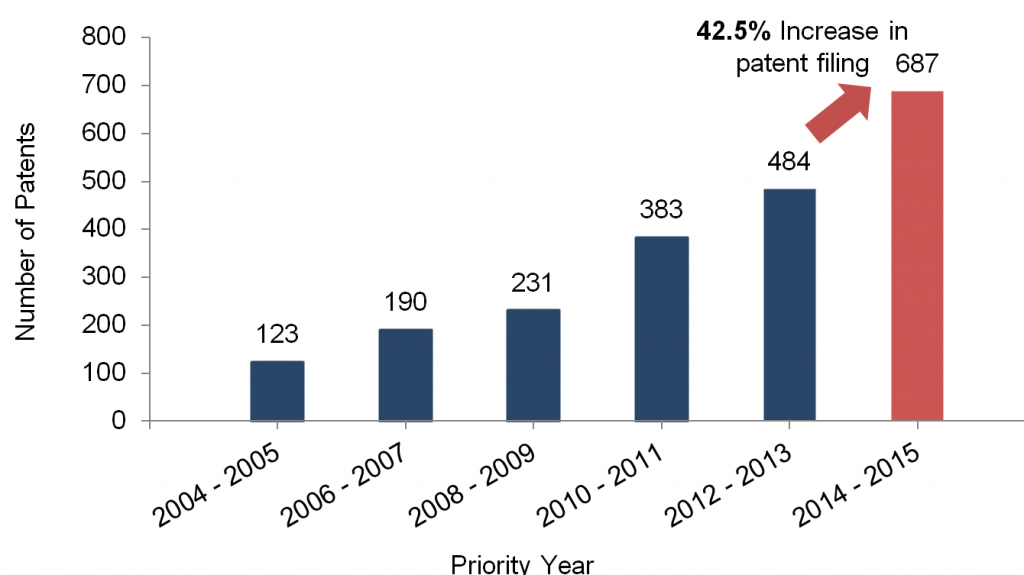 The Drivers Increasing the Demand in the Digital Oil Field Technologies
There are various factors working in tandem that are driving the growth in Digital Oilfield Market. We have tried to highlight the five major forces here:
Increasing Oil and Gas Demand: The Digital Oilfield Market is set to grow by 40%, reaching $3.18 billion by 2019.
Advancement in Network Technologies: Advancements in networking techniques, like cloud computing, will boost the digitization of oilfield, by handling and transmitting a large amount of data from one plant to another.
Lack of Manual Labor: Implementing automated technology can minimize the impact of lack of skilled labor, which is predicted to reach 1 million by 2015.
Oil Exploration in Remote Areas: In the search of new oil reserves, drilling operations are taking place in new, remote and geographically challenging areas (including subsea areas). Advanced automated technologies can be helpful in monitoring these regions.
Safety Factors: Owing to the digital oilfield technology based machines and systems, the risks related to the safety issues will be minimized. Companies spend a large amount of money on insurance and safety.
Futuristic Challenges of Digital Oil Field Domain
Despite the emergence of important modern technologies in the research base and patent intelligence, there are several challenges lurking around the corners that researchers from these companies are not considering at this moment.
We thought to bring some of these challenges and their possible solution on the table. Apart from that, we have tried to ascertain the impact of these challenges on the digital oil field industry, in particular, and the Oil industry, in general.
Data Analytics
It is obvious that a huge amount of digital data is extracted and has to be analyzed intelligently to derive actionable insights. The data retrieval and analysis is a continuous process in itself that requires special care and adequate skill set.
For example, the process of data analysis involves steps such as the transformation of abundant data into the cross-sectional form and taking steps to transcend the organizational boundaries.
In order to manage and administer the data analytics specific demands, Microsoft has developed data analytics software known as 'MURA'. MURA helps in data management and handling needs usually required in the oil and gas industry. This software is tailor-made for the administrative requirements and needs of oil & gas exploration companies.
Similarly, EMC, a cloud computing company, has started the development of dedicated data analytics centers for digital oil fields. IBM, Core Laboratories and Landmark Graphics are also focusing to provide convenient data management services for the oil and gas industry. Apart from that, there are few companies of energy sectors such as Baker Hughes that are implementing their own ideas for the management of data.
Real-Time Communication
Apart from the data analytics challenge, the oil field needs to digitalize various other aspects as well, especially the information technology architecture of the unconnected node.
The traditional communication method makes it a challenge to implement network analysis and optimization techniques in the digitalization process of resources and infrastructure.
Moving massive amounts of data across these unconnected IT architectures is a tough task. Intelligent use and integration of telecommunication networks are the critical factors to consider while coping with the growing demand for oilfield digitization. IBM provides the convenience of applying artificial intelligence concepts in the oil fields by integrating web services and linking it with a supportive and integrated service-oriented IT-based architecture. Communication companies are trying to optimize network resources by using tools such as v Monitor. Apart from that, some energy sector companies, such as Schlumberger and Halliburton, are also trying to enhance real-time communication mechanisms.
Cyber Security
The third challenge in the digitalization of oil fields is the possible threats and vulnerabilities associated with cybersecurity.
And in the countermeasure, one can secure its critical data by using security tools provided by companies such as McAfee that secures the critical data by providing an adequate level of network security.
A Quick Summary of Our Study on the Digital Oil Field Technologies
As our study on the digital oil field technologies culminates with this post, we have provided below the 5 key takeaways of our study. In case you want to go through the whole series consider following this link – Digital Oil field technologies, you can access individual posts from the links at the end of the post otherwise.
(1)   The top assignees to mark the ladder include Schlumberger (USA), Halliburton (USA), Baker Hughes (USA), China National Petroleum (China), China University of Petroleum (China), etc.
(2)   The market for digital oilfield technologies exists globally, unlike the research activities which are limited only to the United States of America and China.
(3)   The patent filing trend in this domain has been consistently rising; therefore an increase in innovation is anticipated in this domain.
(4)   In the last 5 years (2010-2014) China National Petroleum, Schlumberger and Halliburton have been prolifically innovating in the different aspects of this domain. China National Petroleum has been the top Assignee in the field of Digital Oilfield, in the last 5 years.
(5)   The major challenges faced by the companies in completely implementing the digitizing include efficient data analysis, real-time communication, and cybersecurity.
Companies like IBM, EMC, ABB Research, vMonitor, and Core Laboratories are innovating technologies related to digitization of oilfield to help overcome these challenges. Some of the energy sector companies like Schlumberger, Halliburton and Baker Hughes are also researching in this area. So there are a lot of things going in this industry and leaders have already started emerging. Further, it would be important to see how this landscape changes after a year.
If you wish to have more detailed information on the Digital Oil Field industry, please free to reach out to us.
Analysis Performed By: Deepika Kaushal, Manager, Patent Landscape
---
Access Any of the Four Parts: