Top 5 Startups Researching in the Autonomous Driving
The autonomous or self-driving industry is witnessing a lot of innovation by startups.
Despite big automakers and technology companies involved in the industry, it is the startups coming up with new innovations and making their mark in the industry. In fact, they're so good, big players in ­­– and those trying to enter into – the domain are acquiring them to get an edge, and provide a better self-driving experience to its customers.
Zoox's recent acquisition by Amazon is a good example. Besides, tech giants like Apple, Microsoft, Intel, Baidu, and Tencent have also shown involvement in the autonomous vehicle domain either by acquiring a startup or investing in it.
A startup can bolster a company's position in an industry to a great extent. Amazon's latest acquisition of Zoox for $1.2 billion created fear among the industry players and its competitors.
However, despite paying over a billion, Amazon got the Zoox deal at a comparatively low price. The valuation of Zoox was over 3 billion dollars. So what made Zoox agree to a deal for ⅓ of its valuation?
The answer perhaps lies in slow progress and the fear of running out of money.
You see, there are two things that a startup doesn't have much when compared to a corporation – money and time. And in the self-driving industry, you require both, and that too to a great extent.
Waymo, which is considered a leader in the domain, despite early research and a lot of processes is still operating in a small metro area in Phoenix for quite some time. Despite millions of miles of test driving, Waymo is far from providing an actual self-driving service.
Let alone startups who are running out of cash and investors getting skeptical with the passage of time. Add to it, COVID-19 affecting businesses worldwide, the industry is heavily impacted. While the future might seem bright for driverless, cost cuts in form of R&D Spending, investment, model lines, and staff reduction mean there is an entire storm to weather for AV players before things get better.
In these times, it is a good choice for a startup to get acquired if given the option. Additionally, for the big players, now is the best time to make acquisitions.
But whom to acquire, you ask?
Well, that's a decision for you to make. All you'll need is an extensive analysis. And if you need help with that part, contact us through the button below and our experts will get in touch with you.

We have assimilated the top 5 autonomous vehicle startups that are considered THE BEST in researching autonomous driving technology.
We formulated this list taking into account various criteria including funding amount, investors, series funding, and patented inventions. Without any further ado, let's have a look at these top autonomous vehicle startups.
We also have a pretty detailed (25000+ words) market research report on the Autonomous Vehicle Industry where along with the market growth and the factor responsible for it, we also provide information on the top 30 autonomous vehicle companies. To get the report, please fill the below form.
Argo AI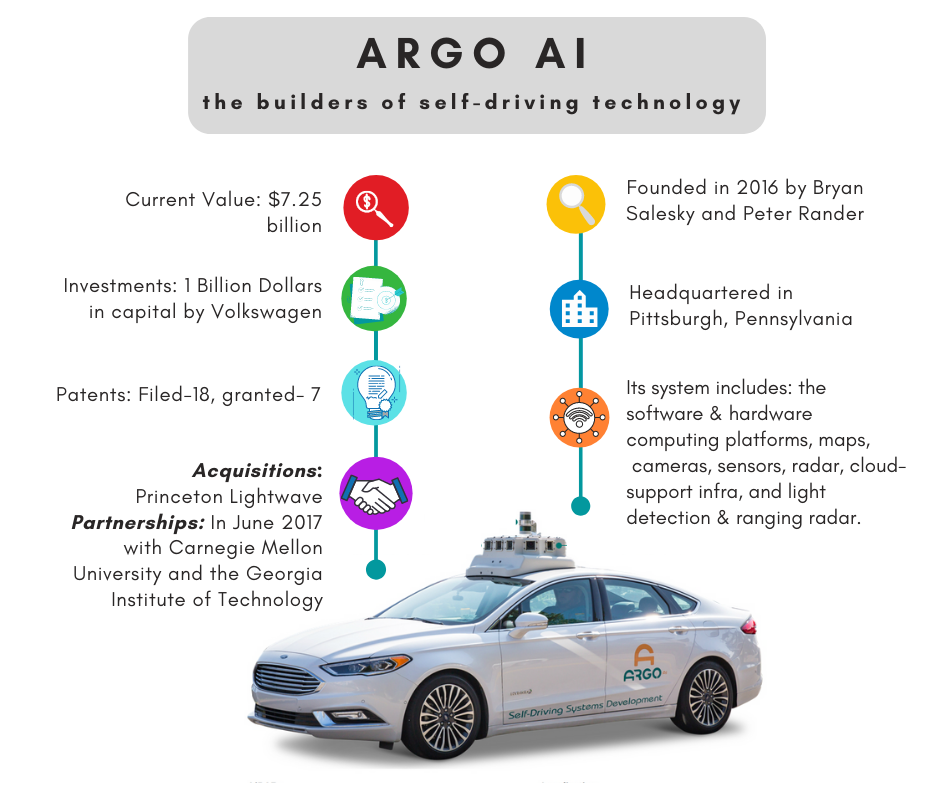 Before we talk about what the wise people at Argo AI do, let's take a moment to appreciate the witty name of their company. In Greek mythology, Argo was the ship on which Jason and the Argonauts sailed to get the Golden Fleece.
Makes one say, "I know what you did there".
Bryan Salesky and Peter Rander, after having worked in the Google and Uber automated driving programs co-founded Argo AI in 2016.
Argo has created the whole self-driving system for themselves including the software and hardware computing platforms, maps,  cameras, sensors, radar, cloud-support infrastructure, and light detection and ranging radar.
While the company is headquartered in Pittsburgh, Pennsylvania, it has offices in Detroit, Palo Alto, Cranbury, NJ, and Munich, Germany. Having offices across the US and in Germany explains its patent filing in the respective countries (and also because of its partnership with Volkswagen).
Argo claims its technology will deliver Level 4-capable Self-Driving Systems and in 2019 they successfully introduced its third-generation test vehicle, based on the Ford Fusion Hybrid, which incorporates higher-resolution cameras with wider dynamic ranges, increased computer processing power, and heating and cooling systems improvements.
Acquisitions
In 2017, Argo AI acquired Princeton Lightwave, a startup known for its Geiger-mode LiDAR sensors. Princeton's sensor is based around Geiger-mode avalanche photodiode (APD) which is the component that actually detects the photons that bounce back off objects around the sensor. Most other lidar makers use linear-mode APDs. Argo even filed patents on the technology, naturally using Princeton Lightwave expertise.
"Princeton Lightwave has tuned its sensor so that even with the extra-sensitivity it won't be blinded by the sun. The higher frequency of the pulses should also help the sensor to see better through conditions like rain or snow.", said Bryan Salesky, CEO of Argo AI.
Patent Insights
Argo has filed 18 patent applications in the US in which 7 of them got granted. Argo AI has even filed patents in Germany, Britain, and China.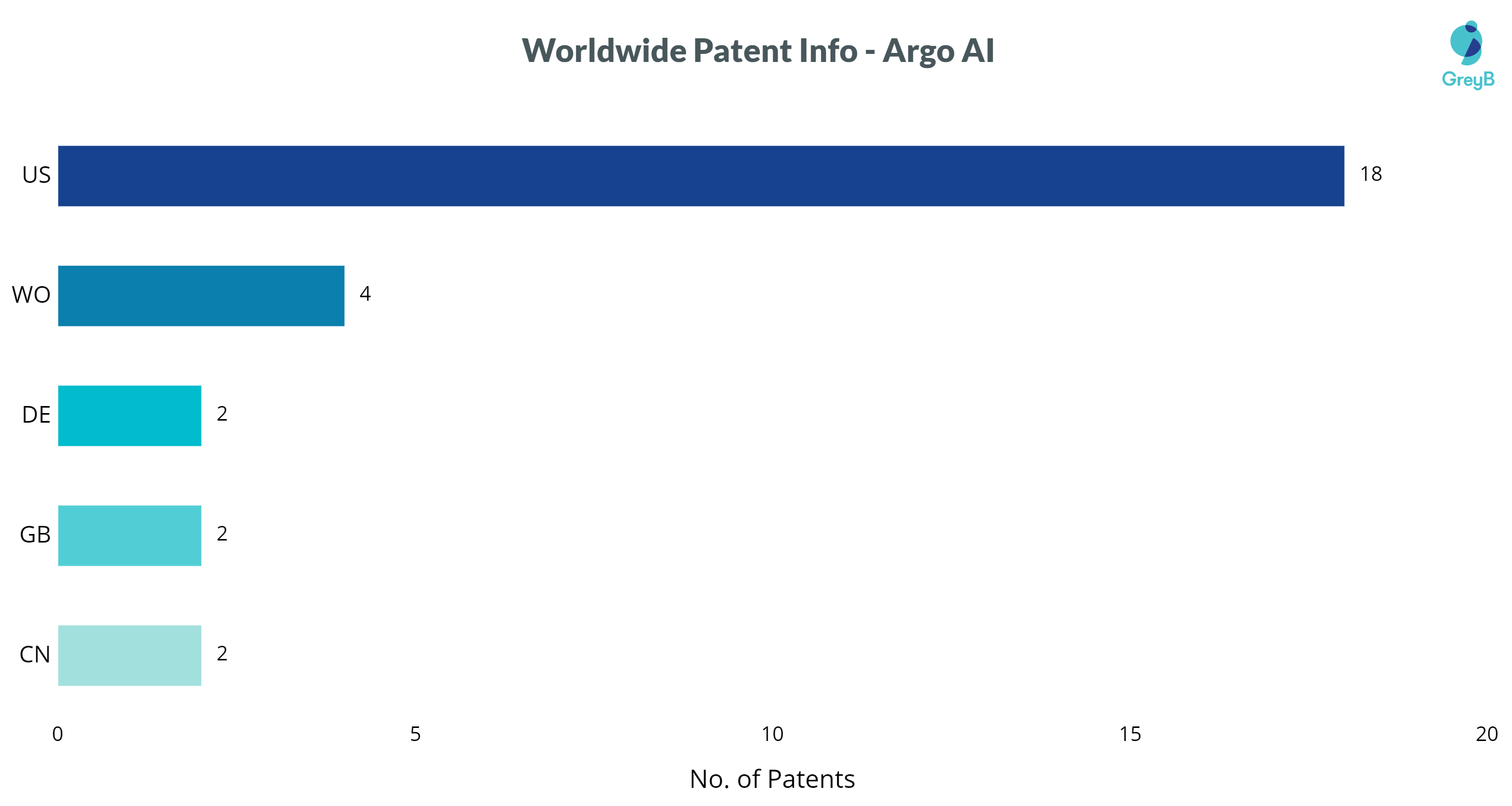 Though Argo has a very low number of patents, for a startup these might be enough to attract big players to consider it.
Argo started patent filing in 2016 with 3 patents. In 2018, Argo AI filed 10 patent applications hinting the research was at max. It has patents related to LiDAR, Ride-hailing, User comfort, Sensor Management, etc.
Investments
Volkswagen has committed $1 billion in capital to Argo AI and will also purchase its shares from Ford for $500 million over three years. Ford will invest the remaining $600 million of its previously announced $1 billion cash commitment in Argo AI.
In June 2020, Argo was valued at $7.25 billion.
Partnerships
In June 2017 Argo partnered with Carnegie Mellon University and the Georgia Institute of Technology to research computer vision and machine learning technologies.
Argo also announced a $15 million investment over five years to create the Carnegie Mellon University Argo AI Center for Autonomous Vehicle Research. Their research will be focused on advanced algorithms for autonomous vehicles, specifically for advanced perception and decision-making capabilities.
Nuro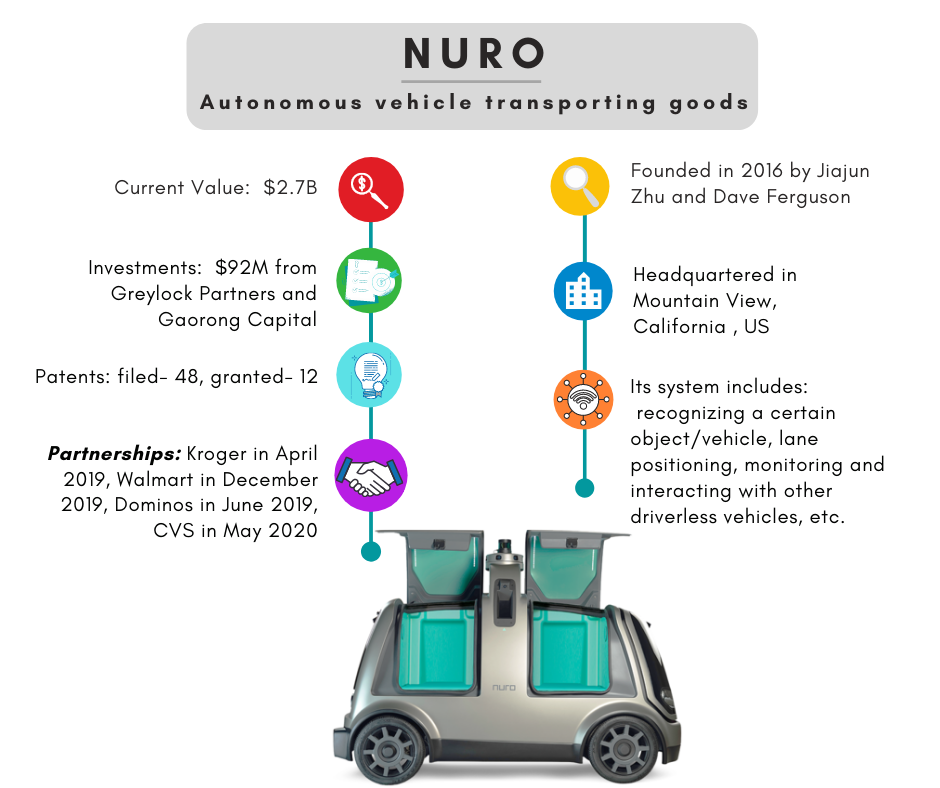 What sets Nuro apart from other autonomous vehicle companies is that their focus is on transporting goods, not humans.
One of the most worrisome aspects of driverless vehicles is the risk of human lives both inside and outside the car. Nuro eliminates this problem by being a slow driving, last-mile delivery service vehicle.
This makes Nuro a manless vehicle in its truest sense.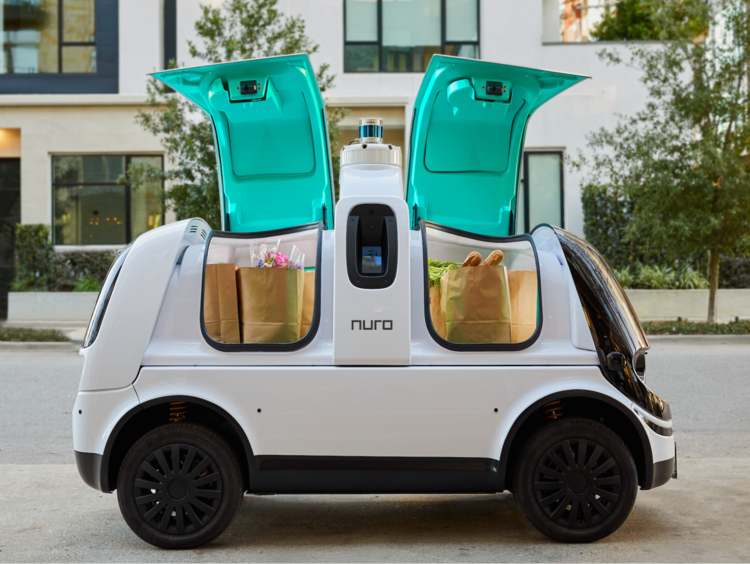 This also means that Nuro can cruise over a rumble street and apply jolting breaks when something comes in its way without worry. Something that other companies are working hard to solve. "A lot of those problems can be solved when you remove the passenger," says co-founder Dave Ferguson. "The pizza doesn't care if you're going a little slower."
Nuro was also the first company to receive a two-year autonomous exemption from the National Highway Traffic Safety Administration since they carried goods and not humans.
Perhaps it was this extraordinary way of thinking that brought Jiajun Zhu and Dave Ferguson together both of whom worked at Google's self-driving car project, Waymo before starting Nuro in September  2016.
Soon after, Nuro launched its first generation of cars in 2018 called the R1 in Scottsdale, Arizona. The R1 is an electric self-driving local commerce delivery vehicle that weighs 1500 pounds.
R1 has a package only cargo space that can carry upto 20 bags, which can be retrieved by clients who ordered them via a code on the smartphone app. However, what's cool is the fact that the storage section can be switched with a heating or cooling section so that your pizza stays piping hot and your ice tea stays arctic cool.
Plus, who doesn't look forward to getting deliveries from cars that look like a toaster on wheels or cute android machines if you will.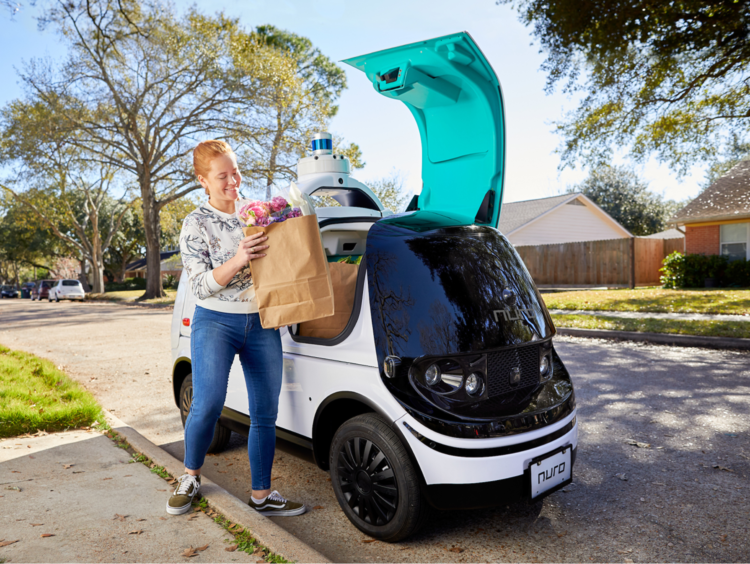 "We tried to build a lot of flexibility into the R1's compartment so we could serve all the applications that people will be able to think of," Ferguson said. "A coffee machine is actually a pretty good one. If you go to your local barista, those machines are incredibly expensive. Amortizing them over an entire neighborhood makes sense."
After launching R1, in February 2020, Nuro announced its plans to test its second generation of self-driving vehicles R2 in Houston, Texas.
Patent Insights
Nuro has filed 48 patent applications in the US among which 12 are granted patents and 1 design patent. The company has filed 90% of its patent application in 2018 alone.
Besides the US, Nuro has filed patents in other jurisdictions too.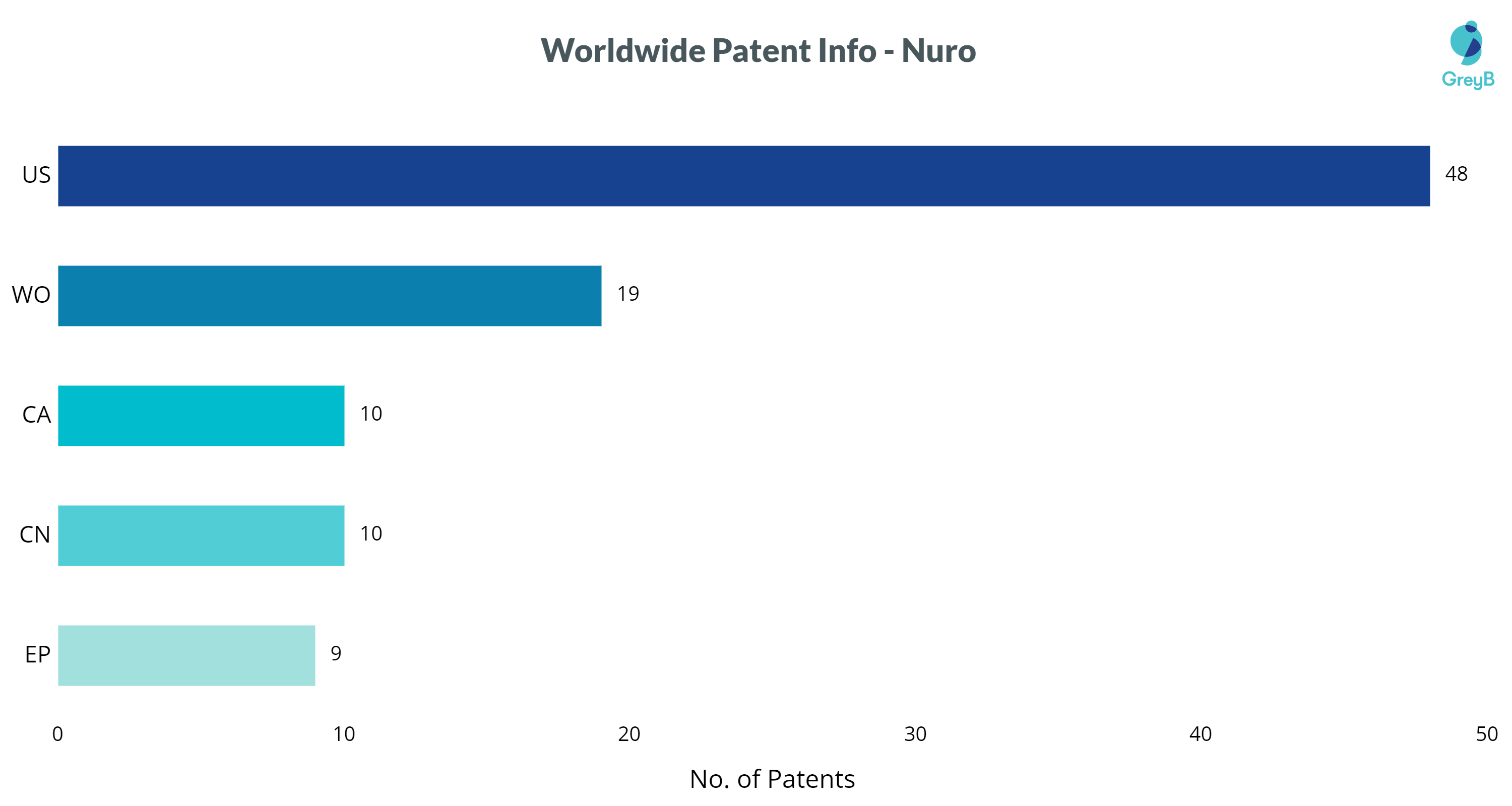 Nuro's patents are mostly related to the control system of its autonomous vehicle such as recognizing a certain object/vehicle, lane positioning, monitoring and interacting with other driverless vehicles, etc.
Another majority of its patents discuss the data processing system such as loading and unloading vehicles, food delivery systems, controlling temperature and humidity as per the best food condition, etc.
Other than that, some of its patents are related to delivery services, LiDAR, and visual search technology, while few others are directed towards its food delivery robot vehicle.
Investments
Nuro has managed to raise a total of $92M from Greylock Partners and Gaorong Capital in 2019. This allowed them to grow their delivery services in new areas and expand into new technologies.
Nuro's founders are also under the process of trademarking the name "Fido" for smaller robots that the Nuro vehicles could carry that could climb up stairs or across lawns.
The company is now valued at $2.7B and ranked No.10 on LinkedIn's Top 50 Startups List for 2019.
This investment also allowed Nuro to add more names to their list of partners.
Partnerships
Since Nuro is specifically designed for the delivery of goods and groceries, it has attracted grocery chains and food delivery chains alike.
Kroger
Kroger in April 2019 partnered with Nuro to deliver groceries in Houston, Texas. The idea was to see how autonomous deliveries will work in the case of groceries.
"We're excited to launch our autonomous vehicle delivery pilot with Nuro in Houston, a leading city that embraces innovation and technology," said Marlene Stewart, Kroger's Houston division president. "Kroger continues to redefine the customer experience, and we're thrilled to provide our customers with a new way to have their groceries delivered."
Walmart
Nuro's partnership with Walmart announced in Dec 2019 will also take place in the Houston branch of Walmart. They plan to implement this delivery system with the help of their second generation of autonomous vehicle R2.
Dominos
Nuro in June 2019 announced its partnership with Domino's in Houston, Texas. This could be a beneficial deal for both Nuro and Domino's given the delivery heavy part of Domino's business.
CVS
The aim of Nuro's partnership with CVS is to lessen the need for unnecessary trips, save time, and create a safer and more convenient way of getting the things we need. They announced this deal on May 28, 2020, a time when going out to get basic necessities was a challenge.
Pony AI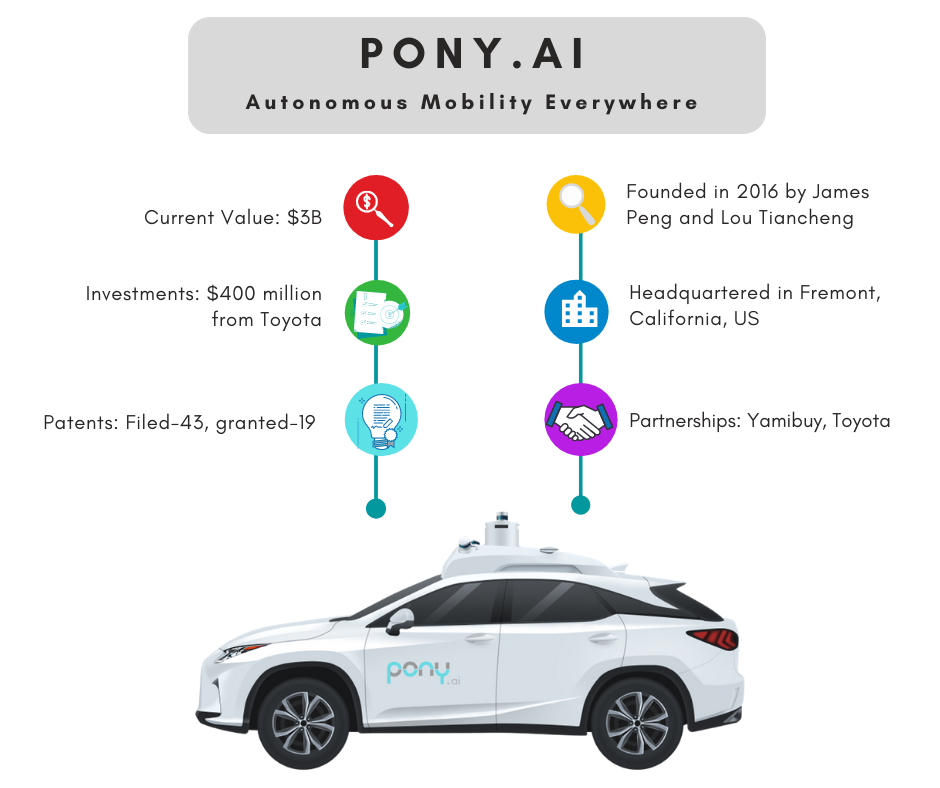 Pony AI was founded by two ex Baidu developers James Peng and Lou Tiancheng in December 2016.
The engineers at Pony AI were really tested by the people of Guangzhou, China who moved on from taking pictures of the self-driving vehicle to taking over the car to test it.
"We used to see people taking out their cell phones to take a video or photos," James Peng, the co-founder, and CEO of Pony.ai said. "Now we get people trying to test our vehicles by aggressively cutting in front of them."
Pony AI was initially given permission to test their vehicle in the streets of Guangzhou. They soon proceeded to make an app in 2018 called PonyPilot through which employees of the company, government officials, and invited individuals could book the cab to commute through this driverless cab.
Later on, Pony AI went on to be one of the first few services which were allowed to carry passengers in May 2018 under the "Drivered AV Passenger Service" pilot program in California.
According to it, automotive vehicles are allowed to transport passengers only in the presence of a driver behind the wheels for safety. Interestingly, they are not allowed to charge passengers.
In case you're wondering how Pony AI mapped its path from the bustling streets of China to California, you'd find it interesting that it is co-located in Silicon Valley, Beijing, and Guangzhou.
While they had to seek permission to test their vehicle in California, they will be testing their vehicles in Shanghai as part of a government push for global leadership in the field of autonomous vehicle technology.
Patent Insights
Pony AI has 43 US patents in its portfolio in which 19 of them are granted. Like Nuro, Pony AI filed most of its patents, i.e. 24 applications, in 2018, and 13 patent applications in 2019.
Other than the US, the startup has filed some patents in China too.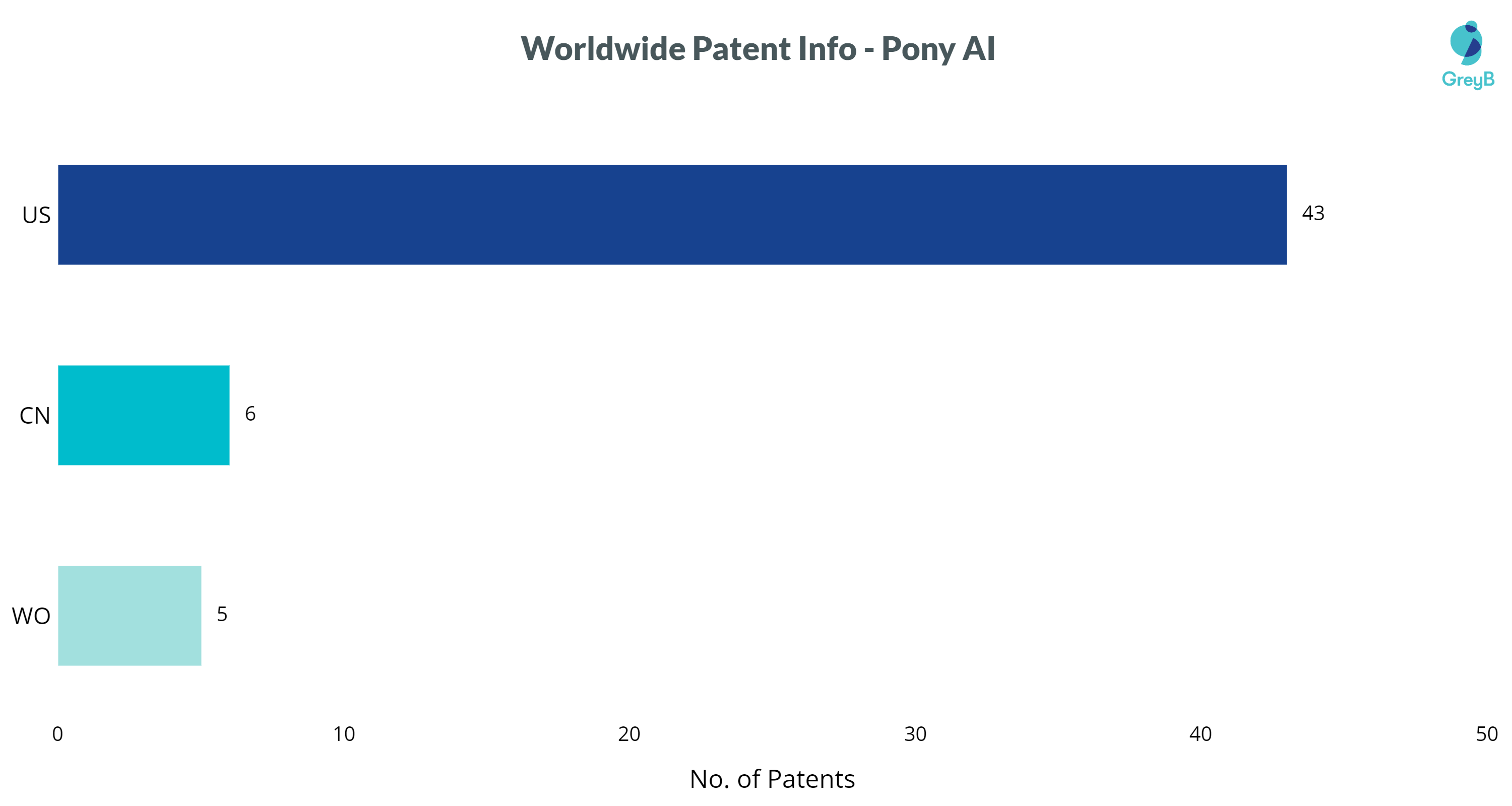 Pony AI's majority of patents belong to the control system of its autonomous vehicles. Other than that, it has patents related to signaling or calling an autonomous vehicle by an individual or a group of people.
It has few other patents that discuss LiDAR technology mounted in an autonomous vehicle.
Investments
Pony AI in Feb of 2020 secured a whopping $462 million in funding, in which $400 million came from Toyota.
Adding this to the previous investments from Morningside Venture Capital and Legend Capital bring the total raised to about $800 million at a valuation of $3 billion.
Co-founder and CTO, Tiancheng Lou, post the investment round said "We very much look forward to working with our investors to achieve our mission of bringing the safest and the most reliable autonomous driving technology to market!"
Partnerships
Yamibuy
Yamibuy, a store that specializes in Asian foods and home goods partnered up with Pony AI during the ongoing pandemic to keep up with the surge in demands in the city of Irvine.
"We quickly converted our existing robotaxi fleet to repurpose them for goods delivery," said Pony.ai Chief Executive Officer James Peng. "I am thrilled that we are able to help the local community by delivering much-needed food and packages to the doorsteps of residents."
Toyota
After heavily investing in Pony AI, Toyota planned to test its Lexus sport utility vehicles with the autonomous driving system developed by the autonomous vehicle company. The test was planned to be conducted in the streets of Beijing and Shanghai.
Aurora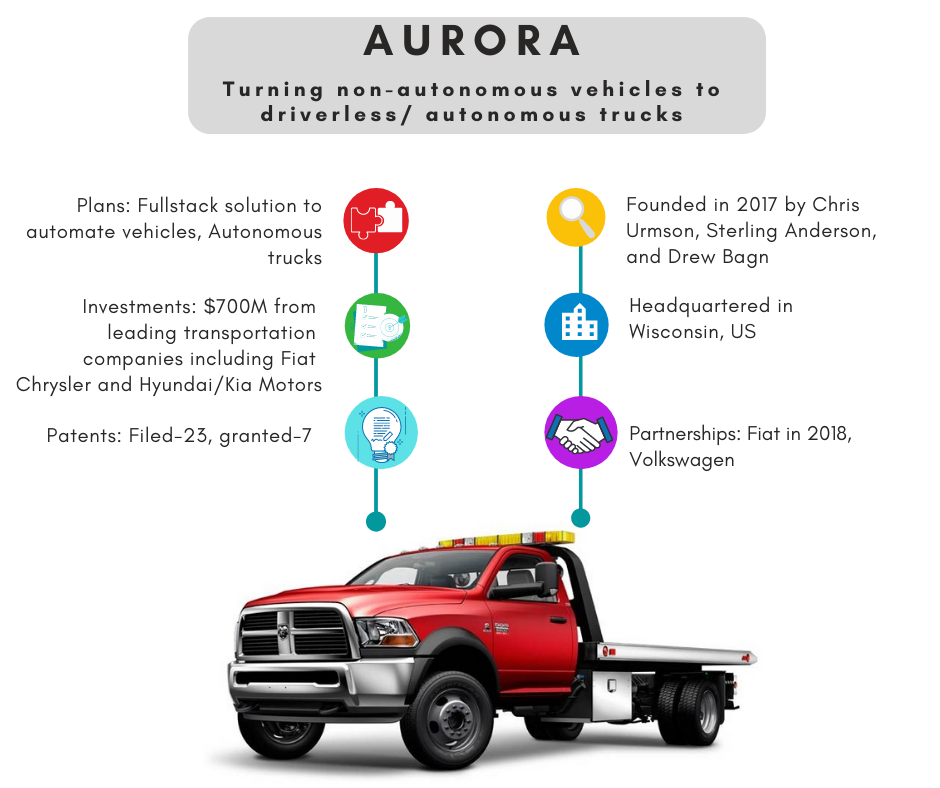 Rather than posing a threat to other automobile companies with their cutting edge technology, Aurora plans to partner up with them.
Unlike other autonomous vehicle companies, Aurora is making software and hardware that can be custom-fitted to present non-autonomous vehicles to turn them driverless.
This non-disruptive idea of incorporating the autonomous aspect to their automobiles was from Chris Urmson, Sterling Anderson, and Drew Bagnell. The three co-found Aurora in 2017 after working for Google's Waymo, Tesla's Autopilot, and Uber's autonomy projects respectively.
Aurora has offices in Palo Alto, Pittsburgh, San Francisco, and Bozeman, Montana where they create hardware and software for automakers, mobility, and logistics services.
Aurora's full-stack solution called "Driver" that allows vehicles to be autonomous isn't the only solution they plan to offer. In July 2020, Aurora announced their plans for its autonomous truck.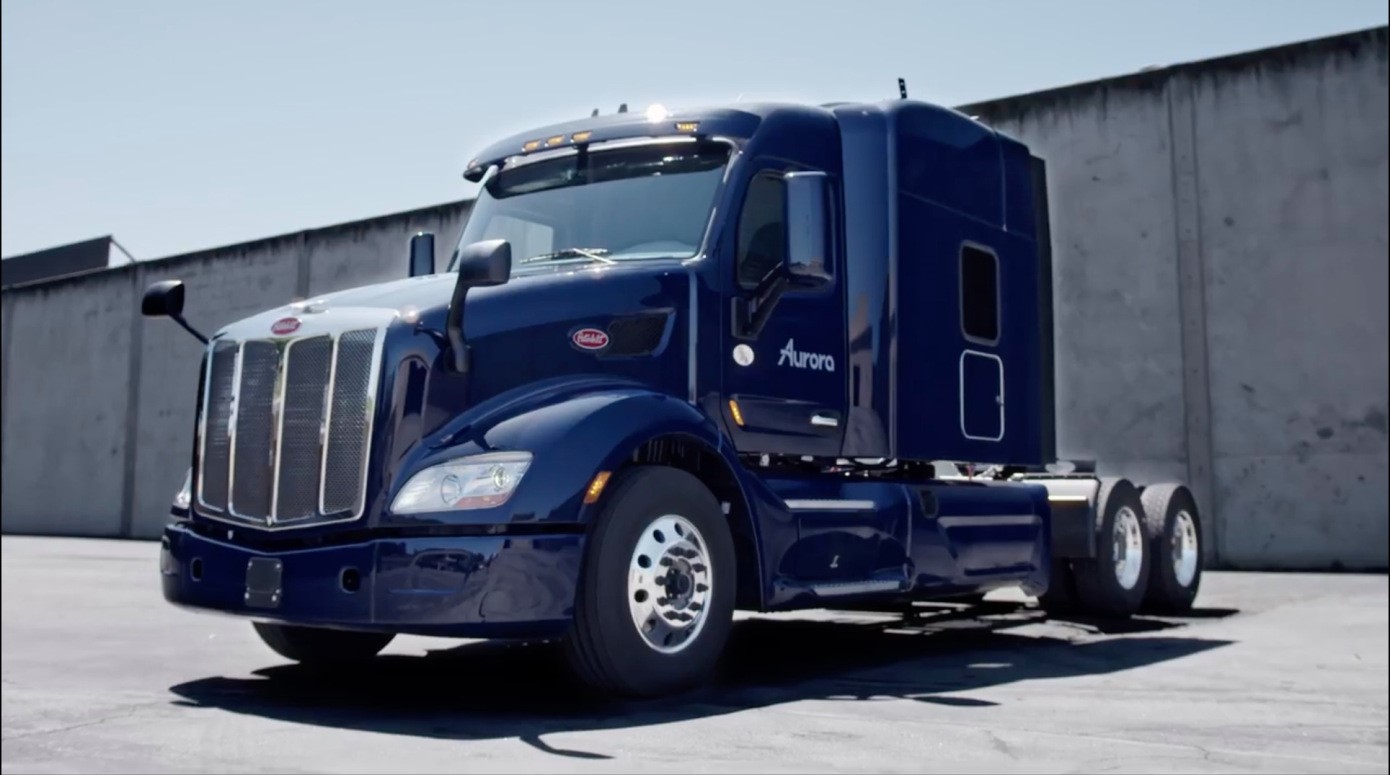 The trucks are expected to be running by the end of 2020 in Texas.
"While the Driver will ultimately move both people and goods, our first commercial product will be in trucking – where the market is the largest today, the unit economics are best and the level of service requirements is most accommodating," the company said.
The startup came into the spotlight when it acquired Uber Self Driving Unit along with research for $4 billion which equals 26% of the startup share that went to Uber along with a board of director seat for Uber CEO.
Uber further invested $400 million in Aurora made its valuation $10 billion.
Relevant Read: Uber Self-Driving Research? What it had to Offer Aurora?
Patent Insights
While Aurora is a well-known startup, it doesn't have many patents in its portfolio. The startup has only a total of 23 patents of which only 7 are granted to date.
The startup filed its first application in 2018 totaling 9 applications at the end of the year, and another 12 patent applications in 2019.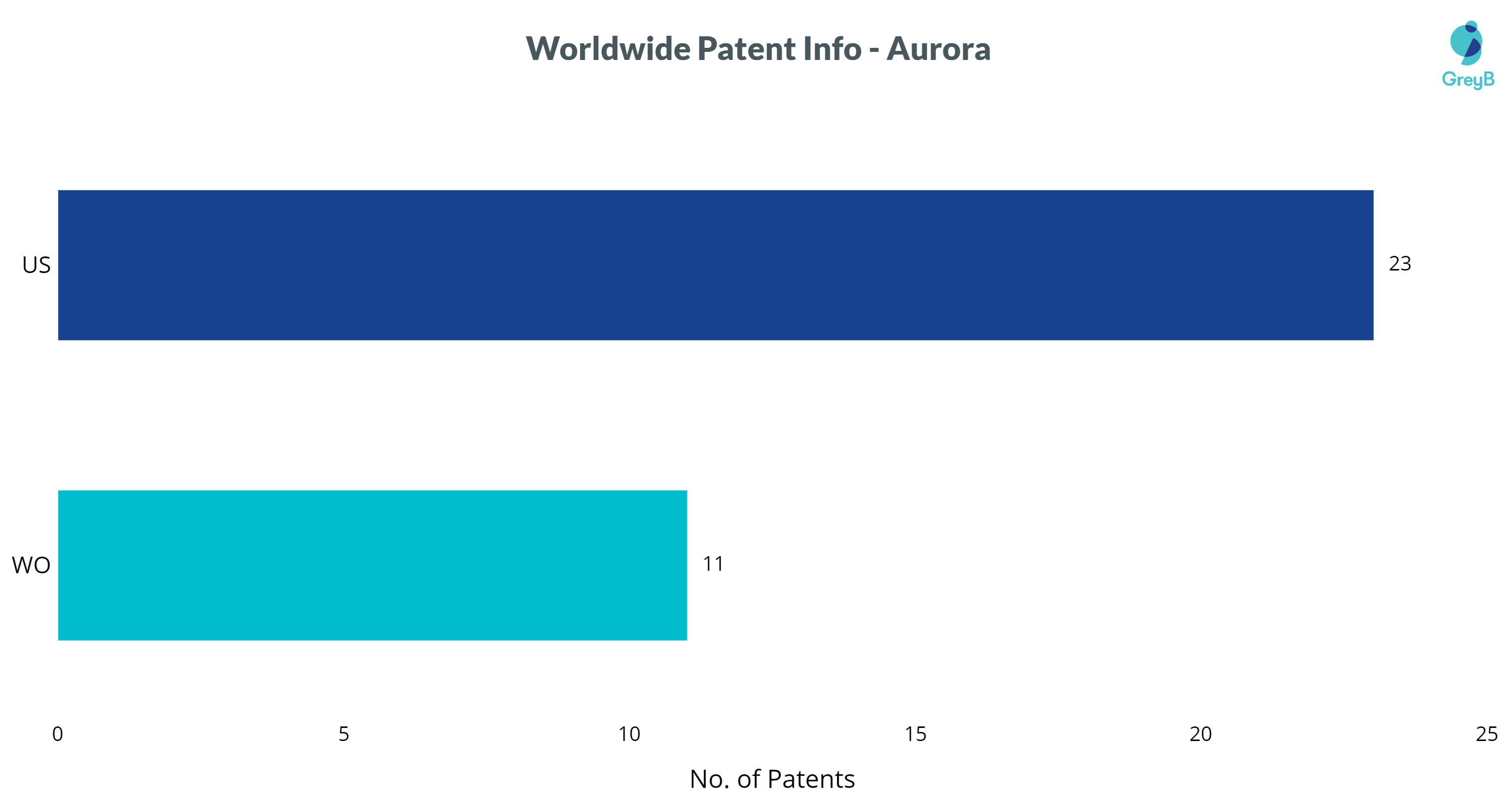 Aurora's most patents belong to digital maps for its autonomous vehicles. The startup also has few patents on machine learning models and image analysis.
Investments
Aurora, through a series of funding, has raised nearly $700M with the help of leading transportation companies, including Fiat Chrysler and Hyundai/Kia Motors.
Aurora then acquired Blackmore for its specialty in Frequency Modulated Continuous Wave (FMCW) lidar.
In 2019, Amazon invested in Aurora for an undisclosed amount.
"Autonomous technology has the potential to help make the jobs of our employees and partners safer and more productive, whether it's in a fulfillment center or on the road, and we're excited about the possibilities," an Amazon spokesperson said in a statement.
Partnerships
Fiat
Aurora in May 2018 announced its collaboration with Fiat Chrysler to build autonomous platforms for commercial vehicles.
"The deal allows us to offer a variety of solutions to strategic customers in logistics, transit, and other use cases," the startup said in a brief statement.
TuSimple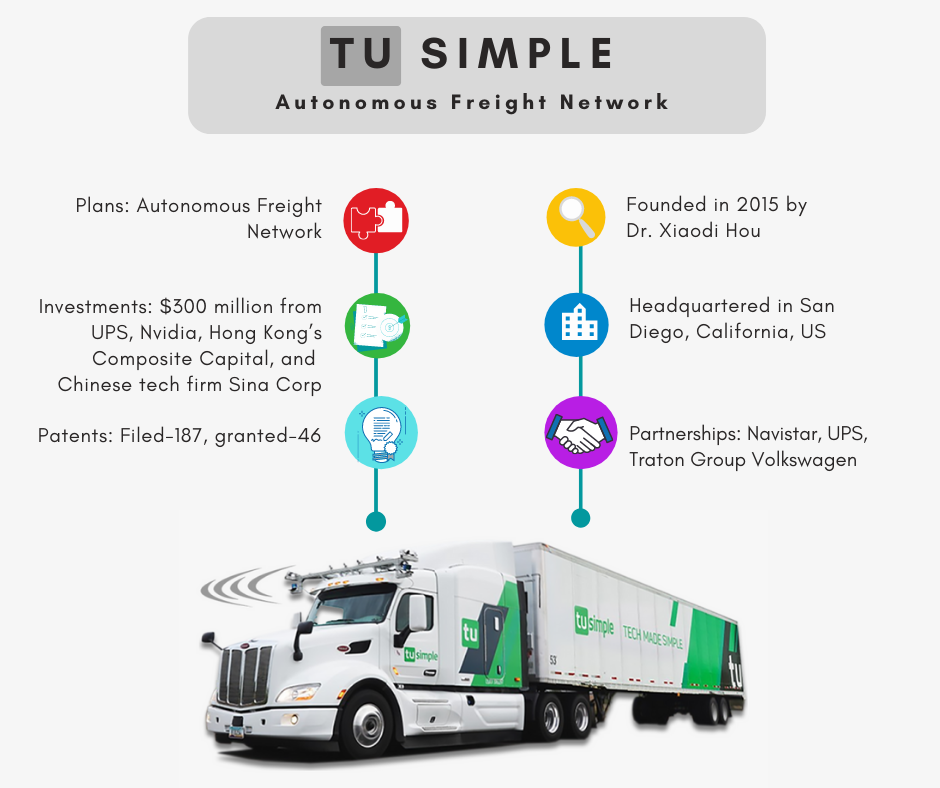 TuSimple was founded in 2015 with the aim to bring self-driving trucks to market in the "safest" and "most efficient" way.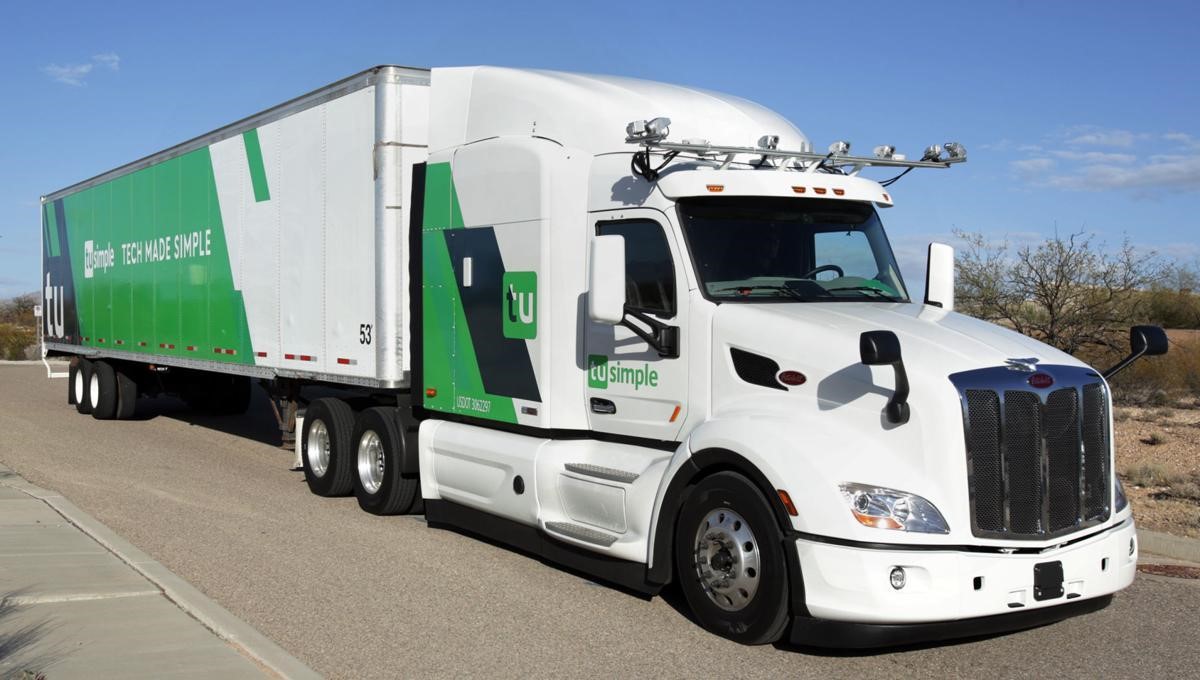 The company plans to expand its network from here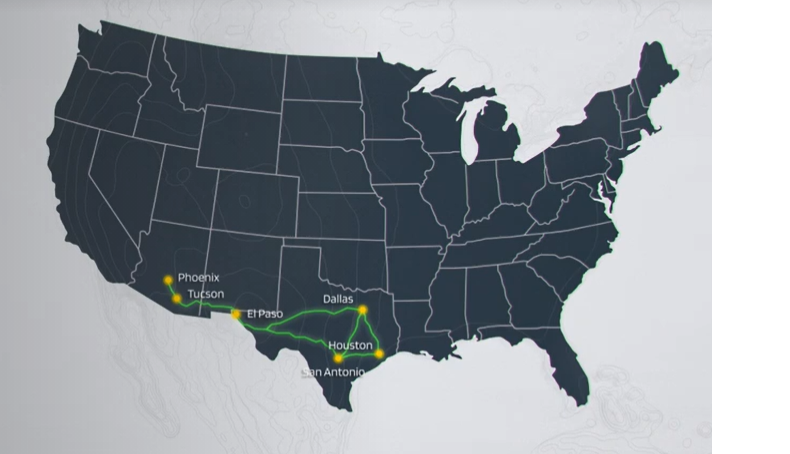 To here by 2023.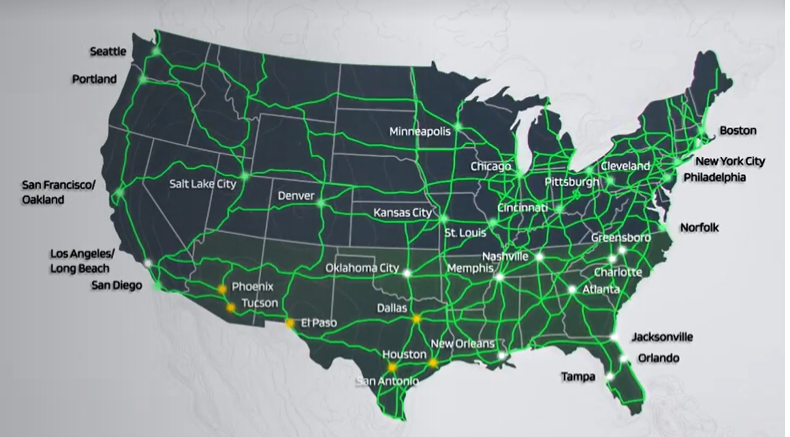 The company has also planned to launch the world's first "Autonomous Freight Network" which is a highway corridor stretching over 1,100 miles from Phoenix to Houston wherein their self-driving trucks will haul loads.
The idea of self-driving trucks running through the country may seem efficient but brings the age-old debate of technology robbing people of their jobs.
But Xiaodi Hou, the Founder, President, and Chief Technology Officer of TuSimple believes that
"To drive a truck for 11 hours per day, without even taking a shower every day, and getting far away from their home, is really a tarnish on the glory of humanity."
"Secondly, we don't actually think self-driving trucks are going to deprive any truck drivers [of their jobs]," Hou continued. "I don't think we're going to be enemies of truck drivers. We're actually very good friends with the American Trucking Associations."
Dr. Xiaodi Hou who co-founded TuSimple is an internationally renowned expert in artificial intelligence, machine learning, and computer vision.
The company is based in San Diego, California, and Tucson, Arizona, from which it oversees its long-haul US operations and it also has offices in Beijing, Shanghai, and Fukuoka, Japan.
TuSimple has managed to make a footing in logistics because of the challenges that the trucking industry faces.
The challenges in the trucking industry
The constant shortage of drivers in recent years: One estimate suggests that the U.S. freight industry currently faces a shortage of 100,000 drivers that could triple by 2026 with the continuous push from e-commerce and the demand for freight higher.
The second challenge is in line with Hou's comments where trucking companies wish to alleviate driver fatigue and improve safety.
Trucking can be expensive. It costs an average of $1.69 per mile to operate a long-haul truck, and about 40 percent of that is the driver's salary. Last year, more than half of UPS's $64 billion in operating expenses went to cover compensation and benefits.
Trucking is dangerous. "truck driver" jobs have been classified as the most dangerous job in America with more than 4,700 fatalities in 2017, witnessing a nine percent increase over 2016.
All of the above problems can be solved with the ingress of autonomous trucks. Hou says the day when most trucks are operated by computers is not something to be scared of. It's inevitable.
"A few hundred years ago we were using cows to help us plow the land," says Hou. "We're still looking for ways for human labor to be done by machine. This is really a natural evolution of human civilization. I'm very proud I'm at the forefront of it."
Patent Insights
TuSimple has a huge number of patents when compared to the other top startups working in the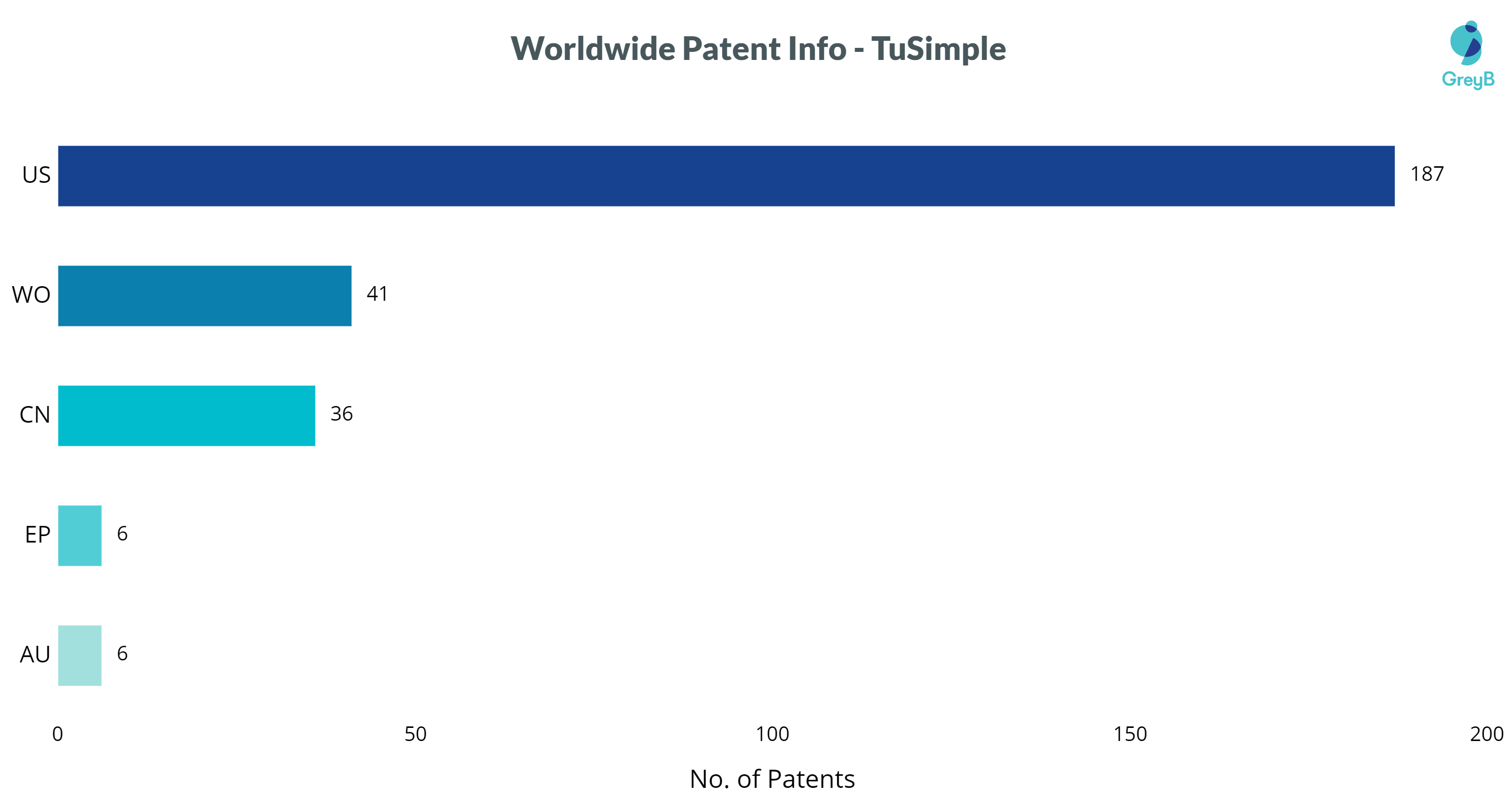 AV domain. It has filed 187 patent applications in which 46 are granted.
The startup has filed some patents in China too.
TuSimple filed its first and most patent applications (98) in 2017. In 2018, they filed 47 applications and 33 patent applications in 2019.
The majority of its patents belong to carrier services such as secure delivery, automatic loading and unloading, automatically weighing system, etc.
It also has some patents related to neural networks and a few others relating to controlling systems of its autonomous semi-trucks.
Investments
In its recent investment round, TuSimple raised about $300 million. The list of investors includes UPS, Nvidia, Hong Kong's Composite Capital, and Chinese tech firm Sina Corp.
The company – which hit its unicorn status in 2019 – plans on raising an additional $250 million in its Series E investment round and is seeking the help of investment bank Morgan Stanley to achieve their goal.
Partnerships
Navistar
Navistar, the commercial trucking company partnered with TuSimple to develop self-driving semis. Together they plan to build semi-trailers, school buses, and other heavy-duty trucks, the production of which will begin in 2024.
"Autonomous technology is entering our industry and will have a profound impact on our customers' businesses," Navistar CEO Persio Lisboa said. "Navistar's strategic partnership with TuSimple positions us to be a leader in developing solutions for our customers by leveraging our organizations' collective expertise to integrate our vehicle design and systems integration capabilities with TuSimple's innovative autonomous technology."
"We are honored to be partnered with Navistar. The investment in TuSimple and the partnership with Navistar marks an important milestone for our company. With the combined expertise of Navistar and TuSimple, we have a clear path to commercialize self-driving Class 8 trucks at scale," TuSimple President Cheng Lu said in the press release.
UPS
UPS and TuSimple through their collaboration have been conducting test drives in the Arizona cities of Phoenix and Tucson since May 2020.
Apart from this, UPS also has minor stakes in the company which it believes can reduce the costs of shipping goods via tractor-trailer by 30 percent. The financial terms of the deal weren't disclosed.
Apart from UPS, TuSimple has also formed partnerships with Penske, U.S. Xpress, and McLane Company to form an ecosystem of self-driving trucks called the TuSimple Connect.
Traton Group Volkswagen
As part of an agreement between the two companies to develop self-driving trucks, The Traton Group, Volkswagen AG's heavy-truck business, has taken a minority stake in TuSimple.
The companies have joined forces to test driverless trucks on roads throughout Sweden, Germany, and other countries. The testing will begin with a route between Södertälje to Jönköping in Sweden. These trucks will use Traton's Scania trucks which will be equipped with TuSimple's automated vehicle technology.
Interestingly, Traton holds a 16.6% stake in Navistar.
Conclusion
The autonomous vehicle industry is witnessing the struggle of big companies too despite having big money and industry expertise. Giants like Uber which has spent $2.5 billion on its self-driving division and is still nowhere near to companies like Waymo, Tesla, Cruise, etc. Even its investors told its CEO to bring more investment as the cash flow is about to end.
When established companies like Uber are running out of cash, startups could get in a very risky position to find success in this industry, especially when the startup directly participates in a self-driving program.
Startups are majorly dependent on investment funds and with such slow progress, it will only make investors skeptical to give them more funding. Yet, there are a few startups like Velodyne Lidar which already went public with a SPAC merger. Luminar is another startup that is almost ready for its IPO.
But these companies/startups don't participate in self-driving programs, so their chance for going public is higher than those that are participating in the self-driving program. They don't have to train their cars for a ride across a city and avoid every obstacle they meet during the ride.
That's why there are so many startups working in this industry yet very few of them are well-known. There are a lot more startups doing notable work and bring innovation in the AV domain, in their own unique way, and we'd be covering those startups in the next installation of this article.
If you'd like to be the first one to be notified when the next article goes online, subscribe to the blog.
Authored by: Oorja Pandya, Research Analyst, Market Research