What the research in 3D printing metal powder is up to?
The new fuel nozzle of GE's Leap jet engine is one monolithic piece that is manufactured by spraying fine alloy powder in a printer where it's then heated using a laser. The process is then repeated 3000 times and what GE manufactures, in the end, is an engineering marvel.
The new fuel nozzle is 25% lighter and five times stronger than its predecessor. Further, unlike its older sibling that had 20 different parts welded together, it's a single structure.  Also, as there are 19 such fuel nozzles in a single engine, it, thus, saves loads of time and money for GE.
But what is the agent of change for a behemoth like GE which is creating this positive ripple effect in its manufacturing chain and taking it to a new dawn, you ask?  3D metal printing or additive printing is the answer.
The real power of additive is taking six parts and designing into one. You can create geometry that you can't make any other way.

Greg Morris BDM of additive tech at GE Aviation
Similar to GE, additive manufacturing or 3D metal printing holds the potential to become mainstream to manufacture products in the near future. The market is expected to touch $US 30 billion by 2022 by growing at a CAGR rate of 28.5% per year during 2016-22, say a report by MarketandMarkets.
Research and Development in Additive Manufacturing
This technological domain of 3D printing consists of many research areas such as software, material, material manufacturing, applications and process, etc. One of the most important among them is 3D metal powder in which the patent filing has risen lately.
Unlike a traditional 3D printer, which uses long cartridge filaments, metal printers use metal in powdered form as it melts easily. Further, this allows a manufacturer control the density of a printed product – makes a product lighter and faster to print.
Taking the surge in patent filing and the growth rate of this industry into account, we decided to conduct a patent landscape study on 3D Printing Metal Powder to check how R&D is being carried out in the domain.
We have decided to share the whole landscape study in a series of three articles. In the present article, we are sharing the top three highly researched 3D printing metal powders.
The Top Three Highly Researched 3D Printing Metal Powders
As the applications of 3D metal printing vary from industry to industry, so do the materials required for printing . Here's a list of most popular metals being used in printing –
Aluminum
Stainless Steel
Titanium
Iron
Silver
Gold
Platinum
Bronze
Copper
Titanium, Aluminum, and Nickel are the top most researched metal of the domain due to their wider application areas. Aluminum and Titanium are used by the aerospace and automobile industry while Nickel is popular in the electronics industry.
Top three highly researched 3D Printing metal powders
Let's have a look at what our patent landscape study revealed about the research activities in these metal powders.
Titanium
Research activities in Titanium metal powder surged after 2012 when demand for metal powder increased. Since 2010, 75 patents are filed in titanium metal powder that makes it top researched metal powder.
Aluminum
From no patents in 2010 to one patent in 2011, and two in 2012, research in aluminum metal powder started catching up in 2013 – a total of 12 patents were filed that year. Thereafter, a continuous rise in the patent filing has been observed every year.
A total of 64 patents has been filed for Aluminum metal powder.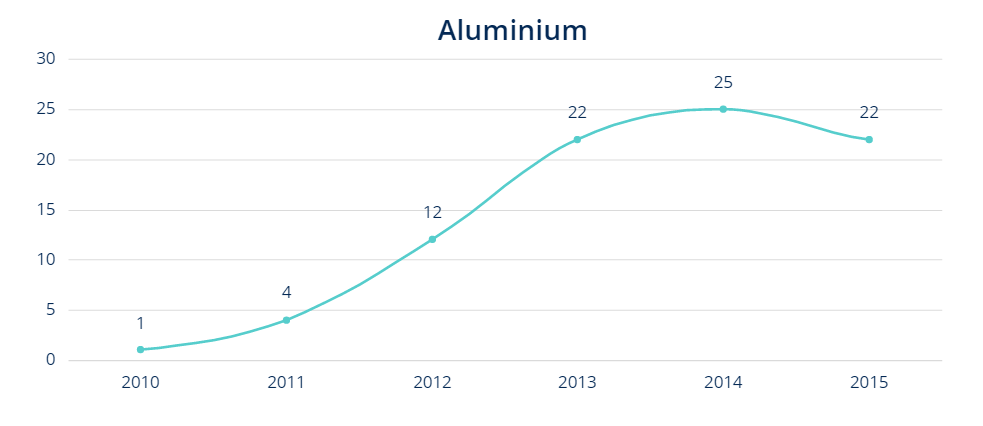 Nickel
The wide use of Nickel in aerospace – to print parts of jet engines – and in medical equipment makes it a metal in demand. The research trend in Nickel is depicted in the below chart. You can see a steep rise in the patent filing after 2012.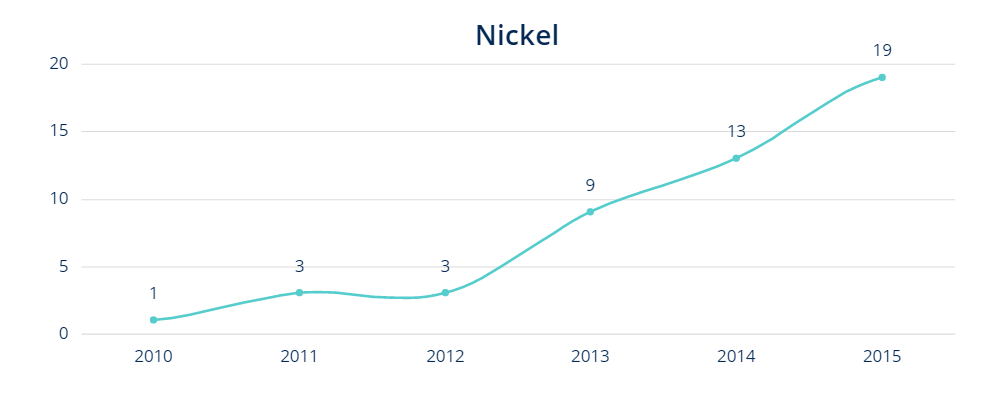 Each metal with varying properties is manufactured in powdered form. Also, manufacturing methods also vary according to the metal in consideration and properties – chemical and physical.
Some of these methods are quite complex which propels the R&D efforts to find an effective way to produce a said metal powder. Let's take Titanium, for example, which in its pure form reacts with oxygen to create an explosion. Hence, it's extracted in the vacuum or in the presence of Argon gas.
In the next installment of this series, we have covered the top three highly researched 3D printing metal powder production techniques on which companies are spending their R&D budget. You can read the article from here: Three highly researched 3D printing metal powder production techniques
Analysis Performed By: Deepika Kaushal, Manager, Patent Landscape, Sukha Singh, Research Analyst, Patent Landscape and Shabaz Khan, Research Analyst