Age Verification: A Growing Trend in the Tobacco industry
As an R&D head in the tobacco industry, you are no stranger to the challenges of strict age regulations and increasing pressure from the FDA to prevent underage use of tobacco products. The stakes are high, and it's clear that the tobacco industry needs to take action.
Businesses are increasingly collaborating with startups to develop new solutions for age-based verification/validation technology for tobacco products. These solutions are poised to change the landscape of the tobacco industry and could be a game-changer in preventing underage use.
Which companies are leading the charge in this field? What are the most promising developments? Let's find out.
Who is working on Age Verification Technology?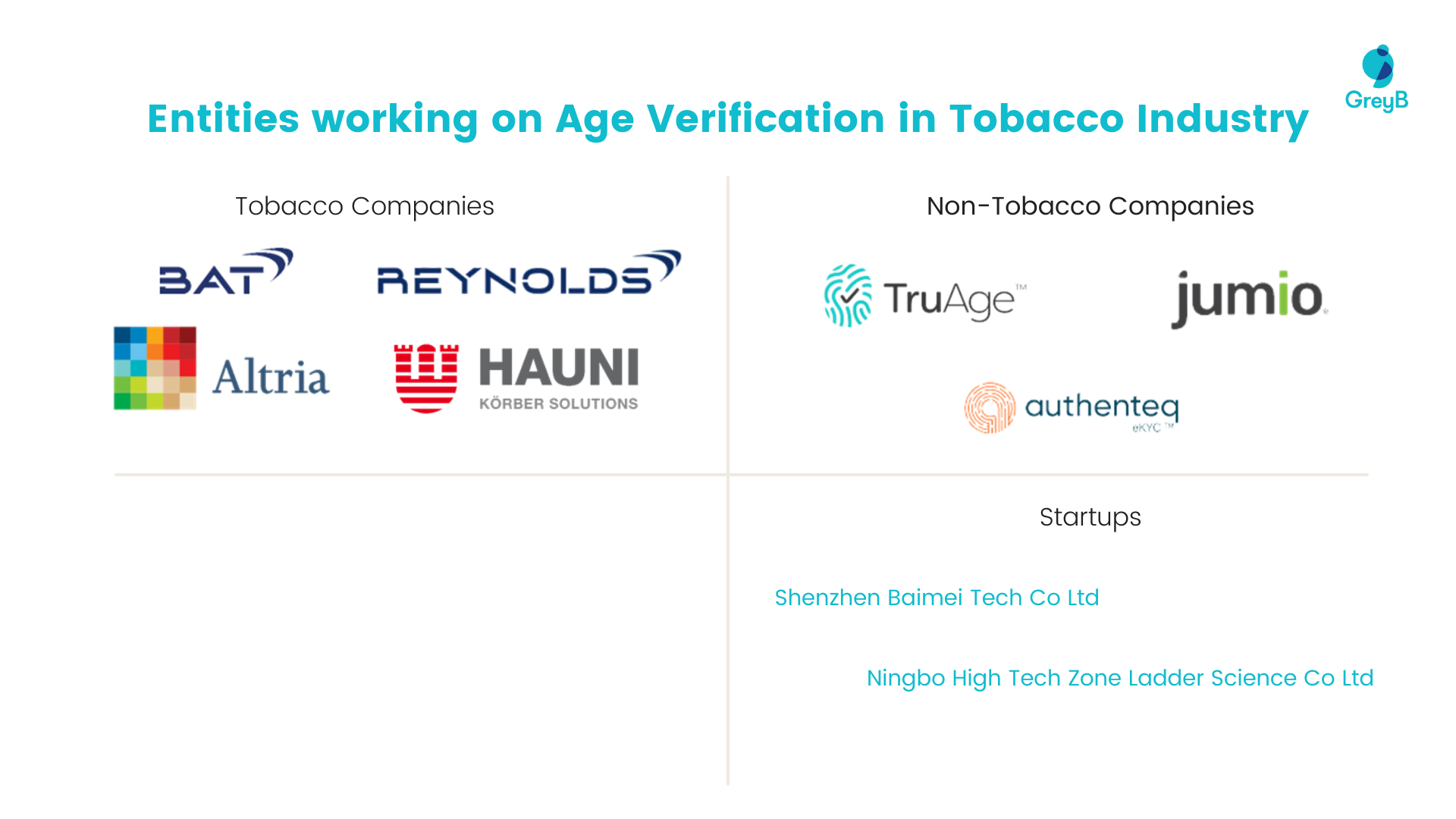 Significant Collaborations in Age Verification 
Since the technology needed to find age verification solutions seems beyond the core expertise of e-cigarette and vape manufacturers. Therefore, companies are opting for cross-industry solutions to find appropriate tech. 
Here are some recent collaborations between the tobacco and non-tobacco industry players to develop age verification solutions: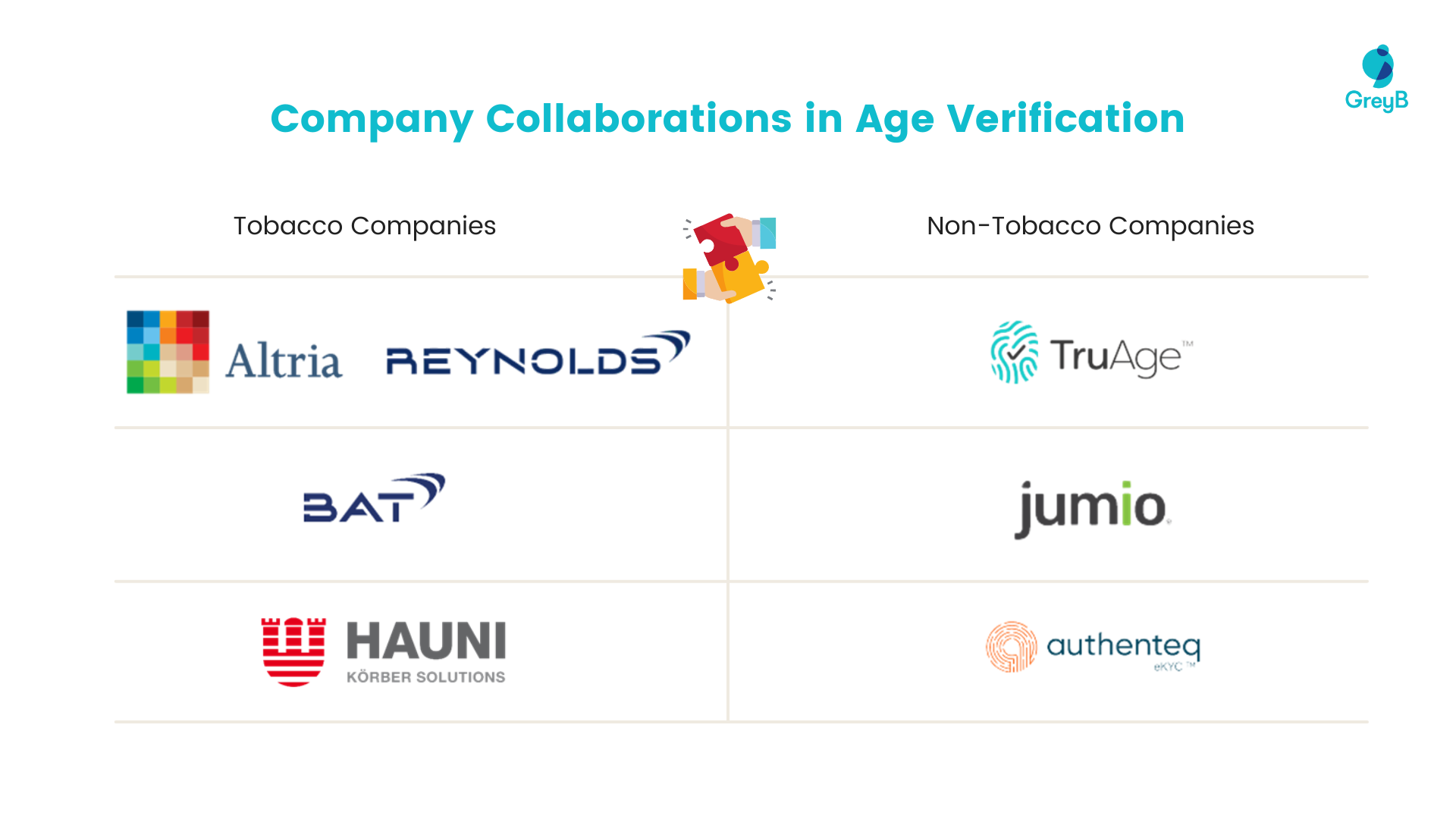 Needless to say, all the non-tobacco players possess the tech to support the age verification process.
Where is Age Verification technology headed?
Nicoventures' third-party age verification technology

Research by Nicoventure (a subsidiary of BAT) indicates the company's interest in this technology.
The research focuses on an aerosol delivery security system where the aerosol device is unlocked after verification by a third-party age verification service provider.
The company has filed multiple patents (WO2022069879A1, WO2022189796A1, WO2022189791A1) around this technology.
Not only this, but the patents also mention Jumio™ (an online mobile payment and identity verification company) as a possible service provider.
Further, BAT's 2020 FY 'Results Script' hints towards "piloting new launches incorporating age verification technology in key markets".
These activities indicate the possibility that the company may launch a product soon.
Like Nicoventure, Altria uses a third party to execute the verification process. These verification servers will ask the user some questions for age verification. Interestingly, the company also seeks patent protection (US20210350374A1) for its research.
Philip Morris is using biosensors in e-cig for age verification

Since the company is researching 'biometric information,' this indicates their interest in age verification.
Their research discusses an aerosol system with a single or multiple biosensor configuration, which collects user biometric information.
The collected information is then analyzed to validate a user's age.
One of the analysis methods is comparing heart rate signals with some reference patterns. Other types of biometric information, including arterial stiffness, blood pressure, etc., can enable judgment of a user's age.
The company has also filed a patent (WO2022090167A1) to protect its innovation.
After conducting a patent study, we found that western and some Chinese players were also actively researching the age verification space, indicating a global interest in the field. 
Let's talk about some of the research worth mentioning.
Global Interest in the Field
1. A research by Ningbo High Tech suggests the application of facial features for validating a user's age.
With this tech, the user's image is captured/acquired using a miniature camera, the facial features are extracted, and an age value is obtained using some facial age estimation techniques (AI-powered facial recognition chip).
Later, if it is determined that the user is a teenager/underage, the device can be prohibited.
The company has also applied for a patent (CN111213920A) to protect its innovation.
2. Another Research by Shenzen Baimei Tech indicates an interest in facial detection technology.
The patented (CN212464894U) method broadly seems to be similar, using an onboard camera to capture images, followed by subsequent application of AI-based user age evaluation using a comparison of facial features.
Will age validation through facial recognition be the next breakthrough in the tobacco industry?
Conclusion
With the increasing use of online platforms for purchasing tobacco products, implementing age validation technology has become even more important. 
Furthermore, the increasing global interest in this field indicates the potential growth this sector might experience in the future.
Want to know more about this technology? We have got you covered!
Just fill out the form below and get your hands on our Tobacco Industry Trend Report!
Authored By: Prateek and Sushant, Patent Intelligence
Edited By: Ridhima Mahajan, Marketing
Also read: The State of Tobacco Industry 2023: Navigating through the FDA Regulations