Autonomous Vehicle Market Report: Size, Forecast, and Research trends of Self-Driving Industry
An autonomous vehicle can drive itself without any human inputs.[1] These vehicles use multiple in-vehicle technologies, sensors, and robotic devices to drive between predetermined destinations.[2]
Autonomous vehicles are commonly classified by self-driven or driverless. Self-driven vehicles are not fully autonomous and need the intervention of human drivers. Most of the commercially available autonomous vehicles today are self-driven cars. On the other hand, driverless vehicles are fully autonomous and can drive without any human interventions.
Even though the concept started as early as in 1500AD when Leonardo the Vinci designed a Self-propelled cart, but it really came into practice in the 20th century. In 2015, when Tesla started to commercialize 'Autopilot' features in its cars, the concept became popular among all the other major car makers.[3]
Currently, several major automobile companies are engaging in research and development of both semi and fully autonomous vehicles. During the last three years, quite a number of automobile giants has announced their plans to launch fully autonomous cars by 2020.
The growing interest of individuals and corporates in this domain is sure going to take this industry to new heights in the near future. Seeing that interest and the potential we thought to conduct a thorough market analysis of autonomous vehicle industry.
Through this article, we have tried to gauge the current market and research status of autonomous vehicles in as many details as possible. From companies involved in researching and manufacturing of this technology, to market challenges and strategies to solve them, we have covered almost everything you might want to know about autonomous vehicles.
As you might have already anticipated, this article is going to be really really long (+14000 to be precise) and to ease you in navigation, here I have created an index which you can use to jump to the section of your interest:
Also, to make it even more convenient, I converted this whole article into a printable PDF. You can download the pdf version using this form: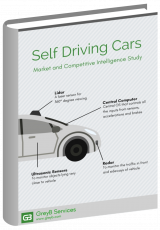 Introduction
History of Autonomous Vehicle Technologies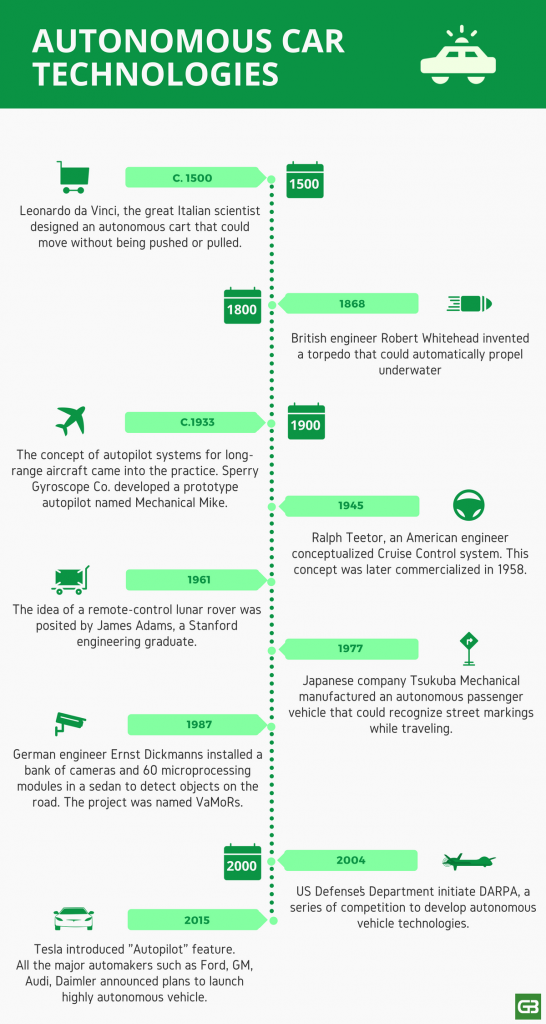 source: WIRED
Levels of Autonomy
According to the National Highway Traffic Safety Administration, autonomous cars are segmented under six different levels of autonomy starting from Level 0 to Level 5. The following table explains the autonomy levels in the vehicles.[4], [5], [6]
Market Size And Growth Potential of Autonomous Vehicles
Various global consulting and research firms have come up with different estimates of autonomous vehicle market size.
Lux Research, in one of their reports, revealed that the self-driving vehicle market has the potential to become an $87 billion opportunity by 2030. Level 2 vehicles are estimated to capture 92% of the total market share even in 2030, while level 3 cars will capture the rest. According to their report, no Level 4 or Level 5 vehicles will be operational by 2030.[7]
On the other hand, according to US-based consulting giant BCG, autonomous vehicle market could reach $77 billion by 2035 increasing from $42 billion in 2025.[8] The group says nearly 12 million autonomous vehicles might get sold by 2035. [9]
Autonomous Vehicle Sales (estimated): 2025 and 2035
Source: BCG
The self-driving vehicles capable of piloting through highway and traffic jams are most likely to be available by the end of 2017, followed by urban autopilot mode by 2022, and fully driverless cars will appear massively no earlier than 2025. By this time, the global market will be worth around $42 billion.[10]
25% of the total cars sold in 2035 are projected to be autonomous vehicles comprising 15% partially-autonomous vehicles and 10% fully autonomous cars.
The share of Autonomous Vehicle Sales in the Total Market (2025 vs 2035)
Source: BCG
According to most of the industry experts, North America will become the leading market for such cars. Another analysis published by IHS, the US will be the early player in the autonomous car segment.[11] BCG has a different view of the geographic acceptance of autonomous cars. Their reports point that Japan and Western Europe will be the earliest adopter of such vehicles while the US and China will follow.[12]\
Why Driverless Vehicles Are Better?
Higher Safety and Possible Decline in Road Accident
According to industry experts, autonomous cars are expected to be safer as compared to traditional cars. Advanced modern-day sensors and machine learning technologies are being used in these cars.[13] Additionally, these cars are backed up with impressively advanced artificial intelligence systems being developed by some of the leading companies such as Nvidia, Intel, and many more. As a result, the chances of failure are less.
Using driverless cars will let the vehicles to travel at a much closer to each other and also allows the vehicles to notice parking spots and auto-park. Hence, this results in smoother traffic flow and leads to better fuel competence of the vehicles. According to the researchers, driverless cars could reduce fatal accidents by 90% that equals 300,000 lives saved each decade in the US. [14]
Reduced Cost and Human Efforts
Autonomous vehicles will most definitely decrease the requirement of human drivers and can be helpful to industries facing a lack of manpower. The precious time saved using autonomous cars can be used in other more significant tasks.
High Consumer Adoption
Autonomous vehicles have gained the attention of a lot of consumers, especially in developed nations. Countries such as Japan, the US, Germany, the UK, Canada, Singapore, and China have already shown positive intent to accept autonomous vehicles.
Quoting a Deloitte study published in 2017 – "US consumer interest in advanced vehicle automation has increased since 2014, especially among the younger generations.[15]
As per the study, in 2016 67% of US consumers, as compared to 56% in 2014, expressed a strong interest in adaptive safety features and similar automation. The 11% increase shows a growing interest of citizens in autonomous industry.
Source: Deloitte
On the other hand, BCG conducted a survey to gouge consumer sentiments about these autonomous vehicles in the US. They interviewed 1500 respondents to examine consumer sentiments. According to the results:
55% of the respondents said that they are either very likely or likely to buy cars with autonomous technologies
23% responded that they are likely to capitalize in a fully autonomous vehicle, while 21% said that they are likely to invest in such fully autonomous vehicles.
Most of the respondents cited lower insurance premium and safety as the key reasons to buy such vehicles[16]
Challanges for Autonomous Vehicles
Regulatory Uncertainty
Most of the countries that have started testing autonomous vehicles have not yet provided a concrete regulatory guideline for such autonomous vehicles. There are still no guidelines or regulatory framework in which autonomous vehicles can run.[17] Even though governments of some countries including the US, Japan, and Singapore showed interests in commercializing autonomous technologies, but it is still in a stage of development.
Many research organizations have cited Laws licensing, and regulations as one of the biggest challenges in the marketing of AVs.[18] Trials of such cars are going on in multiple states in the US including California, Michigan, Florida, and Nevada.
Many European countries such as Germany, the UK, Spain, Belgium, Italy, and France are also going through trails of autonomous cars. According to the European Commission, automated vehicles face challenges to establish rules for technologies that are not yet applied.
Additionally, another challenge is to decide how the safety of automated vehicles should be tested and by whom.[19] Such Regulatory uncertainty could cost a lot to several companies that have heavily invested in autonomous technologies.
Technical Challenges
Predictions that say AVs will hit roads in the next five to ten years' timeline are highly positive. Modern-day AVs, on the other hand, are hardly road-ready.
ScienceNews Magazine listed five key technological challenges that might become a roadblock for autonomous cars.[20]
One of the key problems of these five includes cybersecurity. In 2015, a cyber breach activity forced a Jeep to stop on a St. Louis highway when it was driving at 70mph. Hackers wirelessly accessed the car's braking and steering through the onboard entertainment system.[21]
In addition, further research in technology and affordability are essential to make the vehicles compliant and hazard free. In many cases, AVs are still struggling to relate with human-driven vehicles on the road, and they face huge obligation, insurance, and even moral concerns that have yet to be determined. For instance, Tesla's autonomous vehicle test in 2016 resulted in serious crashes that resulted in human loss[22].
When technologies are already running efficiently, it may take a couple of decades to change the current vehicles into a robotic fleet. Presently there are more than 250 million vehicles on the road in the U.S. alone, with an average beneficial life of more than 11 years. It could be difficult to accomplish this huge fleet to arrange autonomous technologies.
Autonomous Vehicle Ecosystem
There are over 250 companies including automakers, technology providers, services providers and tech start-ups that are taking serious steps to make self-driven or driverless cars a reality.[23] This report categorizes the cars under four broad segments, namely, automakers and auto-parts providers, technology providers, services providers, and tech start-ups.
Following are some of the top car companies pioneering self-driving car industry:
Automotive Companies working on Autonomous Vehicles
Ford
Ford is one of the most aggressive players and fastest companies aiming to launch a highly autonomous vehicle. It has plans to launch a fully autonomous vehicle by 2021. For the same, it has taken several strategic steps as well.
Unlike competitors, which are slowly ramping up autonomy systematically from Level 2 to 3 to 4, Ford aims to jump several steps and go right to Level 4. According to the experts, the price is the leading factor for this decision.[24]
Strategic plans and initiatives:
The company collaborated with four start-ups that are building autonomous car technologies.
Ford has doubled the team researchers in Silicon Valley. It has also decided to more than double the strength of its Palo Alto campus team[25]
In Early 2017, Ford acquired Argo AI, an artificial intelligence company for $1 billion[26]
In 2016, Ford acquired Chariot, the San Francisco-based commuter ride-sharing start-up. This acquisition was a strategic plan to use Chariot as a cornerstone of future shuttle and mobility programs[27]
Timelines:
2019: Ford plans to launch two Level 2 autonomous systems, namely Traffic Jam Assist and Fully Automated Parking.[28]
2021: Company aims to introduce driverless ride-sharing cars without a steering wheel, or brake or accelerator pedals.
General Motors
General Motors is another contender to introduce highly-autonomous vehicles prior to its competitors. Among the player, it has the most aggressive test plans for autonomous vehicles.
General Motors plans to test thousands of autonomous electric Chevrolet Bolt cars through ride-sharing affiliate Lyft Inc. in 2018. No other automaker has such aggressive test plans prior to 2020. [29]
Strategic plans and initiatives:
In January 2016, GM bought definite assets of Lyft with an investment of $500 million. In March, GM's acquired of autonomous tech startup Cruise Automation.
GM is working on its own semi-autonomous technology in-house. It will be launched with its Super Cruise that is scheduled for launch in 2018 Cadillac CT6.
Timelines:
2018: Plans to test thousands of self-driving Chevrolet Bolts through Lyft
2018: Plans to launch Cadillac CT6 with semi-autonomous technologies
Audi
In January 2017, Audi announced that it has plans to launch its highly automated vehicle in 2020 and a level 3 vehicle by the end of 2017. The company announced to use NVIDIA's AI technology in its autonomous vehicle. [32]
In 2017, Volkswagen-owned Audi started a new subsidiary focused on autonomous driving. This new unit is named as Autonomous Intelligent Driving and it works for the entire Volkswagen Group. [33]
Strategic plans and initiatives:
Audi has a two-pronged plan for launching automotive technologies:
Working on driver assistance and piloted systems in new models. For instance, in the company's new Audi 08 model, customers will be able to use Level 3 automated driving in traffic jams at speeds up to 35 miles per hour
Simultaneously, the company's engineers will try to develop self-driving systems, such as driverless taxis.
Timelines:
2016: Audi already initiated its level 2 autonomous vehicles. In model A4 2017 and Q7, Audi installed systems that use steering input to keep the car in its lane. Additionally, the car allows the driver to take hands off the wheel in slow-moving traffic for 15 seconds at a time. [34]
2017: Audi collaborated with NVIDIA to use the latter's artificial intelligence computing platform to launch autonomous vehicles to the road by 2020
2018 — Audi has planned to launch a Level 3 self-driving vehicle by 2018. The company's new A8 will incorporate Audi's Traffic Jam Pilot system. It will handle accelerating, braking and steering up to 35 mph.
2020: Audi also aims to work with NVIDIA's AI platform to launch Level 4 autonomous vehicles.[35]
Nissan – Renault
Nissan is one of the first movers in the segment and started the initiatives as early as in 2013.[36] It unveiled its first public prototype in 2013 at the Nissan 360 event in California and announced that it will launch a highly-automated vehicle by 2020. Since then it has been testing an autonomous Nissan LEAF on the roads of Tokyo and Detroit.[37]
Strategic plans and initiatives:
In 2015, the company entered into a five-year research collaboration with NASA to develop advanced autonomous vehicle systems.[38]
In April 2017 Nissan collaborated with Mobileye to generate "anonymized, crowd-sourced data" for precise mapping in autonomous cars[39]. Mobileye also supports Nissan's planned ProPILOT system that is similar to Tesla's Autopilot.
Nissan and Toyota also announced a joint effort along with the Japanese government to develop intelligent maps by 2018.
Timelines:
2016: Nissan announced to launch its first level 2 autonomous system called ProPILOT. It also announced its plans to add a new level of autonomy each year to launch not one but ten highly autonomous vehicles by 2020.
2018: It aims to launch ProPILOT 2, which will be a Level 3 autonomous system
2020: A planned launch of Nissan ProPILOT 3.
Tesla
In April 2017, Tesla's CEO, Elon Musk, confirmed that Tesla will be able to launch a Level 5 vehicle within the next two years, depending on software validation and regulatory updates[40].
It is the most aggressive timeline provided by any other automaker. Elon Musk also said that by the end of 2017, Tesla will bring a car that can drive itself from Los Angeles to New York City, no human needed.[41]
Strategic plans and initiatives:
Tesla and Mobileye partnership was terminated in July 2016. Earlier, Mobileye developed EyeQ3 technology used in the autopilot feature in Tesla cars[42]
Later in 2016, Tesla collaborated with Nvidia to equip company's Autopilot Hardware 2 with Nvidia's Drive PX 2 platform[43]
In January 2017, Panasonic announced its willingness to expand its partnership with Tesla and contribute to its self-driving system in sensor development.
Lately, the company has restructured its data gathering procedure, now collecting videos using customers' vehicles cameras to feed its new system. Tesla's self-driving user contract also specifies that owners will only be allowed to share their vehicles for returns purposes on the upcoming Tesla Network.
Timelines:
2015: Tesla launched a Level 2 Autopilot system, a suite of driver assistance systems including Autosteer, Auto Lane Change, Traffic-Aware Cruise Control, Side Collision Warning and Autopark. However, this system had multiple crashes around the world since starting.
2018-2019: Even though Elon Musk says that Tesla will be able to launch a fully autonomous vehicle by 2019, most of the experts feel that Tesla could come up with a level 4 vehicle before 2019. [44] [45]
BMW
In March 2017, BMW announced its plan to launch Level 5 autonomous cars by 2021.[46] The primary aim of BMW is to gain a competitive advantage in the space by launching a level 5 autonomous vehicle while most of the other competitors are running for level 4 cars.
Strategic Initiatives:
In 2016, BMW collaborated with Intel and Mobileye to fulfill its target of launching a fully-autonomous vehicle by 2021. Intel will build the chips for the autonomous system.[47]
BMW collaborated with Daimler and Audi to buy digital map maker "HERE' in 2015. This investment was done to create high-definition maps to advance their self-driving car technology.
Timelines:
2016: BMW launched its new Level 2 autonomous 7 series cars with Traffic Jam Assistant and driverless automated parking.
2021: BMW is expected to launch a fully-autonomous car by 2021. This project is named at iNext. It will manufacture intelligent and lightweight fully autonomous vehicle under the project. [48]
Honda
Honda is comparatively less vocal about autonomous cars. On the other hand, it has indeed taken strong steps towards testing and launching driver-less cars. Honda has been roiling out semi-autonomous functionalities, comprising forward-collision warning, lane- departure warning, and lane-keeping assistance.
You might have seen these features in Honda Acuras and the Civic year 2016 models.
Strategic Initiatives and Plans
In late 2016, the company partnered with Waymo, Google's independent self-driving car unit. With this partnership, Google will develop Honda in the development of self-driving car systems.[49]
In CES 2017, Honda showcased self-driving concept. This concept aims to leverage artificial intelligence, robotics, and big data to transform the mobility experience. [50]
Timelines:
2015: Honda has received consent from California to test independent vehicles on public streets (with limitations on the number of vehicles and the testing methods). Honda is using the GoMentum Station proving ground, with 5,100 acres of testing area for its self-driving fleet[51].
2016: Honda launched new Civic LX, priced at $20,440, Sedan with features such as automatic braking and cruise control.[52] Honda Sensing technologies installed in Civic include Adaptive Cruise Control (ACC) and Lane Keep Assist (LKAS) that help the car follow the vehicles ahead and keep itself in the correct lane. [53]
2020: Honda also plans to launch level 3 vehicles by 2020. However, it is refraining from giving any specific dates due to chances of missing the same. [54]
Toyota
Earlier Toyota was reluctant to launch an autonomous car; however, since Mid-2016 it took a completely different approach to the autonomous vehicle. It now spends nearly $10 billion a year on researching autonomous vehicle technology. [55]
Toyota plans to launch a highly autonomous vehicle by 2021.
Strategic Initiatives and Plans
In 2015, Toyota invested $1 billion and opened Toyota Research Institute (TRI) headed by Gill Pratt. During the last two years, this institute has entered a number of engagements to develop autonomous vehicles.
In 2016, TRI partnered with Open Source Robotics Foundation (OSRF) and its subsidiary Open Source Robotics Corporation (OSRC) to jointly research and development both open source and proprietary tools for Toyota's robotics and automated vehicle research initiatives.[56]
In March 2017, TRI announced an investment of $35 million into collaborative research efforts with many university and corporate partners focused on AI.
In 2017, TRI started to explore blockchain to develop new mobility ecosystem. It collaborated with MIT Media Lab (MIT ML) and other industry partners to develop a distributed platform that can securely share driving and autonomous vehicle testing data. [57]

Timelines:
2017: TRI showcased its newest autonomous research platform. This new car's loadout comprises a drive-by-wire interface and layered LiDAR, radar and camera sensors to decrease dependency on pre-populated high-def maps. In May 2017, TRI also announced its purpose to explore blockchain technology.
Mercedes Benz (Daimler)
Like its competitors, Mercedes has also begun to take significant steps toward self-driving cars during the last couple of years. Mercedes started deploying semi-automated advanced driver assistance systems to many of its newer models.
Mercedes faced some challenges when it tried to market its new E-class sedan as a self-driving car in its new 2017 advertisement. The company had to pull the ad due to pressure from consumer groups that claimed the ad overstated the capabilities of the vehicle.
Strategic Initiatives and Plans
In April 2017, Mercedes (Daimler) and Bosch joined forces to develop Level 4 (high automation) and 5 (full automation) vehicles. As per the agreement, Mercedes will have two years of exclusivity on the co-developed system.[58]
Timelines:
2016: Announced to test autonomous car in Australia. [59]
2017: Announced to launch autonomous taxi within three years.[60] It also announced to launch a fully autonomous vehicle by 2022. [61]
Volkswagen
In September 2015, Volkswagen was summoned by the United States Environmental Protection Agency for cheating on emissions tests to certify diesel vehicles around the world. [62]
Volkswagen admitted the scandal and agreed to recall all the vehicles in question. The cost of fines and recalling vehicles was estimated well over $20 Billion.[63] Post this serious setback, the company has shifted its focus towards autonomous cars. Volkswagen already showcased a prototype of its first driverless car in 2017.
Strategic Initiatives and Plans:
In June 2016, Volkswagen initiated roadmap for "2025 strategy", a plan that includes restructuring the company's core automotive business and focusing more on electric vehicles and autonomous driving technology. The primary goal of this strategic roadmap was to bring autonomous technologies to market faster than the competition.
Volkswagen launched its new Moia brand during the last quarter of 2016. Moia is a unit dedicated to new mobility services that include fleet-based shuttles and autonomous on-demand transportation.
Timelines:
2017: VW unveiled its "Sedric" concept, a shuttle-like vehicle designed for ride-hailing applications. Volkswagen plans to launch this car with full autonomous capacity (Level 5). Sedric was designed and developed by Volkswagen Group's Future Center Europe in Potsdam and Volkswagen Group Research in Wolfsburg.
2017: Volkswagen unveiled an electric microbus concept at the Detroit Auto Show. It is a self-driving microbus claimed to be the first of its kind.[64]
2025: Plans to come up with level 5 vehicles by 2025[65]
Kia-Hyundai
Kia, an affiliate of Hyundai Motors aims to launch a fully-autonomous vehicle by 2030. On the other hand, Hyundai is exploring the market differently from the other players. It is trying to build technology that will be reasonable for a good portion of car buyers
Strategic Initiatives and Plans:
Kia established a new sub-brand Drive Wise with the aim of launching a partially autonomous car by 2020 and a fully-autonomous vehicle by 2030. [66] Drive Wise is Kia's initiative to develop advanced driver assistance systems (ADAS) starting from active cruise control to automatic emergency braking.[67]
Hyundai strengthened its efforts in late 2016, with investments in AI and setting up a new business unit to grow "hyper-connected" and self-driving cars soon.
The company displayed its Ioniq autonomous concept at CES 2017. The automaker also employed the former head of GM's autonomous technology development to run its new Intelligent Safety Technology Center, a joint research body for Hyundai and its affiliate Kia.
Timelines:
2016: Kia came up with four autonomous car concepts during SEMA Auto Show 2016. These four concepts were Niro Triathlon, the School of Rock Sedona, the Soul First Class and the Sorento Ski Gondola.[68]
2020: Plans to launch a semi-autonomous car through its Drive Wise brand.
2030: Plans to launch a fully autonomous vehicle
Jaguar – Land Rover
Strategic Initiatives and Plans:
In October 2015, JLR launched a new £11 million research programme in collaboration with Engineering and Physical Sciences Research Council (EPSRC) for development of autonomous and connected vehicles technology. This research will take place at ten UK universities and the Transport Research Laboratory[69].
In February 2016, Jaguar Land Rover joined a $7.9M UK program for further autonomous driving R&D, aiming to gather data on driving habits and test vehicle communications technology. This project is led by German-based Robert Bosch Group.[70]
Timelines:
2016: In July 2016, JLR announced to deploy a fleet of at least 100 research vehicles over the next four years to test and research autonomous and connected car technology on UK roads.[71]
2016: Jaguar Land Rover showcased its Connected and Autonomous Vehicle technologies at HORIBA MIRA
Continental AG
Continental AG, the German car maker has taken a gradual route to launch autonomous cars. Unlike other players, it is taking a more cautious approach to the race. The company believes that it will be better placed if they slowly implement driver assisted technologies such as automatic braking and pedestrian detection.
Strategic Initiatives and Plans:
In March 2016, the company acquired a division of Advanced Scientific Concepts Inc., which manufactures imaging sensors for self-driving vehicles.[72]
In April 2017, Continental fuelled its initiative by strengthening its Silicon Valley research operations by starting an R&D lab in San Jose, California. The lab will focus on researching self-driving cars that can communicate with one another as well as with roadway infrastructure. Continental announced to invest $300M to expand electric and hybrid vehicle technologies.
PSA Group
France-based PSA Group is one of the top European car makers to enter into space. It started testing autonomous vehicle technologies extensively from 2015 onwards and plans to launch a highly autonomous car by 2018.
Strategic Initiatives and Plans:
In January 2017, PSA announced to partner with Ericsson and Orange to conduct a 5G technology pilot project for autonomous vehicle applications. The partnership aims to research in the area of intelligent transport systems (ITS) to improve road safety.[75]
In May 2017, PSA Group entered into a partnership with the autonomous tech start-up nuTonomy to install the latter's self-driving systems in Peugot 3008 vehicles. PSA will first test the new self-driving Peugeot in Singapore.
Timelines:
2015: In July, the PSA Group became the leading automobile player to get the consents to test self-driving cars on the open road in France. The company's four Citroën C4 Picasso models have traveled more than 20,000 km in an autonomous mode so far.
2016: The company's Citroën C4 Picasso model cars drove between Paris and Amsterdam[76]
2018: The PSA Group plans to offer driver-monitored automated driving features
Yutong
Chinese bus manufacturer Yutong has been researching driverless buses since 2012.
In 2015, the company claims to have successfully navigated a bus on an inter-city road in central China's Henan Province and covered 32.9 Kms[77]. This is the first autonomous bus in the world to hit the road. The bus can switch between manual and automatic mode. The company has yet to announce a firm release date for its autonomous buses but has begun demoing the buses on public roads.
Magna
The Canadian auto parts supplier Magna is seeing the market as a lucrative one and investing in semi-autonomous technologies. The company is already developing advanced driver assistance systems (ADAS) like adaptive cruise control, blind-spot detection, and lane departure warning systems.
Strategic Initiatives and Plans:
In December 2016, Magna partnered with LiDAR maker Innoviz to bring out the sensor package for the autonomous vehicle system. The company appointed iPod visionary and Nest co-founder Tony Fadell for its tech advisory committee.[78]
In 2017, the company announced that it is sharpening its focus on producing cameras for autonomous vehicles. It is looking to grow the car camera income from $450 million to $1 billion[79].
Valeo
French auto supplier Valeo has been working on its own ADAS and self-driving systems in collaboration with other auto parts makers. The company's innovation chief pointed out autonomous driving to be the Valeo's primary growth driver by 2020.
Strategic Initiatives and Plans:
Valeo and Mobileye entered a partnership in 2015 to build an affordable robocar, combining Mobileye's camera vision expertise (EyeQ family of microprocessors) with Valeo's LiDAR units.[80]
In October 2016, Valeo North America collaborated with Wheego Electric Cars Inc. in receiving permits to test self-driving vehicles on public roads in California. [81]
Timelines:
2015: The company showcased its first autonomous vehicle in ITS World Congress in Bordeaux. The vehicle was named as Valeo Cruise4U[82]
2017: Valeo showcased its eCruise4U automated concept at CES 2017. The vehicle is equipped with the connected camera and laser sensors, and a reconfigurable cockpit.
Bosch
Bosch, one of the world's largest automotive suppliers, has responded to an increase in demand by dedicating more than 2,000 engineers to driver-assistance systems. The company is also partnering with GPS maker TomTom for the mapping data necessary for this endeavour. The company has projected that self-driving cars will be in action by 2020, at least on highways. In an April 2016 interview, a Bosch marketing director reiterated the company's commitment to autonomous, connected, and electric vehicles.[83]
Strategic Initiatives and Plans:
In March 2017, Bosch and Nvidia partnered to develop AI-enabled computer for autonomous cars. As per the agreement, Bosch will make the computers which will be utilizing Nvidia's learning software and Drive PX processor.
In April 2017, Bosch partnered with Daimler to develop autonomous car technology. Currently, the partnership is engaging in developing systems for urban set-ups only. [84]The ultimate goal of the collaboration is to bring level 4 and level 5 vehicles to city roads by the beginning of next decade. [85]
Technology Companies working on Autonomous Vehicle
Apple
In 2016, Apple confirmed for the first time that they are working on self-driven cars. It also announced its investment towards machine learning and automation. This project is internally known as Project Titan and started in 2014. [86] However, the company is less vocal about its autonomous car projects.
Strategic Initiatives and Plans:
Apple has laid off hundreds of employees who were working on the project, and under the leadership of Bob Mansfield, Apple has transitioned to building an autonomous driving system rather than a full car.
In April 2017, Apple announced its plan to train operators of self-driving cars. It has submitted a 41-page document to the California Department of Motor Vehicles including 10 pages of training plan for the operators. [87]
Timelines:
2017: Apple received permission from the California Department of Motor Vehicles to test drive autonomous vehicles on California public roads using its own driving technology.[88]
Microsoft
Microsoft is taking a different approach to autonomous vehicle technology development. It aims to collaborate with car makers to implement its autonomous technologies. According to the senior management of the company, it has no intention to make its own autonomous vehicle.[89] Some of the popular Microsoft solutions that might be used in such cars include Azure cloud platform, Office 365, and the Windows operating system. The company already provides software for Ford, Kia, BMW, Nissan, and Fiat.[90]
Strategic Initiatives and Plans:
In 2016, Microsoft partnered with Harman International a provider of connected car technologies. With this collaboration, Harman announced to integrate Microsoft Office 365 into its infotainment systems. [91]
In April 2016, Microsoft and BMW partnered to develop connected car technologies. BMW Connected, which is the connected car platform for BMW, is powered by the Open Mobility Cloud based on Microsoft Azure
In September 2016, Renault-Nissan and Microsoft partnered to develop connected car technologies powered by Microsoft Azure.
Intel – Mobileye
Intel, of course, has been keen to push into the sector, having been beaten to the punch by companies like NXP and Nvidia to supply automotive silicon and autonomous processing power.
Strategic Initiatives and Plans:
In late 2016, it created a new Autonomous Driving Group (ADG) and committed $250M to auto tech investments through its Intel Capital arm.
In March 2017, Intel opened its new autonomous driving garage in San Jose. During the same month, Intel announced to by Mobileye, an Israeli autonomous vehicle technology firm. With this acquisition, Intel strengthened its competitive position against its closest rivals Nvidia and Qualcomm.[92]
Mobileye itself has a number of other partnerships through its Road Experience Management (REM) mapping platform, including Nissan and VW as well as BMW.
In May 2017, the company inaugurated its autonomous driving lab in Silicon Valley
Google-Waymo
Google is working on driverless-car technologies since 2009. Initially, the project was named as Google driverless car project. In December 2016, the new unit Waymo was formed as the subsidiary of Google's parent firm Alphabet. Waymo's self-driving technologies have gone through millions of miles of test drives already in US cities. Waymo cars had 1 billion simulated miles of test driving in 2016. [93] However, Waymo's effort got regular halt due to the departure of project engineers and leaders including founding member Chris Urmson.[94]
Strategic Initiatives and Plans:
In May 2016, Google collaborated with Fiat Chrysler Automobiles to install its self-driving car technology into 100 Pacifica minivans. [95]
In May 2017, Waymo and Lyft partnered to develop self-driving technologies. [96]
Timelines:
2017: The new Alphabet company publicly revealed its custom-designed self-driving hardware in February 2017, planning to sell an integrated hardware and software package. In April 2017, Waymo opened signups for the first public tests of its customized Chrysler Pacifica minivans.
Nvidia
Nvidia is one of the leading chip-maker in the autonomous vehicle space today. Many automakers have already announced to use systems from Nvidia in their self-driving cars. Some of these include Audi, Mercedes Benz, Toyota, and Tesla among others.
Strategic Initiatives and Plans:
In October, Nvidia partnered with Tesla for supplying Nvidia Drive PX 2 for the latter's Model S, Model X, and the upcoming Model 3.
In March 2017, Nvidia and Bosch partnered to develop AI-enabled computer for autonomous cars. As per the agreement, Nvidia will supply learning software and Drive PX processor for the computer made by Bosch. During the same month, it also partnered with PACCAR, one of the world's leading makers of transport trucks. [97]
In May 2017, Nvidia collaborated with Toyota and agreed to supply Nvidia's Drive PX supercomputer, a platform with a robust new processor called Xavier.
Timelines:
2016: At CES 2016, GPU and semiconductor company Nvidia unveiled the Nvidia Drive PX 2, the second generation of its computing platform expressly designed for autonomous cars.
Samsung
In May 2017, Samsung received approval from the South Korean Ministry of Land, Infrastructure, and Transport to test autonomous vehicles on Korean roads.[98] Samsung's self-driving cars are based on Hyundai vehicles equipped with cameras and sensors. In the autonomous car segment, Samsung's primary competitor is Apple.
Strategic Initiatives and Plans:
In March 2017, the company also completed its $8B purchase of Harman, a leading supplier of in-car technology and connected vehicle systems. Samsung is already planning to leverage its new acquisition to shape the in-vehicle experience for self-driving cars.[99]
TATA Elxsi
Tata Elixsi, a division of the TATA group, showcased technology in January 2015 for an autonomous parking valet, in which the car understands where open spots are and uses sensors to park itself. In CES 2017, it showcased its autonomous vehicle platform Autonomai. This technology allows the integration of sensor technologies such as LiDar, Radar, Ultrasonic sensors, and Mono/Stereo cameras to suit customer requirements.[100]
Strategic Initiatives and Plans:
It is putting a priority on security, designing a central unit in the car with extensive security measures that govern internal and external automotive communication.
Tata Elxsi started to commercially market Autonomai in 2017. According to an announcement made by the company in June 2017, the top five leading automotive manufacturers selected this technology for their autonomous vehicles   [101]
Huawei
Chinese telecommunication giant Huawei has shifted resources toward the development of autonomous vehicles in recent years. It has published a white paper explaining the ways in which mobile network operators could prove to be valuable to the connected cars space. Some of these areas include smart parking, fleet management, data related to in-car entertainment, LTE-based emergency services, and more.
Strategic Initiatives and Plans:
In February 2017, the company formed its own driverless car R&D team, with over 200 developers. The teams work from several Chinese cities such as Beijing, Shanghai, and Wuhan, as well as Silicon Valley in the US.[102]
Huawei partnered with Vodafone and Audi and demonstrated some of their latest innovations at the 2017 Mobile World Congress in Barcelona, including cellular technology used to connect cars called Cellular V2X (C-V2X).[103]s
Baidu
Baidu, which is also known as Chinese Google ramped up their autonomous car initiatives since 2014 when they opened its first AI lab in Silicon Valley. It has a dedicated Autonomous Driving Unit (ADU) that is based in Beijing and Silicon Valley and takes care of the company's autonomous car efforts. [104]
Strategic Initiatives and Plans:
In April 2014, the Chinese search giant Baidu partnered with BMW to release a semi-autonomous prototype by the end of 2015. The partners tested their technologies on highways in China. However, the partnership was terminated in November 2016 after disagreements on strategy.
In June 2016, Baidu CEO Robin Li disclosed a five-year goal for the mass production of driverless vehicles.
In March 2017, the company announced to open an AI lab in Silicon Valley. The primary aim for opening this lab was to poach talents for its machine-learning units.[105]
Timelines:
2017: It launched its Apollo project that will open up its platforms such as vehicle platform, hardware platform, software platform, and cloud data services for other industry players.
Service Companies working on Autonomous Vehicle
Lyft
Lyft is one of the largest transportation networks in the US. The company is aiming in autonomous car technology and is developing collaboration with autonomous car development and automakers. According to John Zimmer, cofounder and president of Lyft, in the next five years, most of the Lyft's cars will be self-driving cars[106].
Strategic Initiatives and Plans:
In 2016, GM invested $500 million in Lyft to work on autonomous car technology and its implementation[107]
In 2017, Lyft has gone into a partnership with Waymo, an automotive business unit of Google's parent company Alphabet Inc. Both the companies are working together to bring the autonomous car into the mainstream through product and technology development and pilot projects[108].
Timelines:
2018: Lyft and General Motors will deploy thousands of electric self-driving cars in the beginning of 2018[109].
DiDi
Didi Chuxing is one of the largest transportation networks in China. The company is also expanding its business in other parts of the world such as Southeast Asia, India, and Brazil. Presently Didi Chuxing is shifting its gear towards self-driving cars.
Strategic Initiatives and Plans:
In 2017, Didi Chuxing has opened an artificial lab in Mountain View, California for the development of self-driving car technology
Didi appointed Charlie Millar, who was formal with Uber's autonomous vehicle security unit, is presently associated as president of Information Security.
Uber
Uber is one of the leading transportation network giants globally. The company is aggressively working on autonomous vehicles and they have conducted multiple pilot projects to determine the success rate. Uber is currently putting their self-driving cars on the road for a test. During the first week of March 2017, around 43 autonomous cars have already driven 20,354 miles[110].
Strategic Initiatives and Plans:
RideCell
RideCell offers transit software to the mobility industry. The company provides the software platform for the companies offering service and applications on autonomous vehicles.
Strategic Initiatives and Plans:
RideCell is working on the development of autonomous vehicles. The company has a build-up software platform for BMWs ReachNow service[115]
RideCell is partnering with Auro Robotics, a self-driving shuttle provider, to offer autonomous transportation solution to universities and corporate campuses[116]
Tesloop
Tesloop offers city-to-city transportation services through Tesla electric vehicles. The company began its service on Tesla's autopilot electric vehicles as well[117].
Strategic Initiatives and Plans:
Tesloop has developed software for Autonomous Connected Electric Supercharged vehicles (ACES)[118]
Funded Start-ups
Strategic Landscape
In the autonomous car space, several strategic initiatives are already being taken by the major automakers, suppliers, tech providers, and research institutions. Strategic collaboration, aggressive launch plans, and acquisitions are seen as the top strategic trends in the industry.
Strategic Partnerships
The report categorizes strategic partnerships under six areas. There are a number of significant strategic partnership took place in these six segments. The report highlights some of the significant recent collaborations.
Source: Water Street Partners, News Articles and Journals
Partnership of Automakers and Technology providers
Google and Ford Partnered to Develop and Support Driverless Car
In 2015, these two companies collaborated for the first time to develop autonomous vehicles. According to the industry experts, it is one of the most significant partnership as one of the leading automakers of the world partnered with a company that is considered to be one of the leading companies developing robo-car technology. [119]
Later, in 2016, these two players also teamed up to lead the coalition of companies that work towards achieving favorable federal regulations on driverless cars.[120]
The partnership of the two most prominent supporters of autonomous vehicles could result in successful development of autonomous car soon. Additionally, the joint effort of these two players could also help regulators to draft suitable guidelines for autonomous vehicles.
NVIDIA has partnered with Tesla
NVIDIA has recently formed many partnerships to supply its supercomputers for autonomous vehicles. One of the most significant of them was its collaboration with Tesla.[121] It partnered with Tesla after Mobileye ended the partnership with the automaker.
The industry experts considered this as a huge win for Nvidia as this was the first volume production win for Nvidia's Drive PX 2 automotive "supercomputer". Experts estimated this partnership could help Nvidia to increase car segment sales by 50%.[122]
BMW collaborated with Intel-Mobileye and Delphi
In July, BMW, Intel, and Mobileye (acquired by Intel in 2017) partnered for the first time to develop driverless cars by 2021. The primary aim of the partnership was to develop solutions and innovative systems for level 3. Level 4 and ultimately level 5 vehicles. [123] In 2017, the first highly autonomous test fleet of 40 BMW 7 series cars was launched by the partnership. Later, to further fortify the partnership, Delphi was now added as a member of the group effort. Delphi is expected to provide computing components for the system.  It has already supplied a prototype of the platform that is expected to be used in the autonomous system.  [124]With the addition of Delphi, the partnership became one of the most potential collaboration to bring an autonomous vehicle on road.
Toyota Partners with Microsoft
In April 2016, Toyota partnered with Microsoft and formed a new data analytics company. This new unit named Toyota Connected will provide internet-connected services to autonomous vehicles.[125] [126]
Toyota Connected will leverage Microsoft's cloud computing platform Azure to analyze data and assist in developing new products for drivers, businesses with car fleets, and dealers.
In March 2017, the partnership was further extended when Microsoft agreed to license its intellectual property (IP) for connected cars to Toyota.[127]
Toyota connect is working on creating vehicle-to-vehicle technology enabling cars to communicate with each other to observe hazards ahead. It also aims to use predictive analytics to determine the best route to avoid traffic or favorite food suggestions along the route, according to Toyota and Microsoft.
Partnership between two or more Automakers
Carmakers are also collaborating with each other to jointly develop AV models or connected-car technologies. These collaborations tend to be structured as R&D partnerships or joint development agreements but may also be through joint ventures.
BMW-Audi-Daimler partners to launch 5G telecom association
Three German auto giants came together to initiate 5G network connectivity for highly autonomous cars[128]. Along with the telecom companies such as Ericsson, Huawei, Intel, Nokia, and Qualcomm, they have formed Next Generation Mobile Network Alliance, which involves in developing, testing and standardizing 5G high-speed wireless connectivity. According to the alliance, a high-speed internet connection will address connected mobility and safety issues in highly autonomous vehicles.
Earlier, in 2016, BMW, Audi and Daimler collaborated to purchase HERE, a digital map maker, for EUR 2.8 billion. [129]
GM-Honda R&D Partnership
In Early 2017, Honda Motor Co Ltd and General Motors Co (GM) announced that they will jointly produce pollution-free hydrogen fuel cell power systems in the United States from around 2020. [130]According to GM executives, fuel cells could be used in autonomous vehicles, as well by ride-sharing companies, such as GM affiliate Lyft. [131]
Partnership of carmaker and ride-sharing firms
Carmakers are also associating with ride-hailing and car-sharing firms to commercialize their autonomous vehicles. In most of the agreements, the ride-sharing firms are agreeing to purchase autonomous cars to be used in their ride-sharing fleet.
GM Invested in Lyft
In Early 2016, GM invested $500 million in ride-sharing company Lyft[132]. This was 50% of the Lyft's latest $1 billion fundraising. The primary aim of this investment was to jointly develop autonomous vehicle fleets to be used by Lyft.
This investment put Lyft at par with its competitor UBER, which has also partnered with other automakers. Additionally, the partnership will also be able to compete with Ford and GM partnership that announced a similar step in the recent past.[133]
Implications: The partnership will tap into GM's work on driverless cars and Lyft's software that matches drivers and passengers and calculates routes, to create a network of cars that would operate themselves and be available on demand.
Volvo partners with UBER and Daimler
In August 2016, Volvo and UBER announced a partnership to develop autonomous cars. As per the agreement, the base vehicle will be developed by Volvo and later purchased by UBER. Volvo and UBER have decided to contribute $300 million jointly towards the project. [134]
Later in March 2013, Uber announced a partnership with German auto giant Daimler on the deployment of self-driving cars. The cars, along with the autonomous technology, will be manufactured by Daimler before being presented into Uber's ride-hailing network.
Partnership with academic or government institution
Technology firms are not the only organizations with deep technology, data science, telematics, and associated expertise – and the automotive industry isn't the only industry intended in advanced automation software. Many academic and government research institutions share a joint interest in autonomous technologies and own similar abilities as technology companies (but different ambitions). Some carmakers are beginning to tap these organizations for technical expertise through R&D partnerships or joint development agreements.
Toyota Research Institute Partnering with Stanford and MIT
In September 2015, Toyota Research Institute partnered with MIT and Stanford to bring artificial intelligence in its autonomous car models. It announced to make $50 million investment towards these two universities over the next five years. [135] During the same month, MIT's new Computer Science and Artificial Intelligence Laboratory (CSAIL) was inaugurated with Toyota's investment [136].
Later in May 2017, Toyota teamed up with MIT Media Lab and five other companies to leverage blockchain technology for driverless cars. [137] According to Toyota, this project will enable businesses and consumers to securely share data on testing and driving. These partnerships strengthen Toyota's testing and launch plans for autonomous vehicles.
Nissan partners with NASA's Ames Research Center
Nissan and NASA first teamed-up in 2015 to develop self-driving technologies for earth and space. [138] In this collaboration, the researchers work towards development and testing of autonomy algorithms, concepts, and integrated prototypes for transportation, robotic rovers on Mars and other space exploration missions.  [139]
This partnership helped Nissan to equip its LEAF models with sensors, cellular data networking, and robotics which were developed by Ames for K-10 and K-REX planetary rovers.
Partnership of suppliers and other suppliers or carmakers
Automotive suppliers are certainly positioned to adapt key components for connected-car applications, and teaming up with further suppliers or carmakers can help to enable their learning curve or associate their supply position for high-margin AV components.
Autoliv-Nissin Brake Systems Joint Venture
Autoliv is rising an ecosystem of AV technologies and connected-car capabilities. It formed an alliance JV that combines Autoliv's brake business with a carve-out of Nissin Kogyo's brake business to develop safety system abilities and grow new braking technologies (e.g., brake control and brake apply systems) for AV applications. Other Autoliv components are backing to autonomous features in cars like Daimler AG's firsthand Mercedes-Benz E class, which can direct itself in auto-pilot mode, brake in dangers, and evade barriers.
Autoliv is also partnering with Volvo in a scheme called Drive Me that pursues to pilot 100 self-driving cars on the roads of Gothenburg, Sweden by 2017.
Partnership of suppliers of carmakers and technology providers
Continental partners with Baidu
German auto-parts manufacturer Continental partnered with Chinese internet giant Baidu to work in areas such as automated driving, connected vehicles, and intelligent mobility services.[140]
In this partnership, the two groups plan to develop sensors, software, artificial intelligence, cybersecurity, and connected cars. They are also planning to develop systems to collect and analyze data from road tests of automated cars.
Bosch and Nvidia Partnered to Make AI Supercomputer
Bosch, one of the leading auto-parts supplier has announced to collaborate with NVIDIA for developing an AI supercomputer. [141]  With this partnership, Bosch's AI computers will use NVIDIA AI PX technology. This upcoming AI car superchip is marketed as the world's first single-chip processor designed to achieve Level-4 autonomous driving.[142] This partnership between the leaders in two different areas could be significant as per the industry experts.
Which Companies are most likely to launch driverless vehicles Soon?
According to Navigant Research, five companies that are leading the race to launch the autonomous cars are Ford, GM, Renault-Nissan, Daimler, and Volkswagen. The report places Waymo, Google's driverless car effort in sixth place and Tesla in twelfth. Uber languishes in sixteenth, behind Honda and barely ahead of start-up Autonomy and China's Baidu[143]
Launch Plans of Top Players

Acquisitions & Strategic Investment
Government Regulations
United States
The federal government has released its first rulebook on manufacturing and sale of autonomous vehicles in 2016, September. Under the rule, the federal government has precisely mentioned to autonomous car manufacturers to share wide amount of statistics with the federal government. On the other hand, it is uncertain whether the companies will share data with the government. The government also has stated to address 15-points on security assessments including how the vehicle's software will address on road during accidents and ethical situations[166] and other basic details like how these cars function, how they record statistics, what happens when a car crash, what will be the protective measure against hacking, and so on.
Driverless and semiautonomous cars have already entered the US market which is compelling the federal government to set up a law on autonomous vehicles. Companies like Tesla has already sold around ten thousand electric cars with the self-driving feature called autopilot. Uber started its test run rides from driverless cars by their smartphone application. Big technology giants like Google and Apple engaged in a test of self-driving cars[167].
Below are the few points which an eventual bill might do:
The existing automotive laws and regulations revised where a driver is behind the wheel operating the motor vehicle. The updated vehicle standards may no longer require a driver behind the wheel. It is possible that the new rule would remove the requirement of pedal or steering of cars.
There is a constitutional confusion raised in distinguishing fully vs. semi-automatic vehicles. In recent times Uber went into a clash with the State of California over the description of "autonomous", where the state precisely mentioned that the Uber's test is unlawful. Clearing up such terminology based communication would avert any confusion on both semi and fully autonomous vehicles.
The government might make standard rules and regulations on a physical and technological standard for autonomous vehicles, related to the laws currently implicit on traditional vehicles[168].
Europe
A research has been commissioned by the German Federal Ministry of Economics, where it is projected that the driver assistance system and automated vehicles market value would be EUR 8.8 billion and shall generate 130,000 jobs by 2025 in Germany[169].
Considering the advantage forecasts the law is turning towards the use of automated vehicles in Europe. As a result, the British government is designed to change the national law by summer 2017, to enable the development of autonomous vehicles. The British government is also looking forward to the improvement of internal law by the end of 2018.
The basic requirements of automated vehicles is legal permit on the use of public roads. Any vehicles sold in EU member state needs EC type approval. The latest ECE 79 guideline contains the necessity of steering in a vehicle which an issue for automated vehicles. In the regulation, it is stated in paragraph 2.3.4 that an "Advance Advanced Driver Assistance Steering System" is only permitted to control the steering as long as the driver remains in primary control of the motor vehicle at all times. Also in paragraph 5.1.6, it is stated that such systems "shall be designed such that the driver may, at any time and by cautious action, override the function". The future ECE Regulation 79 may have five primary specifications on automatically commanded steering function (ACSF)[170].
Automatic parking system
Automated steering function
Extend the functionality covered by B, such as single maneuver
System function that can be initiated and executed after driver's confirmation
System function initiated and executed by a driver will continuously determine the manoeuvre and complete them
Among the other countries in Europe, Germany and the UK intend to take pioneer in an autonomous vehicle. However, it remains to be seen that when and how quickly the amendment of ECE Regulation 79 is amended for an autonomous vehicle.
Asia
Asia is one of the rising testing ground for autonomous vehicles. Countries like Singapore and other developed Asian countries are supporting such initiatives by providing logistical, financial and operations support for automated vehicles investors.
In February 2017, the Singapore Road Traffic Act (STA) amended and authorized the Land Transport Authority (LTA) to keep pace on automated vehicle trial. According to the second minister of Singapore transport Ng Chee Meng, the government will create new rules on artificial vehicle trials, standard car design and data sharing from the trials[171].
In China, the Ministry of Industry and Information and police is formulating rules on autonomous vehicles, however, the government has warned the car makers not to test any self-driving vehicles on the highways before the regulations are released[172].
The Japanese government is planning to draw regulations on the use of autonomous vehicles. However, the National Police Agency will consider who will be responsible if any accident happens with driverless cars. The government is also planning to release the legal policy quickly so that the car manufacturers can initiate test runs on the road. The government has classified the autonomous cars into five categories including self-driving cars which do not require any driver or any steering wheel and assisting few functions, such as accelerations and braking, during autonomous driving. The car manufacturers and the government are working together to set up a platform on driverless cars which would eliminate accidents caused the human errors or reduce the traffic issues[173].
Future Outlook
Level 4 Cars could be a Reality by 2025
According to the top car-makers, autonomous vehicles (Level 4) will start to hit the roads by 2020. However, most of the research and consulting firms believe that is will not be that soon. According to the popular industry predictions, level 4 cars will only gain some market share in 2025, while level 5 cars may be a reality post-2030. Several complexities are expected to bar the launch of highly autonomous vehicles soon. One of the major issues will be the risk factor associated with it. Tesla's autonomous car testing in 2016 was a disaster and might impact the decision making of the regulatory authorities on the launching of such vehicles.
Another challenge is to mix the existing fleet of the vehicle with the new ones. There are already millions of cars on the road across the world; hence, it will be difficult to manage the traffic with both human-driven and autonomous cars.
Case: According to California's Department of Motor Vehicles, there were nearly 2578 failures in the autonomous cars segment in 2016 alone. Alphabet's spin-out company Waymo conducted the biggest testing program in 2016 with 635,868 miles of testing that accounted for over 95% of total miles driven by autonomous vehicles in California. Waymo's 60 self-driving cars reported a total of 124 disengagements, 51 of them due to software problems.[174]
Regulatory framework is still at a nascent stage
Most of the Government officials across the countries that are giving permission to test driverless cars, are unsure about how the regulatory framework might look like in 2020. During the testing phase of such vehicles, government officials could make amendments to the existing regulations.
The responsibility of the governments are not only limited to adding new advanced technology and IT infrastructure to city roads but to make streets smarter to deal with self-driving vehicles. According to the industry experts, it will be the regulatory issues at the federal, state and local levels that will hinder the launch of autonomous vehicles.
Asian countries give competition to Western counterparts
Even though developed western countries of North America and Europe have taken significant steps to encourage AVs on road, Asian countries such as China, Japan, and Singapore are expected to catch up fast. According to analyst estimates, by 2013, China might become the leading users of semi-autonomous and highly autonomous cars.
Singapore government is equally encouraging test drives of autonomous vehicles. It has clearly stated its intention to make Singapore a smart nation encouraging AVs that are efficient, environmentally friendly, time-saving. Singapore Ministry of Transport also believes that within the next 10-15 years AVs will be a hardcore reality.[175]
On the other hand, Japanese officials announced their intention to make Tokyo a self-driving city before Olympics 2020. In September 2016, Japan's top automotive-tech houses begun the work of 3-D mapping the country's roadways to get them ready for autonomous vehicles.[176]
More Collaborations and Executive Changes are expected in the industry
Players in the autonomous car space are running an intense race to launch a viable and safe autonomous vehicle. To make it a success, a number of major players have already formed strategic partnerships and made investments on start-ups. Additionally, big players have changed their leadership structures and appointed new teams to strengthen initiatives to bring out a successful autonomous driving system. Going forward, more of such incidents are going to take place depending on the success during the testing phase and subsequent regulatory changes. Automakers could change strategic partners or look for new partners to strengthen their efforts. On the other hand, the industry could experience aggressive poaching of valued executives to win the race.
Autonomous Cars Could Result in Significant Job Losses
Many leading car-makers are working on autonomous buses, trucks, and cabs.  This, in turn, could become a reason to worry for the commercial drivers. According to Goldman Sachs, U.S. drivers could see job losses at a rate of 25,000 a month, or 300,000 a year when autonomous cars are fully operational.
Conclusion
Over the period of last three years, autonomous cars have become a topic of discussion among car makers, researchers, students, investors, analysts, and consultants among others. The possibility of a fully autonomous vehicle might still look too futuristic; however, it has significantly drawn the attention of the automakers and technology providers. In short span of time, this space has experienced plenty of noticeable partnerships, R&D activities, acquisitions and capacity expansion among the players.
Going forward the industry is expected to experience more ups and downs as the automakers, technology providers, users, and officials will get a sense of the concepts during the testing phase that is already being kickstarted by some of the players. The success of fully-autonomous vehicles might change the world of transportation scenario.
Sources:
[1] https://www.techopedia.com/definition/30056/autonomous-car
[2] http://www.gartner.com/it-glossary/autonomous-vehicles/
[3] https://www.wired.com/brandlab/2016/03/a-brief-history-of-autonomous-vehicle-technology/
[4] https://www.sae.org/misc/pdfs/automated_driving.pdf
[5] http://www.rdtaxsavers.com/articles/Advanced-Driver-Assistance
[6] http://www.transport.govt.nz/ourwork/technology/specific-transport-technologies/road-vehicle/autonomous-vehicles/
[7] http://www.luxresearchinc.com/news-and-events/press-releases/read/self-driving-cars-87-billion-opportunity-2030-though-none-reach
[8] http://www.consultancy.uk/news/2065/bcg-autonomous-car-market-to-hit-42-billion-by-2025
[9] http://www.consultancy.uk/news/2065/bcg-autonomous-car-market-to-hit-42-billion-by-2025
[10] http://popsop.com/2015/01/self-driving-vehicle-market-will-reach-42-billion-by-2025-bcg-predicts/
[11] http://fortune.com/2016/06/07/autonomous-car-sales-ihs/
[12] http://popsop.com/2015/01/self-driving-vehicle-market-will-reach-42-billion-by-2025-bcg-predicts/
[13] http://www.businessinsider.in/Why-driverless-cars-will-be-safer-than-human-drivers/articleshow/55467841.cms
[14] https://www.sciencealert.com/driverless-cars-could-reduce-traffic-fatalities-by-up-to-90-says-report
[15] https://dupress.deloitte.com/dup-us-en/deloitte-review/issue-20/winning-consumer-trust-future-of-automotive-technology.html
[16] http://www.consultancy.uk/news/2065/bcg-autonomous-car-market-to-hit-42-billion-by-2025
[17] http://www.autonomousregulationscongress.com/
[18] https://link.springer.com/article/10.1007/s40534-016-0117-3
[19] http://www.europarl.europa.eu/RegData/etudes/BRIE/2016/573902/EPRS_BRI(2016)573902_EN.pdf
[20] https://www.sciencenews.org/article/five-challenges-self-driving-cars
[21] https://www.wired.com/2015/07/hackers-remotely-kill-jeep-highway/
[22] https://www.tesla.com/blog/tragic-loss
[23] https://www.wired.com/2017/05/mapped-top-263-companies-racing-toward-autonomous-cars/
[24] http://mashable.com/2016/08/26/autonomous-car-timeline-and-tech/#WOZJF76AIEqd
[25] https://media.ford.com/content/fordmedia/fna/us/en/news/2016/08/16/ford-targets-fully-autonomous-vehicle-for-ride-sharing-in-2021.html
[26] http://www.telegraph.co.uk/business/2017/02/27/ford-seeks-pioneer-new-generation-driverless-cars/
[27] https://techcrunch.com/2016/09/09/ford-mobility-solutions-acquires-chariot/
[28] http://mashable.com/2016/08/26/autonomous-car-timeline-and-tech/#WOZJF76AIEqd
[29] http://www.reuters.com/article/us-gm-autonomous-exclusive-idUSKBN15W283
[30] http://money.cnn.com/2017/04/14/technology/gm-self-driving-technology-jobs/index.html
[31] http://fortune.com/cruise-automation-general-motors-driverless-cars/
[32] http://www.autonews.com/article/20170105/OEM06/170109920/audi-plans-to-debut-autonomous-car-in-2020
[33] http://fortune.com/2017/03/15/audi-self-driving-car-business/
[34] http://mashable.com/2016/08/26/autonomous-car-timeline-and-tech/#WOZJF76AIEqd
[35] http://fortune.com/2017/01/05/audi-nvidia-2020/
[36] https://greentransportation.info/autonomous-vehicles/nissan/history.html
[37] http://www.standard.co.uk/news/transport/nissans-new-selfdriving-car-gets-test-drive-on-londons-public-roads-a3478761.html
[38] http://nissannews.com/en-US/nissan/usa/releases/nissan-and-nasa-partner-to-jointly-develop-and-deploy-autonomous-drive-vehicles-by-end-of-year
[39] https://venturebeat.com/2017/04/25/mobileye-nissan-crowdsourced-data/
[40] https://electrek.co/2017/04/29/elon-musk-tesla-plan-level-5-full-autonomous-driving/
[41] https://www.wired.com/2016/10/teslas-self-driving-car-plan-seems-insane-just-might-work/
[42] http://www.marketwatch.com/story/mobileye-ends-partnership-with-tesla-as-it-turns-to-fully-autonomous-driving-2016-07-26
[43] https://seekingalpha.com/article/4011506-nvidia-tesla-partnership-huge-win
[44] http://mashable.com/2016/08/26/autonomous-car-timeline-and-tech/#WOZJF76AIEqd
[45] https://electrek.co/2017/04/29/elon-musk-tesla-plan-level-5-full-autonomous-driving/
[46] http://www.businessinsider.in/BMW-plans-to-take-on-Mercedes-by-releasing-a-fully-driverless-car-by-2021/articleshow/57691708.cms
[47] https://www.wsj.com/articles/bmw-intel-mobileye-link-up-in-self-driving-tech-alliance-1467379145
[48] http://mashable.com/2016/08/26/autonomous-car-timeline-and-tech/#WOZJF76AIEqd
[49] https://www.wired.com/2016/12/google-honda-waymo-on-self-driving-cars/
[50] https://readwrite.com/2017/01/07/honda-ces-2017-tl4/
[51] http://www.todaysmotorvehicles.com/article/automotive-design-honda-autonomous-040115/
[52] http://fortune.com/2016/03/14/self-driving-car-honda/
[53] https://techcrunch.com/2016/03/18/2016-honda-civic-autonomous-features-for-20k/
[54] http://mashable.com/2016/08/26/autonomous-car-timeline-and-tech/#WOZJF76AIEqds
[55] https://www.technologyreview.com/s/601504/toyota-makes-a-u-turn-on-autonomous-cars/
[56] http://corporatenews.pressroom.toyota.com/releases/toyota-research-institute-robotics-automated-vehicle-research-sept15.htm
[57] http://auto.economictimes.indiatimes.com/news/auto-technology/toyota-research-institute-explores-blockchain-technology-to-develop-new-mobility-ecosystem/58802271
[58] https://techcrunch.com/2017/04/04/daimler-and-bosch-fully-autonomous-cars-within-5-years/
[59] http://www.news.com.au/technology/innovation/motoring/mercedes-to-test-driverless-car-in-australia/news-story/9dc13d770d4295bfbe78abd54ec93481
[60] https://www.wired.com/2017/04/mercedes-promises-self-driving-taxis-just-three-years/
[61] https://techcrunch.com/2017/04/04/daimler-and-bosch-fully-autonomous-cars-within-5-years/
[62] https://arstechnica.com/cars/2016/06/after-emissions-scandal-vws-roadmap-for-the-future-is-aggressive-on-electric/
[63] http://www.bbc.com/news/business-34324772
[64] https://www.dezeen.com/2017/01/11/volkswagen-self-driving-electric-vw-microbus-id-buzz-design-transport/
[65] https://arstechnica.com/cars/2017/03/volkswagen-unveils-sedric-its-first-fully-autonomous-vehicle/
[66] https://www.digitaltrends.com/cars/kia-drive-wise-autonomous-driving-brand/
[67] https://www.theverge.com/2016/1/5/10719152/kia-drive-wise-self-driving-cars-2030-ces-2016
[68] https://www.cnet.com/roadshow/news/kia-brings-four-oddly-specific-autonomous-concepts-to-sema/
[69] http://www.roadsafetygb.org.uk/news/4662.html
[70] http://fortune.com/2016/02/02/jaguar-self-driving-cars/
[71] http://fortune.com/2016/07/13/jaguar-land-rover-autonomous-cars-britain/
[72] https://www.wsj.com/articles/continental-buys-sensor-technology-for-self-driving-cars-1457042039
[73] https://www.reuters.com/article/us-continental-bosch-idUSKBN18R17H
[74].https://www.continental-corporation.com/en/press/press-releases/continental-and-nio-sign-strategic-cooperation-agreement-in-the-field-of-electric-vehicles-64132
[75] https://www.ericsson.com/en/press-releases/2017/1/2068705-ericsson-orange-and-psa-group-to-partner-on-5g-connected-car
[76] http://www.businesswire.com/news/home/20160414006039/en/PSA-Group-Autonomous-Cars-Drive-Paris-Amsterdam
[77] http://en.yutong.com/pressmedia/yutongnews/2015/2015IBKCFbteUf.html
[78] http:/ss/www.magna.com/media/press-releases-news/releases-news/2016/12/20/joint-news-release—ces-2017–magna-and-innoviz-partner-on-lidar-for-autonomous-driving-systems
[79] http://www.autonews.com/article/20170322/COPY01/303229950/magna-sharpens-focus-on-camera-production-for-autonomous-vehicles
[80] http://ir.mobileye.com/investor-relations/press-releases/press-release-details/2015/Valeo-and-Mobileye-sign-a-unique-technology-cooperation-agreement/default.aspx
[81] http://www.marketwatch.com/story/valeo-wheego-to-test-self-driving-cars-in-calif-2016-10-07
[82] http://www.car-engineer.com/the-valeo-autonomous-vehicle/
[83] https://www.cbinsights.com/blog/autonomous-driverless-vehicles-corporations-list/
[84] http://www.thedrive.com/tech/8930/daimler-and-bosch-team-up-on-self-driving-cars
[85] https://venturebeat.com/2017/04/04/mercedes-and-bosch-to-launch-driverless-taxis-by-beginning-of-the-next-decade/
[86] https://www.nytimes.com/2017/04/14/technology/apple-self-driving-car-permit.html
[87] http://www.news18.com/news/tech/apple-outlines-autonomous-vehicle-plans-hints-at-a-self-driving-platform-1380597.html
[88] https://www.forbes.com/sites/jaysomaney/2017/04/15/dmv-permit-will-require-apple-to-shed-light-on-plans-regarding-autonomous-vehicle-technology/#b05bcb83815d
[89] http://www.businessinsider.com/microsoft-is-approaching-self-driving-cars-in-a-unique-way-2016-6?IR=T
[90] https://www.theverge.com/2016/6/3/11850214/microsoft-self-driving-car-software
[91] https://www.theverge.com/2016/1/5/10708180/harman-microsoft-office-365-infotainment-update-ces-2016
[92] http://www.cnbc.com/2017/03/14/intels-15-billion-purchase-of-mobileye-shakes-up-driverless-car-sector.html
[93] https://waymo.com/
[94] https://www.cbinsights.com/blog/autonomous-driverless-vehicles-corporations-list/
[95] https://www.usatoday.com/story/tech/news/2016/05/03/google-fiat-ink-deal-make-100-self-driving-minivans/83877878/
[96] http://www.thedieseldriver.com/2017/05/lyft-and-alphabets-waymo-reach-deal-to-partner-on-self-driving-cars/
[97] https://techcrunch.com/2017/03/16/nvidia-partners-with-paccar-on-self-driving-truck-tech/
[98] https://www.theverge.com/2017/5/1/15500134/samsung-approved-test-self-driving-car-south-korea-hyundai
[99] https://news.samsung.com/global/samsung-electronics-completes-acquisition-of-harman
[100] http://autopartsasia.in/2016/12/16/tata-elxsi-showcases-advanced-automotive-technology-solutions-ces-2017/
[101] http://www.tataelxsi.com/whats-new/press-releases/Tata%20ElxsiAutonomaidriverlesscarplatformselectedbyleadingOEM.html
[102] http://www.zdnet.com/article/huawei-eyes-self-driving-cars-report/
[103] http://www.huawei.com/en/news/2017/2/Huawei-Vodafone-Future-Connected-Car-experience
[104] http://usa.baidu.com/adu/
[105] http://www.caixinglobal.com/2017-03-27/101071002.html
[106]https://www.bloomberg.com/news/articles/2016-09-18/exec-most-lyft-rides-will-be-in-autonomous-cars-in-5-years
[107] https://techcrunch.com/2016/03/14/lyft-gm-express-drive/
[108] https://www.nytimes.com/2017/05/14/technology/lyft-waymo-self-driving-cars.html?_r=0
[109] http://fortune.com/2017/02/17/gm-lyft-chevy-bolt-fleet/
[110] https://www.recode.net/2017/3/16/14938116/uber-travis-kalanick-self-driving-internal-metrics-slow-progress
[111]https://www.ft.com/content/736b1f1c-6534-11e6-8310-ecf0bddad227
[112] https://www.recode.net/2016/8/18/12540068/uber-paid-680-million-for-self-driving-truck-company-otto-for-the-tech-not-the-trucks
[113] https://www.forbes.com/sites/amitchowdhry/2015/03/04/uber-acquires-decarta/#7cd917056ef3
[114] http://www.autofocus.ca/news-events/news/uber-launches-autonomous-car-research-hub-in-toronto
[115] https://mobilecloudera.com/ridecells-path-from-ride-share-to-autonomous-vehicles/
[116] https://motiondigest.com/2017/03/15/ridecell-and-auro-robotics-autonomous-meets-new-mobility-services/
[117] https://techcrunch.com/2016/05/17/tesloop-offers-city-to-city-autonomous-travel-in-a-tesla/
[118] http://www.futurecar.com/article-1001-1.html
[119] http://www.businessinsider.in/Google-is-partnering-with-Ford-to-build-self-driving-cars/articleshow/50276327.cms
[120] https://www.nytimes.com/2016/04/28/business/ford-and-google-team-up-tosupport-driverless-cars.html
[121] http://www.nvidia.com/object/tesla-and-nvidia.html
[122] https://seekingalpha.com/article/4011506-nvidia-tesla-partnership-huge-win
[123] http://ir.mobileye.com/investor-relations/press-releases/press-release-details/2016/BMW-Group-Intel-and-Mobileye-Team-Up-to-Bring-Fully-Autonomous-Driving-to-Streets-by-2021/default.aspx
[124] https://techcrunch.com/2017/05/16/bmw-intel-and-mobileye-bring-delphi-in-on-their-self-driving-platform/
[125] http://thenewswheel.com/toyota-partners-with-microsoft-to-form-data-science-company/
[126] http://fortune.com/2016/04/04/toyota-microsoft-data/
[127] https://blogs.microsoft.com/firehose/2017/03/22/toyota-is-first-partner-in-microsoft-intellectual-property-licensing-program-for-connected-cars/#sm.0000jqoqgp164qe31rfk5227l17ky
[128] http://tech.firstpost.com/auto/audi-bmw-and-daimler-launch-5g-telecom-association-with-technology-firms-337701.html
[129] http://tech.firstpost.com/auto/audi-bmw-and-daimler-launch-5g-telecom-association-with-technology-firms-337701.html
[130] https://techcrunch.com/2017/01/30/gm-and-honda-partner-to-mass-produce-hydrogen-fuel-cells-in-michigan/
[131] http://www.reuters.com/article/us-gm-honda-idUSKBN15E1WM
[132] http://www.reuters.com/article/us-gm-lyft-investment-idUSKBN0UI1A820160105
[133] https://www.theverge.com/2016/1/4/10706250/gm-lyft-driverless-cars-ride-sharing-investment
[134] https://www.media.volvocars.com/global/en-gb/media/pressreleases/194795/volvo-cars-and-uber-join-forces-to-develop-autonomous-driving-cars
[135] http://fortune.com/2017/05/22/toyota-mit-blockchain-driverless-cars/
[136] http://news.mit.edu/2015/csail-toyota-25-million-research-center-autonomous-cars-0904
[137] http://fortune.com/2017/05/22/toyota-mit-blockchain-driverless-cars/
[138] https://www.wired.com/2015/01/nasa-nissan-join-forces-build-self-driving-vehicles-earth-space/
[139] https://www.nasa.gov/ames/image-feature/nissan-test-drives-nasa-space-technology-for-use-in-driverless-cars
[140] https://www.continental-corporation.com/en/press/press-releases/continental-strategically-cooperates-with-baidu-to-further-develop-intelligent-mobility-64142
[141] http://robohub.org/bosch-and-nvidia-partner-to-develop-ai-for-self-driving-cars/
[142] https://www.therobotreport.com/news/bosch-and-nvidia-partner-to-develop-ai-for-self-driving-systems
[143] https://www.wired.com/2017/04/detroit-stomping-silicon-valley-self-driving-car-race/
[144] https://www.forbes.com/sites/joannmuller/2016/08/18/meet-the-four-start-ups-helping-ford-develop-a-robo-taxi-by-2021/#6be52b3972d7
[145] http://www.cnbc.com/2017/01/03/ford-canceling-plans-for-16-billion-plant-in-mexico-investing-700-million-in-michigan-expansion-instead.html
[146] http://www.reuters.com/article/us-gm-lyft-investment-idUSKBN0UI1A820160105
[147] http://fortune.com/2016/03/11/gm-buying-self-driving-tech-startup-for-more-than-1-billion/
[148] http://nissannews.com/en-US/nissan/usa/releases/nissan-and-nasa-partner-to-jointly-develop-and-deploy-autonomous-drive-vehicles-by-end-of-year
[149] http://www.autonews.com/article/20161018/OEM06/161019861/renault-nissan-creates-tech-division-to-accelerate-mobility-push
[150] https://venturebeat.com/2017/04/25/mobileye-nissan-crowdsourced-data/
[151] https://techcrunch.com/2017/02/18/ford-invests-in-pittsburgh-based-argo-ai-to-build-self-driving-cars-by-2021/
[152] https://www.forbes.com/sites/greatspeculations/2017/02/27/heres-why-ford-is-investing-in-argo-ai/#5e993ed9250a
[153] https://techcrunch.com/2017/03/13/reports-intel-buying-mobileye-for-up-to-16b-to-expand-in-self-driving-tech/
[154] http://fortune.com/2017/03/13/why-intel-bought-mobileye/
[155] http://fortune.com/2016/03/11/gm-buying-self-driving-tech-startup-for-more-than-1-billion/
[156][156] https://www.wired.com/2016/08/gm-cruise-automation-self-driving-vogt/
[157] http://www.lear.com/Press-Room/4279/lear-acquires-arada-systems-a-leading-automotive-technology-company-that-special.aspx
[158] http://www.reuters.com/finance/stocks/LEA.N/key-developments/article/3305405
[159] https://www.cmu.edu/news/stories/archives/2015/august/spinoff-acquired.html
[160] http://investor.delphi.com/investors/press-releases/press-release-details/2015/Delphi-Positions-for-Strong-Growth-with-Acquisitions-and-Investments-Expands-Capabilities/default.aspx
[161] https://www.fool.com/investing/2016/12/06/5-things-ambarella-inc-management-wants-you-to-kno.aspx
[162] http://investor.ambarella.com/releasedetail.cfm?releaseid=920364
[163] https://www.photonics.com/Article.aspx?AID=57574
[164] http://www.eetimes.com/document.asp?doc_id=1327663
[165] http://www.businesswire.com/news/home/20150909006819/en/Freescale-Accelerates-Solutions-Crashless-Autonomous-Vehicles-Acquisition
[166] https://www.theverge.com/2016/9/19/12981448/self-driving-car-guidelines-obama-foxx-dot-nhtsa
[167] https://www.nytimes.com/2016/09/20/technology/self-driving-cars-guidelines.html?_r=0
[168] http://www.businessinsider.com/congress-begins-work-on-self-driving-car-law-2017-2?IR=T
[169] http://www.genre.com/knowledge/publications/cmint16-1-en.html
[170] http://media.genre.com/documents/cmint16-1-en.pdf
[171] http://www.channelnewsasia.com/news/singapore/regulations-in-place-to-ramp-up-driverless-vehicle-trials-in-sin-7622038
[172] https://www.bloomberg.com/news/articles/2016-07-19/china-bans-highway-testing-of-autonomous-cars-pending-regulation
[173] http://asia.nikkei.com/Politics-Economy/Policy-Politics/Japan-working-on-law-aimed-at-governing-autonomous-vehicles
[174] http://spectrum.ieee.org/cars-that-think/transportation/self-driving/the-2578-problems-with-self-driving-cars
[175] https://www.mot.gov.sg/Transport-Matters/Motoring/Driverless-vehicles–A-vision-for-Singapore-s-transport/
[176] https://www.forbes.com/sites/janetwburns/2016/09/08/japanese-leaders-aim-to-make-tokyo-a-self-driving-city-for-2020-olympics/#6e8959561090