Who's Leading the Alternative Proteins Industry?
Alterations in consumer behavior and an increased interest in alternative protein sources have paved the way for expansion in the alternative protein industry. Furthermore, in 2021, the global alternative proteins market was valued at $14.76 billion and is expected to grow and reach $37.64 billion by 2030 with a CAGR of 11.1%.
In 2021, North America held the highest market share, 34.9%, out of the global alternative proteins market. During the forecast period, it is anticipated that the European alternative food market will grow rapidly due to the rapid development in the number of food producers with sustainable supply chains. (Source)
Global Alternative Proteins Market Size during 2021-2030 ($Billion)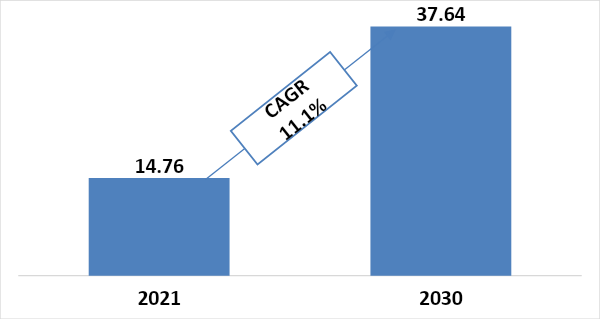 Plant protein, insects, mycoprotein, and cultured meat have become the leading alternative protein sources in this domain. (Source)(Source) Out of these, plant protein is expected to emerge as the dominant alternative due to its reputation as a healthier option and comparatively lower environmental footprint.
As the alternative protein market continues to expand, opportunities for innovation lay open. While pioneering companies and startups are already capitalizing on this trend, there's always room for more disruptors. If you want to be the next 'disruptor' in this space, our article provides innovative solutions to the challenges facing the alternative protein market.
And, if you're unsure where you can fit into the picture, allow us at GreyB to present your potential collaborators and toughest competitors. Eventually, you can leverage these insights to get a stronghold in the market.
Apart from Alt Protein, are you interested in other Food Tech Trends in 2023? Fill out the form below to get the exclusive Trends report:
Advantages of Using Alternative Proteins
Rise In Per Capita Income of The Consumers – The increase in the per capita income resulted in an increasing demand for dietary intake both for humans and animals. The human body cannot produce nine essential amino acids supplemented through dietary intake. Therefore, any food that contains these nine amino acids is a complete source of protein. Further, the high amino acid and vitamin content of plant-based proteins alternative protein is also a valuable source for animal feed that has emerged as a concern worldwide. It has increased the market share of the alternative proteins market. (Source)(Source)
Maintaining Sustainability – Consumer focus on sustainability, growing health concerns, and a desire for exceptional flavor in meat analogs are a few reasons boosting demand for meat analogs, which is predicted to impact the alternative protein market growth positively. Texturized vegetable proteins have an elastic, spongy texture and various other textural features that make them suitable for use in meat mimic products. Furthermore, meat analogs have a longer shelf life and are safer than meat products. Hence, they are employed in various food products, which boosts the market growth of alternative proteins. (Source)
Challenges of Alternative Proteins
Compliance With Stringent Regulatory Requirements – There is a lack of regulatory guidance regarding edible insects in the food industry. Consumption of edible insects varies from person to person. It slows the growth of insect-based protein growth. Furthermore, allergies connected with various alternative proteins, such as plant-based and insect-based proteins, are limiting market expansion. Secondly, strict regulatory compliances for the livestock industry are limiting market expansion. Despite the availability of a wide range of proteins on the market, not all are safe for use in the livestock business. It results in significant investments in alternative proteins for various animals. (Source)
Top Companies in the Alternative Proteins domain
1. ADM
Based in the United States, ADM is a global human and animal nutrition provider. The company markets non-GMO (genetically modified organism) vegetable protein ingredients in the meat alternative, protein bars, candy, pet food, pharmaceutical, and animal feed sector. It also offers several high-value products made from soy, such as textured flour, soy protein concentrate, and soybean lecithin.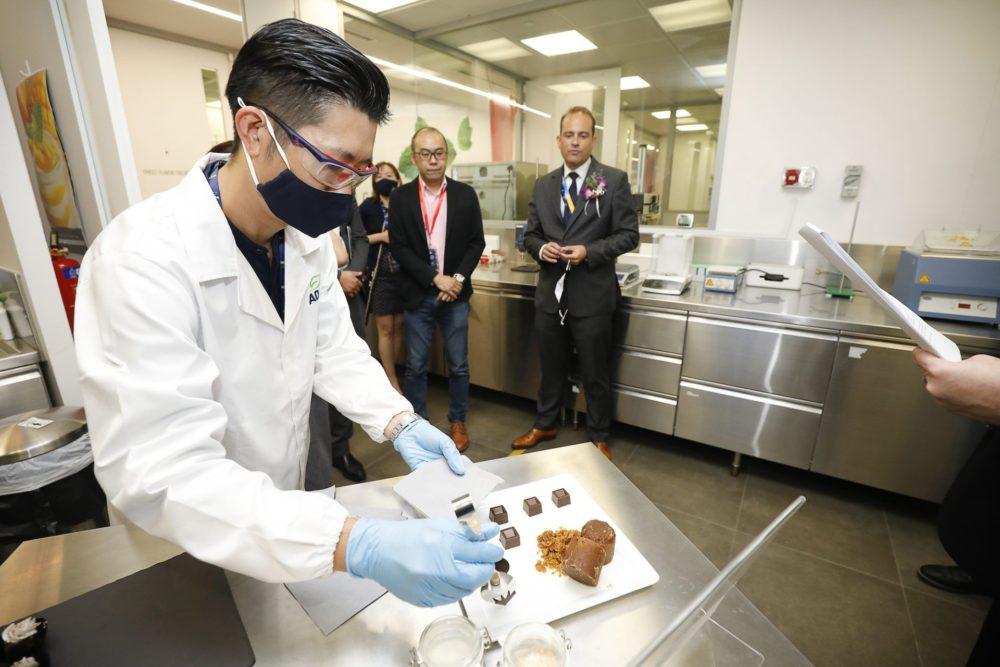 In 2021, ADM unveiled a plant-based innovation lab in Singapore to invent new food and beverages in the Asia-Pacific region. (Source)(Source)
Important Collaborations
In 2020, the company collaborated with Mafrig to launch PlantPlus Foods to market plant-based food products in South America and North America. ADM gave various plant-based ingredients, flavors, and mechanisms, along with their technical knowledge and application development. (Source)(Source)
2. Cargill
Cargill is a global supplier of agriculture, food, financial, and industrial products and services. With the help of this company's plant proteins, formulators make foods that taste and feel good to the consumer and have better nutritional profiles.
In 2020, the company launched a plant-based protein consumer brand in China named PlantEver™ that offers a beef-alternative patty and a chicken-alternative nugget. (Source)(Source)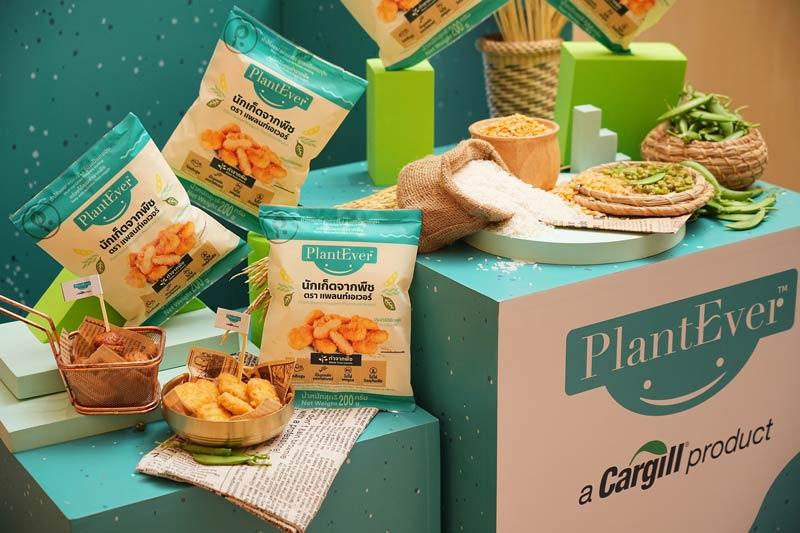 Important Collaborations
In 2022, Cargill, Bühler, and Givaudan partnered to work together to assist in speeding up innovative plant-based protein start-ups. Start-up enterprises that participate in the program by registering and submitting their idea will have the opportunity to gain exposure within the larger plant-based protein ecosystem and network and cooperate with others on a path similar to theirs. (Source)
3. Lightlife Foods
Lightlife Foods, headquartered in the United States, is one of the leading brands of refrigerated alternative protein. It is a plant-based food firm that researches, develops, manufactures, and markets vegetarian and soy products. Tempeh, burgers, sausages, hot dogs, breakfast meats, deli meats, and vegan ground beef are some examples of the plant-based meat substitutes it offers.
In 2018, the company expanded its operations into Canada and began marketing its most popular items in the Canadian market. (Source)(Source)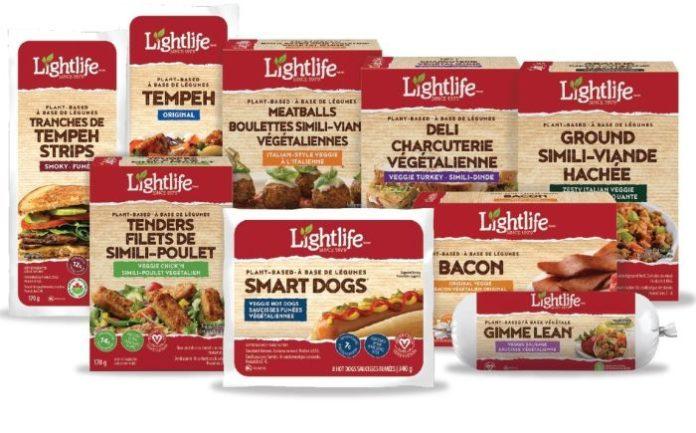 Important Collaborations
In 2021, the company entered into a partnership with Whole Foods Market to provide the supermarket chain with the company's whole-muscle pea protein chicken for use in prepared foods. Lightlife Plant-Based Chicken was added to the prepared foods section of Whole Foods Market stores, where it was used in various recipes for hot bars, cold salad bars, and grab-and-go dishes. (Source)(Source)
4. Impossible Foods
Impossible Foods is a company that is focused on developing alternative protein sources that are sustainable, ethical, and environmentally friendly. The company discovered that a molecule called heme is primarily responsible for the taste and aroma of cooked meat.
Heme is found in both animal and plant cells, and the company uses a plant-based heme protein called leghemoglobin to give their burgers a meaty flavor. The safety of soy leghemoglobin was thoroughly analyzed through multiple allergenicity and toxicology studies, confirming its safety for consumption. The company also emphasizes the need to understand the long-term health impacts of eating meat. And the importance of developing sustainable and ethical food options.
In addition to leghemoglobin, Impossible Foods has developed a range of other plant-based proteins and ingredients to create meat substitutes with a similar taste, texture, and nutritional profile to meat. The company's products are designed to appeal to both vegetarians and meat-eaters who are looking for more sustainable and ethical food options.
Impossible Foods has extensively researched the sensory properties and the nutritional and environmental impacts of meat consumption. This research has informed the company's approach to creating plant-based meat substitutes designed to closely mimic the taste and nutritional profile of meat while using far fewer resources and causing far less environmental damage. Overall, Impossible Foods' research on alternative protein has focused on developing sustainable and ethical food options that can help reduce the environmental impact of meat consumption while still providing consumers with meat's taste and nutritional benefits. (Source)(Source)
Important Collaborations
Impossible Foods has formed partnerships with organizations and businesses to further its sustainability and ethical goals.
One notable partnership is with Burger King, where the Impossible Burger is sold as the Impossible Whopper in select locations. This partnership aims to make plant-based options more widely available and accessible, helping reduce the environmental impact of the food industry. (Source)
Another partnership is with Starbucks, where select locations offer the Impossible Breakfast Sandwich. This partnership aims to offer more sustainable and ethical food options and provide consumers with a plant-based breakfast option. (Source)
Impossible Foods has partnered with several universities and research institutions to further its research on alternative proteins and their environmental and nutritional benefits.
The company has partnered with various non-profit organizations, such as the World Wildlife Fund and the National Resource Defense Council. With this partnership, they aim to support environmental conservation and sustainability efforts. These partnerships reflect the company's commitment to positively impacting the planet and creating a more sustainable and ethical food system.
Alternative Proteins Startups
1. TurtleTree
TurtleTree, based in Singapore, generates milk components that benefit the world, animals, and users by deploying its proprietary, cell-based technology. Cell samples are collected from animals and allowed to develop in a special growth medium. The cells eventually produce dairy components, which are then processed. The cultivated dairy is then produced and ready for sale. (Source)(Source)
---
Cell-based Technology Process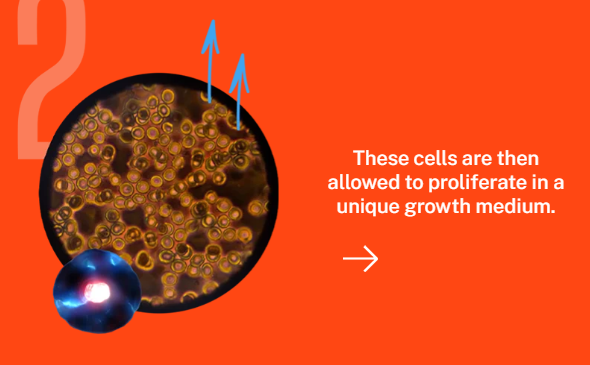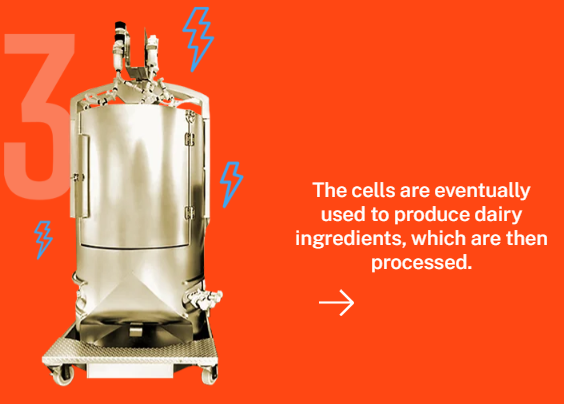 Mergers, Acquisitions, and Collaborations
In 2021, TurtleTree and Solar Biotech partnered to address the issue of developing technologies needed to scale up the bio-manufacturing process. TurtleTree would deploy Solar Biotech's fully solar-powered biomanufacturing technology and facilities to scale production and reduce costs. (Source)
2. Next-Gen Foods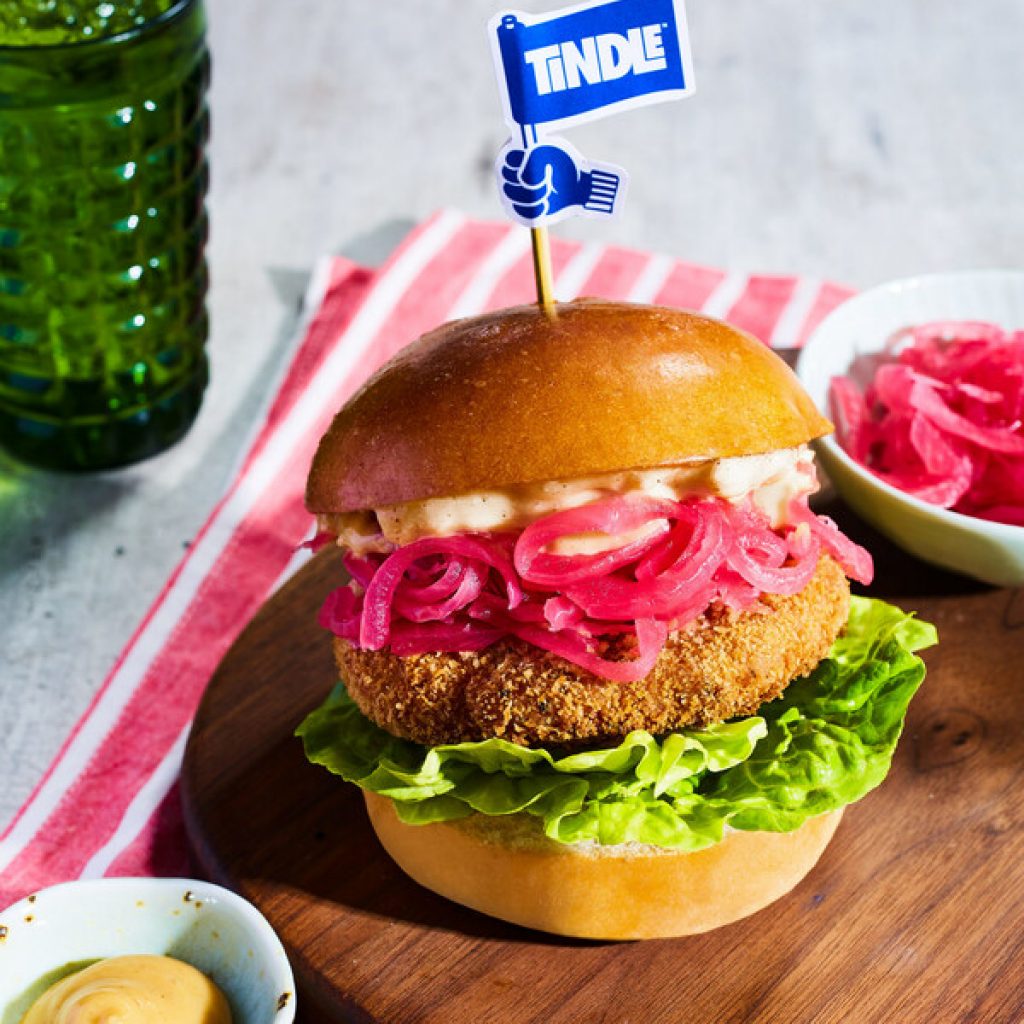 Next-Gen Foods, headquartered in Singapore, focuses on producing TiNDLE, a plant-based chicken. The chicken-based alternative they provide is still a mostly untapped market. The company provides a sustainable business strategy that employs environmentally friendly materials and components.
Along with chicken products, it intends to offer additional plant-based meat substitutes. The company is currently in its infancy and early phases of development. (Source)
Mergers, Acquisitions, and Collaborations
In 2021, Next-Gen Foods partnered with the Food Tech Innovation Centre (FTIC), a company wholly owned by Temasek, to launch its first global R&D and innovation center in Singapore. FTIC will house Next-Gen Foods' full-time R&D and technology teams based in Singapore, with ambitions to expand its R&D team next year. (Source)
3. Growthwell Foods
Growthwell Foods, headquartered in Singapore, emphasizes on plant-based, meat-free lifestyle. The foods are high in protein, which is necessary for developing and strengthening immunity. By incorporating plant-based innovation into vibrant food cultures, the firm develops a healthier, more sustainable food system that values the body, culinary traditions, and the environment.
In 2021, this firm opened an Innovation and R&D Manufacturing Centre, a fully automated large-scale plant-based production facility. Every year, the cutting-edge facility produces 2,000 tonnes of alternative protein products. (Source)(Source)
HAPPIEE! – Growthwell Foods' Plant-Based Chicken and Fish Range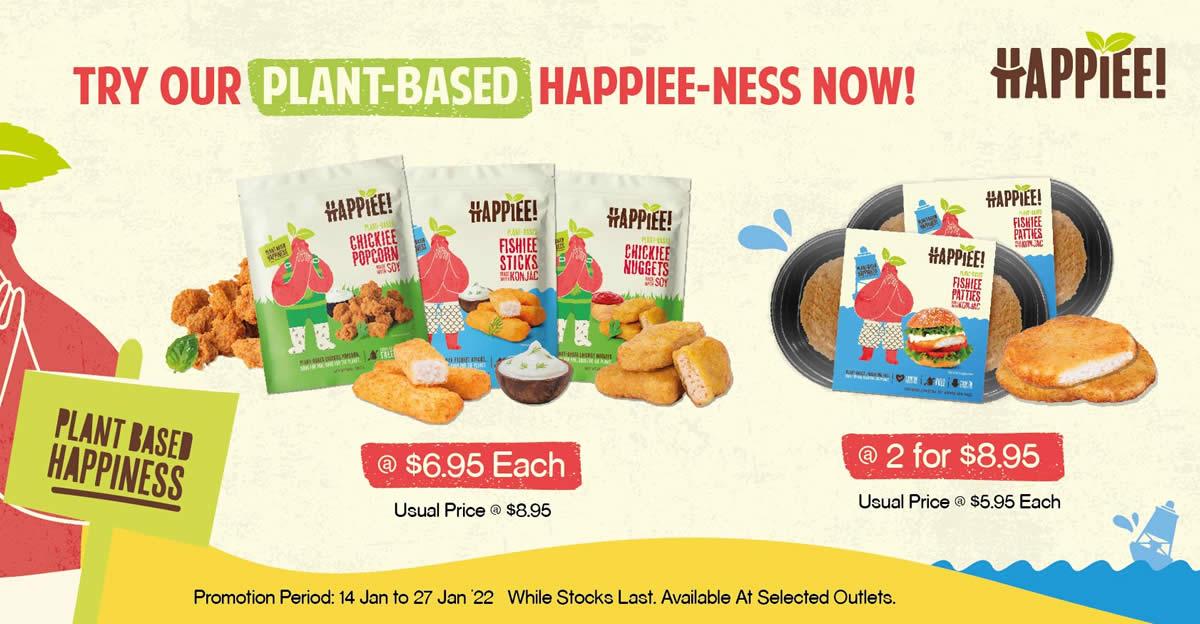 Mergers, Acquisitions, and Collaborations
In 2021, Growthwell Foods partnered with a premium food supplier, Indoguna. The partnership was part of the company's goal to feed 100 million people with its plant-based options. After the partnership with Indoguna, Growthwell's new vegan seafood was made available in hotels, cafés, and restaurants across the Middle East and Southeast Asia. (Source)
4. Shiok Meats
Shiok Meats, headquartered in Singapore, is a cell-based meat and seafood startup revolutionizing the shrimp market. This firm develops the same flavors by cultivating meat and seafood cells in nutrient-rich environments while minimizing environmental impact. It utilizes 3D printing to give texture to synthetic shrimp meat made from isolated stem cells, mimicking the flavor and texture of real meat. (Source)(Source)(Source)
Cultivated Meats And Seafood Making Process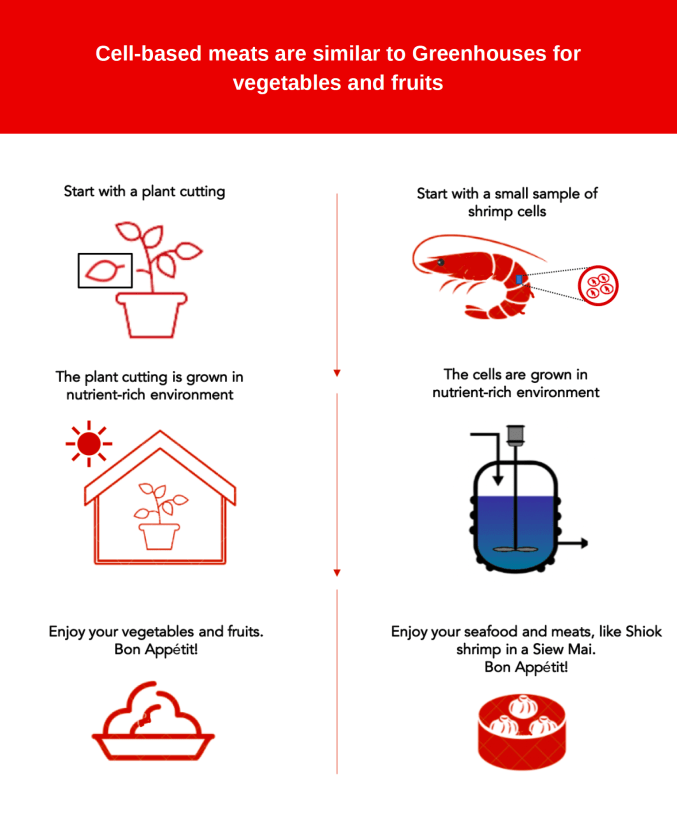 Mergers, Acquisitions, and Collaborations
In 2021, Shiok Meats acquired Gaia Foods to expand into red meat and broaden its product line beyond cell-cultured crustacean meat. The goal of Shiok Meats was to get the technical team from Gaia Foods on board, so they could continue to develop their cellular red meat products. The acquisition aligned with Shiok Meats' expansion strategy, which aimed to rapidly broaden the company's product line to reach the cell-based meat technology markets. (Source)
5. Avant
Avant, headquartered in Hong Kong, has a patent-pending unique biotechnology platform to develop animal-free fish proteins from fish cells in a cost-effective and fully traceable bioprocess. The technique enables companies to produce meat and animal proteins without raising, capturing, or slaughtering animals. Its cell cultivation technology for meat production can save natural resources for the ecosystems while assisting malnourished populations. It also reduces waste and public health hazards related to breeding animals for food. (Source)(Source)
The Process
Mergers, Acquisitions, and Collaborations
In 2022, Avant Meats partnered with QuaCell, enabling a 90% decrease in production costs. This new collaboration quickened its scale-up goals, lowering the startup's schedule for bringing its spectrum of cell-based proteins to the market. (Source)
"The race for cost reduction amongst cultivated meats companies has entered a new phase. With this partnership, we can leapfrog into a larger scale sooner and can make a better CapEx plan ahead." – Carrie Chan, Co-Founder & CEO, Avant Meats.
Conclusion
The market for alternative proteins is expanding and becoming mainstream. For example, Singapore became the first country to allow the sale of lab-grown meat to consumers, and the US Food and Drug Administration confirmed for the first time that a lab-grown meat product is safe to eat. (Source)(Source)
FutureBridge Senior Analyst Ed Bergen believes that if policy and regulation are eased, they will play a significant role in 2023 to speed up the commercialization of cultivated meat. For you, this means a chance to be at the forefront of this rapidly growing domain, driving innovation and shaping this industry's future.
However, navigating the rapidly evolving landscape of alternative proteins can be challenging, especially while balancing other crucial tasks. That's where GreyB steps in.
GreyB, with its expertise in understanding the latest technologies and market trends, allows you to focus on your core business tasks, and we handle the rest.
So why not take advantage of this opportunity and let GreyB help you succeed in the world of alternative proteins?