Top Players Innovating in Nano Photovoltaic Cells Domain
The push to develop solar cells with higher efficiency and lower manufacturing cost has never been more urgent than today when the climate changes are escalating. The Sun in an hour provides energy to the earth which we human consume in an entire year. If we capture only 1/1000th part of the solar energy striking the Earth, we could have six times more energy that we consume is all forms today.
Nanotechnology which reduces size and improves manufacturing methods has taken the whole science world by storm and solar cells are not left untouched. The nano photovoltaic cells built by MIT, for example, can produce 1000 times more power than conventional PVs.
The use of nanotechnology in photovoltaic cells can help us overcome the barrier of current photovoltaic cells which can barely compete with fossil fuels. It will facilitate manufacturing of 3rd gen PV cells using cheaper material like Silicon and titanium oxide.
Though there are limitations in manufacturing nano material but, the research going on in the field is encouraging which, in this study, we have tried to gauge.
This article is a part of our in-depth technology landscape analysis on solar cells (specifically about nano-photovoltaic solar cells). For your ease, we have divided the entire analysis into 4 major parts, each covering a big aspect of this industry. You can jump on the part that is most relevant to you using this menu below:
Who's Innovating In Nano Photovoltaic Cells Domain
In case if you're interested in getting your hands on the entire analysis in one single PDF (you can save it for offline reading or for sharing ahead with relevant people), you can download it from here.
The Research Trend in Nano Photovoltaic Cells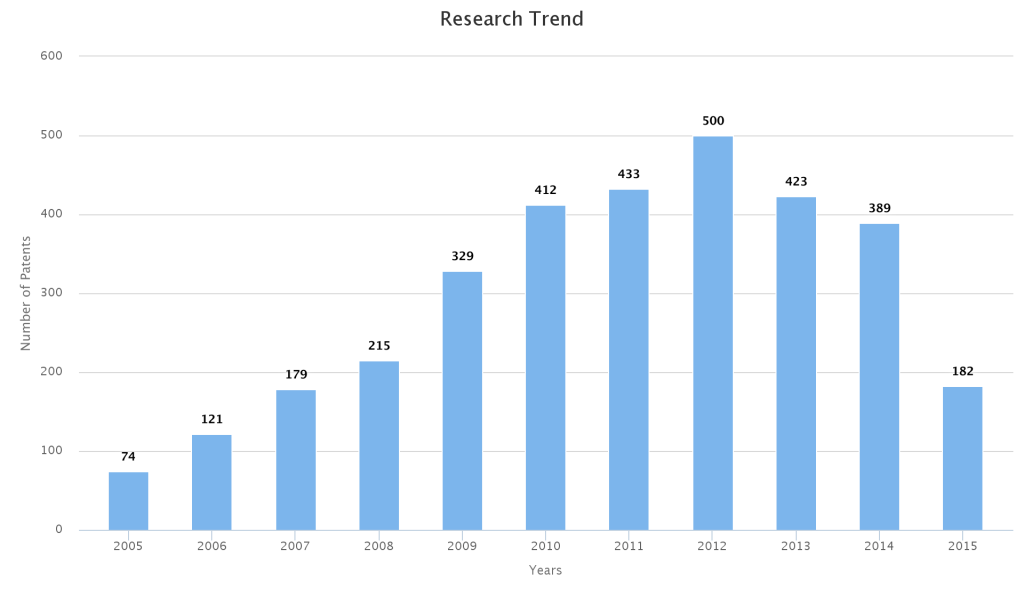 The chart above represents the research trend in the domain. You can see that since 2006, the research in the domain of nano photovoltaic cell has been increasing in a regular fashion. It happened because tech giants with the likes of Samsung, LG, Bosch, Merch and Schott joined over the period of time and spent millions in the R&D.
Please don't get confused with the fall in the number of patent filings in the year of 2013, 2014 and 2015. It is there because a large number of patents filed in these years haven't been published yet. However, looking at the historical trend, we can expect 750-800 patents filed last year. Well, that's almost two patents per day.
The Top Companies Researching in Nano Photovoltaic Cells Domain
Merck, LG, Samsung & BASF are the top companies researching in the Nano PV cells. In order to figure out what exactly they are doing, we looked at their patents filed in the domain. The insights revealed are as follows: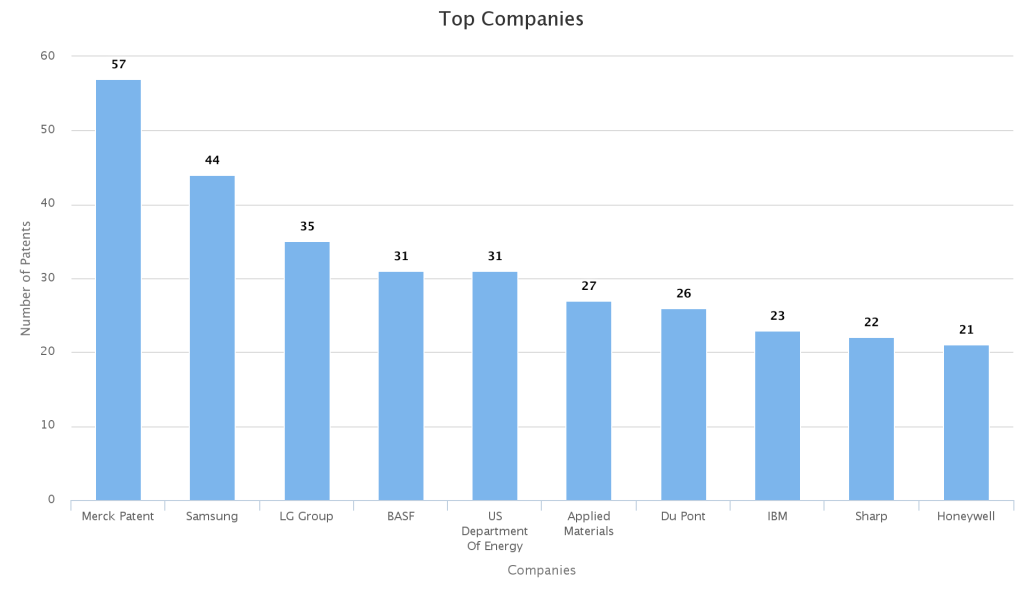 Merck and BASF
Being research-oriented companies, patent filings of Merck & BASF represent them focusing on developing materials which can be used in Nano technology PV cells. Most of their research work seems to be focused to develop polymers for Nano technology PV cell.
Merck, however, is way ahead than BASF when comes research and patent filing. In the future, hence, Merck may emerge as the biggest manufacturer of Nano technology PV cells. Merck, after 2011, became more active it tied up with Nano-C Inc to develop new-generation materials for organic photovoltaic.
BASF is also developing new materials based on dyes and semiconductors for next-generation photovoltaic technologies. It also has developed Organic Photovoltaic –flexible and transparent solar cells.
LG and Samsung
LG and Samsung are researching to manufacture PV cell based on nano-materials for their components. LG specifically is focusing on developing novel methods to manufacture PV cell, whereas Samsung is focusing on electrodes.
In the recent times, however, Samsung was less active as can be seen by its patent filing. Therefore, LG may take a lead over Samsung, even though it has fewer patents than Samsung. We believe, we can expect some efficient low-cost nano-technology PV cell in the market by LG.
LG has planned to target the market for PV cells used in solar power plants, buildings and public displays with an aim to eventually expand into solar cells at nano level for mobile displays and automobiles.
Samsung and MIT are developing Photovoltaic (PVs) based on tiny colloidal quantum dots. It can be manufactured in a room-temperature process, saving energy and avoiding complications associated with high-temperature processing of silicon and other PV materials.
Authored by: Sushant Kumar, Senior Research Analyst, Concept Hacking and Sonu Saini, Junior Research Analyst, Concept Hacking
---
Access Other Parts of The Series:
Top Companies Filing Patents in Nano Photovoltaic Cell Technologies