With solar now cheaper than oil, what future holds for nano photovoltaic cells?
This article is a part of our in-depth technology landscape analysis on solar cells (specifically about nano-photovoltaic solar cells). For your ease, we have divided the entire analysis into 4 major parts and you can jump on the part that is most relevant to you using this menu below:
Solar Now Cheaper Than Oil, What Future Holds For Nano Photovoltaic Cells
In case if you're interested in getting your hands on the entire analysis in one single PDF (you can save it for offline reading or for sharing ahead with relevant people), you can download it from here.
This post is focused majorly on future aspects of nanotechnology in the photovoltaic cell domain and what the major companies from this domain are up to.
Due to depleting world petrochemical and coal reserves, demand for renewable energy is rising continuously. The market size, investment and rise of PV cell in the near future is expected to boom. The data from following researches support this fact:
Market Coverage of Top companies of Nano PV Cells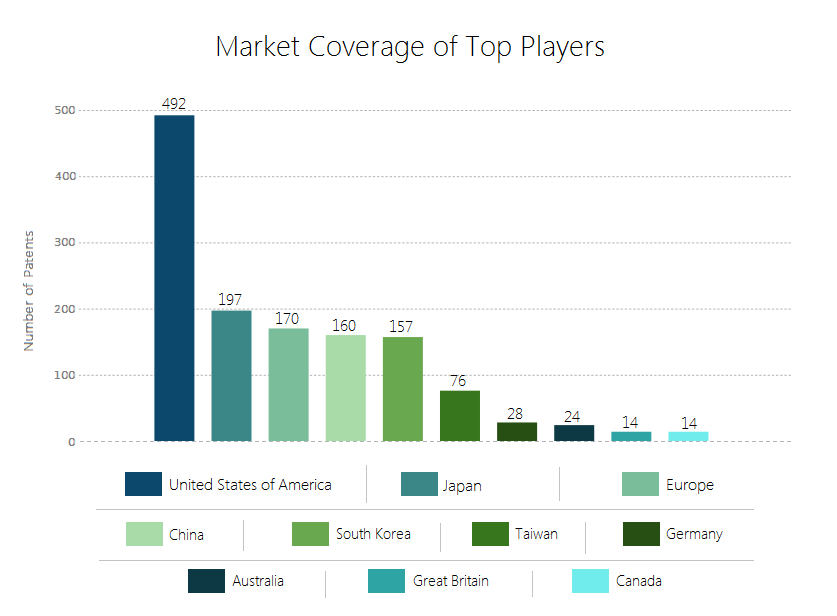 Also, it has been observed that many new companies, with completely different core competencies, are active in the Nano PV cell.
In the last five years, if you look at the patent filing data, a large part of total filing is done by companies like Mitsubishi Group, Fujifilm Corporation, Sunpower Corporation, Dow Global Technologies, IBM and 3M Innovative Properties. IBM, for example, has developed a method for electricity-less water disinfection using photovoltaic cell.
The patent filing data indicates the US as the top market but the market analysis narrates a different story of China, as the largest producer of solar electricity.
This is interesting as in Germany, comparatively less research has been conducted on nano-solar cells but it's still the top solar electricity producing country. This could be taken as another metric to build IP in this country.
Japan, as per the patent filing data, is the second most lucrative market. Japanese researcher recently came up with a breakthrough  to produce high-quality mono-silicon at extremely low costs. The new single-seed cast method can grow a single crystal from a small seed crystal making the whole system cheaper than ever. Japan is followed by Europe and China at third and fourth spot respectively.
The Indian and South African markets are expected to have great potential as these countries have a geographical advantage in terms of solar energy production. India is already trying to catch up major countries in solar power generation capacities and has significantly less IP which means that entering this market is fairly easy that holds good opportunities for new companies.
Challenges to Overcome
The domain of Nano Photovoltaic cell, like every other technological domain, has its own set of challenges to overcome. Some of which are as follows:
One of the key challenges is to bring down the higher manufacturing cost of nanotechnology photovoltaic cell.
Another challenge is to increase the efficiency of the nano photovoltaic cell  for which researchers have suggested the use of quantum dots in nano PV Cells.
 At present, the market coverage and research trends are concentrated on few geographical areas. There is little or almost no research is going on in the African region, which on average receives more sunlight, due to lack of infrastructure. This isn't a technological challenge, however, needed to be overcome.
Authored By: Sushant Kumar, Senior Research Analyst,  Patent Landscape and Sonu Saini, Research Analyst, Prior Art