NIO Business Model: Aiming for Apple Like Ecosystem
Touted as "The Tesla of China", NIO is a fast-growing Chinese automaker that designs and manufactures Smart High-Performance Electric Vehicles.  
Founded in 2014, the Shanghai-based company went public in September 2018 and its fluctuating market cap reached the peak of 96.57 Billion USD in January 2021. 
The company's Chinese name Weilai — which means "Blue Sky Coming" — represents the company's mission to bring its users the freedom of time through its autonomous driving solutions and premium electric vehicles.
NIO is also researching motors, batteries, and fast-charging, along with its autonomous driving solutions. The company strives to become a  premium EV carmaker to continue providing customer service even after selling the car.
It doesn't stop at that. NIO knows that to grow further, the young company would have to expand its horizons, and for that reason, it has also established its footprints in the US and Europe. 
Does NIO have a plan and how does the company's future look like? 
Digging into the company's motives and going through information like its research activities, insights from its patent portfolio, major partnerships, and financial information can unearth some clues. 
But before we go ahead, let's have a look at the opportunity in hand for NIO in the Chinese Premium EV market.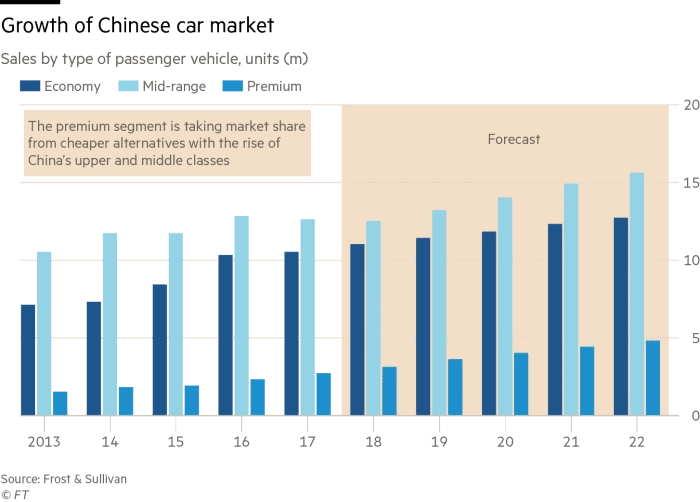 Source: FT
The above chart illustrates the growth of the Chinese car market over the past few years. These numbers indicate NIO has a good opportunity in hand to capture the premium EV Market given the limited number of players.
The company has traveled a great distance. 
Let's now anticipate NIO's future move and its position in the EV Market by analyzing its Financial condition, research activities, and how it is collaborating with other companies to shine bright where companies like Tesla are present. 
What do NIO's Finances look like? 
Since NIO works in a domain that has a high cash-burn rate, having sturdy finances is pretty crucial for a company to sustain and grow further. Let's have a look at its finances and its revenue information.   
NIO's Investment Fundings
With $5.4 billion, NIO is one of the few startups with multi-billion dollars in funding. The majority of funding they received was Post-IPO equity from Tencent, Hefei City Construction, and Investment Holding Group. 
Tencent and Baidu are the only tech companies that invested in NIO, with NIO making the largest investment in the series of rounds. Resultantly, James Gordon Mitchell, Senior Executive Vice President of Tencent Holdings, got a board of directors seat in NIO. 
The below table lists the investment funding information for NIO across various rounds. 
| | | | |
| --- | --- | --- | --- |
| Date | Funding Round | Funding Amount | Lead Investors |
| Apr 29, 2020 | Post-IPO Equity | $1B | Hefei City Construction and Investment Holding Group |
| Mar 6, 2020 | Post-IPO Equity | $235M | – |
| Feb 14, 2020 | Post-IPO Equity | $100M | – |
| Sep 8, 2019 | Post-IPO Equity | $200M | Tencent Holdings, William Li |
| May 28, 2019 | Post-IPO Equity | CN¥10B | Beijing E-town International Investment & Development |
| Nov 10, 2017 | Series D | $1.1B | Tencent Holdings |
| Mar 16, 2017 | Series C | $645.76M | Baidu, Tencent Holdings |
| Jul 21, 2016 | Series B | $316M | HOPU Investment Management Company |
| Mar 18, 2015 | Series A | $347.4M | – |
The company gained Unicorn status in 2017 after getting investment from Tencent and Baidu.  
NIO's IPO in 2018
In Aug 2018, NIO went public in the New York Stock Exchange to make a bigger presence in the US and to compete with the likes of Tesla and Nikola. 
Its founder is quite optimistic about the company and believes it will make a mark even in the US where Tesla owns 55% of the EV market share. 
"Tesla is a company founded in the era of the internet, while NIO was born in the era of mobile internet," founder Bin Li said in December. "The new era, in which smartphones and apps play a much bigger role in people's daily lives, gives companies like us a great opportunity to revolutionize the automobile industry."
Despite Tesla's impact in the country, NIO sold $1 billion in shares in the IPO, making it the third-largest US listing by a Chinese firm in 2018. 
The company, however,  wasn't making any profit till its IPO. 
NIO Annual Revenue
On Mar 1, 2021, NIO disclosed its financial report for 2020. The company reported $2.49 Billion in revenue in 2020, a 107.8% increase from the previous year. 
Out of total revenue, NIO made $2.32 Billion in vehicle sales as the deliveries of the ES8, ES6, and  EC6 cars in 2020 reached 43,728 when compared to 20,565 in 2019. 
Furthermore, the vehicle margin also increased to 12.7% compared to -9.9% in 2019. 
All these figures indicate a positive outlook for NIO. 
But one thing that hasn't changed is that NIO still isn't making any profit. Despite doubling the revenue and even after increasing the margin, NIO suffered a net loss of $812.9 Million in 2020, which was 53% less than its previous year. 
NIO has planned multiple sources of revenue other than vehicles and the plan could help NIO become a profitable entity in near future. 
The battery swapping technology is one of the strengths of NIO which the company has been utilizing for its growth. 
NIO claims to have granted 1,200 patents for its battery pack, vehicle, power-swap stations, and cloud-based scheduling system.
Interesting, right? To get the complete picture and unearth some clues, we analyzed its patent portfolio and found some insights. 
What does NIO Patent Portfolio reveal about the company?
NIO has filed over 3000 patent applications since 2015. 

As per the filing trend, the major patent applications were filed in 2017 and 2018. 
The company received major funding in 2017 from Baidu and Tencent. And in 2018, the company went for IPO. 
Funding could have been a major reason behind huge patent filing in these two years. NIO wasn't making any profits, so it would have wanted to show investors their growing assets however intangible for getting funds through IPO. 
The technologies in NIO patent applications range from basic general electric vehicles to the conversion and distribution of electric power. Further, there are some patents related to communication and computing technologies.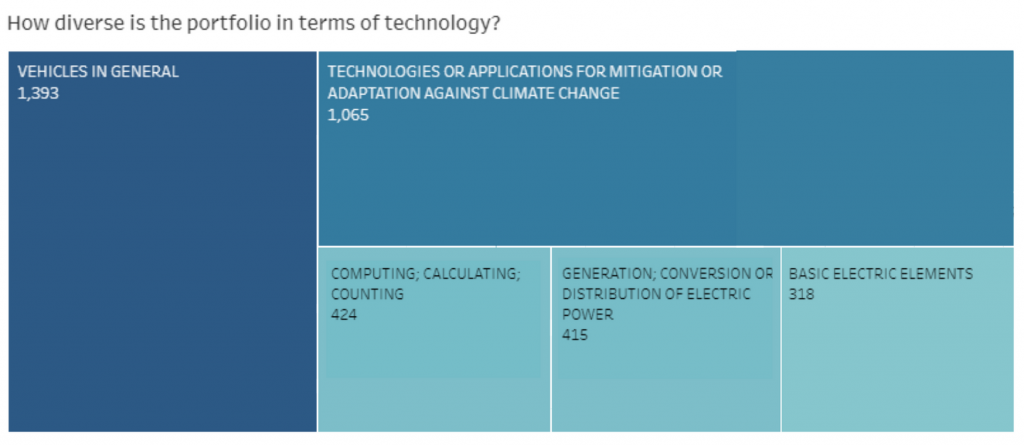 Source:  GreyB's in-house AI tool.
There are also other patents in its portfolio related to basic automotive parts, communication systems, safety features, alloys, lighting, HVAC system, etc.
NIO filed most of the patents in China but there are three other markets where NIO wishes to secure its inventions. 
As per Geographical analysis, Europe, the USA, and Taiwan are the three countries where NIO has a large number of patent filings after China.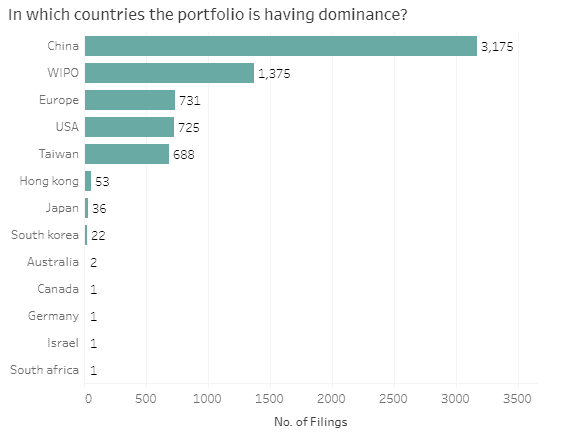 NIO has a research center in the US and Germany, which gives NIO good reason to file patents in the US and Europe. We also found that NIO did some research in Taiwan, which justifies the Taiwanese patent filing numbers as well. 
We wanted to dig a bit deeper so we sought help from our
BOS tool
. The BOS tool, among other features, can help understand which are the other companies that are trying to build similar technology that NIO has already developed. This gives a very good idea if NIO is ahead of the market or not.
Upon analyzing NIO's patents on BOS, we found that there were a few companies whose US patent applications got 102 and 103 rejections due to NIO's patents. This means these companies were trying to build something similar as that of NIO. There are even cases where the rejections led to companies abandoning some patent applications. These are the cases where their inventions were exactly similar to that of NIO – quite an insight for NIO.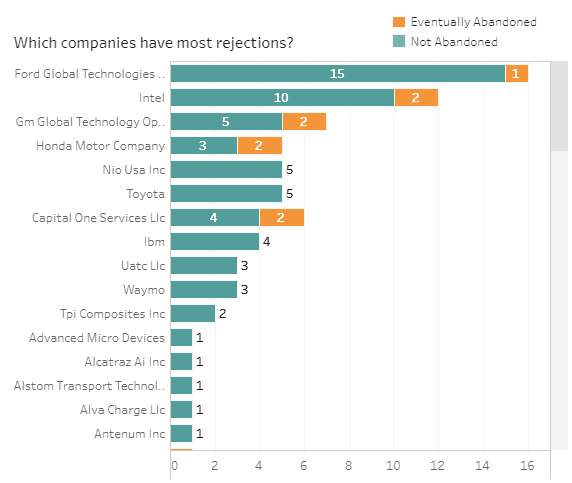 The above graph paints the picture. One could see that not just automakers, even semiconductor companies like Intel are present in the list. Moreover, they even had to abandon their 2 patent applications due to NIO patents. 
While it tells that these companies are trying to patent similar inventions which NIO already has in its arsenal, it also creates a patent licensing opportunity for NIO as they can offer patent licenses to companies whose patents get rejected by their patents. 
By 2020, 138 rejections have occurred due to NIO patents in which 110 rejections are 103-type rejections and 28 rejections are 102-type rejections. 103-type rejections make up 80% of all rejections that occurred due to NIO.
The below chart shows 102 and 103 rejection trends over the years along with abandoned vs not abandoned patent applications. 
Insight for NIO executives: Dig deep as these can be valuable portfolio monetization opportunities. 

NIO's Research Activities
NIO has 6 research centers, 3 in China and the rest in the US, Germany, and the UK.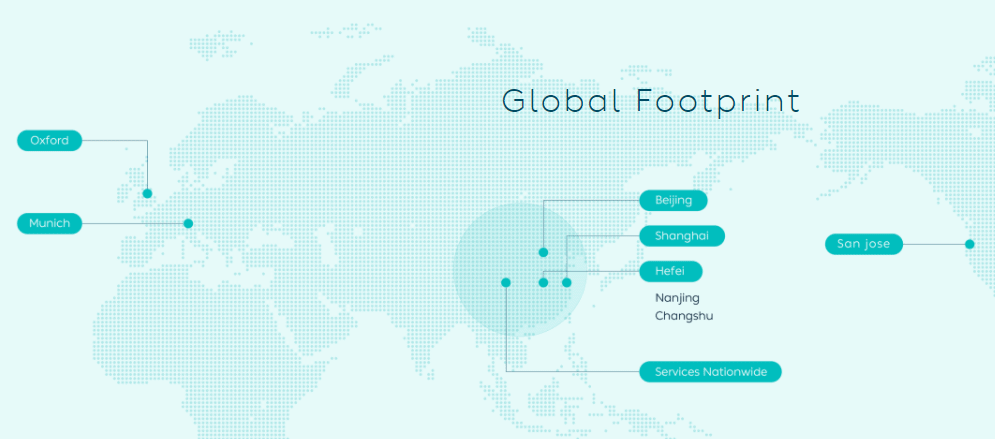 NIO's research is best highlighted in its vehicle design and the features enabled by its premium cars. Further, NIO has been researching batteries, particularly in battery swapping technologies and fast charging solutions. 
Moreover, NIO also researches autonomous driving solutions as its latest car includes NAD (NIO Autonomous Driving) feature. 
What is NAD? Let's find out.
NIO Autonomous Driving (NAD)
NAD is an autonomous driving solution offered by NIO in its vehicles. The latest sedan by NIO ET7 includes NAD features.
Let's have a brief look at some of the distinct NAD features in the ET7 cars.
AQUILA is an autonomous driving system with super-sensing features,  including many sensors such as LiDAR units, RADAR units, Ultrasonic sensors, High-Resolution Cameras, and a V2X system to offer 360-degree visual redundancy and strong peripheral perception.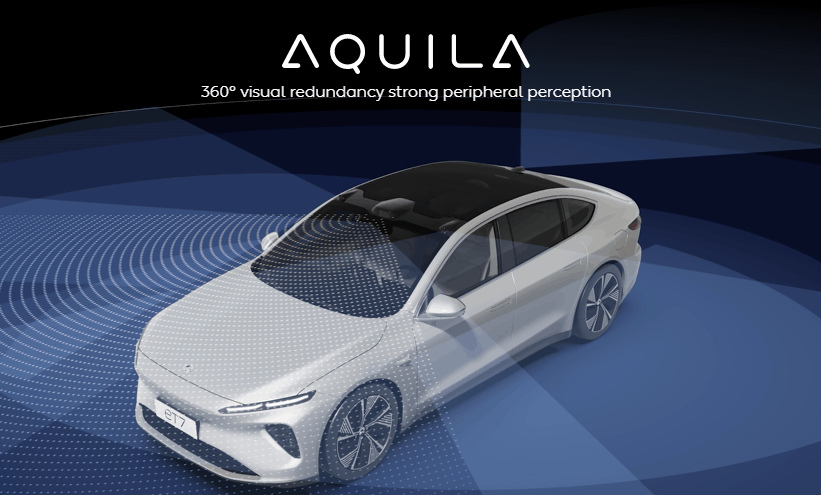 The cars also inhibit ADAM, a supercomputer that features interfaces with ultrawide bandwidth and ISP capable processing of 6.4 GP/s, effectively improving the image quality and enhancing details to make each pixel count for the algorithm's accuracy and efficiency. 
It features 4 NVIDIA Drive Orin SoCs that boost the total computing of 1016 TOPS. Two master cores enable the full-stack NAD algorithms, including multi-solution perception fusion, high precision localization, and prediction and planning. The third SoC acts as a fail-safe if one of the master cores fails. The 4th SoC specialized in crowd AI and personalization to speed up NAD's overall performance. 
Let's have a look at some of the other notable offerings by NIO
Battery Swapping Technology
Battery swap was first introduced by an Israeli startup Better Place and then by Tesla. But both companies failed to make the best of the technology's potential. NIO followed the trend but was able to succeed with the right strategy. 
NIO created a power grid for battery swap stations so its users don't have to travel a long distance for battery swapping. Power Grid offers a combination of multiple power charging solutions focused on enhancing the user experience.
The core of this strategy is based on NIO's chargeable, swappable, and upgradable smart power service system. With enough infrastructure and technology, NIO found success using the same source that Tesla discarded. 
In October 2020, NIO successfully achieved the milestone of swapping 1 million batteries proving the success of its battery swap technology. 
Battery-as-a-Service
In August 2020, NIO launched Battery-as-a-Service (BaaS). NIO is taking battery management service to the next level by introducing a subscription-based service that can save up to RMB 70,000 to 128,000 when purchasing an NIO car. 
Through this model, prospects can get a car at a lower price but they need to pay a monthly subscription fee of 980 RMB for batteries. 
And it makes sense to save over 100K bucks and choose monthly subscription fees that provide other benefits as well such as charging and swapping batteries under NIO Power.
"BaaS is a systematic solution to the existing challenges of electric vehicles such as battery degradation, upgradability, and lower resale value.", says NIO in a blog. 
Further, in April 2020, the Chinese government enhanced the 2020 NEV policy that supports BaaS by providing subsidies on electric vehicles priced at over RMB 300,000 only if they have the capability of battery swapping. 
With the government involved, other automakers could also be implementing battery swapping options in their vehicles next. 
NIO claims to have over 1200 patents on battery swapping, which means they should have covered the major processes for battery swapping in a vehicle. So, they can also generate money from licensing their patents to other EV makers or by enforcing them. 
The ultimate benefit of this service is the user experience. With this model, users have options to choose available options as per their requirements. They can either go for a powerful battery pack or an upgraded battery with the latest technology. 
NIO Power
NIO Power is a mobile internet-based power solution that provides battery charging and battery swap services. Enhanced by Power Cloud, it offers users power service options for a power service system with chargeable, swappable, and upgradable batteries. 
NIO Power consists of multiple options for both home and on-road scenarios. 
For Home, it has Power Home 2.0 and Power Home Plus chargers to fast-charge car batteries. 
For On-road, it has Power Swap, Power Charger, and Power Mobile.
NIO has 135 power swap locations connected across 59 cities in China as of June 2020. Further, NIO has installed 30,000 Power Home Chargers in China. 

NIO House
NIO House is a concept showroom that aims to redefine what premium service means for a car company. The concept focuses on the customer experience that allows its customers to understand and experience the philosophy of the brand through space and its materiality. 
As of January 2020, NIO has established 22 NIO Houses and 55 NIO Spaces in 57 cities. 
The entire NIO House is a space to explore, gather, relax and enjoy with the whole family—a home away from home for the owners of NIO products.
Now that we had a look at the company's offerings, let's now find what has the company done w.r.t collaborative efforts for its future growth. 
What are some of the Major Partnerships by NIO?
NIO has undergone partnerships with many companies to drive innovation in EVs and Autonomous driving. Let's have a quick look. 
Partnership with JAC     
The most important partnership of NIO is perhaps with JAC that produces NIO EVs since NIO doesn't own a manufacturing license. 
All of NIO's cars have been manufactured by Chinese manufacturer JAC and the company focuses its efforts on its apps, houses, and designing the cars. 
Despite less customer base, its social network app has seen downloads in hundreds of thousands. 
Moreover, both companies will create a joint venture called Jianglai in which NIO will acquire 49% stakes while JAC will acquire 51%. The new JV will focus on developing intelligent EVs among other products. 
"Our two companies will deepen the cooperation in manufacturing and supply chain management," NIO told KrASIA. "The joint venture will be in charge of the daily management and operation of JAC's advanced manufacturing plant for NIO."
Further, it will help NIO to in-source its car manufacturing process. 
Partnership with 50 Companies
NIO started major collaborations in 2018 when it entered into a massive partnership with over 50 companies to produce a smart electric car. 
NIO aspires to build smart luxurious cars like Mercedes and Audi. With the help of a massive partnership, it was able to raise $2.2 billion.
Partnership with Tata Technologies 
In Feb 2018, NIO collaborated with Tata Technologies to build NIO's first all-aluminum electric car, the ES8. Tata has been associated with NIO since 2015 and helps the premium EV maker to drive major engineering aspects for the development of ES8. 
Partnership with Mobileye
In Nov 2019, NIO, to drive further innovation in autonomous driving, announced a strategic collaboration with Intel's Mobileye to provide Level-4 driving solutions to its consumers in China and major other territories. With this partnership, NIO would be able to build a self-driving system designed by Mobileye's level-4 AV kit. NIO also plans to mass-produce the system for its consumer and Mobileye's ride-hailing services. 
Partnership with Xpeng
In Dec 2019, NIO made a partnership with its domestic rival Xpeng to make things easier for its consumers. As per the partnership, both companies agreed to share their charging stations as well as related services. The consumers of both companies can charge their vehicles at any of their stations at extra cost. The partnership also puts the prospects at ease as they can see the infrastructure growth. 
Partnership with Cerence
In Oct 2020, NIO, to make its premium cars smarter, partnered with Cerence, a global automotive assistant provider, to deploy voice technologies in its vehicles. 
Partnership with Xiaomi
In Mar 2020, NIO underwent a partnership with Xiaomi for the development of a remote car smartwatch app. NIO imagines itself as a mobile internet company, so it makes sense that the company wants its users to connect with their cars using the device most personal to them. So, besides smartphones, a wearable device such as a smartwatch would be a good choice.
Via the app, NIO customers can check the vehicle's battery charge level, open or unlock the doors and windows, or turn on the air conditioning using the app. The app can also help NIO owners find their vehicles in a crowded parking lot by activating the lights and horns. More intelligent functions such as near-field communication (NFC) may be supported in the future.

Partnership with CATL
In August 2020, NIO made a partnership with CATL to fasten the battery swap initiative. Together they raised $115 million for their joint venture called Weineng to provide battery management services for NIO's BaaS program.
Partnership with Qualcomm
In Jan 2021, NIO partnered with Qualcomm to capitalize Qualcomm's Snapdragon Automotive 5G and 3rd Generation Snapdragon Automotive Cockpit Platform for its flagship sedan – ET7. 
Partnership with NVIDIA
Also in Jan 2021, NIO partnered with Nvidia to use NVIDIA DRIVE Orin™ system-on-a-chip (SoC) for its electric vehicles with autonomous driving capabilities. 
"The cooperation of NIO and NVIDIA will accelerate the development of autonomous driving on smart vehicles. NIO's in-house developed autonomous driving algorithms will be running on four industry-leading NVIDIA Orin processors, delivering an unprecedented 1000+ TOPS in production cars," said William Li, Founder, Chairman, and CEO of NIO.
While the majority of collaborations Nio made are for the growth of its autonomous driving capabilities, others tend to make things easier for its users. 
Where does NIO stand in comparison with other EV Makers?
Tesla just saw its first profitable year in 2020 as it was able to make $721 million in profit from $31.5 billion in revenue. 
As for deliveries, Tesla delivered 499,550 units in 2020. 
Xpeng, another Chinese EV maker, delivered 27,041 vehicles in 2020, a 112% increase year on year. 
While NIO sold 43,728 units in 2020, a 112.6% increase year-over-year. 
BYD is another Chinese counterpart that makes (NEVs) new energy vehicles along with commercial vehicles such as buses and Skyrail. 
Their NEVs sales in 2020 were 189,689 units, a 17.4% drop compared to 2019.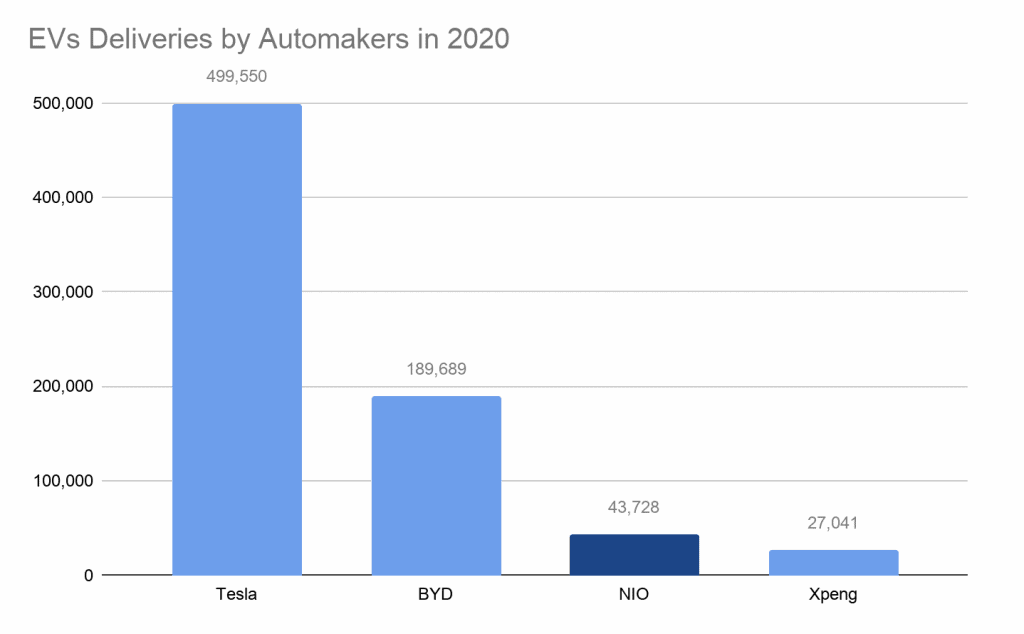 In terms of vehicle deliveries and revenue, NIO is quite behind Tesla. But NIO is not playing a massive sales game like Tesla and other EVs. NIO business model consists of providing charging solutions, a subscription-based service, and other personalized services to make an ecosystem for its customers. NIO is trying to generate other sources of revenue that focus on the long-term rather than the short-term period. 
NIO's Future Outlook
If you look closely, you would find that NIO is not aiming to be like Tesla. Its business model is quite diverse rather than depending only on electric vehicles. 
NIO is aiming for an Apple-like Ecosystem where its consumers get used to NIO and its services such as Battery swapping or BaaS so much that they become their lifetime customers. 
Apple has loyal customers and it's one of the reasons for their increasing revenue. The same goes for NIO too. With the NIO ecosystem, it plans to acquire a customer for a lifetime to grow its revenue rather than depend on car sales. 
NIO subscription services like BaaS and NAD bind a user from the company. NIO's model was also attractive enough to involve even the Chinese government. The Chinese government is a big believer in the big picture and they can sense the major opportunity NIO offers to enlarge its EV market. 
The investment from Hefei City makes sense because if NIO grows it would open a factory in the city which would pose it as a lucrative option to other EV makers too. 
NIO is building a customer base and gradually the base will grow in China, if not globally. China has the largest EV market and NIO has increased car sales. With more people adopting EVs the number will be growing further. 
In the future, NIO can benefit from several industries just from its consumer base. The company has battery swap stations in more than 110 locations. Real estate companies can use their consumer base by offering NIO lands for building stations. Not just corporate areas but if a real estate housing area has a NIO battery station, a NIO car owner would be more likely to choose that housing area. 
Further, NIO is also researching autonomous driving. And by 2027, the in-car infotainment, an aspect of autonomous driving, market is estimated to reach $54 billion. 
And guess who is the biggest company of gaming and social media in China?
Tencent. 
That reveals the mystery of Tencent's multi-billion dollar investment in NIO. All these signs indicate that the future outlook is good for NIO. 
Since most of the countries are coming up with regulations related to oil, NIO has a great future. We believe even if it is able to capture China market, it has the potential to become big. We foresee that a lot of countries are hesitant in allowing Chinese technologies to dominate their market but we believe NIO can easily expand to the developing countries which are open to importing new technologies.