Top Medical Device Companies: Research Activities and Patent Analytics
It is alarming, the unending increase in convenience that technology is providing to humankind.  To such an extent that it has advanced towards saving lives. Technology has rooted itself in every arena, the doctors we depend on to take care of our health also depend on technology, as AI robots and robotic arms are increasingly being installed in OTs. 
And not just that, the morning alarm we wake up to, to the sleep tracker that monitors if we slept for at least 6 hours at night. And as I sit here writing this article, my activity tracker beeps to remind me to drink water. So I opened my bottle and with every sip, a constant thought triggered, "is it technology now that's going to take care of our health?"
In the previous article, we discussed the Mergers and Acquisitions in the Medical device domain and the role of patents in the process. This article discusses the top medical device companies and the activities that they involved in the last 2 years to gain an upper hand in the industry.
We picked these medical device companies based on their research activities in the domain which we found using the combination of market research and patent analytics. Using both criteria we chose the top 7 medical device companies such as Medtronic, Olympus Corp, Philips, Boston Scientific, Siemens, etc.
Top Medical Device Companies
Medtronic
Medtronic perhaps can be regarded as the top medical device company of the current times as the company revenue grew 2% in 2019 with $30.6 billion. Further, the company has been doing many acquisitions to keep the upper hand in medical device industry.
From its humble origins as a repair shop to a global medical technology leader, Medtronic is a global healthcare solutions company committed to improving the lives of people through their medical technologies, services, and solutions.
Strategic Initiatives and Collaborations
Below listed are some of the recent developments by Medtronic in recent years. 
Patent Insights
Medtronic being the top 3rd patent filer in the medical devices domain has filed most of the patents in the sub-areas of Assistive Care Domain, Treatment Equipment, followed by Prosthetic Devices, Measuring Devices, and Telehealth.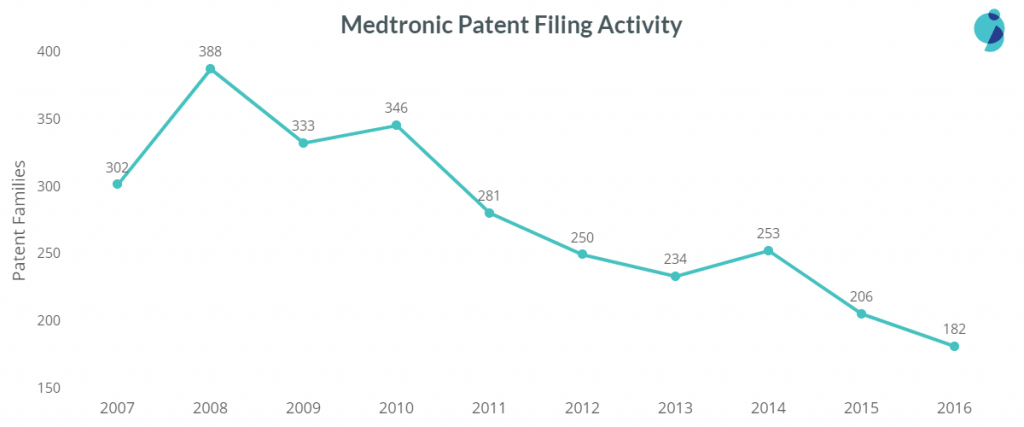 Medtronic is advancing mainly in surgical treatment equipment. The company is also among the top three patent filers in the sub-area of Diagnosis and Imaging, Monitoring and Tracking devices preceding Philips. 
As for drug delivery devices, Medtronic comes at the second position in the overall tech area, but it tops the patent filings in two sub-areas, i.e. Implantable Drug Delivery Device, and Infusion Pumps. 
Below is the patent filings of the company in different tech clusters: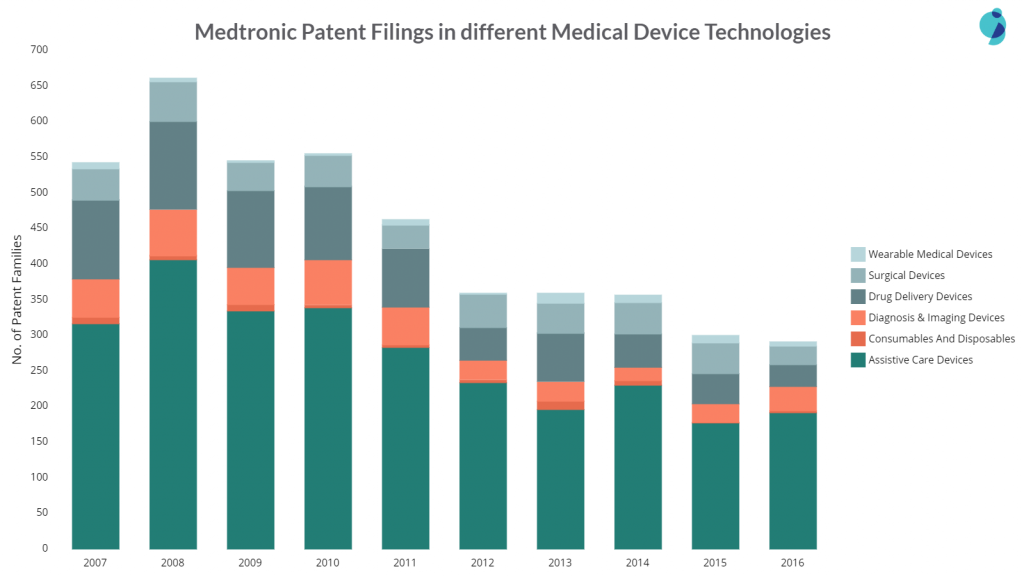 As the company actively utilizes acquisitions to grow its medical empire, its patent filing has been decreasing since 2010. In June 2014, Medtronic acquired Covidien which stands on the 2nd position in the patent filing. Covidien's acquisition has so far helped Medtronic accelerate therapy innovation, globalization, economic value and consequently the growth of the company.
The company has already witnessed its first acquisition of 2020. And it's been anticipated that the acquisition activity will witness a further increase in the near future. 
Olympus Corporation
Olympus is particularly known for its endoscopic devices can be regarded as the top medical device company of endoscopic devices. The company is committed to making people's lives healthier, safer and more fulfilling every day by crafting innovative optical and digital solutions in medical technologies, life sciences, industrial solutions, and cameras and audio products. 
Strategic Initiatives and Collaborations
Below listed are some of the recent initiatives of Olympus Corp.
Patent Insights
Olympus is the leader when it comes to patent filings in the entire Medical Devices domain. The company is fully focused on Endoscopic Devices i.e. almost all of its patent filings in the Medical Devices space are concentrated in this cluster only. Moreover, it has almost 4.5 times the number of patents when compared to second-placed Fujifilm (in this space). Interestingly, in 2014 & 2015, Olympus filed twice as many patents as it had filed in 2007.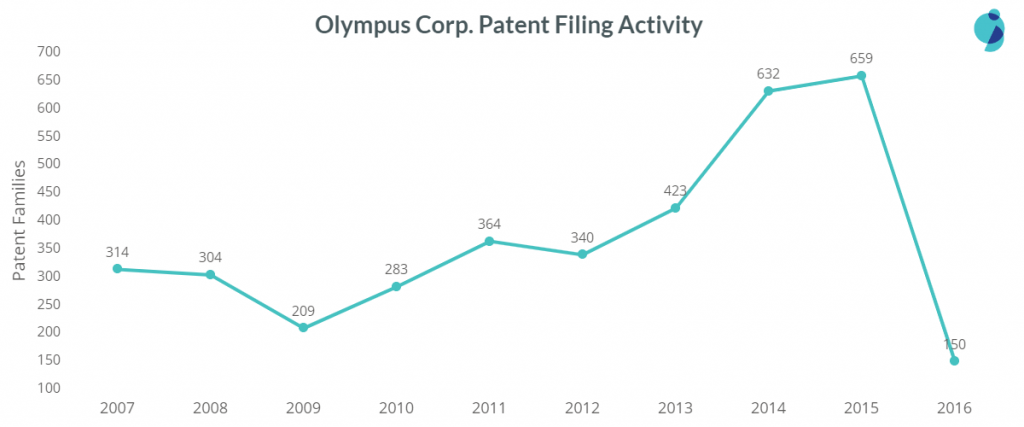 In the year 2014-15, Olympus not just filed patents in its area of expertise i.e. Diagnosis & Imaging Devices but all of medical device technology clusters. 
The chart below will help you understand the company's patent filings in different technology clusters over the years.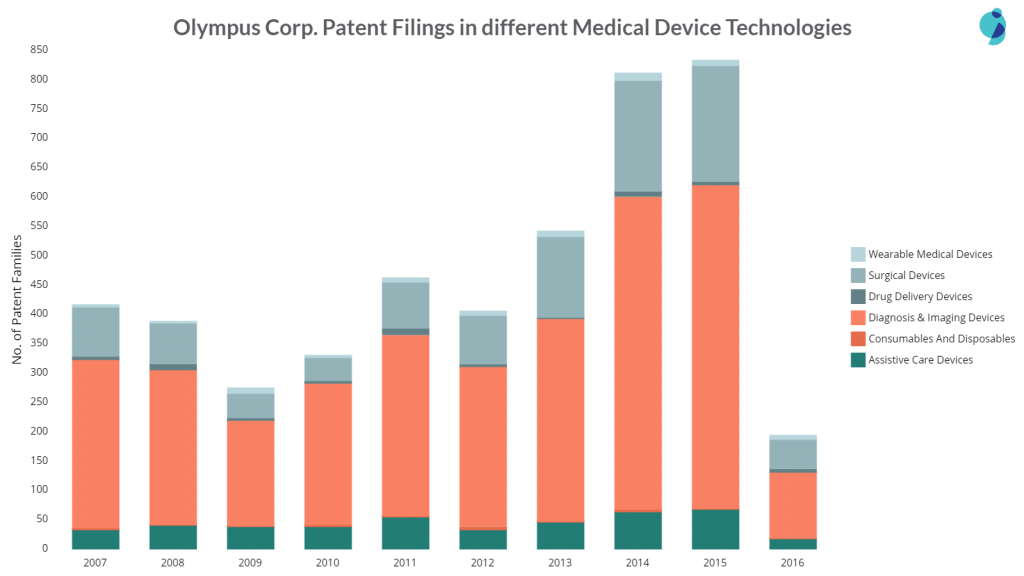 Philips
Besides its core business, Philips also has a vast presence in the medical device industry. Philips Healthcare provides healthcare solutions for diagnostics, treatment, and preventive care. The company has now focused its research and development efforts to develop new approaches in the areas of radiology, cardiology, oncology, decision support, home health, respiratory, and other critical areas.
Some of the initiatives they've been working on are listed below.
Strategic Initiatives and Collaborations
The launch includes the Amsterdam-based company's Insights Marketplace, which allows users access to curated AI-based assets from Philips and others through its own private ecosystem. Philips said that the AI-based tools available through the newly launched HealthSuite Insights covers fields including diagnostic imaging solutions, patient monitoring solutions, oncology, and genomics.
On March 8, 2018, Philips and Samsung Electronics announced their plans for a strategic partnership to connect Samsung's ARTIK Smart IoT Platform to the Philips HealthSuite digital platform. With this collaboration, the Samsung ARTIK ecosystem of connected devices will be allowed to safely access and share information with Philips' cloud platform.

On June 6, 2018, Royal Philips entered into an

agreement to buy EPD Solutions

, a specialist in image-guided procedures for heart rhythm disorders called cardiac arrhythmias, for a cash-based consideration of €250m. EPD Solutions also has a portfolio that includes a cardiac imaging and navigation system designed to create a detailed 3D image of the cardiac anatomy which can help electrophysiologists navigate the heart. 

On June 15, 2018, Philips

acquired U.K.based Remote Diagnostic Technologies

, a company that develops cardiac therapy, data management and monitoring solutions for the pre-hospital market. It has a portfolio of connected emergency care solutions that Amsterdam-based Philips said will complement its therapeutic care biz, for an undisclosed amount.

On September 28, 2018, Royal Philips collaborated with the

Consortium for Affordable Medical Technologies (CAMTech)

at the Massachusetts General Hospital Global Health and developed a resuscitation device

referred to as the

Augmented Infant Resuscitator (AIR) 

to help reduce neonatal mortality

.

On October 25, 2018, Royal Philips unveiled its

new IntelliVue GuardianSoftware app

that enables clinicians to better monitor patient conditions. The app includes

Early Warning Scoring

(EWS) to offer advanced mobility and optimized workflows for clinicians. It has also secured 510(k) clearance from the US FDA. The app is compatible with various medical devices such as wearable biosensors.

On November 22, 2018, Royal Philips introduced a comprehensive and open platform called

IntelliSpace Discovery 3.0

to enable the

development of artificial intelligence assets

and their deployment in radiology to help teams carry out clinical and translational research. Launched ahead of 2018 Radiological Society of North America (RSNA), the open platform, powered by Philips HealthSuite, enables radiologists to have thorough data analytics in medical imaging.

On February 19, 2019, Royal Philips unveiled

its new Zenition mobile C-arm imaging

platform which provides

live image guidance

during surgical procedures. Based on X-ray technology, Zenition features image capture and image processing capabilities similar to the company's image-guided therapy platform Azurion, introduced in 2017. In addition, the Zenition mobile C-arm can be moved easily between operating rooms. It is simple to position around the patient and allows intuitive operability.

Philips and

Accenture

developers tested out

Google Glass before entering the OR simulator lab

. Google Glass and Philips' Intellivue Solutions originate from Philips 'Digital Accelerator Lab'. Their research vision is the ability for clinicians to call up images and other clinical information including patient vitals from anywhere in the hospital using wearable technology.

On June 18, 2019,

LabCorp

and

Mount Sinai Health System

collaborated to establish a digital and AI-enabled pathology center

of excellence. The

Philips IntelliSite Pathology

Solution is the first, and currently, the only digital pathology solution

marketed for primary diagnostic use

in the U.S. It aids pathologists in the review and interpretation of digital images of surgical pathology slides through an automated digital pathology image creation, viewing, and management system.

On July 17, 2019,

Philips acquired Medumo

, a small Boston-based health-tech startup, for its health care business. Medumo uses a combination of email and SMS to deliver instructions to patients, on behalf of its hospital customers. The company, which has fewer than 30 employees, fits into the so-called "patient engagement" trend, which involves providing tools for medical providers to stay in touch with their patients outside of the four walls of the doctor's office.

On September 10, 2019,

Philips and B. Braun launched Onvision needle tip tracking

, a breakthrough in

real-time ultrasound

guidance for regional anesthesia.

On September 11, 2019,

Philips launched NightBalance

, a therapy option for positional obstructive

sleep apnea

patients.

The device is designed to provide a mask-free alternative to current positional OSA therapies. It comes with wireless connectivity and a mobile app to track its use.

On September 19, 2019,

Philips teamed up with PURE

on pioneering

tele-ultrasound

program linking specialists around the globe. PURE aims to further expand access to high-quality ultrasound imaging in limited-resource environments.

On November 5, 2019, Philips announced the debut of

EarlyVue VS30

, a new vital signs monitor in the U.S. for early patient intervention in general care settings. 

On November 12, 2019, Philips launched its first clinical product

IntelliSpace Cognition in the U.S. Artificial intelligence (AI)

and Philips's

cloud-based HealthSuite

Digital Platform together make it a powerful aid for assessing cognitive impairment.

On December 5, 2019,

Philips and Paige teamed up to bring Artificial Intelligence (AI)

based cancer assessment tools to help pathologists improve the speed and accuracy of cancer diagnostics, ultimately leading to better patient care.

On December 10, 2019, Prof. Dr. Nikolaos Bonaros discussed how

Philips Zenition mobile C-arm promotes a collaborative working environment

for his team at the Medical University of Innsbruck.

On December 11, 2019, Philips announced the outcomes of their

successful 15-year tele-critical partnership

. Powered by Philips' acute telehealth platform eCareManager, Health First's

VitalWatch eICU

has demonstrated significant reductions in mortality and lengths of stay for the health system's sickest patient population.

On 06 January 2020, Royal

Philips at CES 2020

announced its

expansion of personalized consumer health solutions. With the expansion of the collaboration with

Delta Dental of California

to improve oral care outcomes, the introduction of

Baby+

to support new parents and the

SmartSleep suite

of solutions, Philips is addressing people's individual requirements and empowering them to make healthier choices. 
Patent Insights
Philips is among the top patent filers in the sub-areas of Assistive Care, Diagnosis and Imaging, Wearable Devices and in the Drug Delivery domain namely, Respiratory Equipment, Telehealth Equipment, Inhalers, and Monitoring and Tracking devices. Monitoring and tracking devices are the most focussed sub-area.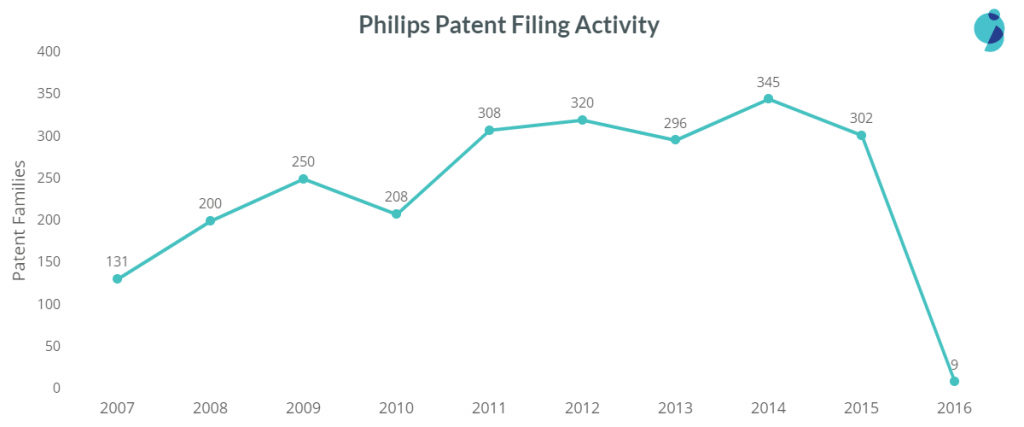 Philips has launched many products related to patient and infant monitoring. In wearable devices, it succeeds the rest of the tech companies maintaining some gap, followed by Samsung and Seiko Epson.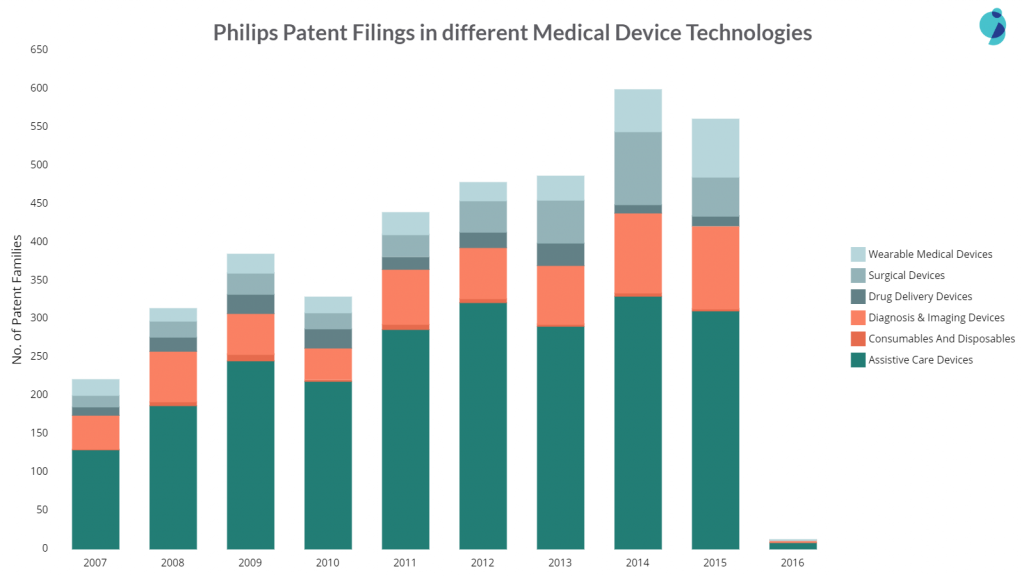 The company's patent filings increased in 2014 and 15, the reason being Philip's focus on wearable medical devices and diagnosis & imaging devices. The company filed the most wearable and diagnosis device patents in 2016. 
Boston Scientific
Dedicated to transforming lives through innovative medical solutions, Boston Scientific stands 5th in patenting its innovations. The company is working collaboratively to pursue global opportunities that extend the reach of their medical solutions, adapting to change and acting with speed, agility, and accountability to further improve patient care. 
Strategic Initiatives and Collaborations
Below listed are some of the recent initiatives taken by the company in the medical device domain.
On March 22, 2018,

Boston Scientific struck a $406 million deal

to buy

NxThera

and its treatment for

benign prostatic hyperplasia

(BPH). The takeover bolstered Boston Scientific's urology business through the addition of a minimally invasive, radiofrequency-based way of destroying obstructive prostate tissue.

On July 6, 2018,

Boston Scientific acquired Cryterion Medical

, a company it has invested in since its launch in 2016, by buying up the remaining 65% stake for $202 million upfront. The purchase includes

Cryterion's balloon-based cryoablation platform

for atrial fibrillation.

On July 23, 2018, Boston Scientific signed an agreement to purchase medical devices developer

Claret Medical for an upfront cash payment of $220m

. The terms of the agreement additionally include up to $50m as a potential reimbursement-based milestone payment. The Claret Medical portfolio includes the

Sentinel Cerebral Embolic Protection

System intended to address the risk of stroke in patients undergoing

transcatheter aortic valve replacement

(TAVR).

On August 9, 2018,

Boston Scientific Corp. acquired Veniti Inc

, a California medical device maker, for $160 million.  Veniti Inc. has created and commercialized a device for treating abnormal, blocked or damaged veins.

On September 7, 2018, Boston Scientific announced an investment of

$600 million on Augmenix and its SpaceOar hydrogel device

which won CE Mark approval in the European Union in 2010 and 510(k) clearance from the FDA in April 2015. It is designed to separate the prostate from the rectal wall during radiation treatment for prostate cancer. The deal for Bedford, Mass.-based Augmenix called for $500 million in up-front cash and another $100 million pegged to sales-based milestones, Boston said.

On December 27, 2018,

Boston Scientific acquired

the rest of California-based company

Millipede Inc.

to build out its cardiac portfolio. Earlier this year, the Massachusetts-based medical device giant invested $90 million into Millipede with the option of acquiring the rest of the company for $325 million, with an additional $125 million payment contingent on certain commercialization milestones.

On Jan 24, 2019, Boston Scientific Corporation

launched

the

Vercise™ Primary Cell (PC) and Vercise Gevia™ Deep Brain Stimulation (DBS)

Systems featuring the Vercise Cartesia™ Directional Lead. These were recently approved by the U.S. FDA to treat the symptoms of

Parkinson's disease (PD)

through highly-personalized therapy.

On March 13, 2019, Boston Scientific Corporation announced that it has received CE Mark and initiated a limited market release of the next generation

WATCHMAN FLX™ Left Atrial Appendage Closure (LAAC) Device

in Europe which is intended to reduce the risk of stroke in people with non-valvular AF.

On March 17, 2019, Boston Scientific Corporation

announced data from the AF-FICIENTI study

that demonstrated positive safety and efficacy results with the

LUMINIZE™ Radiofrequency

(RF) Balloon Catheter for isolation of pulmonary veins (PV) when treating patients with

atrial fibrillation (AF)

.    

On April 23, 2019, Boston Scientific Corporation announced that it has received U.S. FDA's approval for

the LOTUS

Edge

™ Aortic Valve System

. This

transcatheter aortic valve replacement (TAVR)

technology is approved for patients with severe

aortic stenosis

who are considered at high risk for surgical valve replacement via open heart surgery.

On May 6, 2019, Boston Scientific announced that the US FDA has approved

the VICI VENOUS STENT™ System

for the treatment of patients with

Deep Venous Blockages

by a blood clot. 

On May 10, 2019, Boston Scientific announced acute results from the UNTOUCHED study evaluating the safety and efficacy of

the EMBLEM™ Subcutaneous Implantable Defibrillator (S-ICD) System

for primary prevention of sudden cardiac death.

On June 12, 2019,

Boston Scientific acquired spine solutions maker Vertiflex

for an upfront cash payment of $465m. The deal included additional payments based on commercial milestones for the next three years. Vertiflex has developed the minimally invasive Superion Indirect Decompression System to help improve physical function and decrease pain in patients suffering from

lumbar spinal stenosis (LSS)

. 

On July 30, 2019,

Mayo Clinic and Boston Scientific created

a new accelerator program aimed at developing medical technologies for unmet health needs, with a focus on minimally invasive treatments. The venture announced, called Motion Medical, was expected to open in the fall with research facilities in Rochester, Minnesota.

On August 19, 2019, Boston Scientific Corporation

announced the U.S. FDA approval

of its

ImageReady™ MRI

labeling for the

Vercise Gevia™

Deep Brain Stimulation (DBS) system to be used in a full-body MRI environment. This system is designed to treat the symptoms of

Parkinson's Disease

.

On August 20, 2019, having acquired minimally invasive device manufacturer

BTG

for $4.2bn,

Boston Scientific set to expand its portfolio

of minimally-invasive surgical devices. This was Boston Scientific's

second-largest acquisition

ever after its $26 billion purchase of Guidant in 2006. 
Alongside its minimally invasive vascular device portfolio, BTG boasts a specialty pharmaceutical and licensing wing of interventional oncology therapeutics for patients with liver and kidney cancers. BTG also has a portfolio of antidote pharmaceuticals to treat overexposure to certain medications and toxins.
The deal to purchase California medical device company Channel Medsystems Inc. was struck in 2017, and then called off last year after finding out that one Channel's executives had falsified paperwork, including portions of Channel's FDA application for its first product.
Patent Insights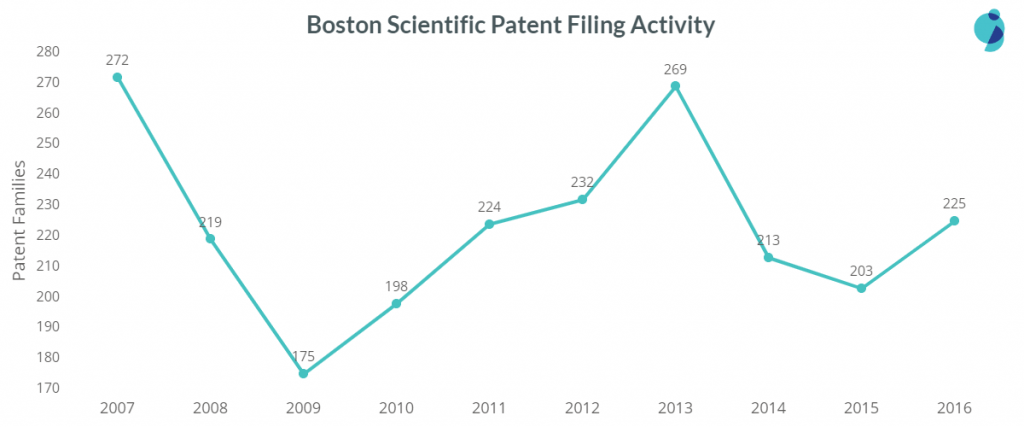 Boston Scientific is the top US company with most patent filing in medical devices. It stands top in filing patents in Prosthetic Devices and has a presence in various other categories. For example, it is the third top patent filer in Electrosurgical Devices, Sutures & Staples, and Treatment Equipment. The company is also in the list of top 10 patent filers of Endoscopic Devices, Handheld Surgical Devices, and Implantable Devices.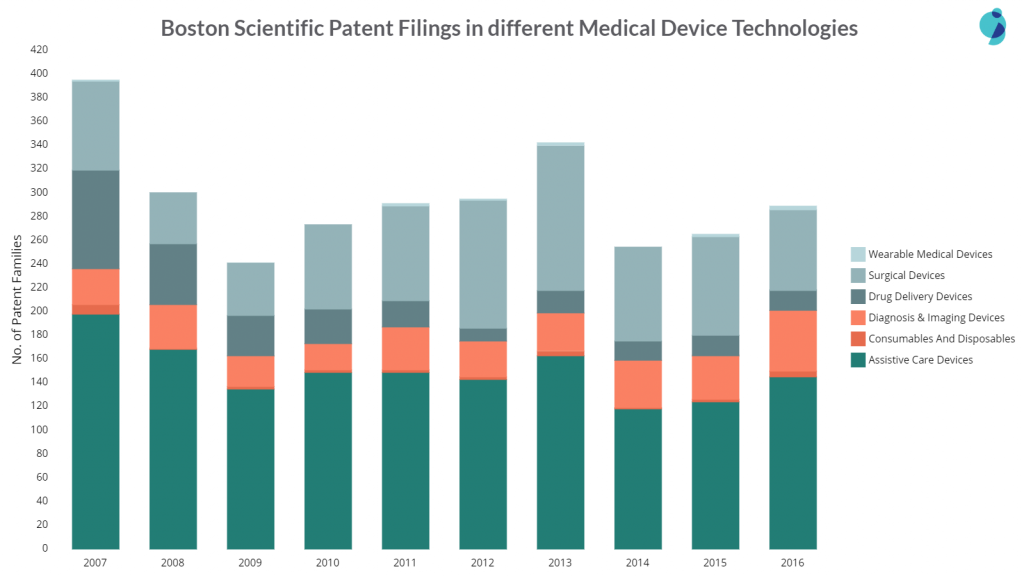 The company is least active in Wearables but the activity in assistive care, surgical, and diagnosis devices is almost the same. However, the filings in Surgical devices got reduced from 83 patents in 2007 to 17 patents in 2016.
Siemens
Siemens Healthineers enables healthcare providers worldwide to increase value by empowering them on their journey towards expanding precision medicine, transforming care delivery, improving patient experience, and digitizing healthcare. A leader in medical technology, Siemens is constantly innovating its portfolio of products and services in its core areas of diagnostic and therapeutic imaging and in laboratory diagnostics and molecular medicine. 
Siemens Healthineers is also actively developing its digital health services and enterprise services. In the fiscal year of  2018, Siemens generated revenue of €13.4 billion and an adjusted profit of €2.3 billion.
Strategic Initiatives and Collaborations
Patent Insights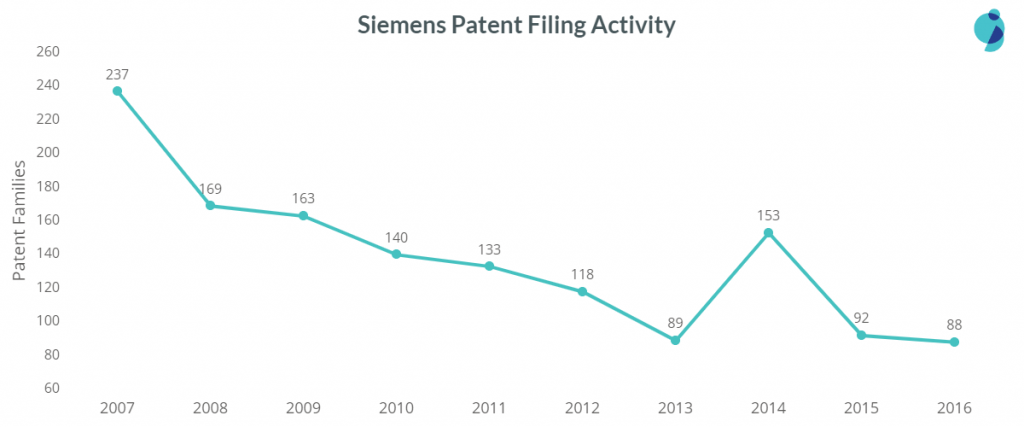 Siemens hasn't been on top in any of the areas or sub-areas of medical devices except for Assistive Care devices. It is the top patent filer in the sub-areas – Durable Medical equipment and precedes Philips in Measuring Devices.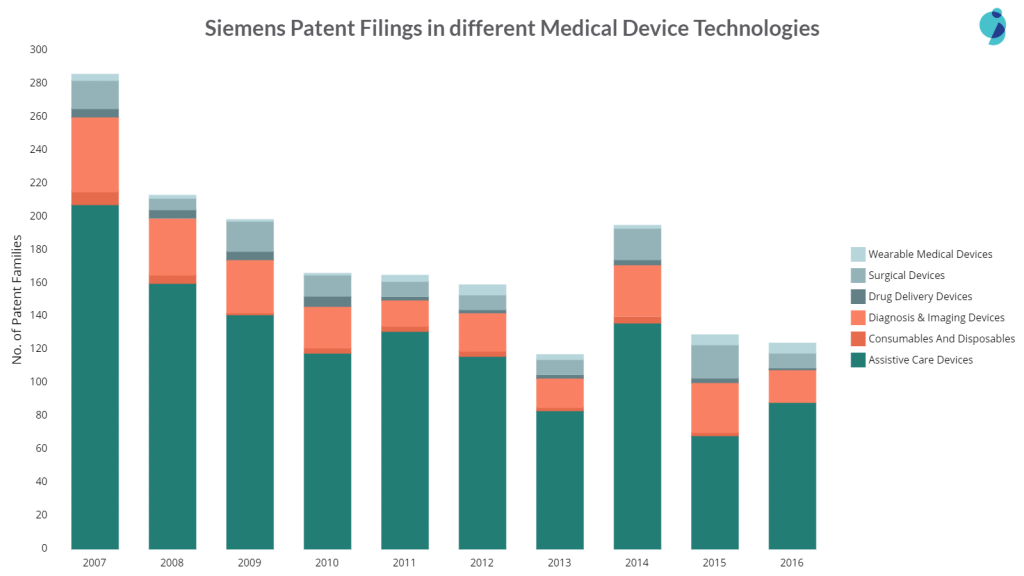 Siemens' patent filings in medical devices have decreased over time. The reason being its low filing in Assistive Care devices which is an important technological area of Siemens. The company also lowered the filing activity in Diagnosis & Imaging devices.
Ethicon
Headquartered in Somerville, New Jersey, Johnson & Johnson's (J&J) Ethicon subsidiary is the world leader in surgical sutures from the past 10 years. In addition, Ethicon has expanded into wound management, women's health, cardiovascular surgery, and sterilization products.
The contributions by Ethicon for medical devices isn't huge, but despite the few contributions, it still is one of the top companies of the domain.
Strategic Initiatives and Collaborations
On 9 May 2019,

Ethicon

agreed to acquire TachoSil Fibrin

Sealant Patch –

a surgical patch developed to enable safe and quick bleeding control,

from Japan-based Takeda Pharmaceutical for a cash consideration of around $400 million.

The product generated around $155m in net sales for the fiscal year of 2018. Ethicon will buy the assets and licenses associated with the manufacturing, licensing, and commercialization of TachoSil.

On May 15, 2018, Auris Health, Inc. announced a cooperative development and

commercialization agreement with NeuWave™ Medical Inc

., a

subsidiary of Ethicon Inc.

, and part of the Johnson & Johnson Medical Devices Companies, with the aim of enabling robotically assisted bronchoscopic ablation of lesions in the lung.

The agreement calls for the co-development of integrated systems from robotic control and navigation to the application of microwave ablation delivered via bronchoscopes.

On May 31, 2018, DePuy Synthes, part of the Johnson & Johnson Companies, announced Europe, Middle East, and Africa launch of

the ATTUNE Revision Knee System, to complement the ATTUNE Primary Knee System

and provide surgeons with a comprehensive solution for knee replacement.

On June 25, 2019, Ethicon announced the clearance of the U.S. Food and Drug Administration (FDA) for its

VistaSeal open and laparoscopic Dual Applicators

(35 cm and 45 cm), three airless spray devices that combine biologics with device technology to address mild to moderate surgical bleeding.

On August 2, 2018, Ethicon Korea launched a microwave ablation system called

NEUWAVE that kills cancer cells

. The system is the first minimally invasive device that inserts electrodes into cancer cells and raises the temperature around them to burn off cancer cells. NEUWAVE was first launched in the United States in 2015 and gained reimbursement in Korea starting July 1.

On August 31, 2019,

r

esults from the Atrial Fibrillation Progression Trial (ATTEST)

, was declared. ATTEST is the first randomized controlled trial to directly compare the effectiveness of ablation using radiofrequency (RF) catheters versus standard antiarrhythmic drugs (AAD) in delaying atrial fibrillation (AF) progression. The results show that patients treated with catheter ablation (aged 67.8 ± 4.8 years) were almost 10 times less likely to develop persistent AF than patients on AAD at three years after study initiation.

On September 17, 2019, Ethicon announced the launch of a new product in its

MEGADYNE™ MEGA SOFT™

portfolio of reusable patient return electrodes. The new

MEGADYNE™ MEGA SOFT™ Universal Plus

is a versatile and easy to use patient return electrode, designed to protect skin by eliminating adhesives and incorporating pressure reduction pad.

On September 25, 2019, Ethicon introduced

a

powered circular stapler – Echelon Circular

for colorectal, gastric, and thoracic surgery. The Echelon Circular surgical stapler integrates the company's 3D Stapling technology and Gripping Surface Technology (GST).

On September 27, 2018, Ethicon released a

whole new set of surgical products

to perform

bariatric revision surgeries

, along with complimentary education and training for performing reoperations. 

On November 18, 2019, Biosense Webster EMEA, a division of Johnson & Johnson Medical NV/SA and leader in the treatment of Atrial Fibrillation (AF) launched a

two-pronged initiative to tackle the new millennium epidemic of Atrial Fibrillation

.

On November 21, 2019, the Johnson & Johnson announced that DePuy Synthes has launched the

SYMPHONYTM Occipito-Cervico-Thoracic (OCT) System,

expanding its offering for the surgical treatment of conditions in the neck and upper back.

On

December 4, 2019,

Ethicon launched VISTASEAL Fibrin

Sealant to help surgeons control bleeding during surgical operations.

The sealant attributes a combination of clotting proteins found in human plasma, fibrinogen, and thrombin. It instantly forms an adherent and durable clot upon the application of the sealant to the bleed.

On December 20, 2019, Johnson & Johnson announced that they'll be

acquiring the remaining stake in Verb Surgical Inc.

from

Verily

, an Alphabet company

as the latter exits the robotic surgery venture partnership four years after launch. The deal is expected to close in the first half of 2020.

This takeover builds on its $3.4 billion acquisition this year of endoscopy robot creator Auris Health and its 2018 purchase of French company Orthotaxy, which was developing a robot-assisted platform for total and partial knee replacements.
Patent Insights
Ethicon precedes Covidien that stands top in patent filing activity in surgical devices, mainly in the sub-areas of handheld surgical devices and sutures and staples.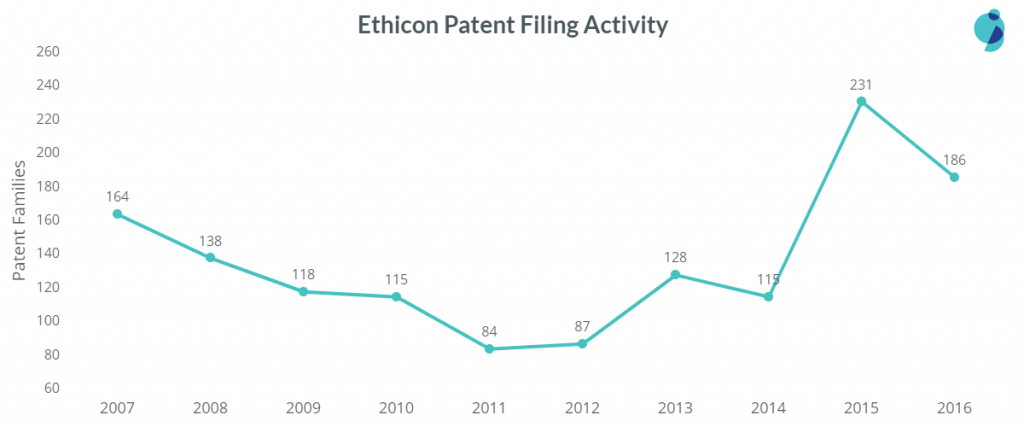 Talking about patents claiming priority of 2015, Covidien has filed roughly 400 patents whereas Ethicon has filed close to 300 patents. The gap is reducing which raises a question – Will Ethicon in the coming years take over Covidien in this domain?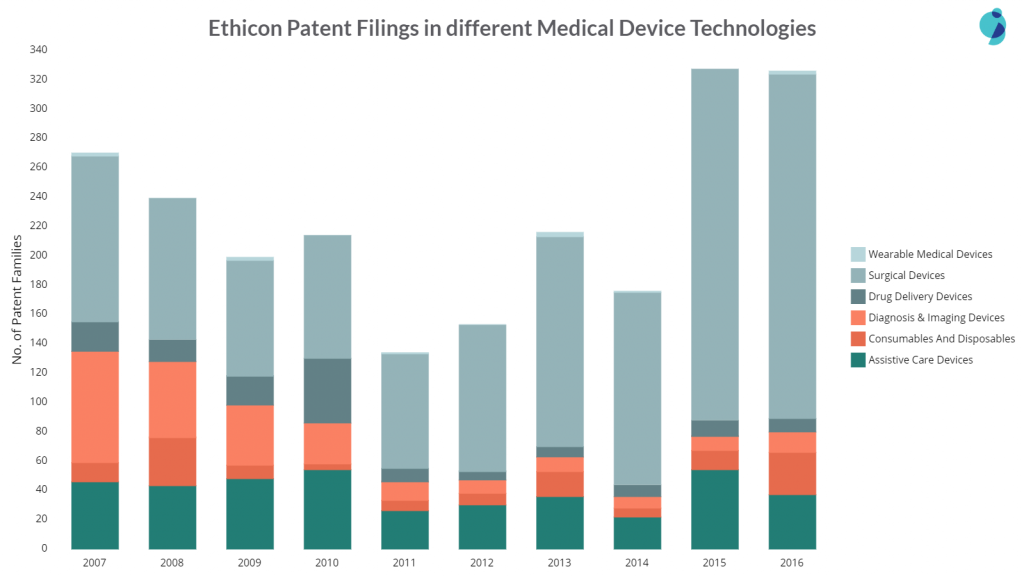 Ethicon majorly focuses on surgical devices and in recent years, their patent filings in the sub-area got increased by 2x when compared from 2007 to 2016. The company is barely active in wearable devices. Their patent filings in Diagnosis & Imaging Devices saw a 500% decrease when compared from 2007 to 2016. 
Fujifilm
From digital X-ray diagnostics to radiopharmaceuticals, Fujifilm medical systems offer wide-ranging solutions, building on pioneering diagnostic imaging technologies, expanding into the areas of preventive healthcare and treatment. The company draws additional expertise from Fujifilm group companies' strategic alliances, and mergers and acquisitions.
Strategic Initiatives and Collaborations
The goal of the collaboration is to have radiologists in a real-world setting to evaluate AI technologies for diagnostic imaging being developed by both Fujifilm and Lunit.
Patent Insights
Fujifilm's patent filing is inconsistent as the below chart shows: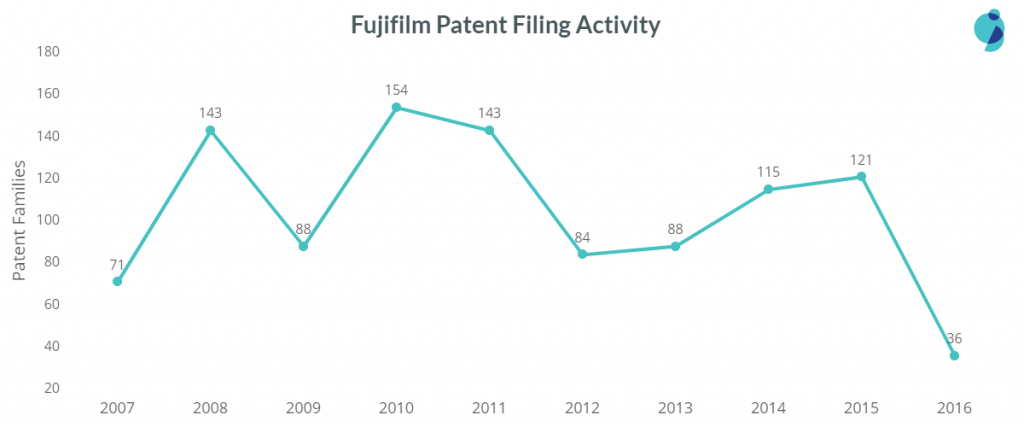 The company witnessed a huge filing count in 2010-11 due to their increased filing activity in Diagnosis & Imaging devices which is a strong area of the company's research. Fujifilm precedes Olympus corporation with 819 patent families in the sub-area – Endoscopic devices. However, Olympus stands ahead with a big gap i.e 3603 patent families. 

Conclusion
So these were the top MedTech companies and what they have been up to from the past few years. We can see that just like the rest of the top growing industries, Medical device industry too is growing towards Artificial Intelligence to provide a better experience to the patients. The upcoming technology is presumed to be more convenient to the doctors as AI robots will be helping them to a much greater extent.
According to reports, medical information is worth between 10 to 40 times more valuable than your credit card number on the black market. Especially when records contain a social security number which, unlike a credit card number, never changes. This hijacked personal info can be used for tax fraud. That's another threat that the Medical Device industry is working on, using AI to secure patient data.
Besides, each company is more focussed in one or the other specific domain or sub-area of medical devices, leading in that domain. In addition, these companies are also exploring IoT space to add value to their products to provide real-time individual tracking and guidance.
Since a lot of research is yet to be done in almost all of the areas of medical devices, numerous insights can be discovered. A highly aligned business approach, research, and patent strategy will certainly play a role and we will be tracking them all. And if you would like to find more insights into a specific company, domain or sub-area, it is always better to get them answered from someone who has developed multiple strategies to excavate, refine and share that information.  Not bragging, but people do pay us to find information. Have something we could find for you?
Fill this form below and we will reach out to you in no time.
Authored by: Nidhi and Vipin Singh, Market Research.