InterDigital Patents Position them a threat to Chinese Companies
On Apr 28, 2020, InterDigital entered a worldwide patent licensing agreement with Huawei Technologies Ltd, and also settled all litigation against each other. The licensing agreement runs through 2023 and covers royalties from the sale of some of Huawei's 3G, 4G, and 5G wireless telecommunications products.
Huawei is a much bigger company then Interdigital yet they agreed to take the license from Interdigital which shows that Interdigital holds potential wireless communication patents in its portfolio. 
And due to such patents, the company is able to make a fortune either by licensing them or take them to court.
In brief, InterDigital's business model mainly consists of filing and owning patents that they collect royalties on when the patented technology is implemented. Their key model is to own a significant number of SEPs. When products are manufactured based on said SEPs, the company enforces its patent rights and monetizes on it. This requires extensive litigation which is quite common in the telecom industry.
To give you an idea of how substantial this technology development and patent filing process is – the company roughly pays more than $100 million every year to their "patent administration and licensing" team which is one of the largest expenses that the company bears.
Apart from that, the company pays about $70 million every year to its "Development" team a big chunk of which goes to the engineers.
According to Seeking Alpha:
"If the company decides to cease business immediately and just monetize its existing patent portfolio and investments in research and development, then the existing research and patent portfolio will be valued at approximately $1.96 billion."
In 2019 alone, InterDigital had revenue of $318.9 million and a portfolio of more than 40,000 U.S. and foreign issued patents and patent applications. This includes both the patents that they produce in house and the ones they acquire externally.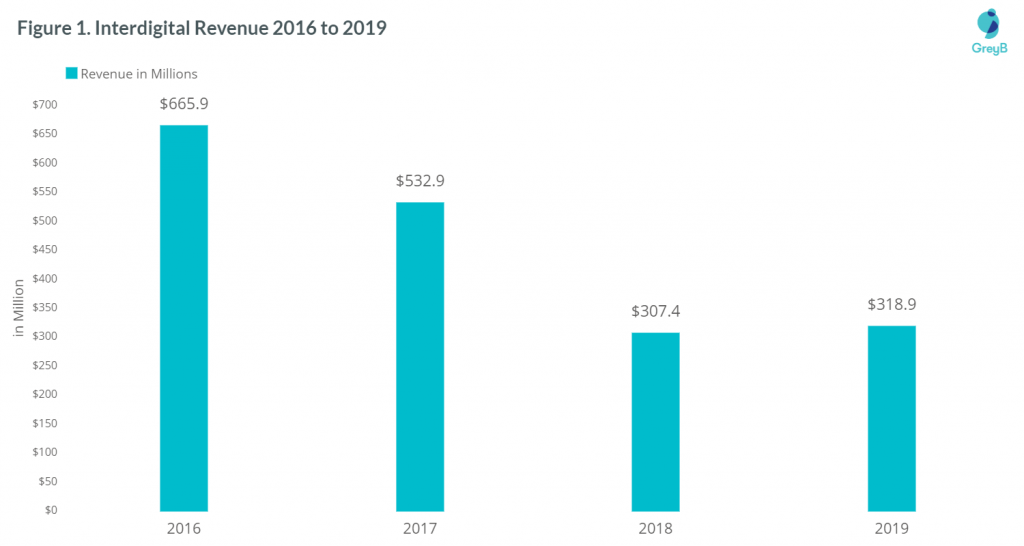 They have been doing the in-house research consistently but the company saw their biggest patent acquisition in 2018 when they acquire Technicolor patent portfolio. 
To find the motive behind this we analyzed the patents acquired by Interdigital in the last two years. So, without wasting any time let's jump into it.
Interested in knowing which companies are leading 5G research? What companies like Samsung, Intel, Qualcomm, At&T are working on? We analyzed top 12 companies which are investing heavily in 5G research and have published our findings in this report which you can download from here: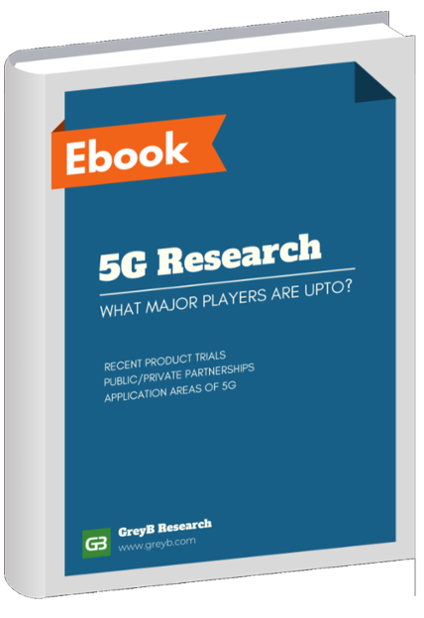 Interdigital's Major Patent Acquisitions in 2018 and 2019
In 2018, Interdigital's major patent acquisition activity was the acquisition of Technicolor's patent portfolio which consists of 21000+ patents. Besides, they have also made some deals with Panasonic, LG, and Kyocera Corporation.

Acquisition of Technicolor Patent Portfolio
In March 2018, InterDigital acquired Technicolor patent portfolio for $150 million. While the total number of patents acquired from Technicolor is more than 21000, USPTO reassignment shows a count of 4361 patents that have been assigned to Interdigital through Technicolor's licensing arm, Thomson Licensing.
The company didn't just stop at that and took another bite when they took hold of Technicolor's Research & Innovation department in a second deal conducted in June of the same year. Now they have more than 300 engineers and researchers of Technicolor's R&D departments who work for Interdigital.
Also, with this acquisition Interdigital entered into consumer home electronics, display technology, and video technology segments.
With a portfolio of more than 40,000 patents, Interdigital seems to be in a strong position in the technology industry.
Patents Acquired from Panasonic
This is not the first time when Interdigital acquired patents from Panasonic. In the last few years, we have noticed that Panasonic sold/licensed its patents to various NPEs. In 2016, Panasonic made deals with a range of companies varying from small and medium-sized sell-offs to big names like WiLAN, Conversant, Intertrust, and InterDigital. 2017 was majorly dominated by a single assignment sending over 200 US patents to Intellectual Ventures in March.
In 2016, Panasonic and Interdigital made their first deal where Interdigital was assigned 83 US patents. Again in 2019, 128 US patents were assigned to Interdigital by Panasonic.
Most of Panasonic patents cover the following technologies:
Transmission of information-carrying signals

Transmission of signals having been supplied in digital form, including data transmission

Wireless Communication networks for selectively establishing one or a plurality of wireless communication links.
Interdigital – LG Electronics Licensing Deal
In 2017, InterDigital signed a multi-year, non-exclusive patent license deal with LG Electronics, a technology innovator in consumer electronics, mobile communications, and home appliances. The agreement covers LG's 3G, 4G, and 5G unit products which were handed over to InterDigital in a patent assignment of 39 US patents.
William J. Merritt, President and Chief Executive Officer of InterDigital said: "We are very happy to have resolved our licensing dispute with LG on mutually agreeable terms and look forward to a successful relationship with LG going forward.  This agreement with LG shows how our longstanding patent licensing framework and process can lead to effective, productive discussions and eventual resolution on a worldwide basis."
Interdigital's deal with Kyocera Corp
On April 4, 2018, InterDigital signed a multi-year patent license agreement with Kyocera Corporation, a Japanese multinational ceramics, and electronics manufacturer. The agreement consisting of 12 US patents, covers Kyocera's terminal unit products designed to operate per WCDMA and LTE standards. 
Top CPC Classification of Acquired US Patents
The table shows the CPC classifications of the US patents that InterDigital has acquired from 2018 to 2019.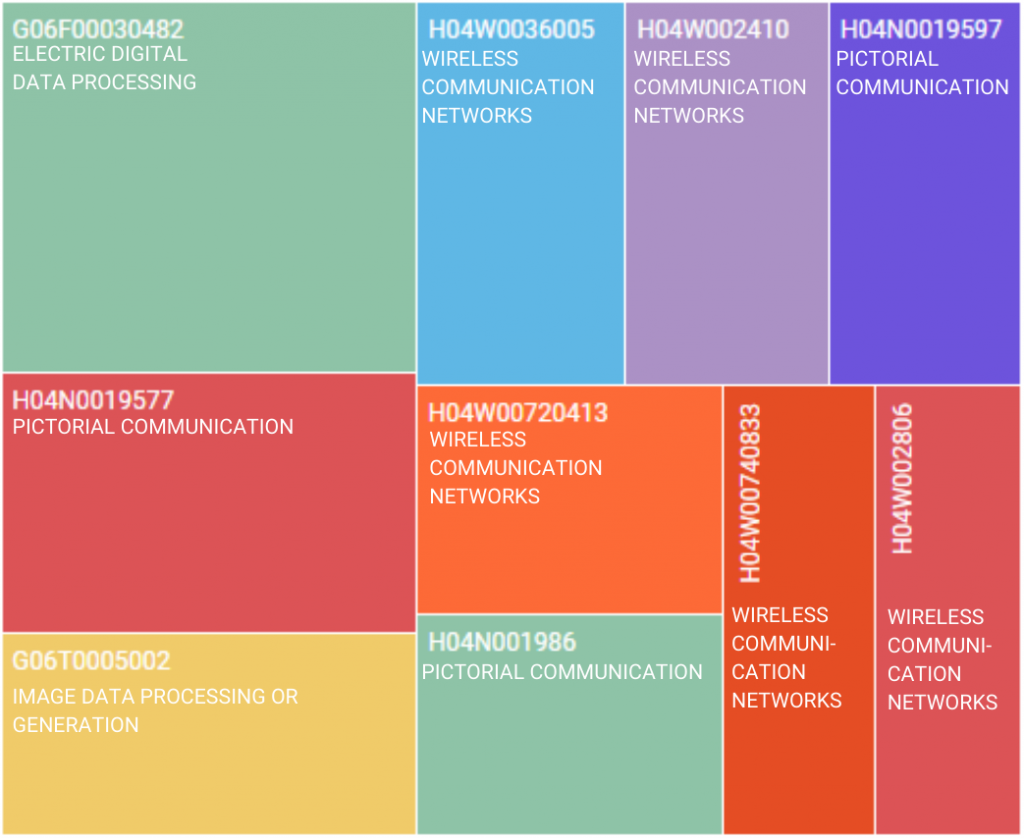 The biggest box of CPC (G06F00030482) represents 77 US patents and the smallest CPC (H04W002806 ) represents 33 US patents. The patents of the top three CPC classifications originally belong to Technicolor. The 4th and 5th classification patents were filed by Interdigital itself showing their focused research on wireless communication.
Interdigital in 5G Research
The primary focus of InterDigital is currently on advanced wireless (5G) and Internet of Things (IoT) research. As per the company, they hold a total of 4675 issued patents and pending applications related to 5G (NR) consisting of 452 patent families. While the company has filed many patents as SEPs for 5G technology and previously acquired many patents pertaining to wireless technology, it has also worked closely with many other organizations in collaboration for the development of these technologies, some of which are listed below.
InterDigital was one of the many companies that worked to make feasible, easy-to-use, sharable solutions for the front-haul and back-haul segments of the 5G transport network that shall be implemented in the future.

Nine companies from five EU countries including InterDigital aimed to develop technology, innovations, and business value chains for commercially viable IP-over-ICN deployment. This project was known as Horizon 2020 Point.

H2020 European Union/Taiwan collaborated on a project known as 5G-CORAL, created to explore service-based design in a deep and volatile edge-fog virtualized infrastructure and contributing to standards development, by creating a unique opportunity for access convergence. This impacted radio access network (RAN) terminals and infrastructure.

5G-CORAL is coordinated by Universidad Carlos III de Madrid (UC3M) along with other big names including ADLINK, AZCOM, Ericsson, InterDigital, ITRI, RISE (Research Institutes of Sweden), Telcaria, Telecom Italia, and National Chiao Tung University.

A distributed and virtualized computing hierarchy deployed using dense low-cost fog nodes called the H2020 5G-CORAL architecture can be used to support simultaneous 5G slices for remote robotic control and actuation application based on adaptive 360-degree video technology. This was first demonstrated by InterDigital.

InterDigital also demonstrated an advanced framework it developed as part of the upcoming 3GPP Release 16 specifications. The company showed how virtual user terminals, representing mobile phones or other smart devices, could attach to a

5G network

, request a brief session with three different 5G

services

, and then detach again.

InterDigital Europe, Aalto University, University of Cambridge, Martel Consulting, Thales, Avanti, and guifi.net got together to form Project RIFE to overcome the challenge of providing affordable internet access. The 7 partners used advanced networking technology and increased the efficiency of the underlying transport networks and involved architectures and protocols.

A 5G Socioeconomic Study launched by the European Commission was given to InterDigital with Real Wireless, Trinity College Dublin and Tech4i2 to develop a socio-economic study data.

A 5G testbed called Flame was created by a consortium of twelve partners including University of Southampton, InterDigital Europe, Atos Spain, i2CAT, University of Bristol, Nextworks, Martel Innovate, VRT, The Walt Disney Company, ETH Zurich, Institut Municipal d'Informàtica de Barcelona, and Bristol for urban scale trials of open media Internet services in European cities, including Bristol, UK, and Barcelona, Spain.

At the European Conference on Network and Communications (

EUCNC

) event, InterDigital announced its involvement in two next-generation wireless technology demonstrations. The demonstrations highlight specific application use cases for 5G network resource slicing to meet URLLC and eMBB goals, and ultra-high throughput encoder and decoder solutions for various beyond 5G use cases.

On May 5, 2015, The European Commission launched

a study to identify key socio-economic data

which will help in the planning for the introduction of 5G infrastructure in Europe. Specifically, the Commission hoped to gain a better understanding of the potential economic impact of 5G networks in new areas such as health and transport and to gain more information about potential social benefits. The study was carried out over 12 months by a consortium including Tech4i2, InterDigital Europe, Trinity College Dublin, and Real Wireless.
Interdigital's Future Plans
Interdigital's Push for Licensing Transparency
A recent publication by Interdigital showed its SEP licensing transparency for cellular technologies. 
Whereas the other telecom players have already disclosed their licensing pricing for 5G headsets, the company went to great lengths to describe the reasoning and factors behind its latest pricing for its 3G, 4G, and 5G innovations.

The company has shown a commitment to arbitrate future licensing disputes and the publication is simply a means to cast them in the favorable side. 
Interdigital believes that arbitration is the best way to settle a dispute and it'll assure that the company is fairly rewarded for its intellectual property. 
It's not a surprise that the main reason behind this move is the FRAND disputes which they filed against Huawei and Lenovo in London last year.
Further, Interdigital's CEO shared the company's views behind this move and also his thought process about the FRAND licensing which he thinks should be based on evidence and opinions. 
"We did this partly to contribute our point of view, openly and transparently, on these issues. But we also did it because critics of licensing seize upon the supposed lack of transparency of licensors to accuse the industry of unfair practices, inflated prices and bad behavior.", commented Bill Merritt, CEO, Interdigital.
Interdigital Entrance in Consumer Electronics Segment
InterDigital mainly works in the field of wireless and what goes on inside mobile phones. It develops the technology and licenses it to players working on telecommunications. And now when they hold 21000 patents of Technicolor, which mostly belongs to the consumer electronics segment, we believe that the company is highly likely to enter the consumer electronics market to license these assets. 
Interdigital's love for Chinese Market
InterDigital is eyeing a permanent presence in China since it is one of the world's most dynamic markets for smartphones and other consumer electronics companies. 
InterDigital has shown a lot of interest in moving to China. In their 2018 annual report, the company quoted: "Companies headquartered in China currently comprise a substantial portion of the handset manufacturers that remain unlicensed to our patent portfolio. Our ability to license such manufacturers is, among other things, affected by the macroeconomic and geopolitical climate, as well as our business relationships and perceived reputation in China."
Further, IAM-Media also stated, "While it (InterDigital) has been successful in recent years in signing new deals with several big global players, including Apple, LG, and Samsung, China probably represents the company's biggest opportunity as several of that market's biggest players remain unlicensed. Huawei is one notable exception after it signed a deal with InterDigital in 2016."
All these facts show that purchasing Technicolor portfolio wasn't a fluke, but a well-planned strategy by Interdigital which is planned to enable them to license their patents to the Chinese players.
Interdigital's Emergence in the Visual Technologies
As Technicolor is a pioneer in video technologies, it is not surprising that Interdigital picked visual technologies as one of its core technologies to focus on. Using Technicolor patents and R&I departments, Interdigital is doing intense research on AI, Home Experience, Imaging Science, Immersive Rich media, etc. 
Recently, its R&I team even showcased its immersive video technologies at the Inaugural IBC Showcase and returned with an award for Best in Show for the Digital Double technology. 
For brevity's sake, we are going to stop here. But a lot is going on within the company, and we are planning to cover more about it in our future articles. If you'd like to get access to all the super valuable insight-rich content as soon as it gets published, do subscribe to our insider list by clicking here and for the more valuable information, you can approach us directly.
Authored by: Oorja Pandya, Research Analyst, Market Research