Leveraging the latest Technology to create Smart Buildings
Do you know that Zhongsi Boan Technology Beijing Co ltd, a top Chinese blockchain company, proposed a secure data transmission and storage method in an intelligent building system using blockchain technology?
A decade ago, if someone had talked about Intelligent or Smart Building systems, we would've been baffled by the term! Considering we have always perceived them as just a structure. Well, not anymore. The latest technology is now being incorporated into the traditional buildings, thus making them SMART. 
The growth in technology is evident in modern buildings, and as a result, these buildings are becoming more than just a structure with four walls, a roof, and a floor. Also referred to as the Smart Building. This "Smart" factor in buildings helps improve asset reliability and performance, which reduces energy consumption, optimizes space utilization, and minimizes the environmental impact of buildings – In short, making them Future Proof. These buildings are like living organisms connected to a network with intelligent and adaptable software. 
The huge growth in this domain made us study and discuss the challenges in Smart Buildings and Startups that can be probable collaborators and gave an in-depth view of a company that already has a big presence in the domain. (Source)
Key Components contributing to making the traditional buildings Smart
Smart Building is the synonym for Sustainability and contributes directly to the organization's mission. In a way, technology is being used for people's comfort. A primary objective of making buildings smart is to achieve centralized control that diminishes the environmental impact while improving the quality of life of people.
SMART CONTROL DEVICES: Smart control devices collect data from various sensors, process this data, and activate actuators to react to the events detected by the sensors. A smart control device can operate independently, without control by a central server. 
NETWORKING: A Smart Building combines a communication network in order to control smart devices and services within the building. The communication network of an SB includes diverse communication media such as twisted pair cables like traditional computer networks. The SB network technology is classified by the interconnection method into three main types – Power-line, Bus-line, and Wire-less.
SOFTWARE PLATFORM: For a building to be "smart," it is important that all the appliances and systems in the building communicate and exchange data securely with each other as well as with smartphones, tablets, and servers in the cloud. Software platforms, therefore, play a critical role in exchanging, archiving, and disseminating information through different protocols. 
SENSORS AND ACTUATORS: These are mechanical components that measure and control the environmental parameters of their surroundings.

Sensors collect information from the environment and make it ready for the system. For instance, IoT sensors could monitor parameters such as – Temperature, Humidity, Light, Motion, Vibration, Air Quality, etc. 
The actuator converts an electrical control signal to physical activity, such that it takes decisions and then performs proper actions according to the environment. This enables automated and remote interaction with the environment. For example, a light actuator is capable of switching on/dimming electric lights.
What is the market potential in SB and the factors enabling it?
The Global Smart Buildings market was valued at about $57.3 billion in 2020 and $67.20 billion in 2021. It is projected to grow from $67.60 billion in 2021 to $264.18 billion in 2028 at a CAGR of 21.6% in the forecast period. In 2020, it exhibited a lower growth rate of about 17.4 % as a result of the downfall in the real estate market due to the pandemic. However, a booming economy and certain other factors are expected to push this growth and increase the market by more than 3 times (67.60 billion to 265.37 billion) by 2028.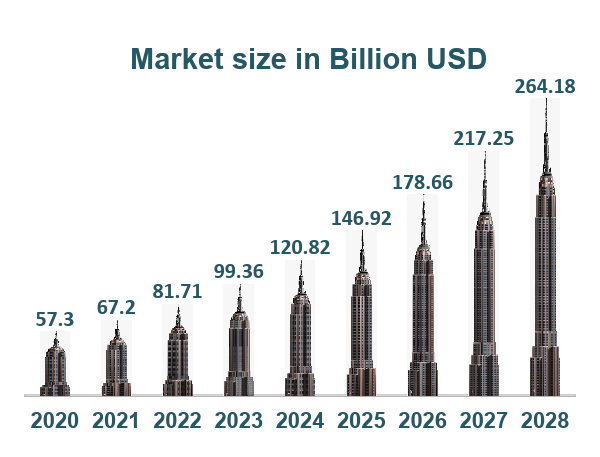 What has led to the sudden boost in the Smart Building market?
Various factors play an essential role in making modern buildings smart and transforming the way people live and work. 
Increasing world population
Rapid Urbanization
Booming World Economy
Increasing Energy Demand
Climate Change Concerns
Increasing Government Initiatives 
Decreasing prices of technically advanced goods
What are some of the prevalent features of a smart building?
The features of a smart building are the deciding factors in the performance of the domain. Here are some of the prevalent features that also open up doors for innovation.
Heating, ventilation, and air conditioning systems (HVAC): In a Smart building, smart HVAC sensors are used to collect data about the conditions throughout the building, which helps to fine-tune temperature, humidity, and airflow in various zones. This helps to optimize comfort while reducing energy consumption. (Source)
Occupancy: Occupancy sensors may be integrated into the building to provide information that will help one understand whether his/her facilities have the right types of spaces to meet the staff's requirements. Occupancy analytics could help us identify – the right amount of meeting room size, popular and unpopular communal areas, or working space sufficiency. (Source)
High patent filing and more new products in the "Occupancy" aspect are majorly due to a steep rise in its demand. This demand is enhanced due to the factors like – the formation of bigger offices (with more people), rising security concerns (intruder detection), a rise in awareness regarding Sustainability and wellness (crowded workplaces can lead to health issues), and so on. – Sushant Kumar, Intelligence team
Predictive maintenance: Using AI can help one identify if an asset needs maintenance because it can learn abnormal usage patterns and alert when detected. By collecting accurate data from sensors, one can get a realistic picture of how often a facility within a building is used, thus enabling one to take a more proactive approach to manage wear and tear, cleaning and restocking, and prolonging the life of equipment and appliances. (Source) 
Predictive Control is steadily gaining traction due to significant patent filing and research studies happening around it. It indicates that in the near future, this domain is set to witness more acquisitions, collaborations, and startups as well. – Shikhar Sahni, Senior Vice-President, GreyB
Lighting control: IoT platforms can provide lighting controls that enable the building to sense occupancy patterns and become more smart-enabled. These lighting control feature sensors that can be fitted into light fixtures and elsewhere. The sensor can track motion, power usage, ambient light, and temperature. It can enable people to get in and out of the building in a contactless way, help analyze patterns of movement, and show areas of congestion or paths frequently used. If someone who uses the building tests positive, the system can track back all the people the infected person was in contact with and then send them alerts to inform them of the potential risk. (Source)
Likewise, other prominent features of the smart building include CO monitoring, Electrical usage, Fire detection, Security and access control, Structural health, Water monitoring, smart entertainment, and more. While these features make these Smart Buildings stand out, some challenges can threaten the buildings' success if not addressed.
What are the existing challenges in Smart Buildings?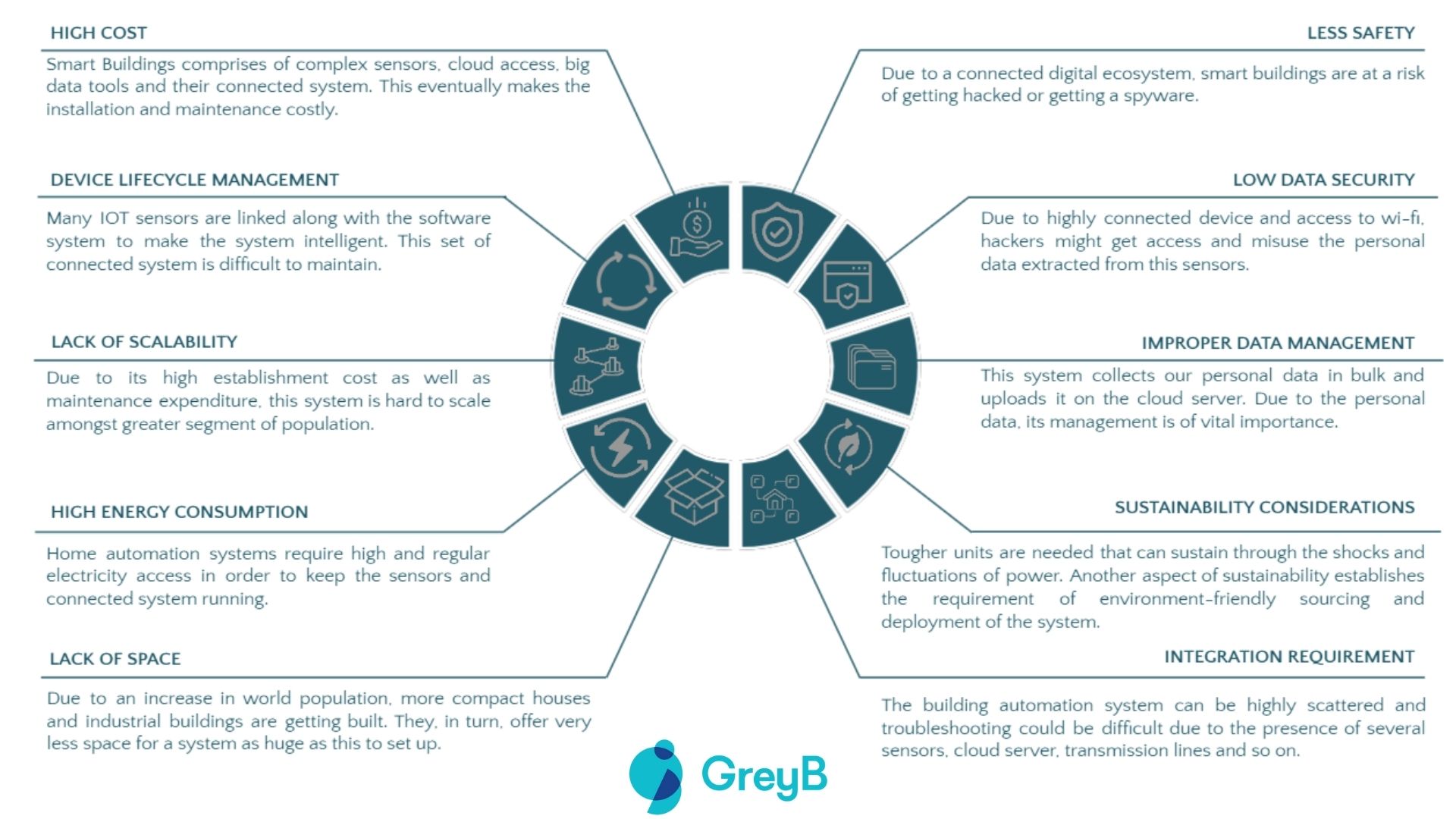 Every problem presents itself with a solution, and to know about the available solution to the Smart Buildings challenges.
Startups to look out for in the Smart Building Domain
Infogrid

Infogrid is a London-based startup founded in 2018 that utilizes IoT and artificial intelligence to optimize and automate building management, saving time, money, and the environment whilst improving safety. Sensors are small, unobtrusive, and low-cost. Implementation takes minutes. Data is transformed (using proprietary algorithms and machine learning) into actionable energy and cost-saving insights and easily integrates into existing systems. 
| | |
| --- | --- |
| Name | Infogrid |
| Founded | 2018 |
| Website | https://www.infogrid.io/ |
| Headquarters | London, England, UK |
| Employees | 11-50. |
Remote monitoring of buildings
The coronavirus pandemic has increased the desire amongst organizations to remotely manage their buildings, gain insights into the volume and movement of people in spaces, and use data to ensure a clean and safe environment. Companies also need an automated building monitoring system to comply with social distancing requirements once the employees return to work.
Solution by Infogrid
Infogrid combines real-time obtained IoT sensor data with proprietary AI analysis to translate data into meaningful insight. The output is then used to understand and operate buildings accordingly. 
In this manner, Infogrid's disruptive system can measure everything from the number of people in a room to air quality and virus risk indicators. In addition, it can even help reduce the risk of legionnaires disease in water pipes by automating compliance checks.
Collaborations and Partnerships
Disruptive Technologies (DT), the manufacturer of the smallest wireless sensors, and Integral (DT's Preferred Partner) teamed up with IoT smart building platform Infogrid in 2021 to preserve the ceiling at the Royal Opera House. Infogrid's 283 tiny sensors have now been installed to provide real-time information. The sensors are made up of 213 tap sensors reducing the need for manual monitoring of humidity, fire, etc.
Funding and Investments
London-based IoT startup Infogrid has raised $15.5 M Series A funding in late 2020 for the development of smart buildings. Northzone led the round with the participation of investors including JLL Spark, Concrete VC, The Venture Collective, and Jigsaw VC.
BrainBox AI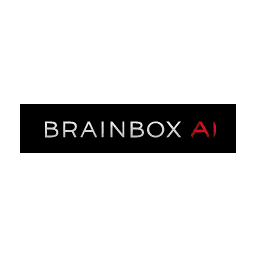 BrainBox AI offers predictive and self-adaptive artificial intelligence to optimize buildings' energy usage, carbon footprint, and operational efficiency. BrainBox AI technology is used in 100m square feet of building space across five continents. The company's solution supports a 24/7 self-operating building that maximizes energy efficiency and reduces cost. Its Niagara framework, released in 2020, has over 920,000 installations across the globe.
| | |
| --- | --- |
| Name | BrainBox AI |
| Founded | 2017 |
| Website | https://www.brainboxai.com/ |
| Headquarters | Montréal, Quebec, Canada |
| Employees | 11-50 |
GHG Emissions and electricity cost
Buildings generate 28% of the world's carbon emissions. Most of the building automation processes involving AI and the cloud lead to significant carbon emissions. In addition, automating building hikes up the electricity bills since the energy consumption drastically increases in a smart home when the sensors and connected system are all functioning. Another problem is that a lot of energy is dissipated in this complete system. 
Solution by Infogrid
BrainBox's Niagara Framework has an AI-based application having a cloud connection to the platform. With this, it claims to give more buildings the ability to decrease energy consumption by predictions. Its autonomous AI claims to provide energy and capacity back to the grid, contributing to cleaner and efficient consumption. It will be interesting to see what other solutions can various companies researching Artificial Intelligence bring to the table. Brainbox's HVAC system can deliver up to a 25% reduction in total energy costs, 60% improvement in occupant comfort, and 20-40% reduction in a building's carbon footprint.
Collaborations and Partnerships
BrainBox has established a global distribution agreement with ABB. A key part of this relationship includes the promise of bringing the AI-driven solution to ABB's existing expansive customer base, creating a meaningful and rapid impact on the environment. Also, ABB to integrate BrainBox AI's predictive, self-adaptive artificial intelligence with the existing ABB Ability™ portfolio for smart buildings.
Funding and Awards
In October 2021, Brainbox AI raised $24m in a Series A round led by ABB, which itself is a leader in building automation, for its machine learning building automation technology. ABB led the round along with Esplanade Ventures and Desjardins Capital. It was also recognized as TIME's best invention of 2020 in the inaugural AI field. 
Analysis of 75F – A company dominating the Smart Building Domain

75F is a relatively new company (established in 2010) but not a startup, with notable innovation, R&D, and products in the smart building and automation domain. It uses the power of IoT, ML, and cloud computing to analyze real-time data from various sensors and devices installed at the building. It has received funding from Bill Gates and Jeff Bezos-backed Breakthrough Energy Ventures, making it the largest investment to date in the energy-efficiency technology category in the Asia Pacific region. It creates a network of devices that can generate a lot of insights which further helps building owners and facility managers in making more educated decisions about occupant comfort and energy efficiency. 75F solutions combine the data-gathering potential of Edge Computing and the storage and processing power of cloud computing to ensure that the IoT devices respond fast and are efficient while driving innovation with big data analytics. 75F can control and optimally adjust each of the three aspects of thermal comfort, indoor air quality, and lighting to ensure optimum occupant experience while saving up to 50 % on energy. (Source)
With our complete report, you get a detailed analysis of major companies and more than 300 start-ups. To get extensive analysis of Smart Buildings by our research team.
Company Overview
75F is a Minneapolis-based startup that provides smart solutions for commercial buildings. They also have operations in India, serving as their primary office location in the Asia-Pacific region. 
Founded in 2012, 75F offers a vertically integrated line of hardware and software that leverages IoT and machine learning to deliver predictive and proactive control of HVAC, lighting, and Indoor Air Quality Management (IAQM). 
With an average customer savings of 41.8% in energy consumption and carbon footprint, 75F has a system that works for all sizes of commercial spaces. Source, Source
By the end of 2019, 75F completed an $18M Series A round of funding co-led by Bill Gates and Jeff Bezos-backed Breakthrough Energy Ventures and Climate Initiative with participation from Building Ventures, Revolution's Rise of the Rest Seed Fund, and Clean Energy Trust. This made it the largest investment to date in the energy-efficiency technology category in the Asia Pacific region. In addition, they received further investments from Wind Ventures and Siemens AG, bringing the total funding to $28M. Source.
Operations, Products, and Services

75F's smart building solution uses IoT, ML, big data analytics, and cloud computing to analyze real-time data from various building sensors and devices. This creates a vast network of devices that can glean many insights that help building owners and facility managers make more educated decisions about occupant comfort and energy efficiency. 
75F's system can control and optimally adjust each of the three aspects of thermal comfort, indoor air quality, and lighting to ensure maximum occupant experience while simultaneously saving on energy. Moreover, the predictive solution is more efficient than standard building control systems. Hence, it does not require the CapEx investment for IT infrastructure of data center equipment, nor the corresponding ongoing OpEx maintenance. Source.
What makes 75F stand out from its competitors?
75F stands out compared to other competitors because it provides an entire package constituting – the hardware, the software, the building intelligence systems, the data analytics, and the user interface. The 75F System is predictive compared to traditional building control systems, which are reactive and respond to errors after they occur. Their portfolio also includes innovative solutions such as the recently developed Epidemic Mode Solution, Advanced Lighting Control and Automation, Outdoor Air Optimization, and Indoor Air Quality Management, amongst others. Source
Acknowledgments and Accolades
Most Innovative Smart Buildings Automation System 2019 – by Global Excellence Awards 2019. 
PropTech Eco-Solution of the Year 2019 – Realty+
Energy Efficiency Winner – CleanTech Open.
Technology Inventor Winner – Titans of Technology.
People's Choice Award – Clean Energy Trust.
Minnesota Cup in 2014 
Featured in the top 10 startups in India in the IoT domain for 2017. 
75F claims to be growing in triple digits for the last few years, and its clientele includes brands like First Source Solutions, Flipkart, Bennett-Coleman Group, Shell, HP, ADAMAS Builders, and Mercedes Benz, to name a few. As per reports, the company aimed to reach INR 1 billion in revenue in the fiscal year 2018-2019. 75F has partnered with the United States Green Building Council (USGBC), the Green Building Certification Institute (GBCI), and the International WELL Building Institute and is a member of the United Nations Environment Program (UNEP). Moving forward, they wish to expand their focus to advanced lighting and energy management solutions beyond HVAC, enter new markets and start serving new verticals such as hospitality and retail sectors. Source, Source
Problem Areas Being Focused On Innovation
Globally, buildings are responsible for up to 30 percent of all energy-related greenhouse gas emissions. Also, a lack of intelligence in buildings regarding control settings of HVAC causes occupant discomfort. 
75F believes in the promise of enabling technologies such as the Internet of Things, Machine Learning, and Cloud Computing to improve building occupant lives and deliver energy savings without sacrificing comfort. Currently, 75F Inc. holds the following patents:
US8457796B2: This invention describes a method and system for predicting occupancy of the building space and conditioning the building space before being occupied. The patent suggests a user-friendly HVAC system that attains maximum comfort levels and efficiently utilizes energy resources to solve these problems. The invention follows a sequence of steps by considering prior occupancy data, environmental conditions, predicted occupancy, historical temperature data, and weather data to make optimal conditioning decisions. Source.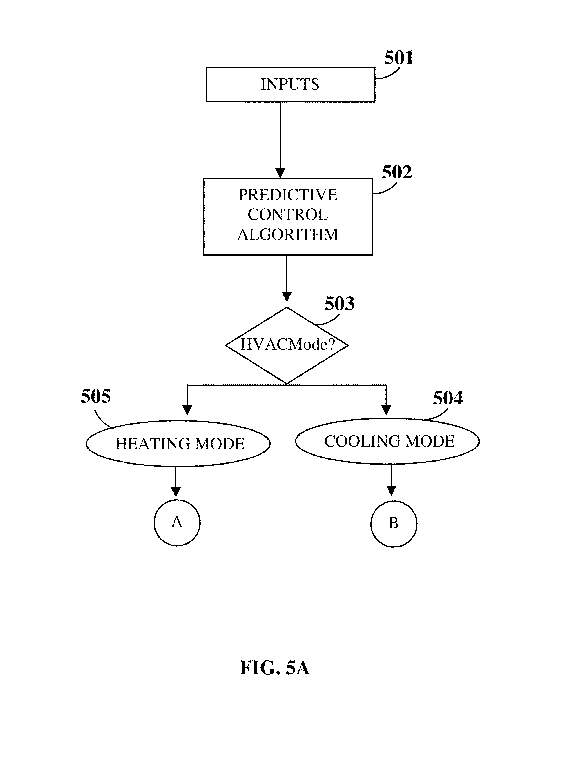 US8553992B2: This patent describes a method and system for determining the class, attributes, and identity of an occupant in the space. Traditional sensors feature some drawbacks in being unable to distinguish between human occupants and other mobile animate and inanimate occupants and detect stationary occupants in a space. Further, advanced sensors consume a high amount of energy. To solve these problems, the invention describes a system that captures an infra-red image of an occupant, followed by its digitization to obtain a thermal signature of the occupant. The generated thermal signature is then compared to the entries within a thermal signature database to meet the objective. Source
M&A, Partnerships, and Investments

Conclusion
Smart Buildings go far beyond what we think we know about them. To mold the domain as per the consumer demands, innovation is dynamically ongoing in the domain, with multiple startups trying to make it big, which also opens the room for collaborations with these startups. But, to understand where you stand a chance in the industry, some questions should have clear answers.
What kind of solutions are the startups providing to the smart building challenges?

How is the idea of smart building applicable to disabled people?

Are there any patents filed for data management and integration issues?

What can be done to deal with the high operational cost of Smart Buildings?
Well, our extensive report holds the answer to these and clarifies many other questions. Fill out the form below to get our Smart Building report.
Author: Sarvagya and Shikhar, Intelligence Team