Avoid SEP Litigation with 5G in the Healthcare Sector! GreyB found the solution
With our previous articles on 5G in the Healthcare sector, it is apt to wonder if turbulence brought by the introduction of 5G to the various other technical domains is waiting to shake the Healthcare sector too.
The e-Healthcare market around the globe is flourishing and the major contributor is the pandemic that expedited the adoption of telemedicine. 
Companies are already witnessing a surge in the number of telemedicine visits, with some companies reporting a significant spike in the demand for video consultations since the COVID-19 pandemic. 
Consequently, a growing number of patients are using telemedicine for consultations resulting in a growth of the telemedicine market.
The snapshot below validates the same.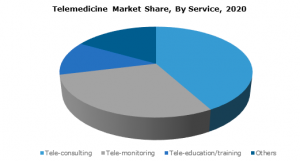 The rise in the use of digital health devices such as tablets, smartphones, wearables, and others is another major factor leading to 5G growth in e-healthcare. Also, complete detail of how 5G is impacting the healthcare sector can be found in the first article of the 5G Healthcare series.
Moreover, recent advances in microelectronics, data analysis, sensor manufacturing techniques and telecommunications have provided new growth opportunities for wearable devices in the digital health ecosystem.
When we talk about digital Healthcare and what innovations 5G's amalgamation into it could bring, the discussion suddenly becomes more diverse. Not only are the health companies working tirelessly to create new Healthcare solutions, but as discussed in our previous article, many 5G operators have also set a strong foot in this sector. 
So what does this mean for the healthcare industry?
Telecom Players in the Health Sector! What to expect?
In our research on 5G, it was found that the highest-grossing Telecom companies in the world like AT&T, Verizon, Orange, China Mobile, and Ericsson have good patent portfolios and huge customer markets.  
Furthermore, analyzing the 3GPP contribution patterns regarding the use of 5G in Healthcare, we could see the same players popping up in the list. How interesting is that!?
With the e-healthcare space being on an exponential rise and with the introduction of these Telecom giants and their revolutionary 5G technology, the disruption in the Healthcare ecosystem and its market valuation is inevitable.
And every telecom player out there is trying to establish its dominance. Litigation, standardization, and licensing disputes are prone to follow. 
Let me share an example for the above statement.
Ericsson in 5G and Healthcare
Ericsson has made its intentions clear of penetrating this sector and has particularly shown interest in the domains of biomedical, remote diagnosis, and robotic surgery. (Source)
The most favorable outcome for Ericsson was the standardization of its patents in these domains. I mean, since the effort of collaborations and investments is already heavy, their developed technology now being a standard tech could definitely strengthen their ongoing efforts and market position.
To date, Ericsson has had 159740 proposals made to the 3GPP committee. Mind-blowing, right?
With the size of the company and its R&D strength, this step seems very strategic, don't you think?
Will Ericsson dominate the 5G Healthcare sector?
From the above stats, the answer should be a definite yes. But what if I tell you that, the domain Ericsson has dived into for 5G Healthcare collaborations is being standardized by some other companies? 
Here's a list of some insights that bring a very obvious repercussion for Ericsson.
'Addition of robotic aided surgery and diagnosis performance requirements' is standardized by B-Com.
'Addition of a synchronization requirement in use case (Communication QoS requirement for robotic telesurgery)' is yet again proposed by B-Com and additionally.
'Robotic Aided Surgery for Wireless Operating Rooms' by B-Com, Orange and 'QoS Requirement for Robotic Telesurgery' proposed by Fujitsu Laboratories of Europe is also a part of the 5G standards for Healthcare.
There can be numerous litigation cases coming Ericsson's way. 
Additionally, multiple licensing deals have to be agreed on, not to mention the risk of losing its credibility for its research and collaborations in the market!
A similar scenario was seen when 4G was first introduced. The rise in litigation cases and licensing deals rose drastically among the competing telecommunications companies.
An example of this is a long-running SEP licensing dispute between Unwired Planet International Limited and Huawei.
Unwired Planet International Limited v. Huawei
Unwired Planet sued Huawei for infringement of 5 of Unwired Planet's patents on 4G technology in the UK. Unwired Planet argued that the patents were SEPs and that Huawei had refused to take a FRAND license.
Another trend that rose was the litigation cases filed by small companies or LLCs on multi-billion dollar giants. 
One such case is the litigation of Finesse Wireless LLC v. AT&T Mobility LLC filed recently on 02/24/2021. 
Finesse Wireless LLC v. AT&T Mobility LLC
Inventor-controlled Finesse Wireless, LLC filed its first patent litigation, accusing AT&T (AT&T Mobility) (2:21-cv-00063) and Verizon (Cellco Partnership d/b/a Verizon Wireless) (2:21-cv-00064) over the provision of their respective 4G/LTE and 5G mobile networks, as well as related cellular base stations.
Since the huge damages involved in litigation cases prove to be a motivation for Plaintiffs, and better yet in SEPs, the adoption rate is so huge and the licensing fees that come along are so satisfactory that – 'SEP litigation' is now the new normal.
What is the solution to dominate 5G in Healthcare while preventing litigation risks?
The cases discussed above might leave you hovering between the questions like:
Is there something Ericsson can do to mitigate the damages from an IP point of view? 
Is there some strategic planning any company like Ericsson trying to work in the Healthcare domain could devise to keep itself out of this litigation quicksand?
Indeed there is. Given below are some of the strategic steps that can aid you in defending or gaining a competitive edge from an IP perspective.
A portfolio analysis – Knowing how to play your cards when you step into a game of poker is the biggest advantage you have. A tactical plan on developing more products/services based on the patented tech domain in your portfolio can be just that. The current industries and domains your patent portfolio deals in can be further explored; more and more end products/services in those domains can definitely be fruitful.
Patent acquisition – Patenting an innovation takes time. If you want to dynamically launch new services, strategic patent acquisition can be just the thing for you. But choosing the right patents that fit your product portfolio is yet another detail to focus on.
Collaborations – Ramping up your market presence can be done effectively if, you choose the right partner. Collaborating with companies/startups for beneficial partnerships has always been and will be yet another way to mitigate some of your IP concerns.
Whitespace analysis – Investment in R&D is viable when you know you're among the handful, leading that technology. A whitespace analysis for any domain of interest to find the credible areas for investment in Research is another plan to keep you off the shores.
And the best strategy is, not to do all this all by yourself.
5G in the Healthcare sector is huge and evolving, and the queue of companies trying to dominate and build an edge is not small. Landscape analysis, portfolio teardowns, and startup scouting can really boost you ahead of the game. And that's where GreyB comes into the picture. 
Have some great plans in mind about your next 5G expansion in the healthcare industry? Let us help you in your venture with tailored insights and market expertise. Fill out this short form below and let's get in touch –