Search has no limits and this is how Rohit proved it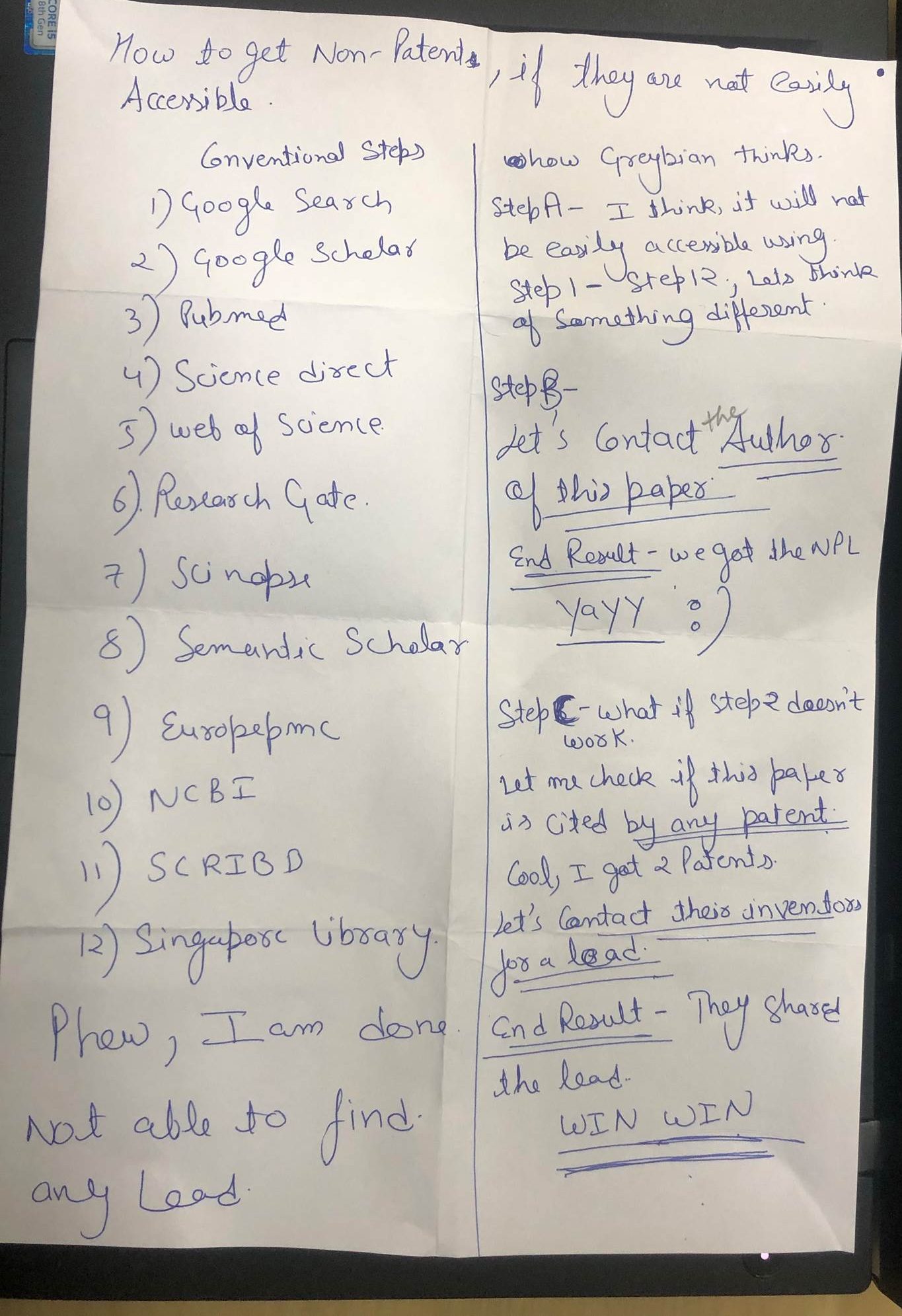 Last Friday, I got an email from our favorite Vikas (the guy who everyone keeps looking for). Over the email, he asked me to search for three documents. After seeing that email, I was like seriously? Do I have to find these documents? Okay!
I thought — no problem! let me search this Monday morning, so, now when I started on Monday, I was astonished by the fact that no single source was providing full-text of these documents; and that's when I realized why Vikas shared this with us.
After applying all basic tantrums, nothing came handy. I thought to go the extra mile, motivated by one and only — Chakshu (Shukriya!).
I started looking for the authors and their addresses. I was able to track one inventor, who is currently running a charity organization. After that, I asked Abhinav to help me in dialing this charity's number. This way, we were able to connect and share our concerns with them. Finally, the author committed that by next week, he'll share the PDF copy of the paper with us. Yayyyy.
Now, this is the story of one paper, and, still, I was left with two more papers. Honestly speaking, none of them were available on any website that I am aware of. Fortunately, I was able to track them in one patent. Phew!
Now, the next challenge was to find the email addresses of the inventors, for which, I contacted our expert – Mr. Sunder. He helped me in finding the email addresses of all the inventors; I approached them and got a few leads. That again helped me move to the 27next step.
After this complete dramatic to-fro of emails, I shared one more email to the journal society for these two papers and got an automated reply that Italy is celebrating holidays, and they will get back to us by September 01. Sigh of Relief.
Hopefully, I will have these three documents in my inbox by next week 🙂
Quick Learnings –
Search has no limits, keep on exploring anything and everything that is within your limits.
Know your colleagues, in my case Sunder played a major role by finding the email IDs of inventors.
Authored by: Rohit Jaswal, Manager, Prior Art