Mesa sues Amazon, Sony, Lenovo, and Blackberry – a prior art could be found here
Patent Assertion Entities have been an active topic of discussion in IP industries for years. They have earned a moniker of frivolous lawsuit filers trying to assert a patent covering vague or quite general technology.
Most of the cases filed by PAEs in past decade involved patents covering software technology because of software patents easily prone to abuse. Recent such example is of Mesa Digital which has sued smartphone manufacturers like Lenovo, Blackberry, Sony, and Amazon.
What has Mesa Digital done? Which patents and what kind of patents are involved in the lawsuit? And most importantly, are these patents strong enough to survive a lawsuit? Read on and you will find the answer to these questions:
Mesa Digital – A new player in games of Patent Assertion Entities
Mesa Digital has no digital presence. The only proof of their existence is their patent portfolio and the lawsuits. Digging a bit deeper, we found it to be related to an IP law firm OL Patents or Ortiz & Lopez, PLLC.
FYI: The founders of the law firm are inventors of the patents in the lawsuit. Apart from the four companies sued where Mesa is plaintiff, OL Patents sued Alphabet and HP as well. Further, the patent portfolio of Mesa, which consists of 65 patents, covers semiconductors and multimedia devices.
Products and Patents involved
Mesa Digital filed all the four cases on 5 February 2018 with case numbers 1:18-cv-0092, 1:18-cv-0091, 1:18-cv-0094 and 1:18-cv-0099.
In this analysis, we are considering two terminally disclaimed patents, US9031537B2 and US9646444B2 , titled Electronic Wireless Hand Held Multimedia Device. The US'537 and US' 444 cover a hand-held device with capabilities of communicating over different network protocols, houses a touchscreen, and a camera. To make it simpler for you, both of these patents cover a device quite similar to modern smartphones and tablets.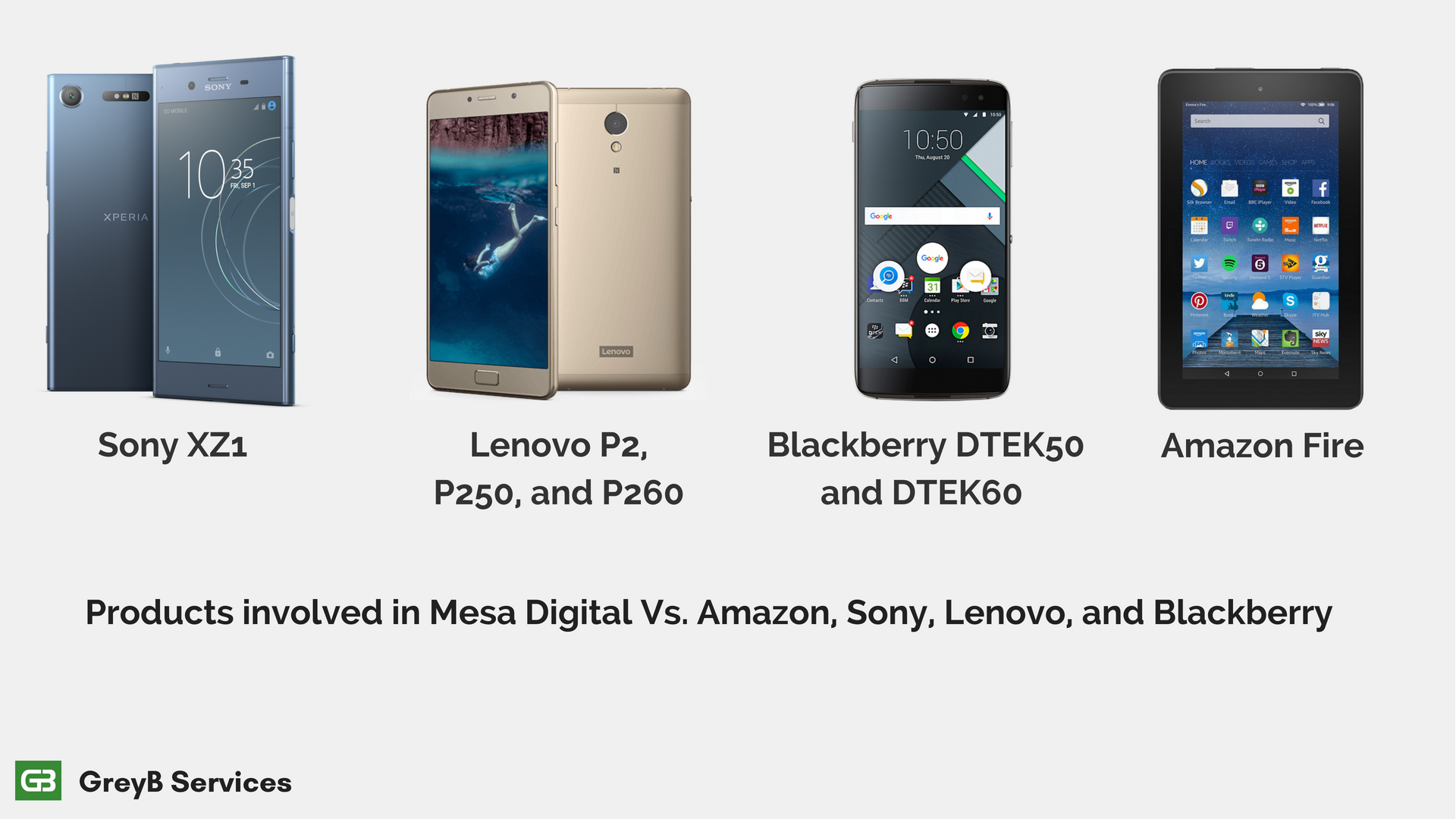 The devices infringing the patents are famous products by the four companies.  In the court documents, Mesa provides a detailed analysis of how different claims of its patents read on features of Sony Xperia XZ1. You can find a similar analysis for Lenovo's P2, P260, and P250 smartphone. Blackberry got sued for DTEK60 and DTEK50 while Amazon if for its fire tablet.
The outcomes of these lawsuits are important because if Mesa wins – an unlikely event as per our analysis – a lot of smartphone and tablet manufacturing companies will become vulnerable to these 2 patents.
What does our analysis say?
We kick started our analysis with a product having all these features. Smart communicating devices have been in trend for several decades, and by the time these patent came into existence, there were a lot of companies racing to manufacture next smartphone. Companies like IBM, Sony, Microsoft, etc., were highly active in researching and manufacturing similar devices.
Thereafter, we ran multiple key-strings on Google Patents having relevant terms missing in the examiners' search reports. We found relevant companies which further led us to products like NEC Mobilepro 770, Sony VAIO PCG-C1X (CIR), Palm Pilot, Casio E10(11), Nokia 8110, Philips Nino, Palm III and 3COM Palm VII. Using these products, the patents could get nixed under section 103.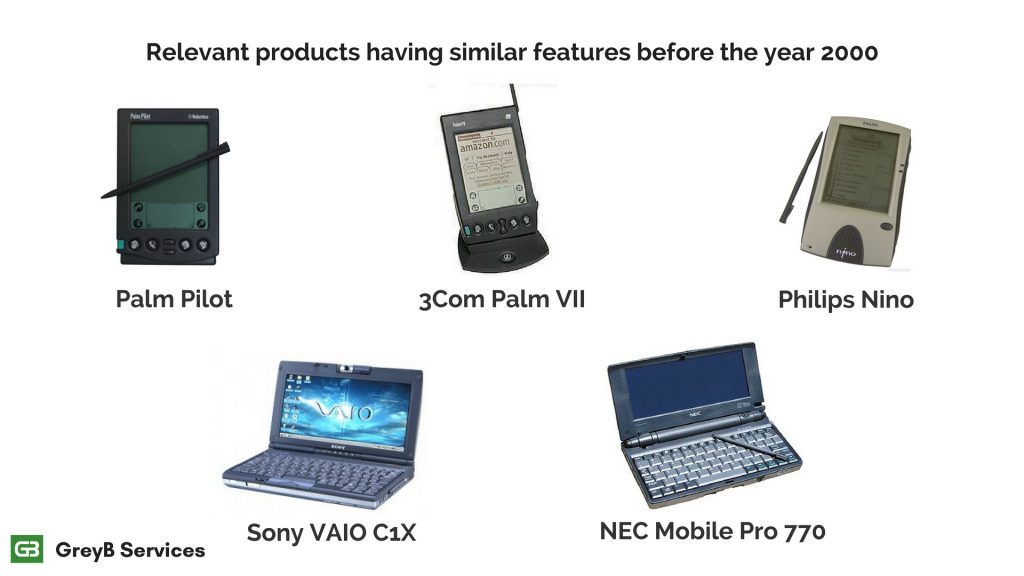 We searched the wireless communication tech areas like WiFi, IEEE, GSM, and HSDPA. One product led to the next and finally, we found some relevant results. We have put together all these evidence in our preliminary report.
The report also includes a detailed list of potential areas where one could find a knock out prior art. You can download the report using the form below: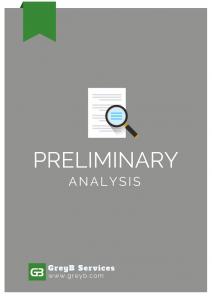 Over the past few months, we have done a lot of preliminary analysis to test the strength of patents involved in recent litigation. Our most recent one is about DivX's patent asserted against Netflix and Hulu, you can read it from here – Is DivX compression tech patent really a trouble for Netflix and Hulu?
Preliminary analysis are a great way to asses the strength of a patent and find areas where a potential prior art can be found. Since we conduct these analysis often, in case if you're interested in reading our future pieces, here's the form you need to fill to subscribe: