Hydrogen Energy Storage: An Innovation Trend Analysis
If you are working in the energy sector you must be aware of the research and development in various energy storage & hydrogen technologies.
Various industrial applications such as glass, fertilizer, metal refining, and chemical manufacturing employ the Hydrogen technology. This is because all of these businesses have an urgent need to reduce their carbon footprints as a result of environmental regulations and customer preferences.
The rapid industrialization of developing countries, as well as the increased adoption of alternate kinds of energy, are driving the market expansion of hydrogen storage systems. Among the primary objectives intended by the government are the development and building of cost-effective and energy-saving hydrogen plants around the country. (Source)(Source)
In 2021, the global hydrogen energy storage market was valued at $14.69 billion and it's expected to grow and reach $21.64 billion by 2030. The market is expected to increase at an approximate CAGR of 4.4% during the forecasted period. (Source)
Global Hydrogen Energy Storage Market Size during 2021-2030 ($Billion)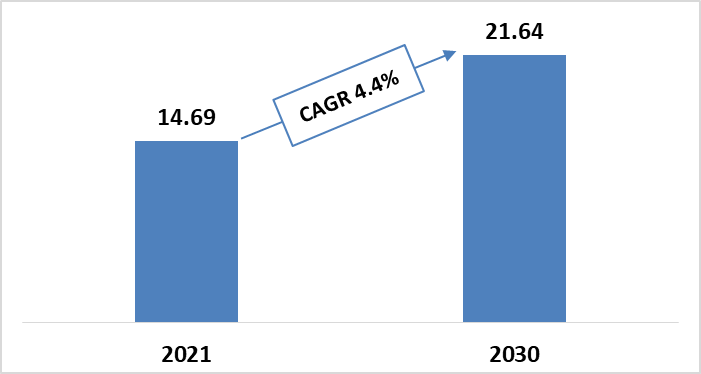 Hydrogen energy storage system has a great market potential and a lot of companies are ready to grab their share of profits. Today we'll be discussing what these companies as well as startups are up to. But like any other solution, hydrogen energy storage also comes with many challenges alongside the benefits. Let's discuss them in brief. 
Advantages of Using Hydrogen Energy Storage
Enabling greater incorporation of renewable energy generation – While collecting the renewable power inputs from RES, hydrogen, as a kind of energy storage, can offer fuel for creating electricity or heat or for fueling an automobile. 
When needed, the stored hydrogen can be used to generate electricity, or it can be used in other energy-intensive sectors such as the gas grid, transportation as a fuel, and industrial activities. 
Hydrogen storage is not limited by region and can transfer limited renewable generation into other energy-intensive sectors. (Source)
Challenges of Hydrogen Energy Storage
High capital cost of the liquid – At the moment, hydrogen energy storage is more costly than fossil fuel. The majority of these hydrogen storage technologies are in the early development stages. The quantity of energy that fuel cells can create from hydrogen and then use to meet the needs of commercial and residential buildings is exceedingly low. Due to the high insulation expenses required to prevent vaporization, the market for storing hydrogen energy in liquid form has significant capital expenditures. Hence, the time and cost for charging and discharging hydrogen in these systems and the process expenses are significant.
Strict government regulations – Stringent government rules governing the production of hydrogen by electrolysis have been hindering the expansion of the worldwide hydrogen energy storage sector. Several areas prohibit the manufacture and application of hydrogen. The manufacturing process can endanger the lives of those who work in factories. (Source)(Source)
As an innovation manager in an energy storage company, understanding various energy storage & hydrogen technologies, and new R&D and its applications is a requisite for you. 
Now, let's see which companies are working on this technology.
Major Companies Working on Hydrogen Energy Storage
ITM Power 
ITM Power, based in England, designs and produces electrolyzer systems that generate green hydrogen using proton exchange membrane (PEM) technology.  (Source)
ITM Power's electrolyzers are fueled by renewable energy and employ market-leading PEM technology to produce the purest green hydrogen on the market. The company believes this to be the most effective strategy to help the world decarbonize and attain net-zero emissions.
The product portfolio includes HGAS1SP (smallest containerized PEM electrolyzer system of ITM Power), HGAS3SP (medium-sized containerized PEM electrolyzer), 3MEP CUBE (for large hydrogen production), and 2 GEP Skid (5 MW capacity), etc. (Source)
HGAS3SP (Medium Sized Containerized PEM Electrolyzer)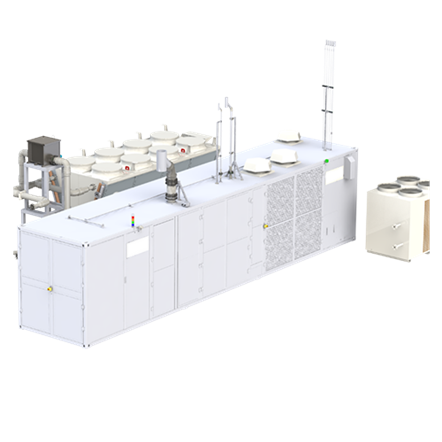 2 GEP Skid (Two Stack Modules With 5 MW Capacity)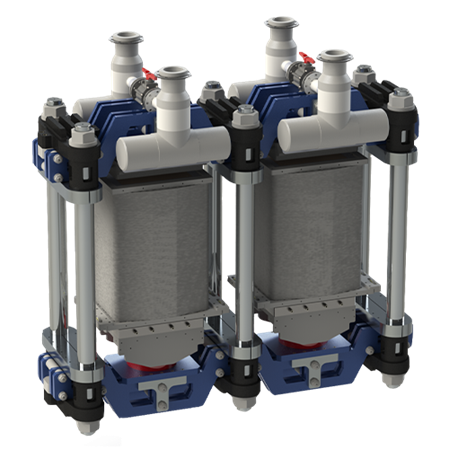 Merger, Acquisitions, and Collaborations
In 2021, ITM Power plc announced its intention to raise at least £52.0 million (before expenses) through-
(i) A strategic investment of £38.0 million at 40 pence per share by Linde UK Holdings No. 2 Limited; and
(ii) a conditional placing of £14.0 million at 40 pence per share with certain existing and new institutional investors. 
The Group has also formed a 50/50 joint venture with Linde (the Joint Venture). This is to focus on delivering green hydrogen to large-scale industrial projects. Primarily those with installed electrolyzer capacities of 10 Megawatts or more. (Source)
Air Liquide 
Air Liquide, headquartered in Paris, is a global leader in gases, technology, and services for industry and healthcare. The Group's specialized process of electrolysis produces Hydrogen from the disintegration of water. In 2021, Air Liquide completed the world's largest PEM (Proton Exchange Membrane) electrolyzer, equipped with CUMMINS technology, marking a significant step forward in the Group's commitment to creating low-carbon hydrogen on an industrial scale.
The collection of CO2 during the steam methane reforming process is a critical issue throughout the hydrogen production process, to which Air Liquide has developed a unique solution: CryocapTM. Other industrial operations can subsequently store or reuse this carbon on a big scale. (Source)(Source)
Air Liquide PEM technology Plant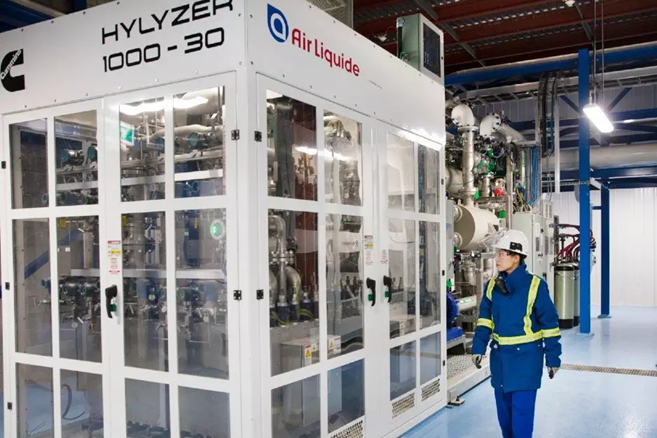 Merger & Acquisitions
Air Liquide completed the acquisition of Sasol's 16 Air Separation Units (ASU) in Secunda, South Africa, in 2021. The company would run this facility, the world's largest oxygen production site, with a goal of reducing CO2 emissions by 30% to 40% over the following ten years. The first investment was estimated to be over 8 billion South African Rand (circa 480 million euros). Air Liquide Large Industries South Africa (ALLISA) would run the 16 ASUs, which have a total installed capacity of 42,000 tons per day.
"The finalization of this deal is a key milestone in our ambition to work together with Sasol, our partner for 40 years, to combine operational efficiency and reduction of CO2 emissions while making a meaningful contribution to the economy of South Africa. We are pleased to welcome the employees who are joining us from Sasol and are looking forward to modernizing the site and implementing our decarbonization plan. In line with our strategy, and with our commitment to reach carbon neutrality by 2050, this operation demonstrates our resolve to act now in favor of the climate and local ecosystems."

-According to Benoît Potier, Chairman, and CEO of Air Liquide(Source)
Air Liquide announced in 2019 that Airgas has signed a definitive agreement to acquire TA Corporate Holdings, Inc. (Tech Air). This agreement, which is subject to antitrust approval in the United States, would allow Airgas to improve its distribution network in the United States with a complementary footprint to better service customers while producing considerable efficiencies. (Source)
Cummins Inc.
Headquartered in the United States, Cummins Inc. is a significant player in battery, fuel cell, and hydrogen-generation technology. Cummins' PEM electrolyzers are among the most efficient on the market, able to generate greener, renewable hydrogen. For smaller-scale hydrogen output, the business also provides alkaline electrolyzers with proven performance and dependability. (Source)
The HySTATTM and HyLYZERTM on-site hydrogen generators from Cummins are the results of years of continual improvement in performance, flexibility, quality, and durability. Cummins' advanced modular electrolyzers deliver high-purity hydrogen with secure, easy operations, low maintenance, and international support from installation to start-up. (Source)
Electrolyzers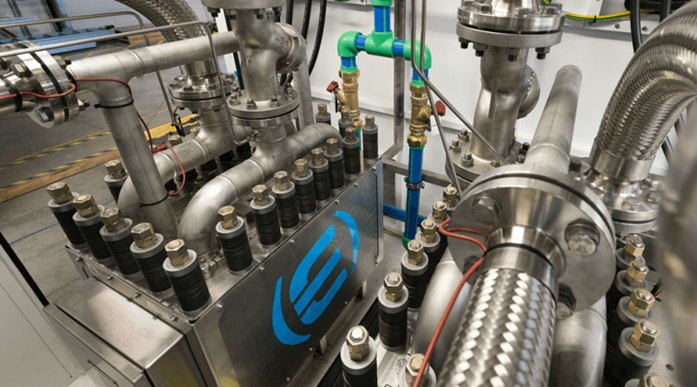 Hydrogen Economy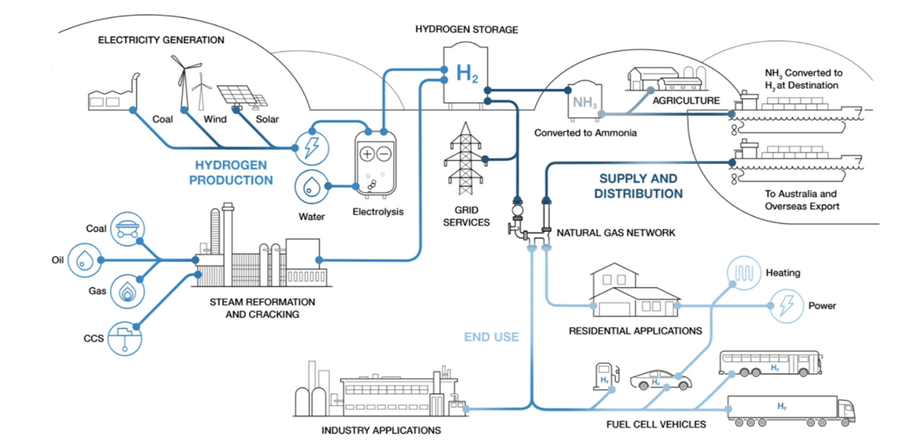 Merger, Acquisitions, and Collaborations
The company announced in 2022 that it had completed its acquisition of Meritor, Inc. for $3.7 billion. Meritor is a prominent global supplier of commercial vehicle and industrial drivetrain, mobility, brake, service, and electric powertrain solutions. Meritor's acquisition also brings products to Cummins' components business that present strong growth potential throughout the Company's portfolio of power solutions and applications. (Source)(Source)
Cummins Inc. and Daimler Truck North America (DTNA) collaborated in 2022 to retrofit and validate Freightliner Cascadia vehicles with a Cummins hydrogen fuel cell powertrain for usage in North America. The company's fourth-generation fuel cell powertrain would be used by Freightliner, which promises greater power density, efficiency, and longevity. The collaborative effort would help both firms meet their aim of reducing emissions across their product lines and operations. Following successful validation, the businesses plan to have initial units available for chosen clients in 2024. (Source)
Startups are also competing with these major players in the hydrogen energy storage industry. Let's see how far they've come.
Startups Working on Hydrogen Energy Storage
NPROXX (Founding Year – 2018)
NPROXX, based in the Netherlands, is a well-known player in high-pressure hydrogen storage for both stationary and mobile applications. The company is recognized for designing, producing, and manufacturing Type 4 pressure vessels for high-pressure hydrogen storage. NPROXX's CFRP Type 4 pressure vessels can be utilized for up to 30 years without needing to be replaced, which is twice the estimated life duration of Type 1 and Type 2 vessels. The pressure vessels of Type 4 have nominal working pressures of 350 bar, 500 bar, and 700 bar. (Source)(Source)(Source)
Type 4 Pressure Vessels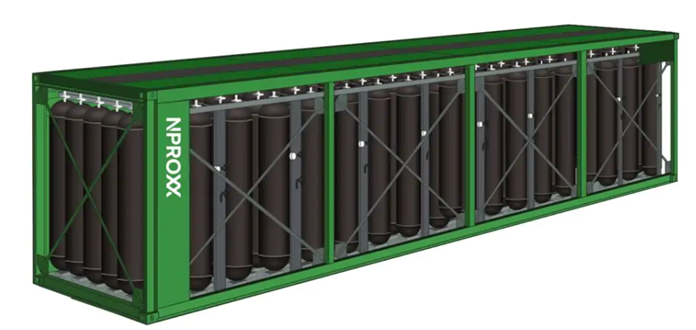 Merger, Acquisitions, and Collaborations
NPROXX formed a joint venture with Cummins Inc., one of the major company in the domain, for hydrogen storage tanks in 2020. The joint venture would provide customers with hydrogen and compressed natural gas storage products for on-highway and rail applications. The joint venture expands Cummins' fast-increasing hydrogen capabilities and is one of the numerous moves taken in the last year to improve the company's capabilities in fuel cell and hydrogen production technologies.
"We are thrilled to combine Cummins' expertise, innovation, and commitment to customer success with NPROXX's leading hydrogen storage technologies. In order to move toward a decarbonized future, the world will require multiple power solutions including advanced diesel, natural gas, electrified power, fuel cells, hybrids, and other solutions, and Cummins is committed to leading the way and being the provider of choice. The addition of hydrogen storage to our existing capabilities in hydrogen production and fuel cells enables us to accelerate the viability and adoption of these technologies in commercial markets."

– Tom Linebarger, Chairman and CEO, Cummins Inc. (Source)
GRZ Technologies (Founding Year – 2017)
GRZ Technologies, headquartered in Switzerland, manufactures hydrogen-based power-to-power solutions and thermochemical hydrogen compressors with the goal of storing large amounts of renewable energy and enabling 100% sustainable energy in the future.
The company's DASH Storage Modules are solid-state hydrogen storage technologies. Therefore, they allow hydrogen to be stored in solid, atomic form within a unique metallic framework. (Source)(Source)
DASH Storage Modules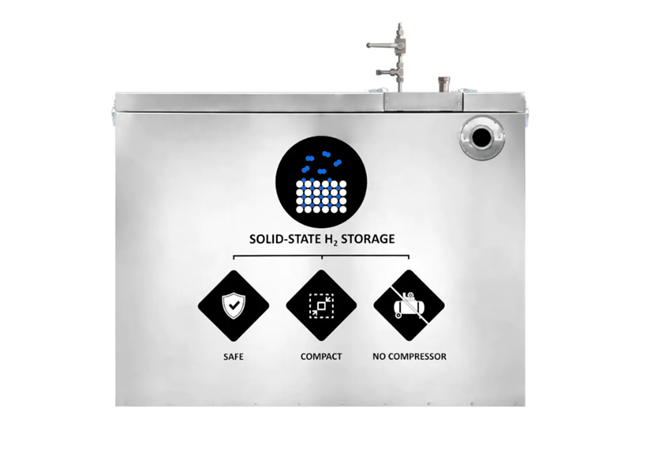 Merger, Acquisitions, and Collaborations
Burckhardt Compression collaborated with GRZ Technologies in 2020 to create a new hydrogen compression technology. It would be used in hydrogen fuel stations, hydrogen energy storage systems, and other applications, and would make use of thermal active metal hydrides. (Source)
H2Heat Technology
H2Heat, headquartered in Canada, is a pioneering clean technology startup. The firm creates high-capacity, efficient, compact, safe, portable, and cost-effective heat and hydrogen storage systems. These are based on the thermochemical reactions of new nanomaterials and micro-heat transmission technologies. (Source)
H2Heat uses a revolutionary solid-state nanocomposite of complicated metallic alloys, a cutting-edge tank design, and a micro-heat transmission technology to store a significant amount of hydrogen atoms. The H2 gas, which is produced by steam reforming, renewable energies via electrolyzers, and other processes, goes through a specific plate that dissociates the H2 molecules into H+ atoms. H2 atoms permeate into the material and form chemical bonds with storage medium atoms via an exothermic process with a useable heat of 7 kWh/kg H2 at 160°C. (Source)
Hydrogen Storage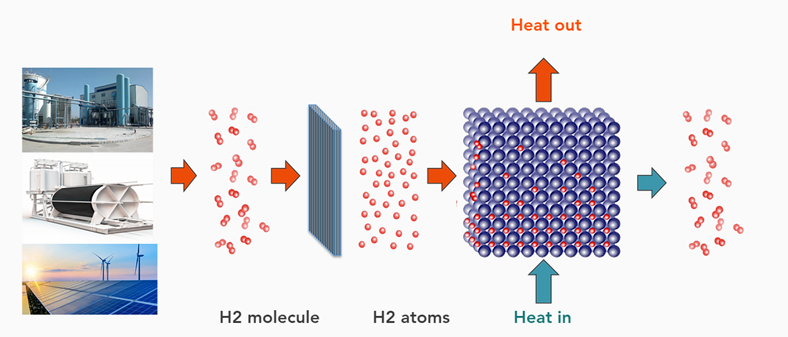 Key Features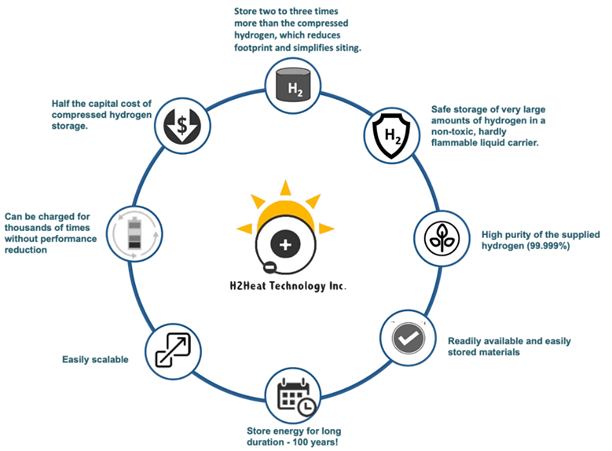 KONTAK
KONTAK, situated in the United States, is a pioneer in the new field of HOLC – Hydrogen on Liquid Carriers. Their products, procedures, and strategies are designed to provide safe, abundant, and affordable hydrogen. (Source)
The startup provides a 5kW bundled backup solution for cell towers in areas with unreliable main power. Depending on the need for continuous backup times and the desired time between refills, a range of fuel quantities can be supplied. (Source)
KONTAK Cell Phone Towers Back-up System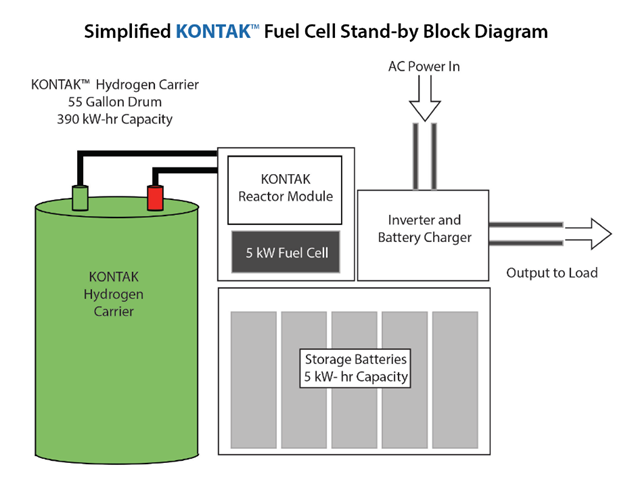 HySiLabs
HySiLabs, headquartered in France, is developing a method to make hydrogen transport and storage simpler by charging it in a safe liquid carrier. Hydrogen is infused into HydroSil. HydroSil a liquid silicon hydride derivative that is stable, non-toxic, non-explosive. It has a long storage life, and is classified as a non-hazardous good. The gas is then released on demand at the consuming location. This method, which allows the utilization of existing fossil fuel infrastructure, revolutionizes the hydrogen transport sector. (Source)
With a total of 70 patents in its portfolio the startup has a potential future in the domain. (Source)

Conclusion
Hydrogen as an energy storage system definitely has many benefits but first companies and Governments need to work on its main challenges.
China already announced its long-term hydrogen plan that includes a goal to produce 100,000 to 200,000 tons of renewable-based hydrogen annually and have a fleet of 50,000 hydrogen-fueled vehicles by 2025.
China is the highest producer of Hydrogen and positions third in Fuel Cell EV. The market for Fuel Cell EVs will shoot up as China produces the highest renewable hydrogen.
Indian government along with Reliance Industries and Adani Group also announced plans and investments in Hydrogen energy to use it for different industries.
Going forward, it will be interesting to see the growth and market trends of hydrogen storage and how it influences the energy storage sector.
If you are interested in the Innovation trends in Energy Storage, we've got an exhaustive report for you. Get the report in your inbox by filling out the form below:
Authored By: Vipin Singh, Marketing