How to claim Treble damages during patent litigation – Insights from WSOU v. Microsoft
Higher damages and specifically, treble damages are a dream come true for every plaintiff in patent litigation. I mean who won't like triple the normally entitled amount? However, if we have to explain in a very simple way and removing all the legal implications, to sue for treble damages, the plaintiff needs to prove that the defendant was aware of their patent(s) and still continued to use the protected tech.
For the past few months, I have been working on helping clients create firm evidence including infringement contention documents to be used in patent litigation cases. To do my work better, I was curious to learn how different attorneys draft their arguments for getting their clients higher damages. Well, this is one of the benefits of working with the best of the best in the industry. I started with reviewing the complaint documents of the patent lawsuits filed last year in 2020.
I observed that there were certain arguments being used by attorneys to show that the other party was already aware of the patent and wilfully continued to use the protected tech.
For example – in the complaint document (filed by Sanderling), it was argued that the defendant (Snap) knew about the patent-in-suit '412 as the parent patent '074 was cited in IDS forms submitted by Snap to the USPTO. Thereby, indicating that Snap was well aware of the patent-in-suit.

Source: Case – 1:20-cv-04627 (Sanderling vs. Snap)
Filed on August 06, 2020 (Page 09 of 49)
This could help Sanderling get higher damages in their case.
However, I noticed certain cases where these arguments were not used in the complaint documents. Although similar arguments were possible in their case as well.
For example – In April 2020, WSOU Investments LLC filed 12 different litigation cases against Microsoft using 12 different patents. In this campaign, various products of Microsoft, such as Azure Performance Monitor, Skype Manager, Network Policy Server (NPS), and HoloLens, etc. were targeted.
On reviewing all the complaint documents of these 12 cases, I observed that these complaint documents contained the general material regarding the patents, targeted products, and how the plaintiff thinks the target products are infringing on their patents. However, there was no section or paras that explicitly indicated certain arguments from the plaintiff for seeking higher damages.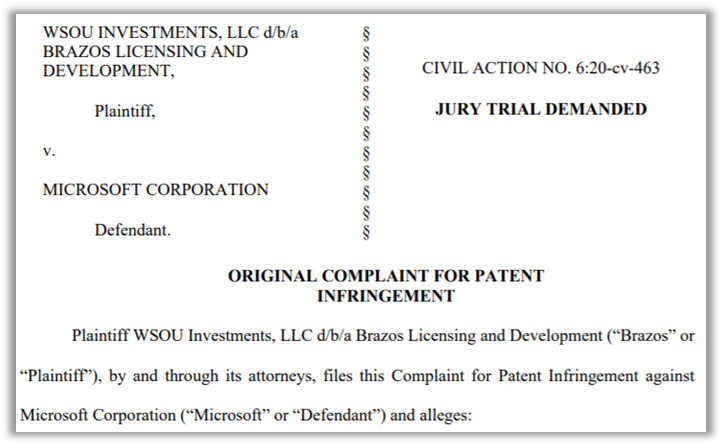 Source: https://insight.rpxcorp.com/litigation_documents/13805625
So, I was inquisitive to identify whether there could have been some arguments that WSOU could have used to aim for higher damages in this case.
What does BOS have to say about this?
To identify this evidence, I popped these 12 patents-in-suit into our BOS tool. The BOS tool  – which was internally developed to assist counsels to monetize their portfolio more efficiently. It helps identify signals that indicate if there was any relation between your patent and the defendant based on prosecution history analysis. Thereby, saving the considerable effort of manually reviewing the prosecution history of patents which is not only lengthy but not in an easy-to-search format.
In this case, BOS within seconds indicated that during the prosecution of Microsoft's patent application US15/941,281 (now a granted patent US10613275B2), one of the patents-in-suit US8226241B2 was used by the examiner to provide 103 rejections on January 07, 2019. Also, Microsoft had to amend their patent claims to get their patent granted. All this happened in 2019, a year before the lawsuit was filed. This indicates that Microsoft's patent tech was already covered by one of the patents in suit.
The image below is the relevant snapshot from our BOS tool –

Source: GreyB's BOS Tool
The snapshots below are from the file wrapper of Microsoft's patent application US15/941,281: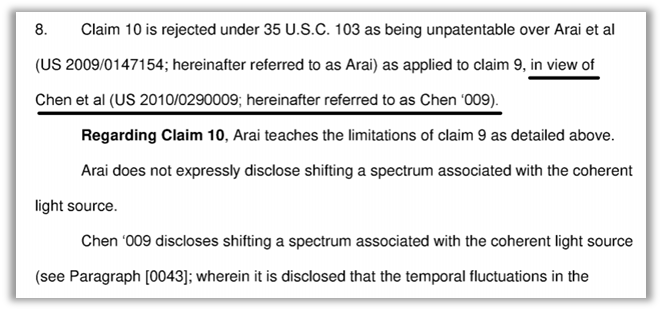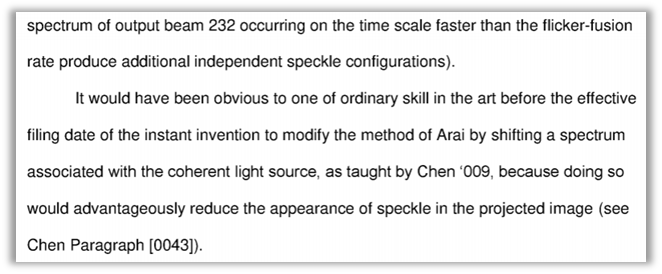 Source: 2019-01-07 – Non Final Rejection for US10613275B2
This is really interesting information and can be used to indicate that Microsoft was already aware of the '241 patent. This could have been used as a potential argument to claim higher damages by WSOU, especially for this patent.
This was just one such instance. Using our internal system, like BOS, one can easily help identify more such insights which can help collect more signals that can make your litigation campaign stronger and possibly claim treble damages.
Are you planning to launch a litigation campaign for your patents and want us to find any insights that will help you claim higher damages?
Authored by: Biswapriyo Ghosh, Patent Monetization Team