How Nokia & OnePlus could have made a stronger impact in the global market?
In 2019, OnePlus Technology faced a legal battle when EVS codec tech LLC & Saint Lawrence Communications- two U.S. NPEs sued this Chinese mobile giant for infringing on the patents related to wideband signals.
While OnePlus was on the route to extracting the benefits of global expansion, it became a prime target for litigation in a foreign jurisdiction which resulted in a costly legal battle.
This is one of the many times a Chinese company was hit with a lawsuit when expanding globally. And it can happen to any company that is unprepared for the challenges and threats of global expansion. It is only with a well-crafted IP strategy that the benefits of global expansion can multiply.
In this article, we discuss why a good great IP strategy is as important as any other business plan for global expansion and, more importantly – How can you ensure that your IP plan is foolproof?
The need to revise IP Strategy before going international
It is imperative that Intellectual Property (IP) strategies be built and executed before expanding globally. This becomes easier to understand if we study companies such as Xiaomi, Huawei, and ZTE.
The USA is a highly sought-after market for global expansion. So we analyzed the litigation filed against some of these companies in the US over the past five years.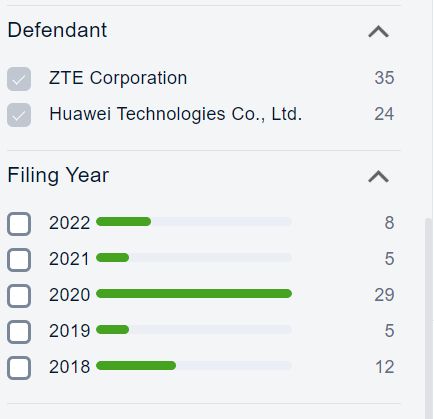 Source: Patent Database | Litigation Timeline in the USA for the Major Chinese Companies
The above figures indicate that litigation cases against ZTE Corporation and Huawei Technologies Co. Ltd increased in 2020.
Our findings serve as a clear indicator that Chinese companies can do better when forming IP strategies before launching overseas. Adding to that, companies must keep an eye on the non-practicing entities (NPEs) as they account for a significant share of these litigation cases.
Tencent, a major Chinese software enterprise, has also raised concerns about the impact of NPEs. The company states that when Chinese companies expand abroad, they often face legal action from these entities that mainly operate by suing other companies.
But, if you think expansion was a challenge only in the US marketplace, well, think again.
Oppo made it to the news last year when it lost a patent lawsuit against Nokia in Germany for infringing on Nokia's 5G and 4G technology patents.
Making headlines through litigation cases is the last thing you want when taking your company to a global level. Right?
So, let's see how you can overcome this challenge.
Keep litigation cases at bay when expanding globally – IP Strategies for every Chinese Company.
Now that we are on the same page, let us talk about some steps that should be in your IP strategy checklist before expansion:
Study the regulations linked to your targeted jurisdiction.
It is critical to consider that a product may be lawful under Chinese laws and non-infringing, but the same product may infringe on third-party rights in the target jurisdiction. This brings the need to understand the patent laws followed in the jurisdiction you are planning to enter. In fact, consider trademark laws and regulations to offer greater protection to your product in the overseas market.
A well-known example of this is the Ford Everest. The vehicle retails across nearly 200 markets as the Ford Everest. However, In India, Ford stuck with the Endeavour brand to avoid legal issues because of the existence of a spice-making brand with the same name.
Craft a partnership strategy.
When it comes to expanding your business globally, filing patents is undoubtedly a smart move and an obvious one to protect your key technology and inventions. However, it's important to recognize that simply having a defensive network of patents may not be enough to fully safeguard your (IP) assets.
To further mitigate the risk of attacks from non-practicing entities (NPEs) or other competitors, establishing partnerships with overseas organizations with high-quality patents can be a good practice. In addition, these partnerships can offer significant benefits beyond IP protection, such as collaborative licensing opportunities or advancements in product development.
Crafting your partnership strategy beforehand can enable you to use these relationships to your advantage, allowing you to expand the patent portfolio and add valuable assets to your business through patent acquisition. Therefore, a strategic alliance with an overseas organization can provide a significant competitive edge in an unfamiliar market and help you navigate the complex landscape of global intellectual property rights.
Perform patent landscape analysis to dodge unwanted challenges.
Although you may have already filed patents in the region, the patent landscape becomes a necessity to ensure that your expansion strategy is stronger than ever for any challenges that may arise. One effective approach is to conduct a Freedom-to-Operate (FTO) search to identify any existing patents or patent applications that could potentially conflict with your own. This can help you better understand the potential legal obstacles you may encounter and enable you to strategize accordingly.
Moreover, it's also wise to reach out to relevant parties for early licensing agreements. This can help you avoid potential litigation or disputes and facilitate smooth entry into the new market.
Conclusion
To reap the benefits of international growth, certain challenges stand in your way. Therefore, we strongly recommend refining your IP strategy before embarking on a global expansion journey.
In fact, while dealing with numerous cases of infringement, we observed that a quick check on the IP strategy safeguarded the client's intellectual property rights and protected their business from potential legal disputes or setbacks.
Your IP strategies can significantly help you protect your global operations. However, you do not have to take the pain of doing it yourself. We understand that there are multiple other factors you need to take care of during the expansion, such as marketing, manufacturing, hiring a new team, and tax law & regulations, so you can leave the rest to us.
Authored by: Ravishta Kaundal and Vincy Khandpur, Infringement Team
Edited by: Annie Sharma, Editorial Team