Blockchain in Telecom: Which companies are leading the research?
There is a lot of research and implementation going on to provide solutions for the telecom industry using Blockchain technology. This study could give you an idea about the level of intensity in which the research is going on by various companies.
Knowing which companies are researching and on which applications can help you anticipate your next strategy. We hope this study could aid in your efforts to formulate an efficient Telecom-Blockchain strategy. 
It is a long study and the table of contents below will give you a sneak peek into what you'd find here.
Patent Landscape of Blockchain in Telecom
The blockchain patents indicate that since 2009, more than 160 patent applications have been filed which covers the solutions for problems faced by the telecom industry. Out of ~160 patent applications, 32 applications are closely related to the blockchain technology that solves the problem of telecom systems. Currently, out of those 32 applications, only 2 patents have been granted.
The other 130 patent applications are distantly related to blockchain technology that can be connected to the telecom solutions.
Patent Filing Activity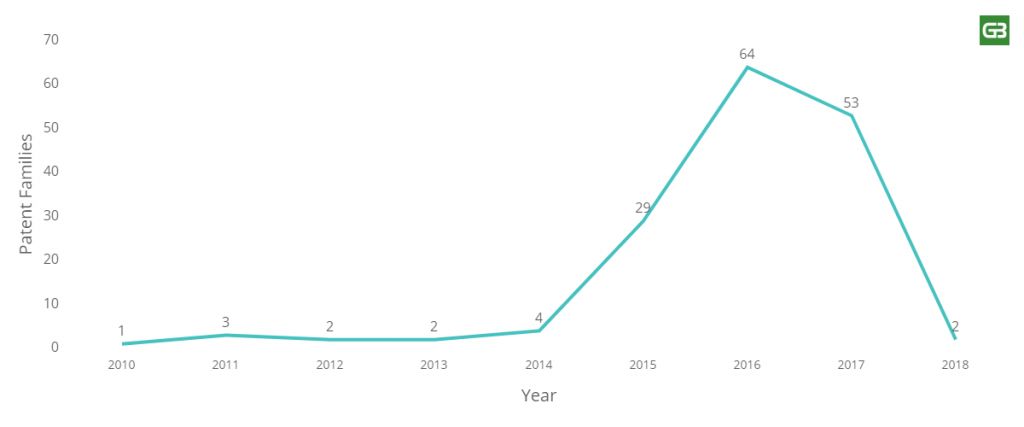 The realization of Blockchain in Telecom is considerably recent, hence the count of patents is scanty. However, research activity has picked pace in recent times as countries like the US, China, Europe, etc. have filed a good amount of patent applications since 2015.
Major Countries
The chart below portrays the distribution of patent filing activity in the domain across the globe. It could be seen that the major segment (~63%) of the patent filing has originated from the United States. China and Europe come 2nd and 3rd respectively but hold very little share.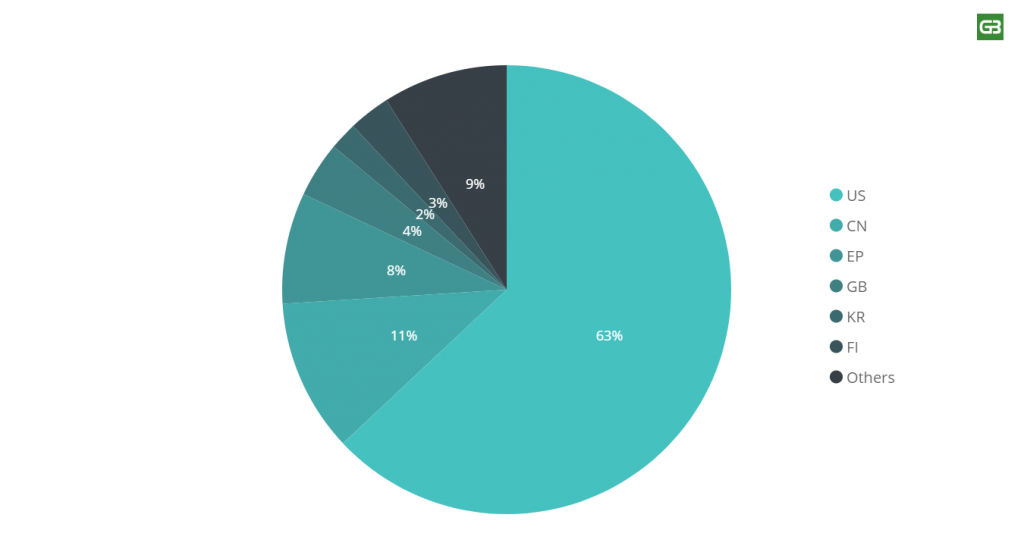 Now that we had a look at the geographical distribution of patent filing activity in the domain, let's have a look at the top players researching in the domain.
Top Companies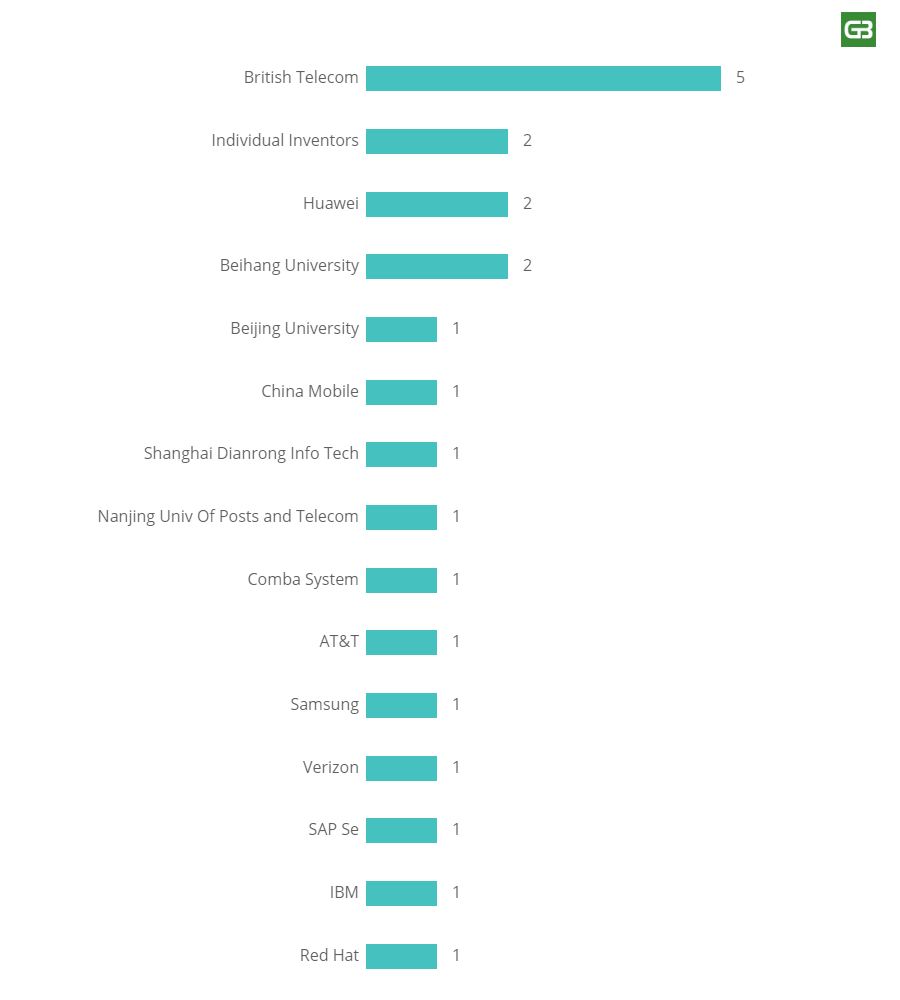 It could be seen that some of the well-known companies and universities have secured patents in blockchain-telecom solutions.
British Telecom currently holds the most number of core patents (5+) related to the implementation of blockchain in telecom. There are other core patents held by individual inventors and universities too.
Important Tip: The universities' and individual inventors' patents may act as good acquisition targets giving the company an edge over others.
Chinese telecom operator China Mobile is also researching in this direction and has filed one patent. It is highly likely that China Mobile does more research in the future and files more patents.
Apart from it, there are some other Chinese entities and universities (e.g. Huawei, Beihang University, Comba, Shanghai Dianrong Info Tech, Nanjing University, Beijing University, etc.) that have filed patents in this domain.
We expect that more Chinese players will take an interest.
Blockchain-based Platform Providers
A number of companies — big and small, telco and non-telco — have made moves toward the amalgamation of Blockchain in the telecommunication industry.
Below, some prominent players have been enlisted.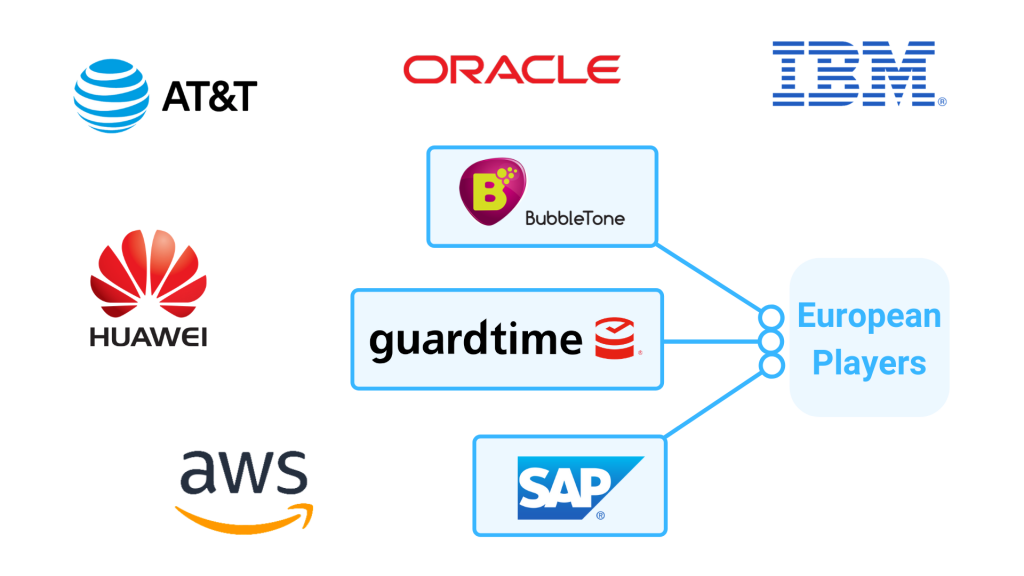 BubbleTone
CEO – Yury Morozov
Headquarters – Dublin, Ireland
Domain – Telecommunications
Website – https://bubbletone.io/
The First Decentralized Telecom Ecosystem
BubbleTone builds a Blockchain-based telecom ecosystem that provides direct interaction between mobile network operators, phone users, and service providers.
Problem Targeted – Roaming
The ecosystem revolves around the idea of eliminating roaming costs and providing travelers the facility to directly connect to a foreign mobile network. The numbers entail a success story with the service being used by as many as 1.2 billion travelers a year.
With BubbleTone Blockchain, mobile providers can offer international roaming and expand their user base without any acquisition cost. Moreover, they can easily eliminate the need to engage in exceedingly expensive roaming agreements, which can cost over $15 million to establish and maintain.
It also began testing its proprietary roaming-free SIM card in Europe and the US.
BubbleTone Collaborations
A notable partnership of BubbleTone has been established in Feb 2018 — with a California-based company ShoCard, which provides Blockchain-based digital identity management (IM) platform capable of verifying identities without handling any personal data.
Using ShoCard's patented solution (US9722790B2), BubbleTone is able to securely and verifiably authenticate the end user's digital identification.
Other notable collaborations of BubbleTone include one with a Russian company Nexign with the aim to modernize BSS-systems.
Other partnership of BubbleTone includes Crypto Valley, REVE Systems, CountryCom, Multi Digital Services, and IDEMIA.
BubbleTone ICO
In June 2018, BubbleTone successfully completed its ICO and collected 8.6 million USD.
BubbleTone Strategies
An intuitive strategy that BubbleTone — holding a 20-year experience in Telecom Industry — is following to etch themselves on the map is teaming up with Blockchain scientists in leading universities and academic centers globally to do additional tests and reviews of their unique implementation. In fact, several of its advisors have held dignified positions in esteemed universities like MIT, Griffith University; and served terms in reputed companies like Orange UK, Microsoft, and Siemens.
Such teaming-ups and hiring strategies make up a to-be-followed action pointer for all telecom companies that want to excel in this amalgamation.
Top Collaborations in the Blockchain-Telecom Domain
Collaboration with Telecom Players
The prime objective of the PoC is to showcase how inter-carrier bandwidth services can be discovered, quoted, delivered, and settled without a central intermediary. Currently, inter-carrier options aren't automated and are performed through conventional OSS and BSS. This PoC is a much-awaited move.
Spanish Telefónica collaborated with a Blockchain startup to develop smartphone security solutions.

Telefónica

, the number one Spanish multinational, market capitalisation-wise, and one of the largest global private telecommunications companies, partnered in May 2018 with a Blockchain startup Rivetz to develop smartphone security solutions.
The collaborators aim to amalgamate Telefonica's network security services with the latter's Blockchain and trusted-computing technologies to implement decentralized solutions and improve applications for secure messaging and cryptocurrency wallets. They plan to provide a product in the later quarter of the year.
Collaboration with Non-Telecom Players
SAP
SAP launched its SAP Cloud Platform Blockchain

for developing

Blockchain extensions and integration with other technologies

.

As far as integrating Blockchain in the telecom industry is concerned, SAP is considered

one of the leading vendors

of the union.

In late 2017, when SAP organized its event TechEd in Barcelona, Spain, it also announced a collaborative Blockchain program.

One of the

27 firms

, who joined hands with SAP in TechEd, was

Deutsche Telekom

—

the largest telecommunications provider in Europe,

revenue-wise

.

Hartmut Mueller, SVP Business Solutions, Deutsche Telekom IT, said,

"At Deutsche Telekom, we see a big potential for Blockchain technology in the telecommunication business. Our cooperation with SAP will speed up digitalization to the benefit of our customers."
Patent Targeted at Telecom
The interest of SAP in the fusion of Blockchain in telecom is also portrayed from the IP that it holds in the context. One of its patents US20180220292A1 entails a Blockchain-based subscription management application for managing subscriptions like those of telecommunications.
Red Hat
RedHat provides dedicated open software solutions for CSPs; has now come up with a Blockchain-as-a-Service platform.

RedHat provides open source solutions for several domains including telecommunications. In fact, it boasts an extensive

list of Fortune 500 telcos

that rely on its solutions. It has names like ZTE Corporation on the list, who has collaborated with Red Hat for

prepping its move into 5G

.

Now, Red Hat also comes up with a Blockchain-as-a-Service solution, called

BlockApps STRATO,

which is designed specifically for enterprise businesses to build proofs-of-concept (POCs).
This portrays that Red Hat provides sheer advanced and reliable platforms and famed telcos have approached it for marking themselves on the map of newest advancements.
Patent Targeted at Telecom
Red Hat also holds IP revolving around amalgamating telecom with Blockchain e.g. US20180048738A1. The invention discusses a method for reducing latency when performing Blockchain transactions using a wireless telecommunication system. In essence, it implements a Blockchain by multiple base transceiver stations in the wireless telecommunication system, rather than using servers communicating over the Internet — wherein the latter cause delay due to multiple hops of information across the servers.
This also highlights how Red Hat is interested in the amalgamation of Blockchain with the telecommunications industry. This makes the company a dependable entity for top telecommunication companies.
Collaboration with Universities
University of Southern California
USC participated as one of the sponsors of a one-day session in collaboration with Enterprise Ethereum Alliance (EEA) — the agenda of the session was to bring together global telecom leaders to discuss the Enterprise Ethereum future of Blockchain, which also entails Blockchain telecom use-cases.
The university has showcased an immense interest in Blockchain by collaborating with platforms for experimenting with various use cases of the technology and even starting to offer Blockchain courses for study.
Technical University of Berlin
The university has showcased quite an interest in the Blockchain technology with dedicated courses in its curriculum. A point to highlight here is its close coordination with Telekom Innovation Laboratories (T-Labs), the R&D unit of the German telco Deutsche Telekom. T-Labs has Blockchain technology as one of its major research areas. Moreover, the newly appointed head of T-Labs, John Calian, is also serving as Vice President, Blockchain Technologies at Deutsche.
Funding and Investment in Blockchain-based Startups
Orange, one of the biggest European telcos, has been interested in Blockchain for telecom since 2015. Back in late 2015, Orange participated in a funding round of a 2014 Blockchain-based startup Chain with several financial players alongside. About the investment, Chain CEO Adam Ludwin expressed:
"We are thrilled to partner with Orange to explore the uses of Blockchain networks in the telecom market. We believe these new networks will simplify data transfer between carriers and enable new services that will improve end-user experiences."
Per some recent happenings of Sep 2018, Chain has been acquired by a subsidiary of a Blockchain-platform provider Stellar Development Foundation, resulting in the formation of a new entity, called Interstellar. However, as the acquisition is quite recent, there is no disclosure yet of how the newly formed entity will approach the telecom industry.
Startup Acquisition Opportunities
QLC Chain: The world's first Public Chain for Decentralized Network-as-a-Service
Developed open-source telecom infrastructure on Blockchain
QLC Chain, formerly famous as a "Qlink", is a decentralized mobile network, focused on building an open-source telecom infrastructure on Blockchain. In fact, they rebranded themselves from Qlink to QLC Chain to deliver a clear message of the team's intention to leverage advanced blockchain technology to the network industry, in a simpler, transparent and secure way.
The infrastructure is decentralized whereby users can deploy QLC Base Stations, which support LTE-U protocol, POW, and POS consensus algorithm. Thus, anyone can operate a small base station from their home that can provide cell service to the surrounding area.
Monetization of network resources
Moreover, QLC Chain has very recently — in mid-October 2018 — launched another of their innovative ideas TestNet, with which network users can monetize their own network resources.
Blockchain-based telecommunication solutions in the automobile
QLC Chain has been making moves toward exploring domains for their technology to grow. It has signed a cooperation agreement with Cenntro Automotive Group with the aim to develop the Internet of Vehicle (IoV) technologies by deploying Blockchain-based telecommunication solutions.
Consortiums – Strategies that can be expected in future
Telecom Companies Calling Out to Consortiums: Banding Together for Blockchain
By now, it has been evident in the tech sector that Blockchain is a technology that requires collaboration to be effective, which has led companies — both allies and competitors — to begin working together in consortia. The trend is no different for players in the telecom sector. Let's have a look at some of the notable consortiums in the domain.
Alastria
It is a multi-sector consortium formed by large Spanish companies, including those working in the telecommunication industry, to develop the Blockchain ecosystem in Spain — a first in the nation.
Carrier Blockchain Study Group (CBSG)
It is a Blockchain consortium created by a global conglomerate of tech companies with the aim to integrate Blockchain technology in the world of telecoms. In early 2018, a number of multinational telecom companies joined CBSG to aid in the endeavor; a few new members include Spain's telco Telefonica, United Arab Emirates' Etisalat, and Philippine's PLDT.
A Deep Domain Analysis for Decision Makers
It's just an overview of research in blockchain for telecom solutions. The detailed analysis for this domain has the answers to the following questions:
How is our research benchmarked against other players?

What are collaboration, merger & acquisition opportunities for technology scouting?

How is the SWOT on startups/companies of interest?

Which companies to watch out that are having competing products or technologies?

What other players are focusing on R&D?

In which countries research activity has increased drastically and which players to watch out in those areas?

Are there any signs of disruptors and what are they researching?

What issues/feature improvements are focused on prominent industry players?

Which other industries are intersecting in my domain and are there some solutions that can be adopted?
Want these questions answered?
Authored by: Vipin Singh (Research Analyst, Market Research), Sushant Kumar (Team Lead, Patent Analytics), and Nilesh Singh (Sr. Research Analyst, Search Team).