Amazon Business Strategy: Insights of its operation and investment plan to become a Trillion dollar corporation
Back in 1994, Jeff Bezos was stunned after discovering the 2300% growth rate of the Internet, which eventually led him to think about starting an online business.
"You know, things just don't grow that fast. It's highly unusual, and that started me about thinking, 'What kind of business plan might make sense in the context of that growth?'." – Jeff Bezos
When he asked his parents for money after sharing his idea, his dad's first question was, "What's the Internet?" which vividly indicates that at that time people weren't much aware of the internet.
Surely, selling things was going to be a problem for the young entrepreneur, but somehow he managed to find low-cost products which could be easily sold on the web.
With the financial help of $245,573 from his parents, Bezos started Amazon in his garage. Fortunately, now their investment almost worth of $30 billion – a 12,000,000% ROI.
In 1997, three years after its launch and post-IPO, Amazon's estimated worth was $438 Million. The startup gradually evolved into a multinational corporation and now is worth a marvelous $890 Billion. The E-commerce giant is the second US company to cross a trillion-dollar valuation after Apple when their stock price reached an all-time high ($2050.50) on September 4, 2018.
Internet was surely a huge part of Amazon's growth but technological innovation, marketing strategy, and most importantly its business model is what makes Amazon the most innovative company of the current era.
Amazon has grown significantly since its inception as a book-selling website and spread its wings to other areas like logistics, consumer technology, cloud computing, and most recently, media and entertainment – domains which did and would help Amazon tread the path to emerge as a trillion dollar corporation.
This business research study of Amazon compiles the ideas, innovations, technological research, partnerships, and most importantly business strategies which are responsible for growing Amazon to such heights. Besides, you will also find their sales numbers in every segment and a brief summary of their stock prices for the past few years.
While this study will give you more information about Amazon's business strategy, it will also help you acquire some basic principles which could be applied to any kind of business.
Before we go ahead and explore how Amazon is maintaining its edge in the market, I have a webinar to suggest that can help you sharpen your edge in the market by building a patent portfolio. Having a powerful patent strategy in place already puts you in a strategic position in your market but a lot of businesses don't know where to start to move in this direction. The cost and complexity involved in building a patent program often overwhelms decision makers.
This webinar can help you get past these hurdles and will answer the most common but pressing questions that decision makers face when working on building a meaningful portfolio for their organization. Click here to join.

So, ladies and gentlemen, gather around and pay heed as we take a deep dive into Amazon's moves. Before we get started, presented below is the table of contents, which you can use to jump to the section of your choice, in case you want to skip to the meat of the material.
Why is Amazon believed to be the most successful company of the Future?
Milestones after milestones, on the path to strive towards its personal zenith, Amazon has been recognized as one of the most successful companies to exist. This statement is not mere theory but purely supported by facts. Let's have a look at some of them.
Amazon's Achievements
The FastCompany magazine listed Amazon as the most innovative company of 2017 while Forbes ranked Amazon 3rd on their list of most innovative companies of 2017. Further, Amazon ranked 3rd in MIT's Smart companies 2017 listing as well, following Nvidia and SpaceX.
This is not it.
Amazon ranked 12th on Fortune 500 2017 list and this year it made the position in top 10 by securing the 8th place – It's the best rank ever since Amazon made its presence in the magazine for the first time in 2002. Since then, the company has been continuously listed on the coveted list, each time with a rank better than the previous year.
Growing Revenue
In the last five years, the sales of Amazon increased by 160% – a whopping $232.88 Billion in 2018 – from $89 billion in 2014. In 2018 alone, the revenue grew 31% when compared to 2017.
The chart below portrays Amazon's revenue for the past five years. In Billions. Mighty numbers, Amazon!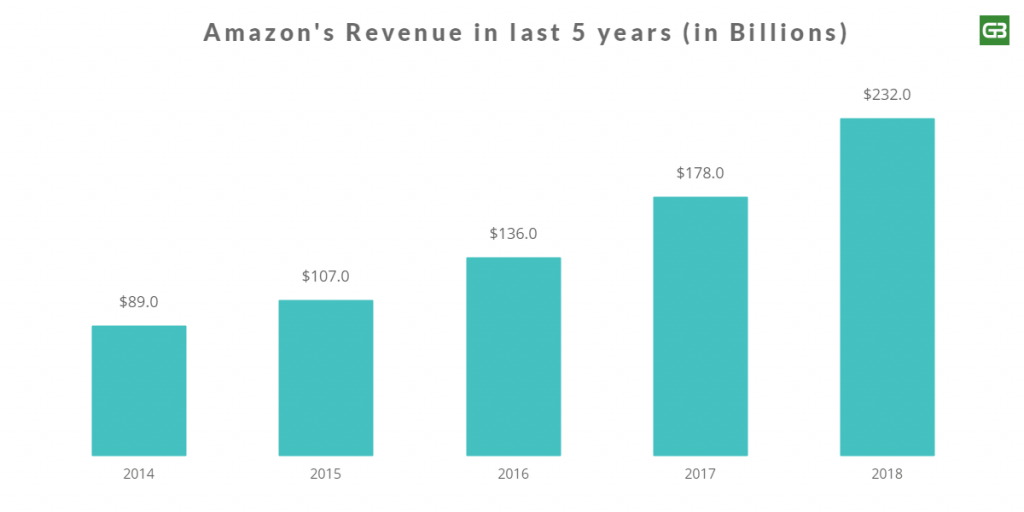 Launching their services to more markets and expanding horizons, Amazon – as a result of their eCommerce business model – increased their sales numbers and customers and hence Revenue.  Besides, its AWS business contributes hugely to Amazon's revenue stream.
Amazon is equally expanding the operations for its three segments – North America, International, and AWS – where it offers its products and services to consumers, sellers, as well as developers, enterprises, and content creators.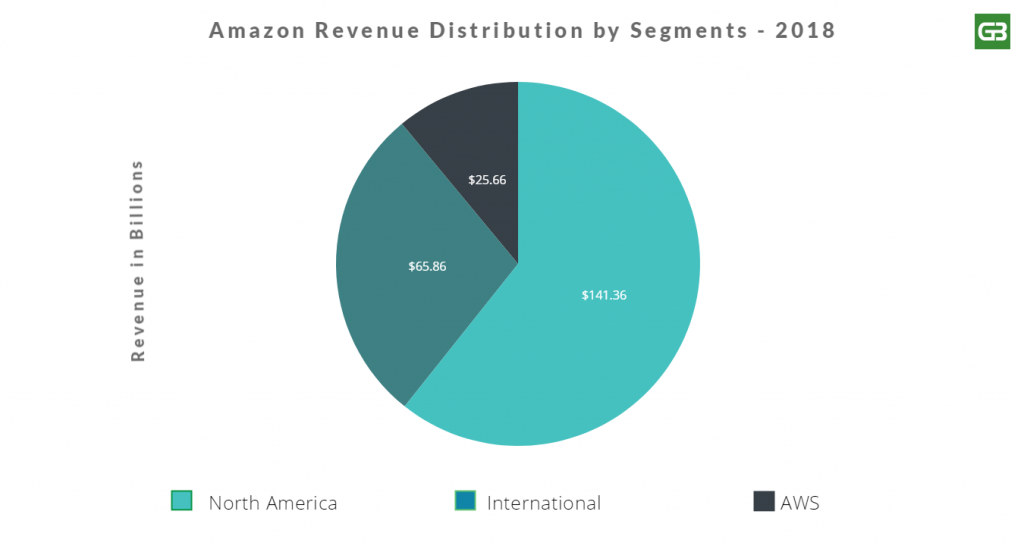 Unsurprisingly, a big part of Amazon's revenue comes from North America.  Internationally, the company's revenue increased from $43.9 billion in 2016 to $65.86 billion in 2018 as Amazon Prime has become a huge success in some of the Asian and European markets.
Further, the 11.2% revenue of $25.66 billion in 2018 was generated from Amazon Web Services – a subsidiary to provide big consumers on-demand cloud services. In 2017, the company rendered more than 90 services of cloud computing with the tools of the Internet of Things (IoT). Big shots comprising Netflix, Unilever, GE, and NASA form some of the consumer bases that use AWS for better web services.
Investors' Expectations
Amazon is worth more than nearly-a-trillion dollar, yet it makes little profit. With $232 billion in revenue, their net profit was just $3 billion in 2017.
The reason for its huge market cap is investments. Investors took a huge interest in Amazon and bet a huge amount as they believe that Amazon could grow faster, longer and bigger than almost any other firms.
Even Morgan Stanley predicted that they can cross a-trillion-dollar market capital.
The investor's hope suggests Amazon be the most profitable firm than any other, at least, in America. And they are expecting big profits as of 2020. Its sales from $232 billion in 2018 are expected to increase at least to half-a-trillion dollar over the next decade with a sufficient jump in profits.
These are some potential pinpoints which force us to believe in Amazon's future success story.
What is Amazon Business Strategy and how it impacts their investment and research?
"We've changed, again, the automation, the size, the scale many times, and we continue to learn and grow there." – Brian Olsavsky, CFO, Amazon
The business strategy of Amazon consists focusing on investing in technologies, enhancing its logistic applications, improving its web services by fulfillment capacity, M&A strategy, AWS segment, R&D activities in logistics, and experimenting with Fintech.
Let's have a brief look at some of those.
Amazon's Investment in Technologies for Better Services
Amazon Robotics
Amazon has been investing considerably in robotic and drones technologies for the past decade and has acquired many patents on them. Its warehouses alone house more than 45,000 robots.
In 2012, Amazon acquired Kiva Systems – a company that designs robots for picking and packing process – for $775 million. By 2014, the company had 14,000 robots for their 10 warehouses. The following year, the count increased by 114% to 30,000 robots and in 2017 the number increased by 50% to 45,000 robots across 20 warehouses.
In addition to acquisitions, Amazon also organizes challenges in different universities and institutes across the world in which they offer a large sum of money for inventing a next-generation robot. In 2017, the prize money was $250,000.
Amazon Drones
Amazon is also researching drones for their initiative and future service of drone delivery. In Britain, Amazon started its drone delivery service under Amazon Prime Air.
In Oct 2017, the US Federal Government approved a drone delivery program in the US as well. The administration stated that they wanted to open new opportunities and commercial uses for the drones for creating jobs.
Amazon has recently filed numerous drone patents on package delivery, package parachute, and a floating airship warehouse. Also, it has patents on drone design for better maneuvering, secure landing, and long flights.
On an advanced level, they got a patent for a method to charge electric vehicles through drones. This shows their interest in automobiles as future will require many methods to charge an EV. Further, there would be no surprise if Amazon ventures in automobiles domain.
Amazon Alexa
"These big trends are not that hard to spot (they get talked and written about a lot), but they can be strangely hard for large organizations to embrace. We're in the middle of an obvious one right now: machine learning and artificial intelligence."  – Jeff Bezos 
Artificial Intelligence is one tough area where despite having many competitors Amazon got a big draw. It's continuously focusing on AI and machine learning to enhance customer experience. The segment AWS and its venture Alexa Internet is a big part of their investment in AI.
In October 2017, the company announced a new research center in Germany focused on developing AI. During the same month, the company and Microsoft partnered to roll out new tools that will make it easier for developers to use open-source artificial intelligence software. Developers can use Gluon, a Python-based application programming interface, to easily work with MXNet, the AI framework backed by public cloud market leader Amazon Web Services.
Amazon's partnership with Microsoft also ensures collaboration for researching in AI where their personal assistants Cortana and Alexa would communicate with each other and will offer services to the users.
"Ensuring Cortana is available for our customers everywhere and across any device is a key priority for us. Bringing Cortana's knowledge, Office 365 integration, commitments, and reminders to Alexa are a great step toward that goal." – Satya Nadella, CEO, Microsoft
Alexa Everywhere – Strategy
Amazon announced its Alexa Everywhere strategy in 2017 and surprisingly it became a huge success despite the presence of other top personal assistants in the market.
Alexa, Amazon's AI-infused voice assistant, was first released with the original Amazon Echo smart speaker in November 2014. Since then, it's giving a head to head competition to its rival Google Home and now Apple also has joined the race with their Siri-enabled speakers, Homepod.
In 2017, Amazon announced to install Alexa (AI) in every echo device and launched a number of new products. Currently, Amazon Echo and Echo Dot hold 2/3 market share of smart speakers – beating Google Home and Apple Homepod to a great margin. Amazon also announced two major Alexa integrations for non-Echo devices. Amazon further revealed that Alexa would be supported in BMW cars beginning of the next year.
Further, the Fire TV set-top box was launched with microphones embedded in the device so consumers can shout Alexa commands across their homes.
Alexa, Play Daredevil.
If that was not it, Alexa based in-house drones were released, which could be called from anywhere around the house.
Alexa, Where's my drone?
Amazon Go
In Dec 2016, Amazon demonstrated the world's most advanced physical store. Recently, Amazon officially opened the store to the public and showed the world that its research in machine learning can truly eliminate jobs.
The store has no checkout point and therefore has no cashier for making payments of your purchases. The payment can be added automatically to cart whenever you take a product from shelves. And after the purchase, the payment automatically gets deducted from your account or digital wallet.
Amazon Web Services (AWS)
Amazon has recently acquired companies in the cloud computing space and invested in businesses based on the cloud. In early 2017, the company acquired a number of companies to strengthen its AWS Cloud business. Some of these include GameSparks, Thinkbox Software, and Harvest.ai. Additionally, Amazon invested in Grail which is a potential future customer of Amazon cloud services.
In order to increase the usage of its cloud technology, Amazon Web Services (AWS) is investing some of its money to open data centers in Britain and France.
In 2018, Amazon's cloud segment, AWS, accounted for 58.8% of the company's overall operating income.
Amazon Prime Video
Amazon has been investing in TV series and movies either by acquisition or production as it strives to compete with streaming rivals Netflix, HBO, Hulu, and Disney.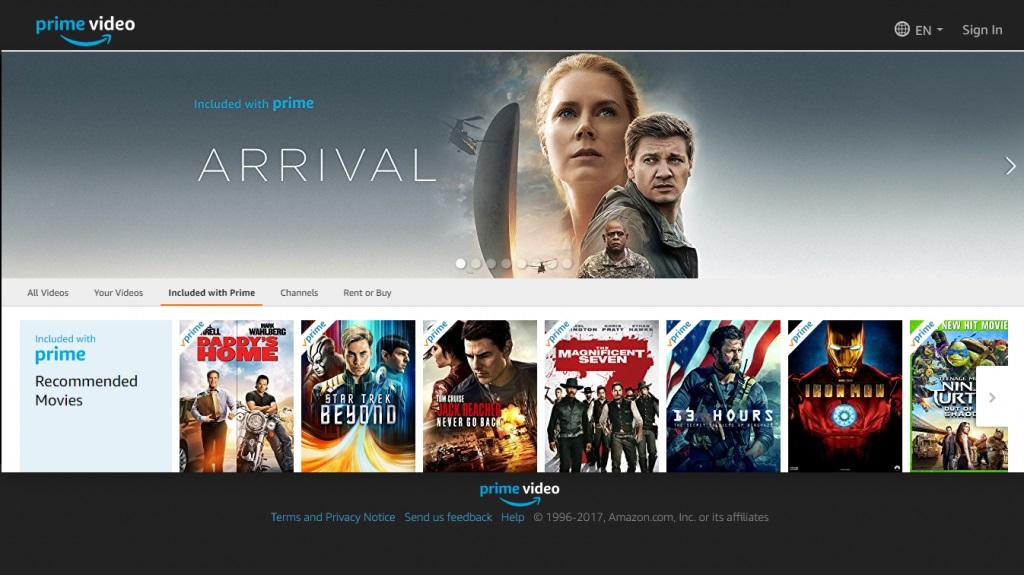 Though Amazon Prime members can enjoy their streaming service as a part of the membership, Amazon also launched the video-only plan for non-prime members for a cost of $8.99/month.
"Amazon planned to triple the amount of original content over the rest of the year, and it's probably safe to assume that its torrid investment pace will continue into 2017." – Amazon CFO, Brian Olsavsky,
In 2017, Amazon acquired many TV shows and movies. Amazon acquired Marvel's Inhumans and Runaways to give good competition to Netflix — which also owns rights to stream some of the Marvel's shows.
There was also news doing rounds that Amazon Studio planned to have their own web series based on Lord of the Rings. The Studio's head Roy Price said that Amazon Studios will refocus on "big shows that can make the biggest difference around the world," and specifically cited Game of Thrones as a model.
Amazon also spent a big amount on some small budget movies that have excellent reviews. They paid  $12 Million for 'The Big Sick' even before its theatrical release. It's the amazing reviews – 98% Rotten Tomatoes – that made Amazon pay the price.
Amazon has over 80 million Prime members in the U.S while Netflix has 56.71 million subscribers. After the success of Prime in the U.S., Amazon is pushing the same playbook in Europe.
If the shows and movies weren't addictive enough, Amazon also offers you the option to add HBO as a channel in your Amazon Prime Video account. A brilliant move, which would ensure you do not leave them for their rivals.
Amazon Studios
Alone creating a video-streaming service is not going to help, that's why Amazon went for creating its own film and tv series production distributor, known as Amazon Studios. Currently, the original content by Amazon is too less when compared to other services such as Netflix, Hulu, and HBO. But Amazon has planned to produce its own content and with a great number.
Amazon studios not only focuses on English content but also working on the content related to a particular geography.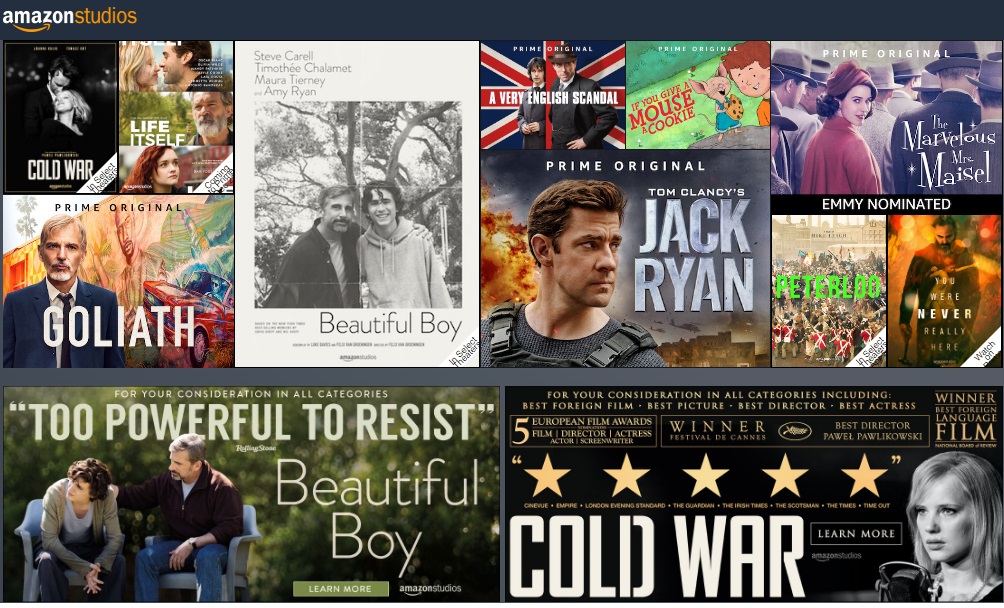 Many of Amazon's original content have won the major awards. For example, Manchester By the Sea which nominated for six Academy Awards, made the Amazon Studios to first streaming service to nominate for the Academy Award for Best Picture. The Marvelous Mrs. Maisel is also one of the top performing and award-winning TV series created by Amazon.
Prime Music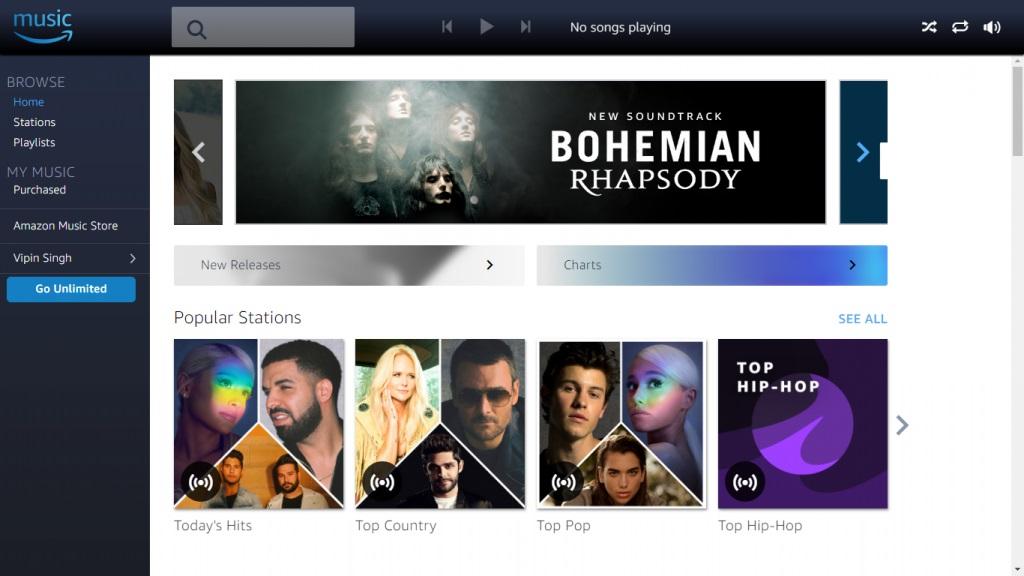 Amazon is not limited to provide video streaming as the company also has its own music streaming platform – tough competition for Spotify, YouTube Music, Apple Music, SoundCloud etc. Amazon has millions of songs in its library which they are offering to their prime members. Prime Music is a kind of a gift for their prime members as the company isn't charging any extra cost for this music platform.
It's cool, isn't it?
Even for the better experience, Amazon integrated Alexa in its music app which can help you find the songs you are searching for.
Enhancing Logistics Capabilities
Amazon is opening small warehouses to support Prime Now and Amazon Fresh – its grocery delivery service. In Germany where a rapid expansion in online grocery delivery is expected, Amazon has been running warehouse purchase plans to tap on the market opportunity.
Amazon Fulfillment Centres
In 2016, Amazon added 26 new fulfillment centers which led to an increase in 30% area as compared to a 20% increase in 2015.
Its plans include investing heavily in expanding fulfillment centers and other logistics capabilities. Driving further growth in the number of sellers and packages going through Fulfilled by Amazon (FBA) is a key focus.
Amazon Logistics App
To strengthen the logistics and delivery network, Amazon announced developing an app to help truck drivers. Amazon hired aggressively for the project and announced to launch it in 2017.  In November 2017, they secretly launched the app, Relay. The app makes it easier for truck drivers to pick up and drop off packages at Amazon warehouses. Besides, Amazon is also working on a second app which could connect truck drivers with cargos.
Amazon Drone Delivery
In March 2017, Amazon gave a public demo of its Prime Air delivery drones in the US. The concept has multiple regulatory barriers. However, the situation may get better, as in October 2017, the Trump Government issued an order giving local governments more authority to conduct tests of such new technologies.
Amazon is experimenting with a new delivery service intended to make more products available for free two-day delivery and relieve overcrowding in its warehouses.
The service, Seller Flex, began two years ago in India, and Amazon has been slowly marketing it to US merchants in preparation for a national expansion. The trial began this year on the West Coast with a broader rollout planned in 2018.
Amazon will oversee pickup of packages from warehouses of third-party merchants selling goods on Amazon.com and their delivery to customers' homes. Handling more deliveries are expected to provide Amazon greater flexibility and control over the last mile to shoppers' doorsteps.
Logistics Partnership
In October 2017, French supermarket operator Leclerc was approached by Amazon for a possible logistics partnership. This probable collaboration shows Amazon's intentions to expand in the supermarket sector.
The partnership and other logistic investment became an immediate reason for other services fall as companies like UPS and FedEx share price dropped drastically. UPS shares fell as much as 2.1% to $116.52 and were trading down 1.3% in New York on October 4th, 2017. FedEx dipped by 1.6% to $217.77 before recovering somewhat to $220.09 on October 4th, 2017.
Patent Filing in Logistics by Amazon
No doubt, Amazon has been filing patents on logistics but the activity took a sudden increase in 2016 with the filing of 78 patents that were focused on developing its logistics network, which is already far more than just a few years old.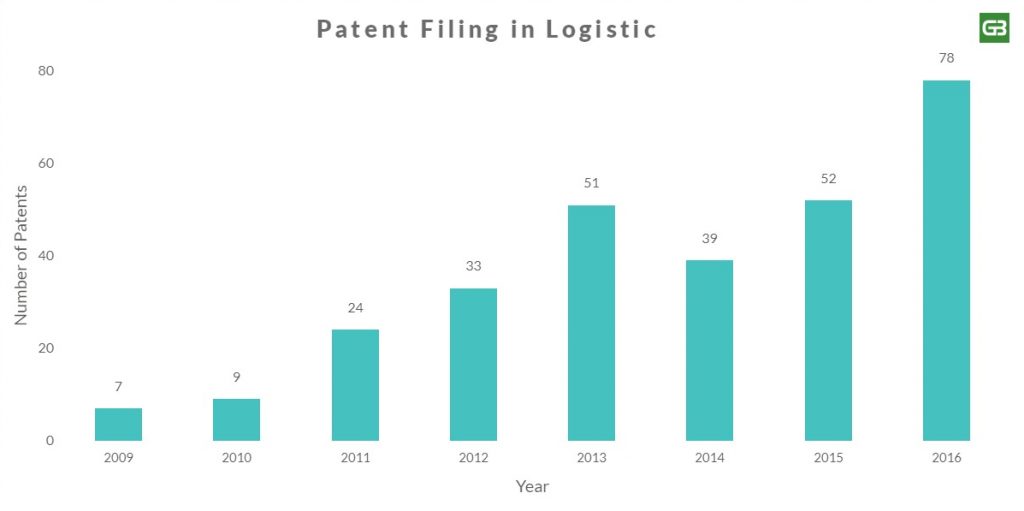 Amazon Acquisition Strategy
Amazon has been harnessing aggressively its merger and acquisition strategy, as it closed 30+ deals in the past five years. In the first two quarters of 2017 alone, the company closed eight deals which cost them an arm and a leg.
The chart below summarizes M&As of Amazon since 2012.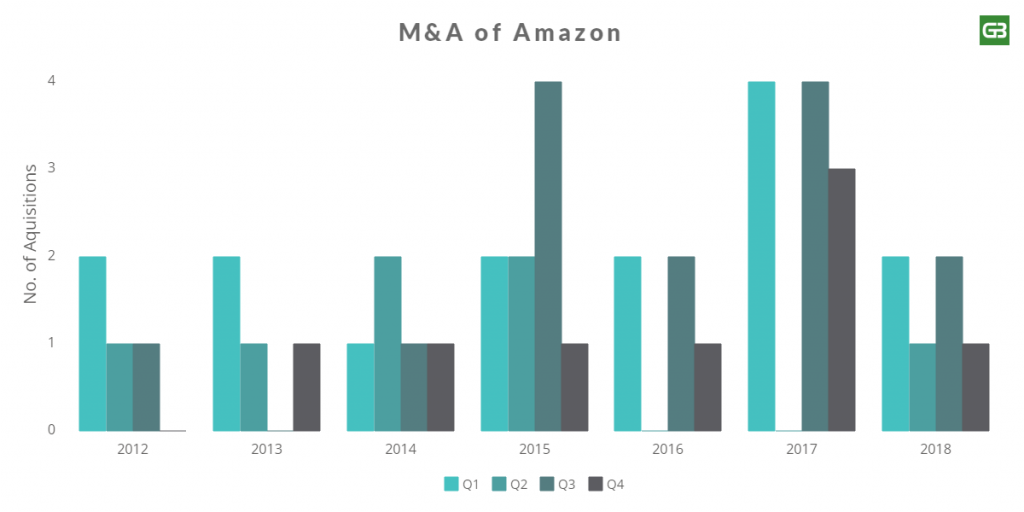 During the last few years, Amazon made multiple acquisitions to strengthen its core e-commerce operations. Additionally, it also invested in technology companies such as Harvest.ai – a cybersecurity player, and Do.com – a software for meeting productivity needs.
In June 2017, Amazon acquired grocery giant Whole Foods for a whopping $13.7 billion. Buying Whole Foods has been a big step ahead for Amazon as it not only strengthened its grocery e-commerce segment but also opened doors to new opportunities.
Internationally, Amazon expanded its operations by acquiring other businesses such as Souq.com in middle-east for growing e-commerce in the region.
And recently, Amazon made their first acquisition of 2018 — their second biggest ever —  in a deal valued more than $1 Billion purchasing Ring, a video doorbell maker which shows their interest in robust home security to flourish their Amazon Key service.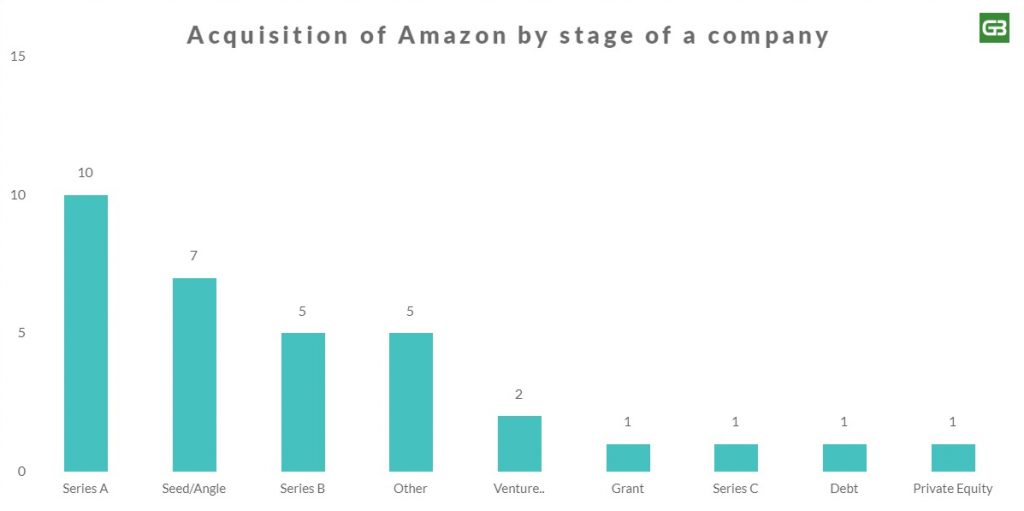 The chart above portrays acquisitions by Amazon based on the stage of the company in the funding round from Q1 2010 to Q1 2017. Since 2010, Amazon has favored buying early, hence acquired 10 Series A stage companies, followed by seed/angel stage companies, led by Series B, and others.
Compare that level of activity to its tech competitors and Amazon falls somewhere in the middle. Google has made loads of bets, whereas Facebook and Apple hardly invest – opting instead to purchase companies outright or don't invest at all.
New Businesses and Emerging Market
Amazon has been experimenting with fintech initiatives and intends to become a prominent player in the fintech segment. Amazon nearly lent out $1 billion in small loans in 2016.
In India, the company has been offering thousands of loans to e-sellers so suppliers can expand their operations and manage seasonal spikes.
Amazon expanded its financial reach by launching Amazon Cash which allows users to add to their Amazon.com balance by showing barcodes at brick-and-mortar checkout locations.
"Amazon is the most formidable. If Amazon can get you lower-debt payments or give you a bank account, you'll buy more stuff on Amazon." –  Alex Rampell, Partner, Andreessen Horowitz
Amazon makes big moves in emerging markets too. One of the key international markets targeted by Amazon is India, which is perceived to be one of the fastest growing e-commerce markets globally in the near future.
In Late 2016, the company's CEO Jeff Bezos announced an additional investment of $3 billion in India, taking its net investment to over $5 billion in the country. This amount is more than the company's total capital expenditure of $4.5 billion in 2016. Looks like Amazon sees huge potential in India.
In October of 2017, Amazon announced to expand in Brazil to enter the electronics and appliances marketplace. Amazon also expanded its operations in the Middle East, one of the fastest growing e-commerce markets in the world. It acquired Souq in the UAE to serve the local market. In September, Amazon-owned Souq acquired Wing.ae, a startup that is building a network for Prime-style same-day and next-day deliveries for various e-commerce marketplaces.
Amazon Financial Analysis
Amazon Revenue Analysis
Recently, Amazon announced their revenue for the 4th quarter of 2018 and with that, we found their overall revenue of 2018. AWS arm proved to be the most profitable segment racking in $7.3 billion operating income alone leading to record-breaking sales in 2018.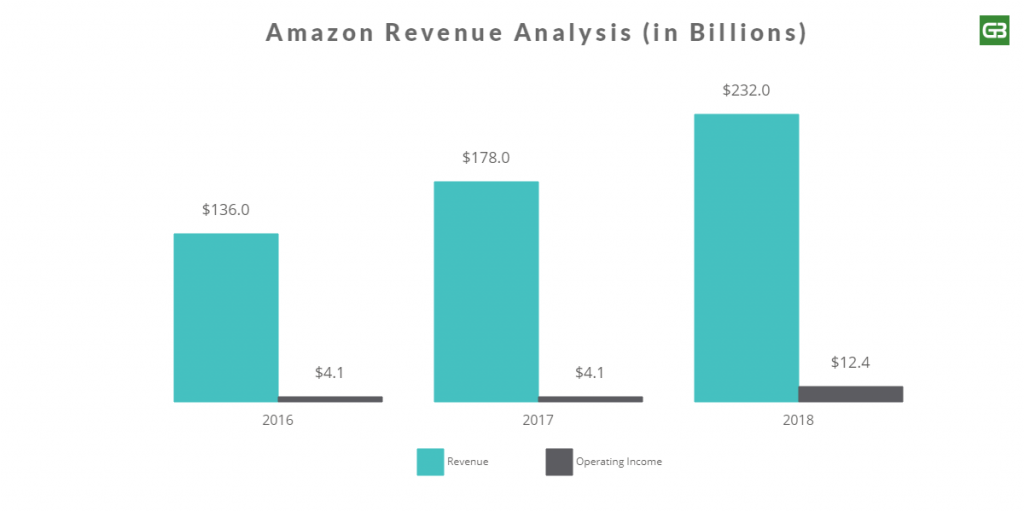 Unlike 2017, 2018 was a favorable year for Amazon as its most financial metrics saw a sufficient increase. Its operating income in 2018 was $12.4 billion – an increase of 202.5% from 2017. Its net income in 2018 was $10.07 billion – a 232.11% jump from 2017.
There are several reasons for this immense growth of Amazon's revenue. While its online shopping business is the major source of revenue, its physical stores are also generating a good amount of money than the previous year.
The subscription service also grew but a significant growth happened due to third-party sellers which accounted for $42 billion dollars. Amazon is a huge marketplace and one can sell their products via Amazon for which the company takes a margin of 15 to 20%.
Furthermore, advertising on Amazon is also increasing with a faster rate is accounted for $10 billion in 2018. The potential of Amazon's advertising business has such potential that analysts affirm it could surpass the AWS revenue by 2021.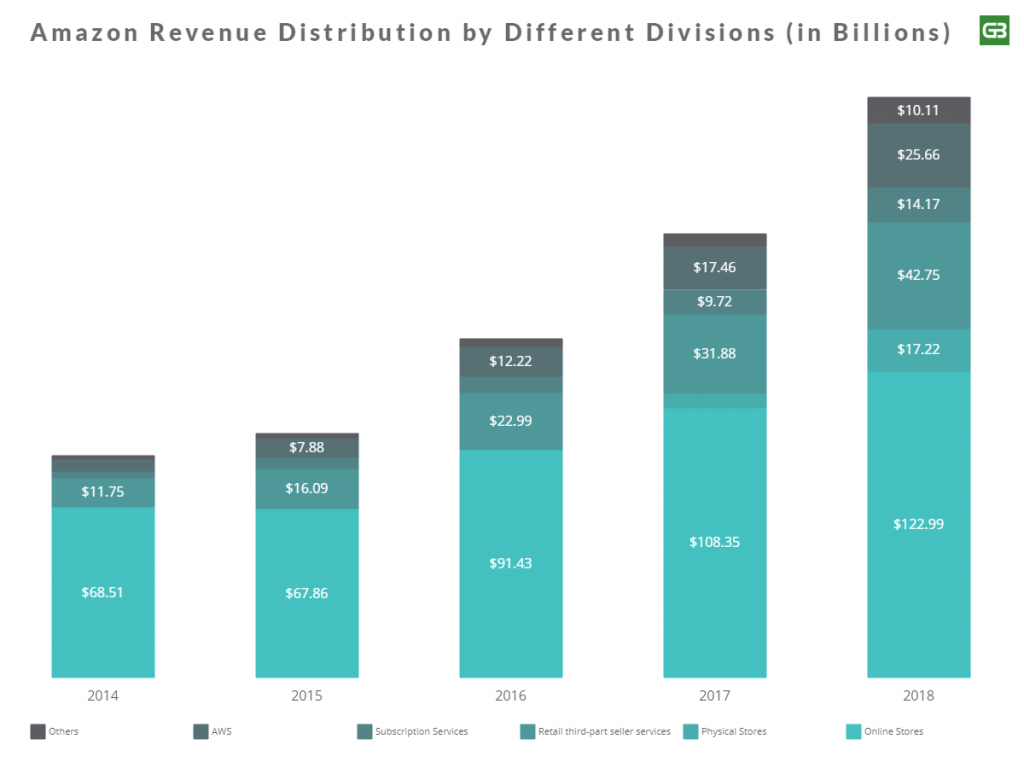 Majorly, Amazon operations, from the revenue perspective, can be divided into three major segments: North America, International, and AWS.
North America Segment
The segment includes earning from retail sales of consumer products (including sellers) and subscriptions through North America focused websites. The major competitors in the North American region are Best Buy, Target, eBay, Peapod, and Netflix.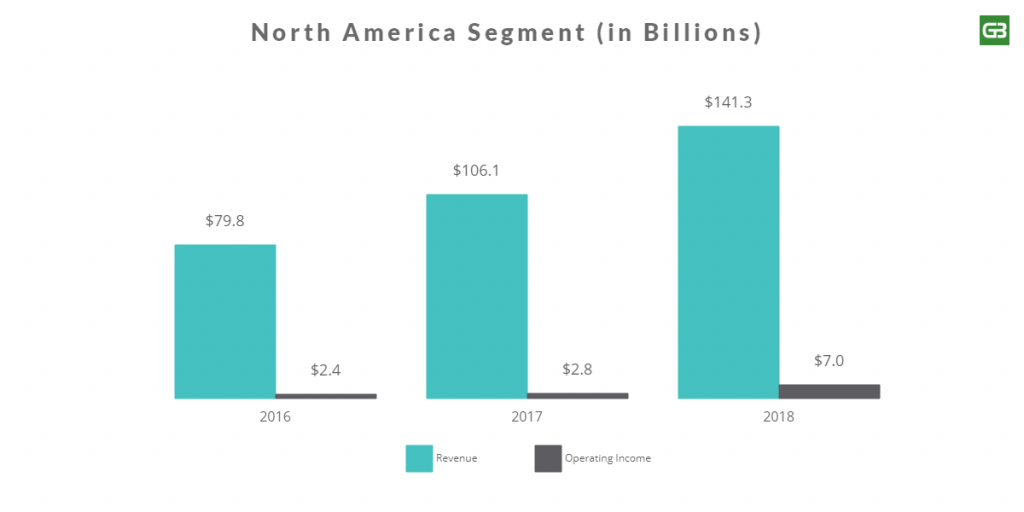 The chart above shows both the sales and operating income of Amazon in North America for the last three years.
North America segment reported operating income of $7.0 billion. The sales growth primarily is due to an increase in the number of items sold due to price reduction and lucrative offers in faster growing categories such as electronics and other general merchandise. Additionally, increased in-stock inventory availability and increased selection of product offerings boosted the sales.
North America has three sub-segments namely Media, Electronics and other general merchandise and others. Electronics and other general merchandise represent the highest share of sales in North America with consistent growth.
International Segment
The international segment includes earning from retail sales of consumer products and subscriptions through internationally-focused websites. The chief challengers are Alibaba Group in China, Woolworths in Australia, Rakuten in Japan, Flipkart in India, and JD.com in the United Kingdom.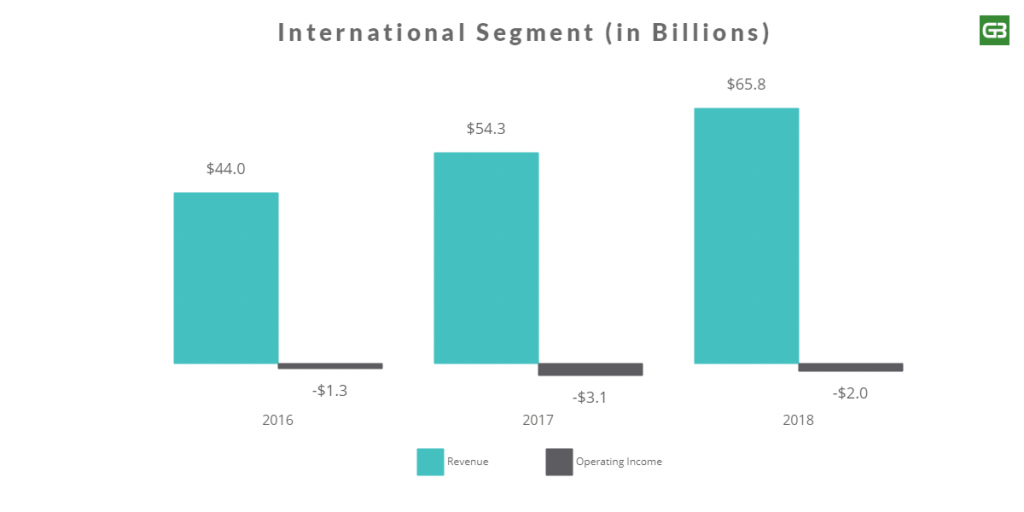 The chart represents both sales and income of Amazon internationally which surged to $65.88 billion in 2018 from $54.3 billion in 2017. However, it is still suffering an operating loss of more than $2 billion compared to $3 billion in 2017.
The sales growth was due to increased unit sales, including sales by marketplace sellers. The changes in foreign currency exchange rates impacted International net sales. Increased unit sales were driven largely by the continued efforts to reduce prices.
The increase in international operating loss was primarily due to increased levels of operating expenses towards capacity expansion and spending on technology infrastructure and marketing efforts. Amazon has high hopes of generating profits in 2018 as they did invest huge money in many markets.
Amazon hosts the three major sub-segments, i.e. Media, Electronics and other merchandise and Others, internationally. With Prime Services, the Electronics and other general merchandise successfully increased the sales in the International segment, too which was more than $30 billion.
AWS Segment
In 2018, AWS was the most profitable segment, thanks to Amazon b2b strategy which bagged a $7.3 billion operating income – 58% of total income.
The AWS segment is earning from global sales of compute, storage, database, and other service offerings for startups, enterprises, government agencies, and academic institutions. The major rivals in this segment are Microsoft, Google, Oracle, and IBM.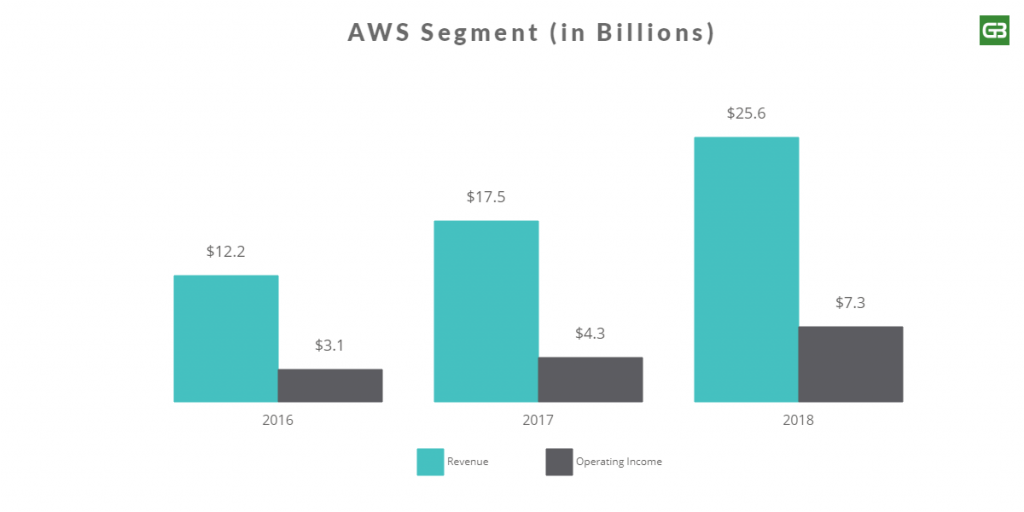 AWS is the fastest growing segment of Amazon in terms of sales and net income. The sales were increased by 47% in 2018 as compared to 2017. Amazon's increased sales are proof of growing consumers and product cost structure.
Amazon Stock Analysis
The year 2018 was too much up-and-down for Amazon's stock price. While it saw the all-time high price which made Amazon to cross a trillion dollar market cap, it also had to go through the biggest drop in the last ten years.
October 2018 was the worst performing month for Amazon as the company saw a 20.2% decline, the biggest drop for them since the 2008 financial crisis when their stock tumbled more than 25%.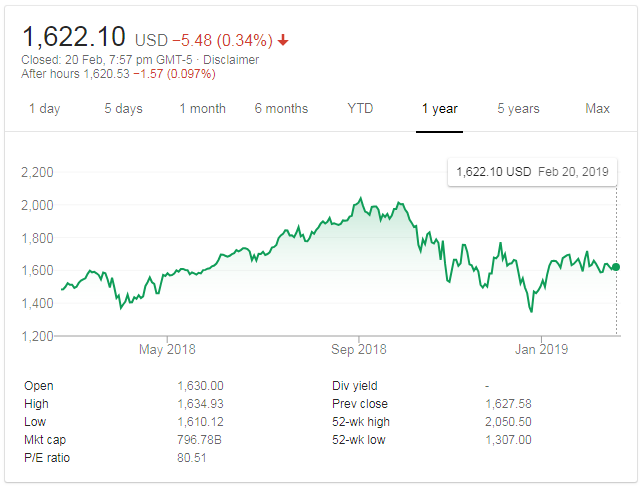 After comparing 52-week low and high, Amazon stock shows a growth of 57%. In 5 years, this is solid 500% increment.

As per the graph, 2014 was not good for Amazon stocks as they suffered a loss of 22% compared to 2013. By the end of 2015, not only it got recovered but also increased by 119% to $675 per stock.  2016 also saw a low jump of 11%. In 2017,  the stock crossed the $1,000 per share mark in October 2017 and the overall year witnessed an increment of 57% compared to 2016.
A large part of 482 million shares is being held by Institutional holders that make a total holding of $346 billion.
Undoubtedly, the world's richest man holds most shares – 80.8 million. This makes his net worth $134.1 Billion. His net worth surpassed the $100 Billion mark for the first time on November 24, 2017, when the share prices increased by 2.5%. In November, he sold 1 Million shares when the price reached an all-time high of $1100/share which helped him make $1.1 billion.
With 74,000 shares, Andrew R. Jassy – CEO of AWS – is Amazon's second-largest individual shareholder. Jeffrey M. Blackburn is the senior vice president of business development and digital entertainment of Amazon, and with 47,000 shares, he is the third largest shareholder of Amazon.
Amazon Investment Landscape
Amazon is investing in a wider variety of industries. During the period of 2011-2013, Amazon slowed down its investment activities as they invested mostly on internet companies.
During 2014-2016, the company changed its investment strategies and started channelizing investment in other industries like Media, Auto & Transport, and Mobile. Amazon also made few other big investments, as they invested in UK-based Yodel Delivery Network to expand its logistics network in the UK.
In 2016, Amazon partnered with Twilio to strengthen its communication platform through text and voice messaging.
In 2017, Amazon invested in a healthcare startup Grail which specializes in genomics for cancer diagnostics. This is Amazon's first investment in the life science segment.
In the last few years, Amazon focused on late-stage deals where most of the investment amount fell into $10M-$20M range.
Alexa Funding
Two years before 2017, Alexa Fund was involved in 25 early-stage funding rounds(seed and Series A). It also invested in some top consumer IoT providers during the Series B round.

Alexa Fund invested in multiple home-based voice-control platforms which is one the strategic moves to bring those products into Alexa ecosystem.

Amazon's Business and Research Partnerships
Amazon and Microsoft partnered to integrate Alexa and Cortana
In August of 2017, Amazon and Microsoft entered into a partnership for better integration of their Alexa and Cortana digital assistants. This cross-platform integration would allow Alexa users to access some unique aspects of Cortana and vice-versa.
Alexa, Open Cortana.

Cortana, Open Alexa.
Amazon and Ford partnered to access cars from a distance
Ford and Amazon teamed up to offer consumers the ability to access their car from a distance. This is done by bringing Amazon Echo into Ford's cars. With the help of Alexa – Amazon's cloud-based voice service, the car lets you control functions such as lighting, security systems, garage doors, and other Alexa smart home devices.
Dish Network and Amazon wireless collaboration
Dish Network is looking to use e-commerce platform, streaming service, home assistant (Amazon Echo) and proposed drone delivery services, in collaboration with Amazon and T-Mobile USA. According to the deal, Dish will utilize their spectrum for wireless service, in collaboration with Amazon and T-Mobile USA.
Cognizant is a Premier Consulting Partner for AWS
Cognizant in partnership with AWS provides services like migration competency, big data, workspaces, healthcare and life sciences, financial services, and SharePoint. The AWS Cognizant Team (ACT) delivers the differentiating integration strategy and creates industry-specific and horizontal solutions for their mutual customers.
Amazon and Accenture united
Amazon and Accenture combined to precipitate real innovation by combining AI tools into a contact center running from the cloud. Amazon offers Amazon Connect, a fully hosted, customizable, cloud-based contact center service. The collab structures such that Accenture would help its clients rapidly deploy Amazon Connect at scale and build vertical industry applications that use AWS AI services. The partnership will focus on delivering cloud transformation projects.
Nokia announces a Strategic collaboration with Amazon Web Services
Nokia and Amazon Web Services (AWS) collaborated given the rising need for "tighter integration" between networking and IT infrastructure. The partnership will improve cloud migration and software-defined wide-area networking (SD-WAN) services for enterprises, along with working across the development of 5G and Internet of Things (IoT) use cases.
2nd Watch Named AWS Management Tools Service Delivery Launch Partner
2nd Watch achieved AWS Service Delivery Launch Partner status for three Amazon Web Services (AWS) Management Tools in the AWS Service Delivery Program. The Partner Program is designed for those who are skilled at cloud infrastructure, application migration, and deliver value to customers by offering proactive monitoring, automation, and management of their customer's environment.
Ericsson wants a presence in Cloud Computing by merging with AWS
Ericsson which is one of the top companies working on 5G also wants to strengthen its position in cloud computing. In 2016, the Swiss giant worked with AWS for enhancing its infrastructure for developing and deploying mobile apps.
Conclusion
Amazon, for quite some time, has been focusing its efforts on cloud services and its personal assistant Alexa for which it has raised millions in Funding. Further, it is also trying to make Alexa a smarter assistant by hiring more AI talents.
The increase in the sales of AWS suggests it might become a favorite choice for corporations in the future. Prime, after the record-breaking sales, is getting bigger in India and Mid-East. Further, the company is trying to get a hold on the Indian Fintech market for which in Dec 2017, it funded a digital lending startup Capital Float.
The company has hit the $200 billion revenue mark this year. And it already hit the trillion-dollar mark.
Apple in term of market cap at $811 billion is a little ahead than it was five months ago whereas Amazon added $130 billion to its market cap. Thus, Amazon is accelerating at a higher pace than Apple. Similarly Microsoft though, in term of market cap, is a little ahead of Apple. And in the case of Alphabet, in the last few months, little growth has seen in its market cap.
Thus, it is sure that Microsoft and Alphabet are in the race as well. However, assuming current conditions, it is complicated to say which company will be at the top.
Related Study: Strategy for Walmart's Rise: A Tech-centric Approach to Compete Amazon
Authored by: Vipin Singh, Research Analyst, Market Research.