Patent Licensing Insights: Maximizing Return on Toyota's IP Licensing Program
BOS Insights is a section featuring insights/trends from our in-house tool BOS, which can help anybody in designing and picking appropriate patent monetization and acquisition strategies. 
Short for Business Opportunity for Sales (not a great name but we love the abbreviation), the BOS tool:
Can help find prospects that would be willing to in-license or purchase your patents;
Make your monetization campaign plain sailing; and
Find patents that have received a rejection (102/103 type) due to one of your patents and more. 
Onto the insights now, shall we?
Toyota – a Japanese Multinational Automobile giant has a research arm that recently launched a new Intellectual property Licensing program. The patent portfolios currently available for licensing are:
– Bioactive Cleaning Materials
– Nanomaterial Synthesis
– Thermal Management
– Omnidirectional Structural Color
These portfolios were even displayed by Toyota at CES 2020, Las Vegas.
Speaking of Omnidirectional Structural Color, these are the patents available for licensing: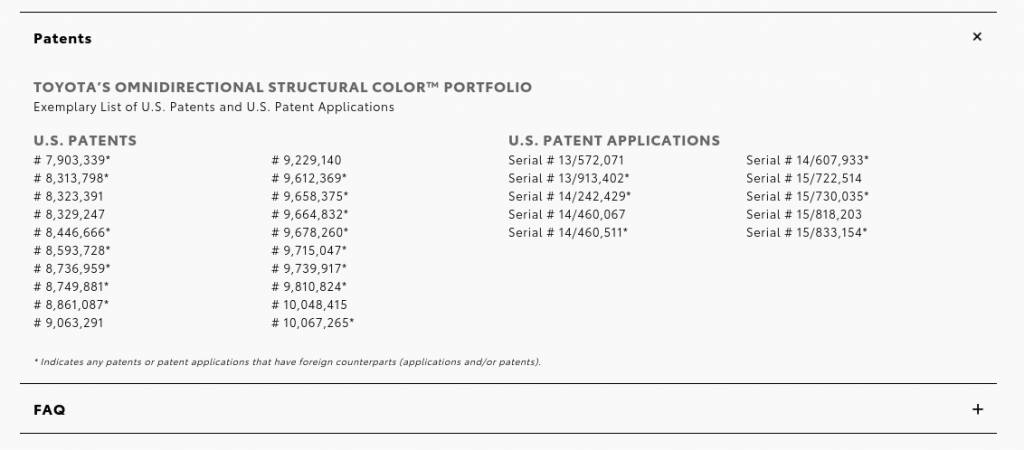 Source: https://www.toyotaipsolutions.com/
Omnidirectional Structural Color focuses on innovative pigment compounds capable of reflecting specific wavelengths of light. This means that the "omnidirectional" structural color does not change when viewed from different angles.
Initially, this Omnidirectional Structural Color technology was developed by Toyota researchers for automotive paint, but its applications can be expanded to Fashion, Consumer electronics, Pigments and Paints, Sports Equipment and Luggage.
Out of curiosity, we put our BOS tool to work to generate some interesting insights on these patents.
What our tool BOS has to say on Toyota's Patents Available for Sale?
According to BOS, these patents seem to be of interest to the following companies (considering these companies were trying to patent similar technology as already done by Toyota):
3M
Apple
Canon
E Ink Holdings
Essilor
LG
Markem-Imaje
Michiels Group
Signify
Thermo Electron Scientific Instruments
Here is the BOS view of Toyota's portfolio: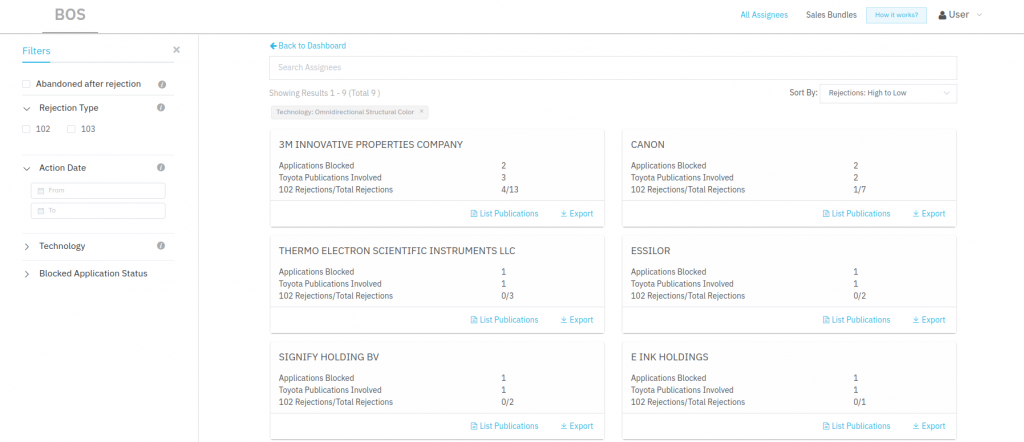 Let's deep dive into Canon and what interest Toyota's portfolio holds for them.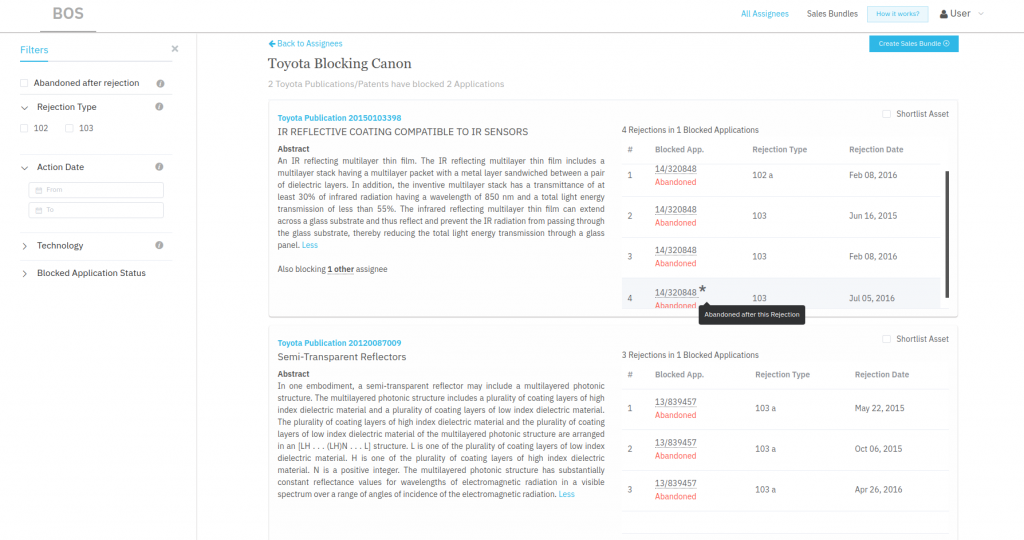 Canon is another Japanese multinational operating in Optical products. Canon faced multiple rejections on its patent application 14/320848 due to Toyota's US20150103398 and later had to abandon it. Toyota's US20150103398 may be one such asset of interest to Canon and other companies hinted by BOS.
How can Toyota's portfolio help other companies on the list? To find out, send a request by filling the form below. And while doing so, you can try out BOS for your patent to discover revenue-generating insights.


Authored by: Gaurav Neema, Product Development.