Startups taking digital transformation in the Tire Industry to the next level
Automotive Tire Market is expected to reach USD 170 billion with a CAGR of 5.6% by forecast 2027. Tire consumption is rising exponentially, owing to the increasing demand for vehicle production to meet the spike in vehicle demand across all segments.
With increased demand comes the need to take the industry a step ahead and for the Tire Industry, it is Digitalization. 
Digital Aspects in the Tire Industry
Digitalization stands for using any digital technology in tires to optimize their performance or enhance safety. Digitalization is opening the tire market to non-core players that are not directly working on tire materials and manufacturing. These non-core players are either top tech companies or the recent start-ups in the tire industry that are innovating around embedded sensors, recycling methodologies, or some other digital aspects. 
Also, during one of our analyses, we found that Apple, IBM, Qualcomm, and Intel are some of the major unexpected players that are actively filing patents in the Tire Industry. (Source) Interesting and Competitive, Right?! But, why are tech giants filing patents in the tire industry?.
Here are some of the activities from these players in this direction:
An Overview of Digital Components in the Tire Industry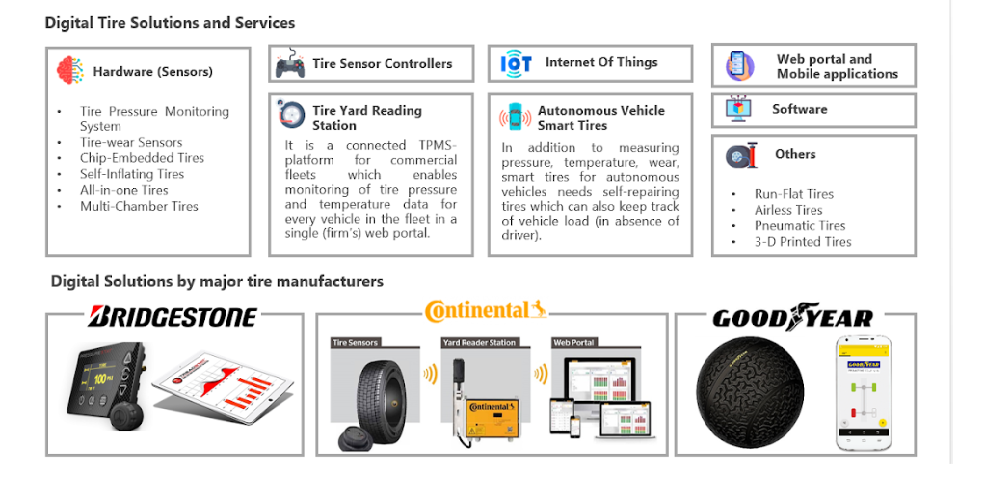 For the past 200 years, the Tire Industry has witnessed multiple transitions. Despite several revolutions, crises, shortages, and pandemics, the global tire market has witnessed consistent growth and is expected to further grow at a CAGR of 4% from 2022-27. (Source)
What changed is that the major focus of innovation, earlier, used to be on the tensile strength and durability of tires majorly. However, the digital revolution, climate concerns, and increased human capability to buy automobiles has shifted the focus towards recycling and digital tools in tires. (Source)
Among the major start-ups formed in the Tire Industry that we have analyzed, most of them are focused on digitalization. Let us have a look at some of the start-ups working around digitalization in the tire industry.
1. Tyrata
| | |
| --- | --- |
| Website | https://tyrata.com/  |
| Founded | 2015 |
| Headquarters | North Carolina, United States |
| Patent Families | 17 |
| Tech Solution | Tread Wear Detection |
Tyrata has developed a portfolio of IntelliTread products that monitor and predict tire wear for a real-time depot, service lane, and contribute to consumer decision making. By expanding its market in Japan and Europe, Tyrata is planning to gain a first-mover advantage in the tread-detection space by being one of the initial companies in this domain.
The need to monitor tread-wear and the Tyrata's contribution
In addition to tire pressure and temperature, the condition of tire treads (surfaces that come in direct contact with the road) also plays an important role in determining tread-life and vehicle safety. Therefore, the extent of wear of the tire tread over time becomes an important parameter. Manual methods to determine tread-wear are sometimes inaccurate and inconsistent. This, in turn, enhances the need for improved monitoring methods.
Tyrata has developed an assembly of magnetic sensors which are placed in the tread grooves. This sensor, after getting connected to a camera, makes use of 'Infrared Radiations' to determine the depth (and change in depth) of tread grooves and hence calculate the wear. Additionally, Tyrata is also working to develop a platform to predict treadwear in advance by taking the current state of treads, and historical data into consideration. (Source1, Source2)
They have also filed some related patents recently, for example, US application number 16/907,043 filed by one of the Duke University professor Steve Cummer, claims a method to measure the thickness of a material, specifically tire treads so as to determine the wear. The measurement is based on the capacitive sensors which may be placed on the inner surface of tires. An electric field may be generated between two sensor electrodes and measuring the interference of this electric field with rubber and tread structure may help to determine the current thickness and hence the extent of wear. So the fundamental concept of this measurement is based on the mechanics of how electric fields interact with different materials. They have also filed other patents on similar principles, such as US Application NO 17/252,869.
Moreover, they also seem to be working on measurement of tread profile/wear using detection of infrared radiation from the tread as disclosed in PCT Application PCT/US2019/057623
Tyrata's product portfolio
Tyrata's patented platform – IntelliTread technology monitors, tracks and predicts tire tread wear over the life of any tire. This platform comprises an internal sensor, an external tread-reader, and a drive-over system.
They also have a data management portal – Tyrata.io. It delivers automated tire tread depth analysis and helps in data collection, storage, and analysis for tire-wear data. (Source)
Funding and Collaboration
By now, Tyrata has raised about USD 7.5 million in funding over 2 rounds. Dealer Tires and Duke Angel Network are its most recent investors. (Source)
It has also formed an alliance with Marubeni Corporation to expand its services in Japan. It has also opened its office in Europe for testing, qualification purposes, as well as expansion. (Source1, Source2)
2. StatCap
| | |
| --- | --- |
| Website | teamstatcap.com |
| Founded | 2018 |
| Headquarters | Arizona, United States |
| Patent Families | 2 |
| Tech Solution | Bluetooth Enabled tire pressure monitoring |
StatCap offers a Bluetooth-enabled bicycle tire pressure monitoring system to help prevent crashes and performance losses caused due to lower tire pressure and temperature. Its app helps the user plan trips using the integrated map and pressure-sensing data and finds the best possible routes with the least tire damage. 
The need for bicycle tire monitoring and the solution imparted by StatCap
In professional biking, riders always search for tire monitoring methods to enhance performance and decrease risk. Their major aim is to keep a real-time check on the tire pressure during races and long journeys using a remote device (like a smartphone) so as to take action prior to the disaster or damage that might happen later, such as tire bursting or accidents. 
StatCap as a solution is trying to integrate a wireless sensor into the bicycle wheel and use a remote device as a control/monitoring unit in the telemetry system. It displays data related to acceleration, tire pressure, and temperature, and also provides an alert in case the pressure level is alarming or a remote device is not found within the defined distance. The device logging feature and real-time monitoring features help the rider to act accordingly. (Source)
Not only this, one of the founders, Kurt Stillman also owns IP pertaining to wheel telemetry systems, for example, US10179621B2 & US10532785B2 – These patents discuss the real-time transfer of data to bicycle riders using wireless communication devices and various sensors like accelerometers, pressure sensors & temperature sensors. The data may include one or any of the following: the rotation speed of the wheel, type of road surface, sudden acceleration or deceleration events, tire pressure, and temperature. Further riders may be alerted if abnormal air pressure is detected via an audio, visual, and/or haptic alert.
These patents also describe a power saving mode where the microcontroller and control unit can go into inactive sleep mode unless accelerometer data matches with the range of pre-stored data. They also seem to claim the use of solar panels to charge the batteries for extending the run time of the system.
StatCap's product portfolio
StatCap offers "P1 Smart Tire Sensors" that can take the place of a bike's tire pressure cap and get paired with a smartphone (TAHUNA mobile application) using Bluetooth. It reports the temperature and pressure of tires in real-time and updates the reading every 250 milliseconds.
Funding and Collaboration
StatCap has raised over USD 70k in a single pre-seed round till now. (Source)
StatCap' tire pressure monitoring system is integrated with TAHUNA mobile application for reliable navigation and route planning. (Source)
3. Revvo Technologies 
| | |
| --- | --- |
| Website | www.revvo.ai |
| Founded | 2018 |
| Headquarters | California, United States |
| Patent Families | 2 |
| Tech Solution | AI-based tread wear prediction |
Revvo provides a sensor-enabled AI-based software platform to monitor vehicle tires. Its platform helps drivers and fleet managers better understand the overall health of the tires on their vehicles resulting in increased vehicle uptimes, optimized efficiency, and improved safety. Revvo is also applying a data science-centric approach to bring intelligence to the only part of the vehicle that touches the road. 
The solution offered by Revvo
It has been observed that in order to have accurate estimations about tire life and wear, only monitoring of the tire isn't sufficient. A combination of methodologies like continuous monitoring, data saving, and proper data analytics for insight generation is necessary for the proper estimation of tire health and improving vehicle safety. (Source)
Revvo has developed a sensor device for monitoring tire condition, having a microprocessor that performs initial processing operations regarding tire characteristics, and is coupled with an antenna, which wirelessly communicates with external devices. Revvo's sensor-enabled artificial intelligence platform gathers this data and provides accurate predictions contributing to increased vehicle uptimes, optimized efficiency, and improved safety. (Source1 Source2)
They have patents too related to tire sensor devices, particularly for determining driving conditions and tire degradation. For example, US20210181063A1 filed by their co-founders Sunjay Dodani and Wing-Hong Andrew KO claims the use of multiple sensors (such as accelerometer & temperature sensor) to gather and store data in memory.
They have also recently filed a patent to protect the method of installing and securing such sensors on the inner surface of tires using suitable bond compositions, e.g.  US20210370726A1
Revvo's product portfolio
All-in-all, Revvo's sensor-enabled AI platform provides the following products and services –
Customized Alerts
Tread Life Protection Sensor
Real-time Tire Status
Automated Tire Monitoring
Tire Maintenance Recommendations
Data for Fleet Management
Load Detection
Tire Identification (Source)
Funding and Collaboration
Revvo has raised a total of USD 4 million in funding over 2 rounds. Revvo is funded by 6 investors. AngelList and Vulcan Capital are the most recent investors.
Revvo has partnered with Platform Science tire technology (date – July 2020) to integrate Revvo's AI-based detection and advanced data analytics product suite with Platform Sciences' fleet telematics hardware and cloud-based software platform. (Source1, Source2)
4. Nanjing SENASIC Electronic Technology
| | |
| --- | --- |
| Website | senasic.com |
| Founded | 2018 |
| Headquarters | Shanghai, China |
| Patent Families | 2 |
| Tech Solution | Tire Pressure Monitoring Sensors |
Senasic is a Chinese start-up and such a company is difficult to spot using market search. We analyzed recent patents, and thereafter, we found this company by its Chinese name. SENASIC's main products include the automotive tire pressure sensor series, the MAP sensor series, and the industrial-grade wireless temperature sensor series for the Internet of Things. 
Why is there a need to predict tire wear and what is SENASIC's solution?
As compared to the traditional sensors, MEMS (Micro-electro-mechanical system) sensor has a small volume, lightweight, low cost, low power consumption, and high reliability, and is suitable for mass production. This makes them a preferable choice for automobile applications, especially as tire pressure sensors.
However, combining, packaging, and integration of the assembly of MEMS sensors and ASIC chips involves multiple challenges, and improper fabrication may also cause less reliability and accuracy. 
Senasic develops a low-cost, highly reliable fabrication process that helps in generating cost-effective accurate sensors for tire pressure management. SENASIC works in low-power MCU, high-precision ADC, low-frequency 125kHz interface, acceleration detection interface, RF transmission, and other core functional modules. SENASIC has accumulated a lot of experience in chip packaging, testing, calibration, and reliability technology to ensure the automotive quality of sensor products. (Source)
They have patents like CN208730717U which is related to tire pressure monitoring integrated circuits that are cost-effective and easy to manufacture. Other patents like CN208747626U disclose sensor packaging techniques with reduced development costs. It describes the use of prefabricated substrates and MEMS sensors that can be set in a cavity provided in the substrate.
Further, they have similar patent applications like CN108996467A & CN108726468A which describe the use of MEMS pressure sensors and their packaging structure.
SENASIC's product portfolio
Senasic has developed a lot of high accuracy, low-cost, and less-power demanding tire pressure monitoring sensors (TPMS). (Source)
Some of them are –
TPMS-SNP729
TPMS-SNP705
TPMS-SNP739
TPMS-SNP736
Funding and Collaboration
Its funding amount is undisclosed but firms like Matrix Partners, Shenzen Hongtai, Fibonacci VC, and Walden International (USA) have invested in Senasic. (Source)
5. StreetScan
| | |
| --- | --- |
| Website | streetscan.com |
| Founded | 2015 |
| Headquarters | Massachusetts, United States |
| Patent Families | 1 |
| Tech Solution | Road Condition analysis and prediction |
StreetScan originated as a research project by a civil engineering student at Northeastern University in 2015. The startup provides up-to-date, accurate, and cost-efficient information on road conditions. Its services predict the condition of any road using current data from different sensors. StreetScan's pavement monitoring platform has already been used by 15 cities in the U.S. and has generated interest from other countries like Canada, China, and France.
The need for predicting tire wear and its solution by StreetScan
Making roads safer is of paramount importance in our daily lives. Multiple start-ups and companies are working on crowdsourcing traffic data, but there is still a need for a technology that can very well analyze the real-time road-pavement data, and also match it with existing geographic information system (GIS) data to provide better and safer road recommendations. 
StreetScan uses vehicles equipped with 3D cameras and sensors to monitor the conditions of roads and pavements, traffic lights, street signs, and the brightness of street lights without interrupting traffic, then analyses the data with trained algorithms. Using data from different sensors like acoustic and tire pressure, their software can determine the condition of any road. (Source)
One of their co-founders "Ming L. Wang" owns a patent US9377528B2 which discloses the mapping of roadway conditions. This can be achieved by collecting geoposition of vehicles and other data from acoustic sensor systems installed in the wheels of vehicles. Then the geolocation data can be correlated with roadway surface condition data to produce a map of the roadway surface condition.
StreetScan's services
Majorly StreetScan offers these three interconnected services –
ScanVan – StreetScan's data collection system consists of multiple sensors including acoustic, optical, and electromagnetic.
PaveMon – It presents all the measurements and analysis in an easy-to-use visual form.
PaveMan – It projects the cost of road repair, and also calculates the time of deterioration as per the weather. (Source)
Funding and Collaboration
StreetScan has raised a total of $880K in funding over 2 rounds. Their latest funding was raised on Dec 30, 2016, from a Seed round. StreetScan is funded by MassChallenge. (Source)
6. Wriggle Solutions
| | |
| --- | --- |
| Website | www.wrigglesolutions.com |
| Founded | 2015 |
| Headquarters | Toscana, Italy |
| Patent Families | 1 |
| Tech Solution | Breakthrough sensor-less detection |
Wriggle is developing an innovative solution for detecting the wear and tear in tire treads without using a sensor. Instead, Wriggle is working on a system where the electric field flows through the entire tire, making it act like a sensing body in itself. Thereafter, any anomaly or wear and tear is identified, and an alert is sent to the remote device. 
What solution is Wriggle imparting to present tire wear detection problems?
Many solutions have been proposed to tackle the problem of measuring the tire's wear in an affordable and reliable manner. However, most of the internal sensors and cameras are not robust enough, accurate, or industrially applicable, and are also costly. Moreover, the unavailability of these sensors, limited lifespan, and high cost could also be an issue at times.
Another issue might be the placement of sensor assembly, and possible damage that can happen to tire sensors. 
Wriggle has taken a different approach and used the tire itself as a sensor. The system is capable of directly analyzing the electrical response of the tire's compound, which (because of the materials it is made of) is conductive by itself, and can characterize the tire's state using electrical signals that flow through the tire and are then analyzed by a microcontroller. Therefore, Wriggle has converted the whole tire into a sensor. It claims this method would be of high precision. (Source)
Funding and Collaboration
Wriggle Solutions has raised a total of €71.4K (USD 80.81k) in funding over 1 round. This funding has been made available from EASME – EU Executive Agency for SMEs. (Source)
This start-up was acquired by Megaride Applied Vehicle Research on 13 December 2021.
Start-ups in the digital tire domain are working on varied digitization challenges such as monitoring of tire pressure, temperature, tread-wear, road conditions, and sensor-less monitoring. As we discussed the 6 Startups, in brief, there is a lot more to know about if you want to make it huge in the game. To answer your queries, GreyB experts are available.