Patent Licensing Insights: Who Could Be The Next Target In Sisvel's Series Of Patent Infringement Lawsuits?
Patent Licensing Insights is a section featuring insights/trends from our in-house tool BOS, which can help anybody in designing and picking appropriate patent monetization and acquisition strategies. 
Short for Business Opportunity for Sales (not a great name but we love the abbreviation), the BOS tool:
Can help find prospects that would be willing to in-license or purchase your patents;

Make your monetization campaign plain sailing; and

Find patents that have received a rejection (102/103 type) due to one of your patents and more. 
Onto the insights.
In May 2020, Sisvel International filed multiple litigation cases (count ~12) rapidly against several companies listed below:
ZTE, Inc.

HMD America, Inc.

Wiko S.A.S et al.

Dell, Inc.

BLU products Inc.

Honey International, Inc.

Tesla, Inc.

Noetic, Inc.

OnePlus Technology

VeriFone, Inc.

Cradlepoint, Inc.

Xirgo Technologies, LLC.
Interestingly, a set of 9 patents was used in each of these cases, which we have listed in the table below:
Table 1
| | | |
| --- | --- | --- |
| S. No. | Publication Number | Title |
| 1 | US7979070B2 | Mobile equipment for sending an attach request to a network |
| 2 | US8189611B2 | System and method for resolving contention among applications requiring data connections between a mobile communications device and a wireless network |
| 3 | US8600383B2 | Apparatus and method for making measurements in mobile telecommunications system user equipment |
| 4 | US7215653B2 | Controlling data transmission rate on the reverse link for each mobile station in a dedicated manner |
| 5 | US7319718B2 | CQI coding method for HS-DPCCH |
| 6 | US7551625B2 | Method of scheduling an uplink packet transmission channel in a mobile communication system |
| 7 | US7580388B2 | Method and apparatus for providing enhanced messages on a common control channel in a wireless communication system |
| 8 | US7869396B2 | Data transmission method and the data re-transmission method |
| 9 | US8971279B2 | Method and apparatus for indicating deactivation of semi-persistent scheduling |
All of these above-mentioned patents discuss the basic features of 3G/4G cellular networks. That is why they cover various branches of technical domains from laptops (of Dell); smartphones (of OnePlus, ZTE, and HMD, etc.) to electric cars (by Tesla), and payment devices (by Cradlepoint, VeriFone).
Who could be the next name in Sisvel's list?
To find more insights on these patents, we analyzed these 9 patents on our BOS tool. What we observed in the output was quite interesting. The following companies were found out to be blocked (i.e. were rejected under 102/103 by the examiner) by these 9 patents –
ZTE

HTC

Qualcomm

LG Electronics

Samsung Electronics Co, Ltd

Ericsson

Fujitsu

Mitsubishi Electric

Nokia Solutions And Networks Oy

Innovative Sonic Limited

China Academy Of Telecommunications Technology

Harris Global Communications, Inc

NTT Docomo, Inc
Interestingly, the BOS output indicated ZTE, which was already litigated by Sisvel. Further, looking more into the BOS output, we observed that patents of ZTE were blocked by the patents under 102 rejection, which shows that ZTE was trying to protect a somewhat similar idea already protected by these Sisvel patents.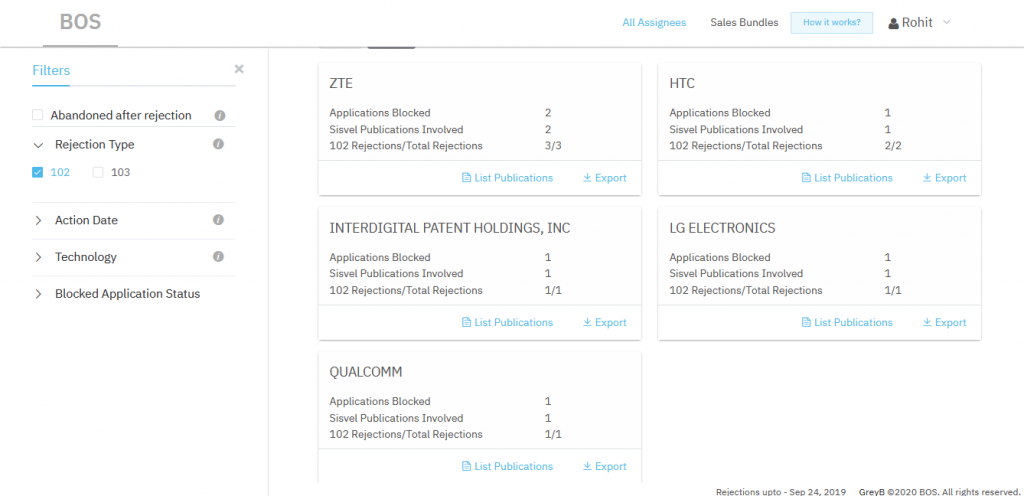 Similarly, the patents of a few more companies like HTC, Qualcomm, and LG were also blocked under 102 rejections, and unexpectedly claims of those patents were also amended based on these rejections. Hence, there seem to be high chances that one of these companies (HTC, LG, or Qualcomm) can be Sisvel's next target.
Additionally, we looked at the complaint documents of Sisvel's recently filed cases. We found that Sisvel has accused the networking devices, such as laptops, smartphones, and electric cars which uses the 3G/4G/LTE cellular network. For example, in one case against OnePlus, Sisvel has accused OnePlus 6T, OnePlus 7T, OnePlus 8, and OnePlus 8 Pro. And they have targeted the features related to 3G and 4G cellular networks.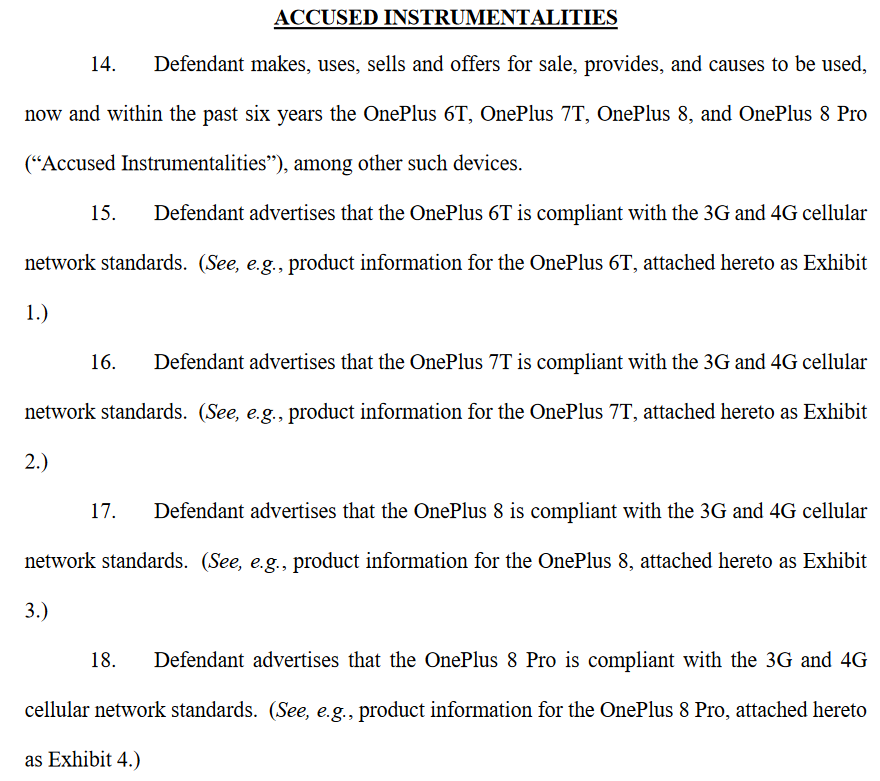 Source: https://insight.rpxcorp.com/litigation_documents/13786232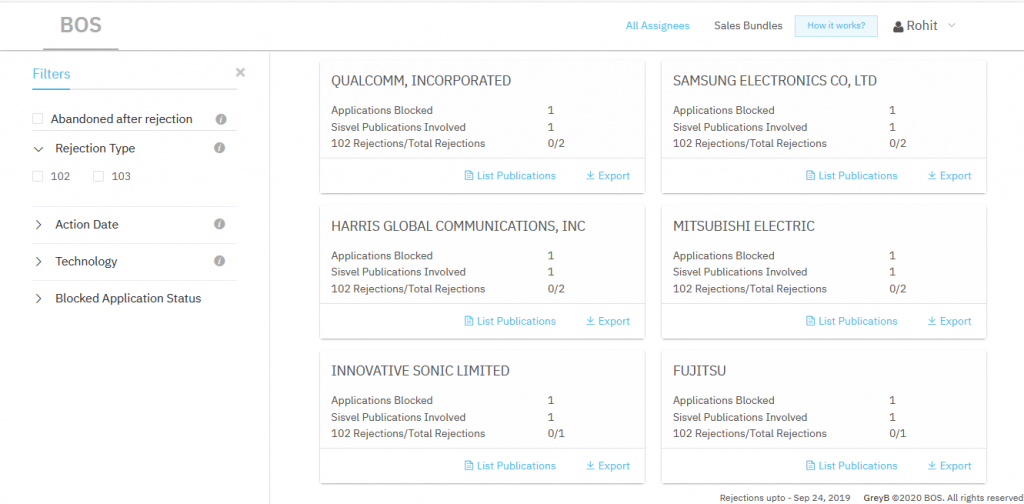 Further, giving a quick look into Samsung (another interesting name in our BOS output), we figured that Samsung Galaxy A-series (model no. A31, A51, etc.), and Galaxy S-series (model no. S10, S20, etc.) Smartphones have 4G and 5G network accessibility. Hence, these Samsung products work similarly with the above mentioned OnePlus smartphones.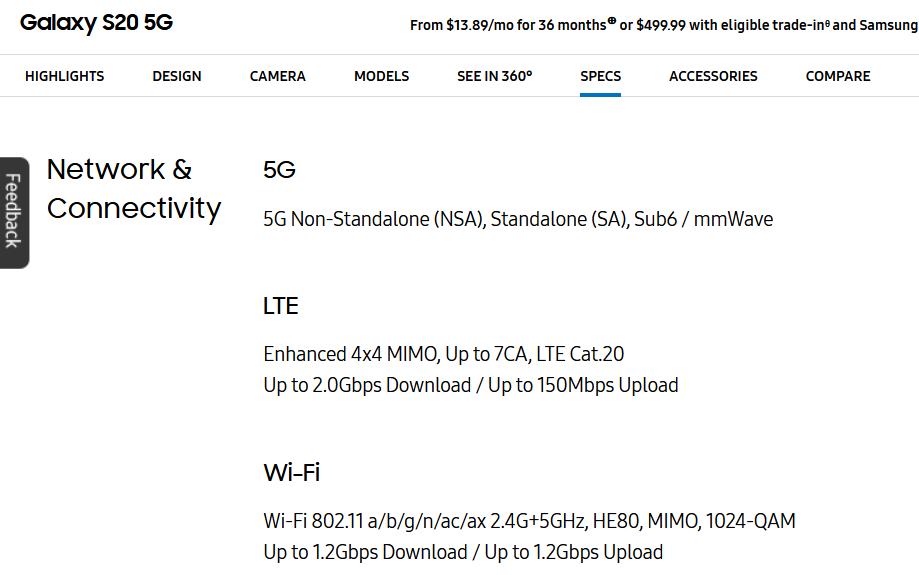 Source: https://www.samsung.com/us/mobile/galaxy-s20-5g/specs/
So, Samsung might also be using the technology for which Sisvel has exclusive rights. A deeper analysis can further shed more light on this.
Sisvel offers various patent pools (e.g. MPC, DVB-T2, etc.) for licensing their portfolio. Also, we have checked that Samsung already took a patent license from Sisvel in the Wi-Fi domain (source) as well as in the Digital Video Broadcasting domain (source). Hence, it may be possible that Samsung will take a license form Sisvel in the wireless communication domain next. 
Conclusion
The above insights are just broad signals. We do not know who is using the technology. Having a patent rejected due to the patent of another company does not mean that technology is also used in a product. However, it provides very good signals if someone is going after a litigation campaign. Some of these big players (e.g. Samsung, HTC, LG, or Qualcomm) may already be in Sisvel's target-list. Hence, going further, we might see a few more litigations unfold.
These were just some insights that our BOS tool suggested in this case.
Want to give BOS a try and discover interesting revenue-generating insights from your portfolio?
Authored by: Biswapriyo Ghosh, Team Monetization.