Which are the Top Patent Prosecution Firms in Germany?
Encompassed in beautiful alpine ranges, Germany – the second largest country in Europe – boasts not only of scenic beauty but is also an important hub of innovation. Home to major pharmaceutical and automobile manufacturers, the country has been a center of innovation in Europe for decades.
When we are discussing the innovation quotient of a country, looking at its patent prosecution trends provide a great outlook on the direction of research in the nation. It indicates how patents are being filed during a period which helps us judge the way a country is progressing technologically.
Where there are patent filings, there are law firms and attorneys involved. Thus, to find what they are up to and how the state of patent prosecution looks like in Germany, we used Thomson Innovation to extract the data of patents filed in Germany during the period of 2010-2015.
The key metrics that we used to derive our insights are as follows:
An overview of the Patent filing trend: The total numbers of patents filed for a period of time is a key indicator of the state of innovation in the country.
Resident vs. Non-resident patents: This criterion provides great insight on the research activity done by the local companies in comparison to the foreign companies.
Prosecution Trend: The prosecution trend helps to understand the landscape of the German law firms that are involved in patent filing in the country. We have further divided this into two parts:

Top Law Firms associated with German Companies: The metric would help understand about the law firms that are involved in filing patents for the innovation done within Germany.
Top Law Firms associated with foreign companies: The metric would help understand about firms that cater to foreign clients.
The above metrics, other than helping understand the patent prosecution trend in Germany, also helps compare how strategies of different law firms vary based on the type of clients they deal with.
Patent Filing Trend
Before we get started with the law firms stats, let us first look at how IP is growing in Germany. The chart below represents the overall patent filing trend in Germany from 2010 to 2015.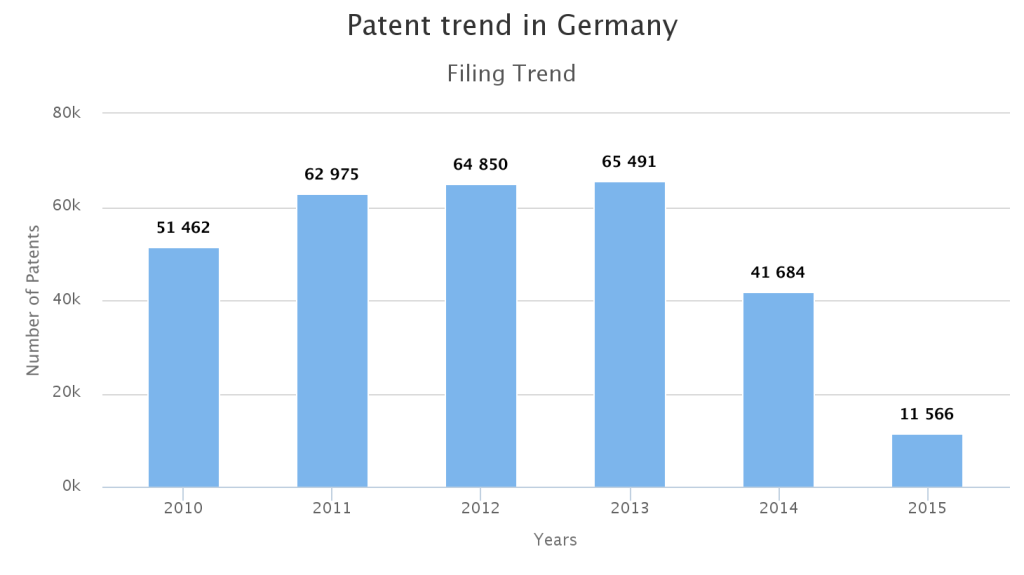 There was a 22% increase in the patent filing between 2010 and 2011 while subsequent growth has been very low from 2011 to 2013. A quarter analysis of the period 2010-15 shows that there was an increase of 27% in the first quarter in 2010 and 2011. However, there has been a decreasing growth in all of the subsequent quarters, which comes as a bit of surprise.
Residents or Non-Residents, Who are filing more patents?
The office of first filing information gives the ratio of patent filing done by domestic and foreign companies at the German patent office.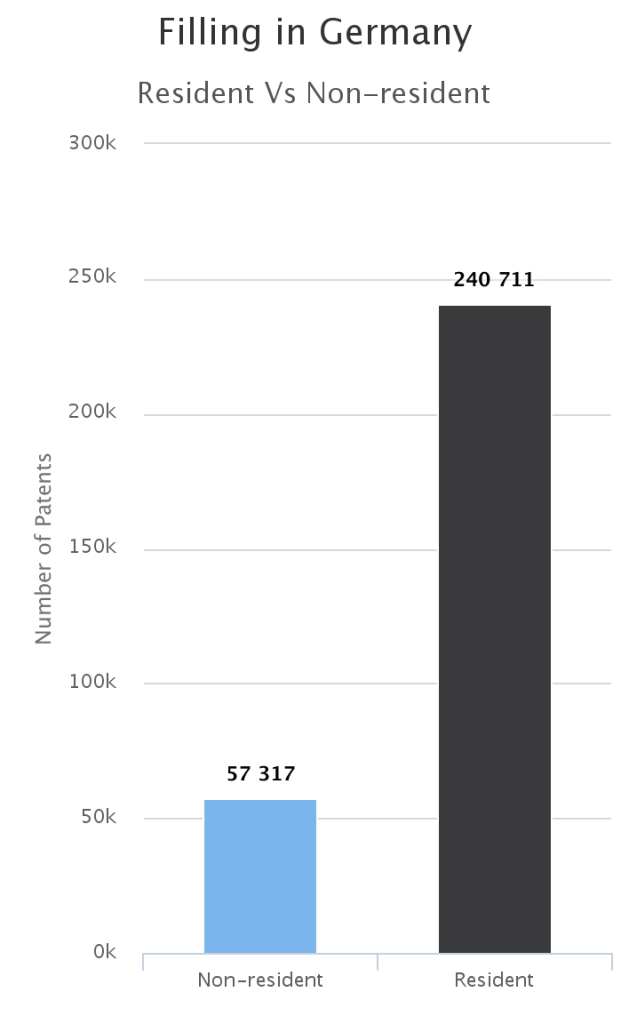 During 2010-2015, 80% of the patents filed with the German PTO had German priority and the rest 20% had foreign priority.
We analyzed this 20% data in detail to find the foreign countries that consider Germany – which world's fourth-largest economy – as a potential market for their inventions.
The German market – which is largest in the EU – due to, however not limited to, its location at the center of Europe, quality engineering, and first-class infrastructure attracts foreign investors in numerous sectors.
USA filed the most number of patents followed by Japan, South Korea, and China. The US companies were responsible for 40% of the total foreign filing in Germany. Japanese companies filed 27%, South Korean companies 7.8% and Chinese companies' share was 4.2% in foreign filings at the German PTO.
The yearly patent filing data of the US suggests an annual incremental increase during the period 2011-13. Overall, there was a growth of nearly 37% in the period. The figure for Japan was 37% while South Korea was catching up with 36%.
Since the overall filing has not much increased, the increase in foreign filing implies that resident filing has decreased over the period of time.
Feature Download: We also conducted an analysis to find Australian patent prosecution trend. You can download your copy of the whitepaper here: Australian patent prosecution trend.
The Top IP Law Firms Prosecuting Patents in  Germany
During the period of 2010-2015, 298,000 patents were filed with the German PTO, in which more than 4170 IP law firms were involved.
Out of the total patents, 57,317 patents were filed by non-German companies which were represented by 650+ different law firms. The non-German companies were represented by only 16% of the total law firms of Germany. Other than that, the top 20 law firms prosecuted only 25% of the total foreign patent applications.
The statistics are even more surprising for German companies. The top twenty law firms prosecuted only 9% of the 240,711 patents filed during 2010-15 by German companies. This implies that patent prosecution in Germany is not concentrated and is widespread.
The chart below represents the top 20 law firms prosecuting patents in Germany.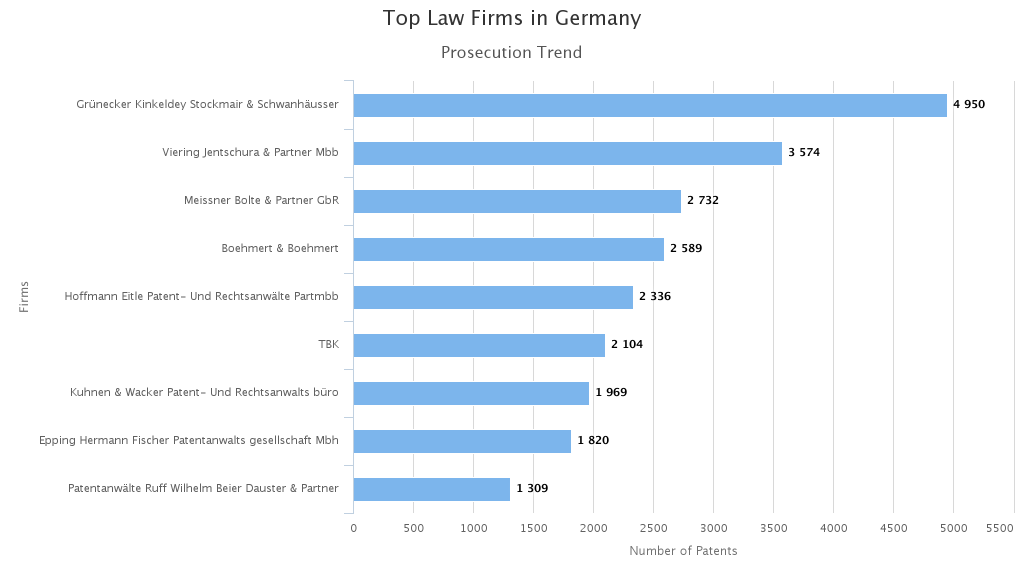 Manitz, Finsterwald, and Partner prosecuted the highest number of patents followed by Grunecker, Kinkeldey, Stockmair & Schwanhausser. Looking at the yearly filing data, Manitz & Partner prosecuted 205 patents in 2010 as compared with 1190 in 2013 indicating an increase of over 400%. Grunecker, Meissner, and Viering demonstrated an increase of 110%, 116%, and 218%, respectively during the same period.
Top Law firms Prosecuting Patents in Germany – Split between Domestic Clients and Foreign Clients
The German law firms are prosecuting patents not only for German-headquartered companies but also for companies from rest of the world.
The Top 10 law firms from the previous chart were split based on the geography of their respective clientele, that is, a domestic company is categorized as Residents while a foreign company is categorized as Non-resident.
The chart below compares the number of patents prosecuted by the top ten law firms for resident and non-resident companies.
Which IP Law firm represents which company in which Geography?
Manitz, Finsterwald & Partner
Manitz, Finsterwald & Partner appears to be doing the majority of their prosecutions for the non-resident companies. A further analysis shows that most of the firm's clients are located in the US. Nearly 96% (3829 patents) of the prosecution in last 5 years was done for a single client- GM Global Tech Operations Inc., which operates as a subsidiary of General Motors Company.
In Germany, the firm works with companies such as Weber Maschib GMBH, Maco Technologie GMBH, Boysen, Arnold & Richter and Schneider Electric.
Grunecker
In Grunecker's case, around 27% of its clients are based out of USA and around 25% are based out of Japan while the majority (for any single region) are based out of DE at 39.5%. Other active regions include Finland, UK (GB) and Korea.
For the USA region, Xerox appears to be a major client followed by ATMEL Corporation and Lear Corporation. Other companies of interest are Global Foundries, Cooper Technologies, Agilent Technologies, and Samsung.
With respect to the Japanese region, the companies of interest are Yazaki Corporation, Semiconductor Energy Lab, Hitachi, Panasonic, Sumitomo, and Fuji.
For German region, the major clients are Krones AG, Tyco Electronics, Weber Maschib GMBH and Veritas AG.
Viering
Looking at the locations of the clientele of Viering, it appears that around 42% of the law firm's clientele is based out of South Korea, 17% from the US, and nearly 8% from Taiwan. German companies stand at 28%.
For the Korean region, the major clients of Viering are Hyundai Motor Corporation, LG Display, and Kia Motors. More than 70% of the prosecution within South Korea was done for Hyundai followed by LG which stood at 7%.
For the US region, Intel appears to be a major client along with Osram Sylvania Inc. and Ford Global.
In Taiwan region, the major clients of the law firm include Dexin Corporation, Micro Star International, Ozaki International Company, and Winharbor Technology.
Company Wise Analysis
Analyzing the company wise figures, Volkswagen was represented by Gulde and Partner in Germany and the USA.
Infineon Technologies was represented by Viering & Partner, Westphal & Partner, Schoppe & Partner in Germany and the USA.
Similarly, Denso Corporation was represented by Kuhnen & Wacker Patent, Winter, Brandl and TBK, for the majority of its prosecutions in Japan.
IP Law Firms associated with German Companies
The chart below shows the number of patent prosecutions done by law firms for clients based in Germany, USA, and Japan. The German companies are represented by 4172 law firms, the US companies are represented by 669 law firms and Japanese companies are represented by 434 law firms.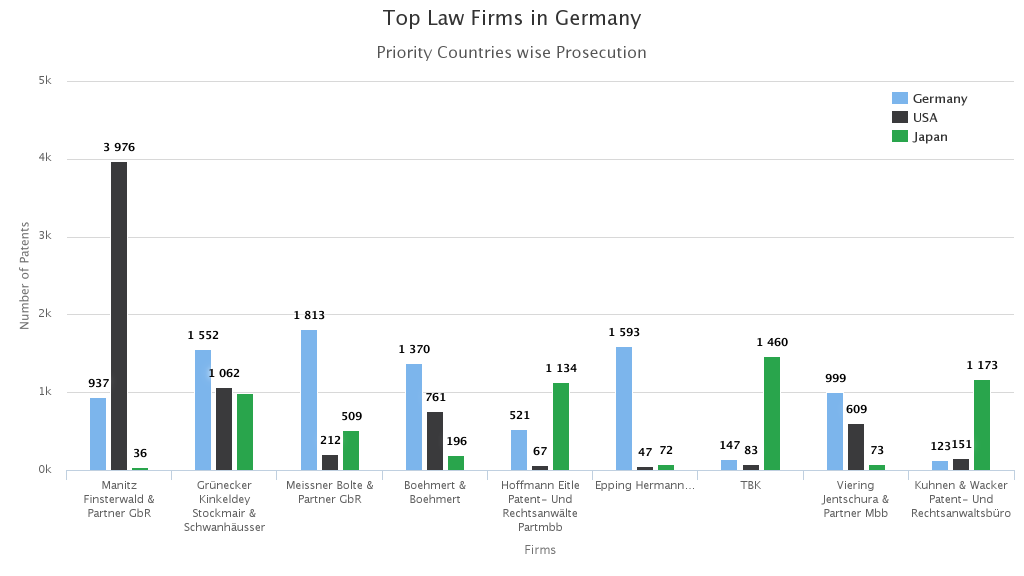 In the case of German companies, the most active law firm in patent filing are Meissner, Bolte & Partner GbR which prosecuted 1813 patents, Epping Hermann was involved in 1593 patent applications and Grunecker, Kinkeldey prosecuted 1552 patent applications in last 5 years.

IP Law firms associated with American Companies
In the case of USA, Manitz was involved in 3976 prosecutions, Dorfler in 1260, Grunecker in 1062 and Boehmert in 761 patent applications.

IP Law Firms associated with Japanese Companies
For the Japanese companies, the most active law firms were found to be TBK with 1460 patent prosecutions, Kuhnen with 1173 applications, Hoffman Eitle with 1134 patent applications and Grunecker with 993 applications.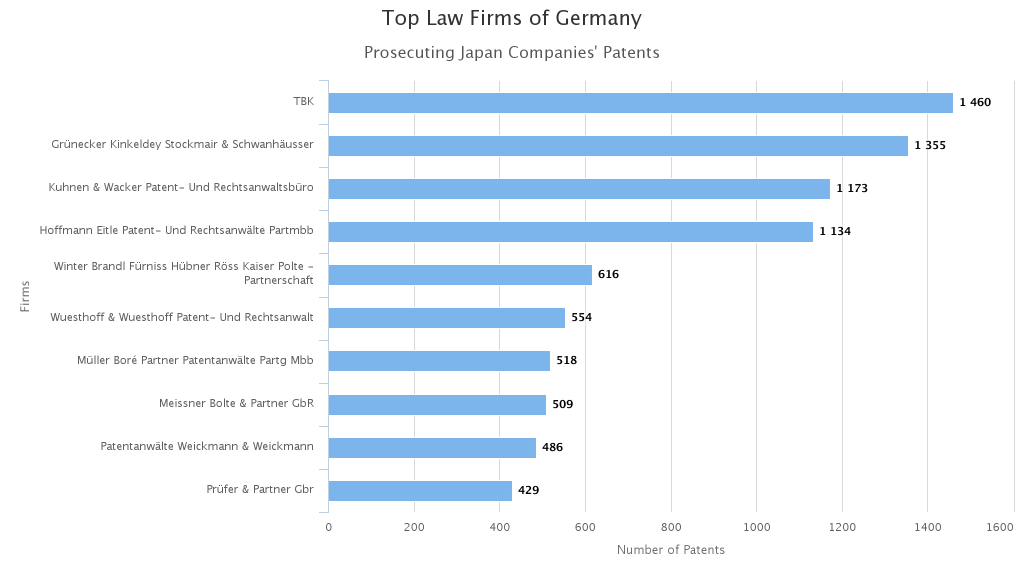 That was quite some numbers, Am I right? Now that we had a look at these, here's the next step – A series of insight-filled pieces that would make patent prosecution a breeze. Click here to read them now – Smart Patent prosecution strategy.
Authored By: Sumit Chakraborty, Senior Associate, IP Solutions