ITC and Nestlé's Entry Into Skincare
In the previous article, we talked about the research of Fujifilm in the skincare domain. While it's a surprise for the skincare players, it could have been anticipated by analyzing the earlier signs, such as research and patent filings of potential or emerging players.
During the skincare domain analysis, two more players showed signs of entry in the skincare industry.
While one company is still doing the research, another company left the field finding itself out of its boundaries.
We are talking about ITC Ltd. an Indian tobacco company, and Nestlé, the world's largest Food and Beverage Company.
Surprised?
We thought so.
ITC Ltd has already shifted its focus from being a tobacco company to being an FMCG (fast-moving consumer goods) player. So, for an FMCG player, entering in the skincare domain is not surprising as it seems. But what was their motivation behind entering the skincare domain?
We'll tap that question soon, but first, let me tell you about the world's largest F&B Company that left the skincare domain as soon as it entered. Nestlé, entering the skincare domain does seem a bit surprising. But what made the company leave the newly entered market?
Let's see how the journeys of both these companies look like one by one:
ITC Ltd.
Back in 1910, ITC was established as the 'Imperial Tobacco Company of India Limited' (later renamed Indian Tobacco Company Ltd.). For the first 6 decades, the company's only concerns were tobacco production and distribution.
But with the hike in taxation and the rise of illegal activities in the cigarette industry, ITC couldn't rely entirely on tobacco and its by-products to be their sole source of revenue. Hence they decided to be an FMCG player.
Since then the company has expanded in warp speed and now has a diversified presence in FMCG, Hotels, Packaging, Paperboards & Specialty Papers, and Agri-Business.
And ITC succeeded in their attempts.
But most of the domains had low margins, thus low growth for ITC.
Therefore, bit-by-bit, the then-cigarette-biscuit-hotel major ITC seemed to shift its focus to another industry: personal care products, including skincare business. This was done with the hope of maximizing profit growth.
In the process, it acquired the Charmis cream brand from Colgate-Palmolive in 2017. It announced various plans for making the brand reach the masses, with skincare solutions.
It also relaunched the brand for the Indian market. They revamped the brand's look and "enhanced sensorial experience" of the cream brand.
Furthermore, ITC also launched its very own skincare brand "Dermafique" in 2018, complete with a state-of-the-art Life Sciences and Technology Centre which worked in the fields of bioscience, nanotechnology, and derma science.
Dermafique concerns itself with producing anti-aging, specialized hydrating creams, body serum, cleansing, and toning products catered towards Indian skin.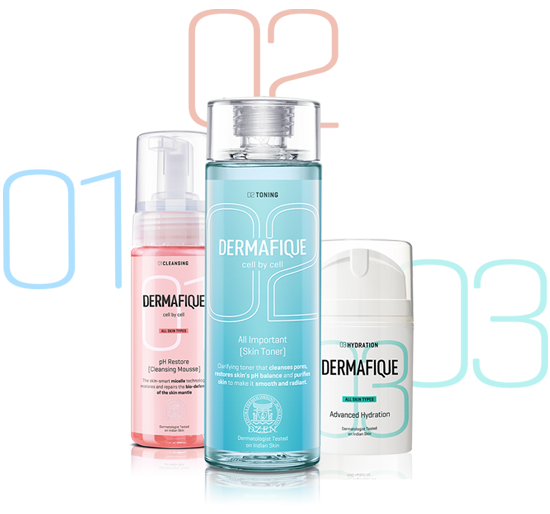 The company's vision to enter the skincare market could have been foreseen by observing its strategic acquisition of Charmis in 2017 from Colgate-Palmolive, a year before the launch of Dermafique. Such acquisitions, in fact, form part of a good strategy, which can provide the company a head-start into a new domain that it is venturing into.
Now, other than the products, the company also provides a skin analysis tool that asks about your skin and lifestyle and then offers one of its products as a solution.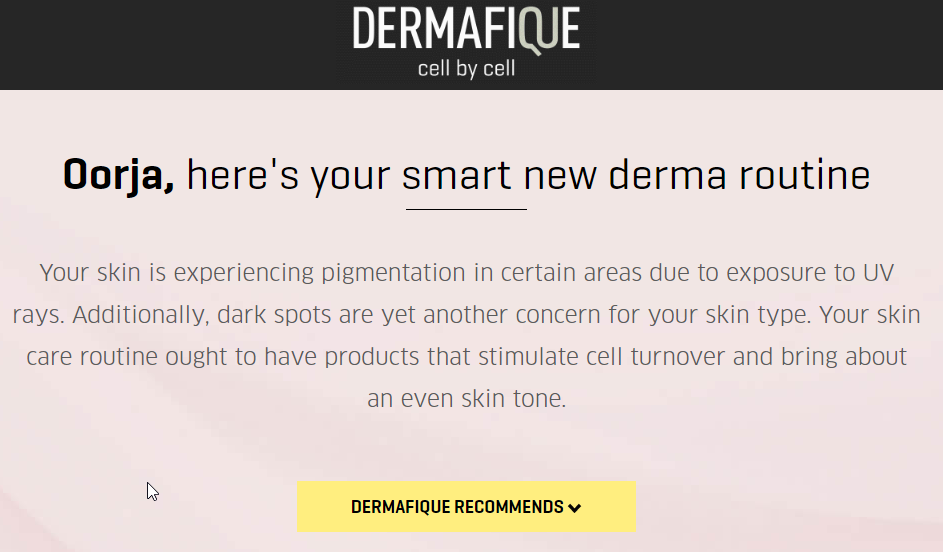 Further, our analysis revealed that not only is it creating a buzz in the market with product launches and re-launches, it's also active in strengthening its research via intellectual property filings. We checked the company's recent patent filings and found that it is constantly researching in the field of skincare.
Below we have described two of its recent patent applications related to the anti-aging domain.
One of its 2018-filed inventions is about an anti-aging cosmetic composition comprising aloin and caffeic acid. [IN201841012152A]. Skin aging is accompanied by the formation of fine lines and wrinkles due to fragmented collagen caused by up-regulated MMP1 levels. The composition exhibits anti-aging effects by inhibiting the production of matrix metalloproteinase (MMP1) enzyme and thus helps fight different signs of aging.
Another one revolves around a topical composition consisting of citrulline, catechin, and N6-benzyl adenine (N6BA). The resulting composition helps fight signs of skin aging such as wrinkles, fine lines, and elasticity by modulating enzymes like elastase, hyaluronidase, and collagenase. [IN201841006067A]
So, what do we take from this?
ITC has an almost similar case as that of Fujifilm.  Though it's not as shocking as Fujifilm since it had begun dealing with FMCG long back. Nevertheless, its vast presence in the Indian market could be problematic for its skincare counterparts, if it gets any more aggressive.
Speaking of, let's move onto our next company.
Nestlé Galderma
Nestlé was born when two Swiss enterprises merged in the 1860s. The company scaled up big-time during World War I & II. Ever since its foundation, the company's sole focus was centered on food and beverages.
However, that was to change in 2015 when Nestlé announced its plan to open not one, but 10 research and development centers dedicated to dermatology, on which it spent about $350 million.
Earlier to that, a joint venture between Nestlé and L'Oréal early on in 1981 gave us Galderma, a pharmaceutical manufacturer specializing in dermatological treatments and skincare products. While L'Oréal's participation in this deal was very much justified, Nestlé, one of the largest food brands in the world, seemed a little out of place.
Furthermore, in mid-2015 Nestlé spent $5.7 billion for L'Oreal SA's stake in their Galderma dermatology venture and the rights to some injectable wrinkle treatments of Valeant Pharmaceuticals.
Basically, Nestlé wished to expand and turn their company "multi-disciplinary". And they saw skincare to be a potential growth market.
But, in Sep 2019, the company put its skin unit for sale. The reason for the spinout of the Nestlé Skin Health unit was the company's vision to be focused on food, drinks, and nutritional health. And as such the future growth of Nestlé Skin Health lied increasingly "outside" the company's strategic scope and did not fit in.
"Sharpening our strategic focus on Nestlé's core food, beverage and nutritional health products offers the best opportunity for long-term profitable growth and is fully in line with the pursuit of our company's purpose." Paul Bulcke, Chairman and former CEO, Nestlé.
Thus, the Swiss company went on to sell Nestlé Skin Health for $10 Billion to an EQT Partners-led consortium.
Skin-health units made of the Cetaphil and Proactiv skin-care brands, Restylane wrinkle fillers, and prescription dermatology treatments, in fact, had sales accounting for about 2.8 billion Swiss francs of Nestlé's 2018 revenue.
Yet, Galderma went on to become the world's largest independent global dermatology company after its separation from Nestlé Skin Health. But a lot of its credit goes to Nestlé for its out-of-character, yet excellent research, development, and innovation in the field of skincare.
During the analysis, we also came across Nestlé's innovation in skincare.
One of its recent innovations involves the use of probiotic microorganisms to fight different skin disorders such as skin aging, acne, wrinkling, eczema, erythema, and especially erythema. Further, the invention also maintains the concentration of probiotic microorganisms under control in these cosmetic and/or pharmaceutical compositions, which is a challenge when preparing a cosmetic composition comprising prebiotic. [WO2018109018A1]
What skincare companies can do?
While ITC is limited to the Indian market, it happens to be one of the biggest markets in the world. And ITC has the potential to prove itself a threat to the skincare companies.
We just talked about the surface-level research of ITC and found out that the company has been doing constant research and patent filings in the skincare domain. So, there is much to reveal yet.
And as for Nestlé, their research is still sitting idle.
So, this could be a good opportunity to acquire/license Nestlé's skin-related anti-aging technology that can be leveraged in designing new anti-aging cosmetic solutions.
How Knowing an Industry's IP Helps?
Market research in the beauty domain would have been futile as tobacco and food & beverage companies wouldn't have fallen on the radar, despite their gigantic size.
In cases like these running patent analysis on a particular domain reveals the companies that are planning on entering the market, which helps present players plan accordingly and secure their position. It also reveals what technology their competitors are working on.
Landscape analysis is especially useful for the skincare market which, being a highly profitable one attracts companies in multitudes. This makes the present brands susceptible to losses.
Analyzing patents can also give a peek into what companies are innovating in. This could give present companies an idea of what to expect from their competitors in the future. For example, while some companies like ITC enter with plans to stay for the long haul, some companies don't wish to enter the scope and are willing to collaborate, license or sell their IP. Thus, a thorough knowledge of a domain's IP helps with knowing such opportunities.
Speaking of innovation, four multinational technology giants are innovating in the scope of skin detection. Who are they? What are they doing? You can find here (insert link)
Or if you are interested in finding out how technology landscape analysis in the skincare industry can help in making an attacking or defensive strategy, reach out us by filling the form below:
Authored By: Priya Vashisth, Patent Landscape, and Oorja Pandya, Market Research