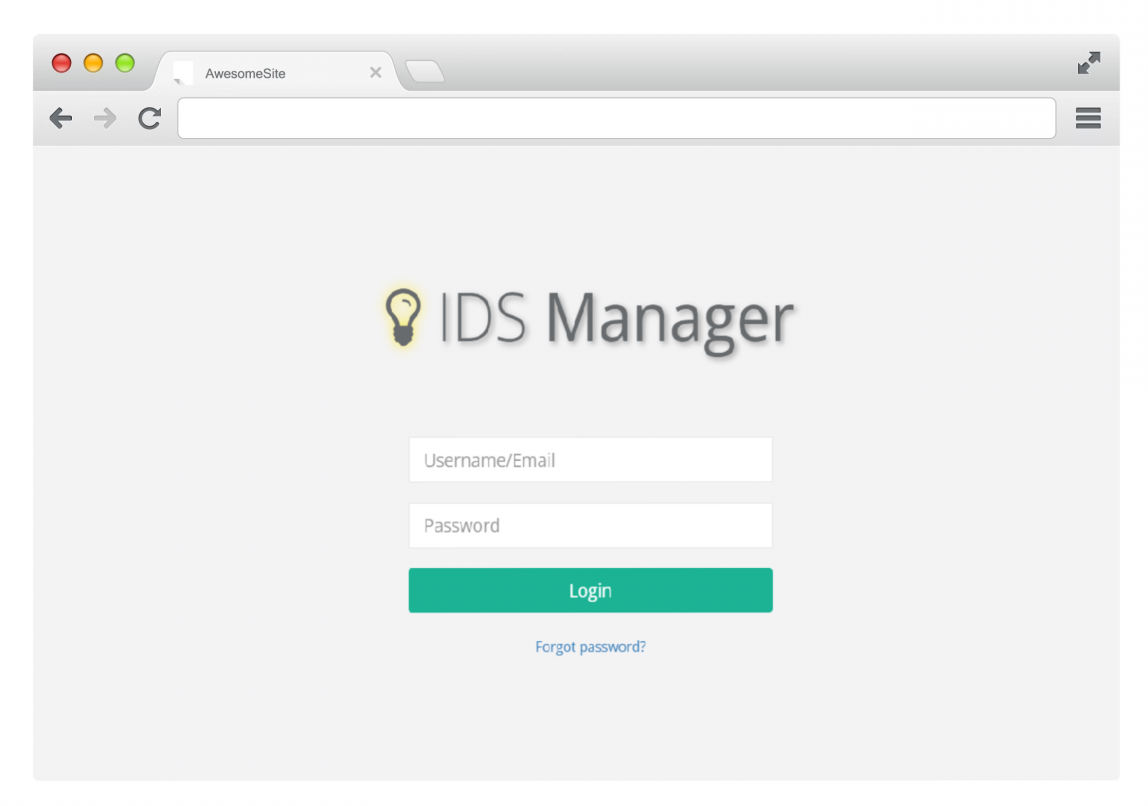 IDS Management – Not just an 'admin' operation.
Reduce your IDS cost by 98% & make prosecution 30% faster
Signs that you need an efficient IDS system
What is so 'smart' about the smart IDS Management system?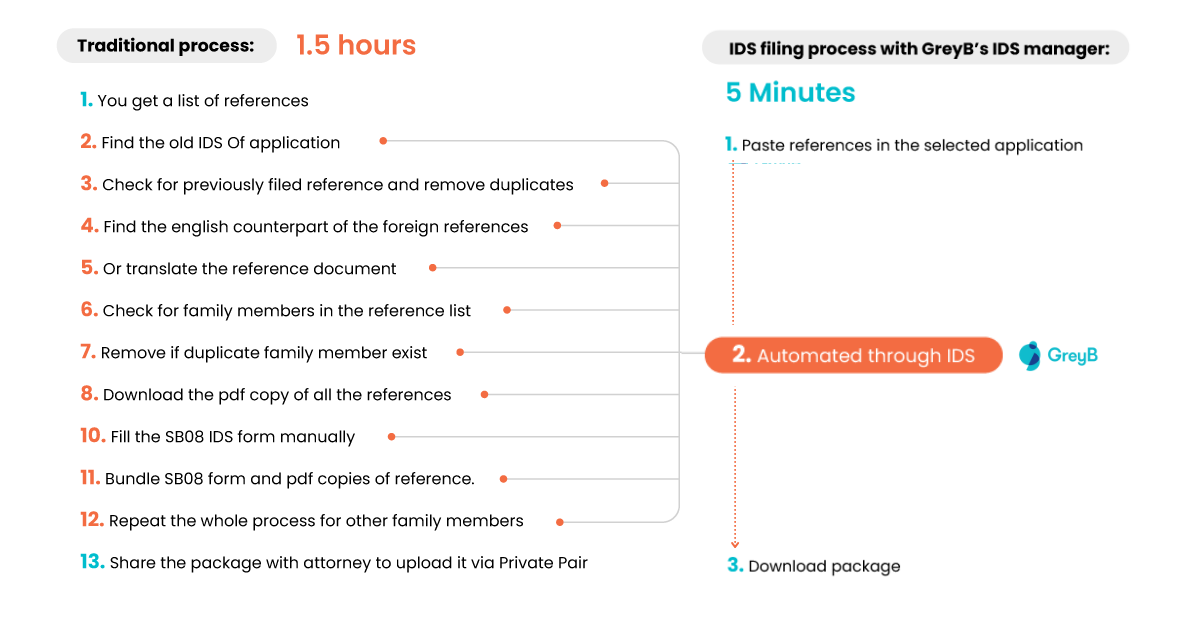 Save time on finding IDS references
What's new in the smart IDS system?
No Clones

Auto-detect same family references & remove all the duplicate information from your IDS
Custom Family Groups

Group different applications in the 'custom family groups' easily
Auto IDS

Auto-generate IDS for the other members in the "Custom Groups" with a single click
Check how much you can save with GreyB IDS
How IDS Manager helped companies save time & cost?
Our operational cost has been reduced by 98%, and prosecution time is 30% faster with GreyB's  IDS Manger

[⭐⭐⭐⭐⭐] Best software to create and manage IDS for US patent applications  on G2

Attorney
How IDS Manager helped its Clients in 2022
0
+
Patent References Added
$
0
+
Savings in translation
0
+ Hours
Manual work saved
Most asked questions:
What is an information disclosure statement form?
An information disclosure statement (IDS) is a document that lists all prior art or related technology that is relevant to a patent application. 
The IDS is submitted as part of the patent application process and is used to ensure that the patent office is aware of all relevant prior art when evaluating the novelty and non-obviousness of the invention. 
It is the responsibility of the inventor or applicant to disclose all relevant prior art in the IDS. The resulting patent may be invalidated or considered fraudulent if an application does not include an IDS or fails to disclose relevant prior art. 
We studied the best practices of paralegals who file more than 30,000 IDS in a year and embedded that knowledge into our IDS Manger.
Who is responsible for disclosing Prior Art in information disclosure statement form?
Each person is involved in the patent preparation process. Not only Inventors or Applicants but the attorneys or patent agents who are handling the patent application are responsible for disclosing the Prior Arts using Information Disclosure Statement (IDS)
What does an Information Disclosure Statement form include?
An information disclosure statement include related
US patents.

US patent applications and publications.

Foreign patents and publications.

Any Non-patent Literature (NPLs).
When can I submit an Information Disclosure Statement form?
The  information disclosure statement can be submitted at the time of filing the patent application
Within 3 months of the filing date.

Within 3 months of the beginning of the national stage of an international patent application (PCT)

Before the mailing date of the first Office Action.

Before the mailing date of the first Office Action after filing an RCE.

Within 3 months of the publication date of an international design patent application.

Before the mailing date of a Notice of Allowance, final office action, or any other office action that closes the prosecution as long as it includes the right fee. A Statement stating the lack of awareness of the information before three months should be enclosed with this IDS. 
It becomes cumbersome to remember all these dates, we have met paralegals whose calendars were swamped with such alerts. To ensure nothing is missed, we designed IDS Manager with all these checks baked into the product.
Do inventors or applicants need to search the prior arts before submitting Information Disclosure Statement form?
Inventors or applicants need not perform an extensive search for prior art. An Information Disclosure Statement should consist of the known prior arts.
Is there any specific limit on the filing of Information Disclosure Statement Forms?
There is no such specific limit on the filing of Information Disclosure Statement forms. Mostly, at least one IDS is filed. To keep up with the law, you can also file the IDS as soon as you become aware of any prior art related to your invention.
How Much Does It Cost to File an Information Disclosure Statement form?
There is no fee to file an IDS within three months of the original filing date, before the first Office Action, or if you discover the prior art in a foreign search report. In other cases, the fee may be up to $180. 
IDS Preparation costs would vary depending on the complexity of your invention and the attorneys or paralegals you hired for this job.
To prepare an IDS, a paralegal would manually
Download reference PDFs

Do the record-keeping

Check the cross citations

Do the translations in case of foreign references
On average, a paralegal spends about 1 to 1.5 hours preparing a single IDS to form, costing you around $100 per patent application.
To save on such costs and fasten the IDS preparation, we designed the IDS Manager that reduces this cost by 98% and speeds up the IDS preparation process by 30x.
Can You Streamline the Information Disclosure Statement Filing Process?
If you file a group of patent applications that include related materials, it may be best to file consolidated IDS forms at periodic intervals. Doing this allows you to cross-site all information without spending more than necessary to file IDS forms.
This becomes almost impossible when handling larger families, as keeping a tab of each citation becomes a complex task and results in errors. Our IDS Manager can do this with just one click, as it keeps tabs on all the citations! It is one of the most loved features of our clients.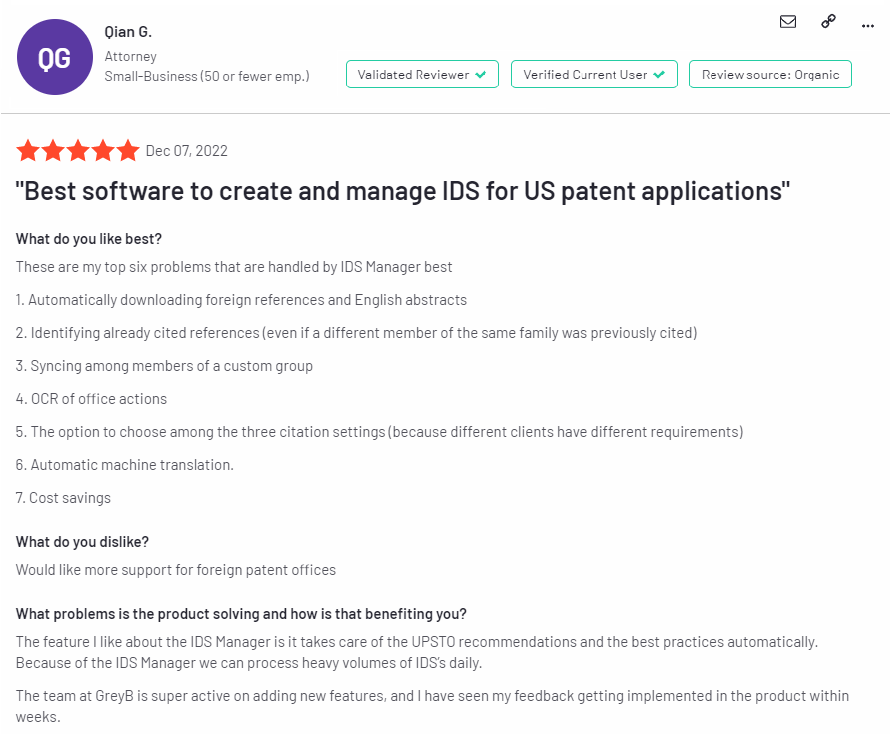 Source: GreyB IDS on G2.com 
Get your hands on IDS mangement
We have prepared a get yourself acquainted with IDS version for you.
Get your first IDS free – NO credit card required.