WhatsApp Tales: Shikhar's Message on Sailing an Emotional Tsunami
"Sharing is caring" (old but good to start)
Recently, a message shared by Rohit Jaswal on GreyBians WhatsApp group was on 'ways to control your emotions during difficult conversations' here's what he shared: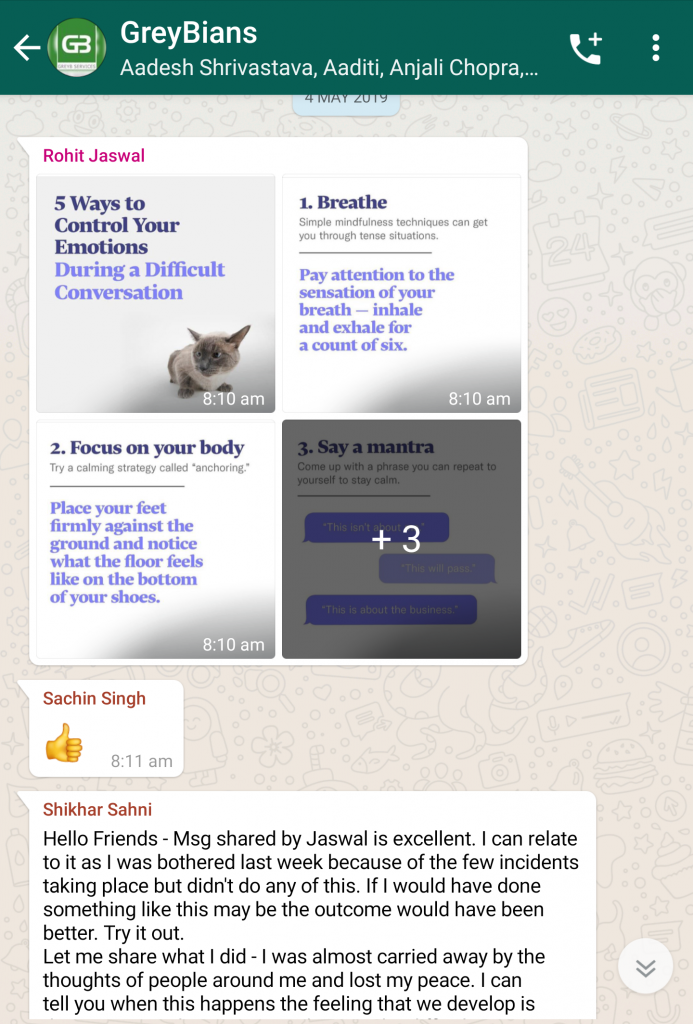 And the first person hitting the reply was Shikar Sahni. What he shared essentially are best practices to remain calm and composed when an internal emotional tsunami heads our way. Here's what he shared:
The message shared by Jaswal is excellent. I can relate to it as I was bothered last week because of the few incidents taking place but didn't do any of this. If I would have done something like this may be the outcome would have been better. Try it out.

Let me share what I did – I was almost carried away by the thoughts of people around me and lost my peace. I can tell you when this happens the feeling that we develop is devastating and we get carried away. The difficult part is to get out of this feeling and take the necessary actions.

I feel that even after knowing how to tackle it I lost because at that very moment knowledge wasn't useful and after that moment in my normal state I got many ideas and thoughts on what I could have done better.

In difficult situations, it is very important to have something written in front of you so that in the impulse of thoughts you don't forget what to do. If required take a print out and keep it under your keyboard so help you in difficult times.

I also liked the following msg to help me remind what I should do – see it help you as well.

Focus on your priorities, but take things in stride. Make decisions, not excuses. Live one moment at a time. Count your blessings, not your troubles. Let the wrong things go. Look for lessons in unforeseen obstacles. Ask for help. Give as much as you take. Make time for those who matter. Laugh when you can. Cry when you need to. And always stay true to your values.