USPTO "Patents 4 Partnerships" – A brief introduction and takeaways
USPTO has become a focus of interest these days, with the release of Patent Center recently and now the USPTO IP Marketplace. 
This IP Marketplace called the "Patents 4 Partnerships" is an initiative by USPTO to put together those who have inventions that they want to license or sell to others.
Looking at the current pandemic situation, the platform's initial release focuses on technologies related to COVID-19 prevention, diagnosis, and treatment. This includes personal protective equipment, disinfectants, ventilators, testing equipment, and components. 
After all, no one can deny the fact that innovation has been and will be playing a key role in the battle against the Coronavirus. And USPTO just took a step forward towards it!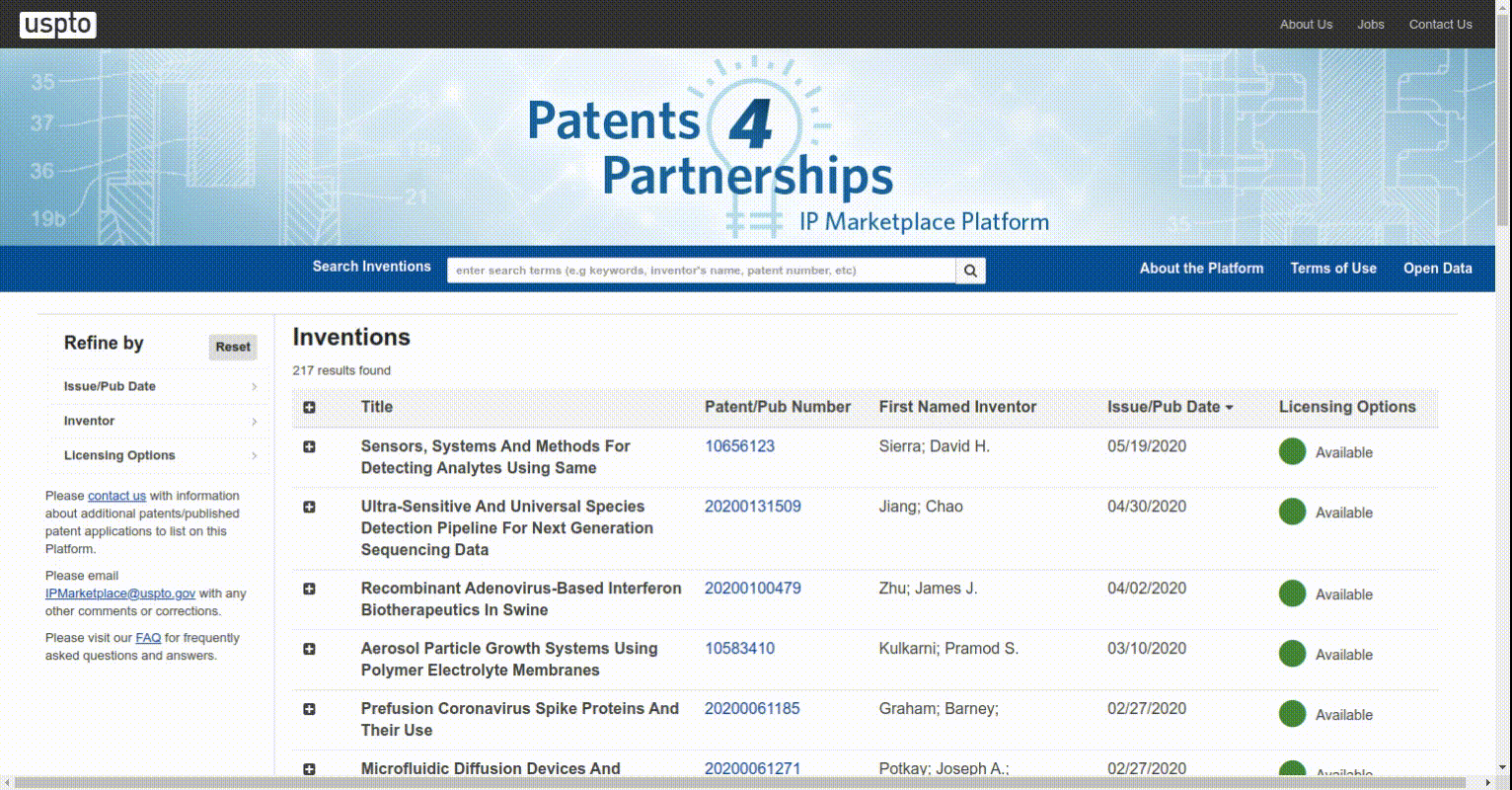 How does this initiative help fight against COVID-19?
The P4P platform is providing company executives, university technology transfer offices (TTOs), research institutions, and inventors/startups with limited resources a valuable tool to match their technologies with interested buyers and licensees.
 "Patents 4 Partnerships is a meeting place that enables patent owners who want to license their IP rights to connect with individuals and businesses who can turn those rights into solutions for our health and wellbeing," 

-USPTO Director Andrei Iancu
As a result, this initiative will help many firms associated with the fight against COVID-19 to license and use the technologies that are already available by providing easy access to many important patents in this area. After all at the end of the day-  
"The value of an idea lies in the using of it" 

-Thomas A Edison
Currently, there is a total of 217 patents available for licensing. Moreover, these patents are assigned to some very prominent universities and US departments. These include  NASA, US Secretary of the Army, US Department of Health and Human Services, University of Maryland, University of Michigan, University of California, Medical University of Toledo, etc.
Consequently, to find out some of the important patents from the list we used our in-house tool BOS, which helps in picking appropriate patents pursuant to the current innovation trends. 
Below are the top 10 patents that appear to cover inventions that have high potential:
| | | |
| --- | --- | --- |
| S No. | Publication Number | Title |
| 1 | US20040134494A1 | SYSTEMS AND METHODS FOR AEROSOL DELIVERY OF AGENTS |
| 2 | US20080014625A1 | ADSORPTIVE MEMBRANES FOR TRAPPING VIRUSES |
| 3 | US20090223513A1 | AEROSOL DELIVERY SYSTEMS AND METHODS |
| 4 | US20110092817A1 | METHOD AND SYSTEM OF ULTRASOUND SCATTERER CHARACTERIZATION |
| 5 | US20110071676A1 | INTERACTIVE ROBOT CONTROL SYSTEM AND METHOD OF USE |
| 6 | US20090305229A1 | MULTIPLEX DETECTION OF RESPIRATORY PATHOGENS |
| 7 | US20080118530A1 | MODULATION OF REPLICATIVE FITNESS BY DEOPTIMIZATION OF SYNONYMOUS CODONS |
| 8 | US20090081675A1 | METHODS, COMPOUNDS, AND SYSTEMS FOR DETECTING A MICROORGANISM IN A SAMPLE |
| 9 | US20060057070A1 | ALBUMIN-BASED COLLOID COMPOSITION HAVING AT LEAST ONE PROTECTED THIOL REGION, METHODS OF MAKING, AND METHODS OF USE |
| 10 | US20110027901A1 | METHODS AND DEVICES FOR DETECTING THE PRESENCE OF AN ANALYTE IN A SAMPLE |
USPTO's leadership in supporting an open patent market place
In an email conversation with IAM, USPTO Director Andrei Iancu pointed out that the USPTO is looking into how they can also facilitate licensing by working with the Small Business Administration to support entrepreneurs and further support pro bono programs to provide licensing assistance. 
Above all, he added, they are specifically focussing on timely and high-quality examination in order to issue appropriately-scoped assets in the first place. 
Just last week, the USPTO announced a new program for small businesses for expedited examination of COVID-19 related patent applications. Iancu believes that with a faster determination of patentability, small businesses will be better able to attract licensing partners and complete deals more quickly. 
Based on stakeholders' involvement and participation during the pilot phase, Iancu also expressed his idea to expand the platform to include other technologies, including artificial intelligence (AI) innovations and cancer treatments as well.
This implies a lot of good things to come. If USPTO provides a platform that enables companies to easily locate the solutions to their existing problems and at the same time provide a way for innovators to generate revenue for their patents, it would change the world. What Amazon did for a lot of small and medium-size companies, the USPTO can do the same for small inventors.
One challenge that we forsee in the future – As number of patents on the platform would increase, it is going to become difficult to find the right match. This is a common problem of all the platforms that create matches between the two sides, including the matured ones like Amazon or eBay. We believe USPTO should in parallel think of solutions that can manage the noise. For example, have a ranking or matching algorithm that takes into account various factors to recommend the patents to a potential licensee based on its profile. We have many thoughts here and would like to share them with our readers. If you are interested, you can subscribe by filling the form below.
Conclusion
Individuals and companies – big or small, all around the world are coming together to take strategic initiatives. The crisis has inspired makers around the world. In this situation, this is a great move by USPTO to provide a platform for them to have easy access to technology that can help in fighting COVID-19.